Funeral Thank You Notes for Money
Bidding farewell to a close loved one can often sit heavy on us. Engrossed in pain, we often cannot process specific interactions with genuine sincerity. But even during such marked periods of distress, we should never overlook our responsibility to thank those who stand by our side duly. During these stressful times, if people choose to lend their hand of support towards us, we ought to show gratitude.

Often our judgments are fogged by the trauma of a sudden loss, and we aren't appropriately able to thank those that have been there for us. Financial assistance during tough times can be uncanny support. Especially for people who might have lost the family's sole earning member. Thus, to help you, we've prepared a customizable list of the funeral to thank you notes for money.
Funeral Thank You Notes For Money
Here are a few pre-written and customisable Funeral Thank You Notes For Money: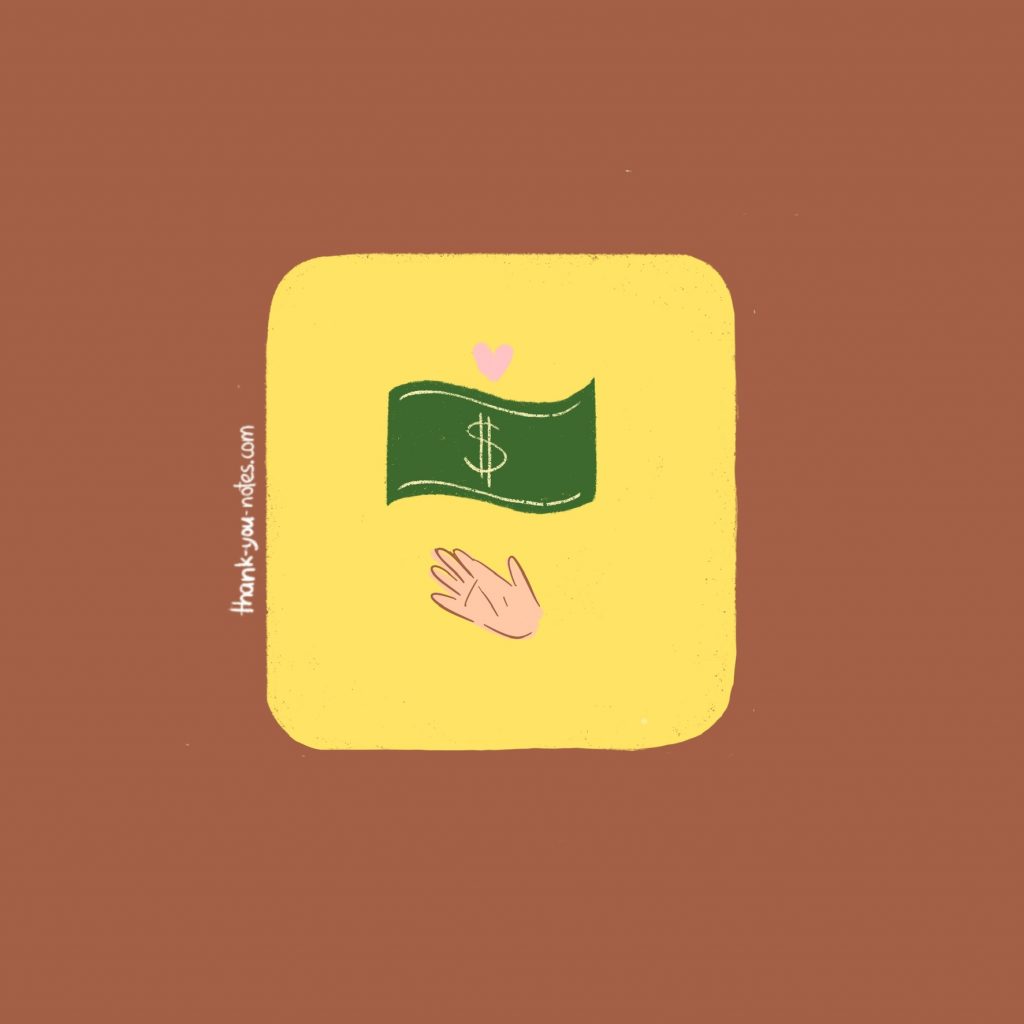 Charity/Donations- Funeral Thank You Notes For Money
#1 We'd sincerely like to thank you for the noble donation you've made to the charity founded by our beloved. We're incredibly shocked and are still mourning their sudden demise. Thank you for such a meaningful and profound action on your behalf.
#2 We're glad you made such a generous donation . We cannot explain in mere words how grateful we are.
#3 It is uncanny how you've come forward by yourself to make such a considerate donation to <name>'s charity upon their sudden demise. We needed support from selfless people like you to champion their noble cause even after their death.
#4 We are incredibly grateful for the donation you've made following the death of <name>. We shall always be indebted to your kindness for lending your hand during these uncertain times.
#5 Although you've always been by our side regardless of any odd problems, this donation you made during these troubling times was unprecedented. We thank you from the bottom of our hearts for this contribution of yours.
Personal Financial Support- Funeral Thank You Notes For Money
#1 I have no idea how to thank you for the generous gift. We all had a looming fear of finances, which has been eased out a lot, thanks to your contribution to our family.
#2 I cannot describe how much we are indebted to you for your kindness. With such a sudden death in the family, we were all confused about what to do about our financial situation. Thank you so much for the financial assistance.
#3 You do not know how grateful we all are to you. We were struggling with money, and this remarkable assistance from you has saved us, to say the least.
#4 I don't know how to begin this even. Every member of this family has been touched by what you've done for us. We were struggling with finances, and this help was beyond what we needed.
#5 Honestly, I'd like to thank you for your monetary support to our family. This is something we really need at this moment.
Financial Aid To Children- Funeral Thank You Notes For Money
#1 I was apprehensive about the kid/kids and their education following this death in the family. I'm delighted you provided for their scholastic needs.
#2 Following the sudden death in the family, it has been difficult for us to manage the finances regarding the kids and their education. Thank you for sponsoring their education.
#3 All of us are thankful that you decided to sponsor the education. Since the unfortunate death, it has been a looming fear in our minds. Thank you for helping us through it.
#4 Thank you for the money you've provided following this sudden death in the family. We were really concerned about the children's education. We're gonna use your grants for the same.
How To Write Compelling Funeral Thank You Notes For Money
Funeral thank you notes for money can often come off as pretentious or might fail to communicate one's true feelings. Here are some valuable tips for writing better funeral thank you notes for money.
1. Be compassionate
Suppose a person chooses to help you financially during such crucial times. In that case, you must identify their efforts and provide a compassionate thank you.
Even if someone just turns up for the funeral, they're trying their best to extend a hand of support to the sorrowful family. Click here for 50 Best Ways to Say Thank You For Coming.
2. Write in a neutral tone
Writing with a neutral tone will help keep your emotions in check and formulate a better message.
Learn here: how to write a message with a neutral tone
Please don't make it seem their first-hand responsibility to help you out. Thank them genuinely for their selfless act.
4. Be precise
Don't beat around the bush too much. Give a heartfelt to-the-point note.
5. Avoid puzzling vocabulary
Don't use too complicated words in your message. Use simple and apt words for a better readability.