This article covers what you need to know to write an award thank you letter, and provides a sample letter to help you get started.
Sending a thank you letter is a great way to express your appreciation and stay in the good graces of the organization that honored you.
When thanking someone for an award, you should keep a few things in mind.
Tips for an Award Thank You Letter
Who do you need to thank? It is not uncommon for awards to be given by jury committees. If so, should you address each member individually? Most likely not. If you're writing a thank you letter to a group or organization, you should either address the group as a whole or simply the lead member.
How long should the letter be? If you're just writing one thank you letter (unlike after a wedding), the letter should be at least a few paragraphs long. However, that doesn't mean you should bore the reader to death, or blabber on endlessly. Try to convey your point in an elegant manner.
What should I mention? Acknowledge any prize you received, whether it be money or something else of value.
When should I send it? It would be best if you acted ASAP. Upon completion of an internship, or some other activity with a duration, it is also appropriate to send a thank you letter.
A Thank You Letter Example
Here is an example of a thank you letter for winning an essay contest. Of course, you'll want to personalize the one you send.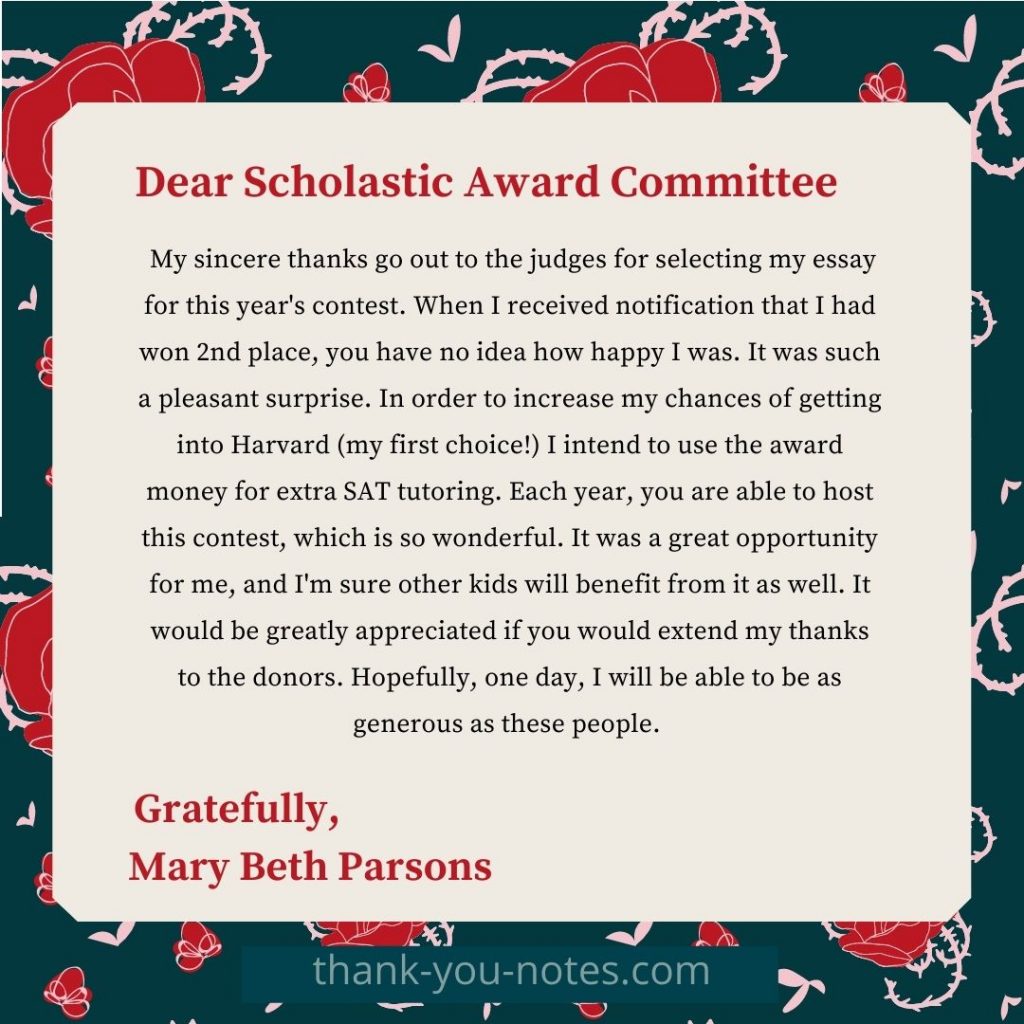 Dear Scholastic Award Committee

  My sincere thanks go out to the judges for selecting my essay for this year's contest.   
  When I received notification that I had won 2nd place, you have no idea how happy I was. It was such a pleasant surprise. In order to increase my chances of getting into Harvard (my first choice!) I intend to use the award money for extra SAT tutoring.   
  Each year, you are able to host this contest, which is so wonderful. It was a great opportunity for me, and I'm sure other kids will benefit from it as well.   
  It would be greatly appreciated if you would extend my thanks to the donors. Hopefully, one day, I will be able to be as generous as these people.   

Gratefully,
Mary Beth Parsons
More thank you letter examples…
Scholarship Thank You Letters
Internship Thank You Letters
Thank You Notes for Money