Do you need more samples of thank you notes for baby showers? Here are ten more great examples to help you write your own note.
10 Thank You Note Examples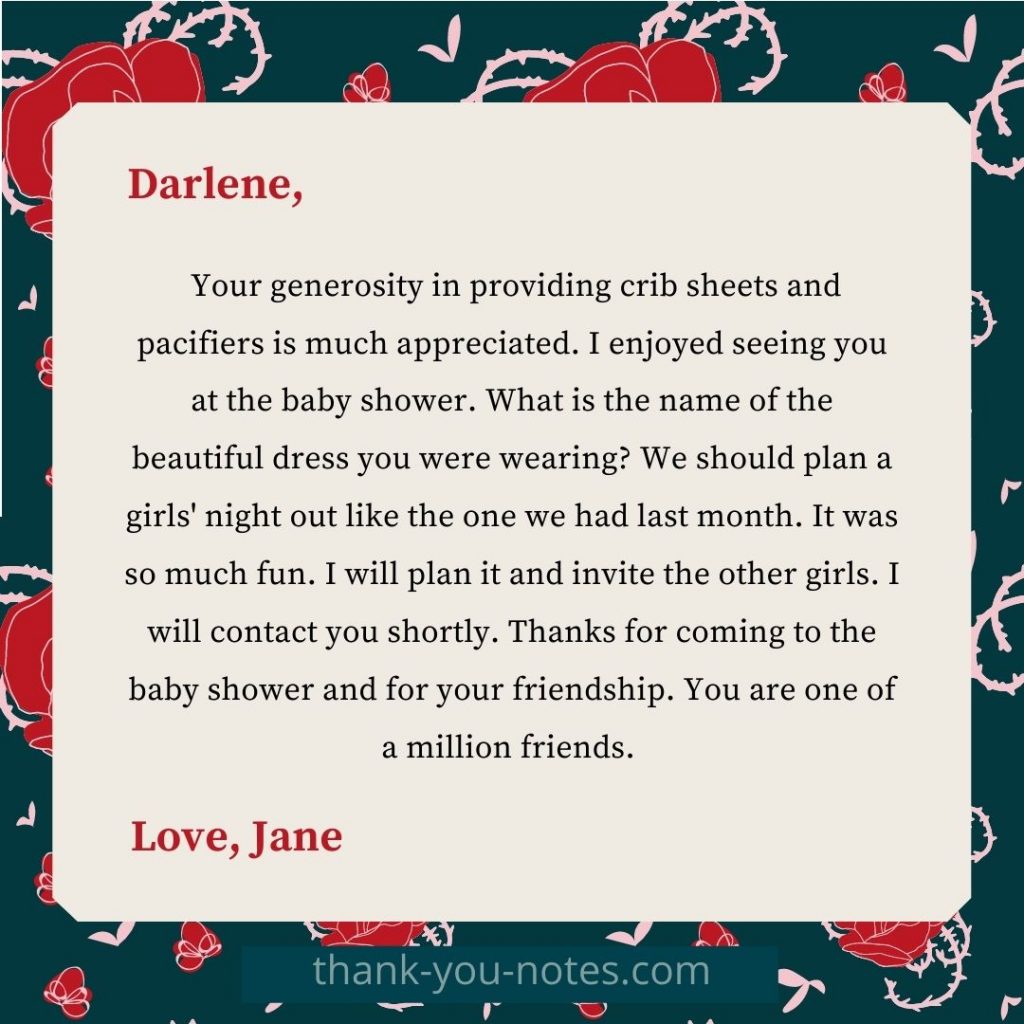 Darlene,

  Your generosity in providing crib sheets and pacifiers is much appreciated. I enjoyed seeing you at the baby shower. What is the name of the beautiful dress you were wearing? We should plan a girls' night out like the one we had last month. It was so much fun. I will plan it and invite the other girls.   

  I will contact you shortly. Thanks for coming to the baby shower and for your friendship. You are one of a million friends.   

Love, Jane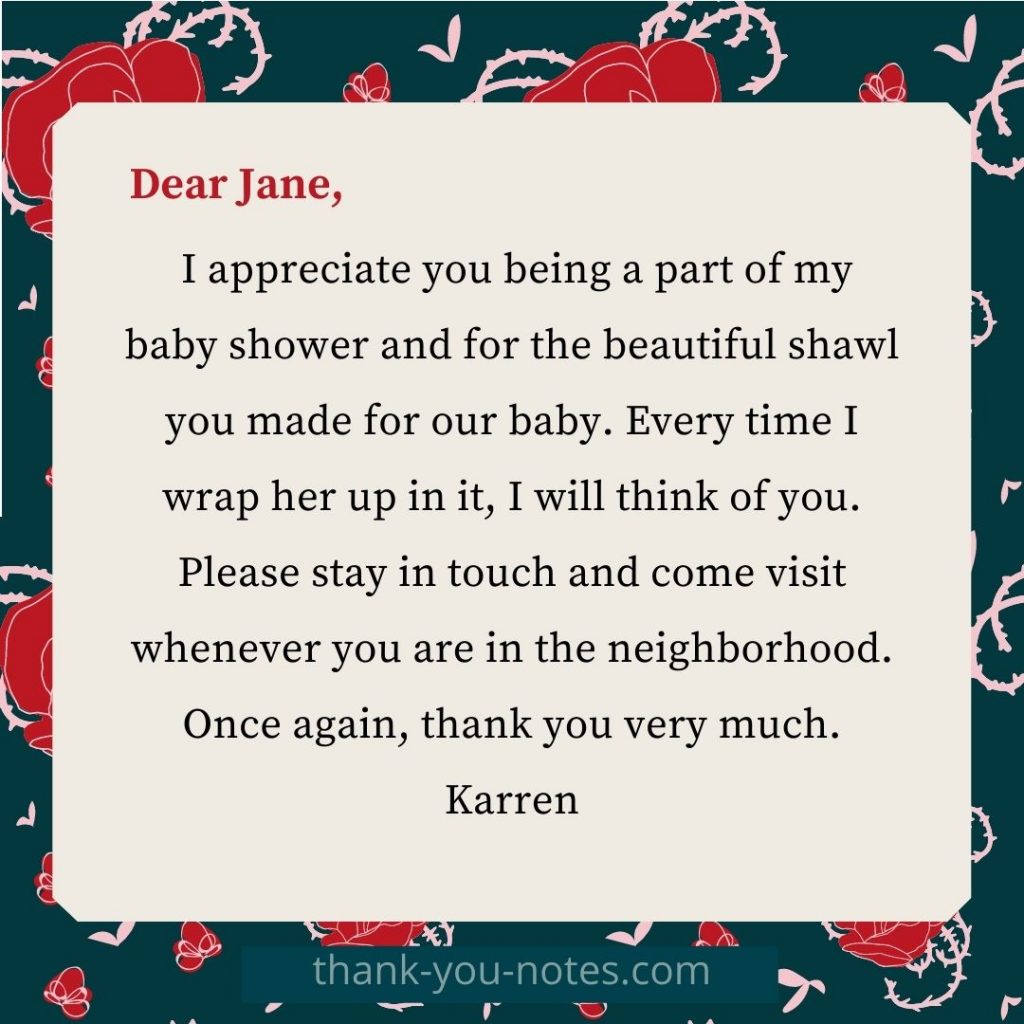 Dear Jane,

  I appreciate you being a part of my baby shower and for the beautiful shawl you made for our baby. Every time I wrap her up in it, I will think of you. Please stay in touch and come visit whenever you are in the neighborhood. Once again, thank you very much.   
Karren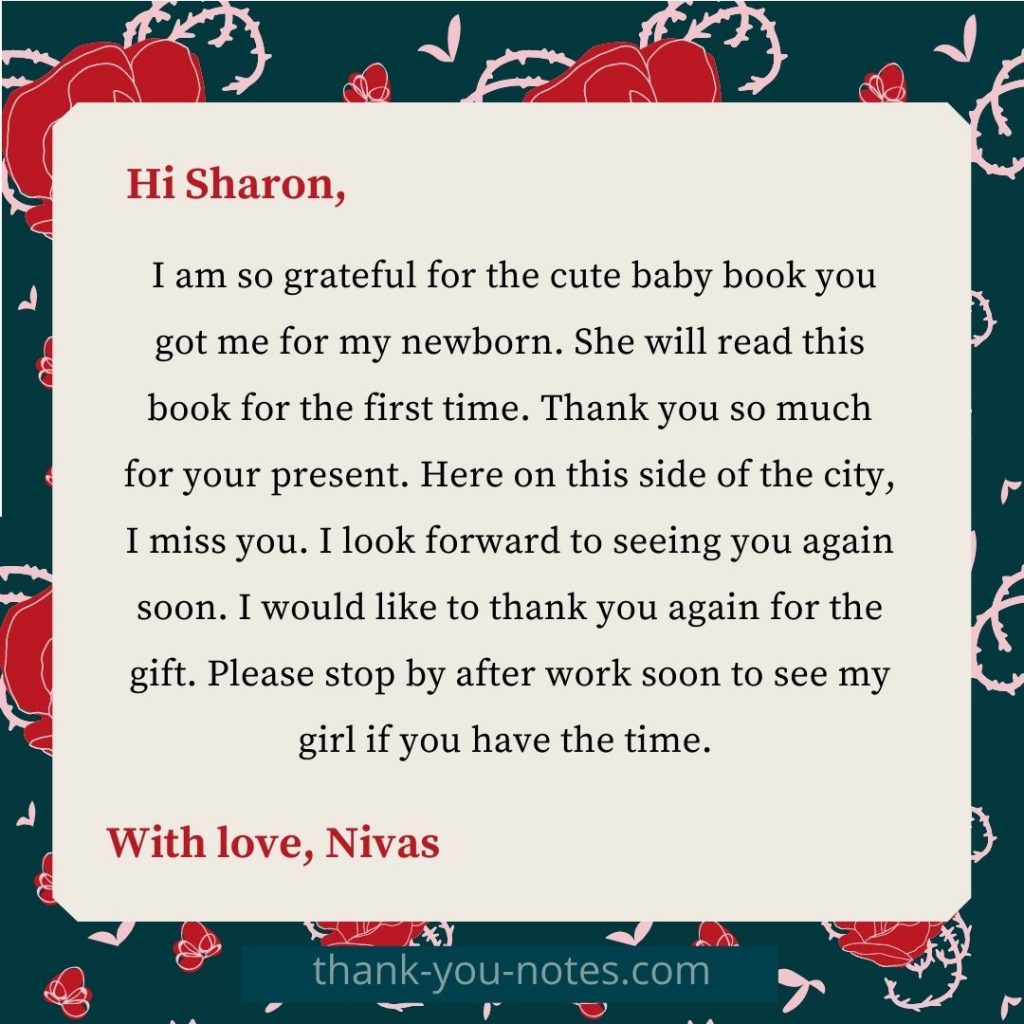 Hi Sharon,

  I am so grateful for the cute baby book you got me for my newborn. She will read this book for the first time. Thank you so much for your present. Here on this side of the city, I miss you. I look forward to seeing you again soon. I would like to thank you again for the gift. Please stop by after work soon to see my girl if you have the time.   

With love, Nivas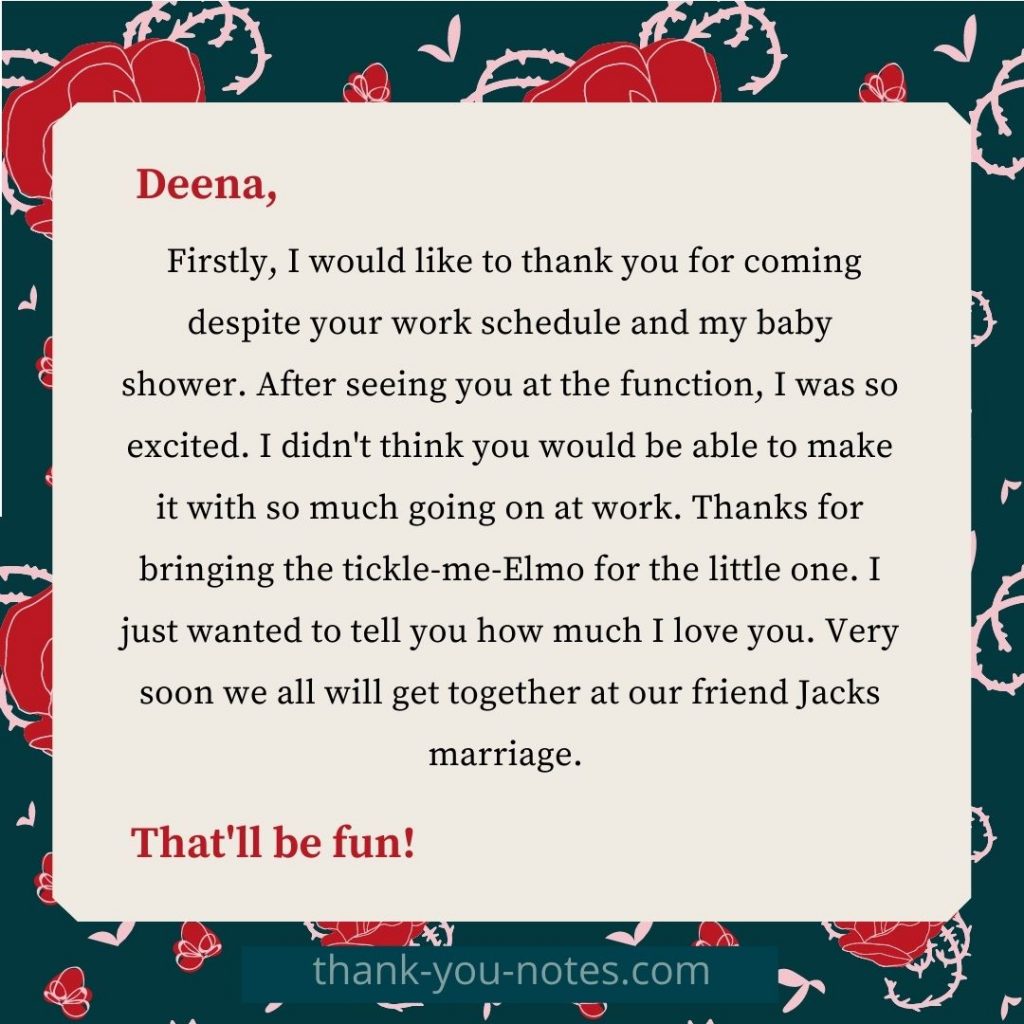 Deena,

  Firstly, I would like to thank you for coming despite your work schedule and my baby shower. After seeing you at the function, I was so excited. I didn't think you would be able to make it with so much going on at work. Thanks for bringing the tickle-me-Elmo for the little one. I just wanted to tell you how much I love you.   
Very soon we all will get together at our friend Jacks marriage.

That'll be fun!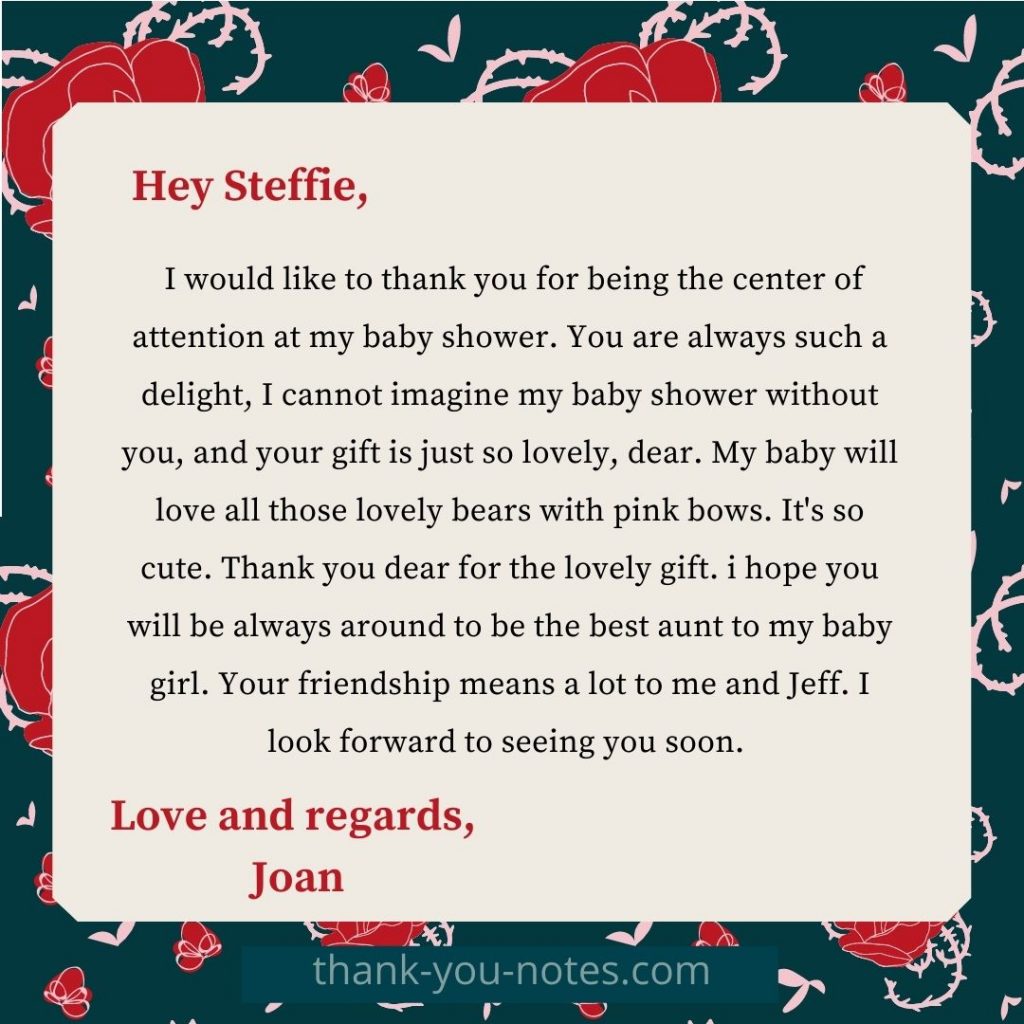 Hey Steffie,

  I would like to thank you for being the center of attention at my baby shower. You are always such a delight, I cannot imagine my baby shower without you, and your gift is just so lovely, dear. My baby will love all those lovely bears with pink bows. It's so cute.   

Thank you dear for the lovely gift. i hope you will be always around to be the best aunt to my baby girl.

Your friendship means a lot to me and Jeff. I look forward to seeing you soon.   

Love and regards, Joan
  Debra, can you believe I am expecting a baby? Man, we're getting old, aren't we? You bought lots of expensive and lovable presents for the baby. There are so many towels, bibs, baby blankets, diaper bags, etc. These will be so helpful. I really appreciate your love for my family. I think someone may have what it takes to be a godmother... Would you be interested?   

I am really proud of having such a great friend who cares for us all so much. Thank you so much for everything!

Sue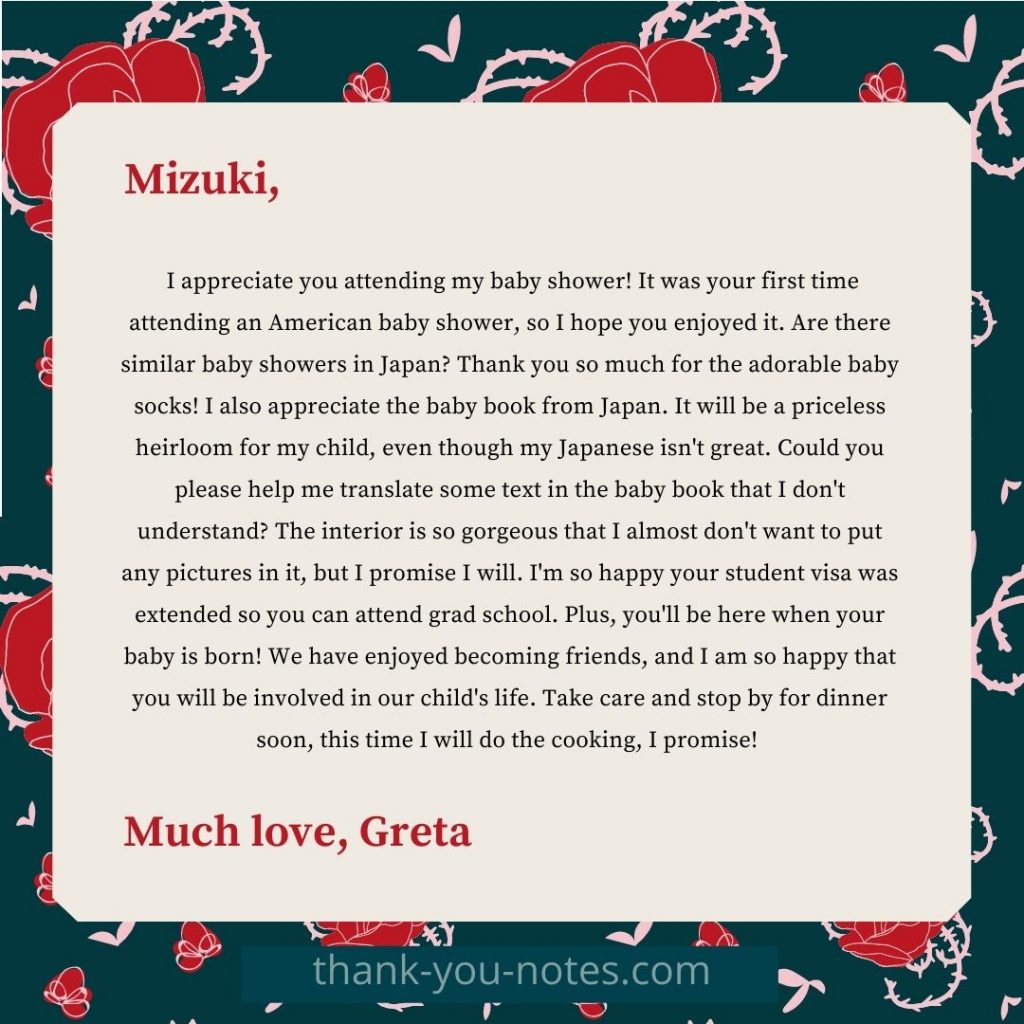 Mizuki,

  I appreciate you attending my baby shower! It was your first time attending an American baby shower, so I hope you enjoyed it. Are there similar baby showers in Japan?   
  Thank you so much for the adorable baby socks! I also appreciate the baby book from Japan. It will be a priceless heirloom for my child, even though my Japanese isn't great. Could you please help me translate some text in the baby book that I don't understand?   
  The interior is so gorgeous that I almost don't want to put any pictures in it, but I promise I will. I'm so happy your student visa was extended so you can attend grad school. Plus, you'll be here when your baby is born! We have enjoyed becoming friends, and I am so happy that you will be involved in our child's life.   
Take care and stop by for dinner soon, this time I will do the cooking, I promise!

Much love, Greta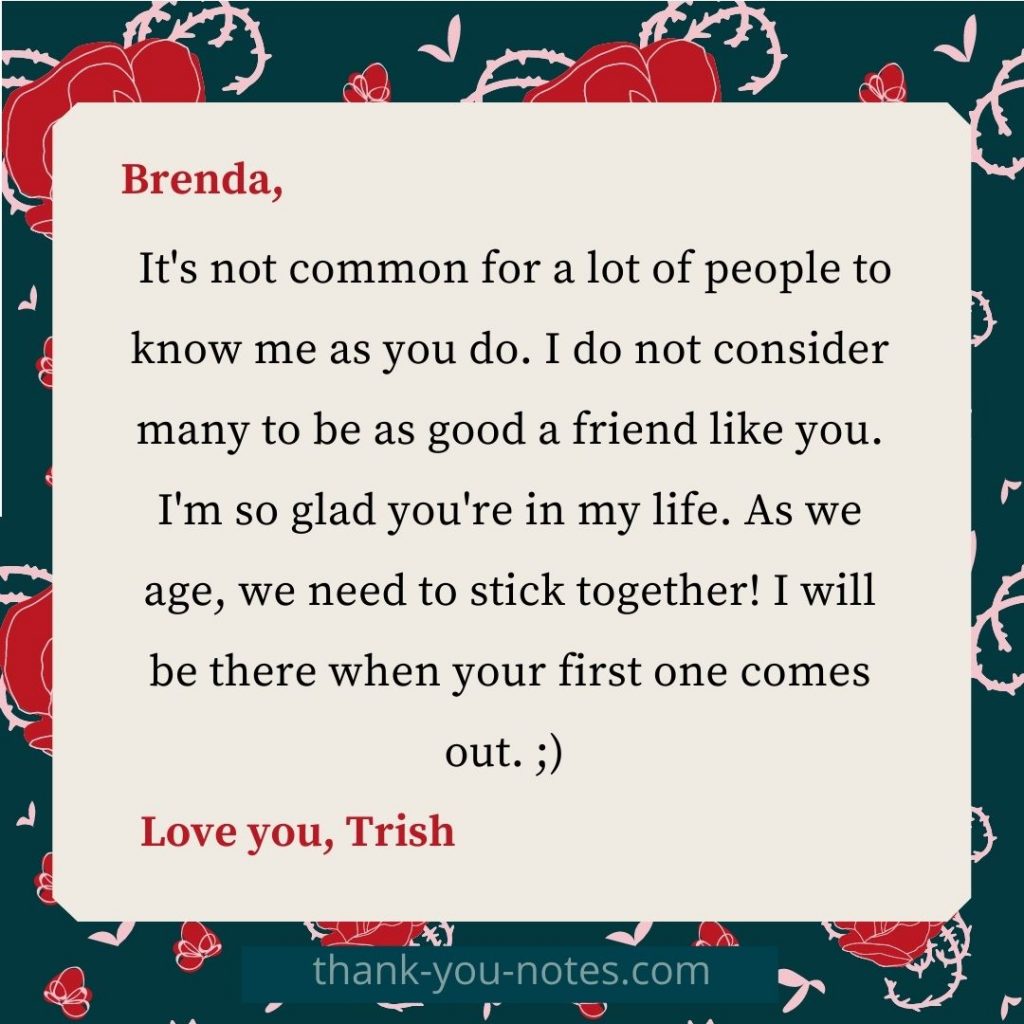 Brenda,

  It's not common for a lot of people to know me as you do. I do not consider many to be as good a friend like you. I'm so glad you're in my life. As we age, we need to stick together! I will be there when your first one comes out. ;)   

Love you,
Trish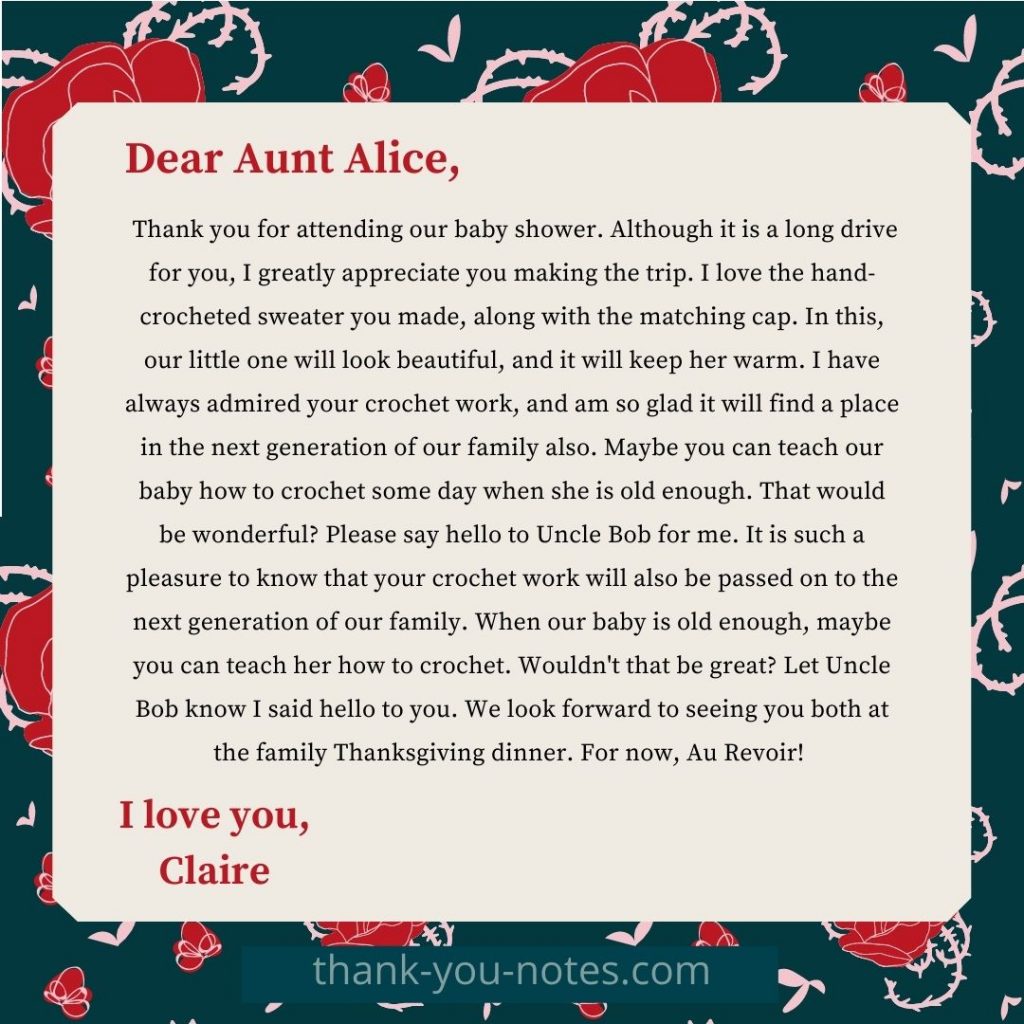 Dear Aunt Alice,

  Thank you for attending our baby shower. Although it is a long drive for you, I greatly appreciate you making the trip. I love the hand-crocheted sweater you made, along with the matching cap. In this, our little one will look beautiful, and it will keep her warm.   
I have always admired your crochet work, and am so glad it will find a place in the next generation of our family also. Maybe you can teach our baby how to crochet some day when she is old enough. That would be wonderful? Please say hello to Uncle Bob for me. 
 It is such a pleasure to know that your crochet work will also be passed on to the next generation of our family. When our baby is old enough, maybe you can teach her how to crochet. Wouldn't that be great? Let Uncle Bob know I said hello to you. 
We look forward to seeing you both at the family Thanksgiving dinner. For now, Au Revoir! 
I love you,
 Claire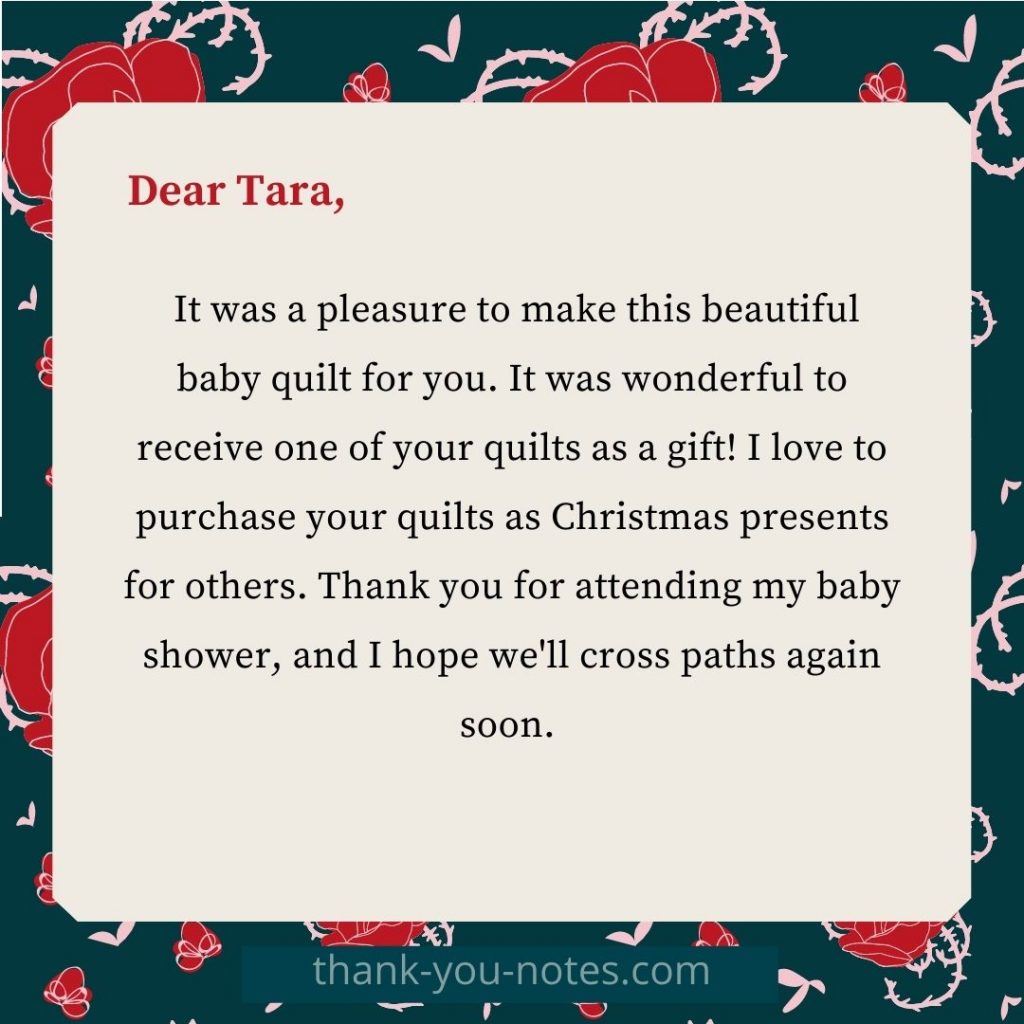 Dear Tara,

  It was a pleasure to make this beautiful baby quilt for you. It was wonderful to receive one of your quilts as a gift! I love to purchase your quilts as Christmas presents for others. Thank you for attending my baby shower, and I hope we'll cross paths again soon.   
Thank you for visiting. Check out these other resources, or submit your baby shower thank you note below.
Related baby shower thank you help…
How to Write Baby Shower Thank You Notes
Thank You Quotes
Personal Thank You Notes