Every time there is a baby on the way, it is such an exciting time.
Now that the baby shower is over, you have to write thank you notes for all the baby gifts you received.
This is not a chore, but rather an opportunity to show your friends how much you appreciate them.
More baby shower thank you card help…
Baby Shower Thank You Quotes
Baby Shower Thank You Poems
If someone has given you a gift that was particularly heartwarming or helpful, you should definitely let them know how much you appreciate it with a thank you note.
Here are some tips for writing thank-you notes for a baby shower that will show your gratitude.
Tips
If the person gave a gift to you, be sure to mention it
Thank the person for attending the shower
Be friendly and casual
You can share a personal story about the person you mentioned earlier
For inspiration on how to write your own thank, you note, browse through these examples. Whenever a new baby is born, show gratitude to ensure that you get a gift.
Need more examples? Read 10 More Baby Shower Thank You Note Samples
Sample Baby Shower Thank You Notes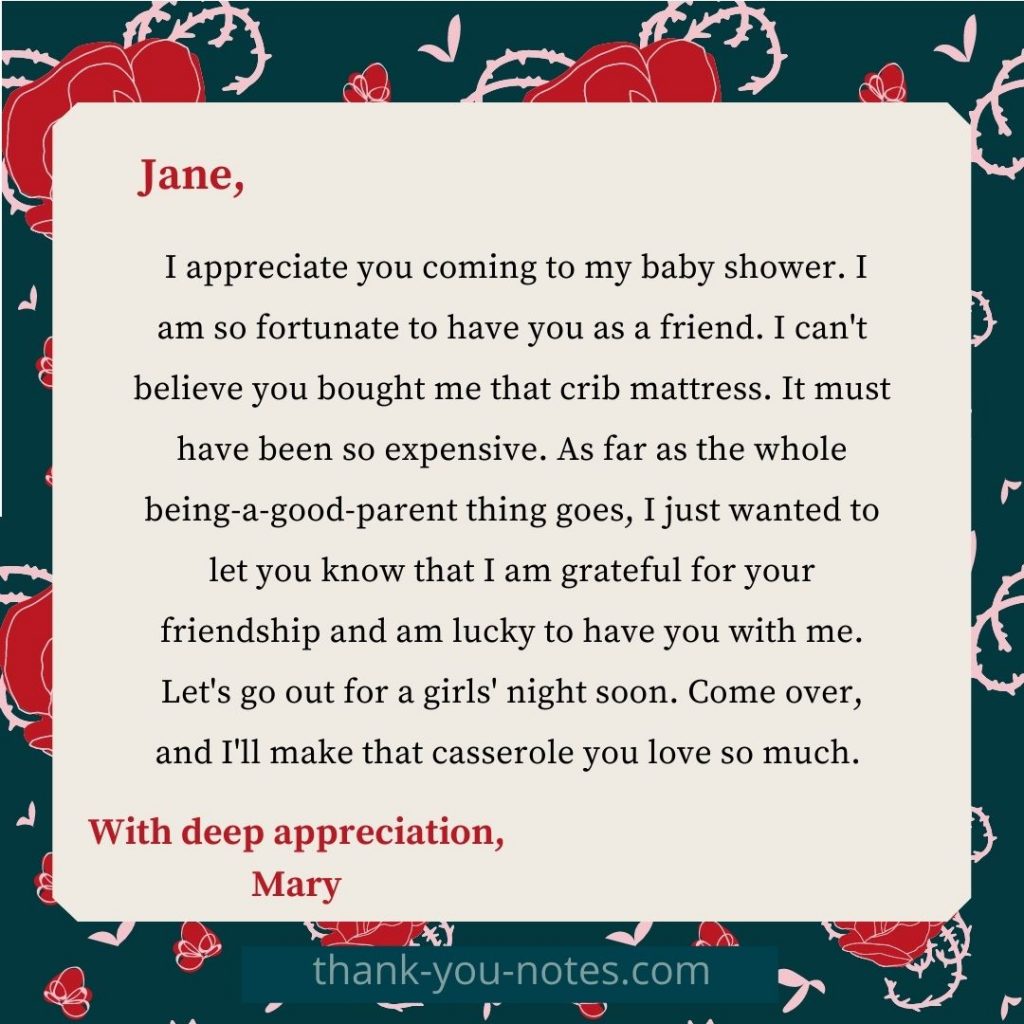 Jane,

  I appreciate you coming to my baby shower. I am so fortunate to have you as a friend. I can't believe you bought me that crib mattress. It must have been so expensive. As far as the whole being-a-good-parent thing goes, I just wanted to let you know that I am grateful for your friendship and am lucky to have you with me. Let's go out for a girls' night soon. Come over, and I'll make that casserole you love so much.   

With deep appreciation,
Mary
It's a great thank you note. Jane displays not only how happy she is to receive the baby gift, but also how grateful she is to have a great friend. By inviting Mary over for dinner, the note serves as both a thank you note and an invitation.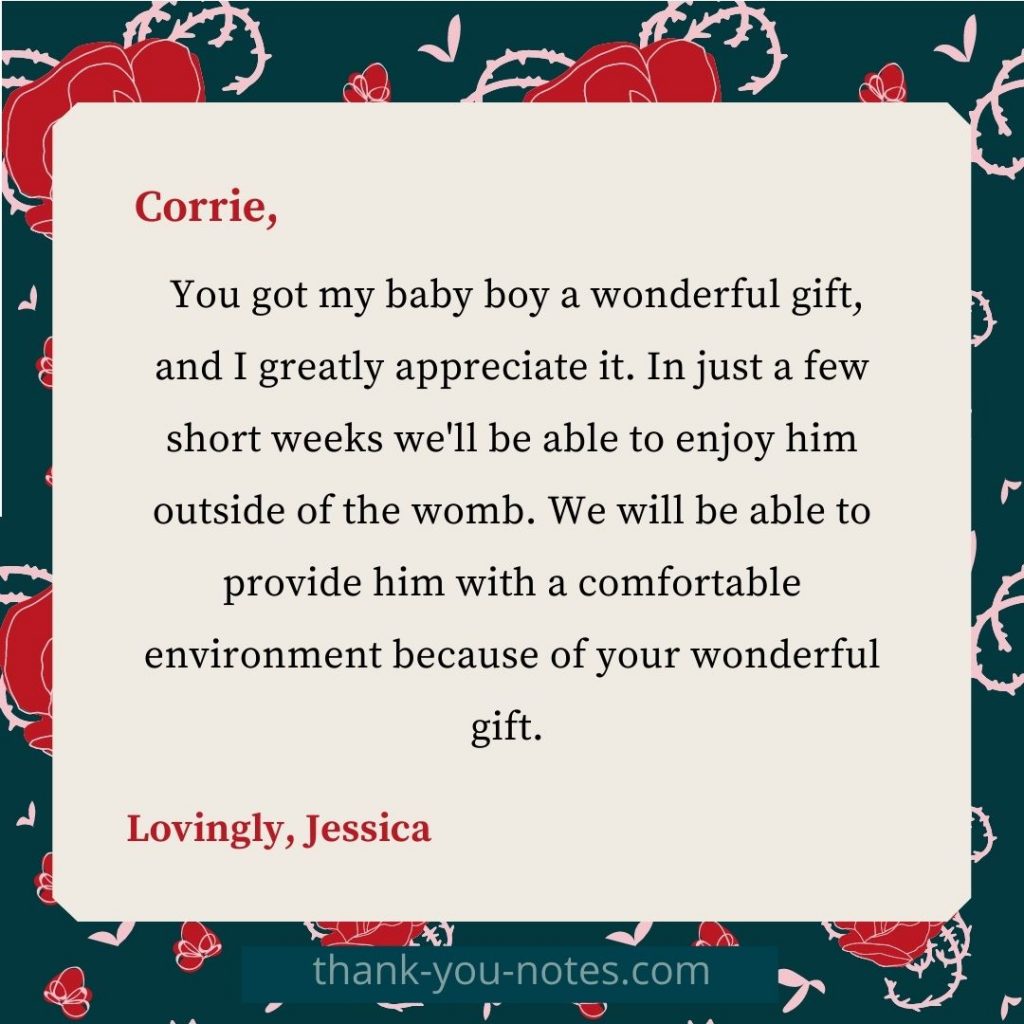 Corrie,

  You got my baby boy a wonderful gift, and I greatly appreciate it. In just a few short weeks we'll be able to enjoy him outside of the womb. We will be able to provide him with a comfortable environment because of your wonderful gift.   

Lovingly,
Jessica
While this note is rather general, appreciation is still shown. Corrie tells Jessica how thankful she is for the gifts she received, and looks forward to a time when everyone (including the baby) can get to spend time together again.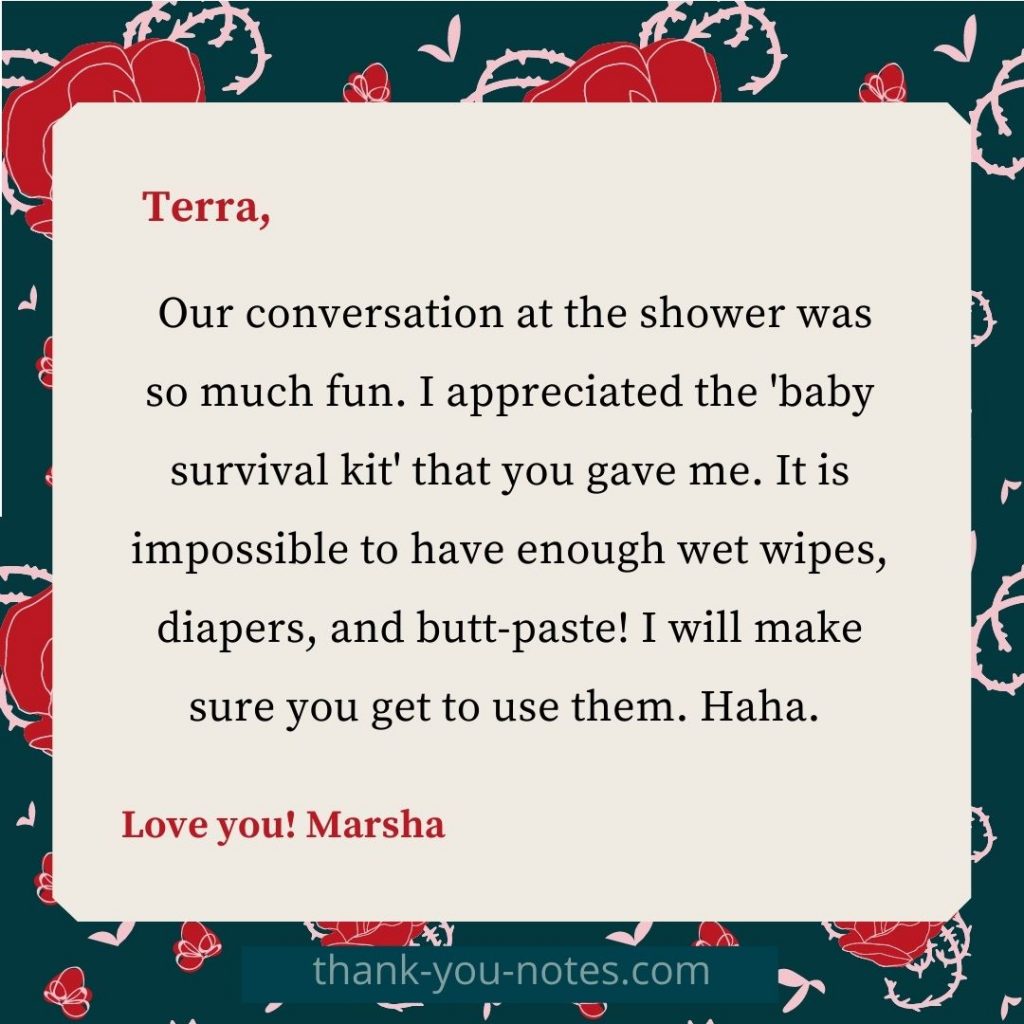 Terra,

  Our conversation at the shower was so much fun. I appreciated the 'baby survival kit' that you gave me. It is impossible to have enough wet wipes, diapers, and butt-paste! I will make sure you get to use them. Haha.   

Love you!
Marsha
You can determine Marsha and Terra's close friendship from this thank you note. This is a great way to show endearment and gratitude. It should always be your goal to put a smile on the face of the person you're writing for. Consider this when writing your thank you note.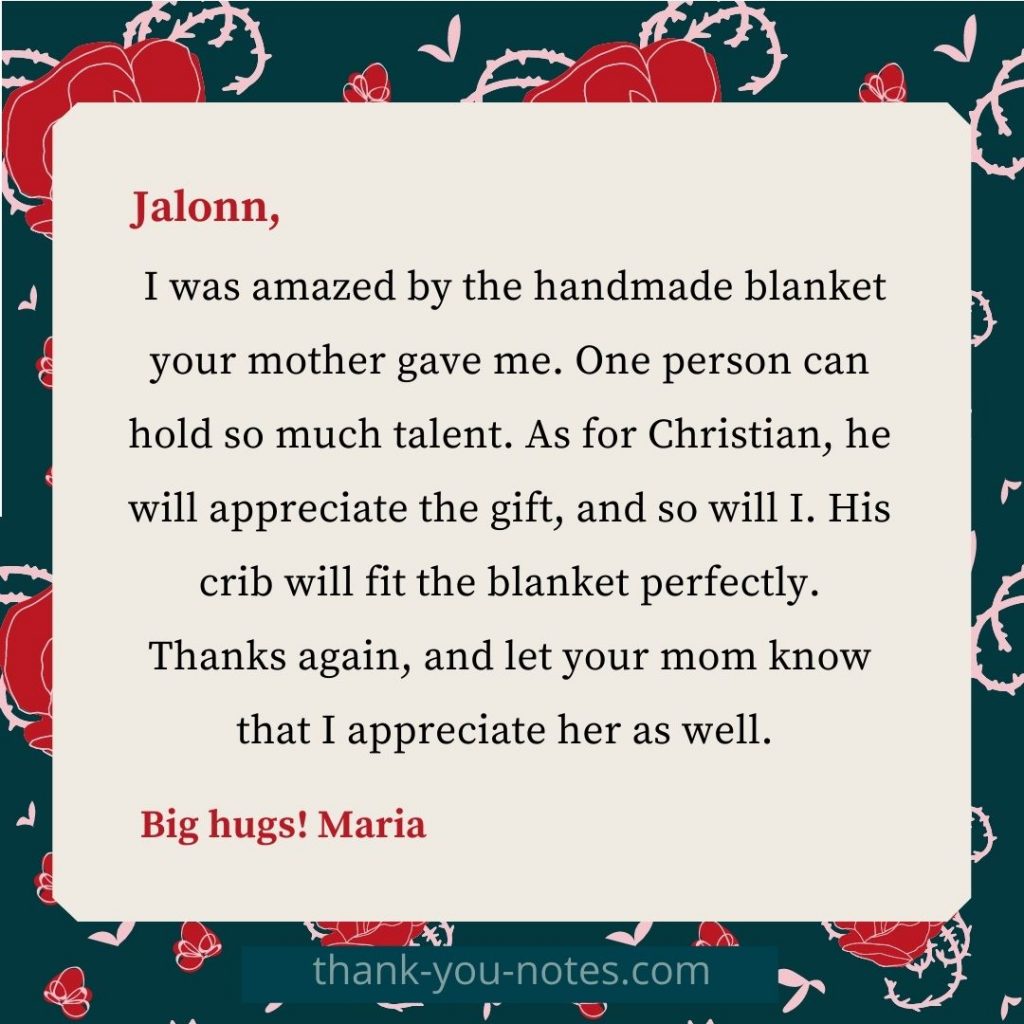 Jalonn,

  I was amazed by the handmade blanket your mother gave me. One person can hold so much talent. As for Christian, he will appreciate the gift, and so will I. His crib will fit the blanket perfectly. Thanks again, and let your mom know that I appreciate her as well.   

Big hugs!
Maria
Maria shows her appreciation for the effort that went into the baby gift and its uniqueness by writing this note.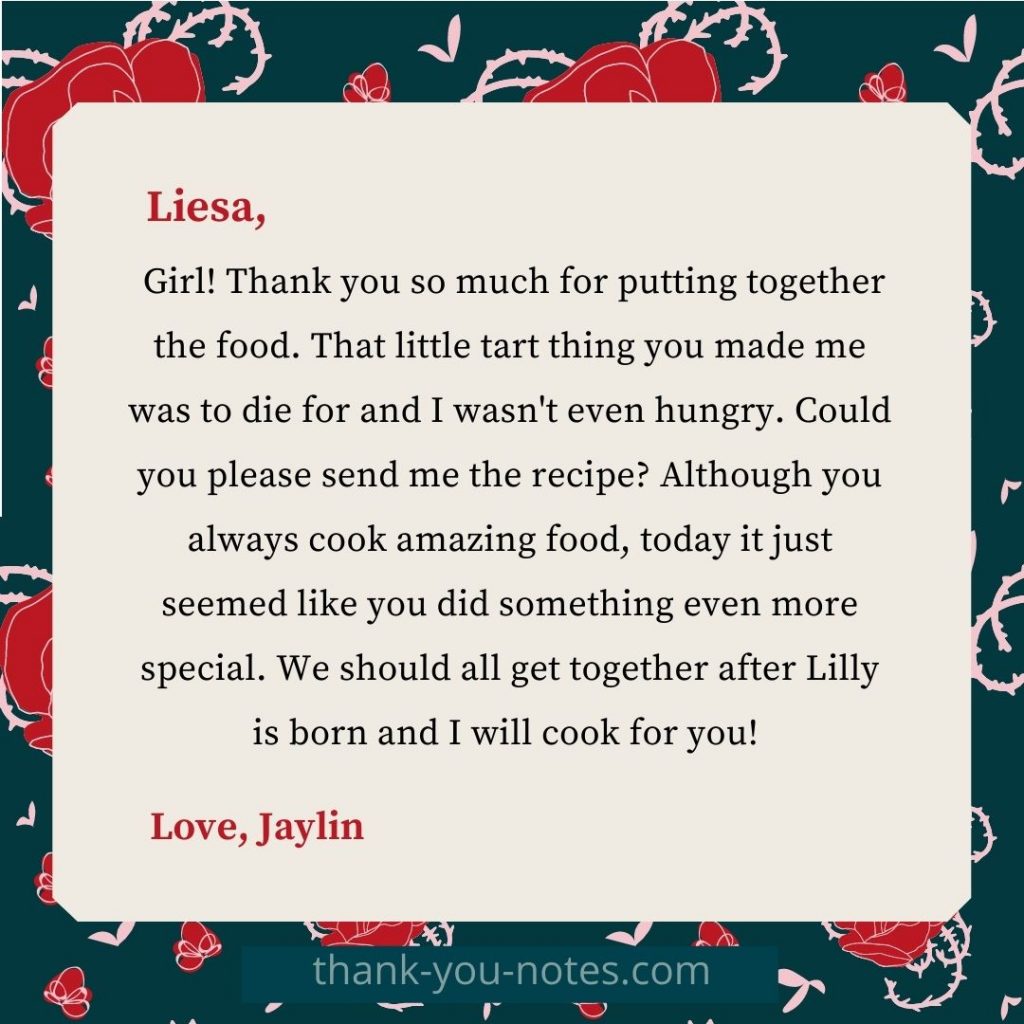 Liesa,


   Girl! Thank you so much for putting together the food. That little tart thing you made me was to die for and I wasn't even hungry. Could you please send me the recipe? 

 Although you always cook amazing food, today it just seemed like you did something even more special. We should all get together after Lilly is born and I will cook for you!    

Love,
Jaylin
Thanks to Liesa, Jaylin expressed her appreciation for the food at the baby shower. Additionally, by asking for the recipe, she shows that her comments are genuine.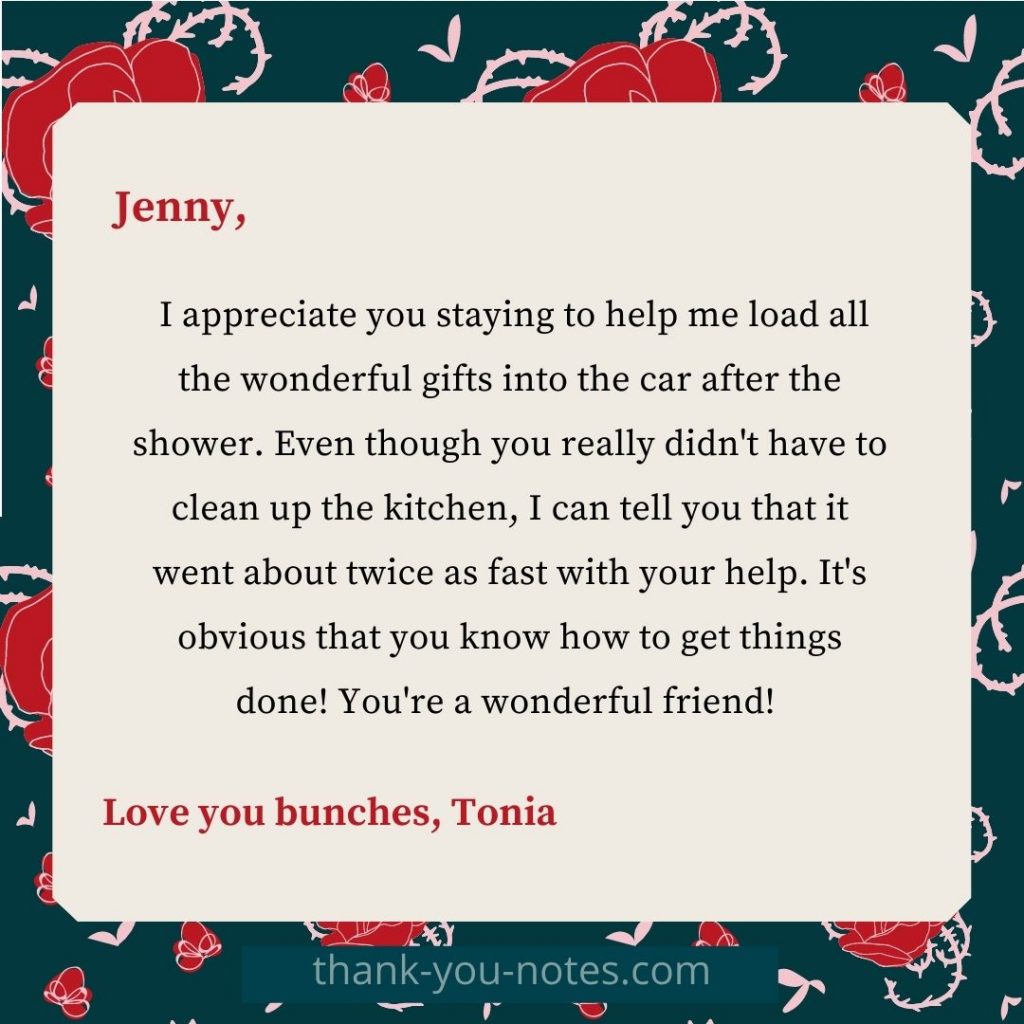 Jenny,

  I appreciate you staying to help me load all the wonderful gifts into the car after the shower. Even though you really didn't have to clean up the kitchen, I can tell you that it went about twice as fast with your help. It's obvious that you know how to get things done! You're a wonderful friend!   

Love you bunches,
Tonia
By explaining how well-suited she was and how they were able to save time by having her help clean up after the shower, Tonia makes Jenny understand how much they appreciated the extra assistance.
Thank You Note to the Baby Shower Host
Put some extra attention into thanking the friend who hosted your baby shower. The host is oftentimes your closest friend. So, take the time to write a note she will cherish for a long time.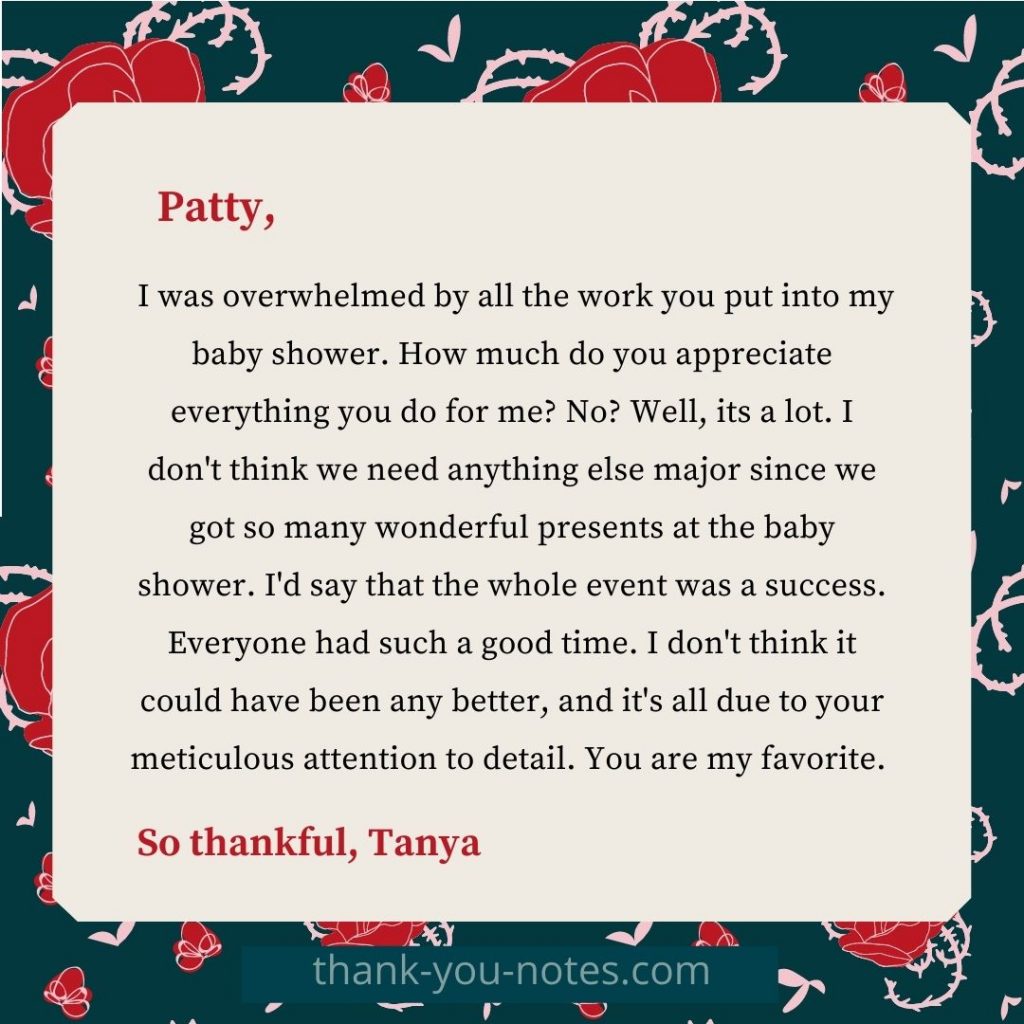 Patty,

  I was overwhelmed by all the work you put into my baby shower. How much do you appreciate everything you do for me? No? Well, its a lot. I don't think we need anything else major since we got so many wonderful presents at the baby shower. I'd say that the whole event was a success.   

  Everyone had such a good time. I don't think it could have been any better, and it's all due to your meticulous attention to detail. You are my favorite.   

So thankful,
Tanya
Tanya expresses her gratitude by taking note of the effort that went into the shower. She assures Patty that the shower was successful because of her, and she was able to get everything she needed.
More baby shower thank you card help…
Baby Shower Thank You Quotes
Baby Shower Thank You Poems
Writing your Baby Shower Thank You Note
You'll write a lot of thank you notes to friends for the baby gifts they gave you. Most people who attend baby showers are friends of the soon-to-be mother. Keep your notes casual and fun.
Congratulations on your new bundle of joy. We aren't far from the finish line!