We have thank you notes and cards for you to use at your baby shower.

Including a poem with your thank you, your message for the baby shower is a nice gesture, don't you think? 

You should thank everyone who came to your baby shower and for their gifts. Are you afraid to be poetic? You don't have to believe it; write your own baby poetry or use your poems to thank someone. Please remember to thank the hostess of the baby shower as well!

What better way to thank someone than with a poem?

Our collection of baby shower thanks you poems would be perfect for thanking guests after a baby shower.

Thanks to every reader who contributed a thank you poem.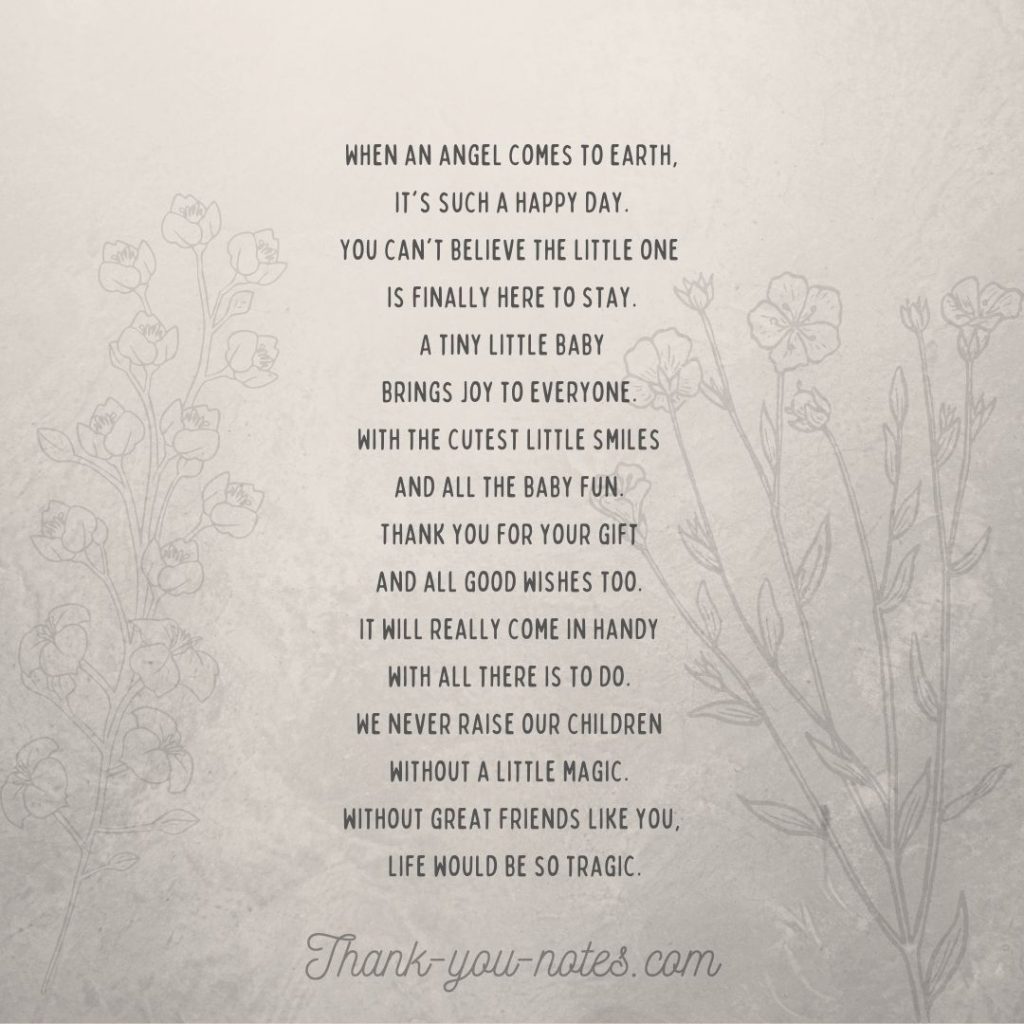 When an Angel comes to Earth

When an angel comes to earth,
it's such a happy day.
You can't believe the little one
is finally here to stay.
A tiny little baby
brings joy to everyone.
With the cutest little smiles
and all the baby fun.
Thank you for your gift
and all good wishes too.
It will really come in handy
with all there is to do.
We never raise our children
without a little magic.
without great friends like you,
life would be so tragic.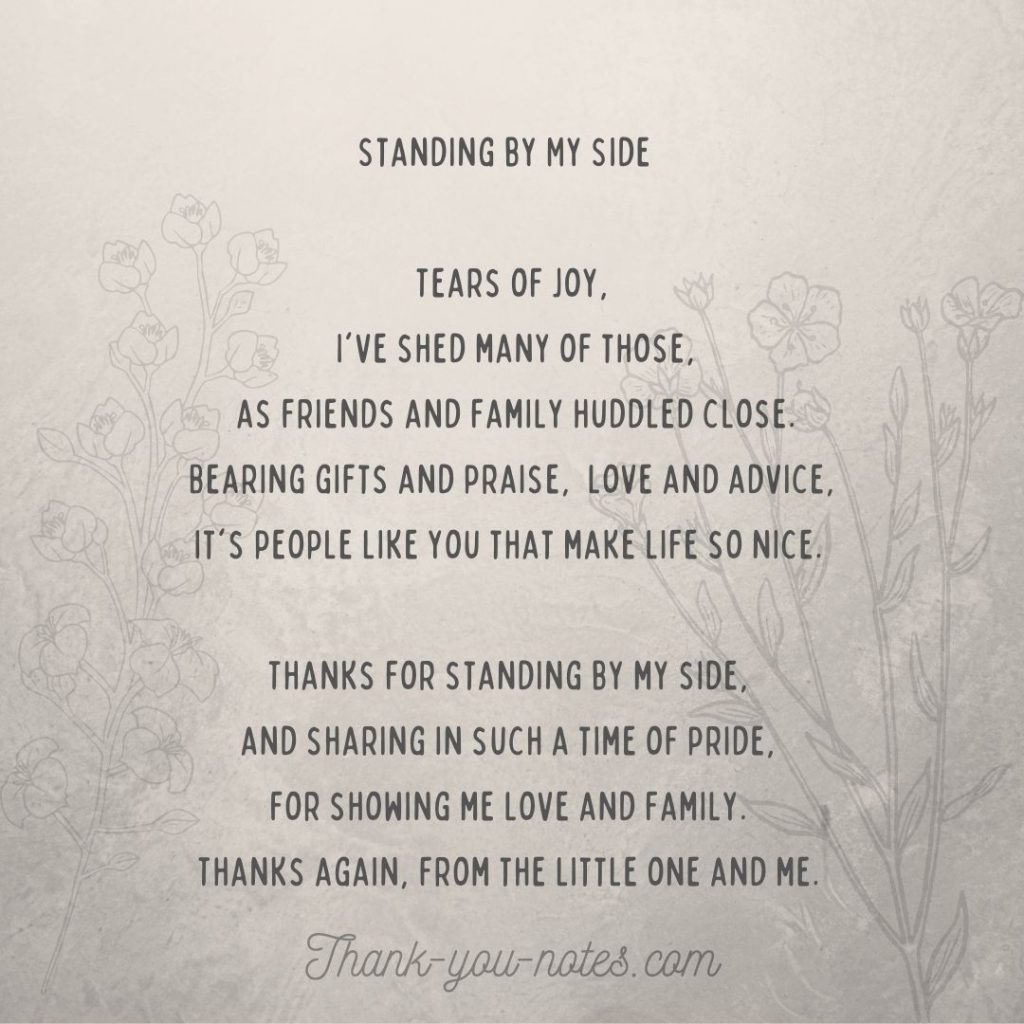 Standing by My Side

Tears of joy, I've shed many of those,
as friends and family huddled close.
Bearing gifts and praise, love and advice,
it's people like you that make life so nice.

Thanks for standing by my side,
and sharing in such a time of pride,
for showing me love and family.
Thanks again, from the little one and me.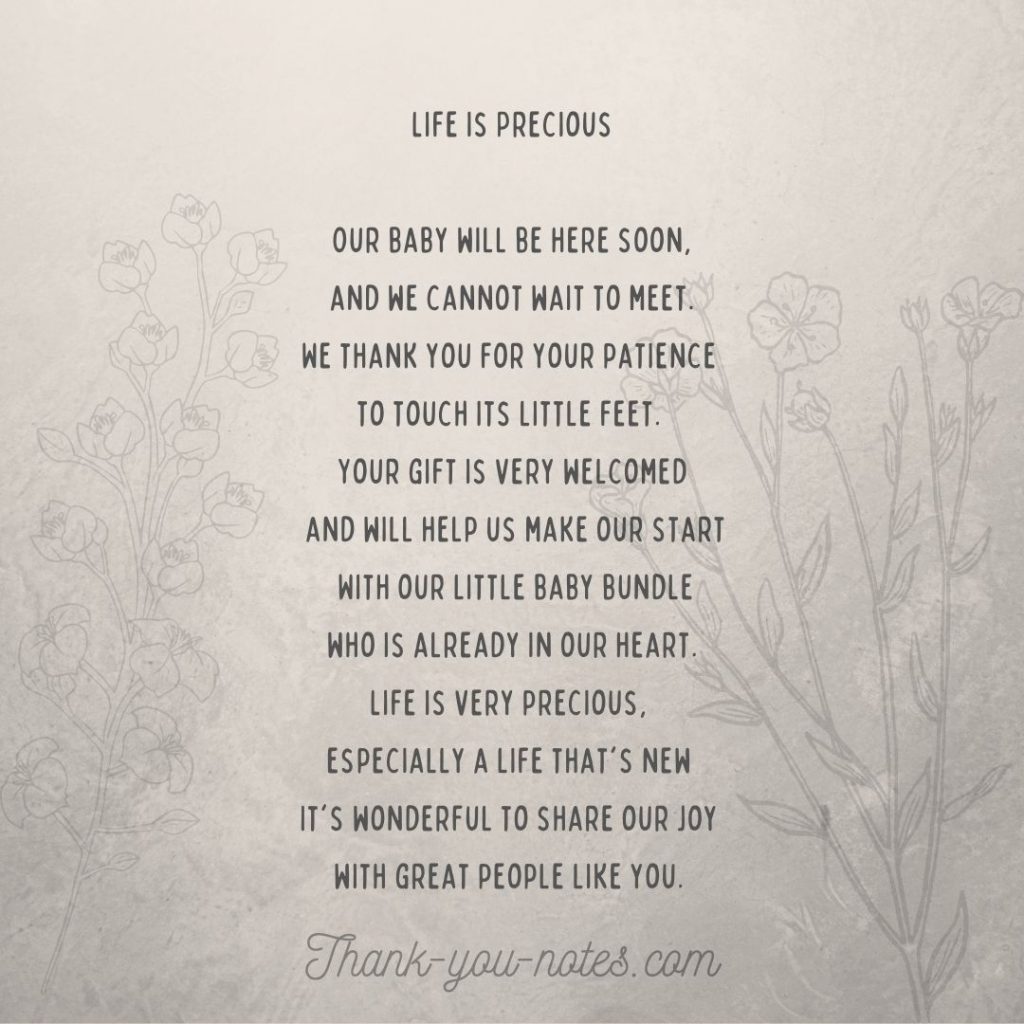 Life is Precious

Our baby will be here soon,
and we cannot wait to meet.
We thank you for your patience
to touch its little feet.
Your gift is very welcomed
and will help us make our start
With our little baby bundle
who is already in our heart.
Life is very precious,
especially a life that's new
It's wonderful to share our joy
with great people like you.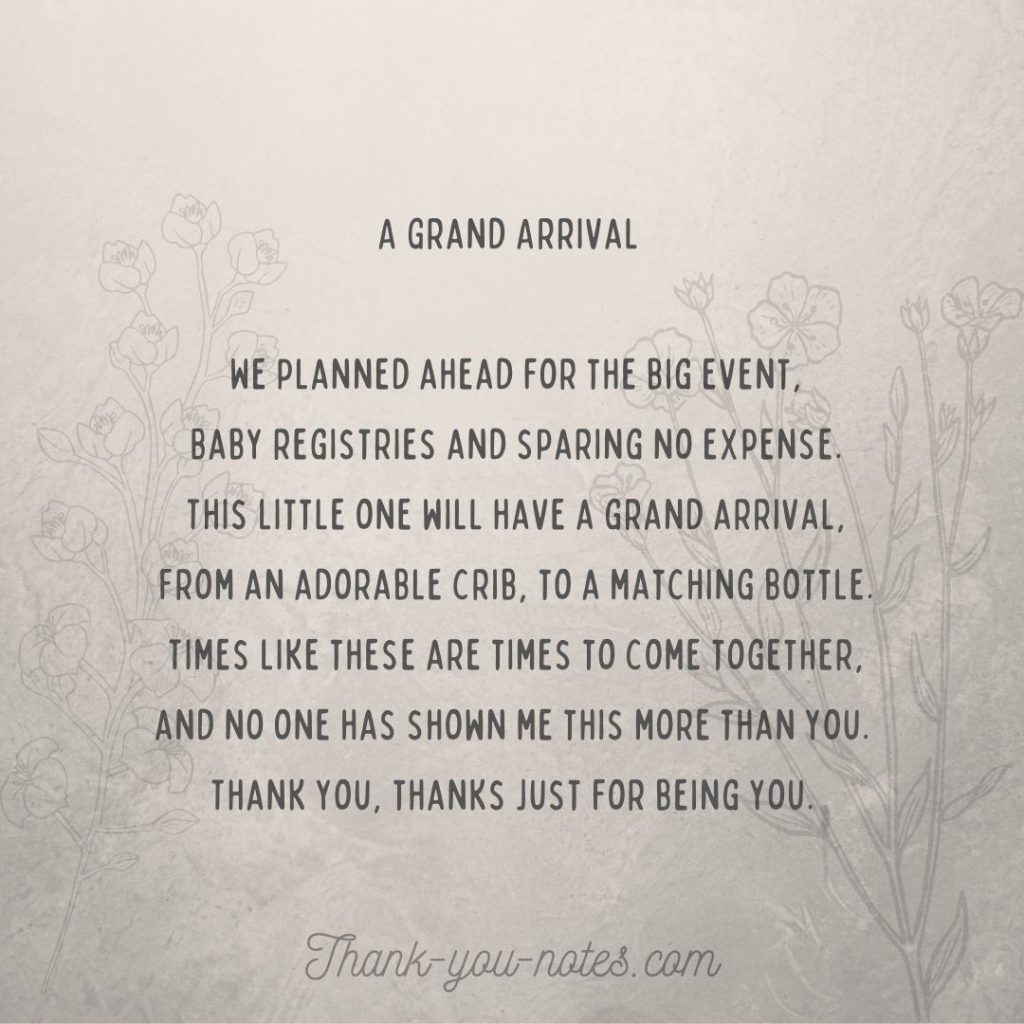 A Grand Arrival

We planned ahead for the big event,
Baby registries and sparing no expense.
This little one will have a grand arrival,
From an adorable crib, to a matching bottle.
Times like these are times to come together,
and no one has shown me this more than you.
Thank you, thanks just for being you.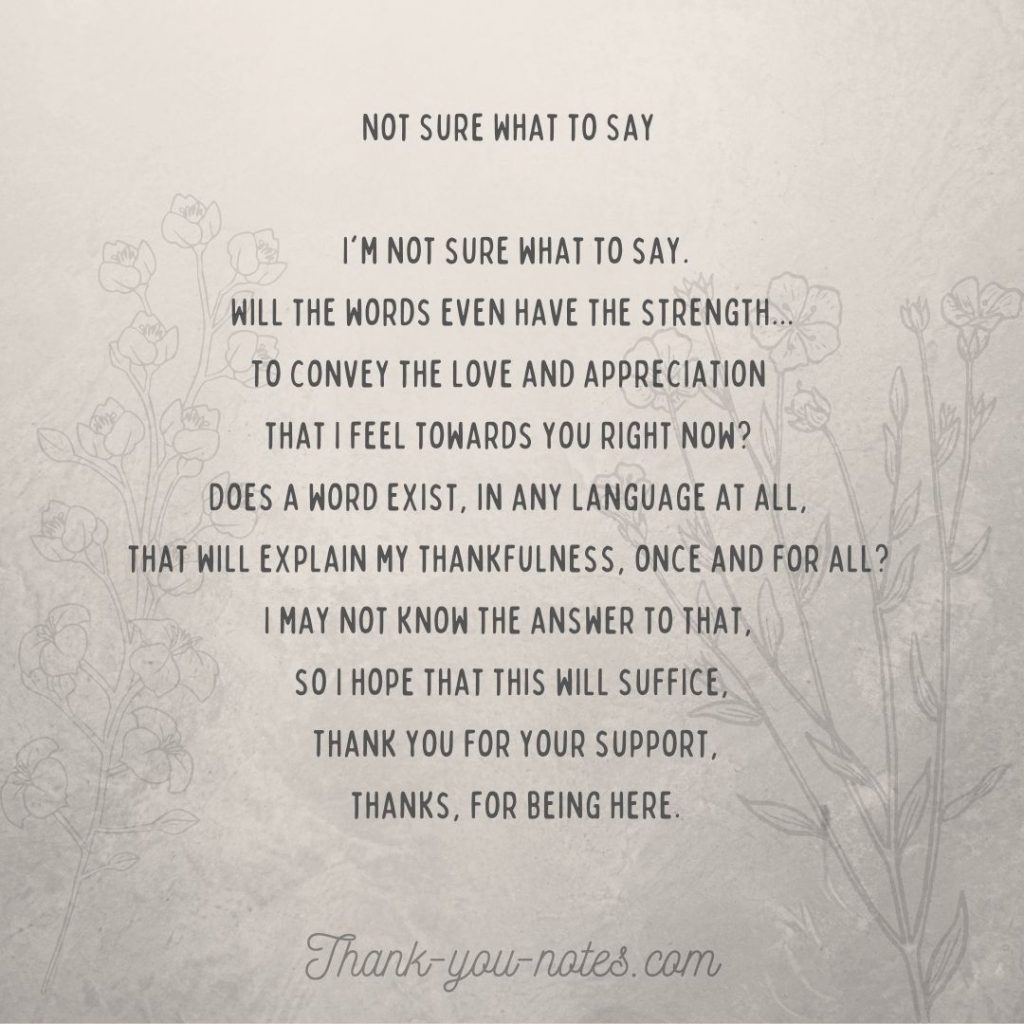 Not Sure What to Say

I'm not sure what to say.
Will the words even have the strength…
To convey the love and appreciation
that I feel towards you right now?
Does a word exist, in any language at all,
that will explain my thankfulness, once and for all?
I may not know the answer to that,
so I hope that this will suffice,
Thank you for your support,
thanks, for being here.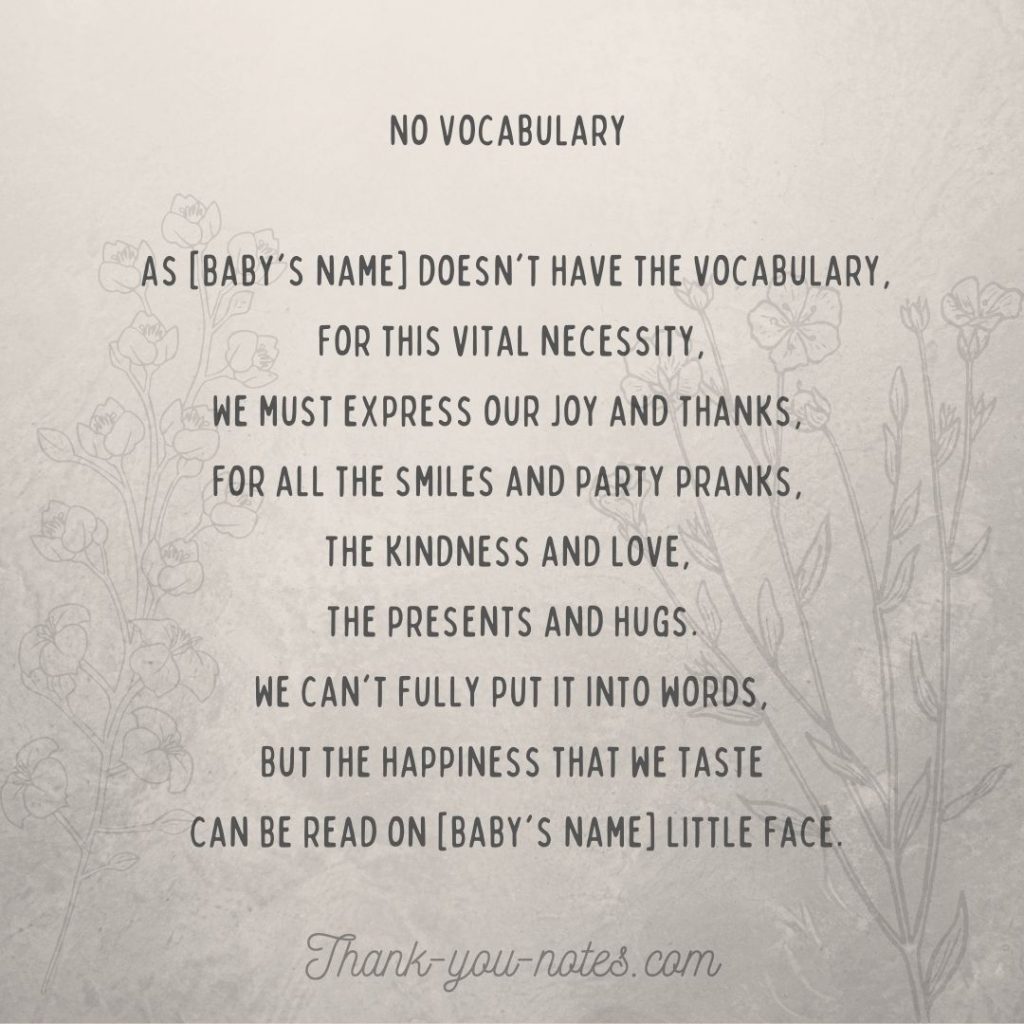 No Vocabulary

As [baby's name] doesn't have the vocabulary,
For this vital necessity,
We must express our joy and thanks,
For all the smiles and party pranks,
The kindness and love,
The presents and hugs.
We can't fully put it into words,
But the happiness that we taste
Can be read on [baby's name] little face.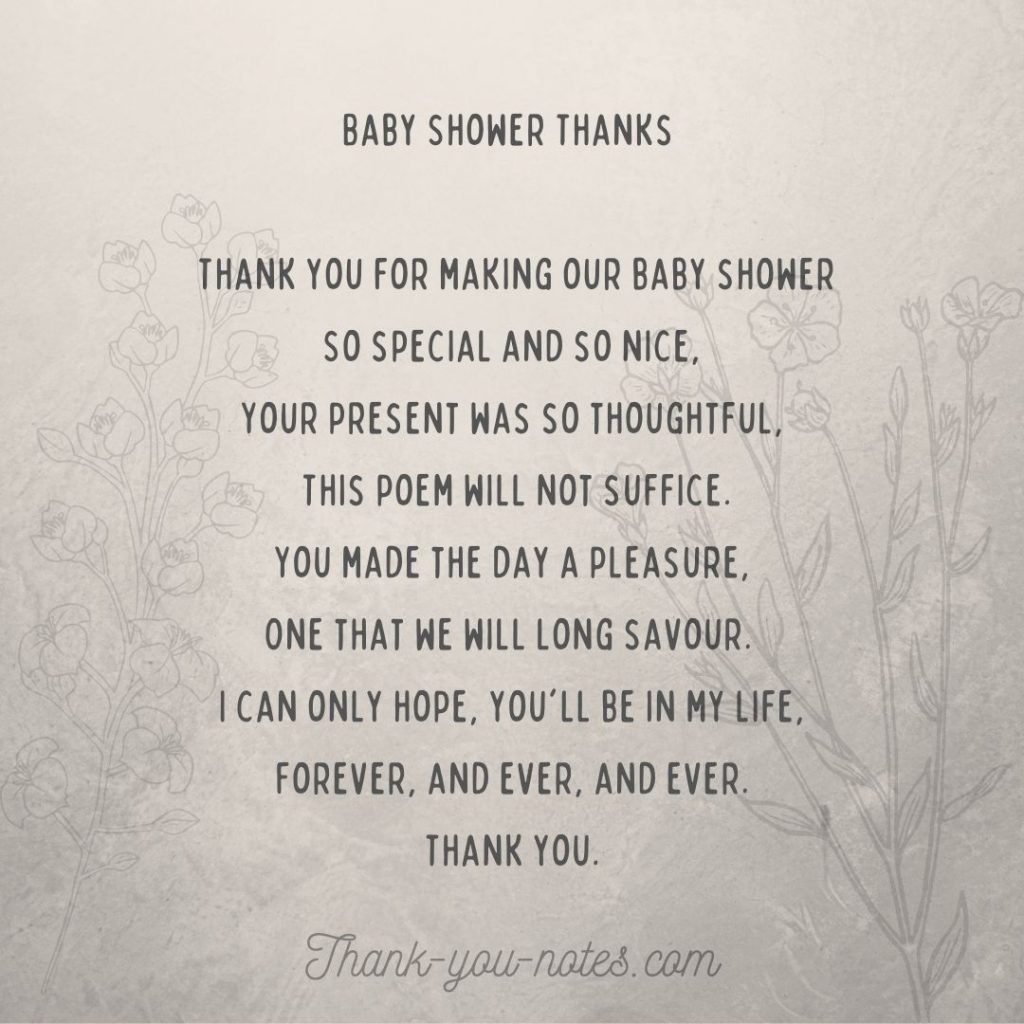 Baby Shower Thanks

Thank you for making our baby shower
So special and so nice,
Your present was so thoughtful,
This poem will not suffice.
You made the day a pleasure,
One that we will long savour.
I can only hope, you'll be in my life,
Forever, and ever, and ever.
Thank you.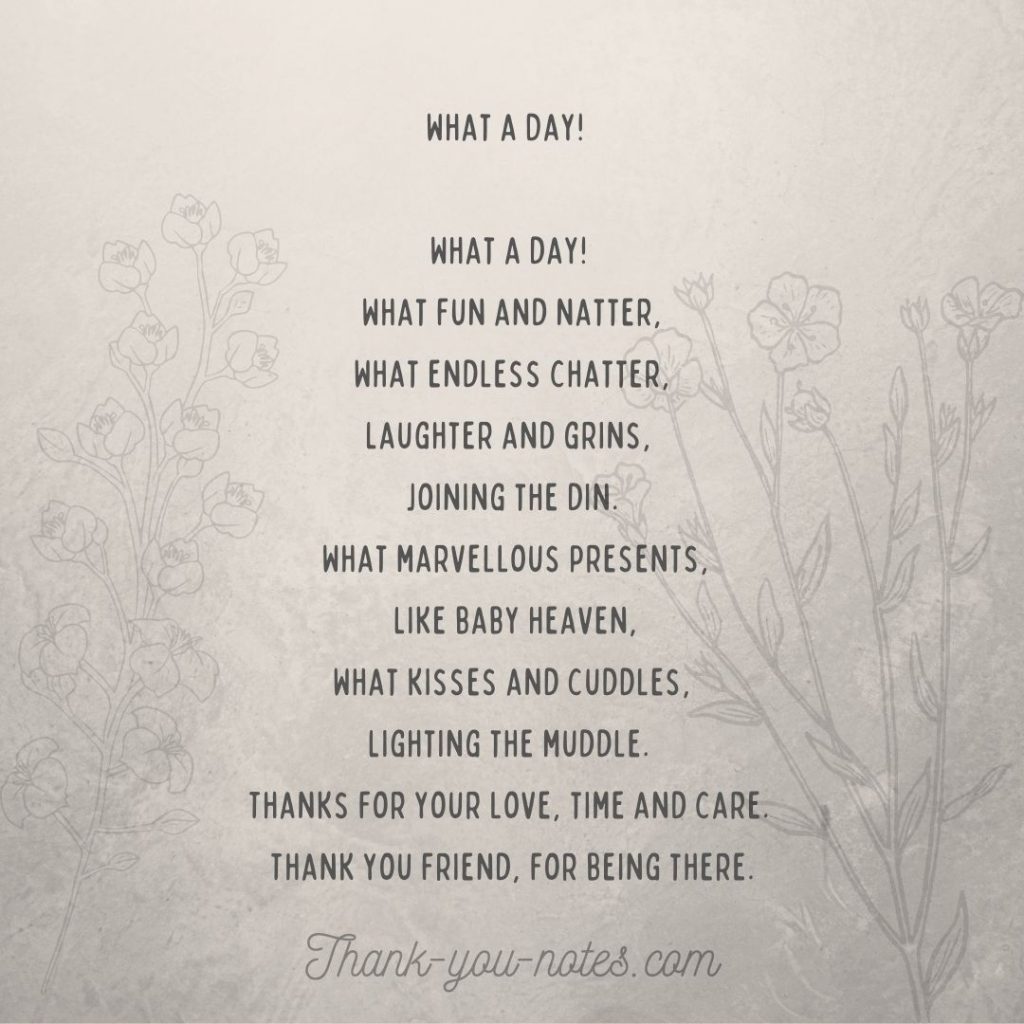 What a Day!

What a day!
What fun and natter,
What endless chatter,
Laughter and grins,
Joining the din.
What marvellous presents,
Like baby heaven,
What kisses and cuddles,
Lighting the muddle.
Thanks for your love, time and care.
Thank you friend, for being there.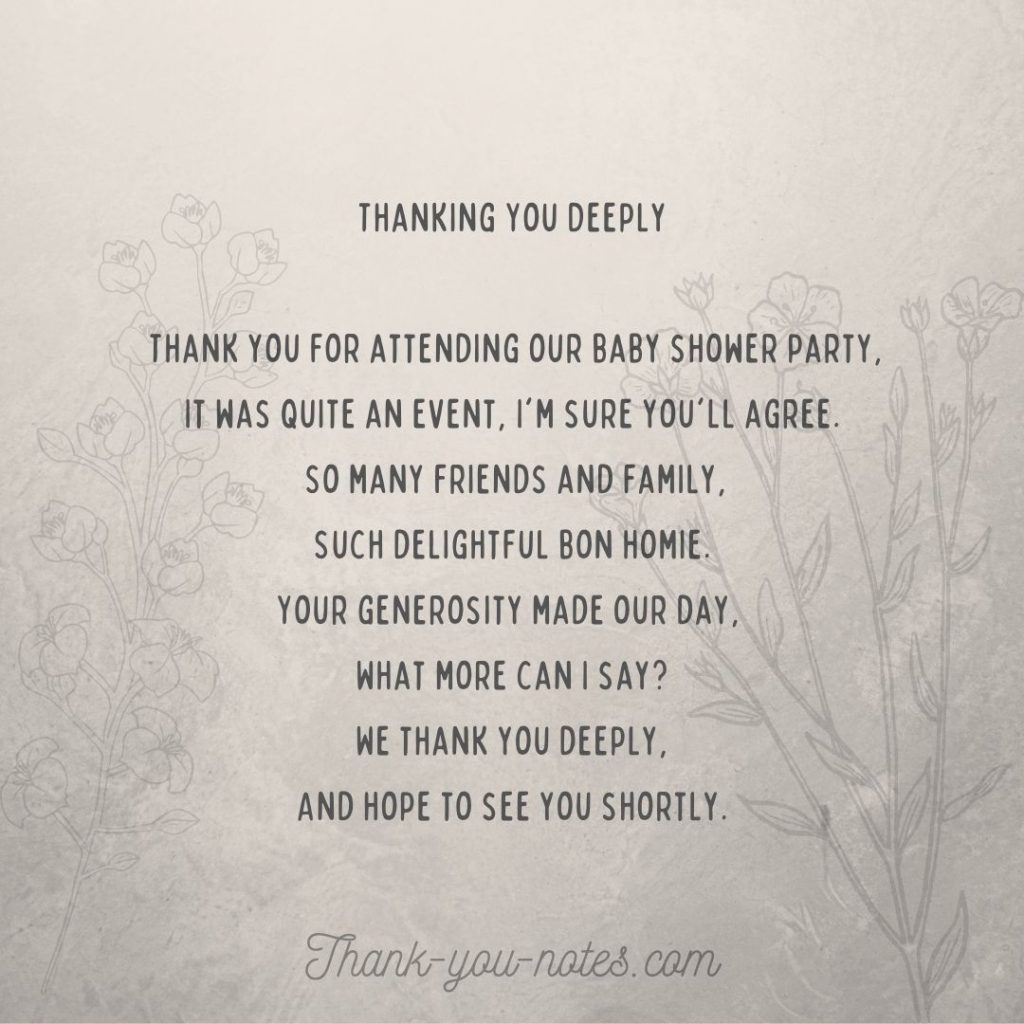 Thanking You Deeply

Thank you for attending our baby shower party,
It was quite an event, I'm sure you'll agree.
So many friends and family,
Such delightful bon homie.
Your generosity made our day,
What more can I say?
We thank you deeply,
And hope to see you shortly.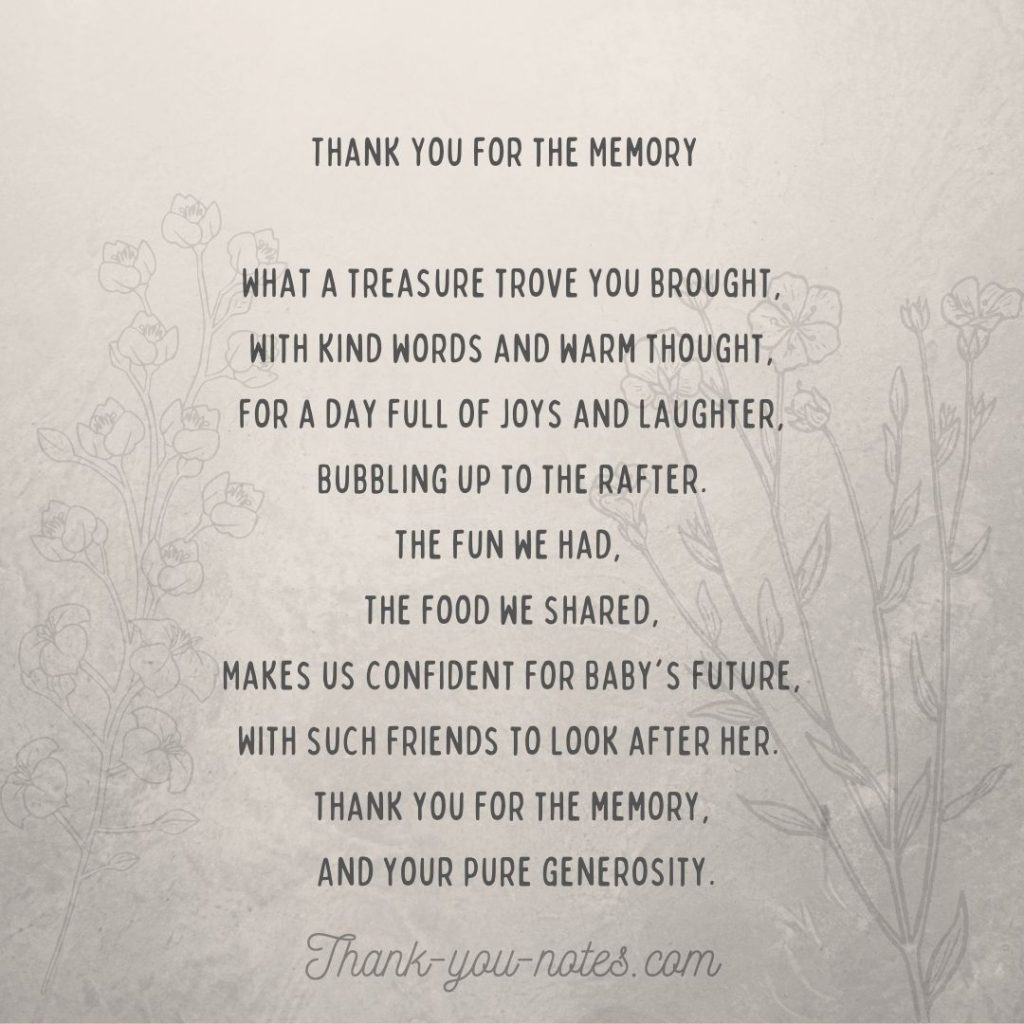 Thank You for the Memory

What a treasure trove you brought,
With kind words and warm thought,
For a day full of joys and laughter,
Bubbling up to the rafter.
The fun we had,
The food we shared,
Makes us confident for Baby's future,
With such friends to look after her.
Thank you for the memory,
And your pure generosity.
Feel free to submit a thank you poem for the baby shower.
More Baby Shower Poems