Thanks are always appreciated when you write birthday thank you notes, and it isn't too hard. Here are some samples of wording to help you write your birthday thank-you notes.
More birthday thank you help…
Birthday Thank You Quotes
Thank You Poems
Tips for Writing Birthday Thank You Notes
If you wanted that present, let them know!
Describe how the gift will improve your life.
Be sure to personalize each note.
Let's keep it short and sweet…
Get some inspiration for your own writing by looking at this example of a thank you note. Don't forget that being thankful now will pave the way for bigger and better presents next year!
Birthday Thank You Note Examples
From a Child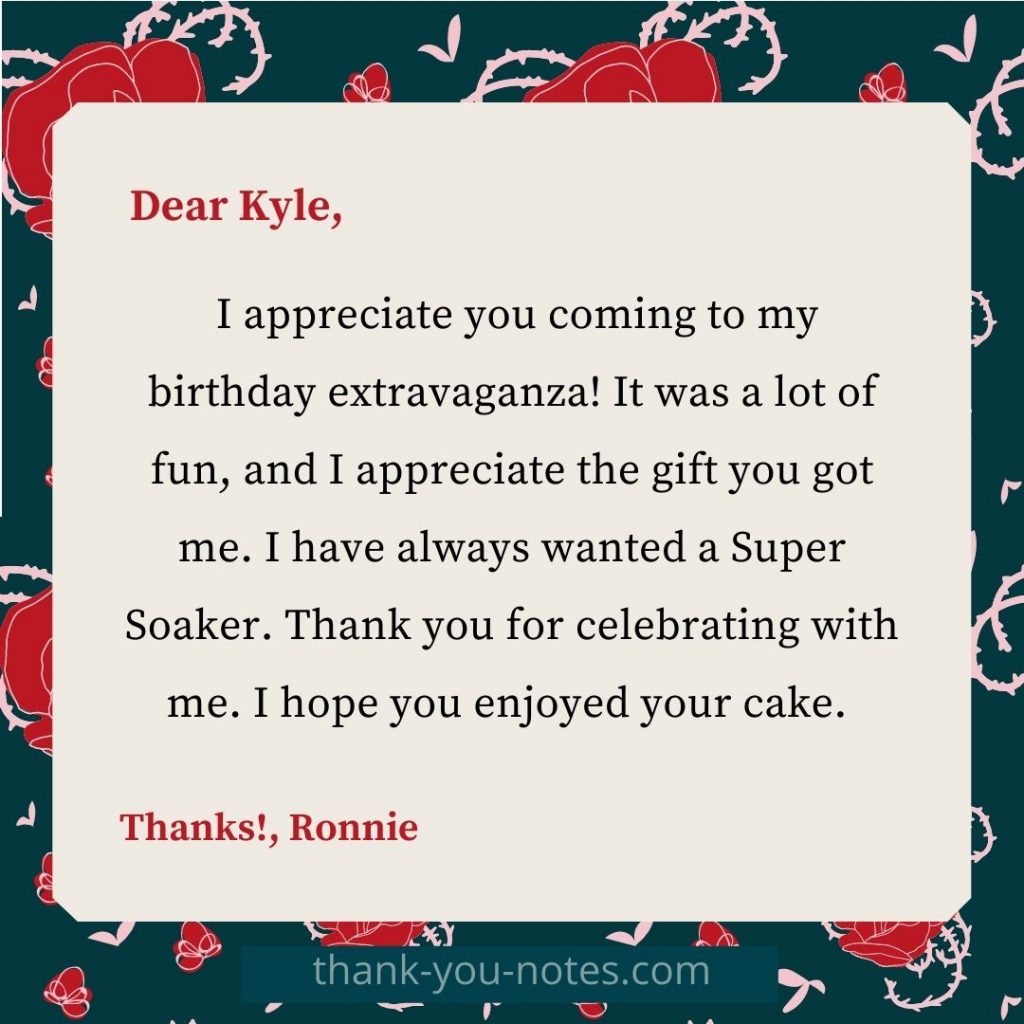 Dear Kyle,

  I appreciate you coming to my birthday extravaganza! It was a lot of fun, and I appreciate the gift you got me. I have always wanted a Super Soaker. Thank you for celebrating with me. I hope you enjoyed your cake.   
Thanks!,
Ronnie
For a Great Gift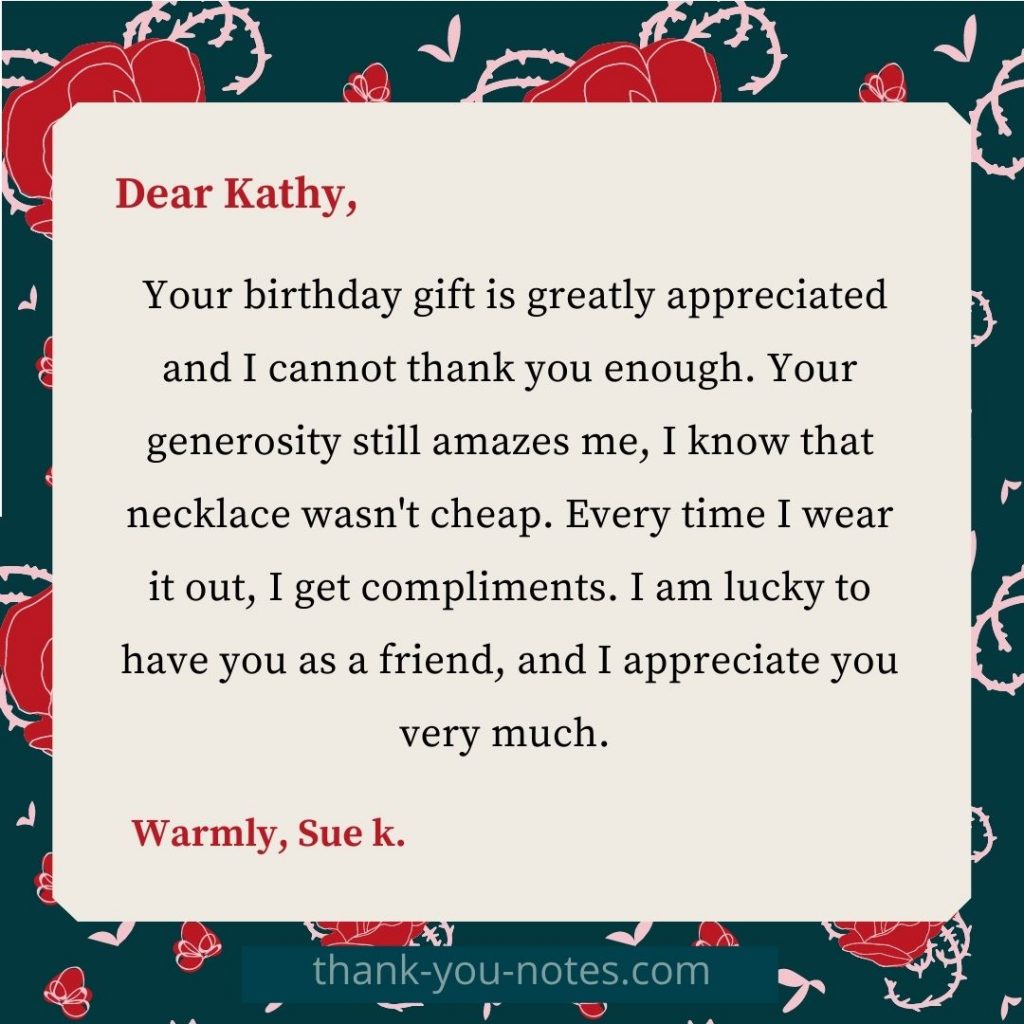 Dear Kathy,

  Your birthday gift is greatly appreciated and I cannot thank you enough. Your generosity still amazes me, I know that necklace wasn't cheap. Every time I wear it out, I get compliments. 
 I am lucky to have you as a friend, and I appreciate you very much.  

Warmly,
Sue k.
Read more Thank You Letters for Gifts
For Hosting a Birthday Party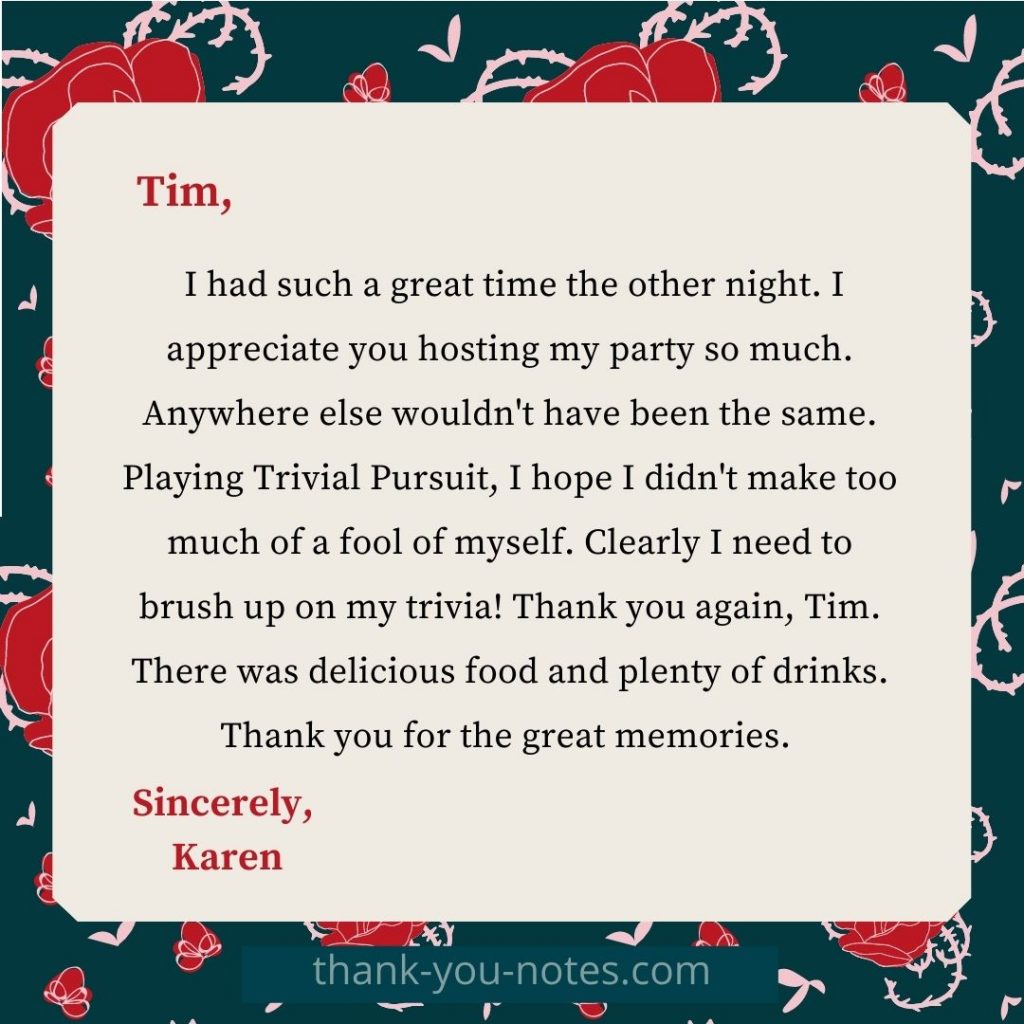 Tim,

  I had such a great time the other night. I appreciate you hosting my party so much. Anywhere else wouldn't have been the same. 

 Playing Trivial Pursuit, I hope I didn't make too much of a fool of myself. Clearly I need to brush up on my trivia!  Thank you again, Tim. There was delicious food and plenty of drinks.

 Thank you for the great memories.   

Sincerely,
Karen
Read more Thank You Notes for Dinner
Thanks for The Gift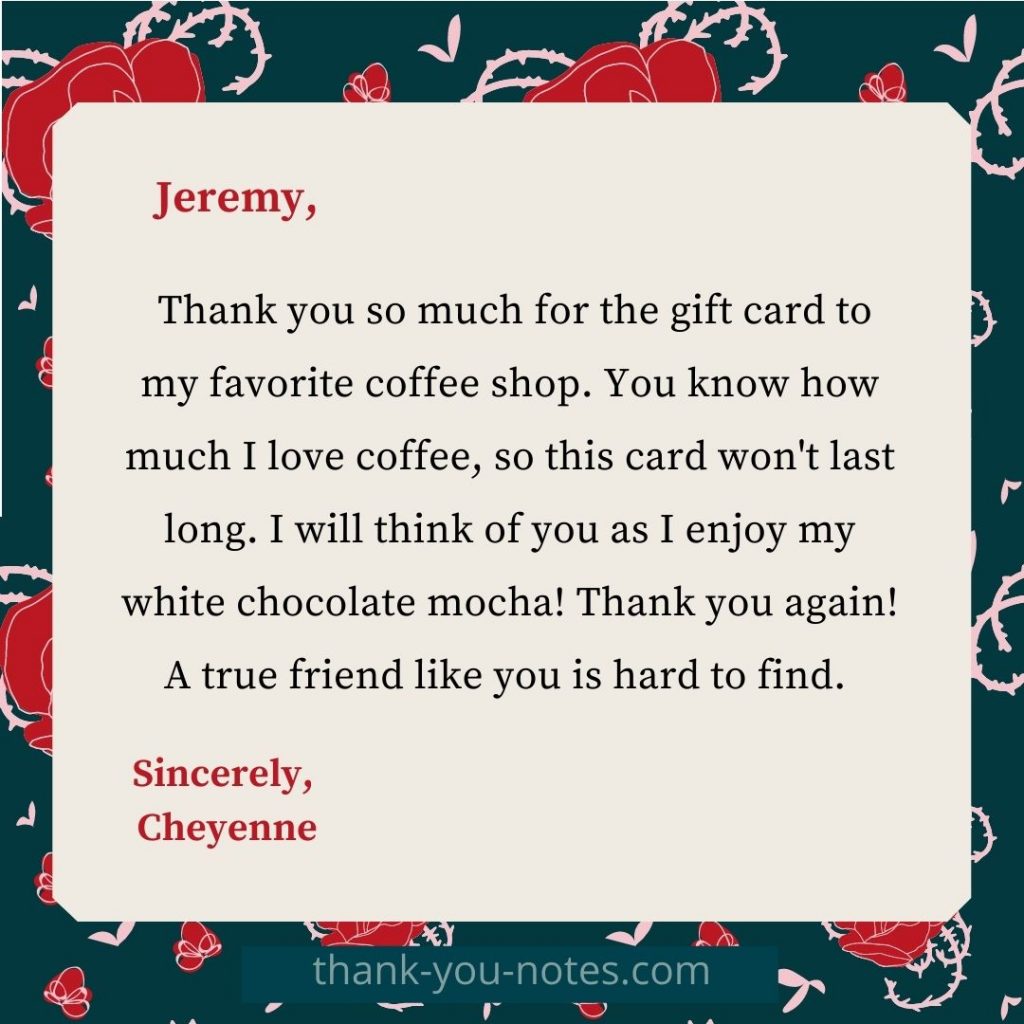 Jeremy,

  Thank you so much for the gift card to my favorite coffee shop.
 You know how much I love coffee, so this card won't last long. I will think of you as I enjoy my white chocolate mocha! 
 Thank you again! A true friend like you is hard to find.  

Sincerely,
Cheyenne
Read more Thank You Notes for Gift Cards
To Mom and Dad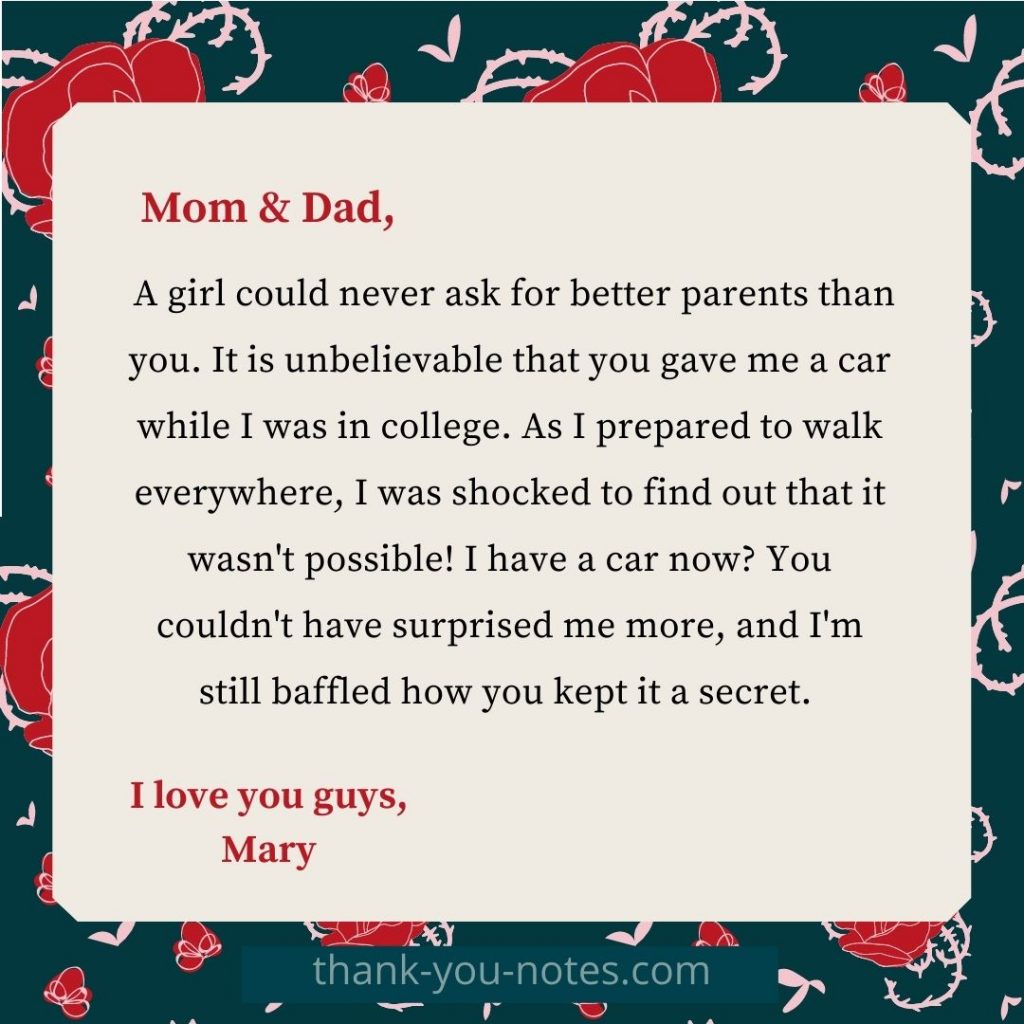 Mom & Dad,

  A girl could never ask for better parents than you. It is unbelievable that you gave me a car while I was in college. As I prepared to walk everywhere, I was shocked to find out that it wasn't possible! 
I have a car now? You couldn't have surprised me more, and I'm still baffled how you kept it a secret.   

I love you guys,
Mary
Mary shows her parents that she is truly thankful for the big gift they gave her in this note. In addition to complimenting their slyness, she also admits her surprise. Thanks are definitely required for a big birthday present as a car.
To an Aunt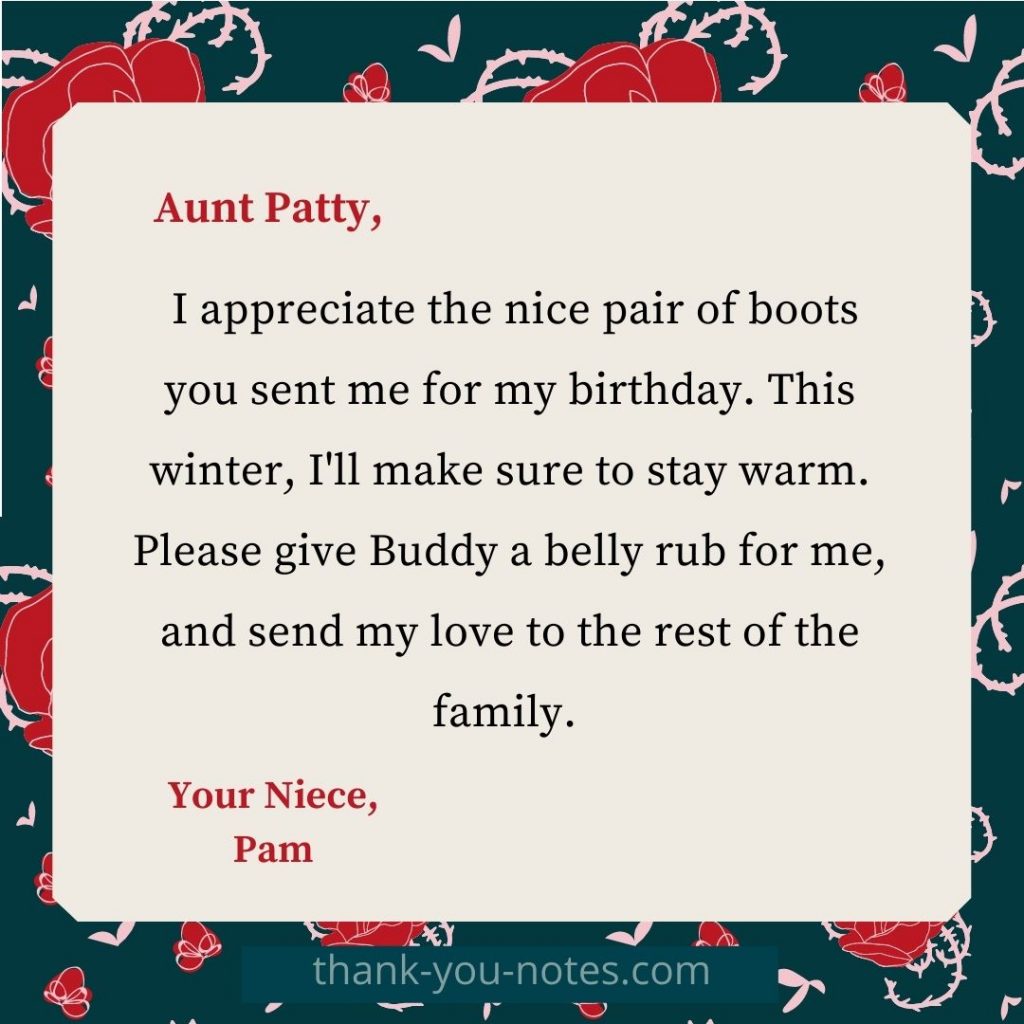 Aunt Patty,

  I appreciate the nice pair of boots you sent me for my birthday. This winter, I'll make sure to stay warm. Please give Buddy a belly rub for me, and send my love to the rest of the family.   

Your Niece,
Pam
It is not uncommon for distant relatives to buy things almost everyone would be happy with since they have no idea what you need. You may find it difficult to write a thank you note, but just getting something in and getting it sent off is key to keeping the relationship going.
From One Friend to Another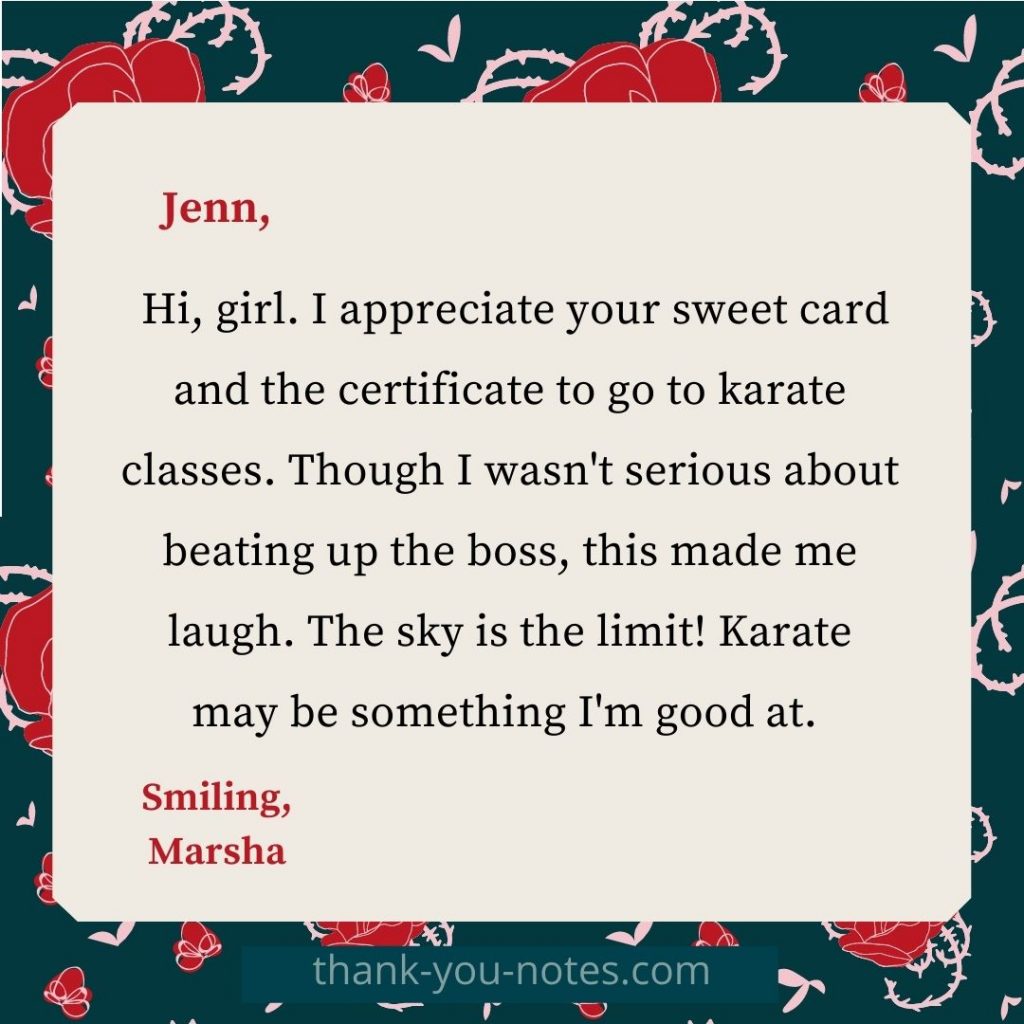 Jenn,

  Hi, girl. I appreciate your sweet card and the certificate to go to karate classes. Though I wasn't serious about beating up the boss, this made me laugh. The sky is the limit! Karate may be something I'm good at.   

Smiling,
Marsha
There seems to be an inside joke between Sha and Jenn regarding their boss. Jenn came up with a great way to brighten Marsha's day. By thanking them, you will maintain a good working relationship.
For Breakfast in Bed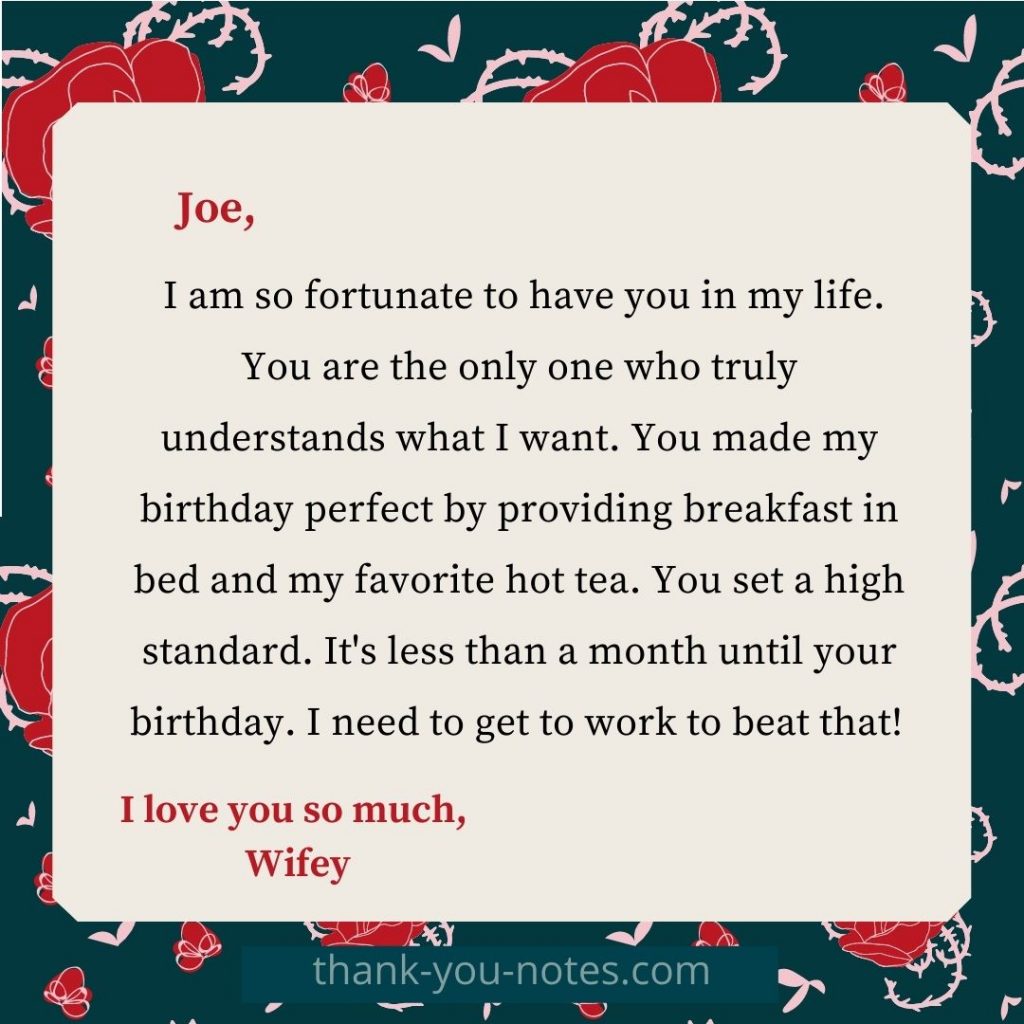 Joe,

  I am so fortunate to have you in my life. You are the only one who truly understands what I want. You made my birthday perfect by providing breakfast in bed and my favorite hot tea. You set a high standard. It's less than a month until your birthday. I need to get to work to beat that!   

I love you so much,
Wifey
This is a sweet note of thanks that also lets the husband know he did a good job. Every husband needs this kind of positive reinforcement.
Birthday Gift from a Boss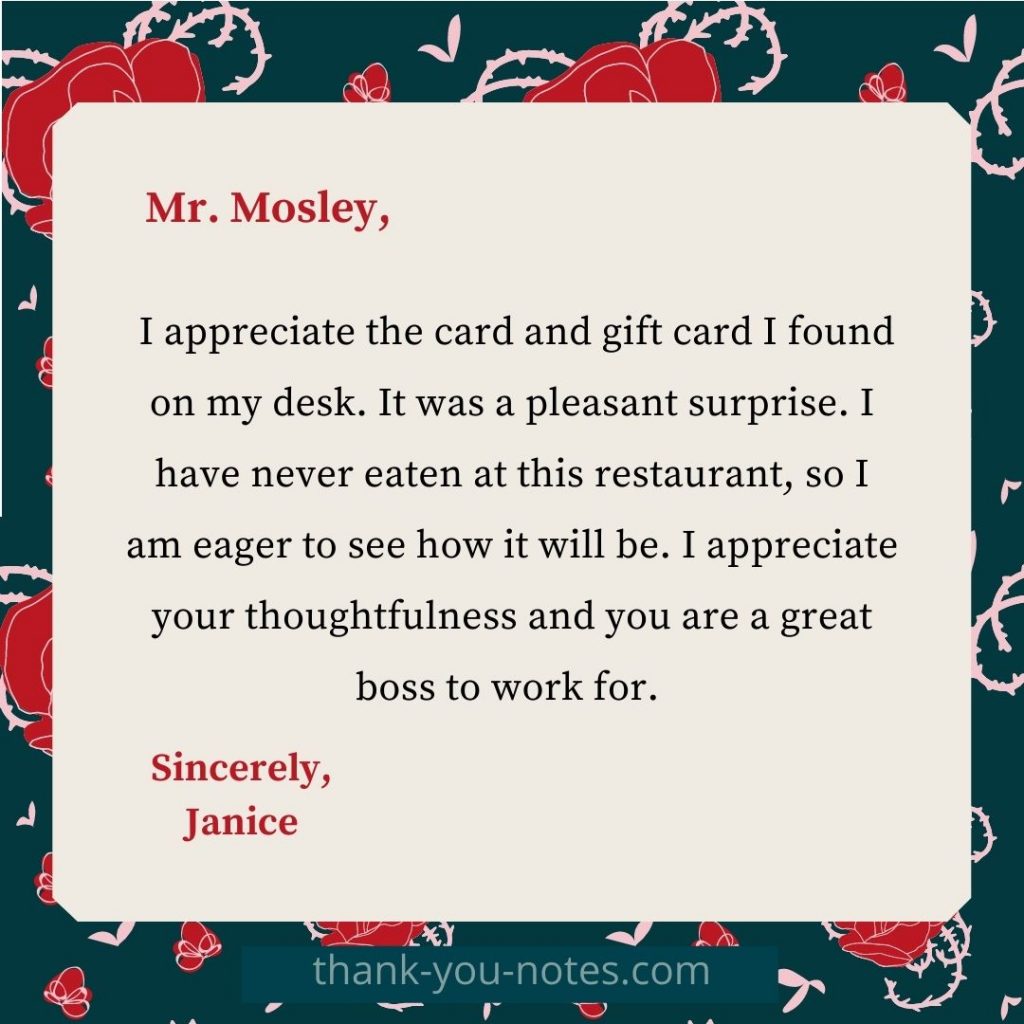 Mr. Mosley,

  I appreciate the card and gift card I found on my desk. It was a pleasant surprise. I have never eaten at this restaurant, so I am eager to see how it will be. I appreciate your thoughtfulness and you are a great boss to work for.   

Sincerely,
Janice
The note that Janet writes for her boss is not overly personal, but she ensures that he knows she is appreciative. Her boss probably bought her a gift card for a restaurant he likes since he doesn't know her well.
When addressing someone of authority, not to Friend can be casual and fun. Keeping things a little more formal is a good idea.
Need Help Writing Your B-Day Thank You Note?
Please tell us who you would like to thank, and why.
Enjoy the presents!.
More birthday thank you help…
Birthday Thank You Quotes
Thank You Poems
Sample Thank You Notes for Money