Boss quotes will give you the boost that you need. Your boss has a significant impact on your life. They're more than just a face or someone who signs your paycheck. They can have a significant impact on your professional as well as personal life. The boss is a true inspiration to the team. He has all of the necessary leadership skills. A successful manager always takes into account the ideas of others.
These boss quotes are for you if you aspire to be a boss or admire your boss. We've compiled a list of the top boss quotes and sayings that are insightful and humorous. If you send these quotes to your boss, it will help your business grow.
You can thank your boss by sending him or her a message from our extensive collection of thank you messages to a boss.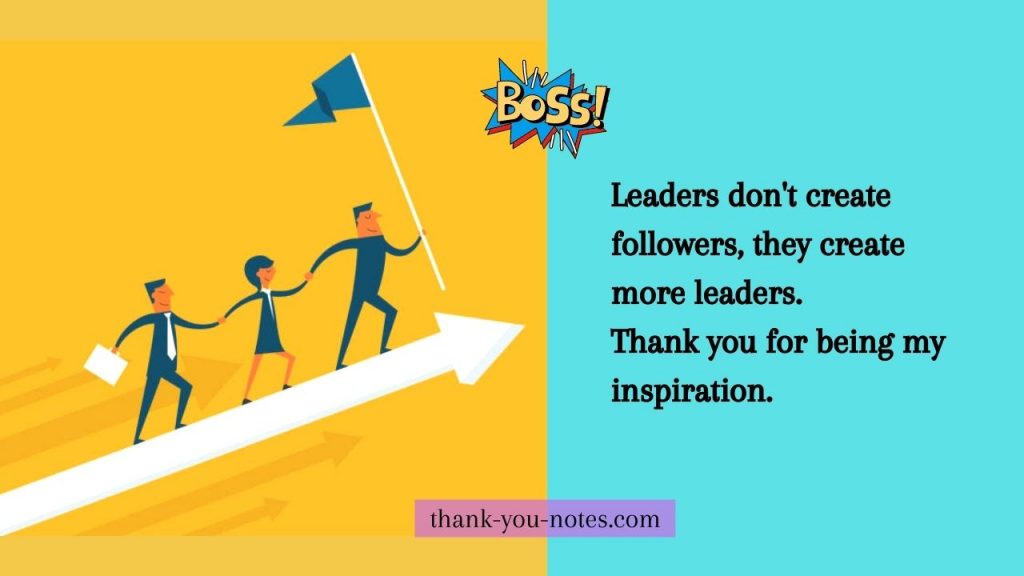 30 Powerful Boss Quotes to Boost your Bussiness
"Leaders don't create followers, they create more leaders."

-Tom Peters
"People ask the difference between a leader and a boss. The leader leads, and the boss drives."

~Theodore Roosevelt
"A leader takes people where they want to go. A great leader takes people where they don't necessarily want to go, but where they ought to be."

~Rosalynn Carter.
"Working for you is an honor; working without you is an absolute horror. Working under you is a pleasure, an experience that I will truly treasure. Thanks boss."

~Anonymous
"My dad is my best friend, my father, and my boss. When I do something that is exciting and he likes it, it feels three times as good as you can imagine."

-David Lauren

"A good boss makes his men understand they have more talent than they think, so they consistently do better than expected."
"There is only one boss. The customer. And he can fire everybody in the company, from the chairman on down, simply by spending his money somewhere else."
"I've met many humble people, and you're one. You are an excellent boss and leader."
"By working faithfully eight hours a day, you may eventually get to be boss and work twelve hours a day."
"It was a pleasure to work with you. You were a fantastic boss and a great friend."
"The boss inspires fear in the employees; the leader inspires enthusiasm."
"The joy about the recording is that you are your boss. You don't have a director telling you how to do it."
"You've had such a significant influence on my life! I appreciate what you've taught me."
"A good boss makes his men realize they have more ability than they think they have so that they consistently do better work than they thought they could."
"Thank you" is insufficient to express my gratitude, but I'll repeat it because it's a start. Thank you so much for everything you do!"
"To be a good boss, you must be transparent. There's a correlation between worker happiness and workplace transparency. Leaders and managers who offer transparency will earn respect and devotion of their team."
"An ideal employee is one who inspires his boss as much as his boss inspires him… Thank you for being my inspiration."
"Thank you for believing me and guiding me in the right direction.
Because of you, I am who I am today. Thank you very much, boss."
"Leaders don't inflict pain, they share pain."
"How difficult the situation is you know precisely how to deal with it. That's one of the things I admire the most about you. Thank you, boss."
"From above, a good leader leads the people. A superb leader inspires their followers from inside."
"There will always be work for the person who knows how." His employer will always be the one who knows why."
"Boss is the pilot who helps you fly through monthly targets and appraisals."
Boss Appreciation Letter Sample
Hello, name (Boss).




You had a problem when a big organization filed a complaint against us, and we were completely unaware of it. You inspired us that day, and you didn't give up. You were doing it your all, and when we knew of this, we were shocked, fearing that we would all lose our jobs. However, you handled things quite well, and you recognized my work by increasing my compensation. 



You are a great inspiration for us. That is why I don't want to leave your organization.  "Be the boss, you are not an employee, perform your work appropriately" is a phrase I always remember. You taught us many things. Hats off to you, boss.





Best Regards, 
XYZ.