The bride will need to write a thank-you note in a timely manner after a bridal shower to express her gratitude for everyone's gifts.
There are a few things to keep in mind when writing and sending thank you notes for your bridal shower.
Here are some tips for writing thank you cards, and we'll show you some examples of well-written thank you cards to help you with the wording.
Bridal Shower Thank You Note Etiquette
Handwritten: The thank you note should ideally be handwritten. Even in this age of email and Facebook, a handwritten thank you note remains the best. It's more personal than a quick email or typing and printing your notes.
Stationary: Many couples choose to use thank you notes that match the rest of their wedding stationary, but this is not necessary. To write your thank you notes, you could use any simple thank you card stock. If you decide to match your thank you notes to your wedding stationary, you may consider ordering two slightly different notes: one for the shower and the other for the wedding.
Mention the Gift: Thank you notes for bridal showers should not be generic. Instead, mention the person and the gift they gave you. (Make sure you have someone keeping track of who gave what gift during your shower).
Short and Sweet: It is best to keep a bridal shower thank you note short and simple. Usually a couple of short paragraphs are sufficient.
Bride Only: It is customary to send out thank you notes with both the bride and groom's signatures after your wedding. Please note, however, that the bride should only sign the notes when writing a thank you note for a bridal shower. Only a Jack and Jill shower (where both bride and groom attend) would be an exception. In that case, both signatures would be appropriate.
Mailed to Home: Thank you notes should not be delivered in person. Rather, you should mail the notes to the recipients' homes.
Timeliness: Different people have different opinions about how long you should wait to send your bridal shower thank you notes. Send them out as soon as possible, but no more than a month after the event.
Bridal Shower Thank You Note Examples
Here are some examples of well-written thank you notes for bridal showers. The notes should be handwritten, as mentioned above. As an example of proper wording for thank you cards for bridal showers, see the example below.
Example #1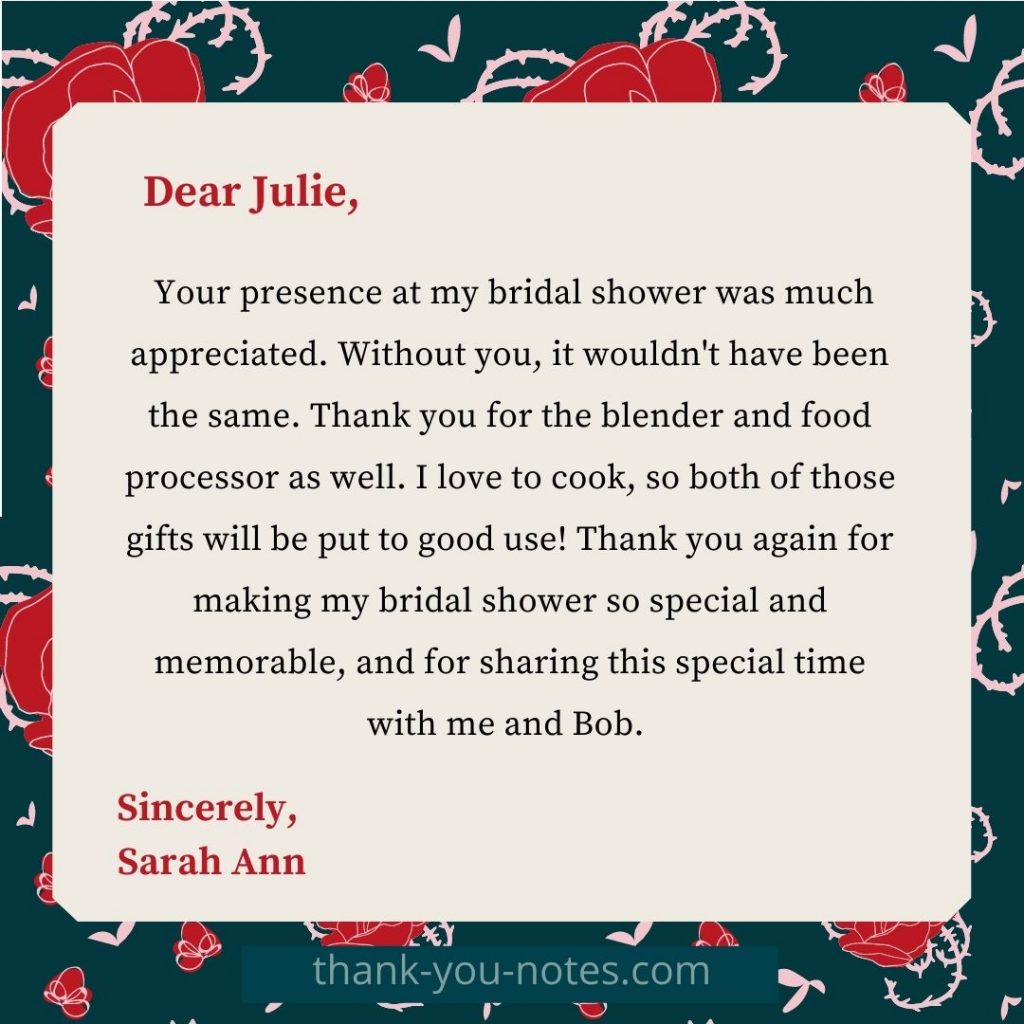 Dear Julie,

  Your presence at my bridal shower was much appreciated. Without you, it wouldn't have been the same. Thank you for the blender and food processor as well. I love to cook, so both of those gifts will be put to good use!
  Thank you again for making my bridal shower so special and memorable, and for sharing this special time with me and Bob.   

Sincerely,

Sarah Ann
Example #2 - Thanking the Host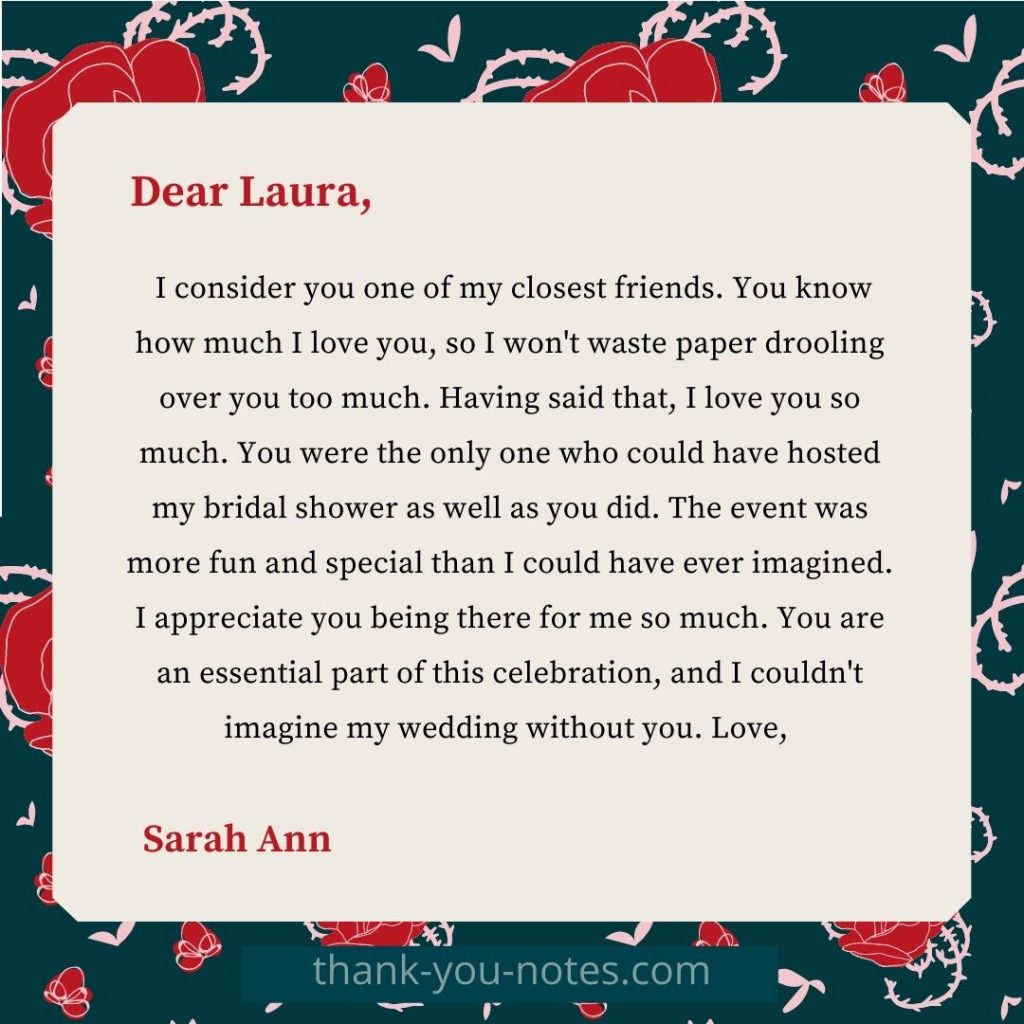 Dear Laura,

  I consider you one of my closest friends. You know how much I love you, so I won't waste paper drooling over you too much. 
 Having said that, I love you so much. You were the only one who could have hosted my bridal shower as well as you did. The event was more fun and special than I could have ever imagined. 
 I appreciate you being there for me so much. You are an essential part of this celebration, and I couldn't imagine my wedding without you.   
Love,

Sarah Ann

It is clear that you do not need to write a full-length letter to thank someone. At the moment, everyone knows you are busy. It only takes a few simple lines.

Help out a sister. Thank you note samples for bridal showers are welcome!
More for Weddings…
Wedding Thank You Note Etiquette
Wedding Thank You Note Samples
Wedding Thank You Quotes