Business thank-you notes differ significantly from thank-you notes for other purposes. Keeping professional while being able to express your gratitude is imperative.
Let's look at some sample thank you notes that would be appropriate in a professional business setting.
More business thank you help…
Business Thank You Quotes
Donation Thank You Letter Samples
How to Write Effective Post Interview Thank you Letters
Farewell Thank You Notes
Thank You Notes to Customers
You can save time by creating a generic business thank you note for your customers and still convey your appreciation.
Generic Business Thank You Note Example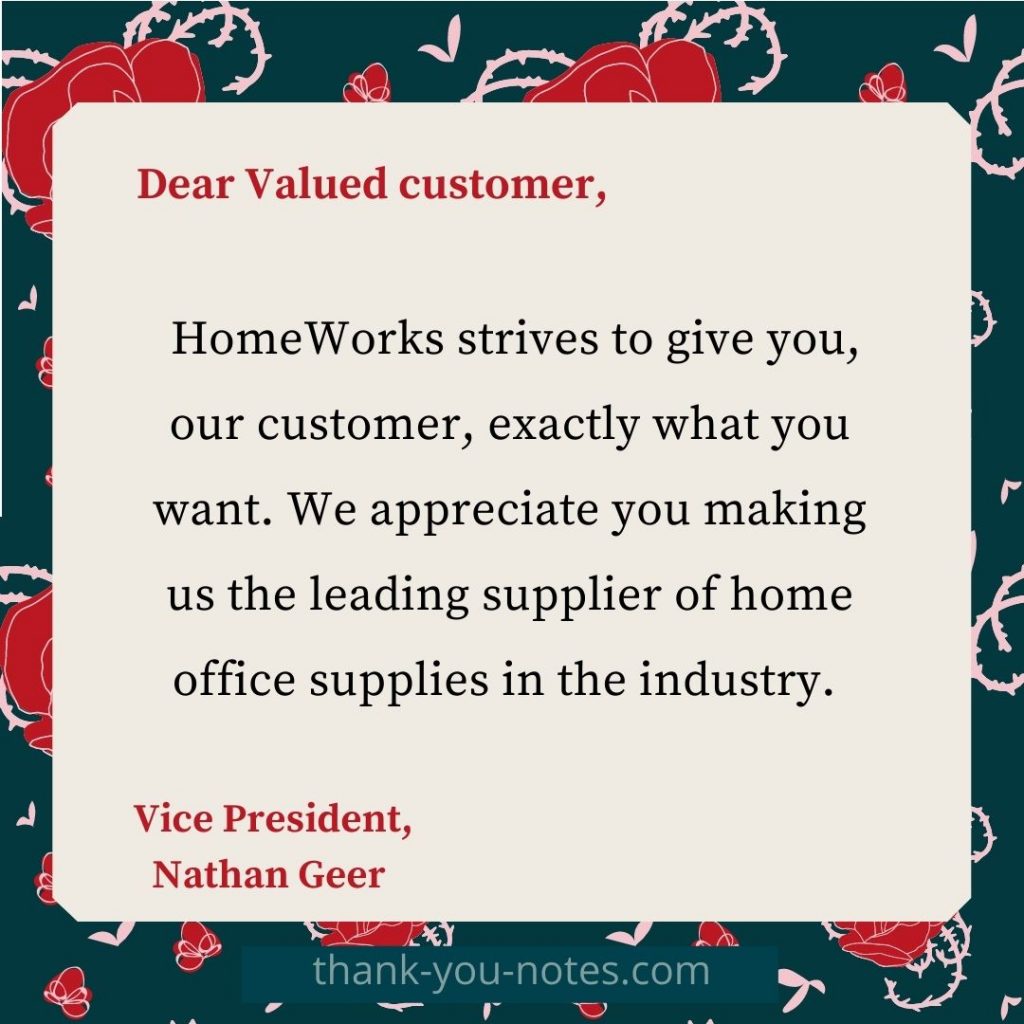 Dear Valued customer,

  HomeWorks strives to give you, our customer, exactly what you want. We appreciate you making us the leading supplier of home office supplies in the industry.   

Vice President,
Nathan Geer
Sample business thank you notes like the one above can be tailored to suit your business needs. It is possible to customize your thank you note by creating a template that allows you to change the recipient's name.
Thanks for Your Business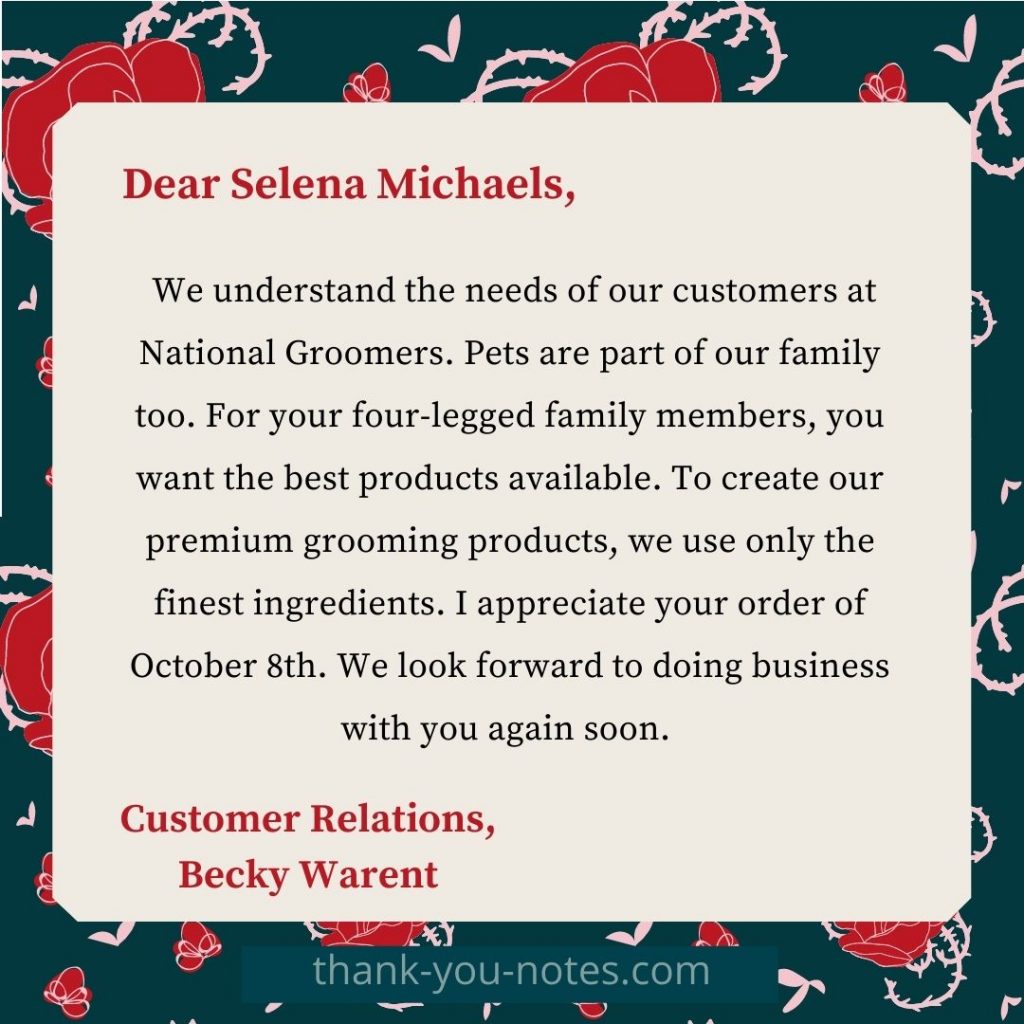 Dear Selena Michaels,

  We understand the needs of our customers at National Groomers. Pets are part of our family too. For your four-legged family members, you want the best products available. To create our premium grooming products, we use only the finest ingredients.   

  I appreciate your order of October 8th. We look forward to doing business with you again soon.   

Customer Relations,
Becky Warent
Business thank you notes like this are longer, more personal, and make the customer feel important; you can use it for any customer, just change out the name and date of the order.
Thank You for Choosing Us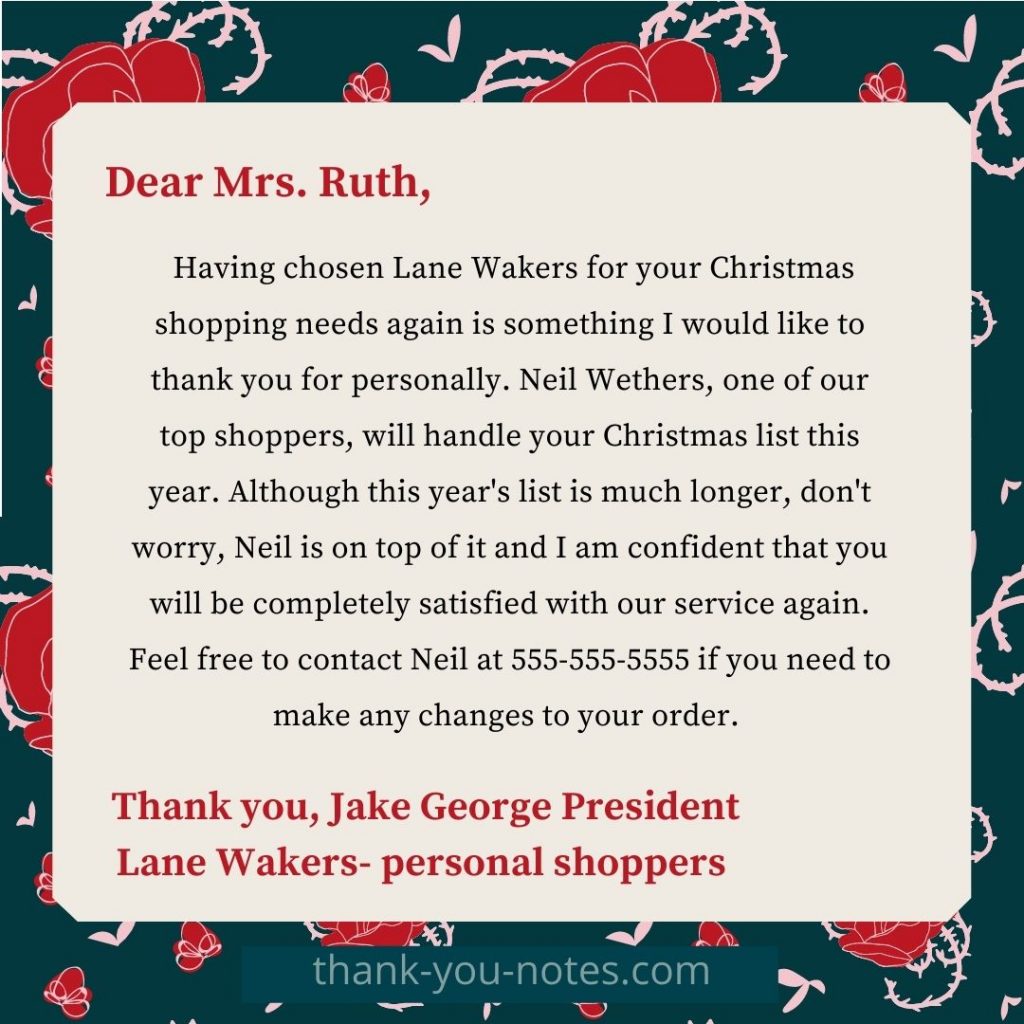 Dear Mrs. Ruth,

  Having chosen Lane Wakers for your Christmas shopping needs again is something I would like to thank you for personally. Neil Wethers, one of our top shoppers, will handle your Christmas list this year. 

Although this year's list is much longer, don't worry, Neil is on top of it and I am confident that you will be completely satisfied with our service again. Feel free to contact Neil at 555-555-5555 if you need to make any changes to your order.   

Thank you,
Jake George
President
Lane Wakers- personal shoppers
Read More Customer Thank You Letter Samples
Thanking VIP Clients
Especially influential clients, returning customers and large orders deserve a personal thank you. The most important part of any business is keeping the money coming in, and everyone loves to feel appreciated. Taking the time to thank your best clients is just good business.
Enjoy a Complimentary Service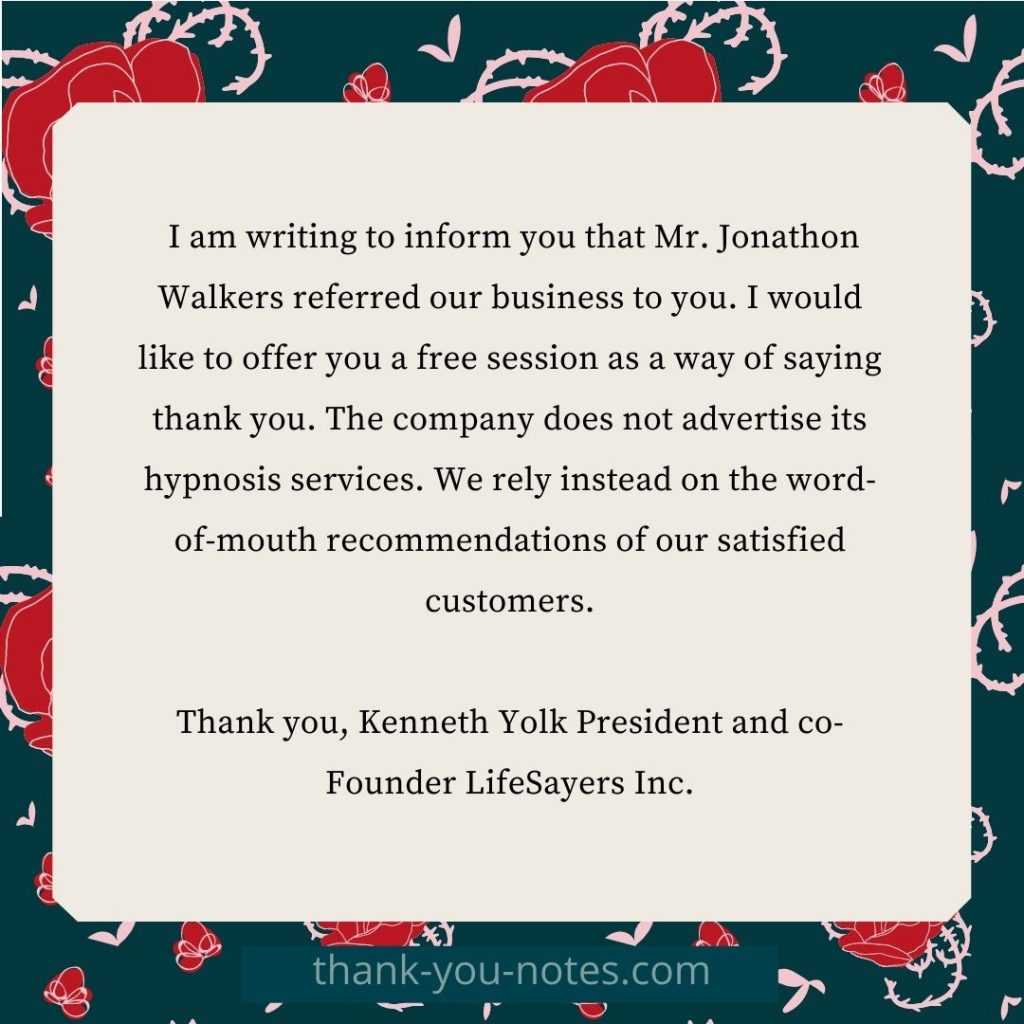 I am writing to inform you that Mr. Jonathon Walkers referred our business to you. I would like to offer you a free session as a way of saying thank you. The company does not advertise its hypnosis services. We rely instead on the word-of-mouth recommendations of our satisfied customers.   

Thank you,
Kenneth Yolk
President and co-Founder
LifeSayers Inc.
As everyone knows, you cannot beat a recommendation from a friend, even when you are using regular advertising. You should return the favor and thank a client who refers someone to you because they think highly of your services.
A free gift would also be appropriate if a free session is not an option: a pen, coffee cup, or tee-shirt with your company's logo would be appropriate, not to mention another way to advertise.
Thank You for Your Patience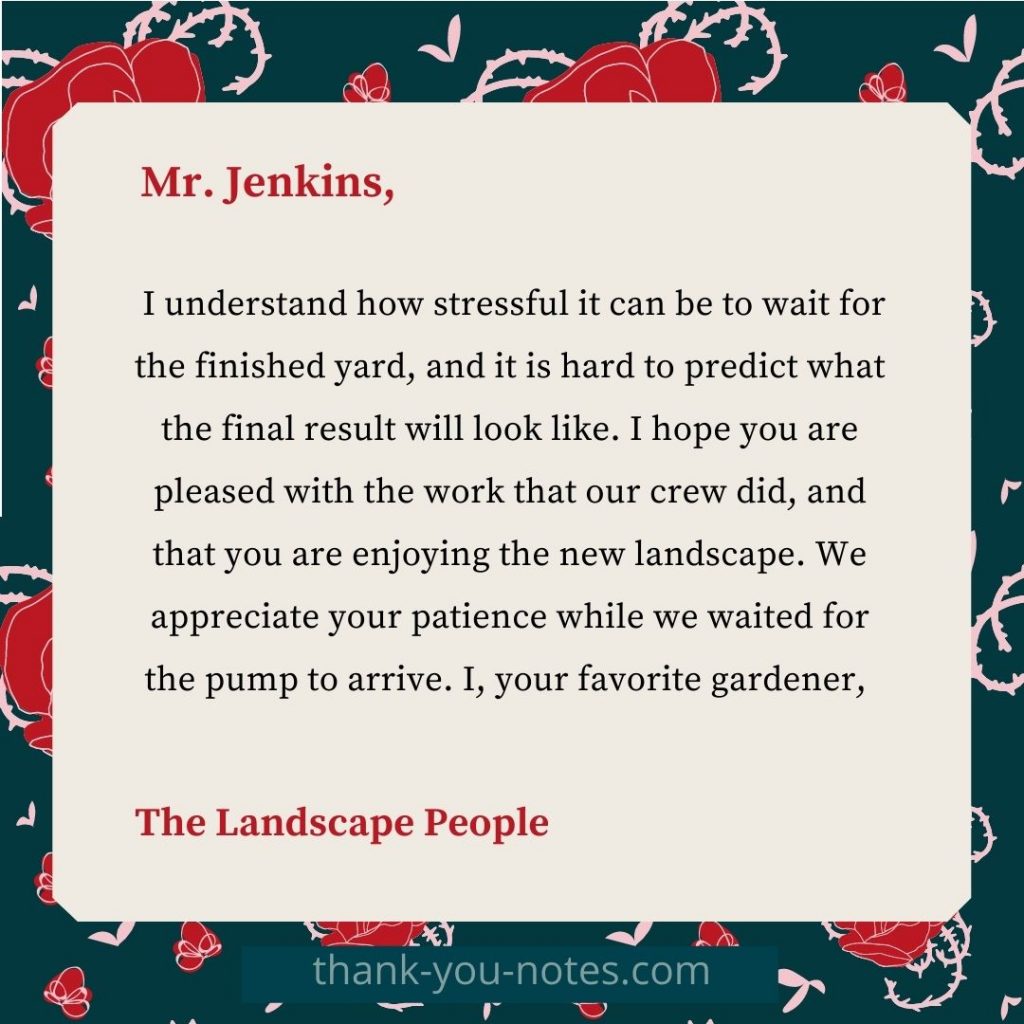 Mr. Jenkins,

  I understand how stressful it can be to wait for the finished yard, and it is hard to predict what the final result will look like. I hope you are pleased with the work that our crew did, and that you are enjoying the new landscape. We appreciate your patience while we waited for the pump to arrive. I, your favorite gardener,   

The Landscape People
Everything does not go according to plan sometimes. Parts take longer to arrive than expected, or the final product isn't exactly what the client wants and has to be redone. Thanking them for their patience is often a good idea when this happens.
It is good to know that your complaint is being addressed and that your feelings are being acknowledged. You can keep a valuable client from seeking service elsewhere by sending a quick note.
Thank You for Your Feedback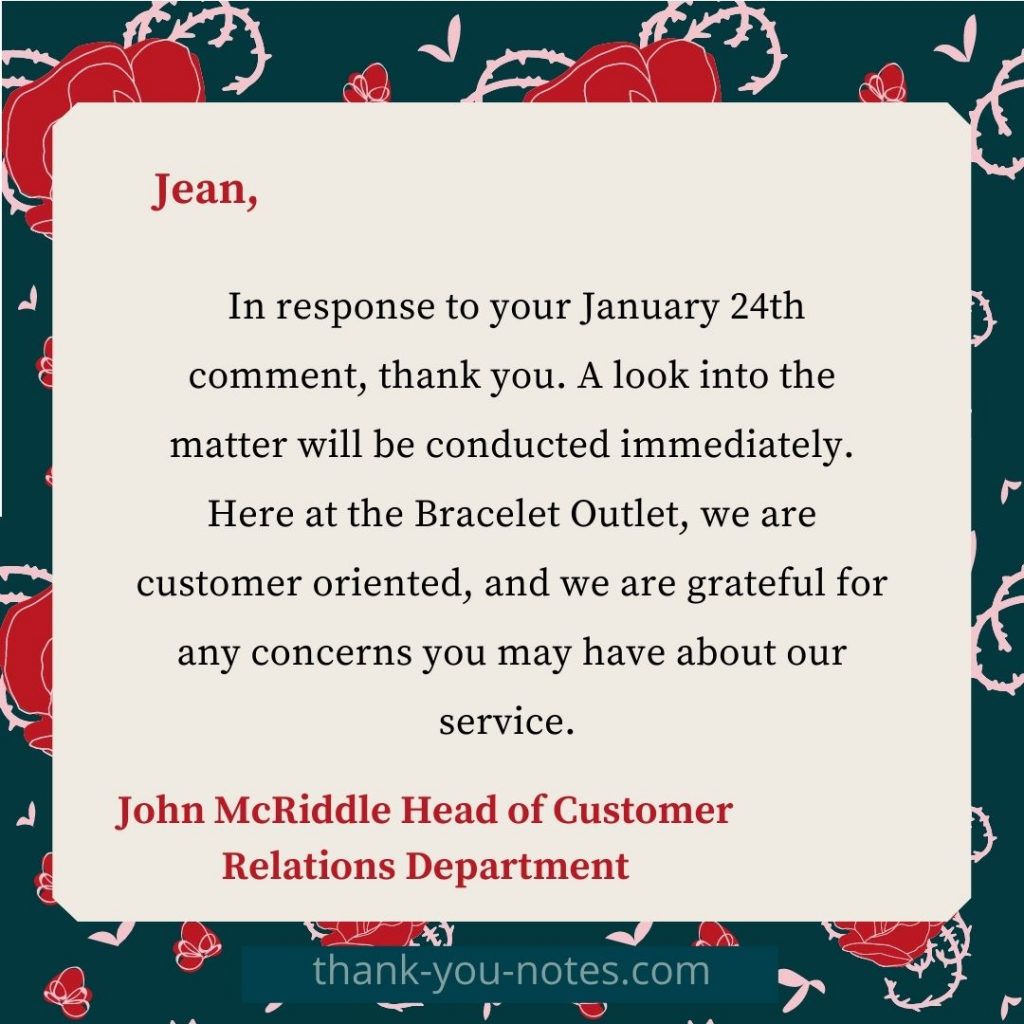 Jean,

  In response to your January 24th comment, thank you. A look into the matter will be conducted immediately. Here at the Bracelet Outlet, we are customer oriented, and we are grateful for any concerns you may have about our service.   

John McRiddle
Head of Customer Relations Department
More business thank you help…
Business Thank You Quotes
Donation Thank You Letter Samples
How to Write Effective Post Interview Thank you Letters
Farewell Thank You Notes
Adapt These Templates for Your Business
Your thank-you note can be made more personal using the generic template by making a few simple changes that make your customer feel more valued.
It sounds counterintuitive to thank someone for complaining, but it can be one of the most important and professional notes you can write. It shows the customer that you care about them and want to please them.
You can customize any one of this business thank you notes samples to enhance your customer relations. If you are mailing a lot of them, consider postcards. Business thank you cards still convey a personal touch that customers appreciate.