Thank you messages that are religious will complement the thank you cards that you want to give to your family and friends.
Simply saying Thank You and expressing gratitude is much better with religious sentiments than without them.
There are times when you do not know how to thank someone for loving or being a wonderful friend to you.
Sometimes words can't express your feelings fully, and you can fall short of exactly the sentiment you are trying to convey.
No matter how you want to thank a friend who has never doubted you or left your side, or how you want to express gratitude for a loved one who has shown you nothing but kindness and love, beautiful religious thank you messages will have a greater impact.
Throughout the ages, many authors and thinkers have found reasons within the Scriptures to express gratitude to one another.
Post these quotes on your social media accounts or use them in thank you cards
Christian Thank You Quotes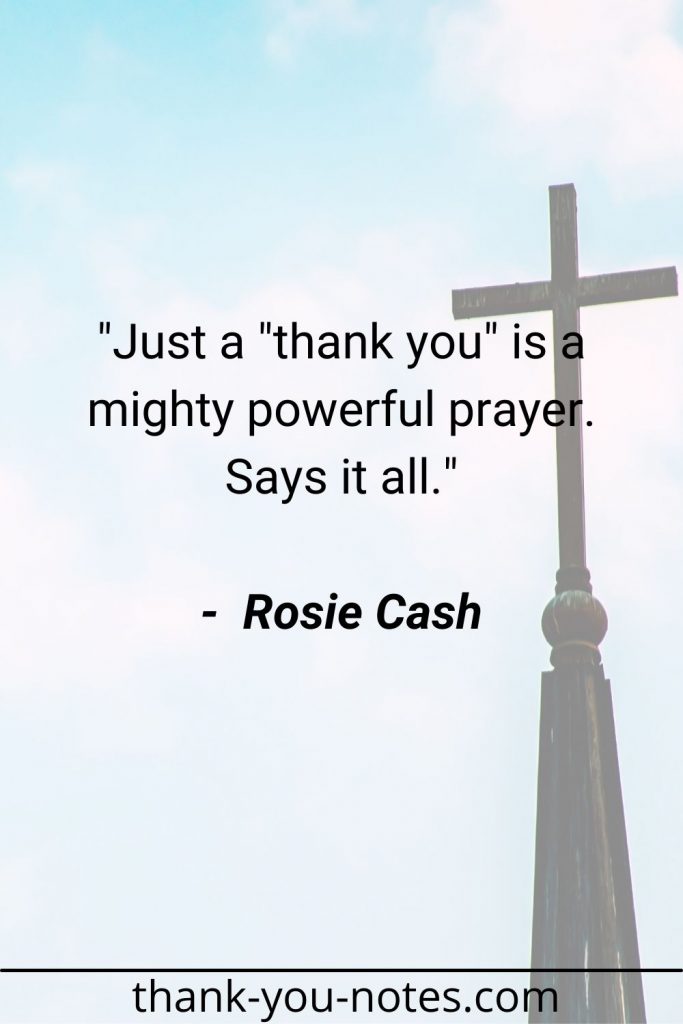 "Just a "thank you" is a mighty powerful prayer. Says it all."
– Rosie Cash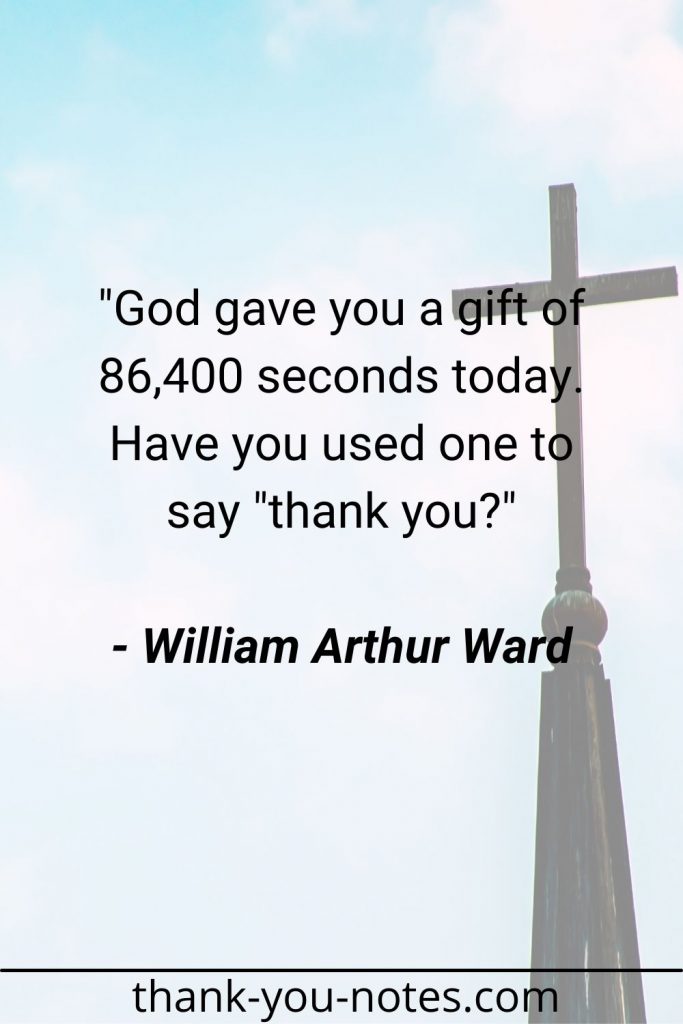 "God gave you a gift of 86,400 seconds today. Have you used one to say "thank you?"
– William Arthur Ward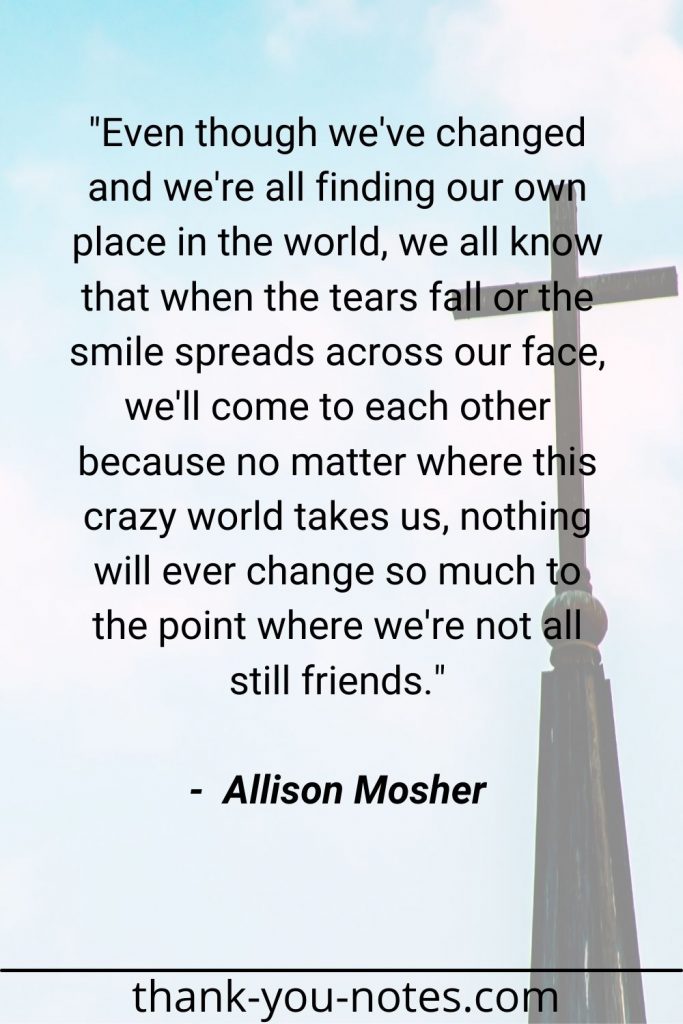 "Even though we've changed and we're all finding our own place in the world, we all know that when the tears fall or the smile spreads across our face, we'll come to each other because no matter where this crazy world takes us, nothing will ever change so much to the point where we're not all still friends."
-Allison Mosher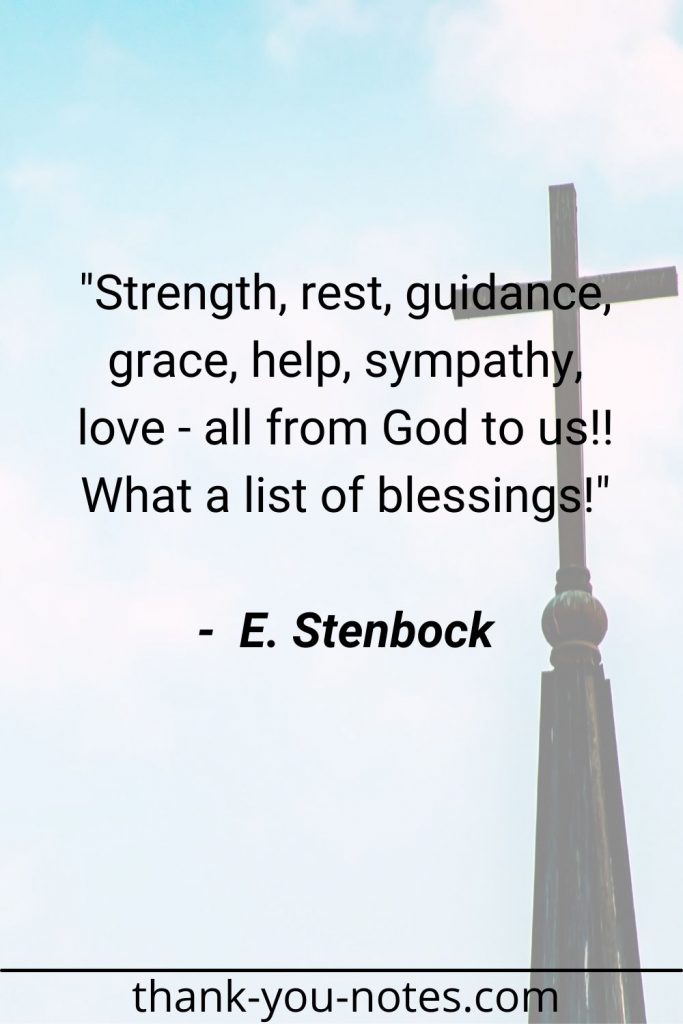 "Strength, rest, guidance, grace, help, sympathy, love – all from God to us!! What a list of blessings!"
–E. Stenbock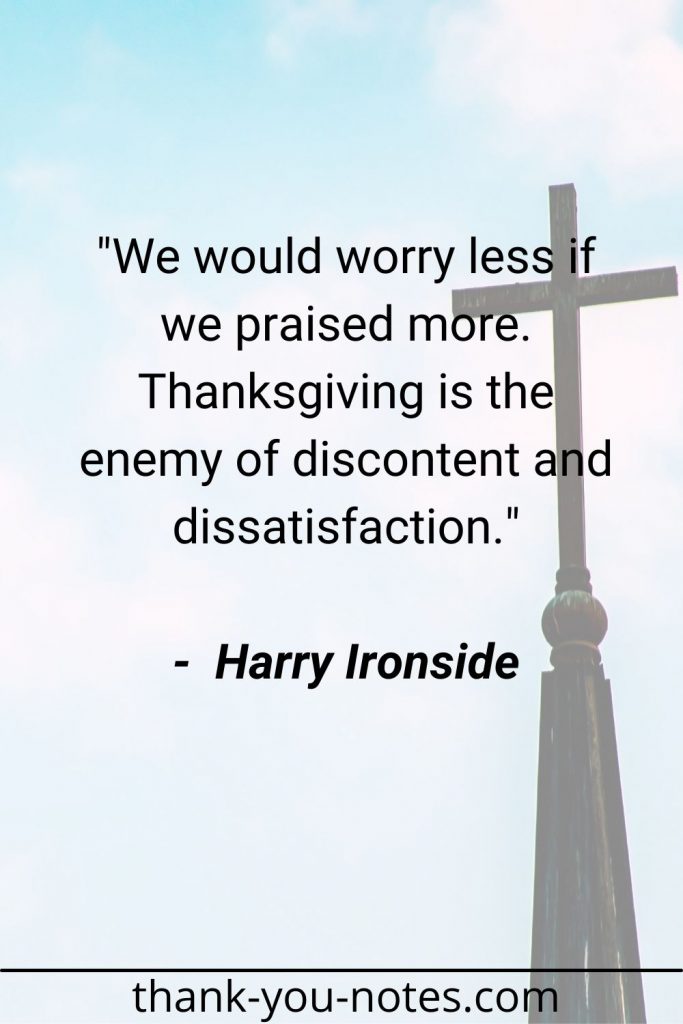 "We would worry less if we praised more. Thanksgiving is the enemy of discontent and dissatisfaction."
–Harry Ironside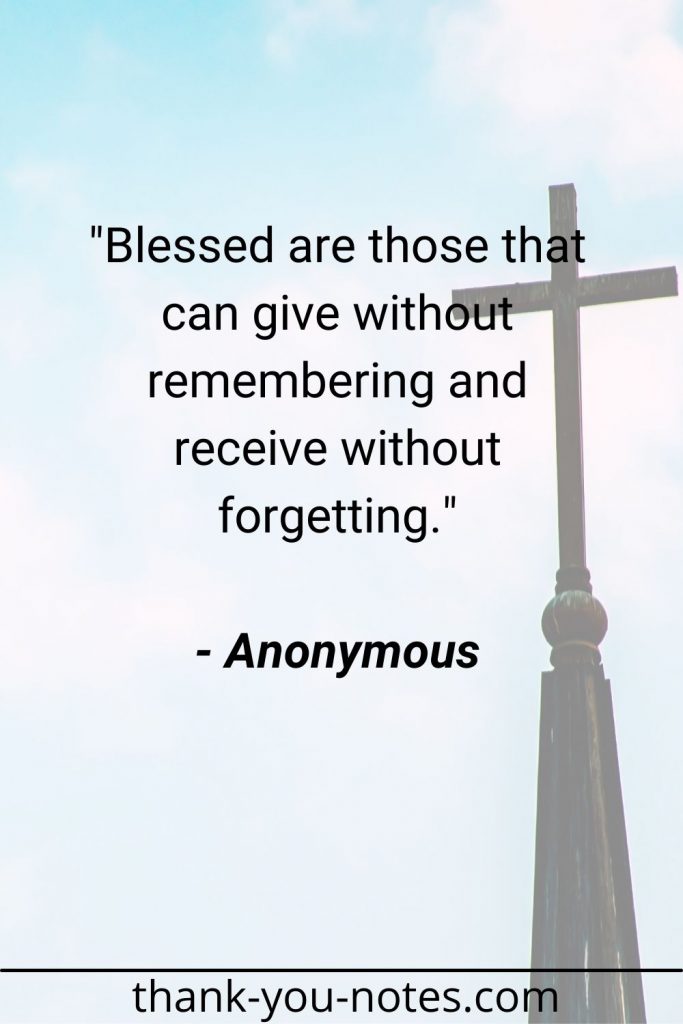 "Blessed are those that can give without remembering and receive without forgetting."
-Anonymous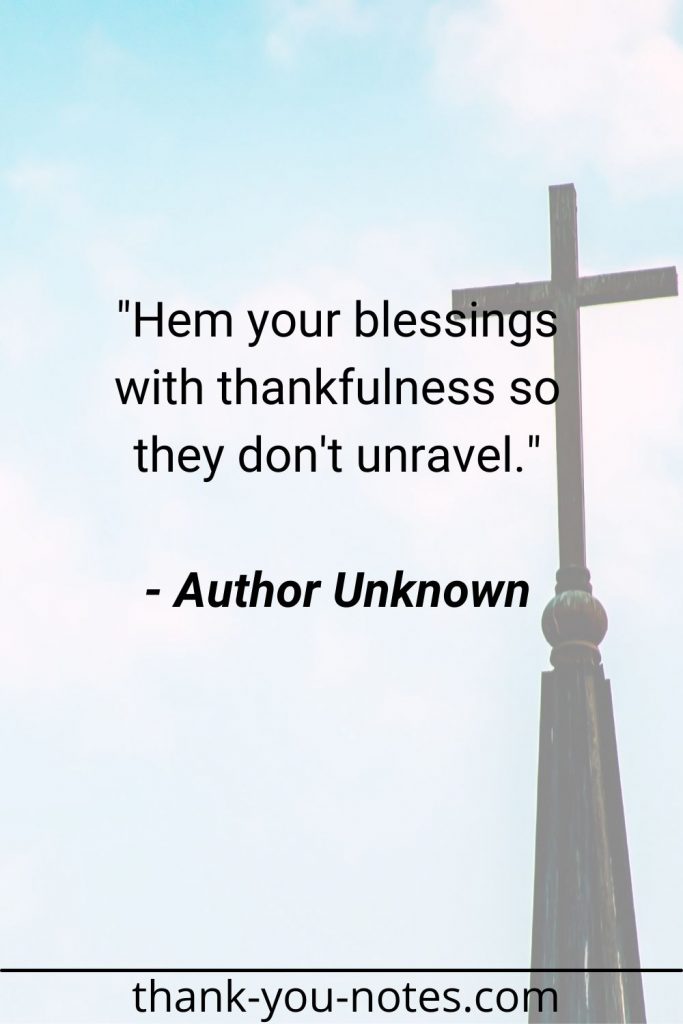 "Hem your blessings with thankfulness so they don't unravel."
–Author Unknown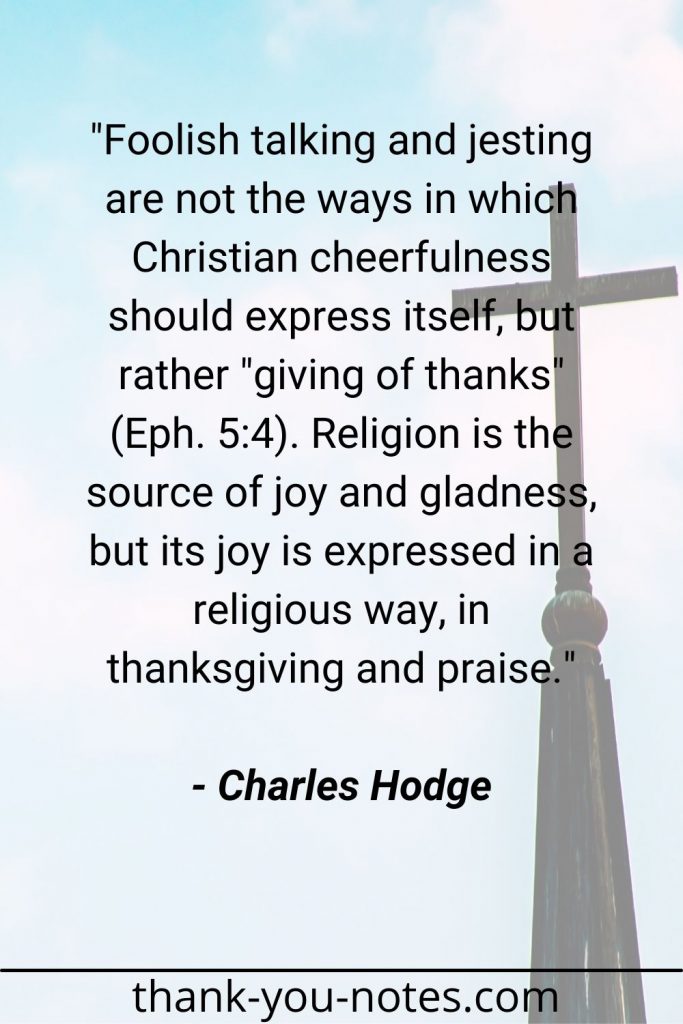 "Foolish talking and jesting are not the ways in which Christian cheerfulness should express itself, but rather "giving of thanks" (Eph. 5:4). Religion is the source of joy and gladness, but its joy is expressed in a religious way, in thanksgiving and praise."
-Charles Hodge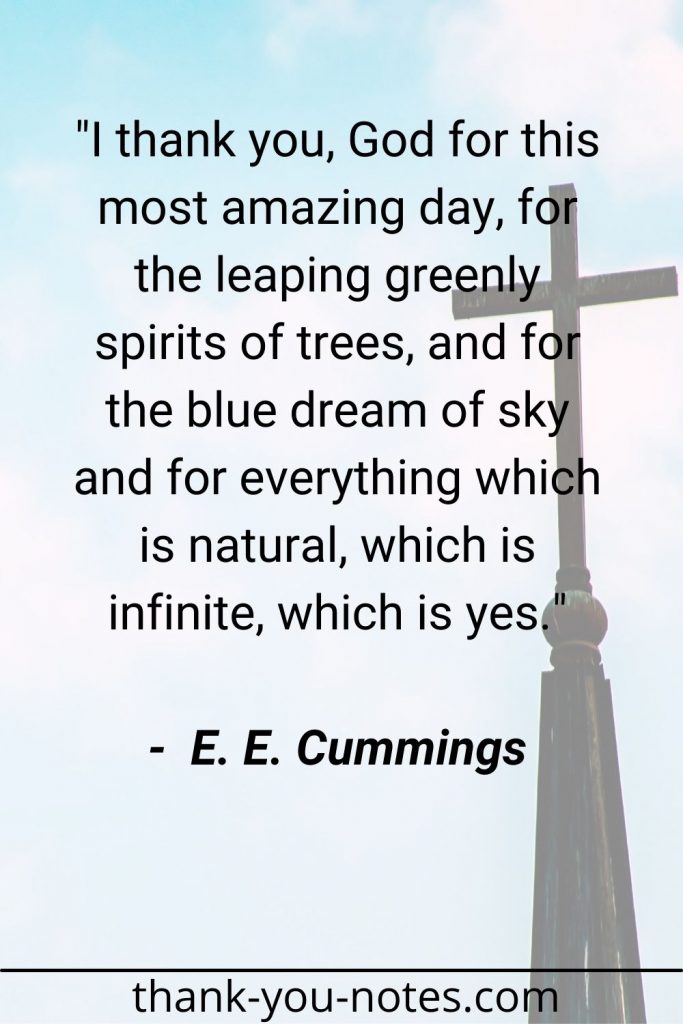 "I thank you, God for this most amazing day, for the leaping greenly spirits of trees, and for the blue dream of sky and for everything which is natural, which is infinite, which is yes."
-E. E. Cummings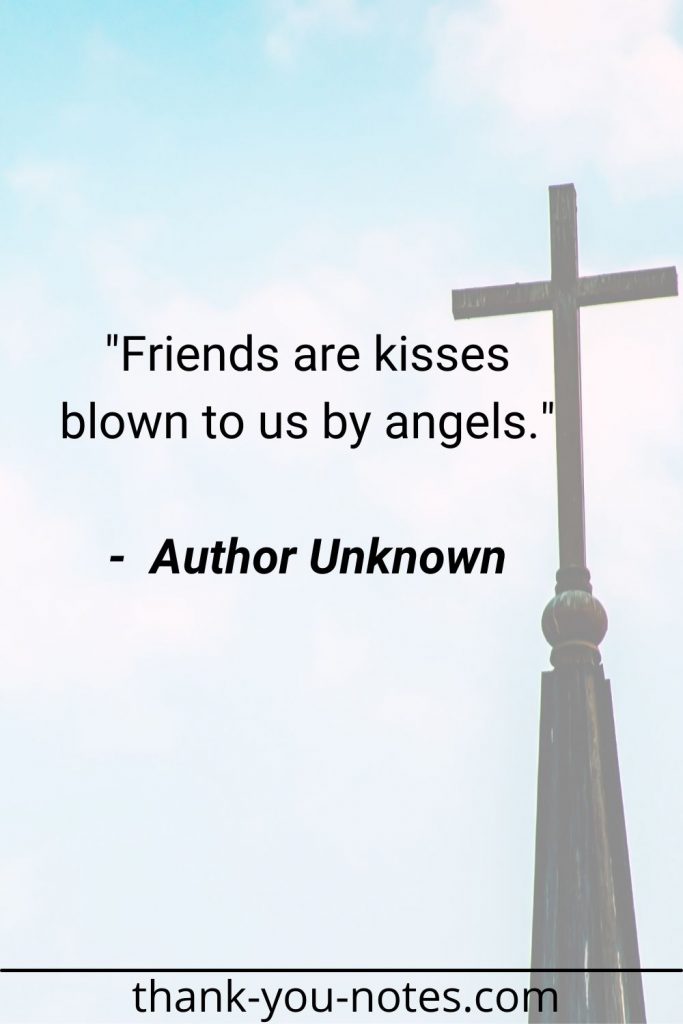 "Friends are kisses blown to us by angels."
-Author Unknown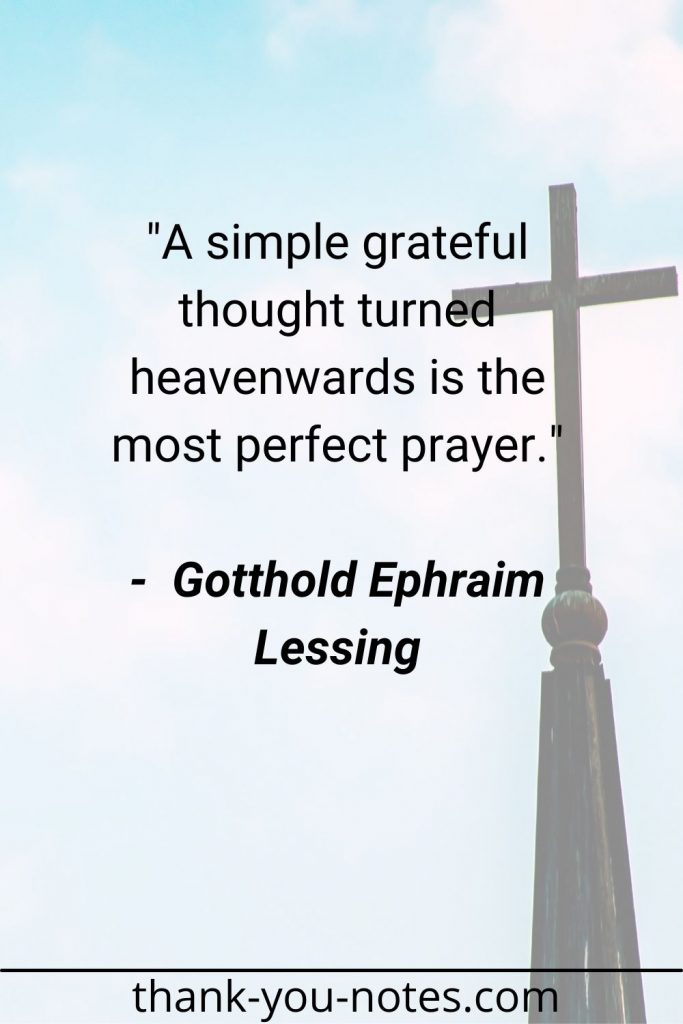 "A simple grateful thought turned heavenwards is the most perfect prayer."
-Gotthold Ephraim Lessing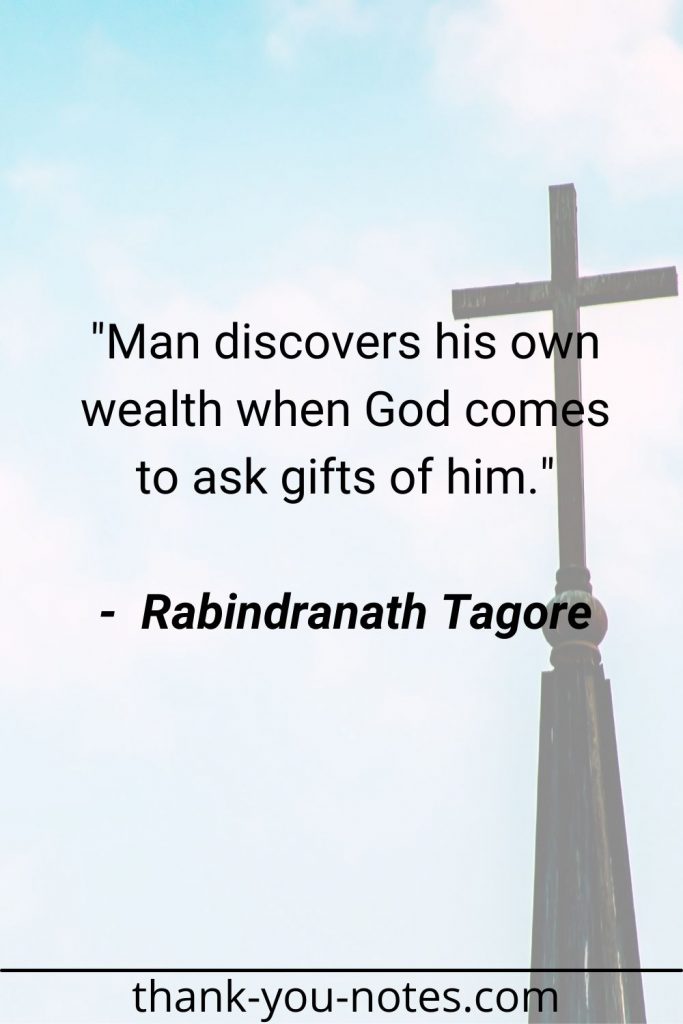 "Man discovers his own wealth when God comes to ask gifts of him."
–Rabindranath Tagore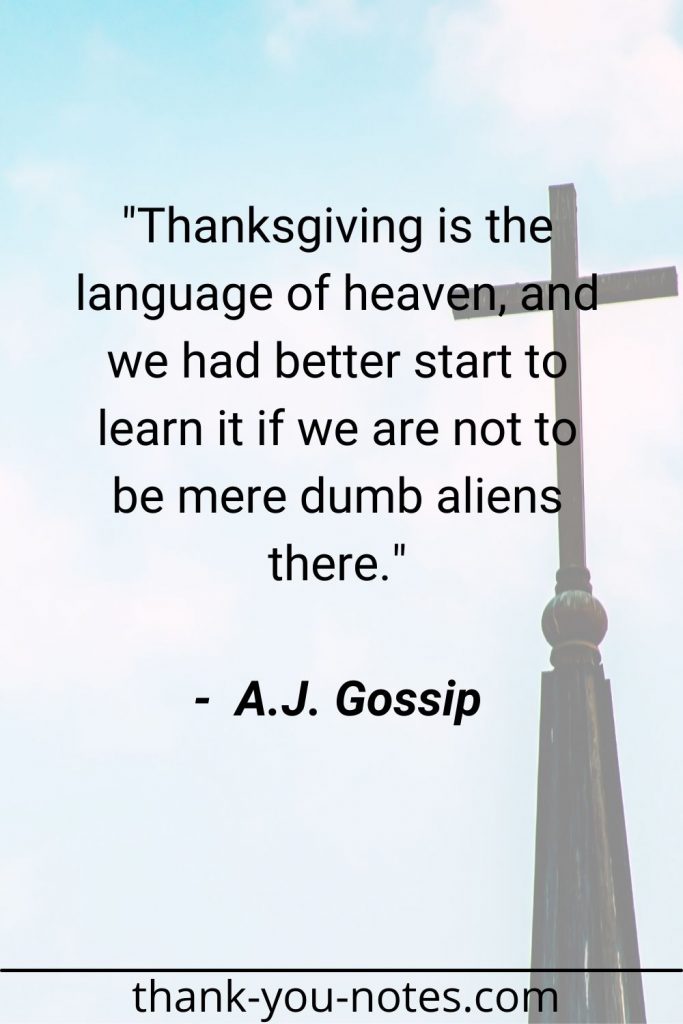 "Thanksgiving is the language of heaven, and we had better start to learn it if we are not to be mere dumb aliens there."
– A.J. Gossip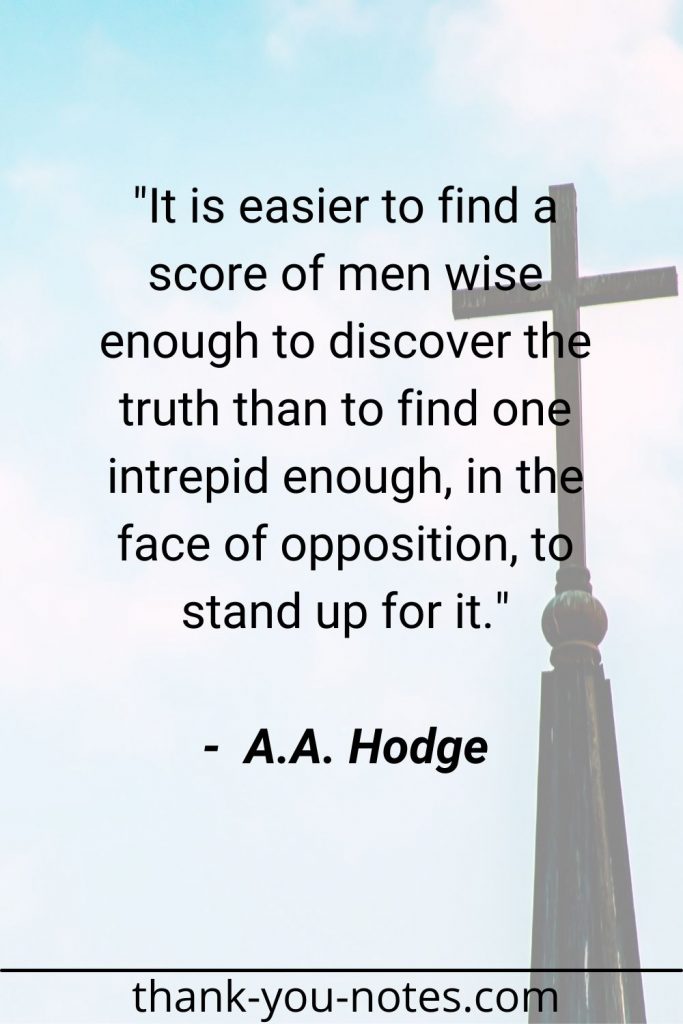 "It is easier to find a score of men wise enough to discover the truth than to find one intrepid enough, in the face of opposition, to stand up for it."
-A.A. Hodge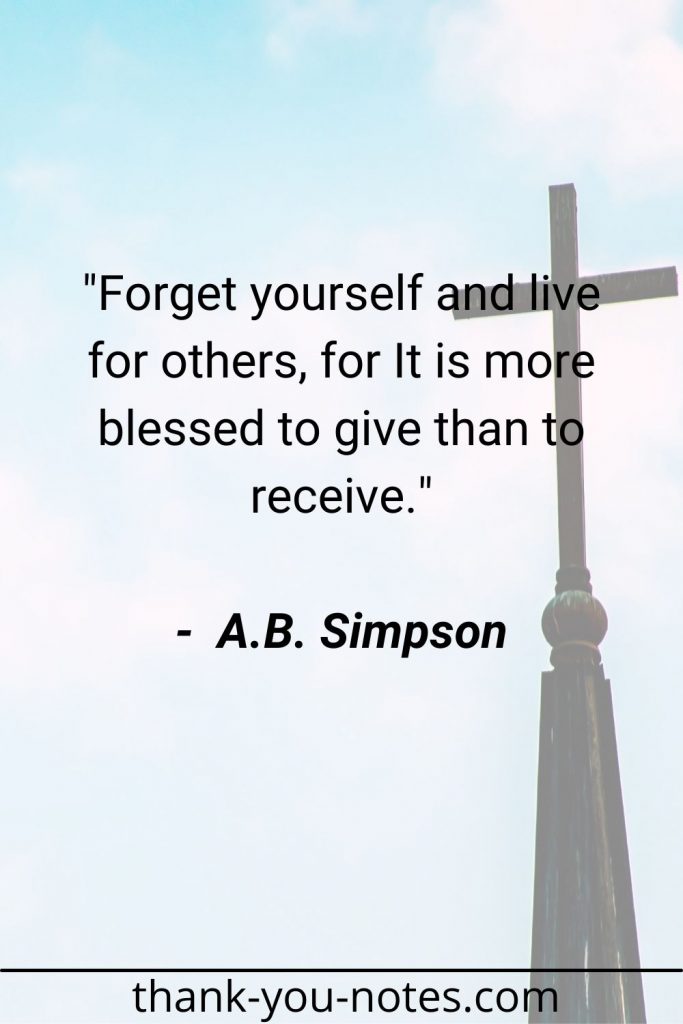 "Forget yourself and live for others, for It is more blessed to give than to receive."
– A.B. Simpson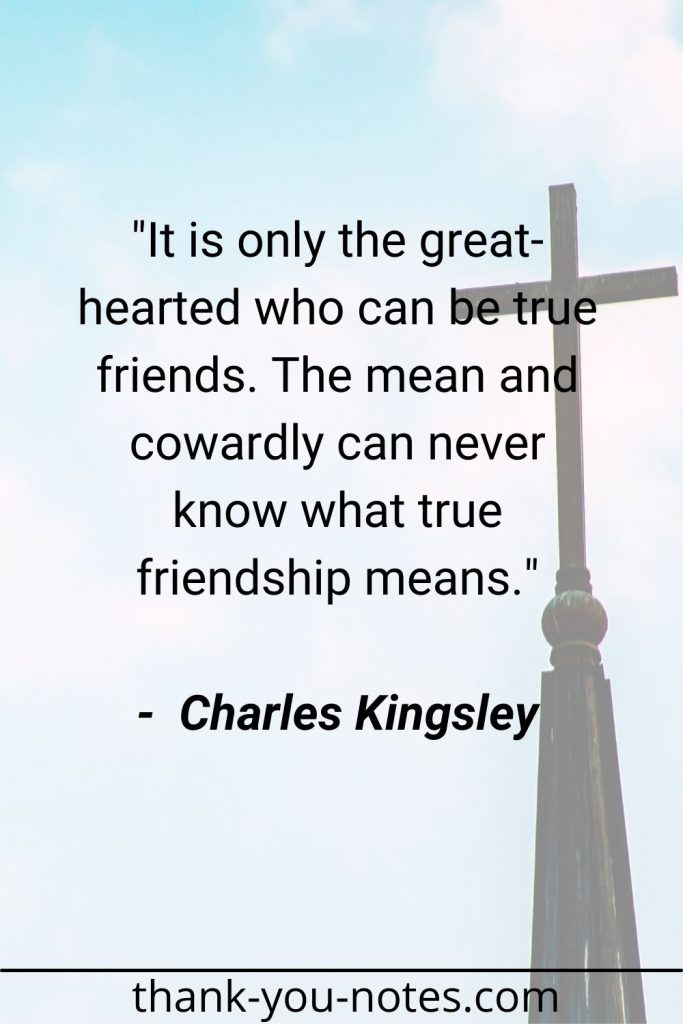 "It is only the great-hearted who can be true friends. The mean and cowardly can never know what true friendship means."
–Charles Kingsley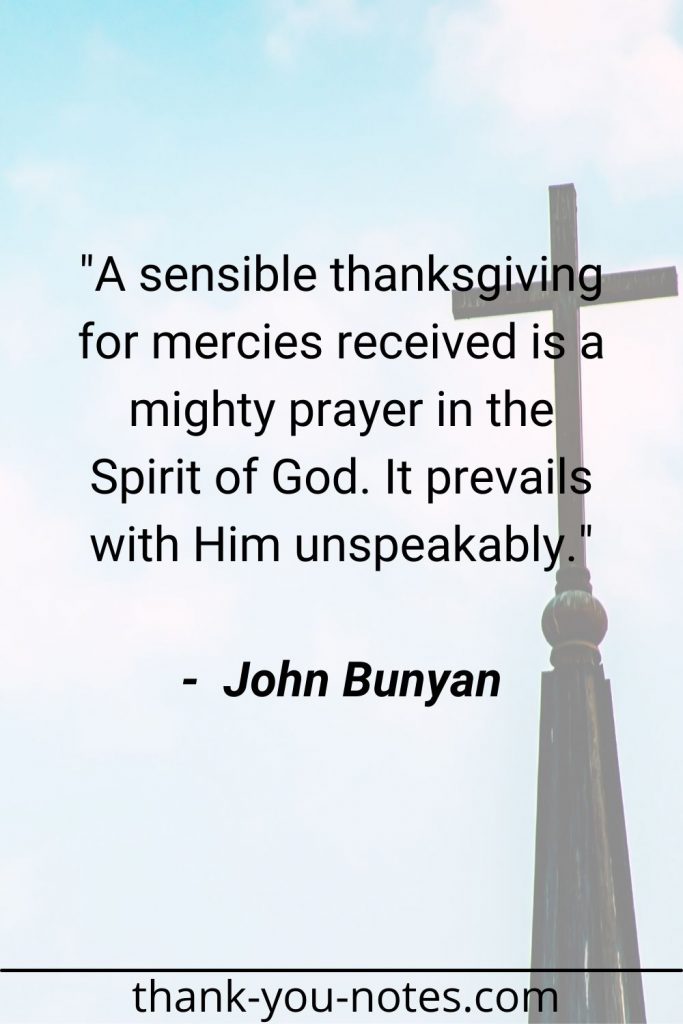 "A sensible thanksgiving for mercies received is a mighty prayer in the Spirit of God. It prevails with Him unspeakably."
-John Bunyan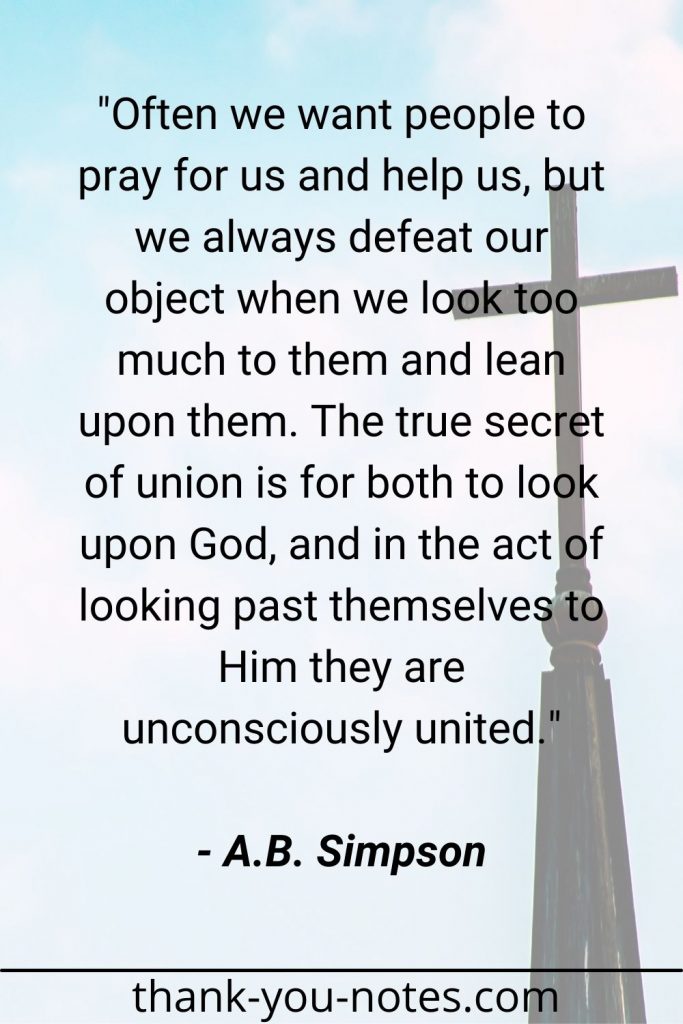 "Often we want people to pray for us and help us, but we always defeat our object when we look too much to them and lean upon them. The true secret of union is for both to look upon God, and in the act of looking past themselves to Him they are unconsciously united."
–A.B. Simpson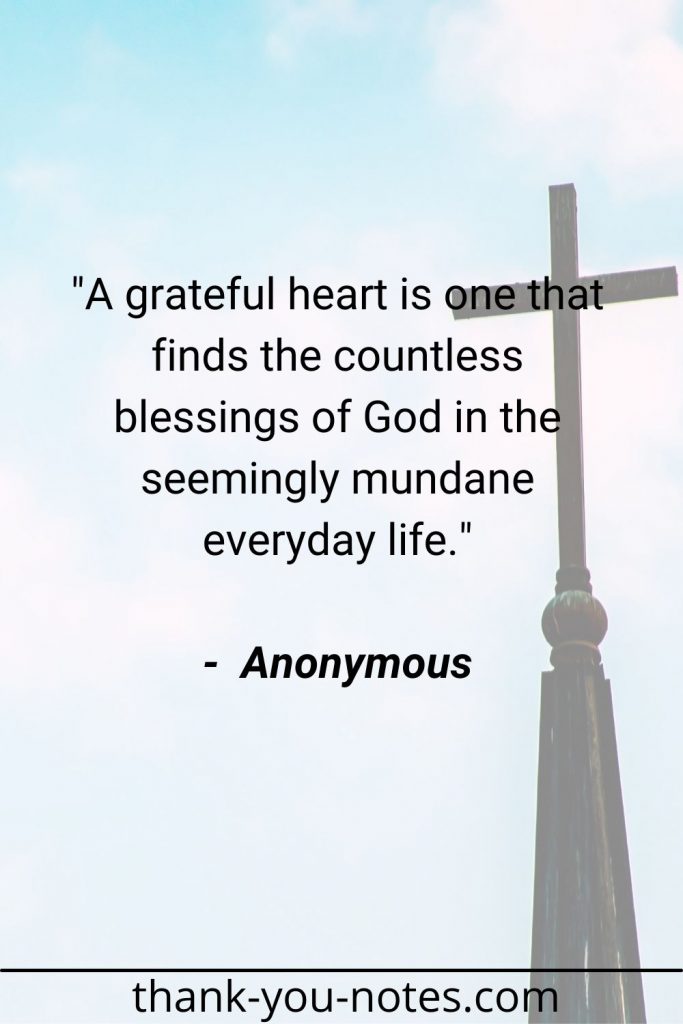 "A grateful heart is one that finds the countless blessings of God in the seemingly mundane everyday life."
–Anonymous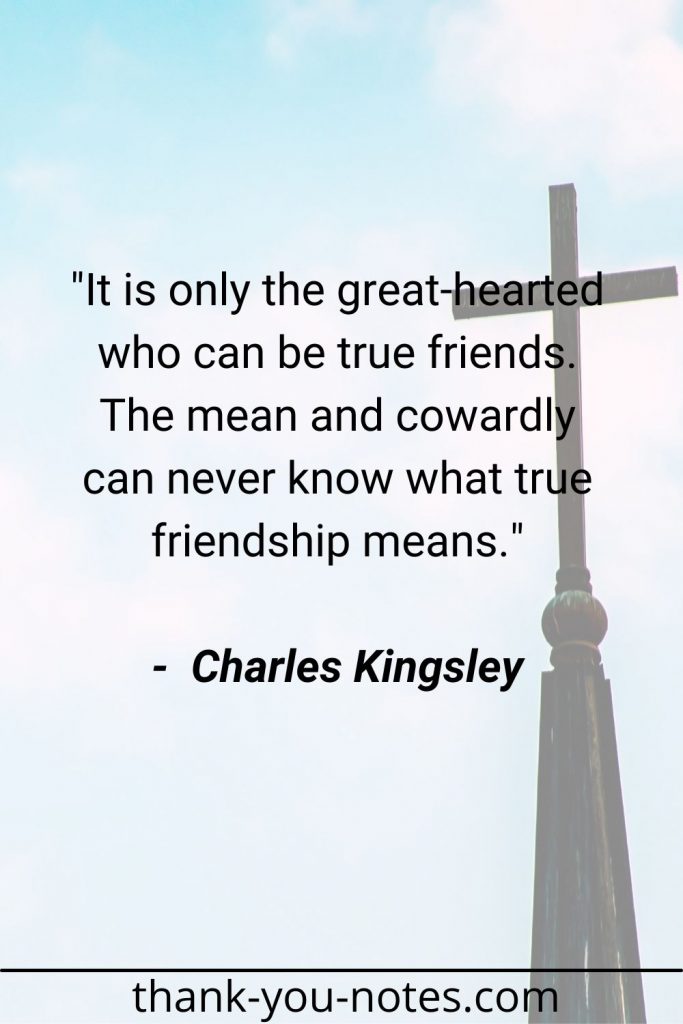 "It is only the great-hearted who can be true friends. The mean and cowardly can never know what true friendship means."
-Charles Kingsley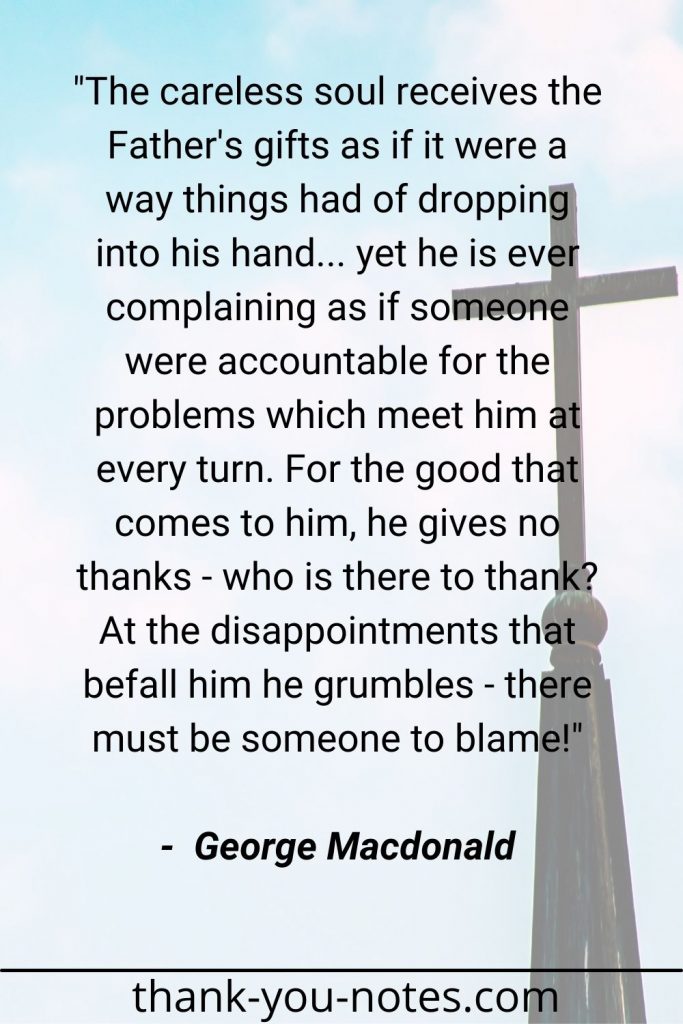 "The careless soul receives the Father's gifts as if it were a way things had of dropping into his hand… yet he is ever complaining as if someone were accountable for the problems which meet him at every turn. For the good that comes to him, he gives no thanks – who is there to thank? At the disappointments that befall him he grumbles – there must be someone to blame!"
– George Macdonald
More Thank You Quotes!
Famous Thank You Quotes
Friendship Thank You Quotes
Wedding Thank You Quotes
Birthday Thank You Quotes
Baby Shower Thank You Quotes
Business Thank You Quotes
Funny Thank You Quotes
Although not all the quotes above are Christian, but would definitely make a religious statement. If you have a religious quote or Christian quote type in the quotes and your name in the Reply section below.