The holidays are the perfect time to express your appreciation.
Christmas thank you notes can be written for many different reasons, though the most common one is for a well-received gift.
Write a note to say how awesome you think someone is if they gave you a gift that you really appreciated or cooked you the best Christmas dinner.
You can show your gratitude for your Christmas gift using these simple tips.
More Christmas thank you note help…
Thank You Notes for Money
Thank You Card Wording
Christian Thank You Quotes
Tips for a Christmas Gift Thank You Note
Make sure you mention your desire for the gift
Describe your plans for the gift
Utilize a variant of the obligatory "You didn't have to do that" line
Get some ideas for your own Christmas thank-you note by looking through these examples. Showing your gratitude will increase your chances of finding an even better gift under the tree next year.
Sample Christmas Thank You Notes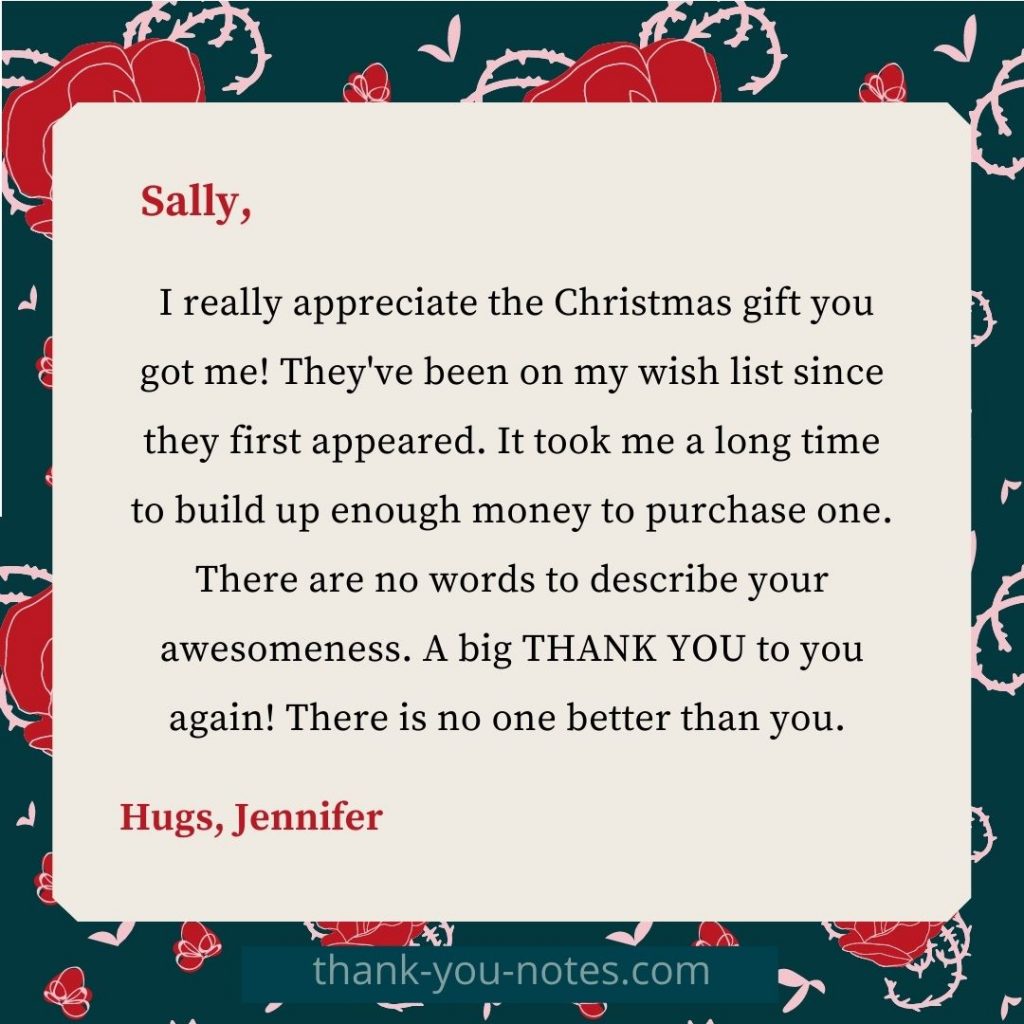 Sally,

  I really appreciate the Christmas gift you got me! They've been on my wish list since they first appeared. It took me a long time to build up enough money to purchase one. There are no words to describe your awesomeness.   

  A big THANK YOU to you again! There is no one better than you.   

Hugs,
Jennifer
Jennifer shows her gratitude in this more general note, which does not contain specific information about the present.
Thanking a Close Family Member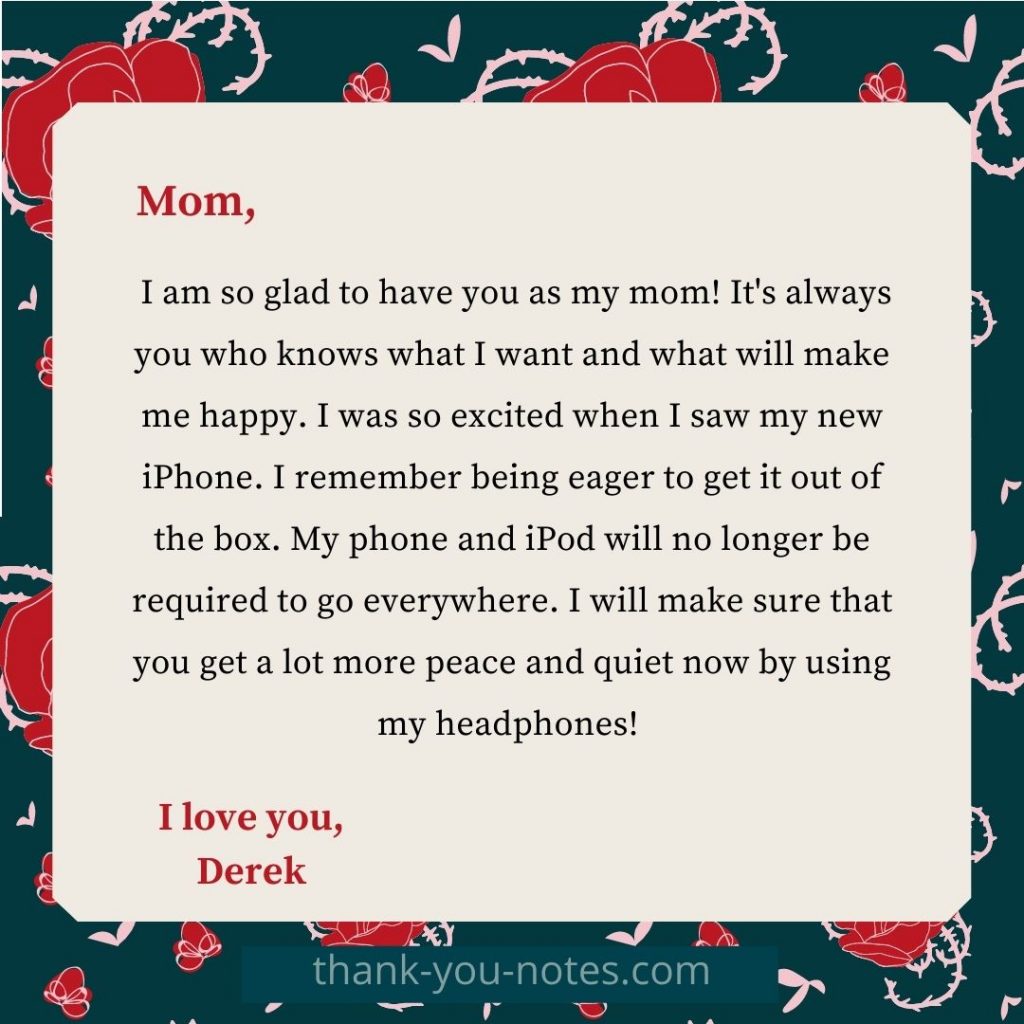 Mom,

  I am so glad to have you as my mom! It's always you who knows what I want and what will make me happy. I was so excited when I saw my new iPhone. 
I remember being eager to get it out of the box. My phone and iPod will no longer be required to go everywhere.   
I will make sure that you get a lot more peace and quiet now by using my headphones!

I love you,
Derek
Any mother would be touched by this note. Derek first tells his mother what he thinks about her and then how he feels whenever he receives a present. To add some icing to the cake, Derek explains why the great Christmas gift will be so useful.
Christmas Thank You Note to a Spouse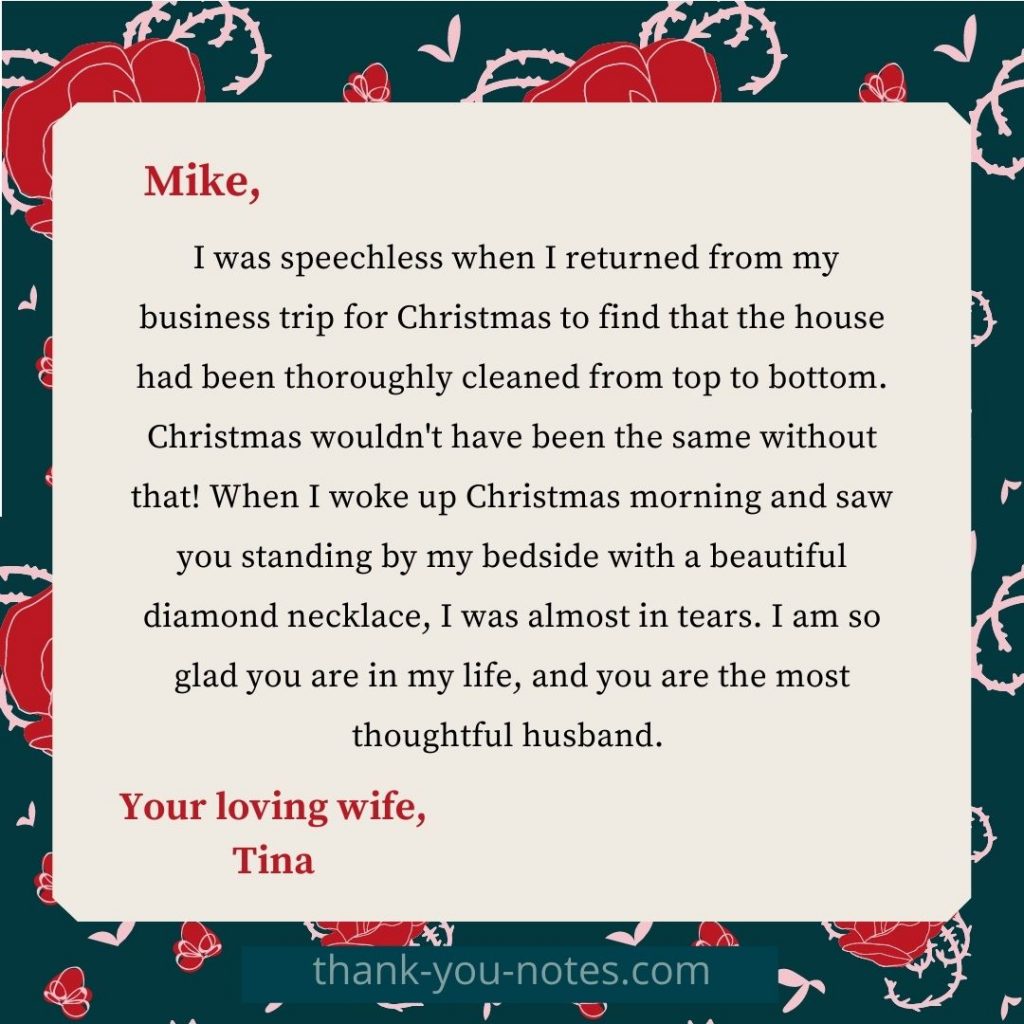 Mike,

  I was speechless when I returned from my business trip for Christmas to find that the house had been thoroughly cleaned from top to bottom. Christmas wouldn't have been the same without that!   
  When I woke up Christmas morning and saw you standing by my bedside with a beautiful diamond necklace, I was almost in tears. I am so glad you are in my life, and you are the most thoughtful husband.   

Your loving wife,
Tina

PS:   The effort you put in didn't go to waste. ;)  

As Tina tells Mike, she is very grateful for the pre-gift that threw her off the scent of her diamond necklace. He knows that she realizes he has gone above and beyond.
An extra PS at the end of the note adds a bit of excitement.
Thanking a Friend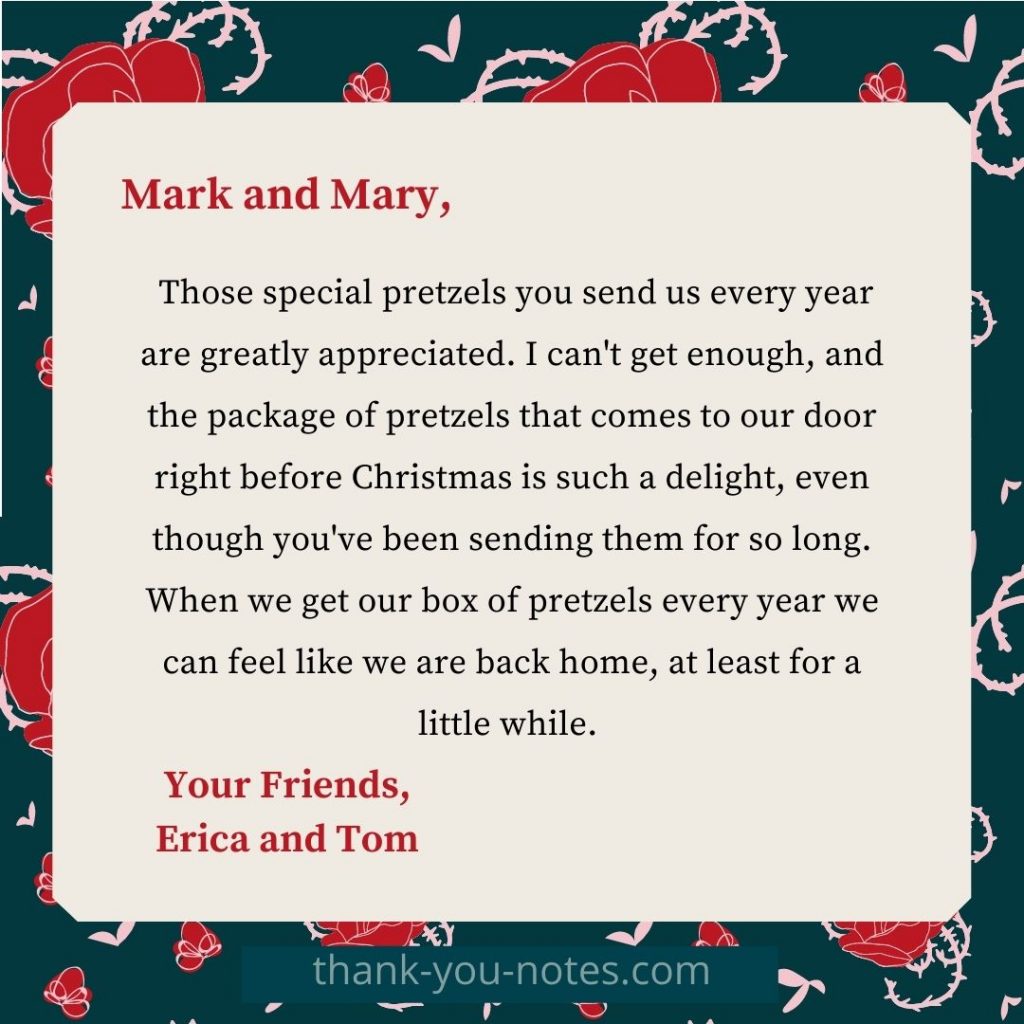 Mark and Mary,

  Those special pretzels you send us every year are greatly appreciated. I can't get enough, and the package of pretzels that comes to our door right before Christmas is such a delight, even though you've been sending them for so long.   
  When we get our box of pretzels every year we can feel like we are back home, at least for a little while.   

Your Friends,
Erica and Tom
Thanking a Boss for a Christmas Bonus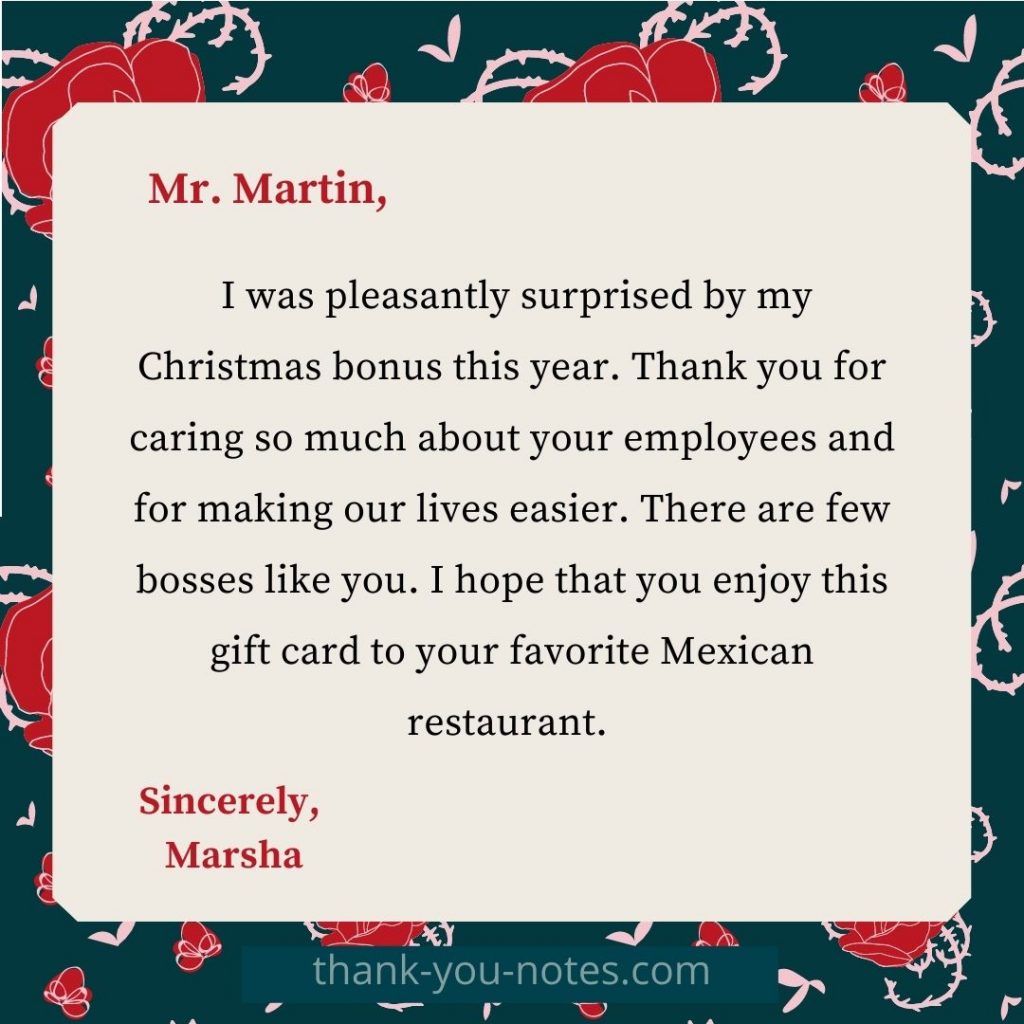 Mr. Martin,

  I was pleasantly surprised by my Christmas bonus this year. Thank you for caring so much about your employees and for making our lives easier. There are few bosses like you.   

I hope that you enjoy this gift card to your favorite Mexican restaurant.

Sincerely,
Marsha
Whenever you receive a large gift from someone in authority, it is wise to send a personalized thank-you note. Sending them a small token of your appreciation, such as a gift card, along with that note is also an excellent way to show your appreciation.
Thanking a Christmas Party Host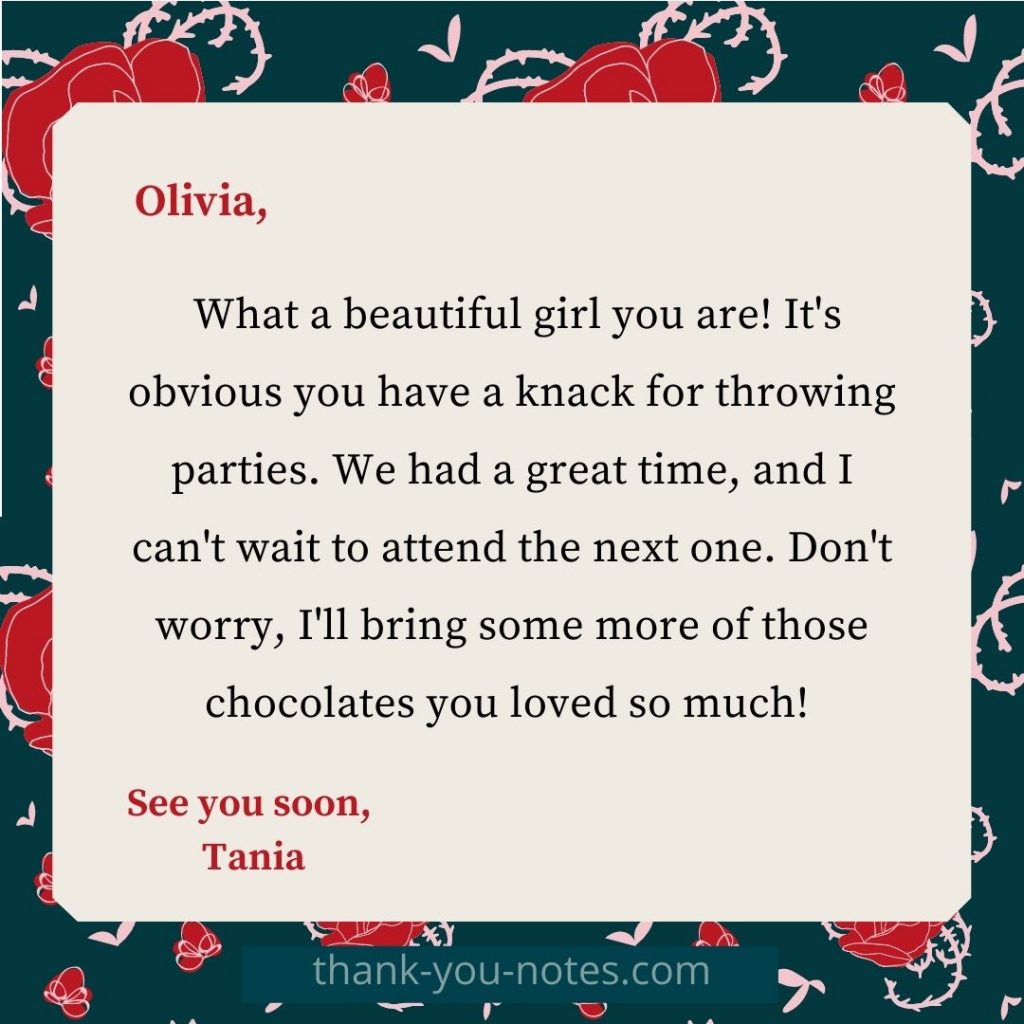 Olivia,

  What a beautiful girl you are! It's obvious you have a knack for throwing parties. We had a great time, and I can't wait to attend the next one. Don't worry, I'll bring some more of those chocolates you loved so much!   

See you soon,
Tania
She tells the host of the party just how much fun she had at the party, which makes them feel good. Additionally, she encouraged her to have another party by telling her about the great chocolates that she would remember to bring.
More Christmas thank you note help…
Thank You Notes for Money
Thank You Card Wording
Christian Thank You Quotes
What Kind of Thank You Notes Do You Need for Christmas?
There are plenty of different types of thank-you notes you can write for Christmas. Depending on the person who gave you the gift, you may need to be formal, casual, or romantic. Have fun with your gifts this Christmas!