Here are 10 more special 'dinner thank you note samples to get your juices flowing more creatively.
Return to learn about writing Thank You Notes for Dinner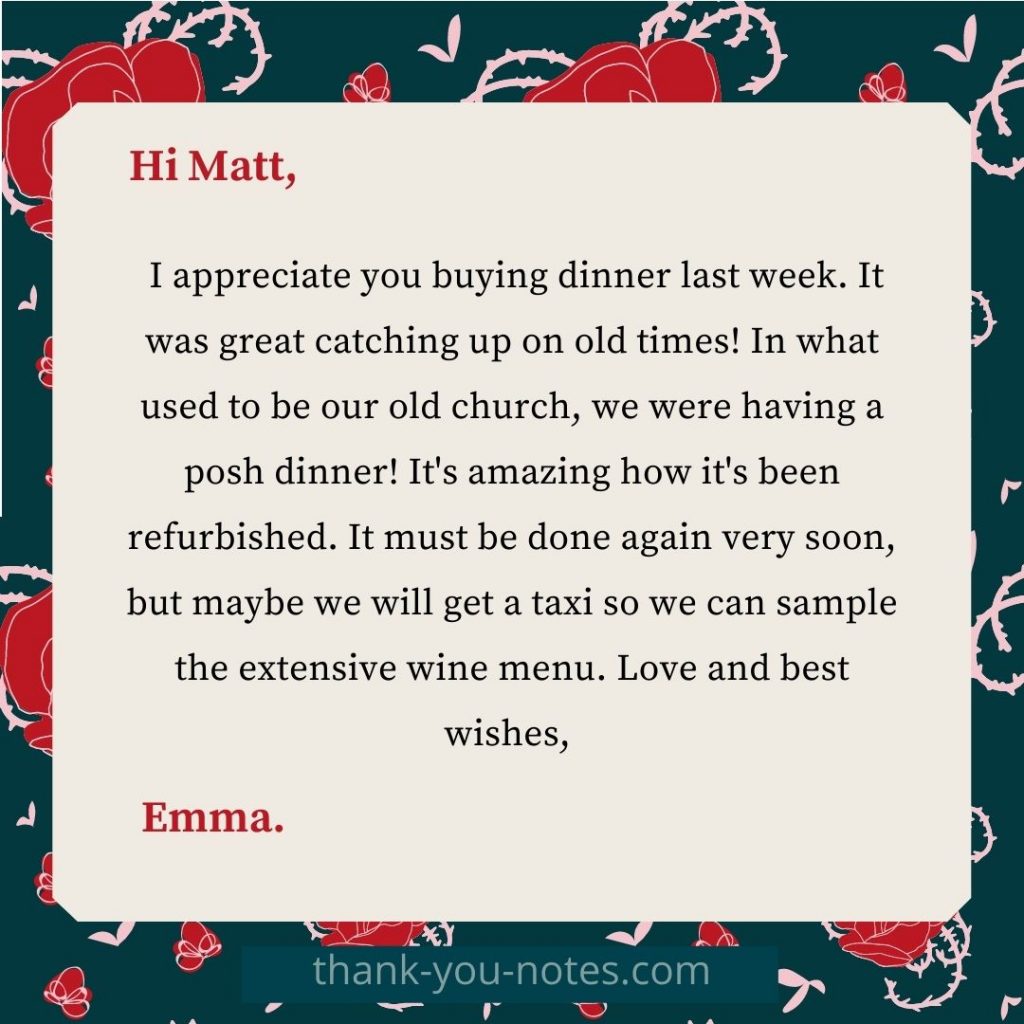 Hi Matt,

  I appreciate you buying dinner last week. It was great catching up on old times! In what used to be our old church, we were having a posh dinner! It's amazing how it's been refurbished. It must be done again very soon, but maybe we will get a taxi so we can sample the extensive wine menu.   

Love and best wishes,
Emma.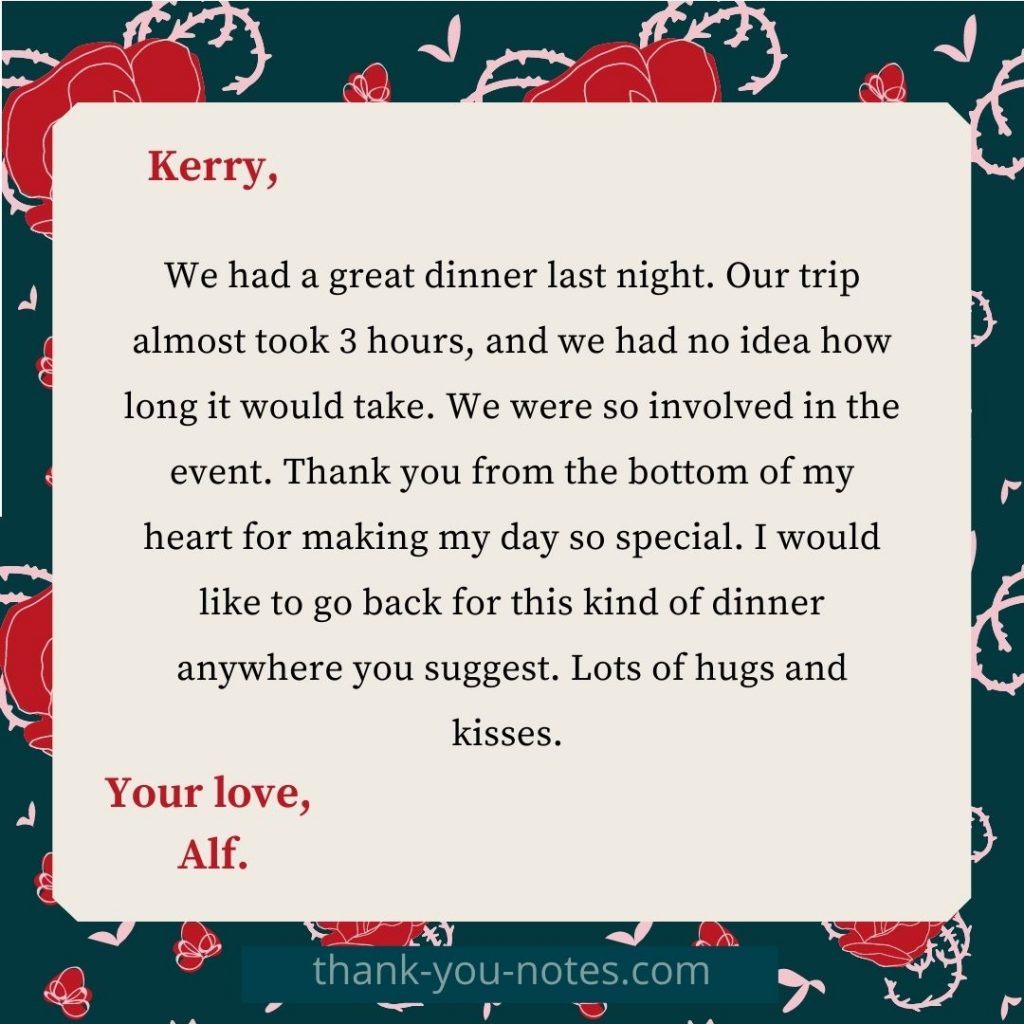 Kerry,

We had a great dinner last night. Our trip almost took 3 hours, and we had no idea how long it would take. We were so involved in the event. Thank you from the bottom of my heart for making my day so special. I would like to go back for this kind of dinner anywhere you suggest.

Lots of hugs and kisses.

Your love,
Alf.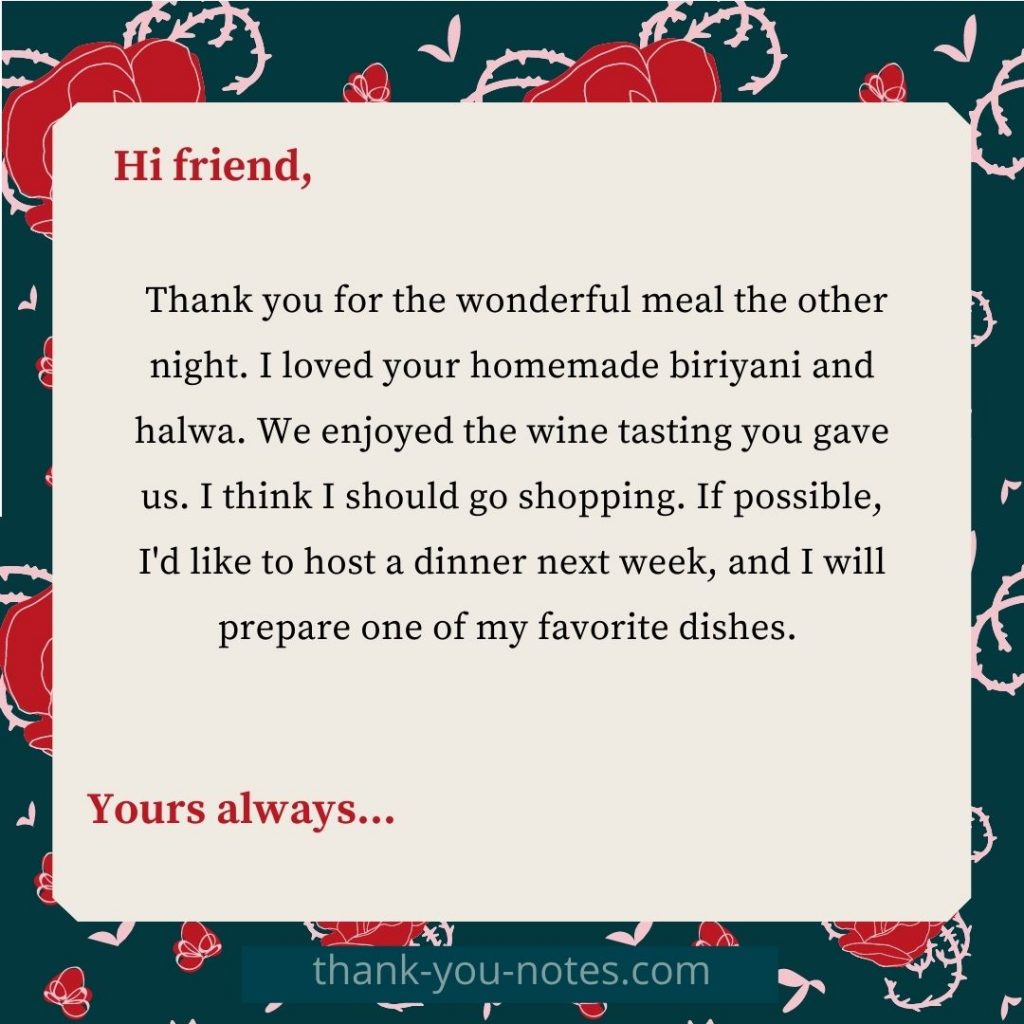 Hi friend,

  Thank you for the wonderful meal the other night. I loved your homemade biriyani and halwa. We enjoyed the wine tasting you gave us. I think I should go shopping. If possible, I'd like to host a dinner next week, and I will prepare one of my favorite dishes.   

Yours always...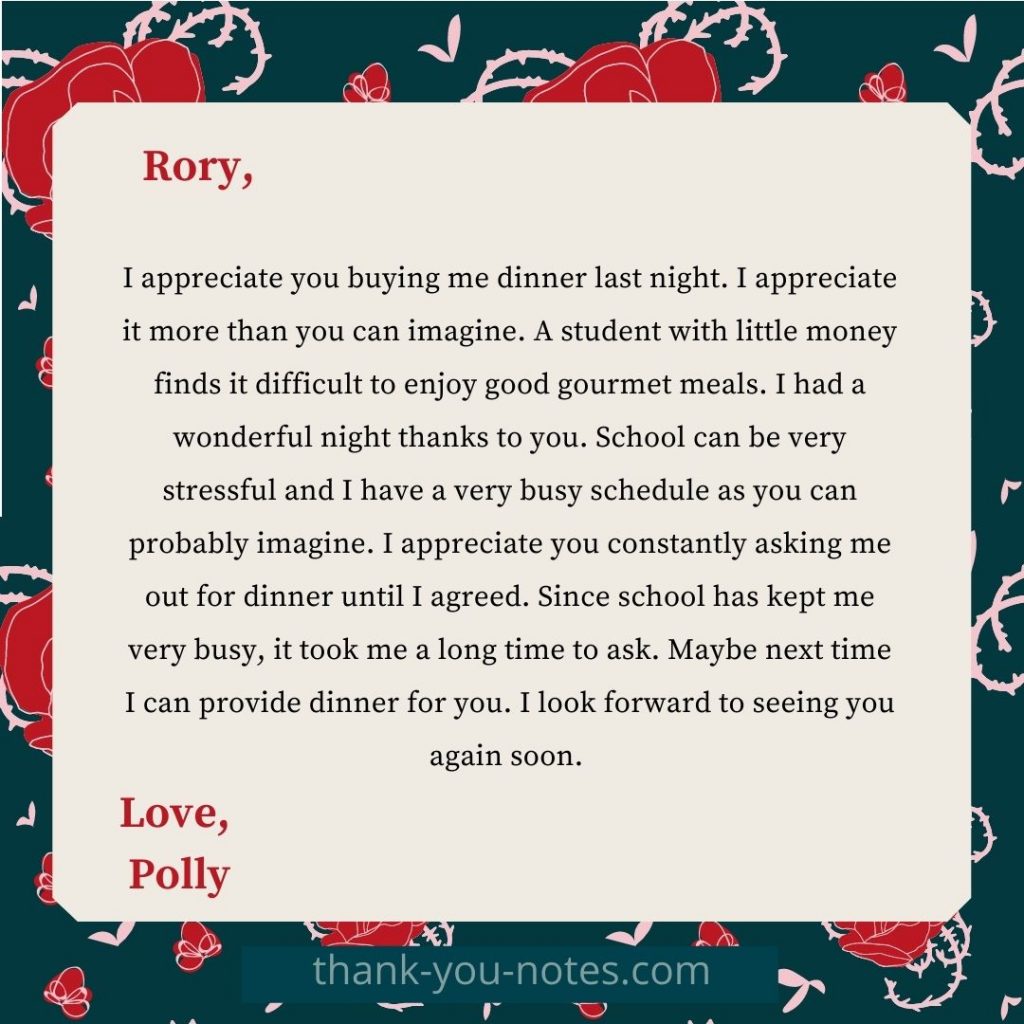 Rory,

I appreciate you buying me dinner last night. I appreciate it more than you can imagine. A student with little money finds it difficult to enjoy good gourmet meals. I had a wonderful night thanks to you. School can be very stressful and I have a very busy schedule as you can probably imagine. I appreciate you constantly asking me out for dinner until I agreed. Since school has kept me very busy, it took me a long time to ask. Maybe next time I can provide dinner for you. I look forward to seeing you again soon.

Love, Polly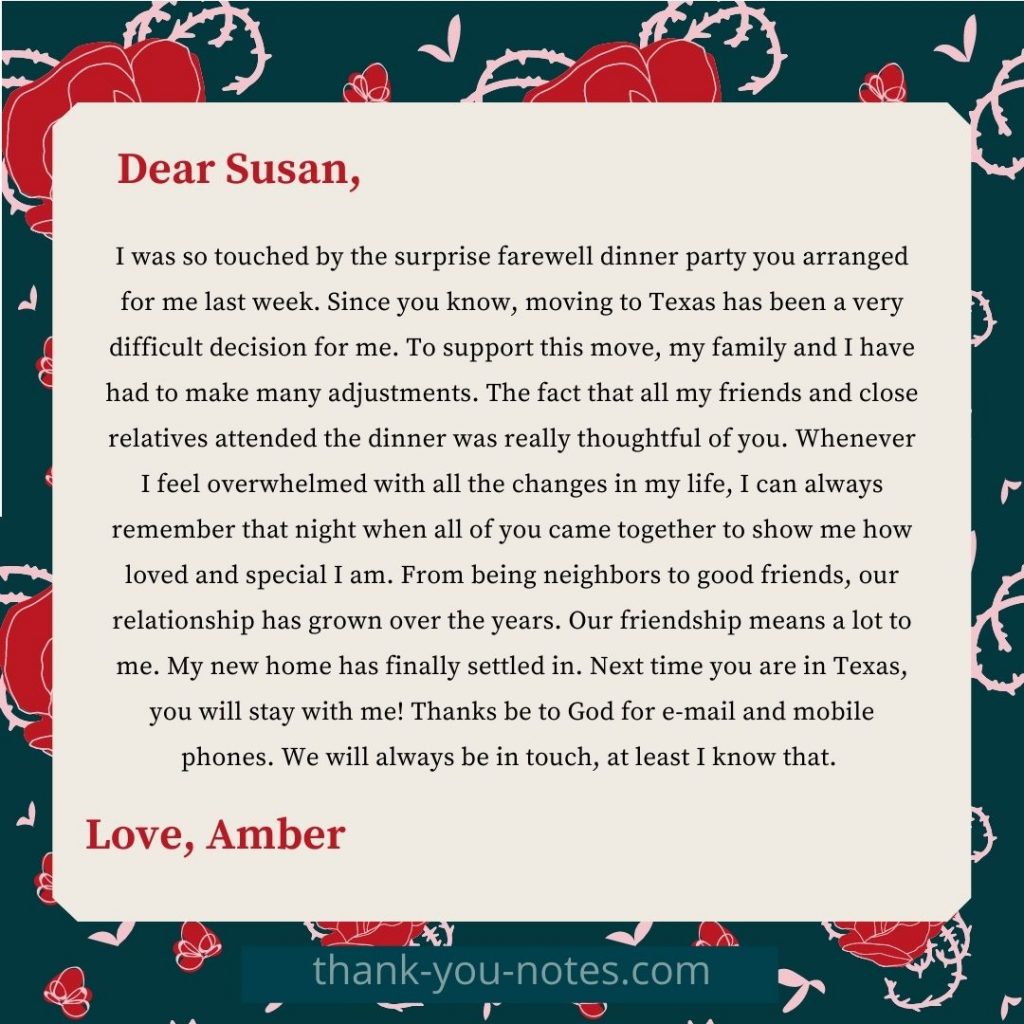 Dear Susan,

I was so touched by the surprise farewell dinner party you arranged for me last week. Since you know, moving to Texas has been a very difficult decision for me. To support this move, my family and I have had to make many adjustments. The fact that all my friends and close relatives attended the dinner was really thoughtful of you. Whenever I feel overwhelmed with all the changes in my life, I can always remember that night when all of you came together to show me how loved and special I am.

From being neighbors to good friends, our relationship has grown over the years. Our friendship means a lot to me. My new home has finally settled in. Next time you are in Texas, you will stay with me! Thanks be to God for e-mail and mobile phones. We will always be in touch, at least I know that.

Love, Amber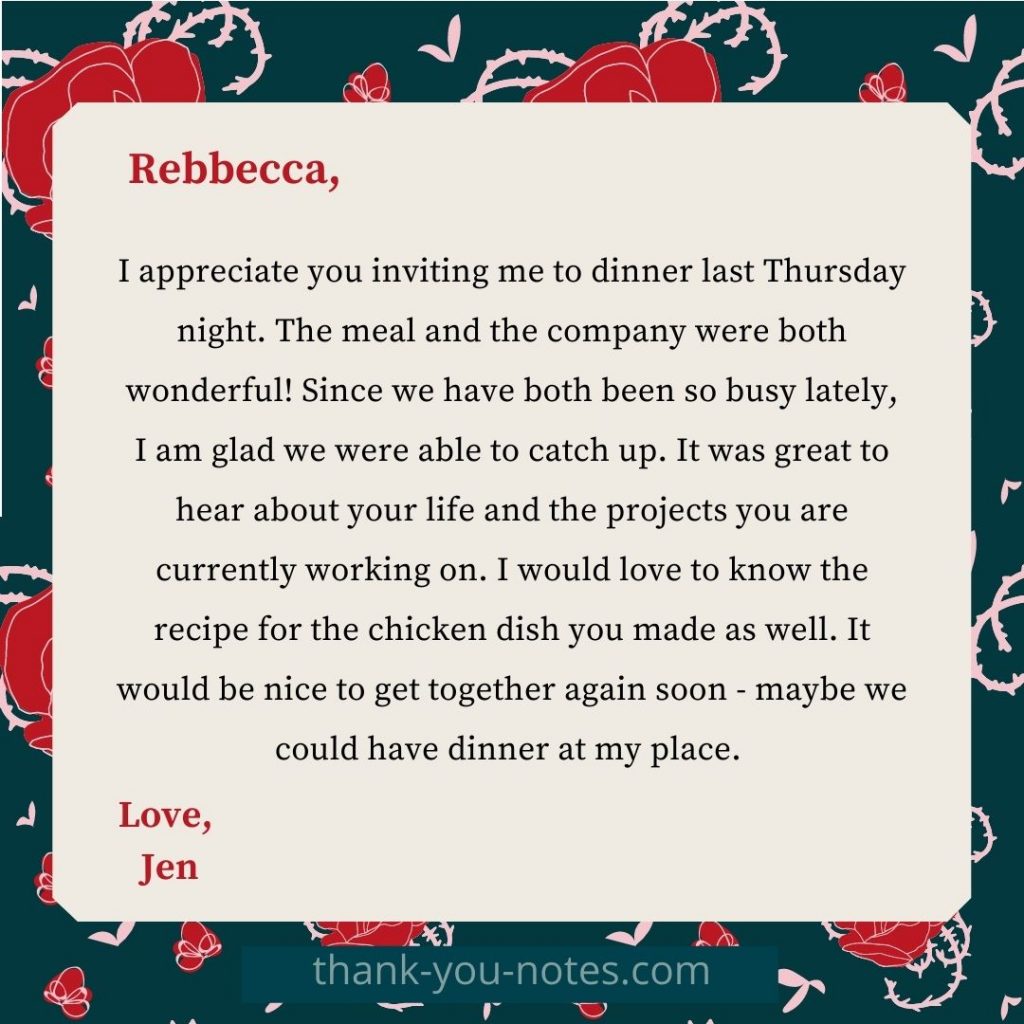 Rebbecca,

I appreciate you inviting me to dinner last Thursday night. The meal and the company were both wonderful! Since we have both been so busy lately, I am glad we were able to catch up. It was great to hear about your life and the projects you are currently working on. I would love to know the recipe for the chicken dish you made as well. It would be nice to get together again soon - maybe we could have dinner at my place.

Love, Jen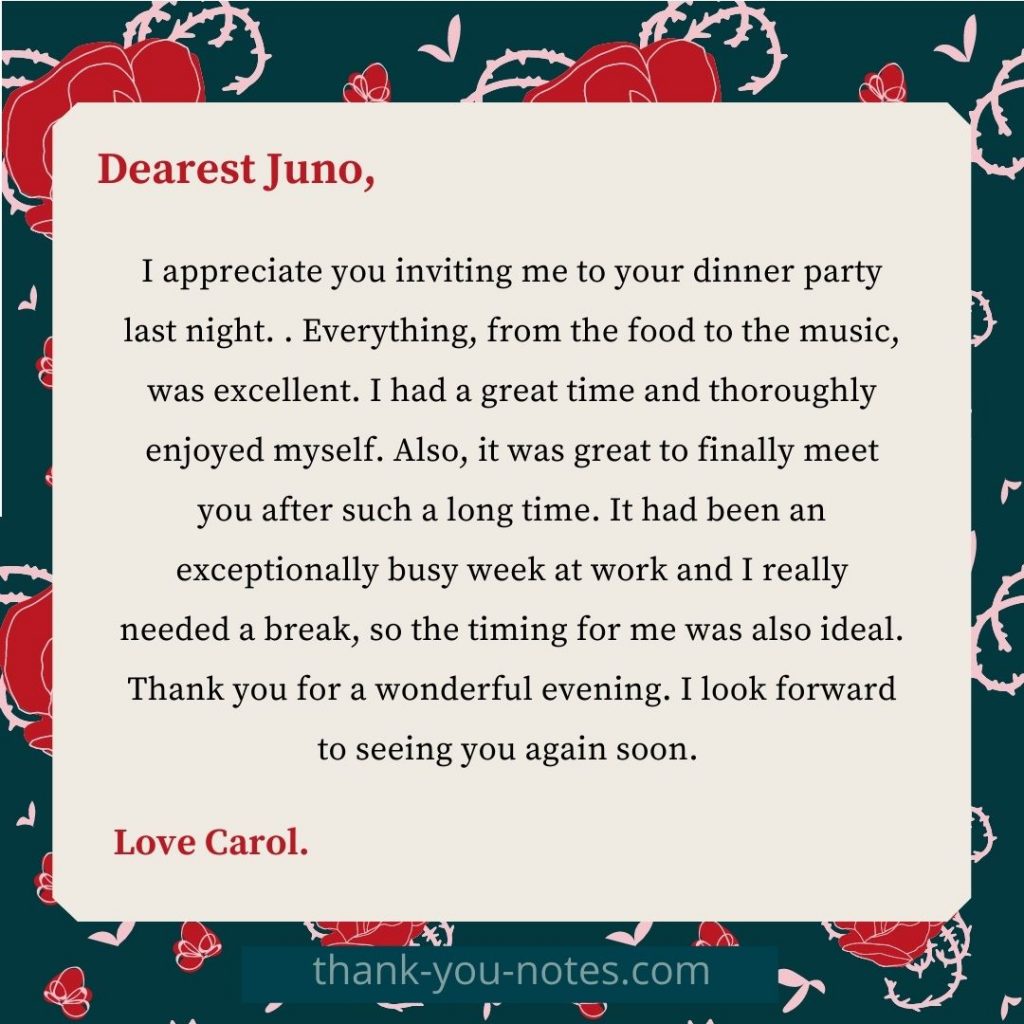 Dearest Juno,

I appreciate you inviting me to your dinner party last night. . Everything, from the food to the music, was excellent. I had a great time and thoroughly enjoyed myself. Also, it was great to finally meet you after such a long time.

It had been an exceptionally busy week at work and I really needed a break, so the timing for me was also ideal. Thank you for a wonderful evening. I look forward to seeing you again soon.

Love Carol.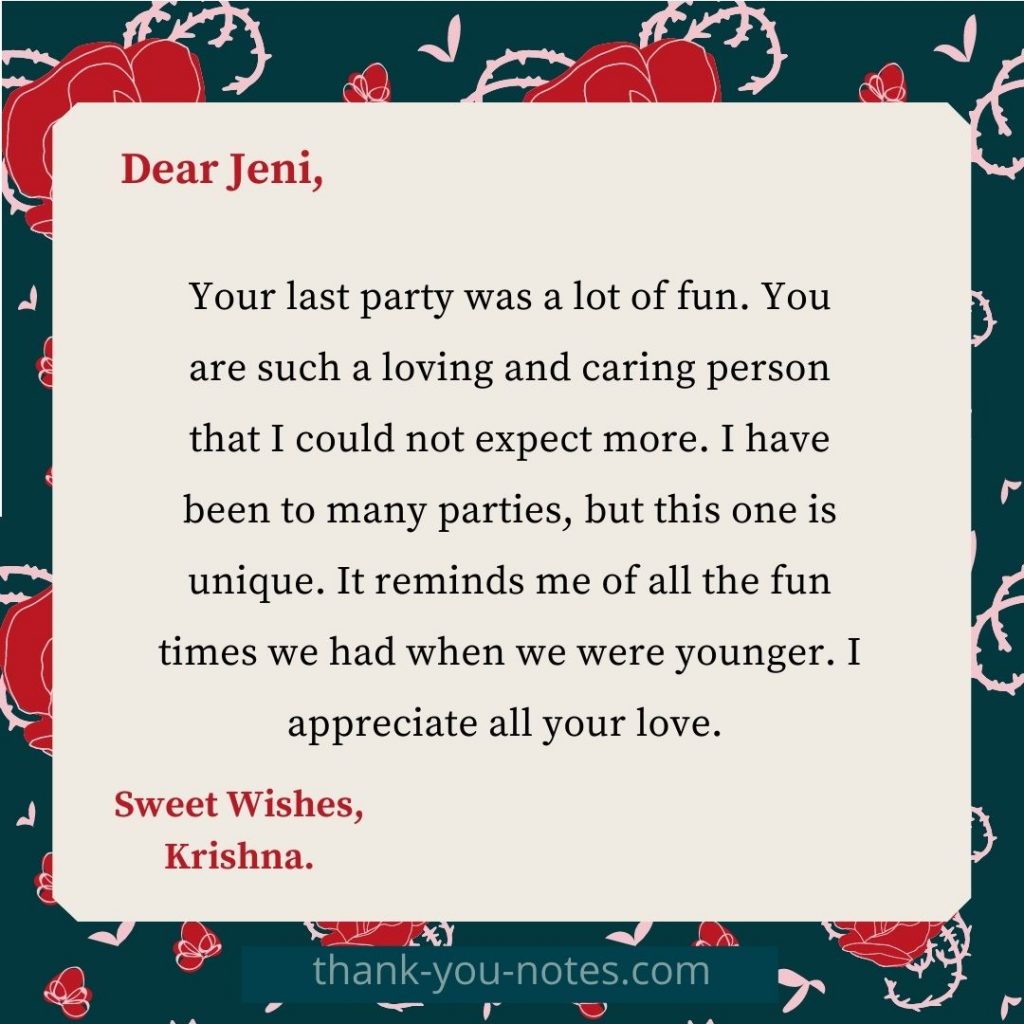 Dear Jeni,

Your last party was a lot of fun. You are such a loving and caring person that I could not expect more. I have been to many parties, but this one is unique. It reminds me of all the fun times we had when we were younger. I appreciate all your love.

Sweet Wishes, Krishna.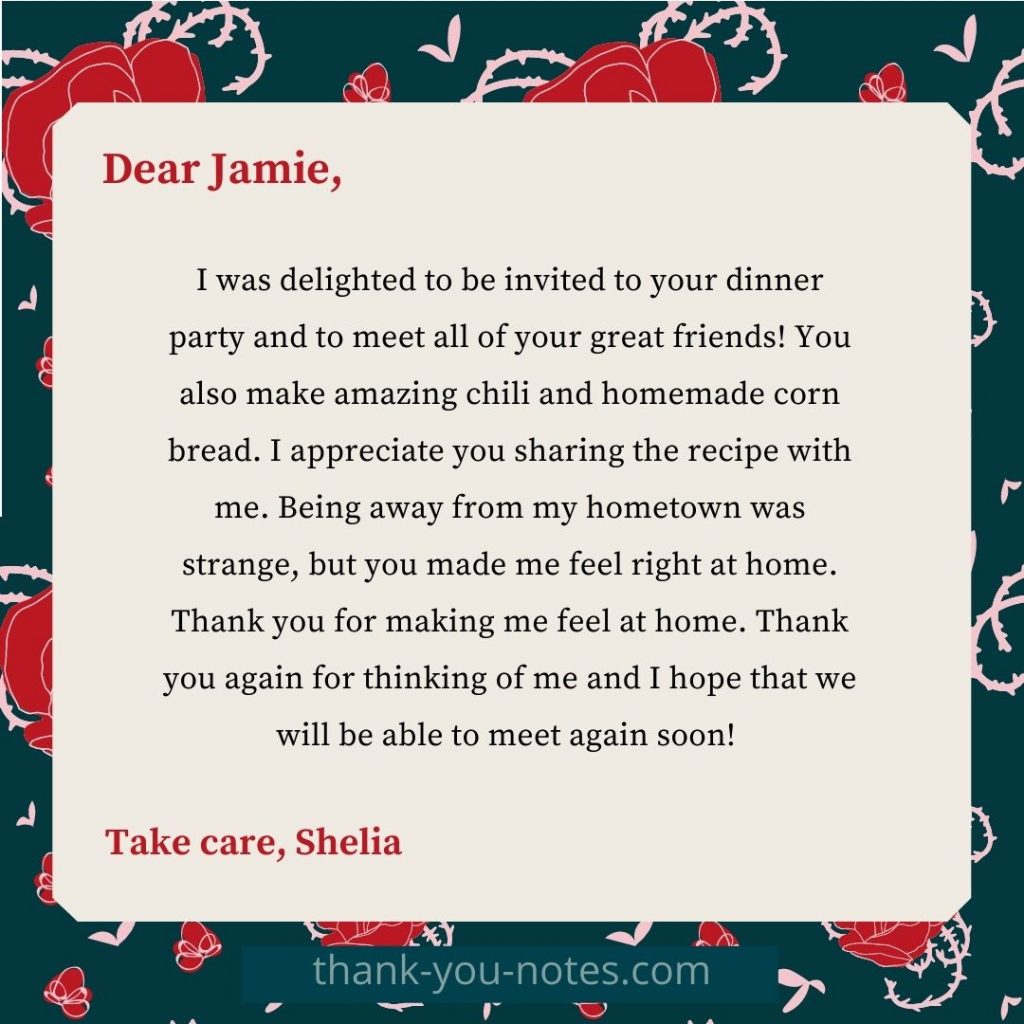 Dear Jamie,

I was delighted to be invited to your dinner party and to meet all of your great friends! You also make amazing chili and homemade corn bread. I appreciate you sharing the recipe with me. Being away from my hometown was strange, but you made me feel right at home. Thank you for making me feel at home. Thank you again for thinking of me and I hope that we will be able to meet again soon!

Take care, Shelia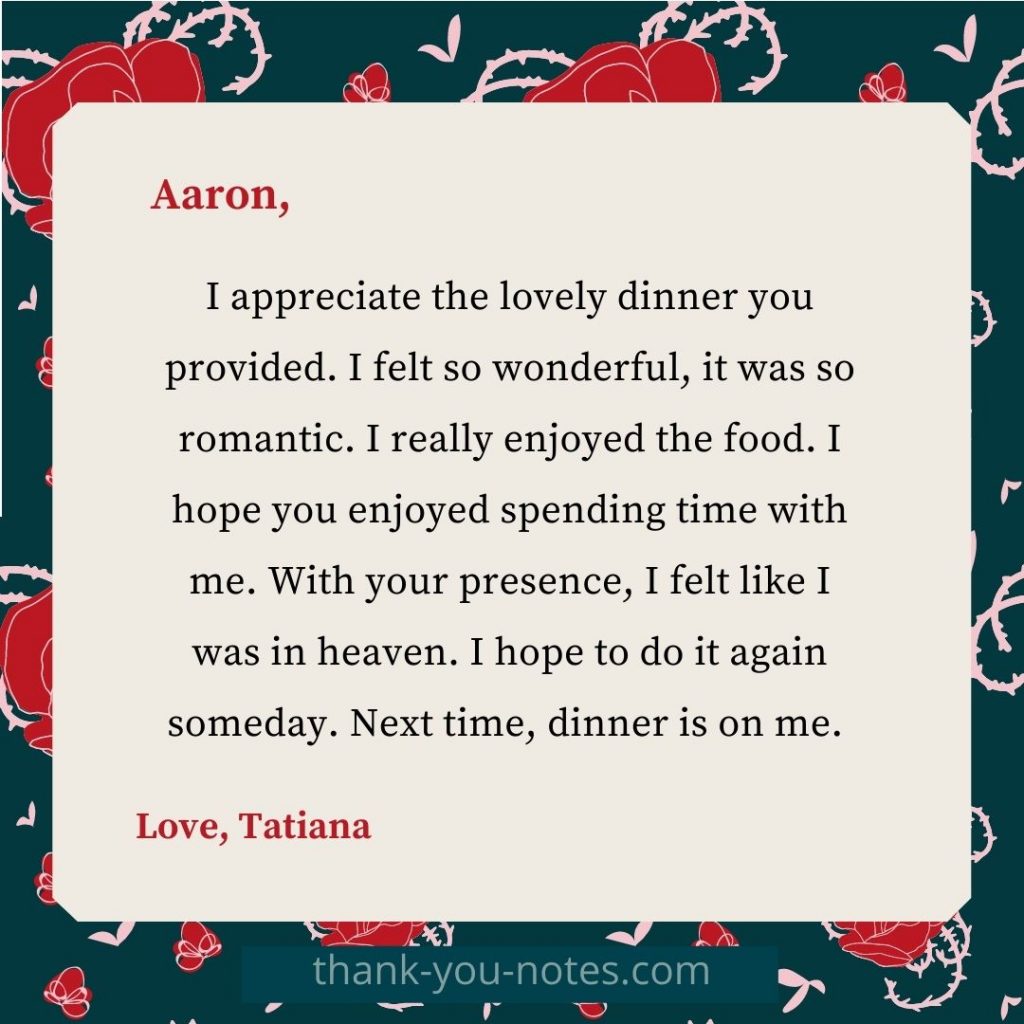 Aaron,

I appreciate the lovely dinner you provided. I felt so wonderful, it was so romantic. I really enjoyed the food. I hope you enjoyed spending time with me. With your presence, I felt like I was in heaven. I hope to do it again someday. Next time, dinner is on me.

Love, Tatiana