Sending Thank You letters for donations can help show your appreciation for your donors and encourage further contributions from them.
It is important to be specific when writing a thank you note to someone who has donated. Occasionally, the same generous person will donate to multiple organizations. You should let them know which organization you belong to and how it has helped you.
Even small donations that greatly assist your efforts should be acknowledged. A small donation may not have as much of an impact as a larger one, but it can add up and be very helpful.
Related Sample Letters…
Donation Thank You Letters Samples
A Teacher Thanks a Parent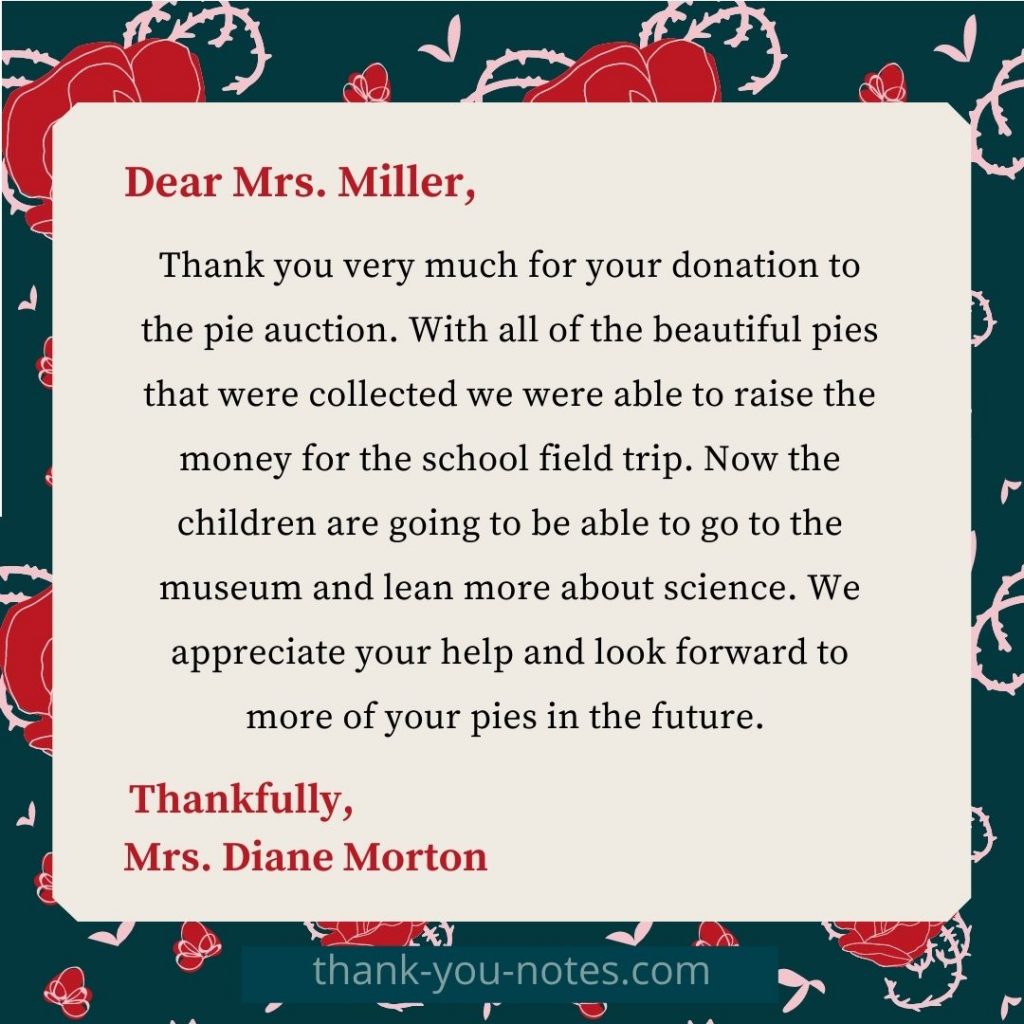 Dear Mrs. Miller,



Thank you very much for your donation to the pie auction. With all of the beautiful pies that were collected we were able to raise the money for the school field trip. Now the children are going to be able to go to the museum and lean more about science.

We appreciate your help and look forward to more of your pies in the future.

Thankfully,
Mrs. Diane Morton
Teachers often ask parents to donate pies for their pie auctions. Ms. Miller stepped up to the plate and baked one of her delicious cherry pies. The letter was written by Diane Morton in hopes that Mrs. Miller will be able to help again in the future.
She wrote the note to encourage and thank the children for their ability to learn more now. By pointing out a fact that both she and the parent would be happy about, Mrs. Miller realized she was a part of the overall success of the auction.
Also notice that she does not ask for anything in the note but she does imply that she is excited about further donations. Ensure that the person is planning on making future donations before you do this.
Thank You for Your Donation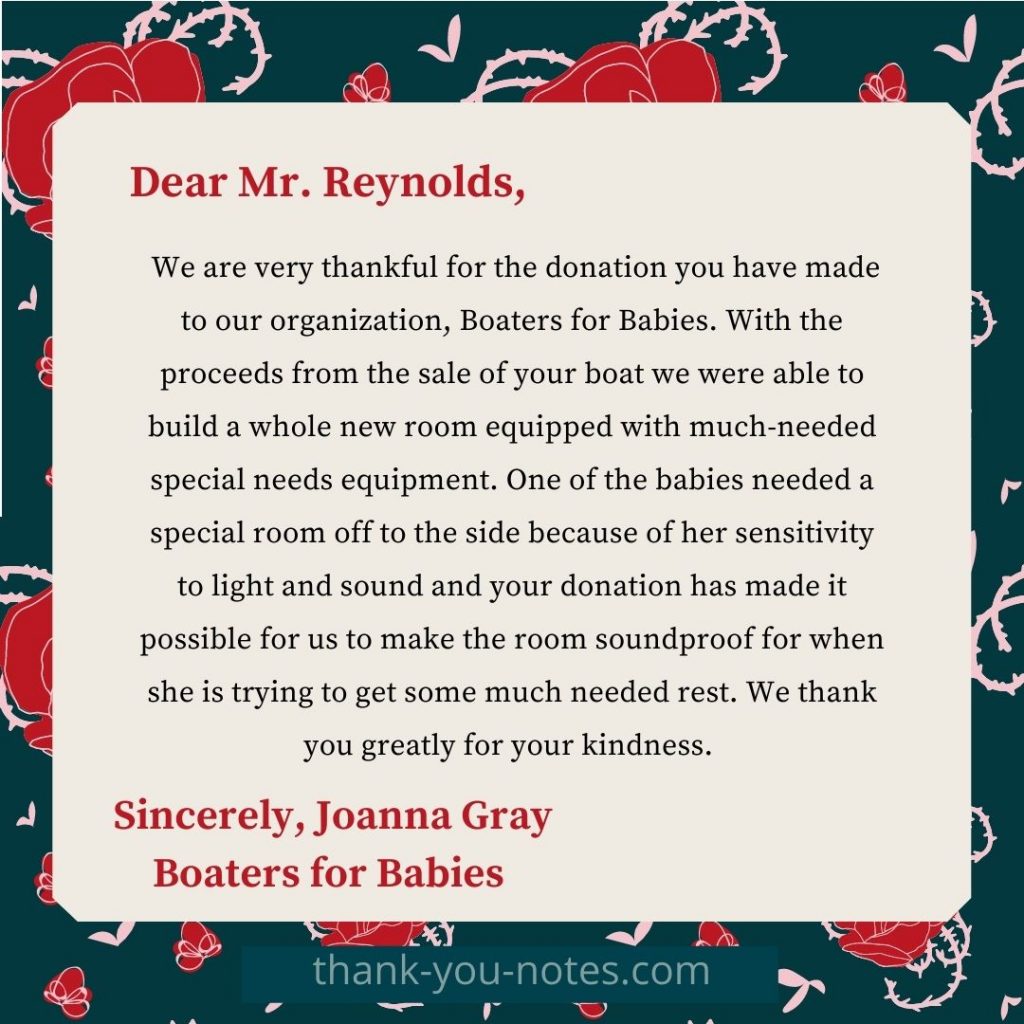 Dear Mr. Reynolds,

  We are very thankful for the donation you have made to our organization, Boaters for Babies. With the proceeds from the sale of your boat we were able to build a whole new room equipped with much-needed special needs equipment.   
One of the babies needed a special room off to the side because of her sensitivity to light and sound and your donation has made it possible for us to make the room soundproof for when she is trying to get some much needed rest.

We thank you greatly for your kindness.

Sincerely,
Joanna Gray
Boaters for Babies
Make sure you are very specific. You want the person to remember the charity they donated to. Usually, when such large donations are made, the donor remembers, but this isn't always the case.
You can see that Joanna Gray made sure to write the name of the organization in the note as well as below her name. As a result of your thankful and grateful attitude, it is also recommended that you put your contact information below your name in case the person would like to make another donation.
Thank You for Donating Your Time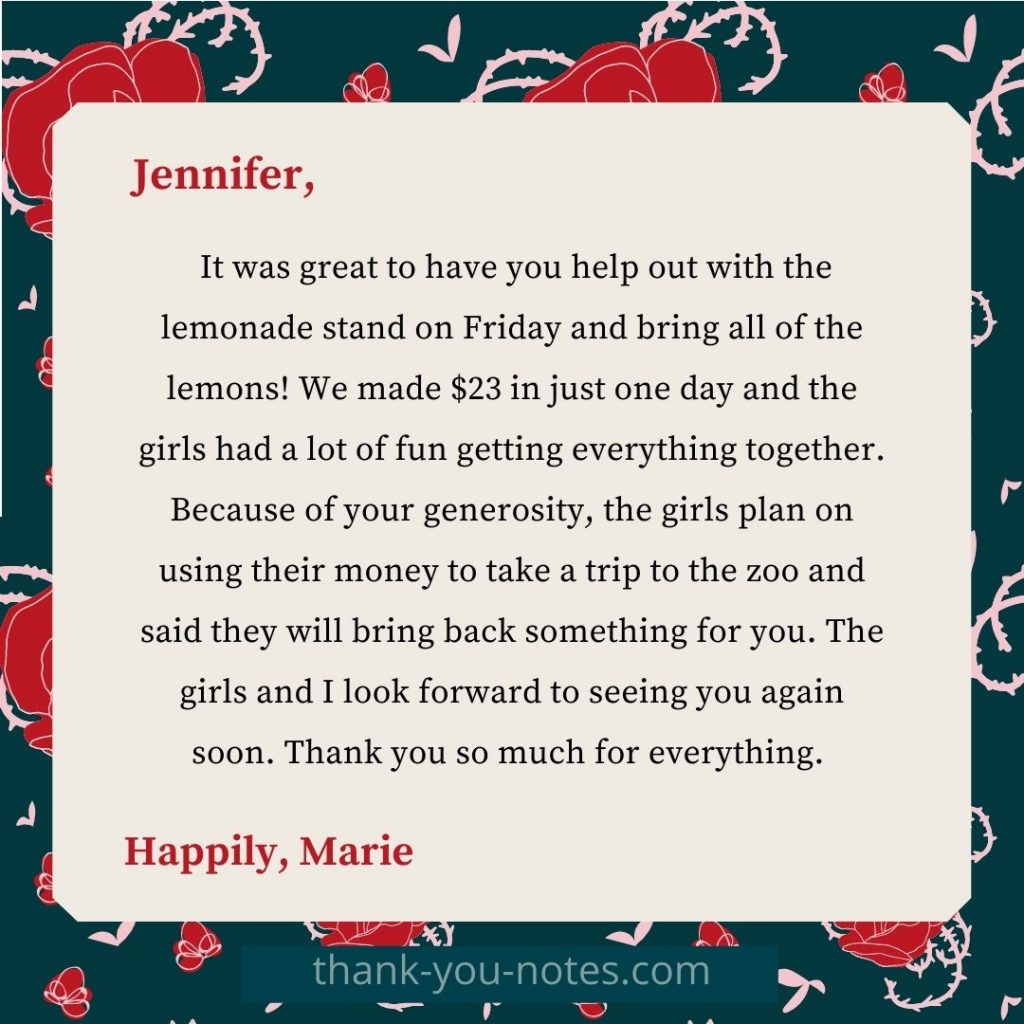 Jennifer,

  It was great to have you help out with the lemonade stand on Friday and bring all of the lemons! We made $23 in just one day and the girls had a lot of fun getting everything together.   
  Because of your generosity, the girls plan on using their money to take a trip to the zoo and said they will bring back something for you.   
The girls and I look forward to seeing you again soon. Thank you so much for everything.

Happily,
Marie

Because they are friends, this note is a little less formal. The people in your life will be able to see that you are truly thankful for their efforts when you send donation thank you letters even if they are a friend.
Writing a Donation Note Can Be Tricky
The reasons for writing a thank you note for a donation are many, as you can see, and there are many different ways to phrase them.
Be aware of whether formality or informality is appropriate in the situation. You will be showing the proper respect and will receive a better response if you do this.