Parting is such sweet sorrow.
However, farewell thank you notes don't have to be sorrowful. Let people know that you appreciate what they've done for you over the years.
There will be many times throughout your life when you will have to write a farewell thank you note. When you are promoted or moving on to a new job, it is important to write a thank you note to your bosses and coworkers.
Related content…
Retirement Thank You Letter Samples
Thank You Poems
Thank You Quotes for Friends
Let's get to the sample notes.
Farewell Notes to Bosses, Colleagues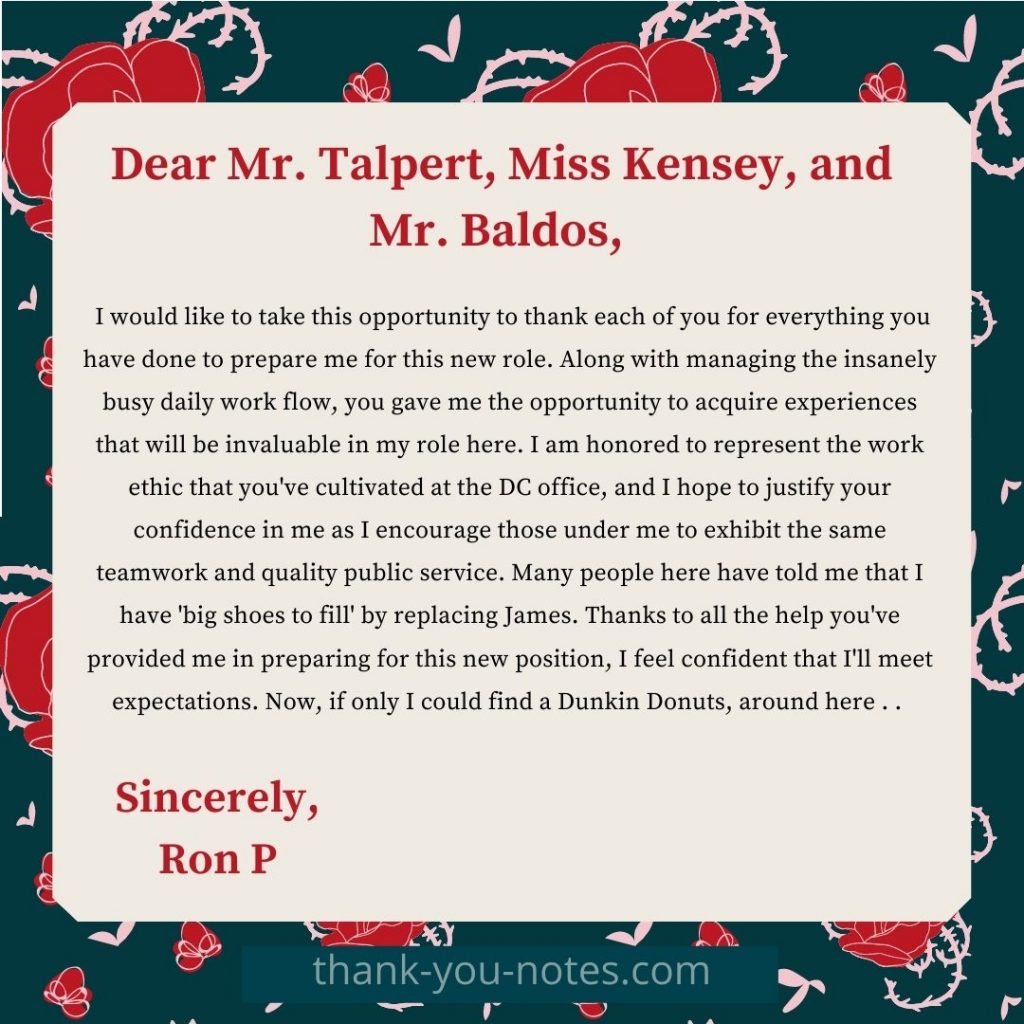 Dear Mr. Talpert, Miss Kensey, and Mr. Baldos,

  I would like to take this opportunity to thank each of you for everything you have done to prepare me for this new role. Along with managing the insanely busy daily work flow, you gave me the opportunity to acquire experiences that will be invaluable in my role here.   

  I am honored to represent the work ethic that you've cultivated at the DC office, and I hope to justify your confidence in me as I encourage those under me to exhibit the same teamwork and quality public service.   

  Many people here have told me that I have 'big shoes to fill' by replacing James. Thanks to all the help you've provided me in preparing for this new position, I feel confident that I'll meet expectations.   

Now, if only I could find a Dunkin Donuts, around here . .

Sincerely, Ron P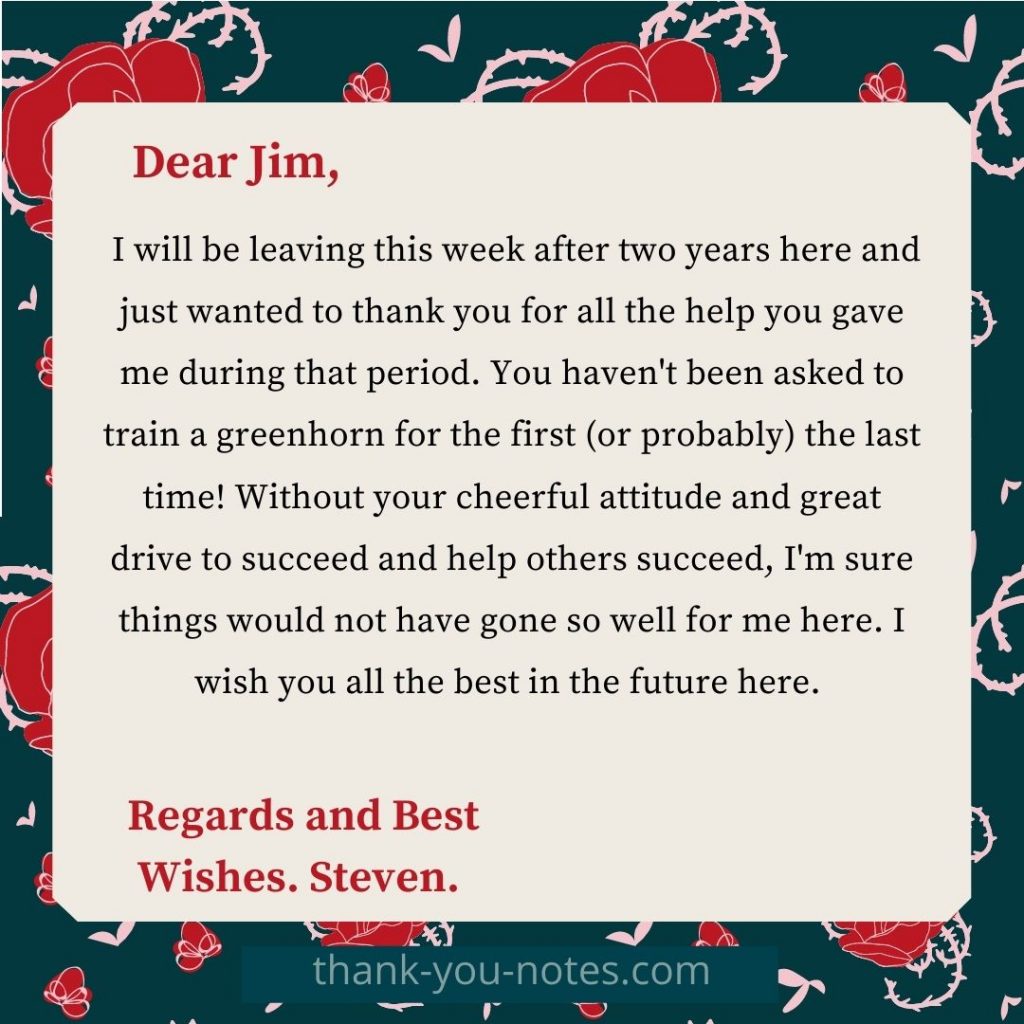 Dear Jim,

  I will be leaving this week after two years here and just wanted to thank you for all the help you gave me during that period. You haven't been asked to train a greenhorn for the first (or probably) the last time!   

  Without your cheerful attitude and great drive to succeed and help others succeed, I'm sure things would not have gone so well for me here.   

I wish you all the best in the future here.

Regards and Best Wishes.
Steven.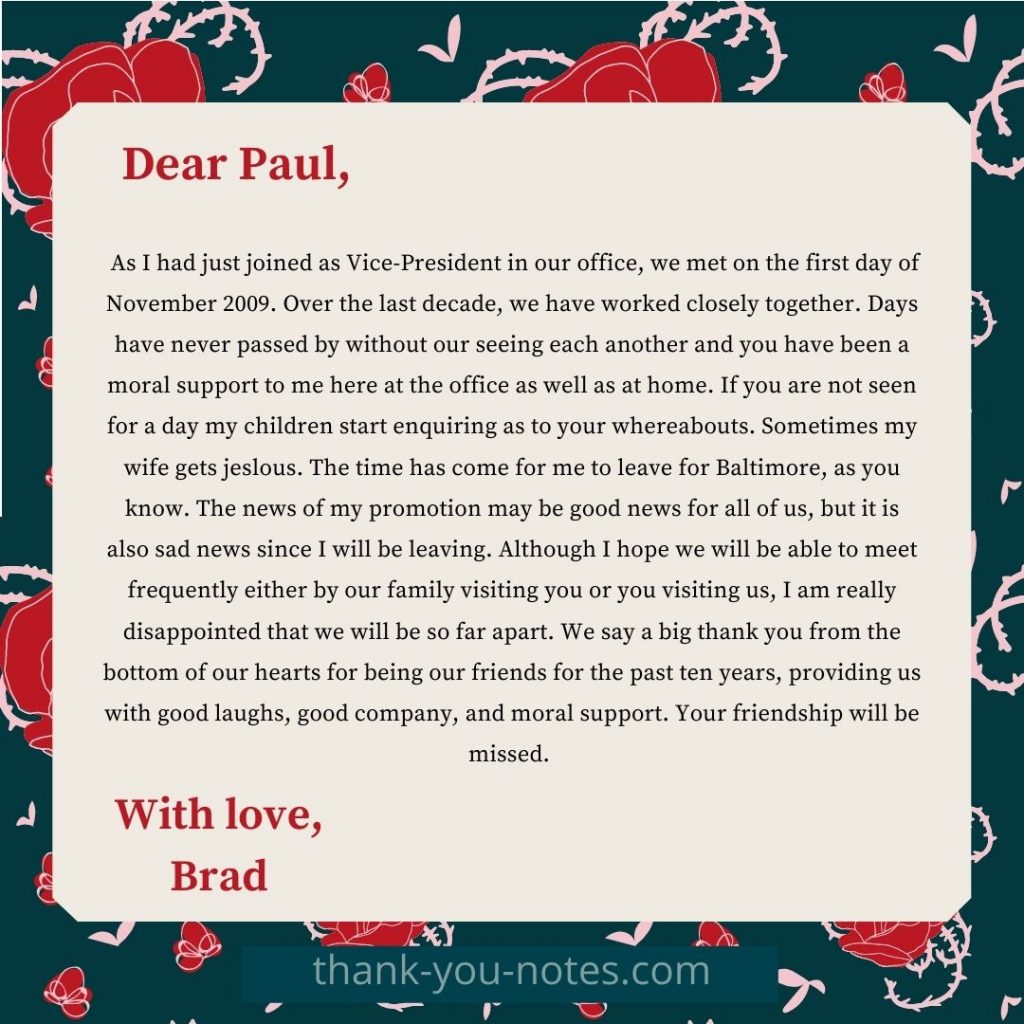 Dear Paul,

  As I had just joined as Vice-President in our office, we met on the first day of November 2009. Over the last decade, we have worked closely together.   

Days have never passed by without our seeing each another and you have been a moral support to me here at the office as well as at home.

If you are not seen for a day my children start enquiring as to your whereabouts. Sometimes my wife gets jeslous. The time has come for me to leave for Baltimore, as you know. The news of my promotion may be good news for all of us, but it is also sad news since I will be leaving.   

Although I hope we will be able to meet frequently either by our family visiting you or you visiting us, I am really disappointed that we will be so far apart. We say a big thank you from the bottom of our hearts for being our friends for the past ten years, providing us with good laughs, good company, and moral support. Your friendship will be missed.

With love, Brad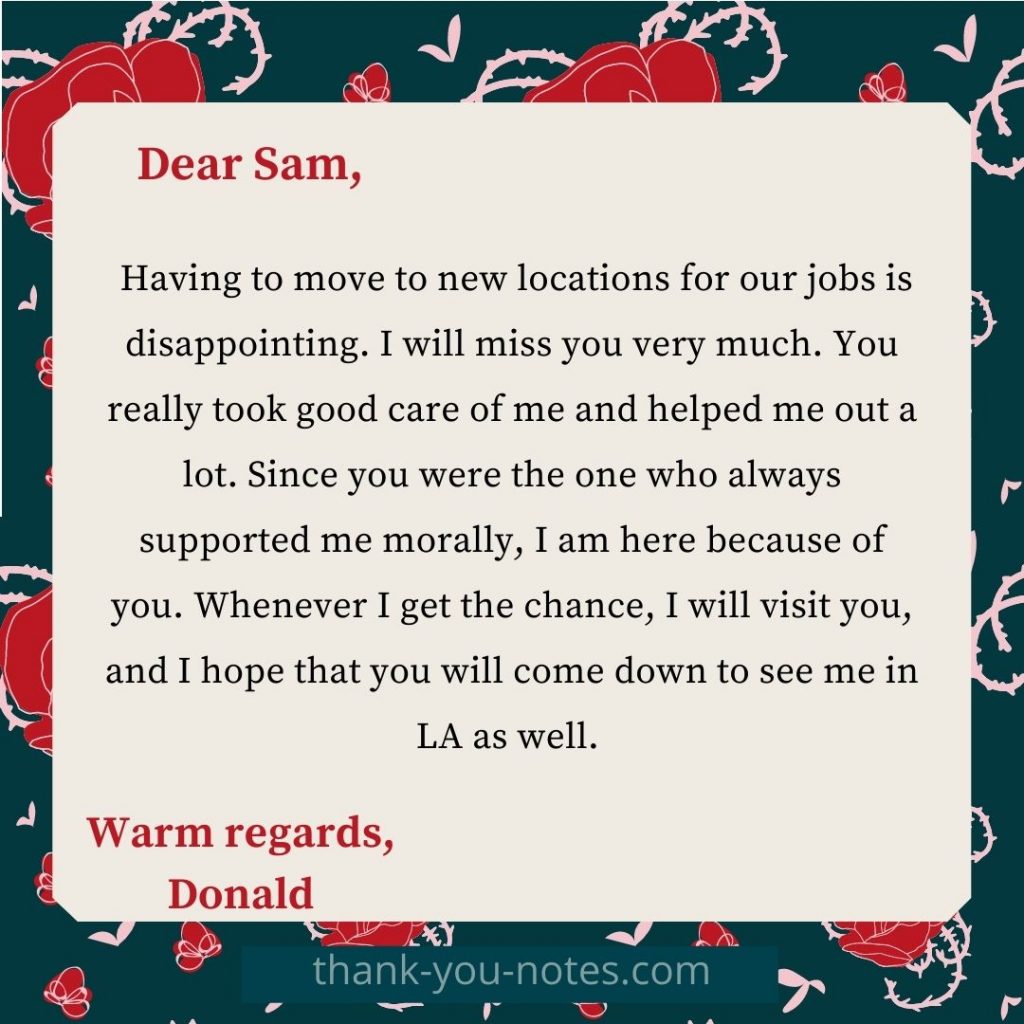 Dear Sam,

  Having to move to new locations for our jobs is disappointing. I will miss you very much. You really took good care of me and helped me out a lot. Since you were the one who always supported me morally, I am here because of you.   

  Whenever I get the chance, I will visit you, and I hope that you will come down to see me in LA as well.   

Warm regards, Donald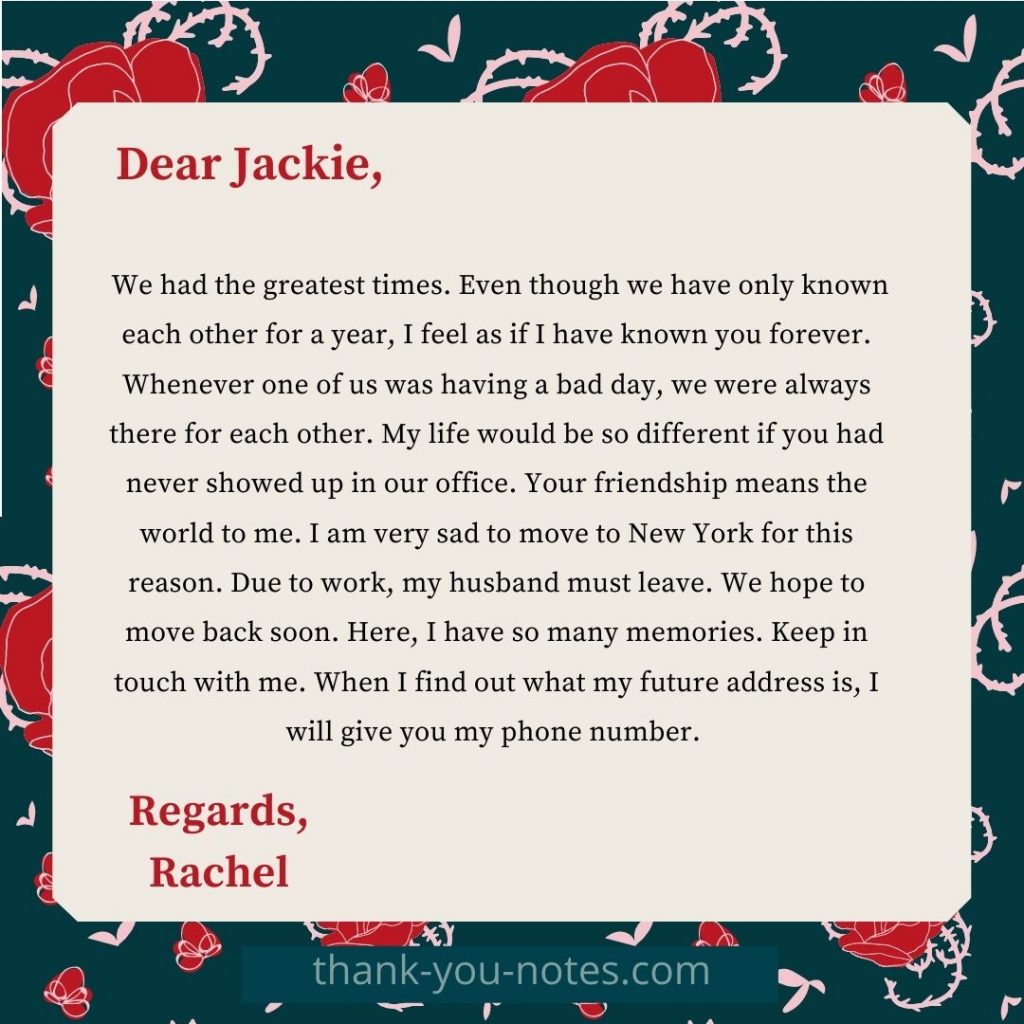 Dear Jackie,

  We had the greatest times. Even though we have only known each other for a year, I feel as if I have known you forever. Whenever one of us was having a bad day, we were always there for each other.   

My life would be so different if you had never showed up in our office.

  Your friendship means the world to me. I am very sad to move to New York for this reason. Due to work, my husband must leave. We hope to move back soon. Here, I have so many memories. Keep in touch with me. When I find out what my future address is, I will give you my phone number.   

Regards, Rachel
More Farewell Thank You Notes
Farewell After Death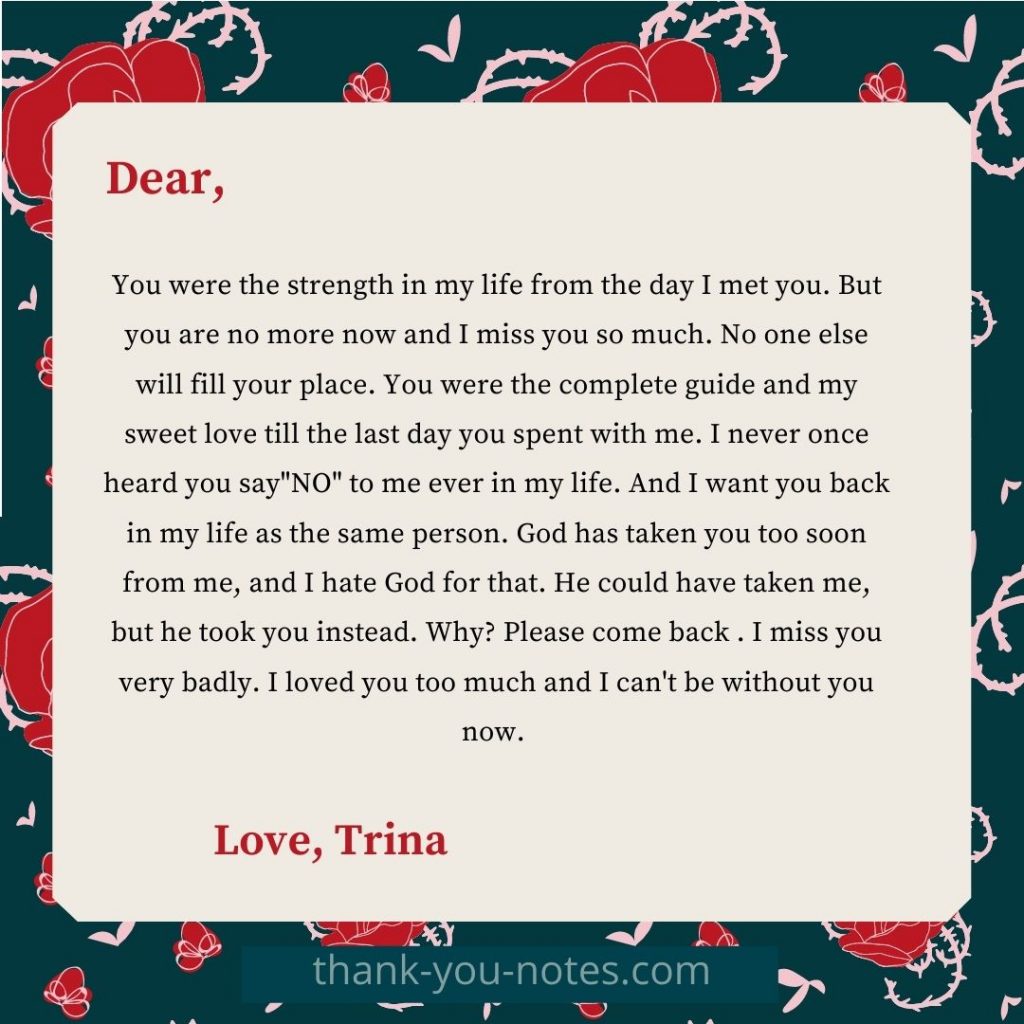 You were the strength in my life from the day I met you. But you are no more now and I miss you so much. No one else will fill your place. You were the complete guide and my sweet love till the last day you spent with me. I never once heard you say"NO" to me ever in my life. And I want you back in my life as the same person. God has taken you too soon from me, and I hate God for that. He could have taken me, but he took you instead. Why?

Please come back . I miss you very badly. I loved you too much and I can't be without you now.

Love, Trina
Goodbye Neighbor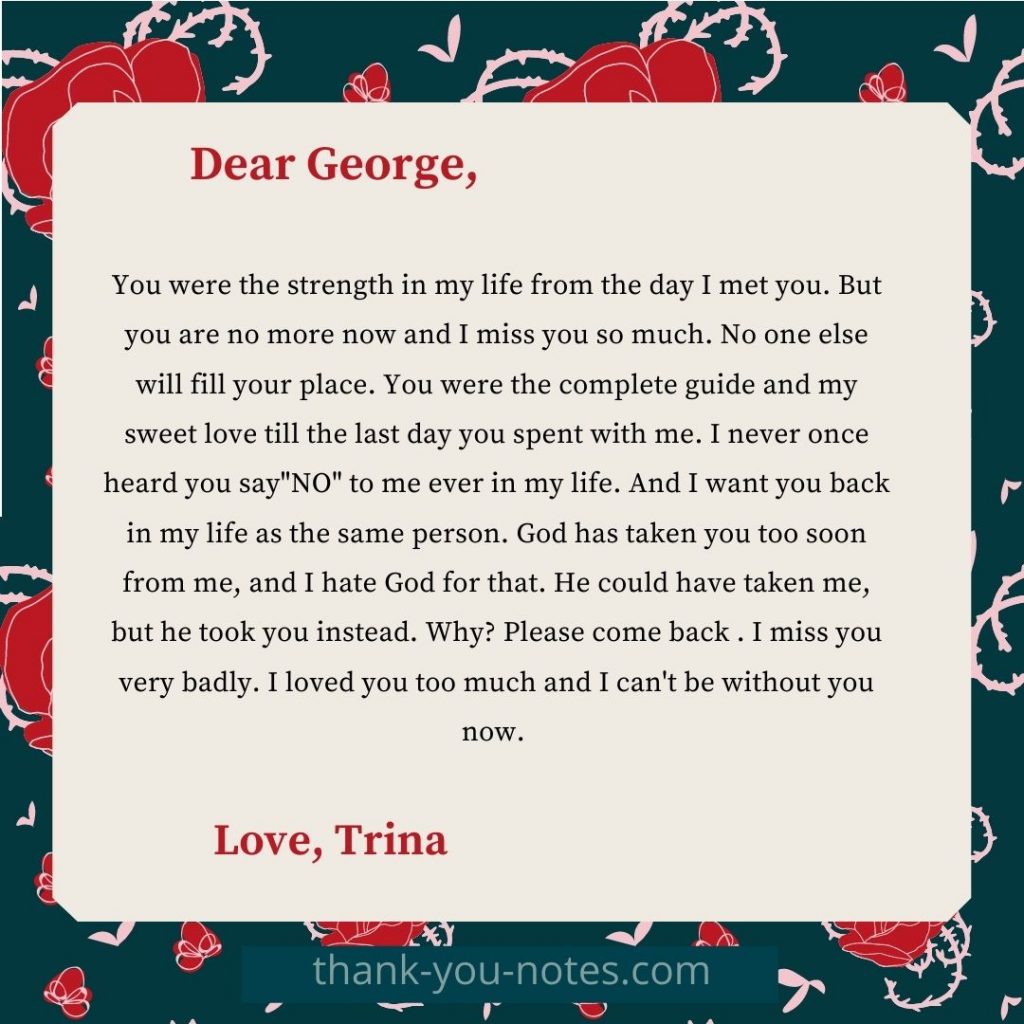 Dear George,

  It is a pleasure to have a neighbor like you. I was so lucky to have you as a good friend who always helped me out when I was in trouble. As well as that, whenever we go on vacation, you are very attentive to our home, so that we can enjoy a peaceful vacation without having to worry about robberies, etc.   

  Even though we will be moving, know that I am here to help if needed. A phone call away, I am just across the street. I hope you will visit often, and try out our new pool.   

With regards, Bill
Farewell Roommate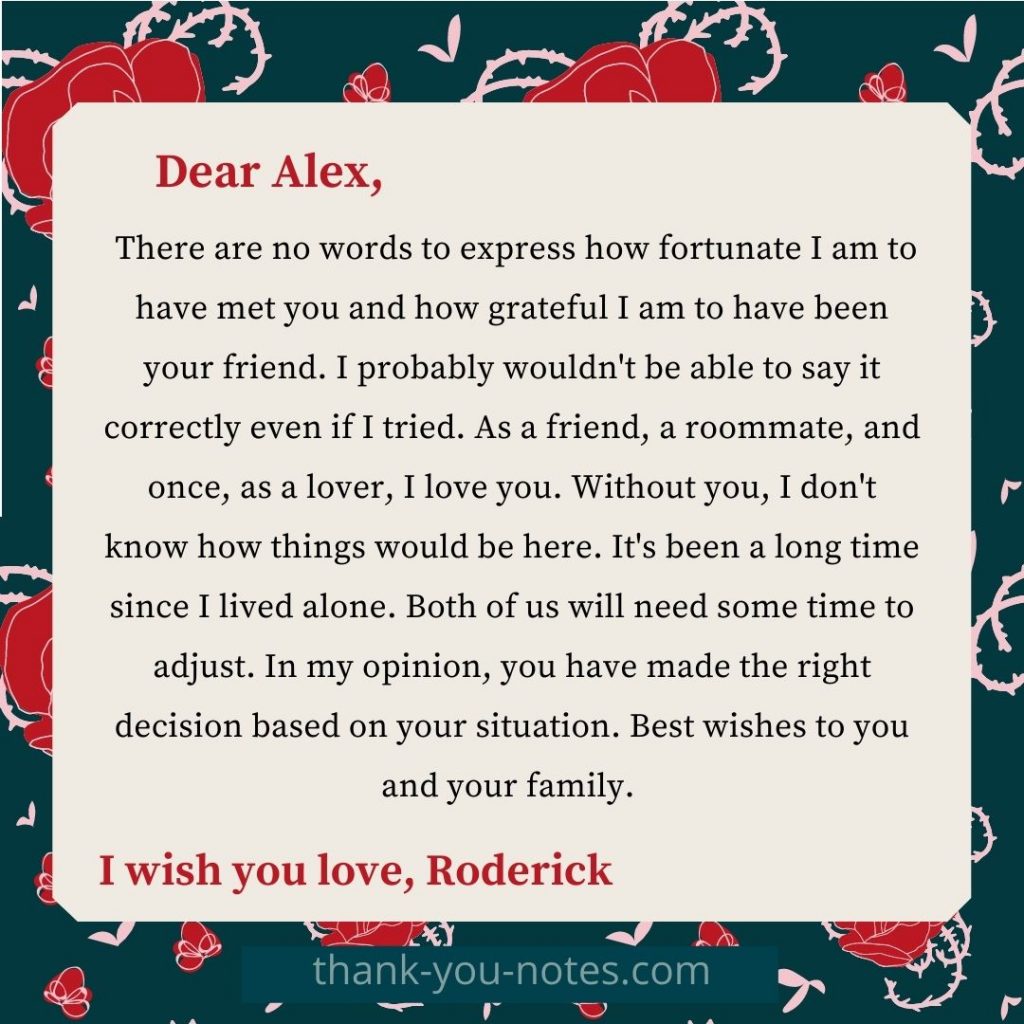 Dear Alex,

  There are no words to express how fortunate I am to have met you and how grateful I am to have been your friend. I probably wouldn't be able to say it correctly even if I tried. As a friend, a roommate, and once, as a lover, I love you. Without you, I don't know how things would be here. It's been a long time since I lived alone.   

  Both of us will need some time to adjust. In my opinion, you have made the right decision based on your situation. Best wishes to you and your family.   

I wish you love, Roderick
Goodbye After Graduation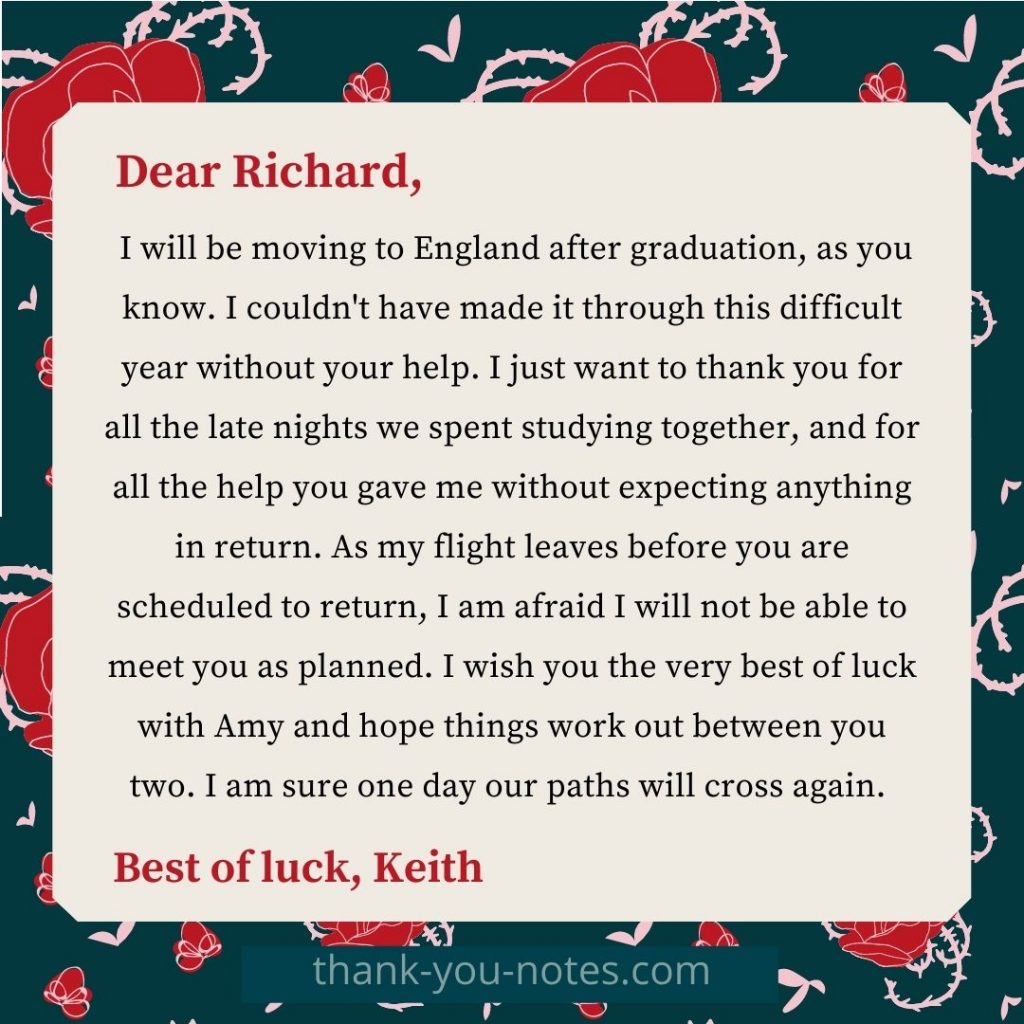 Dear Richard, ,

  I will be moving to England after graduation, as you know. I couldn't have made it through this difficult year without your help. I just want to thank you for all the late nights we spent studying together, and for all the help you gave me without expecting anything in return.   

  As my flight leaves before you are scheduled to return, I am afraid I will not be able to meet you as planned. I wish you the very best of luck with Amy and hope things work out between you two.   

I am sure one day our paths will cross again.

Best of luck, Keith
We hope these farewell thank-you note samples will inspire you to write a great thank-you note. You can help others by contributing your completed note to these related pages!
Related thank you card goodies…