It's a dream come true to shift into a new home. This is a once-in-a-lifetime opportunity that deserves to be celebrated. If you're planning a house warming event for your friends and family, you'll need to send out house warming invitations.
House warming parties are similar to festivals in that everything from the decorations to the house warming invitations plays a part in making the occasion special. Because the house warming invitation card will be the initial impression, it must be both appealing and relevant.
Here is a collection of template invitation messages for a housewarming party for your loved ones to help you plan your party. Also include a complete address and, preferably, a sketch or basic map on the back of the housewarming invitation.
Housewarming invitation texts can be as casual as you want if you're inviting close friends and relatives. So move ahead and personalize these housewarming event invitation messages & letters for your family and friends.
House Warming Invitation Letter & Massages: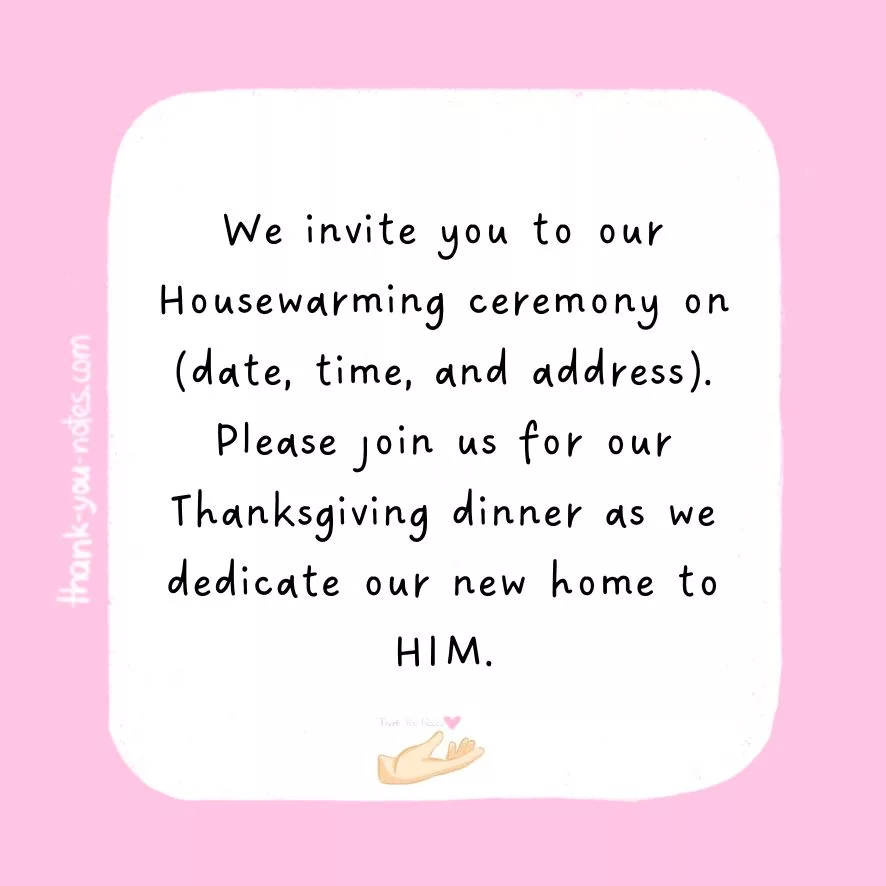 #1
We invite you to our Housewarming ceremony on (date, time, and address). Please join us for our Thanksgiving dinner as we dedicate our new home to HIM.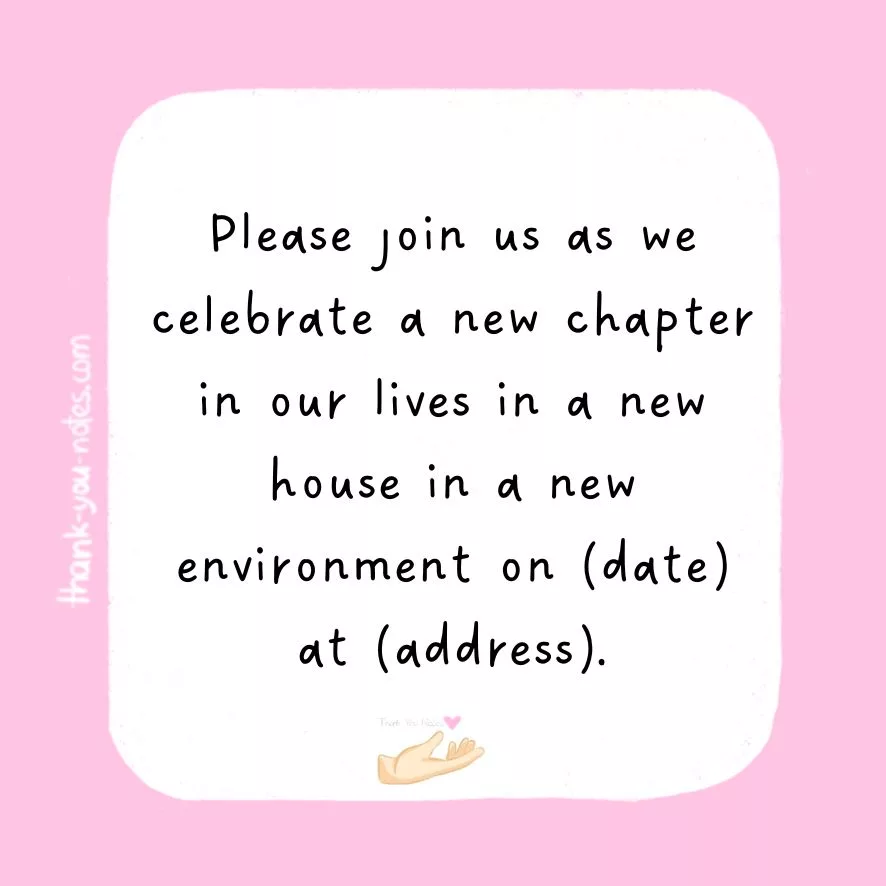 #2 
Please join us as we celebrate a new chapter in our lives in a new house in a new environment on (date) at (address).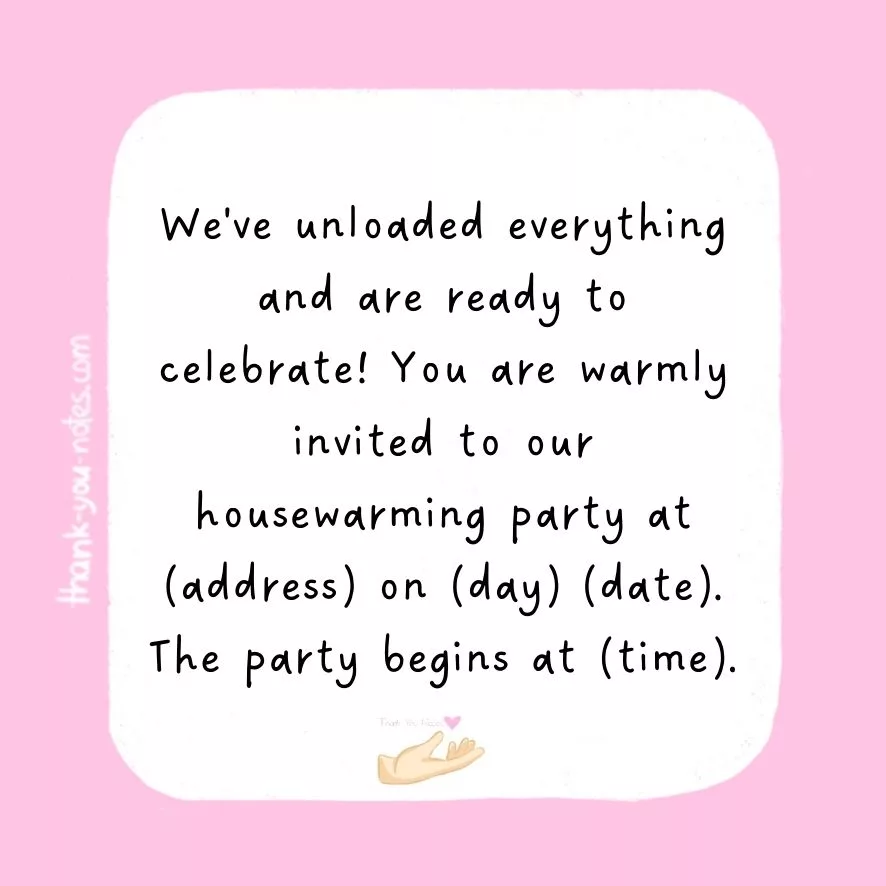 #3 
We've unloaded everything and are ready to celebrate! You are warmly invited to our housewarming party at (address) on (day) (date). The party begins at (time).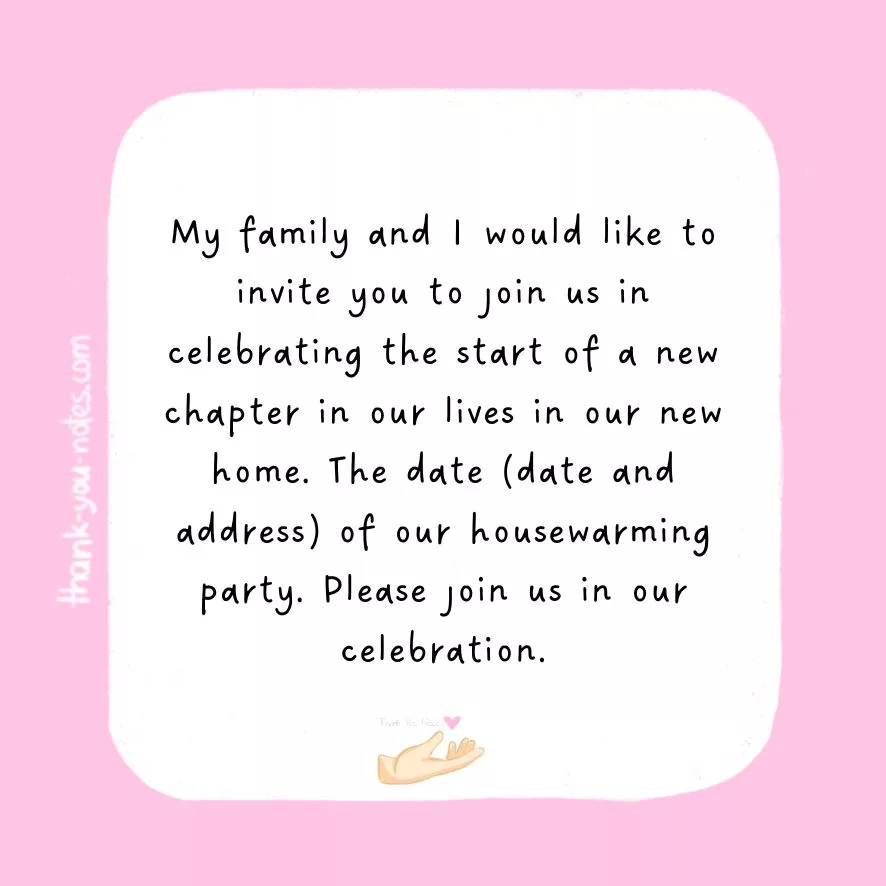 #4 
My family and I would like to invite you to join us in celebrating the start of a new chapter in our lives in our new home. The date (date and address) of our housewarming party. Please join us in our celebration.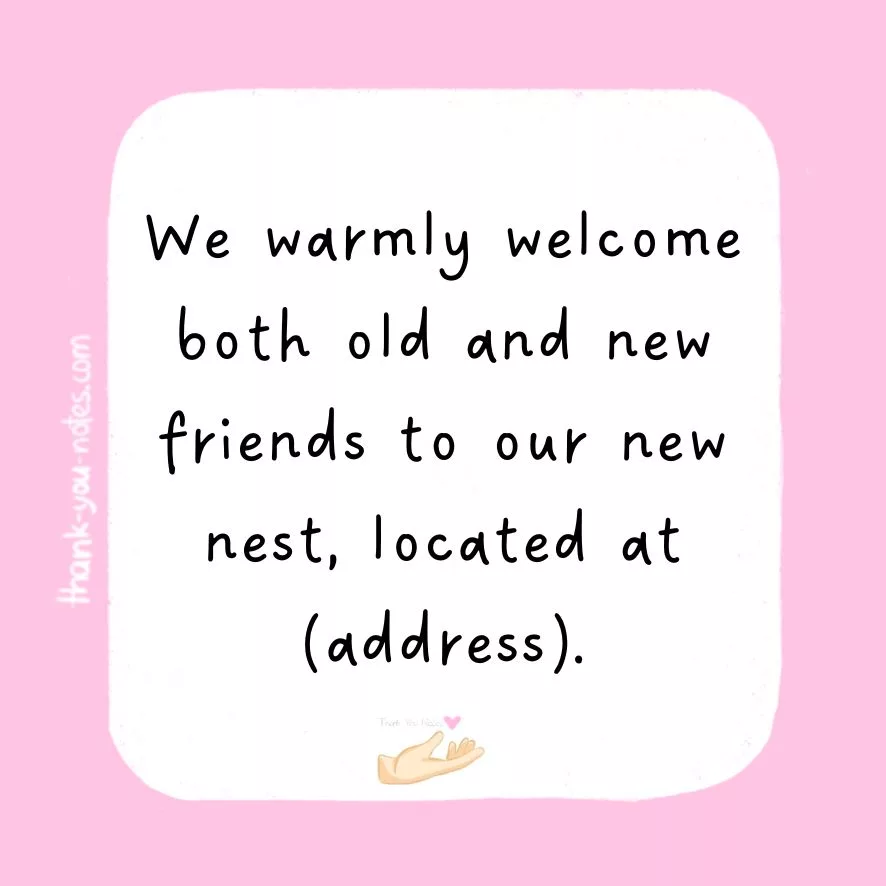 #5  
We warmly welcome both old and new friends to our new nest, located at (address).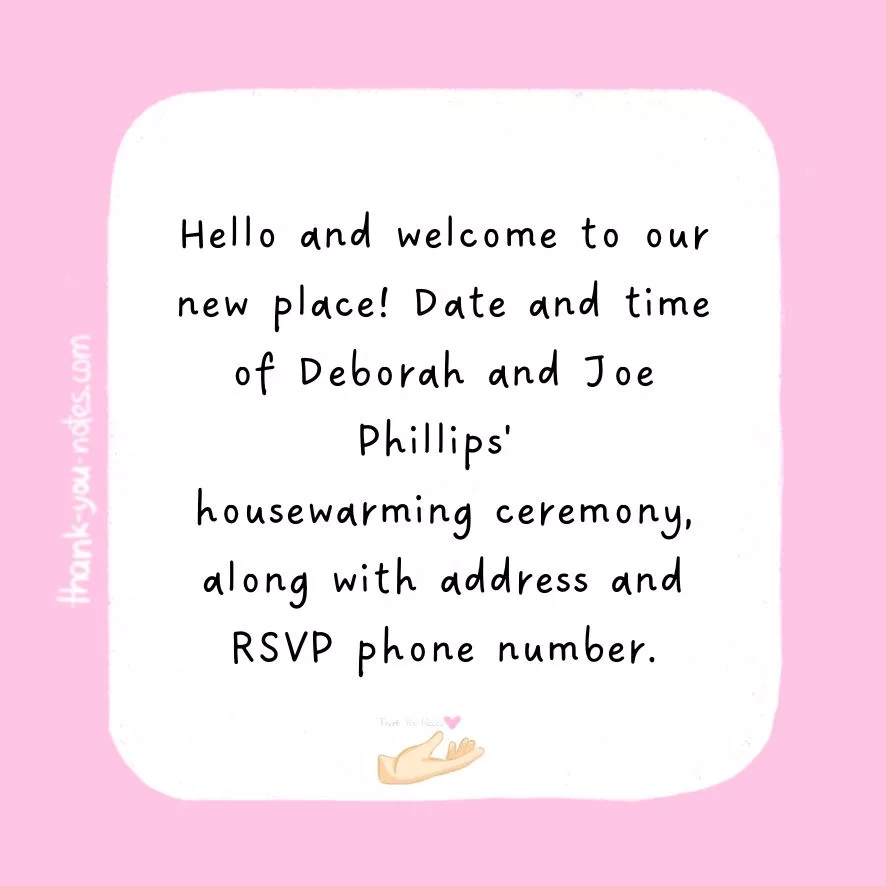 #6  
Hello and welcome to our new place! Date and time of Deborah and Joe Phillips' 
housewarming ceremony, along with address and RSVP phone number.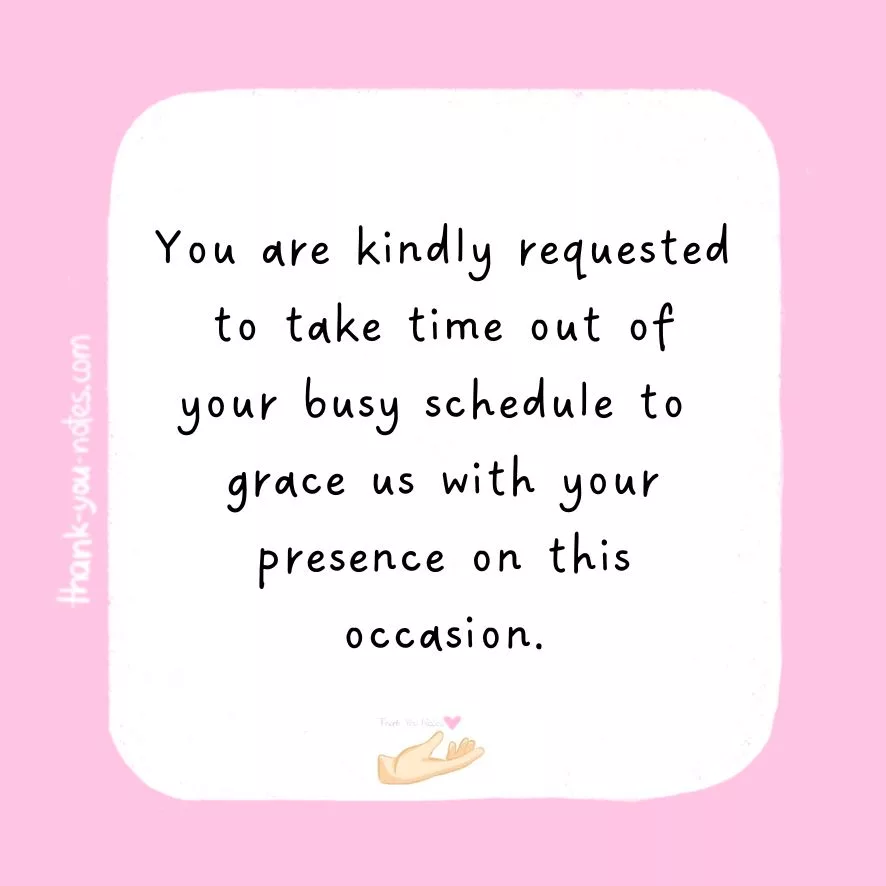 #7 
You are kindly requested to take time out of your busy schedule to 
grace us with your presence on this occasion.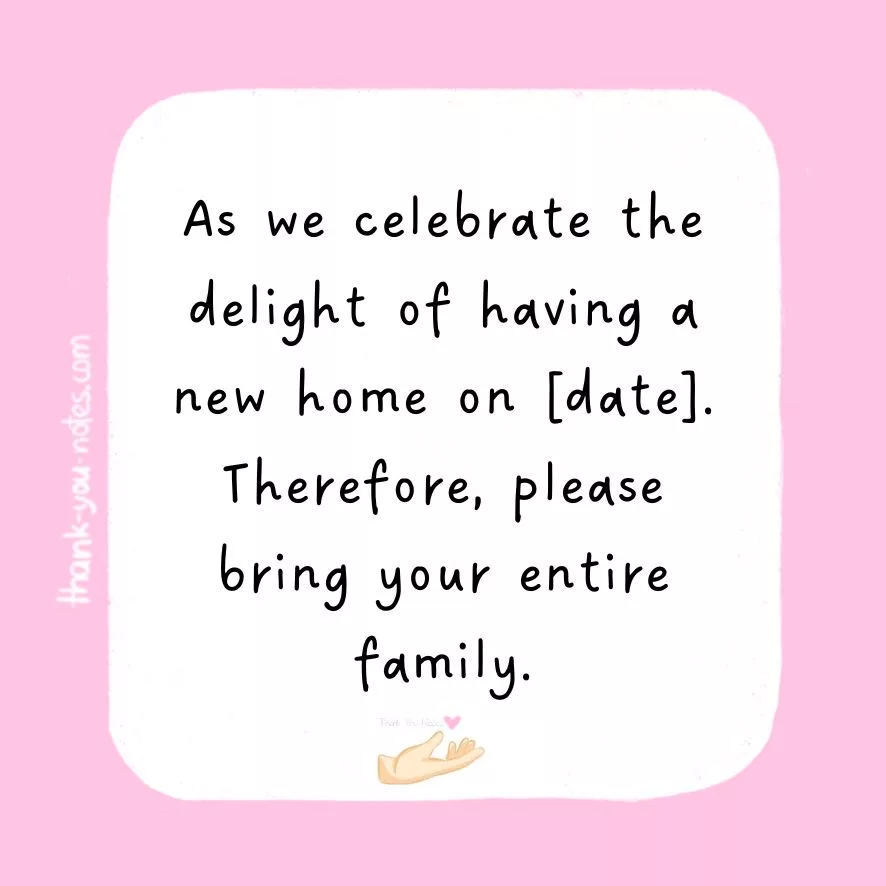 #8  
As we celebrate the delight of having a new home on [date].
Therefore, please bring your entire family.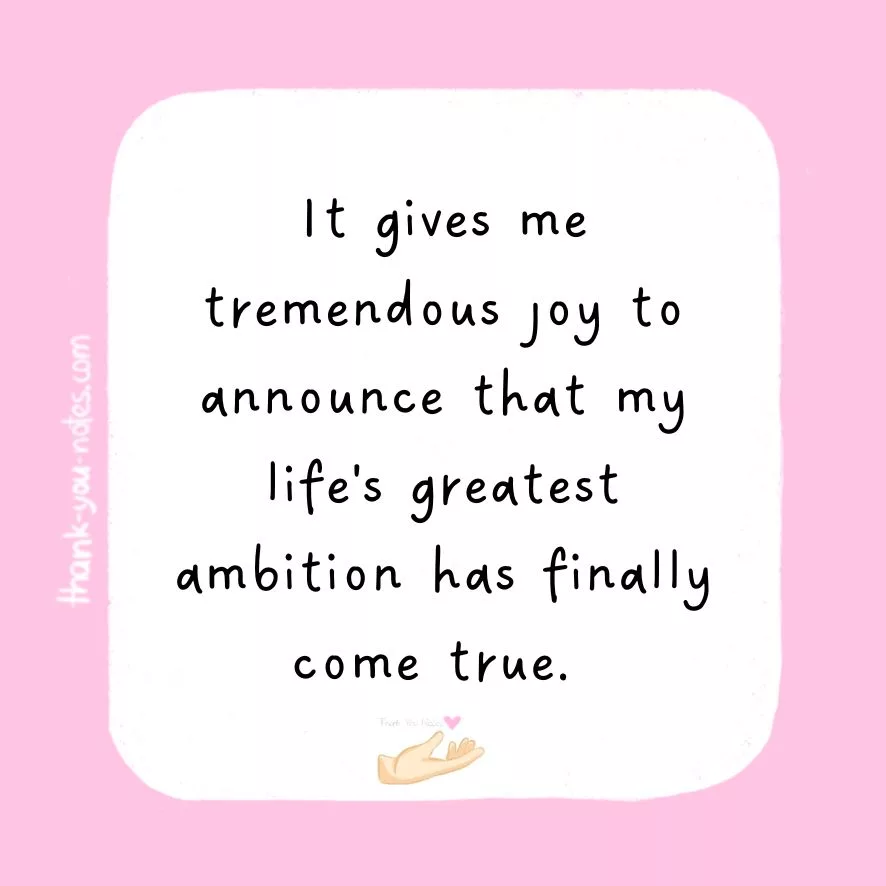 #9 
It gives me tremendous joy to announce that my life's greatest ambition has finally come true.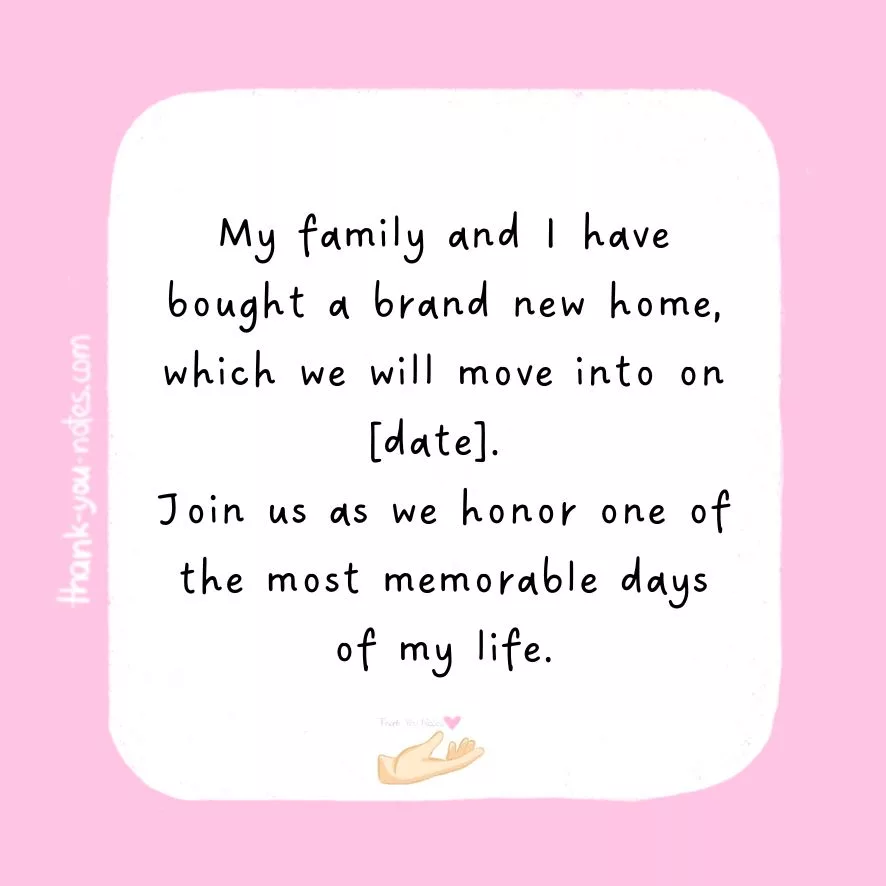 #10  
My family and I have bought a brand new home, which we will move into on [date]. 
Join us as we honor one of the most memorable days of my life.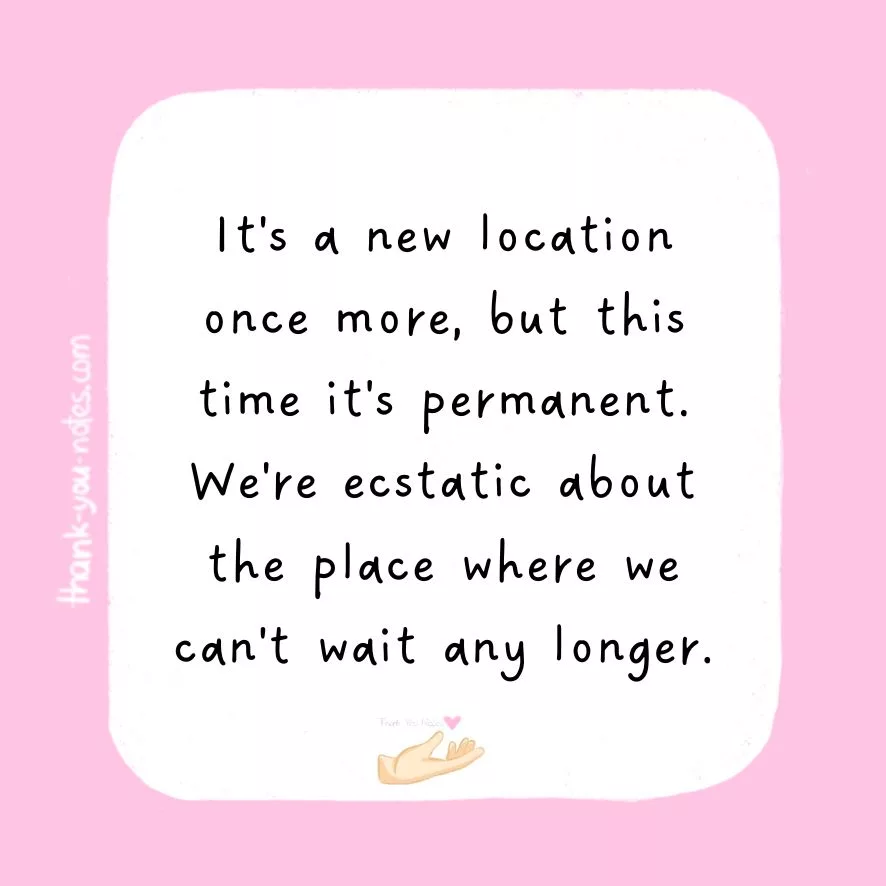 #11
It's a new location once more, but this time it's permanent. We're ecstatic about the place where we can't wait any longer.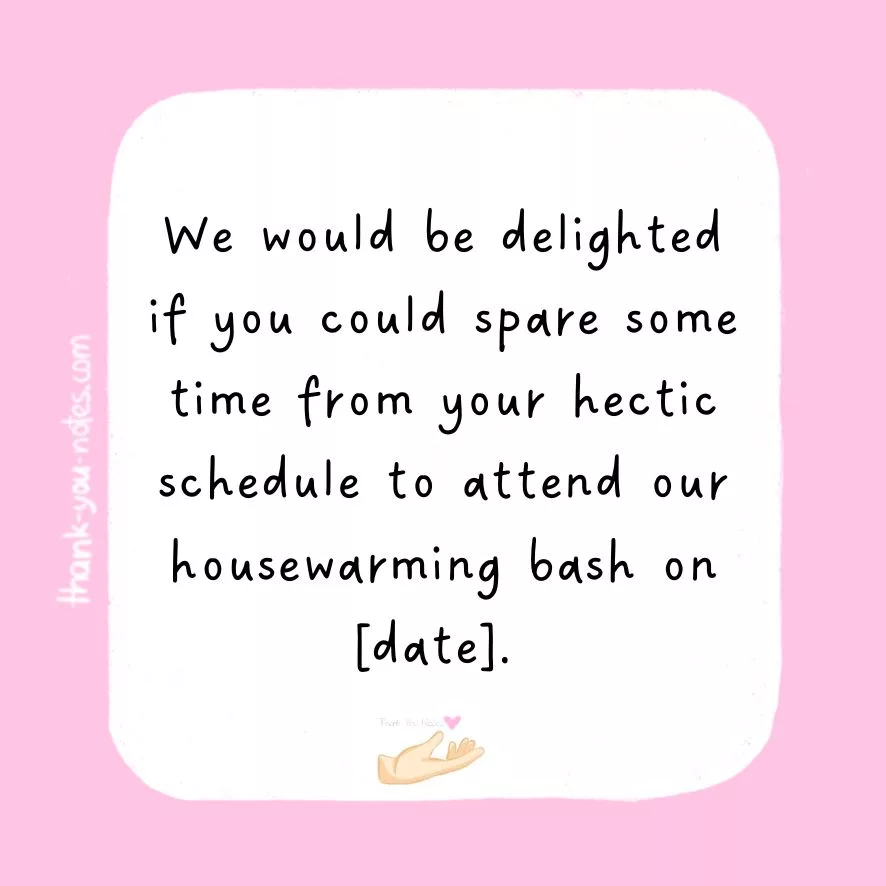 #12 
We would be delighted if you could spare some time from your hectic schedule to attend our housewarming bash on [date].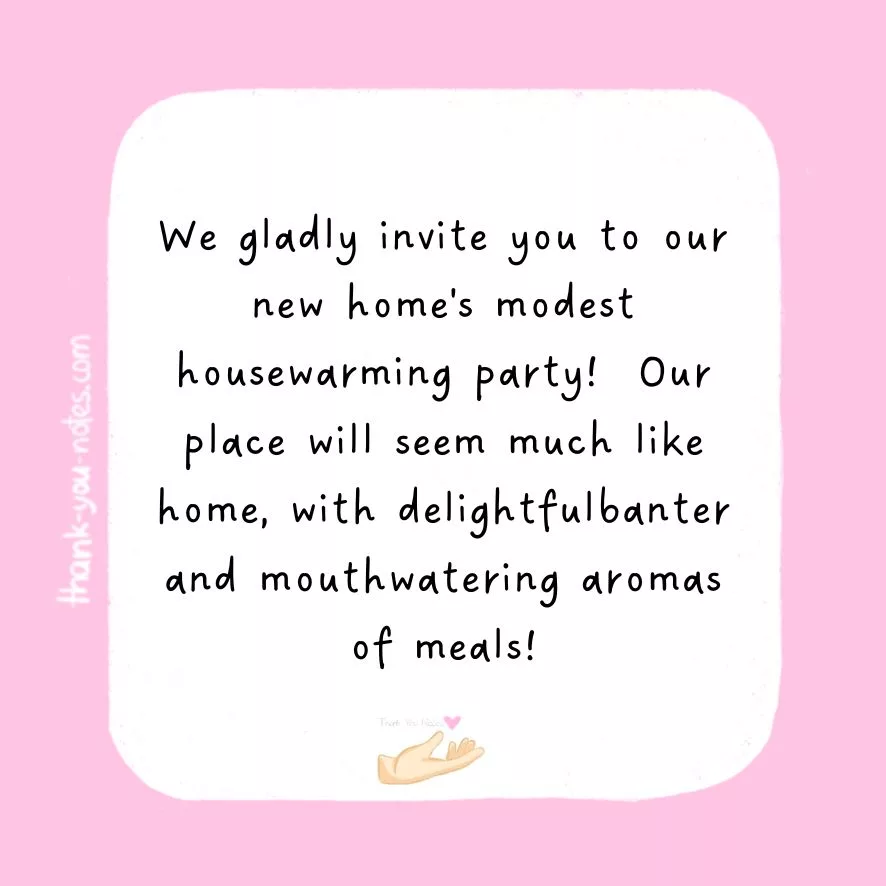 #13 
We gladly invite you to our new home's modest housewarming party!  Our place will seem much like home, with delightfulbanter and mouthwatering aromas of meals!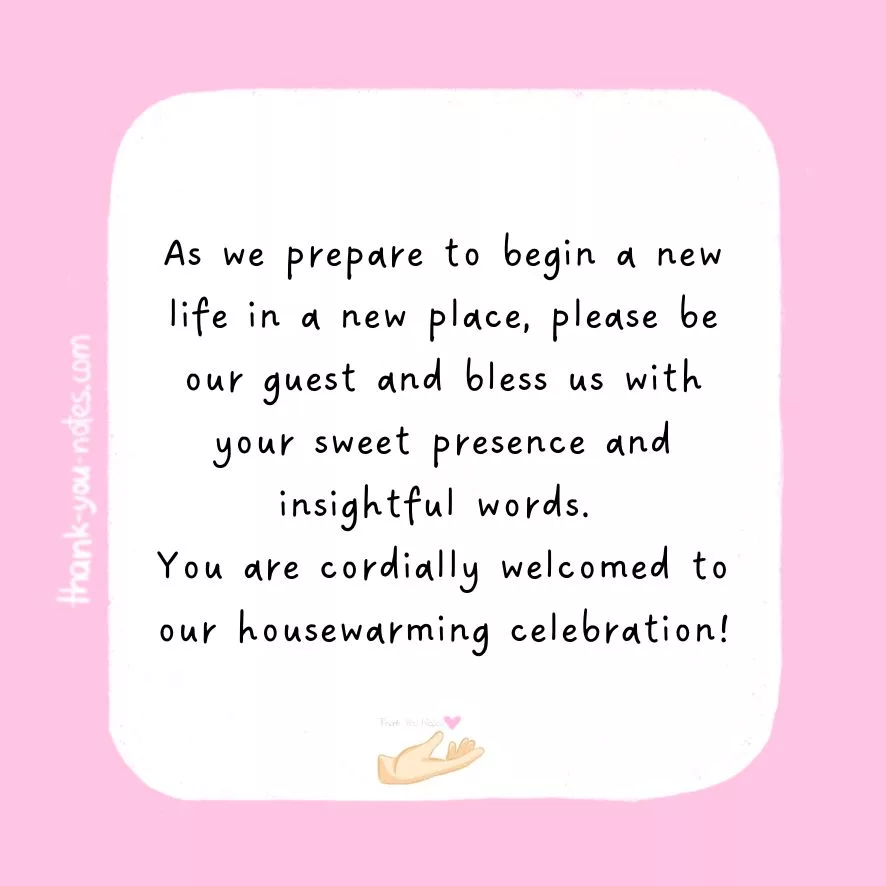 #14
As we prepare to begin a new life in a new place, please be our guest and bless us with your sweet presence and insightful words. 
You are cordially welcomed to our housewarming celebration!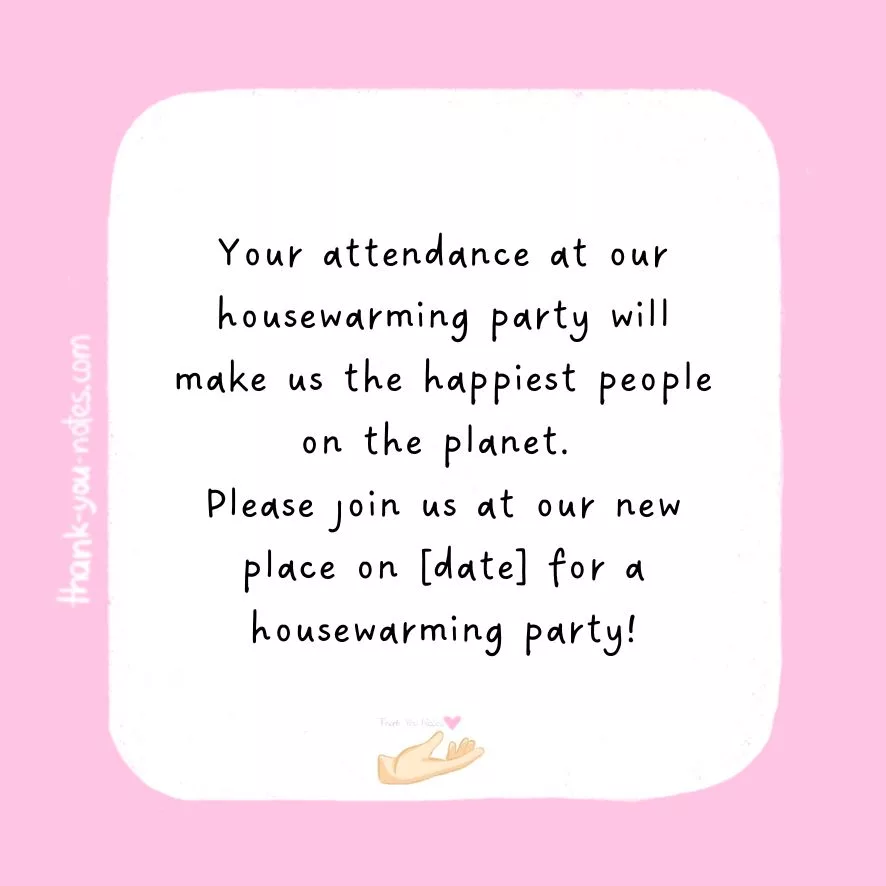 #15
Your attendance at our housewarming party will make us the happiest people on the planet. 
Please join us at our new place on [date] for a housewarming party!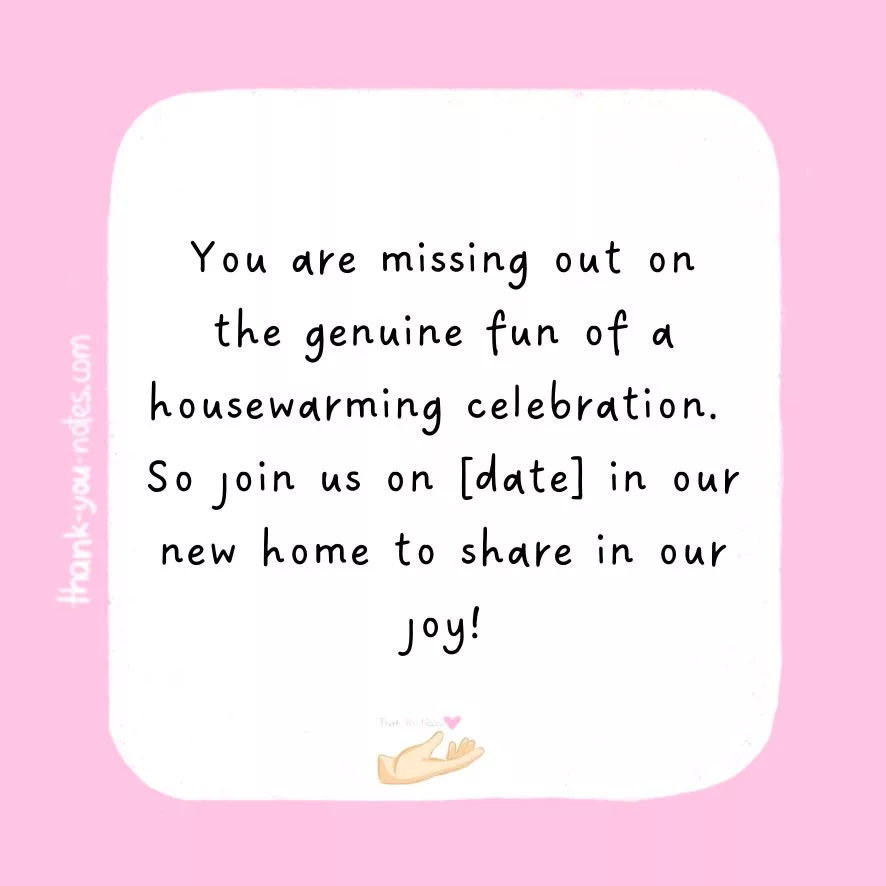 #16
You are missing out on the genuine fun of a housewarming celebration. 
So join us on [date] in our new home to share in our joy!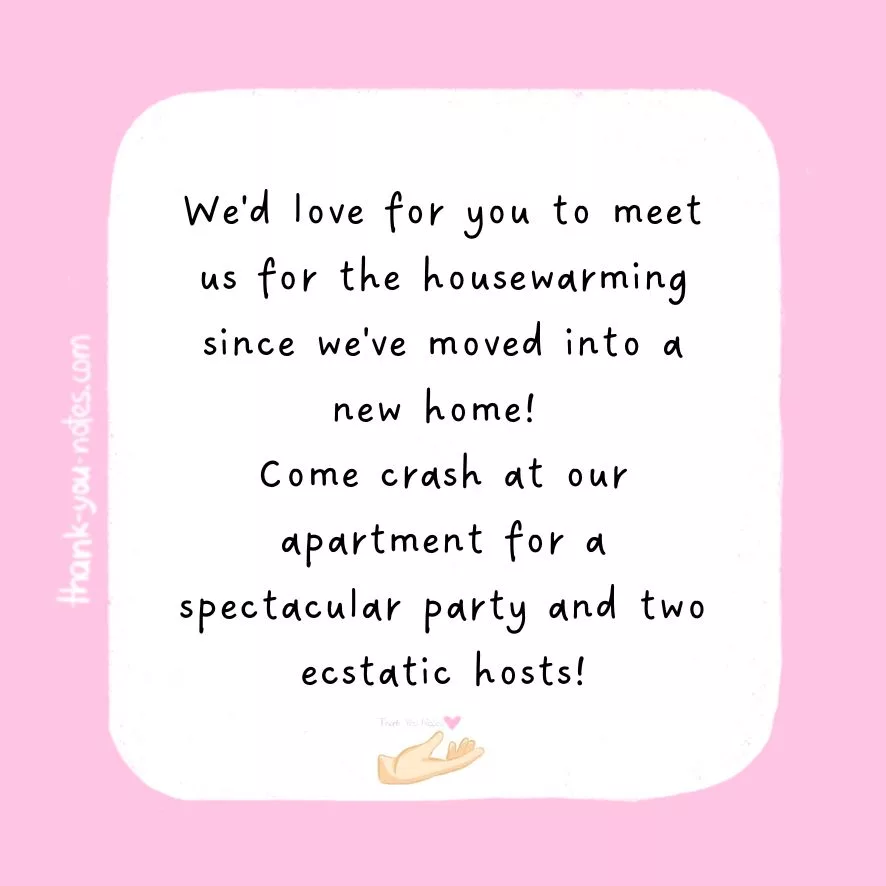 #17
We'd love for you to meet us for the housewarming since we've moved into a new home! 
Come crash at our apartment for a spectacular party and two ecstatic hosts!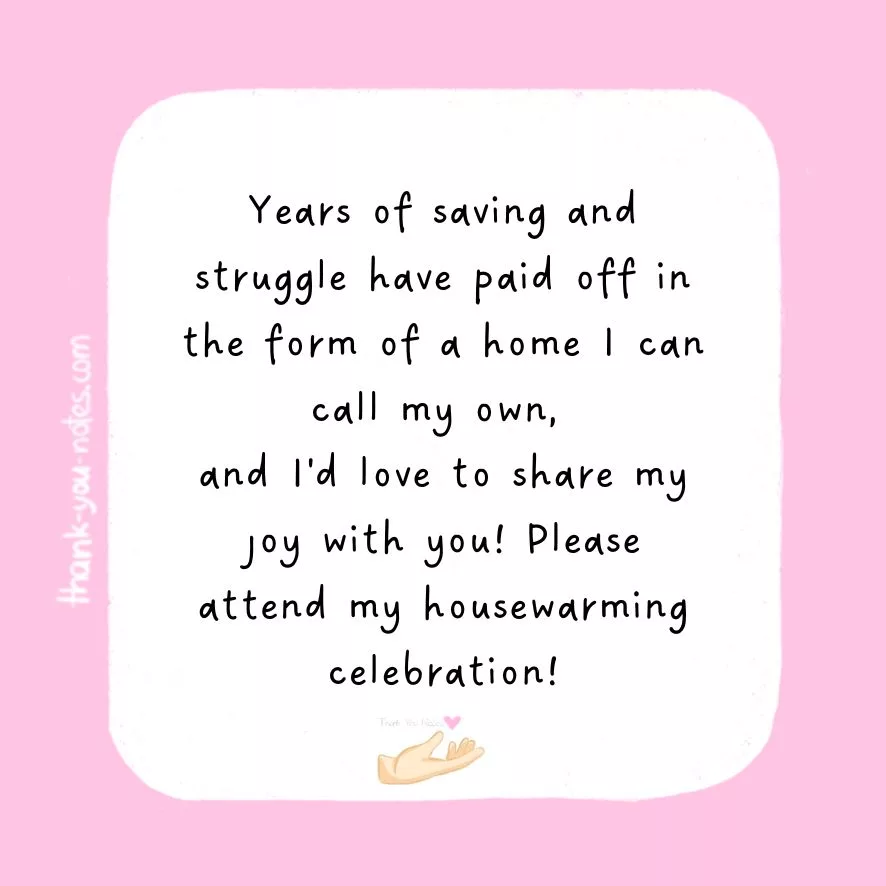 #18
Years of saving and struggle have paid off in the form of a home I can call my own, 
and I'd love to share my joy with you! Please attend my housewarming celebration!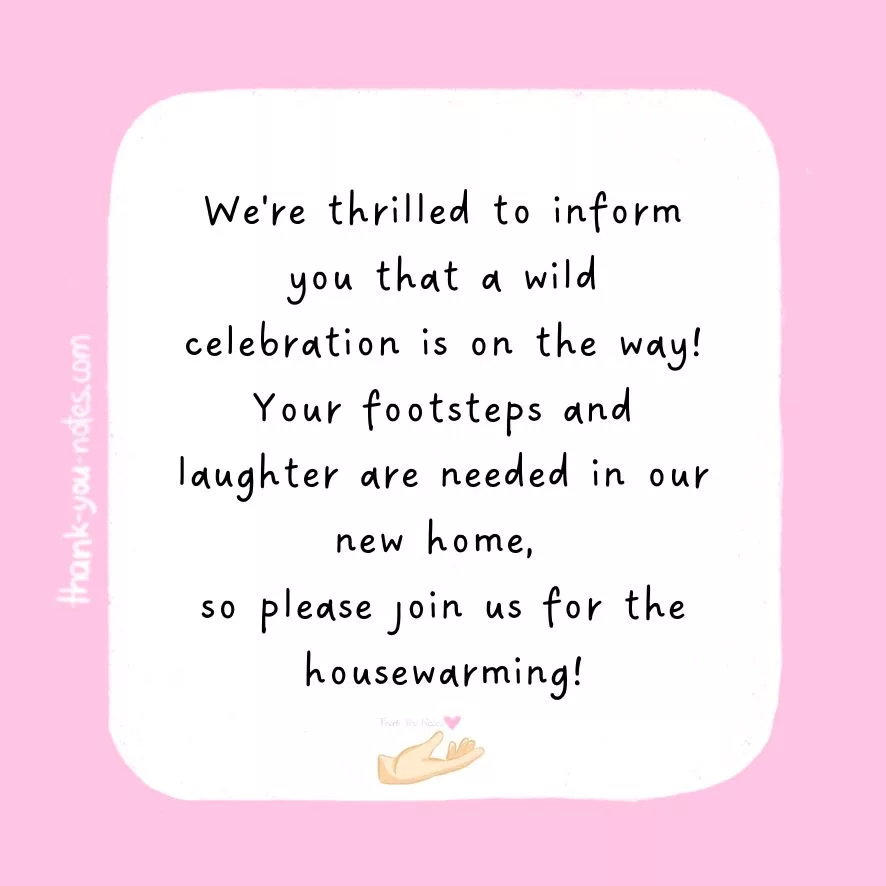 #19
We're thrilled to inform you that a wild celebration is on the way!
Your footsteps and laughter are needed in our new home, 
so please join us for the housewarming!
Funny Invitation: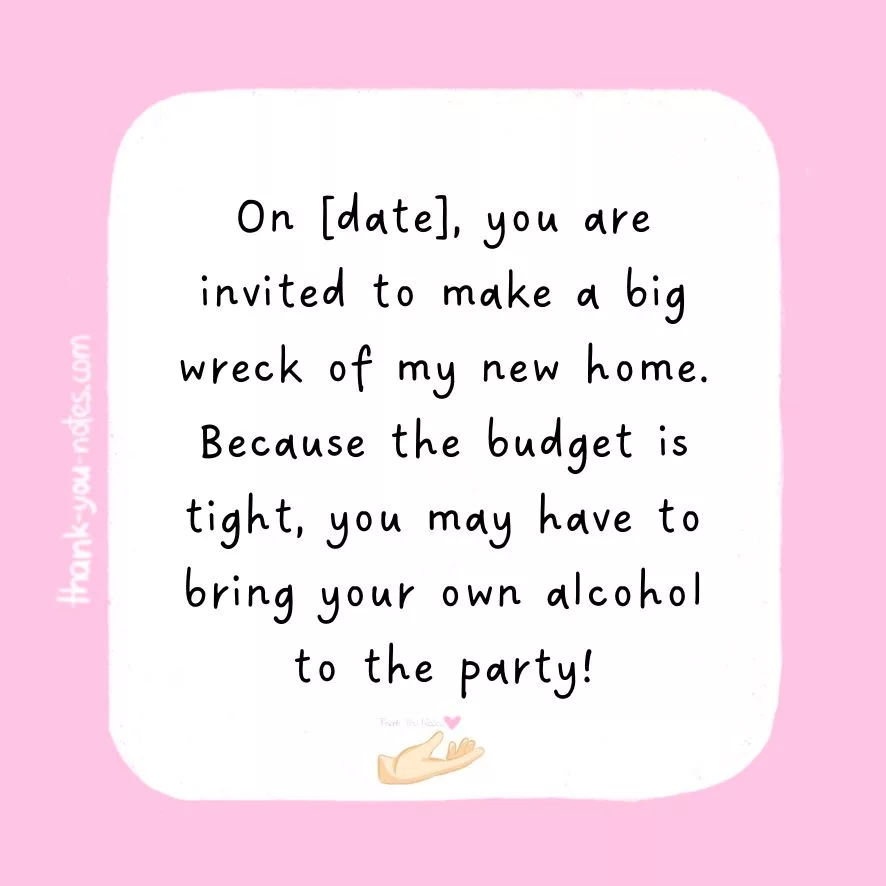 On [date], you are invited to make a big wreck of my new home. Because the budget is tight, you may have to bring your own alcohol to the party!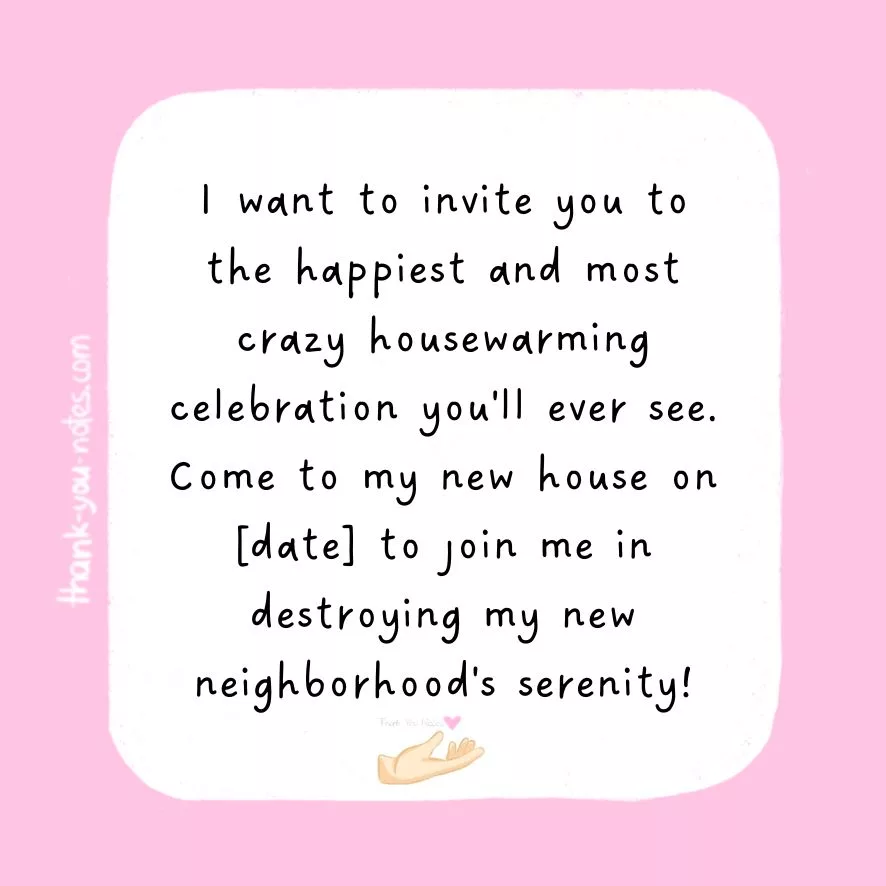 I want to invite you to the happiest and most crazy housewarming celebration you'll ever see. Come to my new house on [date] to join me in destroying my new neighborhood's serenity!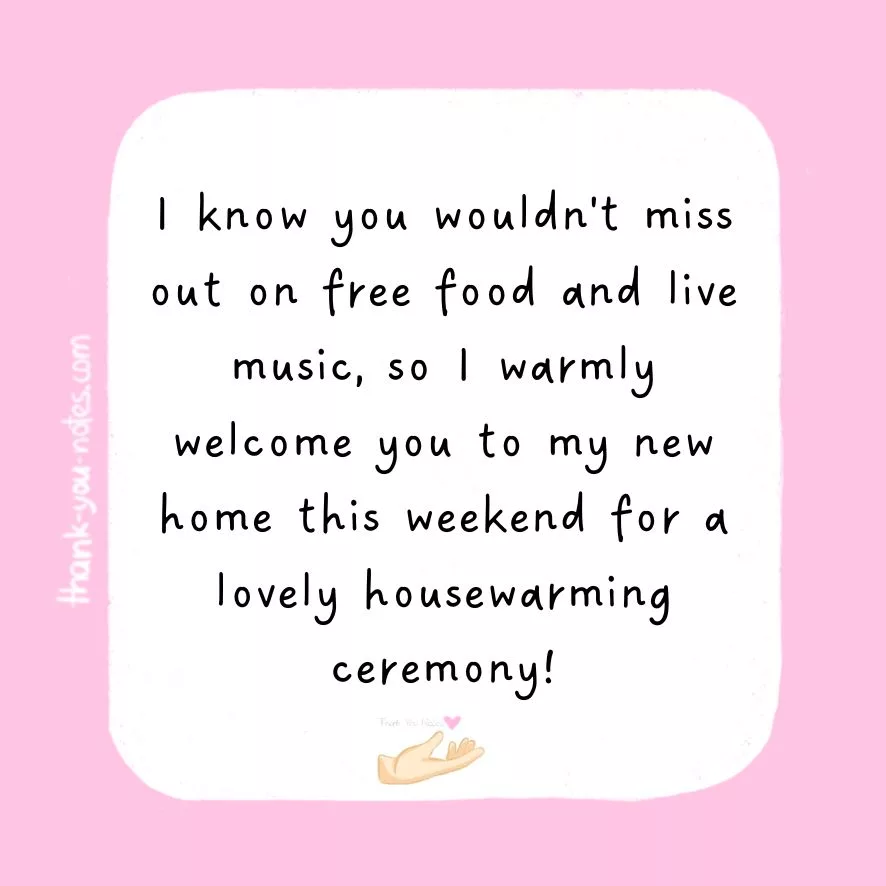 I know you wouldn't miss out on free food and live music, so I warmly welcome you to my new home this weekend for a lovely housewarming ceremony!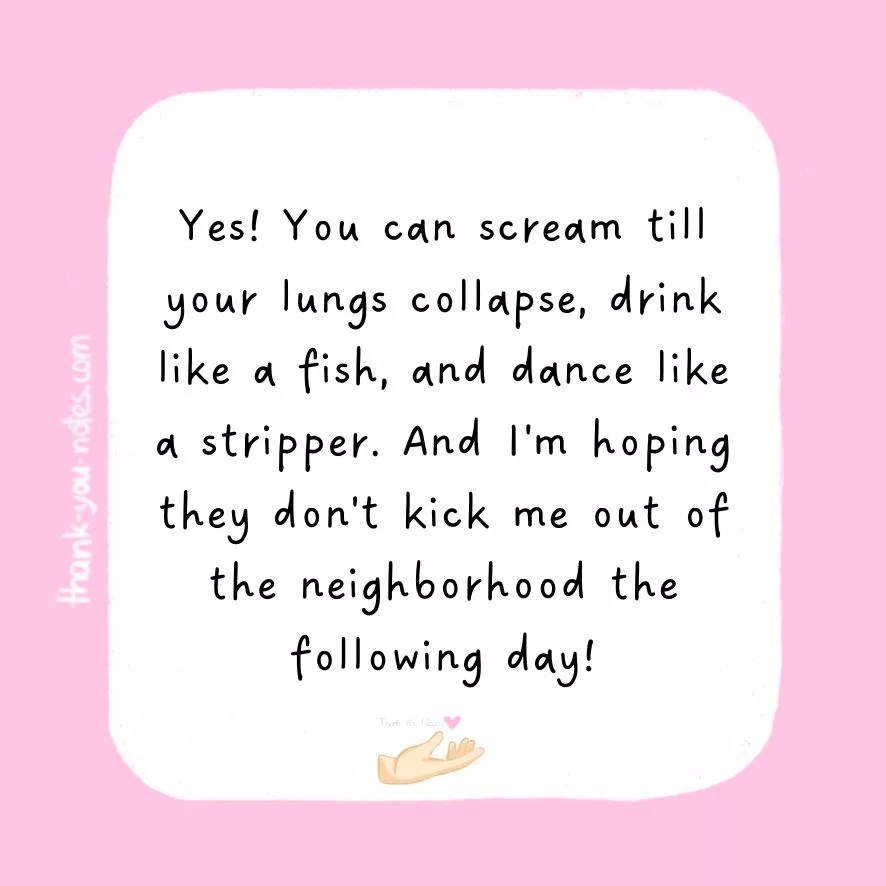 Yes! You can scream till your lungs collapse, drink like a fish, and dance like a stripper. And I'm hoping they don't kick me out of the neighborhood the following day!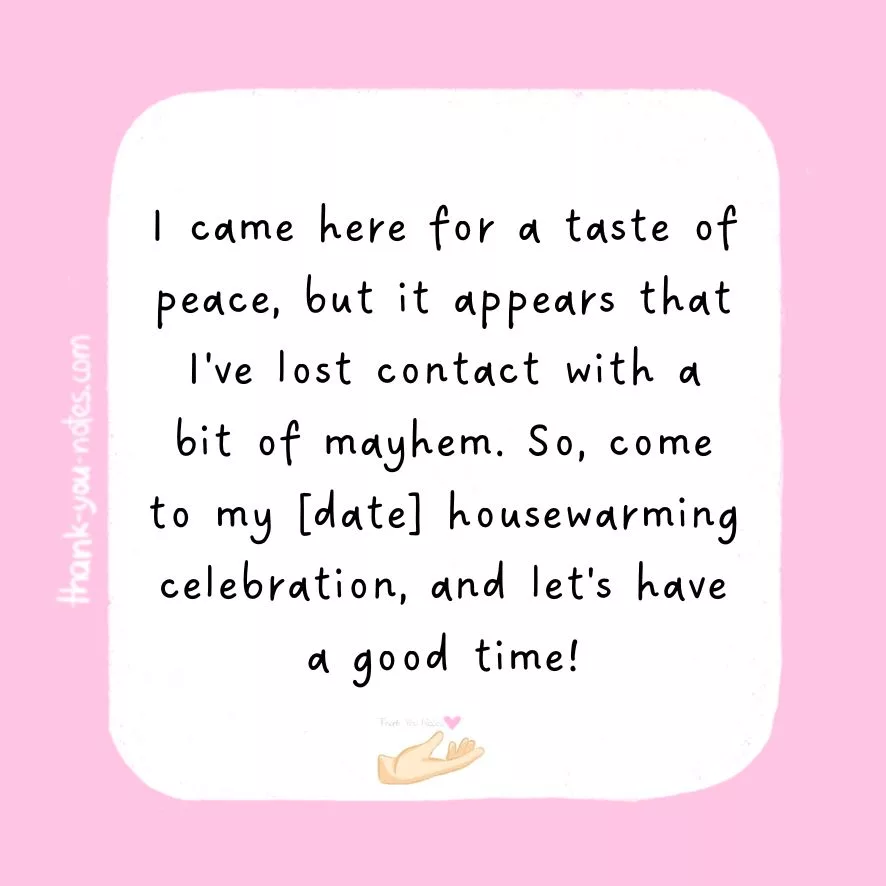 I came here for a taste of peace, but it appears that I've lost contact with a bit of mayhem. So, come to my [date] housewarming celebration, and let's have a good time!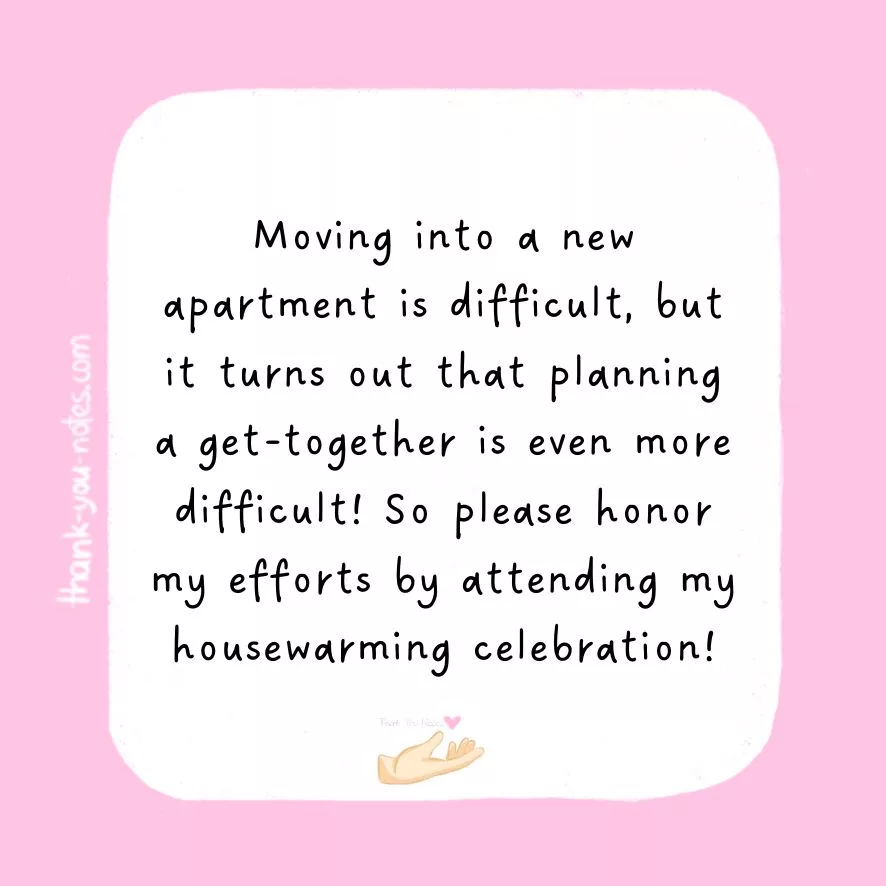 Moving into a new apartment is difficult, but it turns out that planning a get-together is even more difficult! So please honor my efforts by attending my housewarming celebration!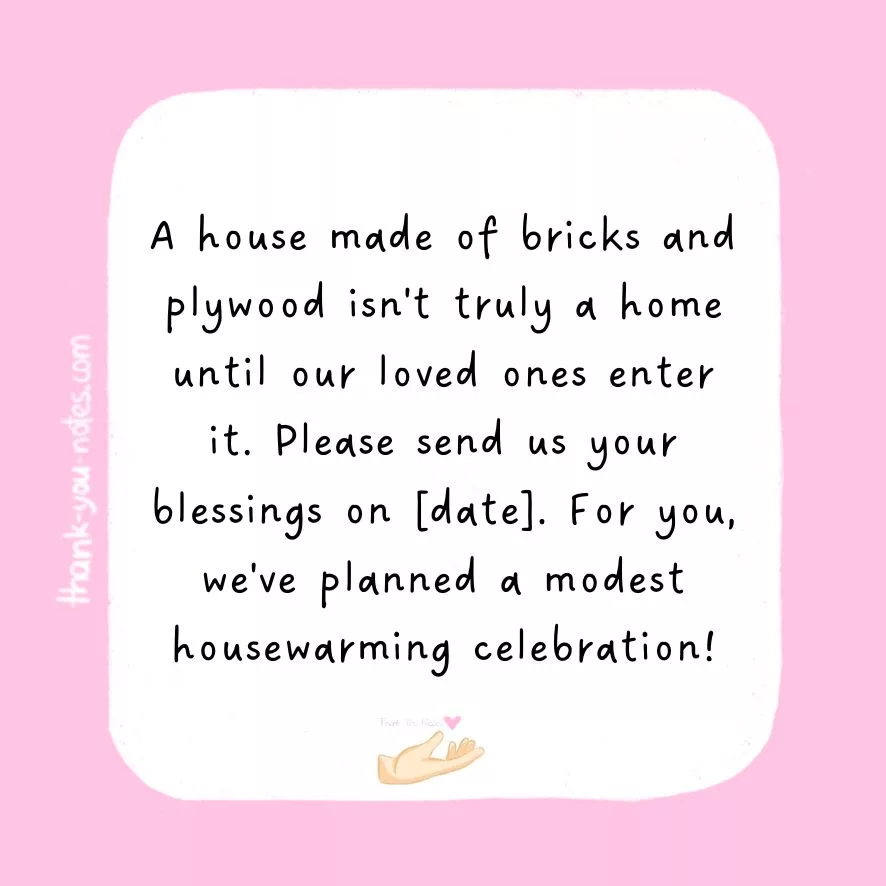 A house made of bricks and plywood isn't truly a home until our loved ones enter it. Please send us your blessings on [date]. For you, we've planned a modest housewarming celebration!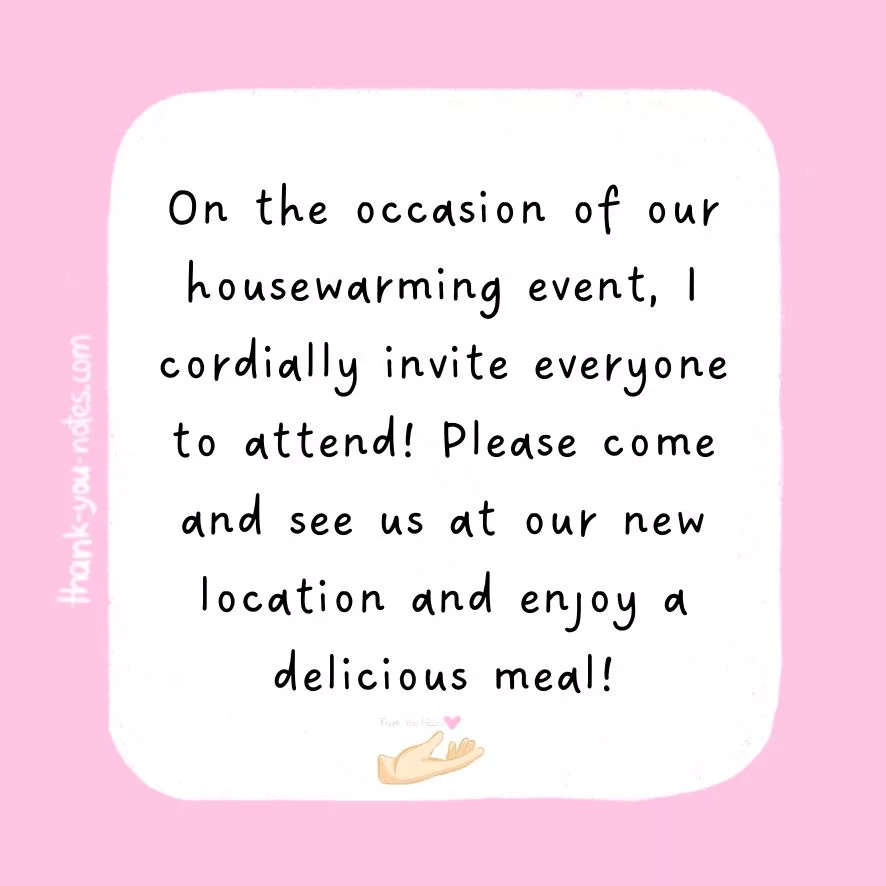 On the occasion of our housewarming event, I cordially invite everyone to attend! Please come and see us at our new location and enjoy a delicious meal!
House Warming Invitation Letter:
Letter writing is an art that takes much practice to master. Writing a leave letter can be challenging for children, college students, and office workers. We leave letter formats and samples as a solution. You can copy them and make changes as needed. Family activities are crucial and are included in these events; nevertheless, they are frequently problematic due to jobs or education.
So, if you're planning a family gathering, there's a way to get out of school or work, and to do so, you'll need to prepare a Leave Letter for Housewarming Ceremony.
#1

To,
The Lead,


(School Name),
(Address/ City)
Date: DD-MM-YYYY.

Subject: (student name) for a leave of absence for (number of days) for a housewarming ceremony


Courteously, Sir/Ma'am,



I'm (your name), and I'm the mother/father of (student name) who studies at your school and is in class (class and section). I'm writing to let you know that we'll be having a housewarming celebration on Monday (date of event). Many guests come from different places. It is a significant occasion for us. Due to this, I respectfully request that you allow my son/daughter to leave. Would you please approve my request and give my child permission to take leave on specified days? They will return to school on (return date) and be on time. Thank you in advance for taking the time to examine my application.


Regards
faithfully yours,

(Signature)
(The parent's name)
#2

To,
HR/Name of HR,

The (office name)
(Address/ City) 
Date: DD-MM-YYYY 


Subject: application to Request a leave for a housewarming ceremony (your name) for (number of days).

Sincerely, Sir/Ma'am,

I am a (your name and employee ID). This letter informs you that I will be absent from the office on (dates of absence) for a housewarming ceremony (date of event). We have guests from different places. This is a unique and significant occasion for me. Therefore, I respectfully request that you consider this and allow me to leave. I will return to work on (return date) and be reliable. Thank you in advance for taking the time to examine my application.

I'll return and accomplish my worksheets promptly.

Thank you very much.

Regards, Sincerely,

Signature
(Your name),

(Employee Id),
(Department),
(Contact number)
Tips for writing a leave letter:
Write the application in a courteous manner that accurately conveys the leave request and sounds genuine.

Mention the particular reason you're asking for a leave of absence.
Should preserve the application's base.
The application should be brief and direct.
Check for grammatical or punctuation errors.
Should state the relationship between the child and the letter's sender in the application.