Parents sacrifice all kinds of things to make sure their kids have a good life. Consider expressing your gratitude to your parents now if you have never done so.
Gratitude should not be limited to Mother's or Father's Day. Give them a heartfelt thank you note in a sweet greeting card. Then show them a slide show of adorable childhood pictures.

They will be overwhelmed with nostalgia and tears of joy when they see what a wonderful childhood they had.

Giving your parents a cute hug will make them happy. You can show your parents how much you care for them by sharing an inspirational quote or by adding a photo of the two of you together.
How can we give back? I propose a poem in which we thank our parents for everything they do for us!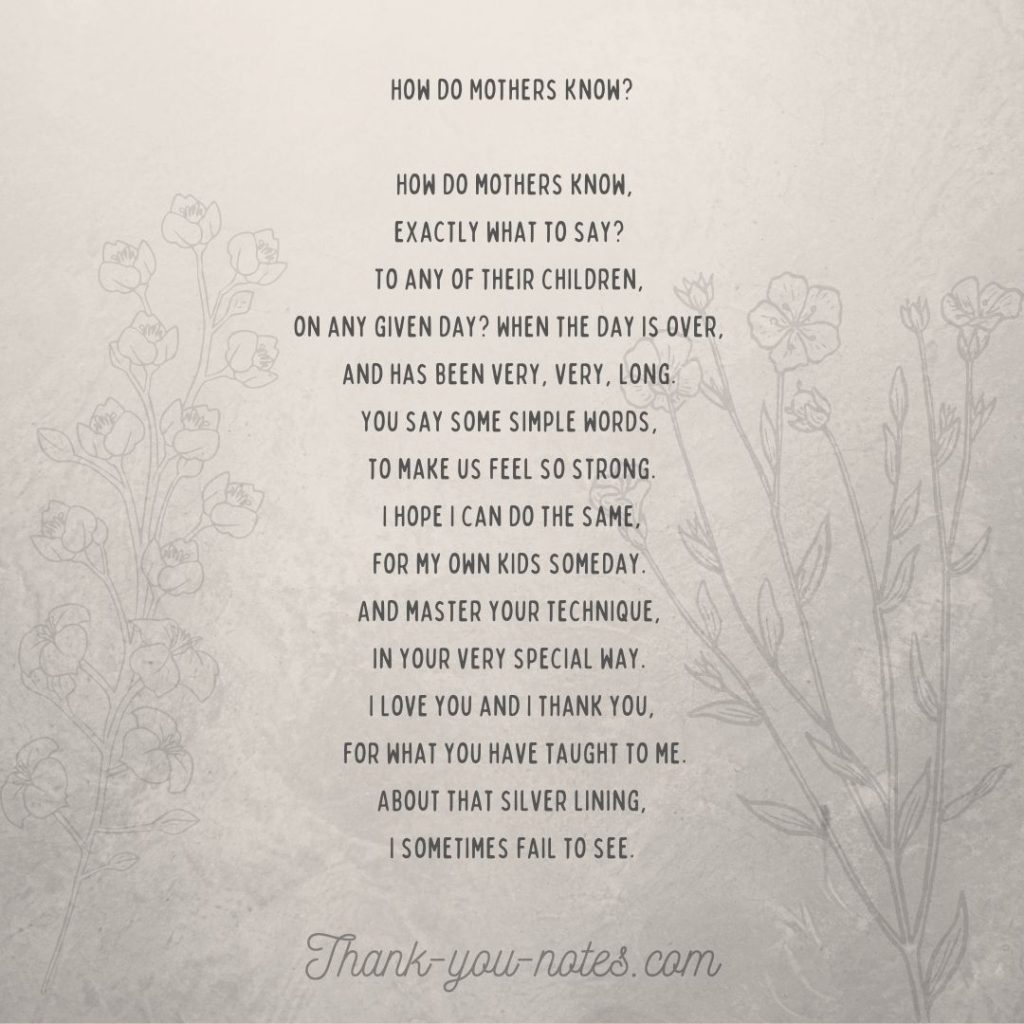 How do Mothers Know?

How do mothers know,
exactly what to say?
To any of their children,
on any given day? When the day is over,
and has been very, very, long.
You say some simple words,
to make us feel so strong.
I hope I can do the same,
for my own kids someday.
And master your technique,
in your very special way.
I love you and I thank you,
for what you have taught to me.
About that silver lining,
I sometimes fail to see.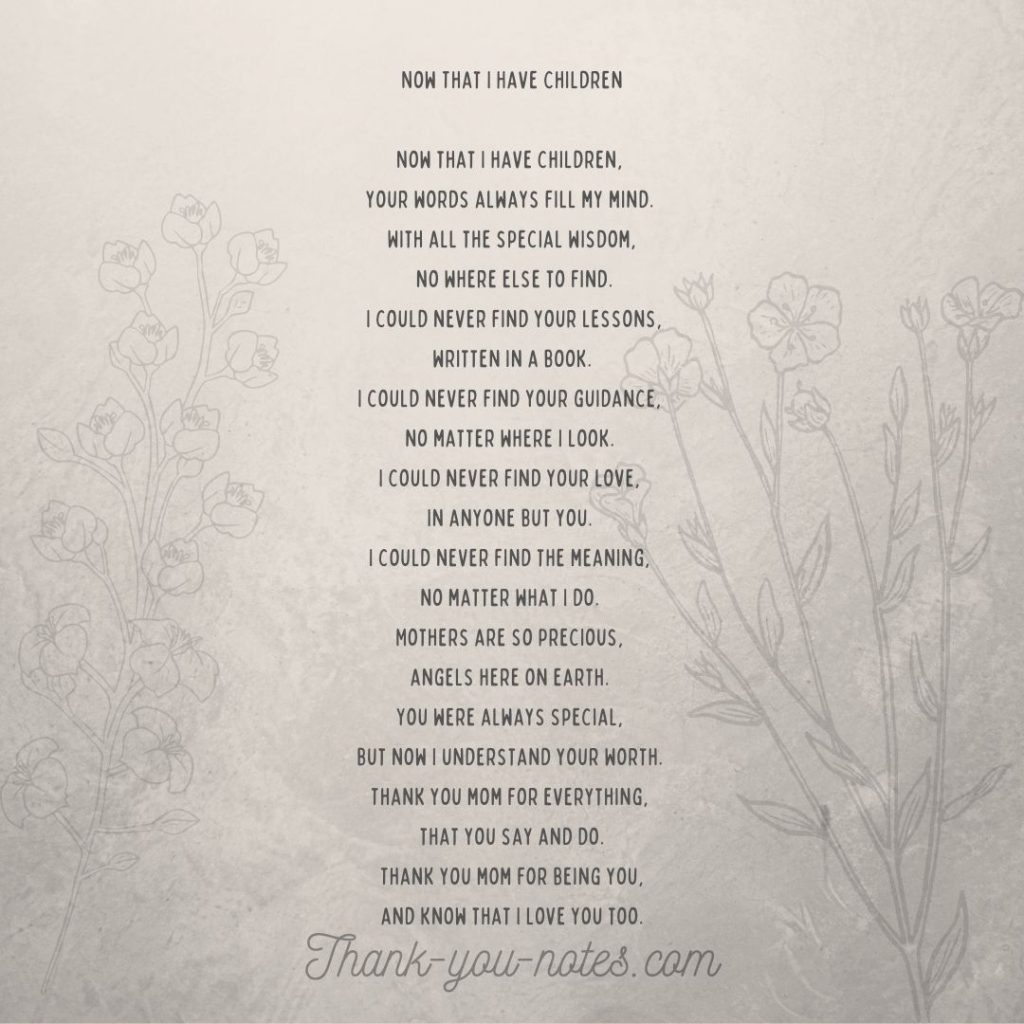 Now That I Have Children

Now that I have children,
your words always fill my mind.
With all the special wisdom,
no where else to find.
I could never find your lessons,
written in a book.
I could never find your guidance,
no matter where I look.
I could never find your love,
in anyone but you.
I could never find the meaning,
no matter what I do.
Mothers are so precious,
angels here on earth.
You were always special,
but now I understand your worth.
Thank you mom for everything,
that you say and do.
Thank you mom for being you,
and know that I love you too.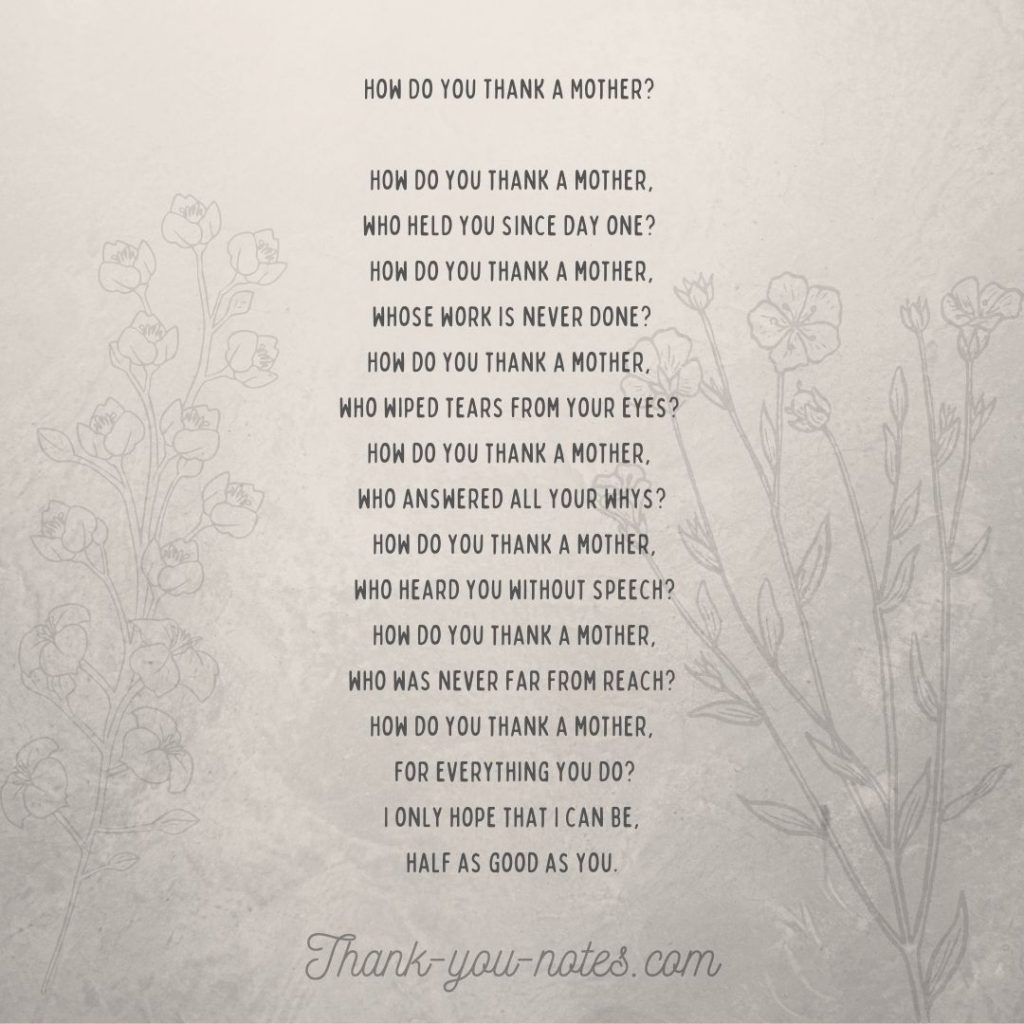 How Do You Thank a Mother?

How do you thank a mother,
who held you since day one?
How do you thank a mother,
whose work is never done?
How do you thank a mother,
who wiped tears from your eyes?
How do you thank a mother,
who answered all your whys?
How do you thank a mother,
who heard you without speech?
How do you thank a mother,
who was never far from reach?
How do you thank a mother,
for everything you do?
I only hope that I can be,
half as good as you.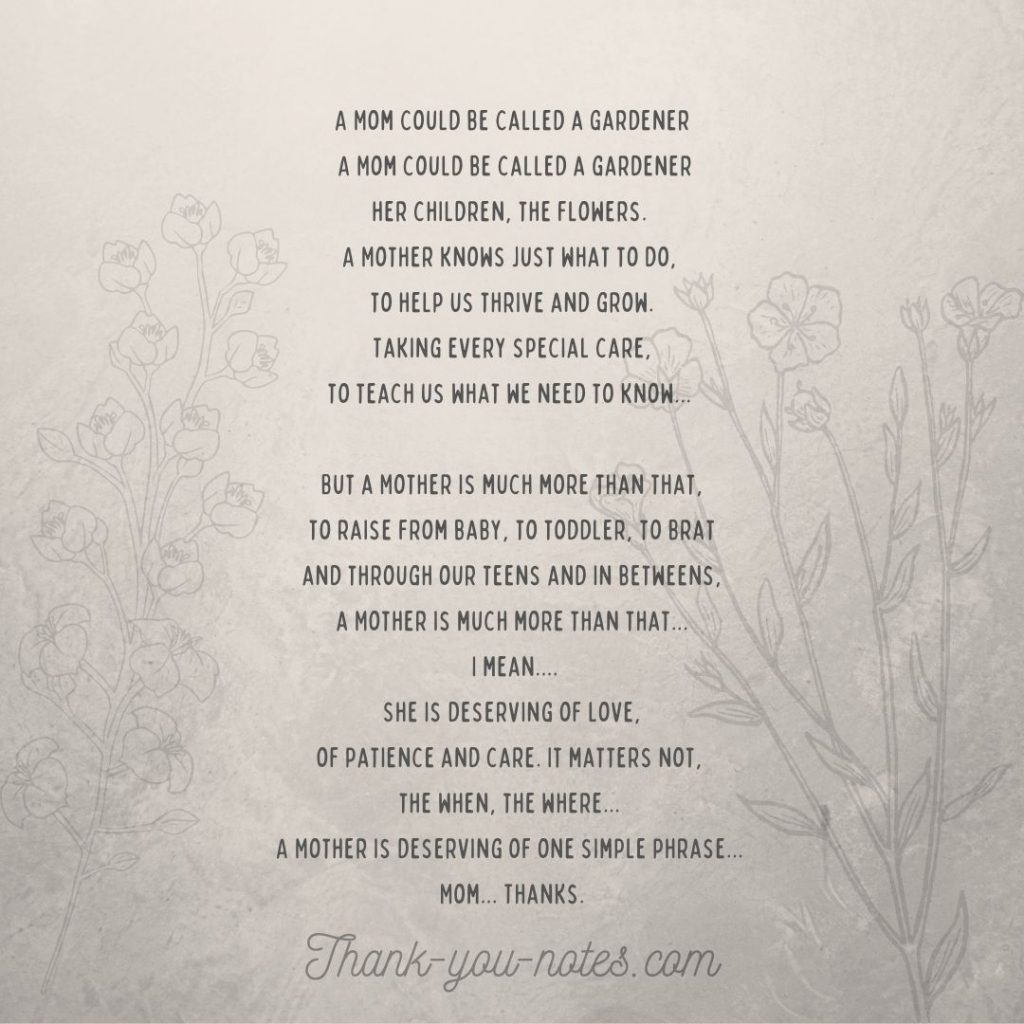 A Mom Could be Called a Gardener

A Mom could be called a gardener
her children, the flowers.
A Mother knows just what to do,
to help us thrive and grow.
Taking every special care,
to teach us what we need to know…

But a Mother is much more than that,
to raise from baby, to toddler, to brat
and through our teens
and in betweens,
a Mother is much more than that…

I mean….

She is deserving of love,
of patience and care.
It matters not, the when, the where…
A Mother is deserving of one simple phrase…

Mom… Thanks.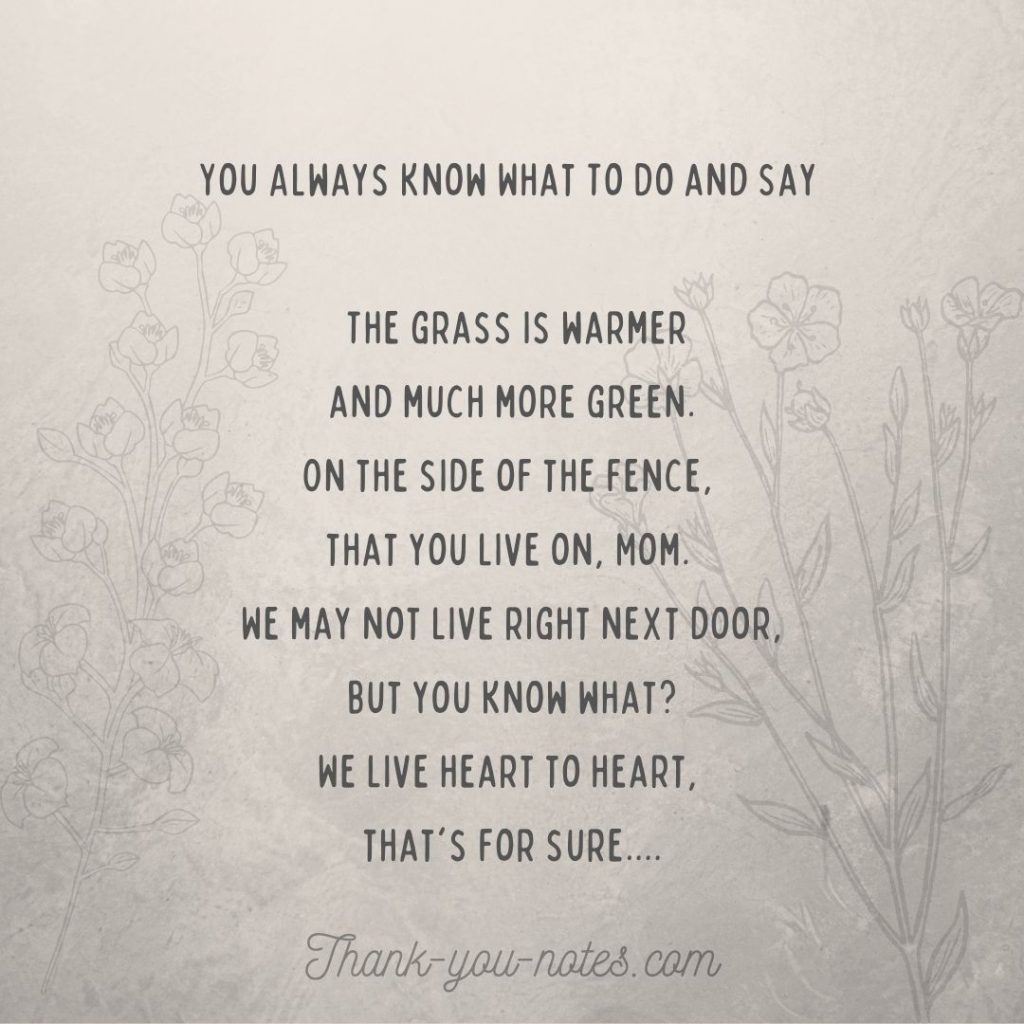 You Always Know What To Do and Say

The grass is warmer
and much more green.
On the side of the fence,
that you live on, Mom.
We may not live right next door,
but you know what?
We live heart to heart,
that's for sure….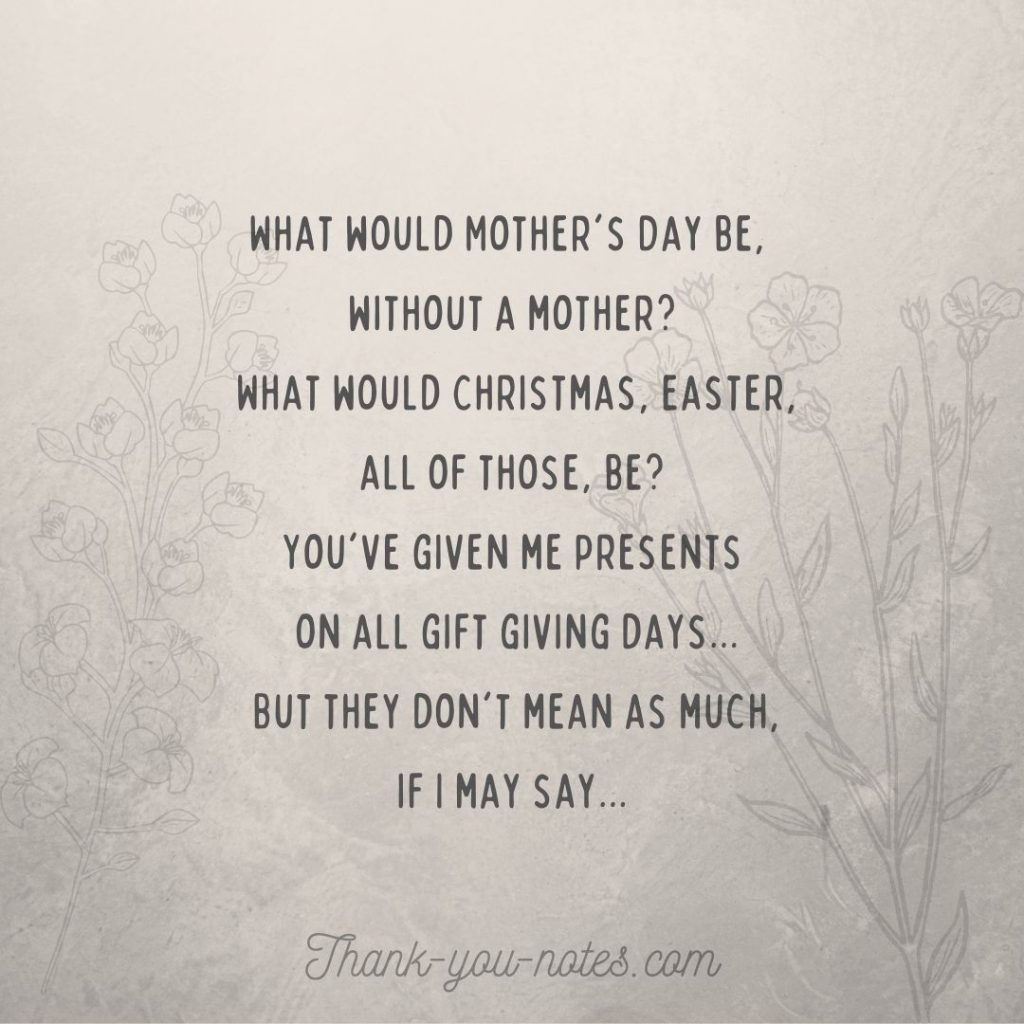 What would Mother's Day be,
without a mother?
What would Christmas, Easter,
all of those, be?
You've given me presents
on all gift giving days…
But they don't mean as much,
if I may say…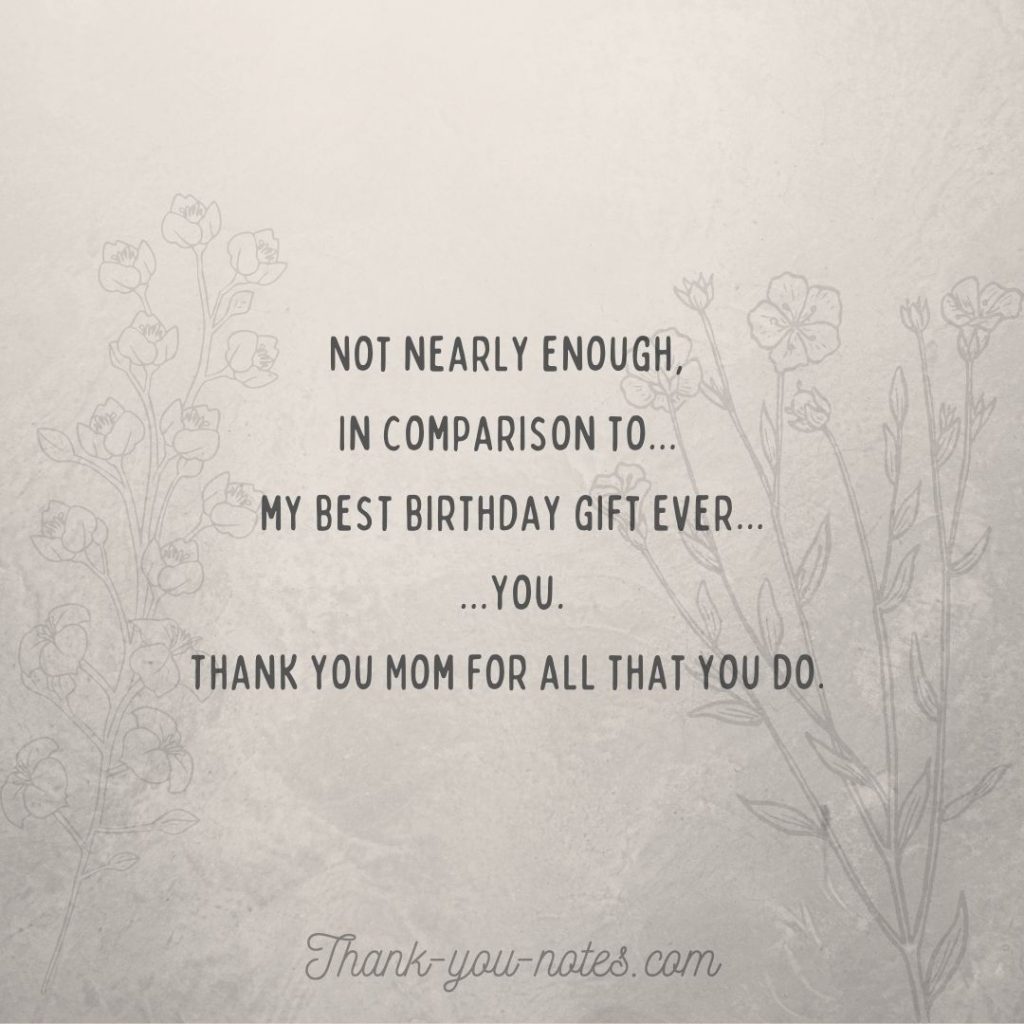 Not nearly enough,
In comparison to…
my best birthday gift ever…
…You.

Thank you Mom for all that you do.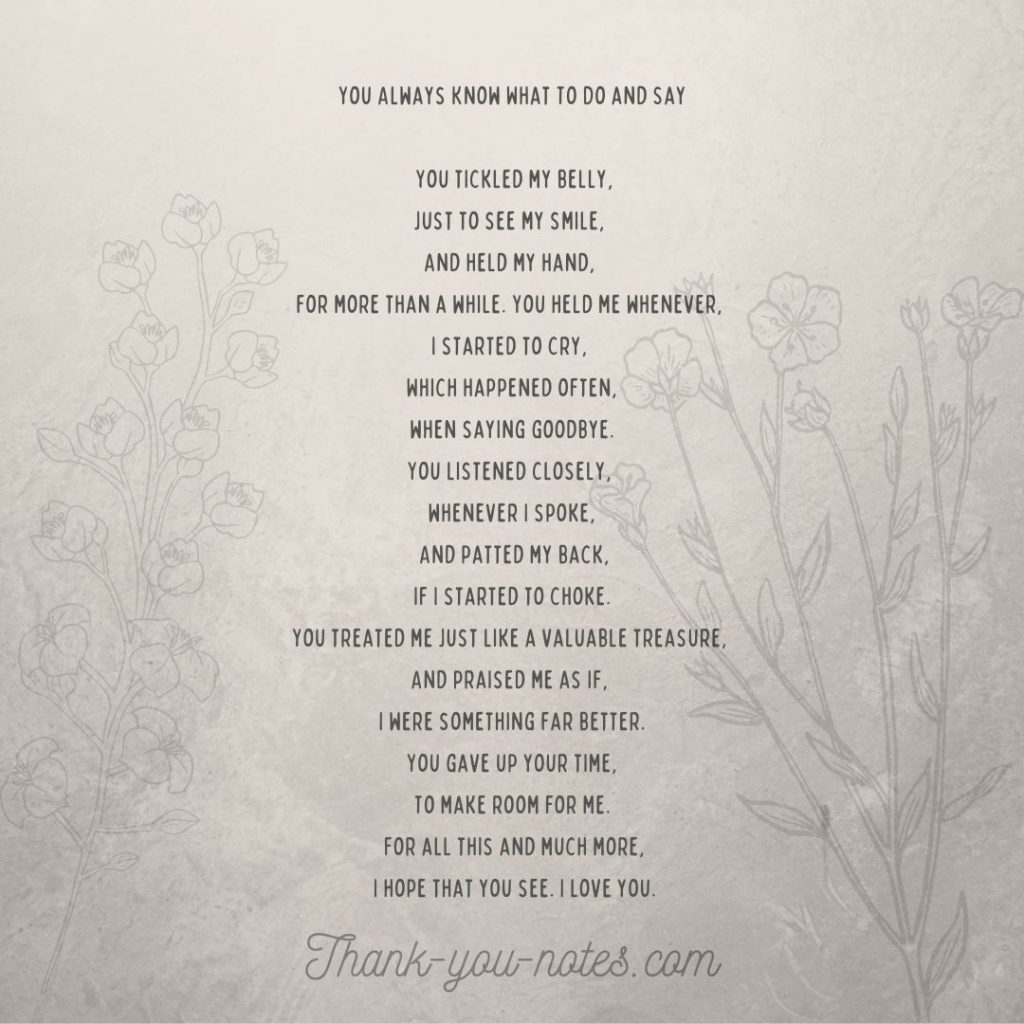 You Always Know What To Do and Say

You tickled my belly,
just to see my smile,
And held my hand,
for more than a while. You held me whenever,
I started to cry,
Which happened often,
when saying goodbye.
You listened closely,
whenever I spoke,
And patted my back,
if I started to choke.
You treated me just
like a valuable treasure,
And praised me as if,
I were something far better.
You gave up your time,
To make room for me.
For all this and much more,
I hope that you see.
I love you.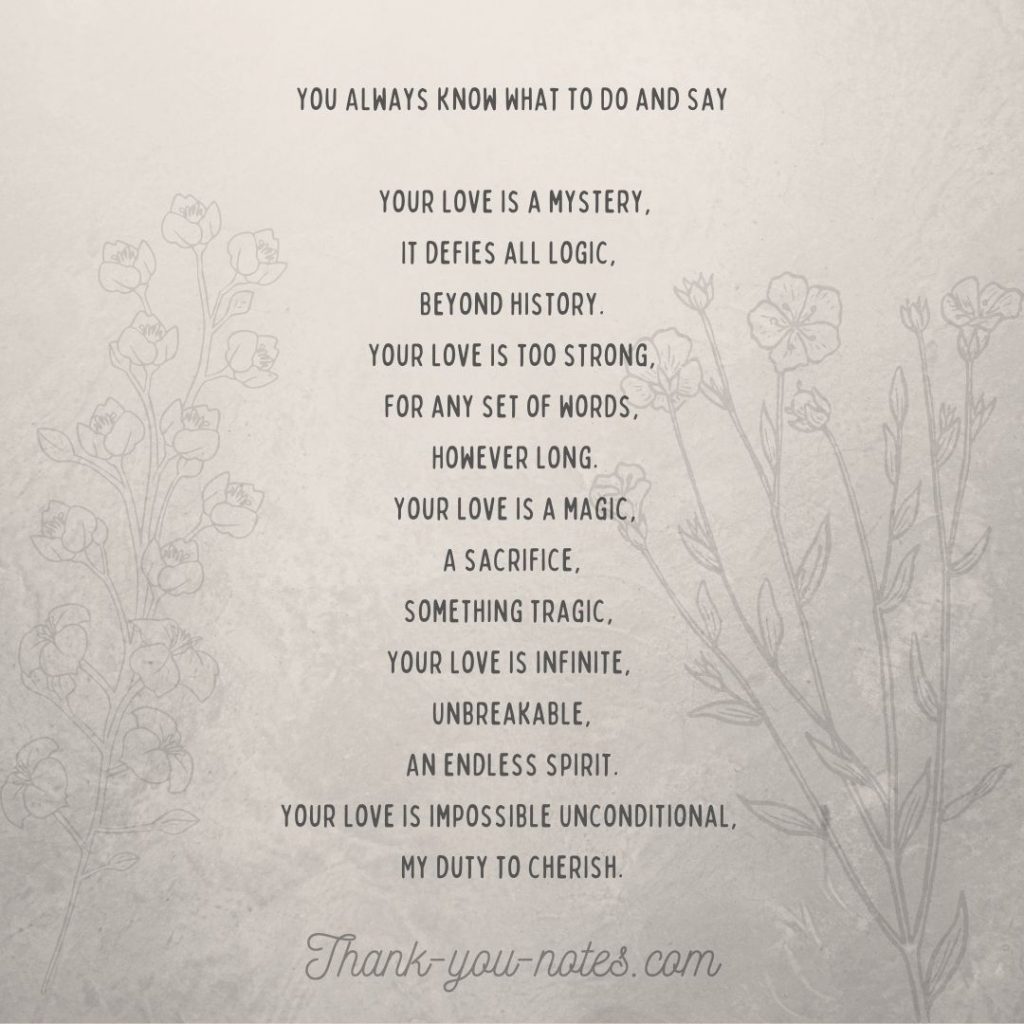 You Always Know What To Do and Say

Your love is a mystery,
It defies all logic,
Beyond history.
Your love is too strong,
For any set of words,
However long.
Your love is a magic,
A sacrifice,
Something tragic,
Your love is infinite,
Unbreakable,
An endless spirit.
Your love is impossible
Unconditional,
My duty to cherish.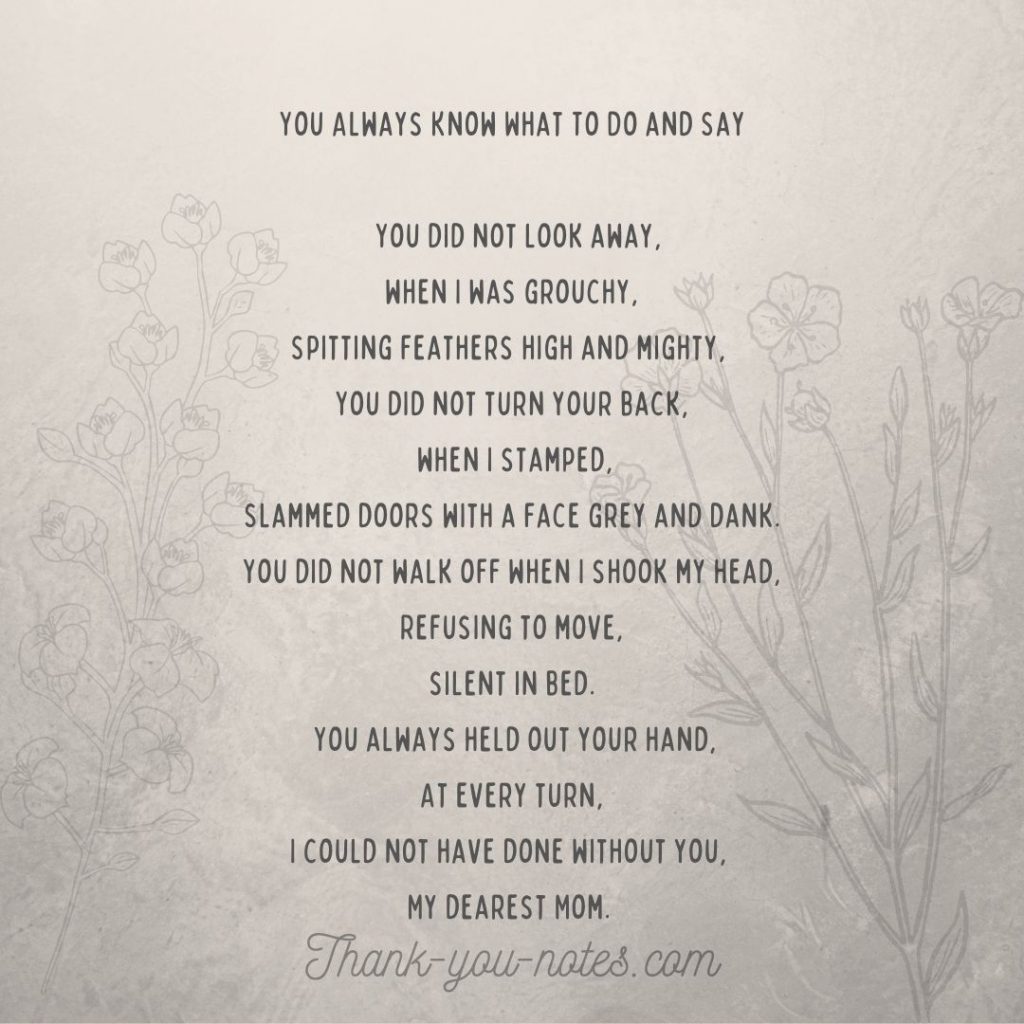 You Always Know What To Do and Say

You did not look away,
when I was grouchy,
Spitting feathers high and mighty,
You did not turn your back,
when I stamped,
Slammed doors
with a face grey and dank.
You did not walk off
when I shook my head,
Refusing to move,
silent in bed.
You always held out your hand,
At every turn,
I could not have done without you,
My dearest Mom.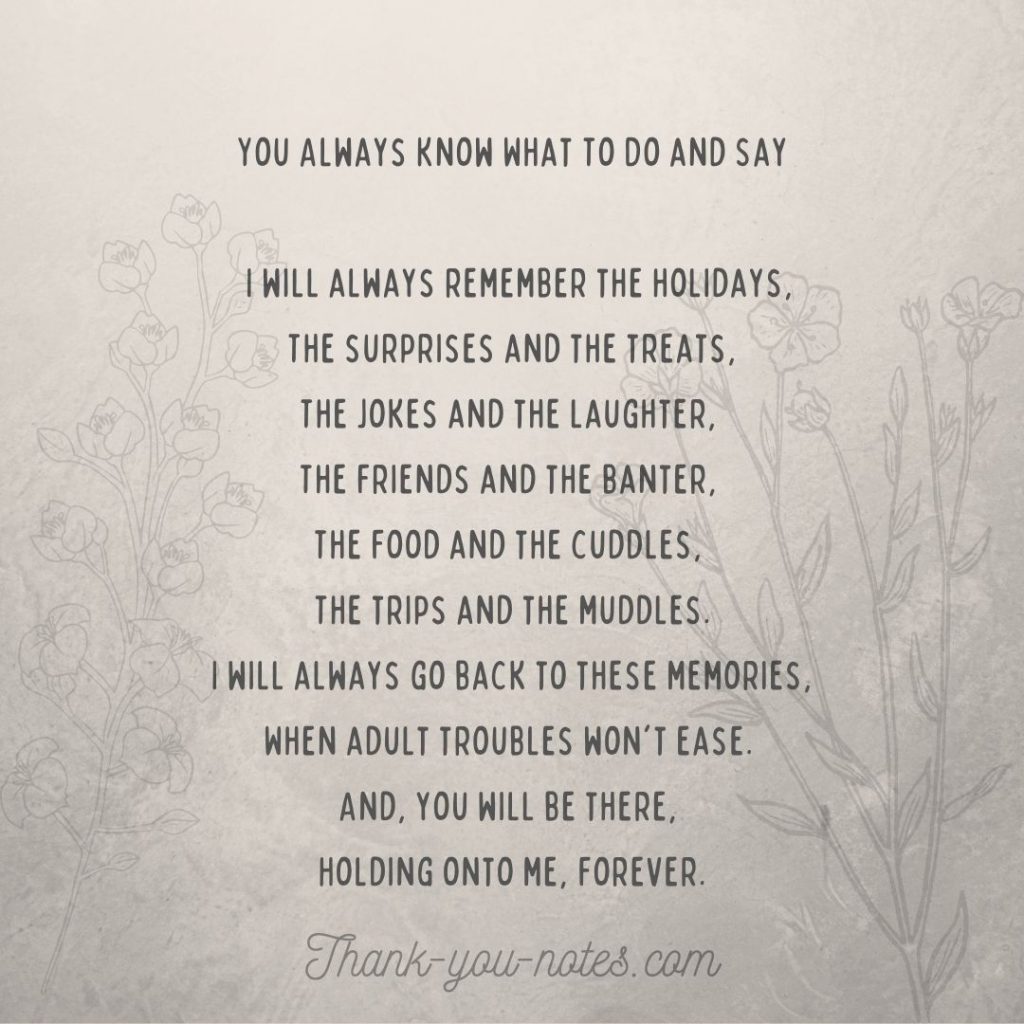 You Always Know What To Do and Say

I will always remember the holidays,
The surprises and the treats,
The jokes and the laughter,
The friends and the banter,
The food and the cuddles,
The trips and the muddles.
I will always go back to these memories,
When adult troubles won't ease.
And, you will be there,
Holding onto me, forever.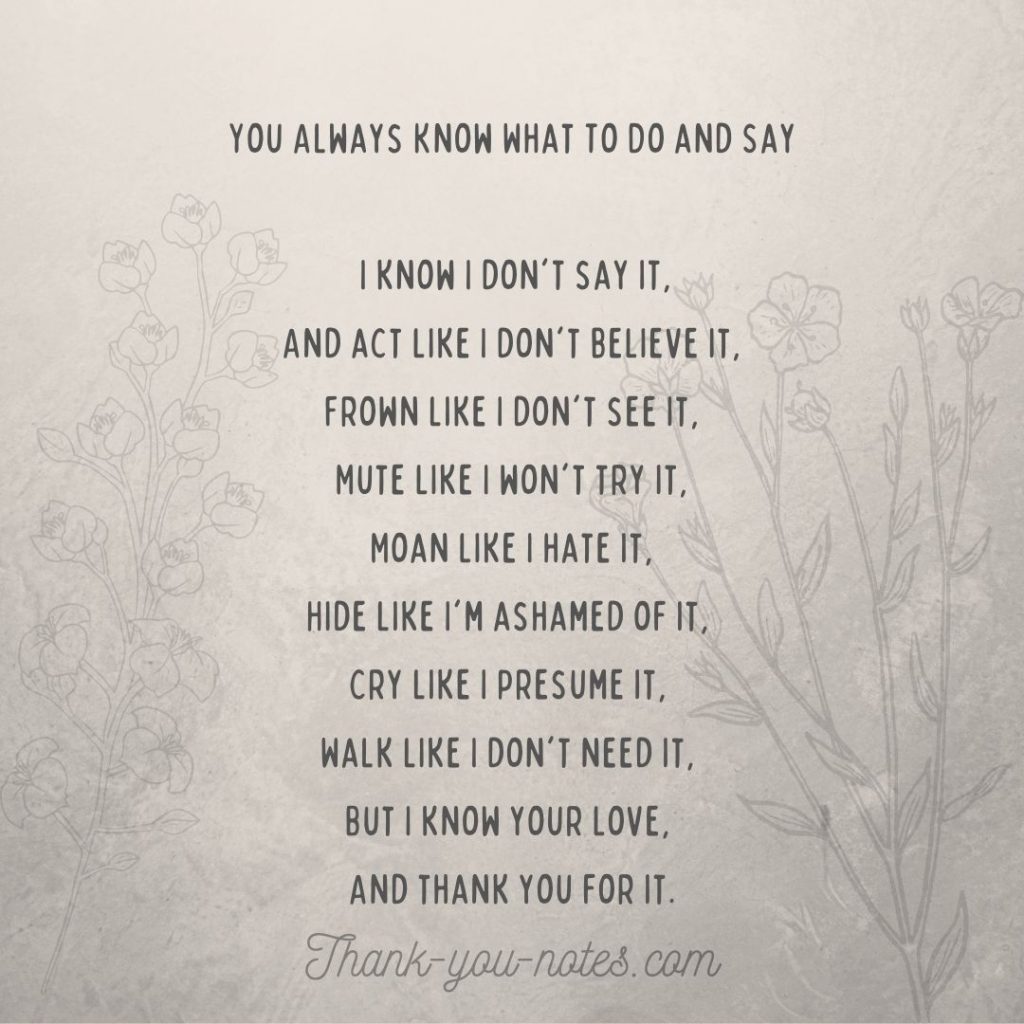 You Always Know What To Do and Say

I know I don't say it,
And act like I don't believe it,
Frown like I don't see it,
Mute like I won't try it,
Moan like I hate it,
Hide like I'm ashamed of it,
Cry like I presume it,
Walk like I don't need it,
But I know your love,
And thank you for it.
More Thank You Poems for Different Occasions
Wedding Thank You Poems
Baby Shower Thank You Poems
Teacher Thank You Poems