We have compiled a collection of personal thanks note examples below.
It is always appreciated to write a thank you note in so many circumstances. Regardless of the occasion, all good thank you notes combine common courtesy, personal anecdotes, and genuine respect.
Are you new to writing thank you notes?
Learn how to write the perfect thank you note with our step-by-step guide.
Thank You Note Help…
Popular Thank You Phrases
Famous Thank You Quotes
Thank You Poems for Cards
Personal Thank You Note Examples
To A Friend - For Being There in a Time of Trouble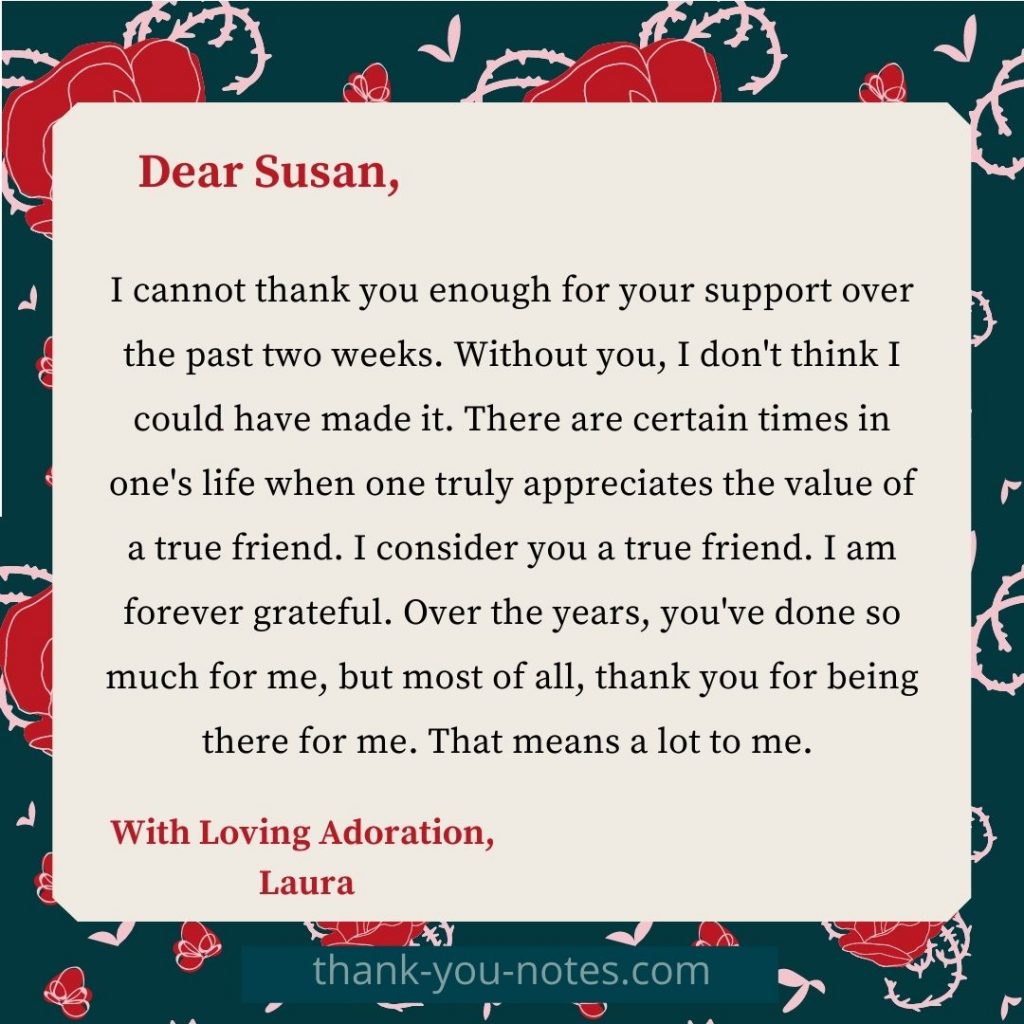 Dear Susan,

I cannot thank you enough for your support over the past two weeks. Without you, I don't think I could have made it. There are certain times in one's life when one truly appreciates the value of a true friend. 

I consider you a true friend.  I am forever grateful. Over the years, you've done so much for me, but most of all, thank you for being there for me. That means a lot to me.

With Loving Adoration,
Laura
Read More Sympathy Card Messages
Thank You For a Wonderful Dinner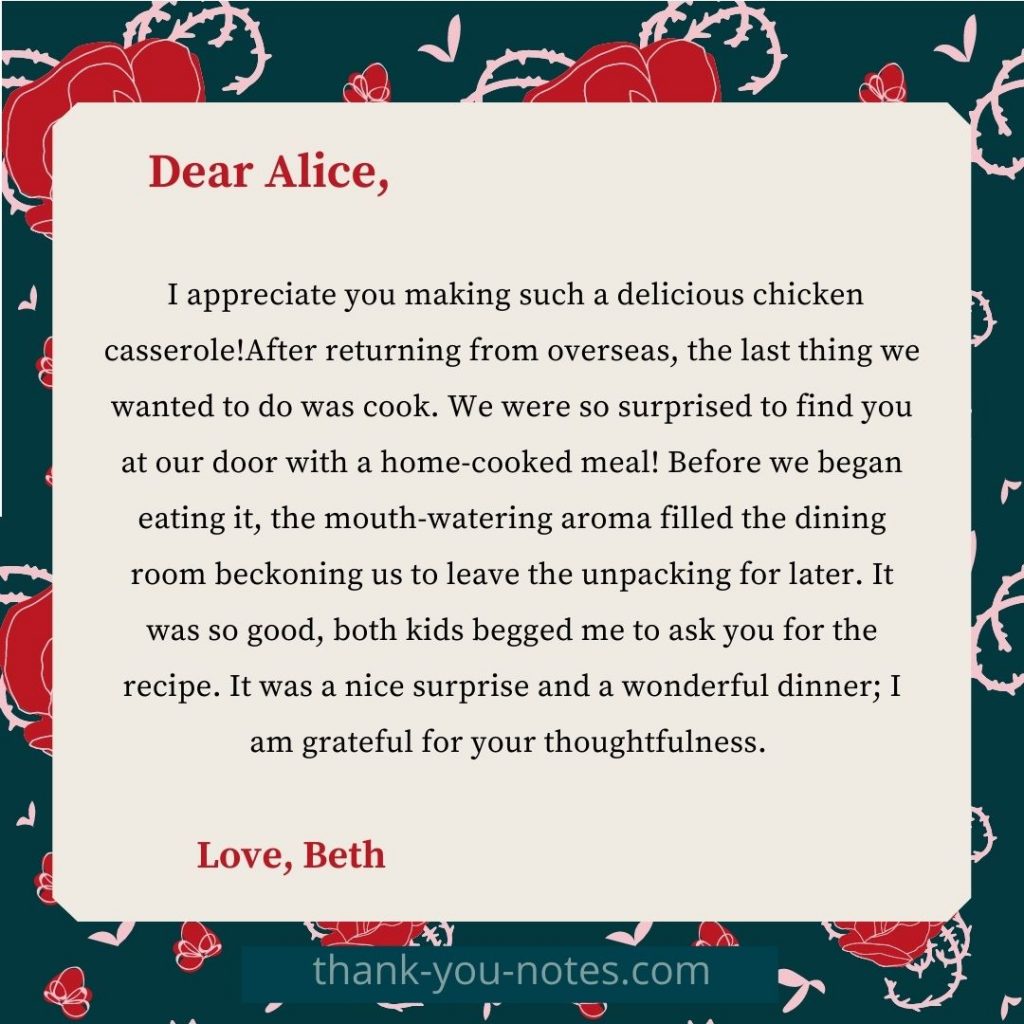 Dear Alice,

  I appreciate you making such a delicious chicken casserole!After returning from overseas, the last thing we wanted to do was cook.

 We were so surprised to find you at our door with a home-cooked meal! Before we began eating it, the mouth-watering aroma filled the dining room beckoning us to leave the unpacking for later. It was so good, both kids begged me to ask you for the recipe. 

It was a nice surprise and a wonderful dinner; I am grateful for your thoughtfulness.  

Love,
Beth
Read More Thank You Notes for Dinner
Thank You for The Gift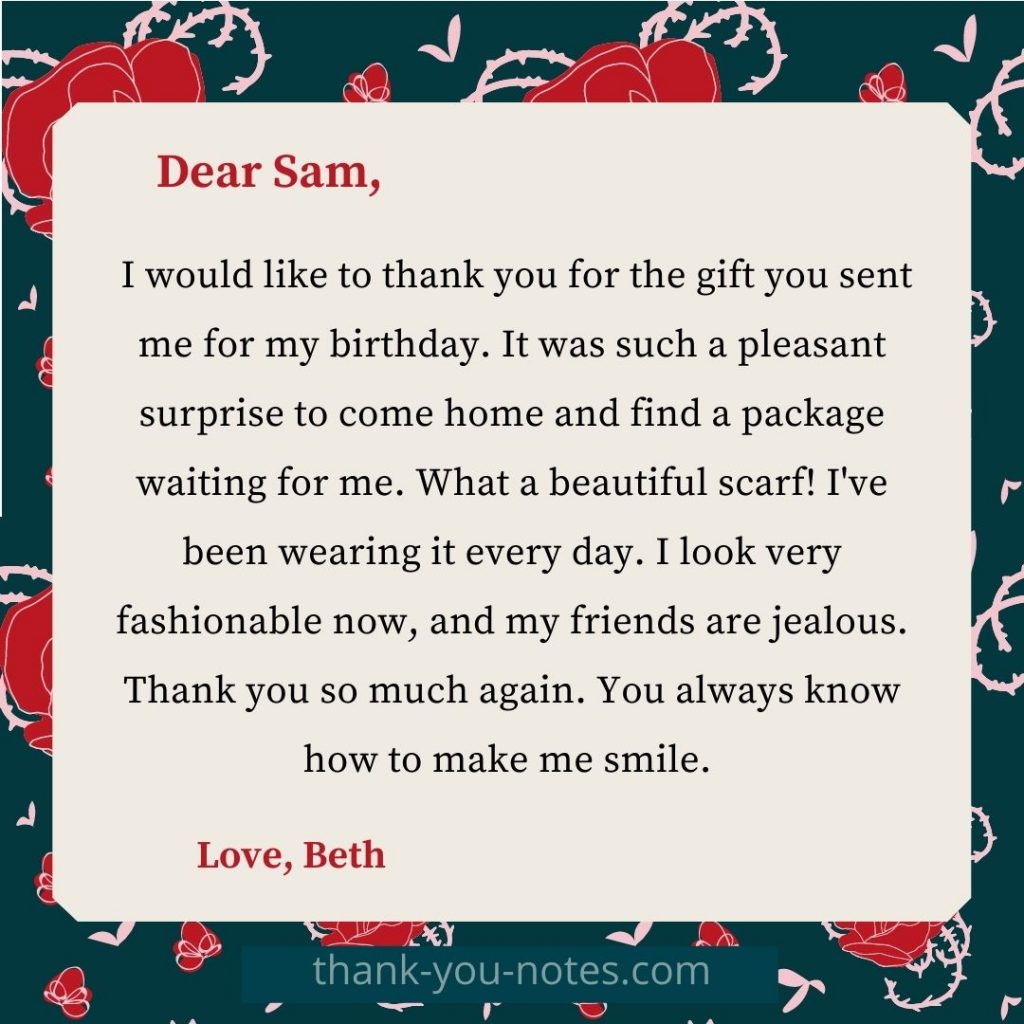 Dear Sam,

   I would like to thank you for the gift you sent me for my birthday. It was such a pleasant surprise to come home and find a package waiting for me. What a beautiful scarf! I've been wearing it every day. 

I look very fashionable now, and my friends are jealous. Thank you so much again. You always know how to make me smile.   

Love,
Beth
More Thank You Notes for Gifts:
Christmas Thank You Notes
Birthday Thank You Notes
Graduation Thank You Notes
Thank You Notes for Money
Thank You for the Birthday Wishes
Wedding Thank You Notes
Baby Shower Thank You Note
Thank You Notes for Favors
Personal Thank You for a Favor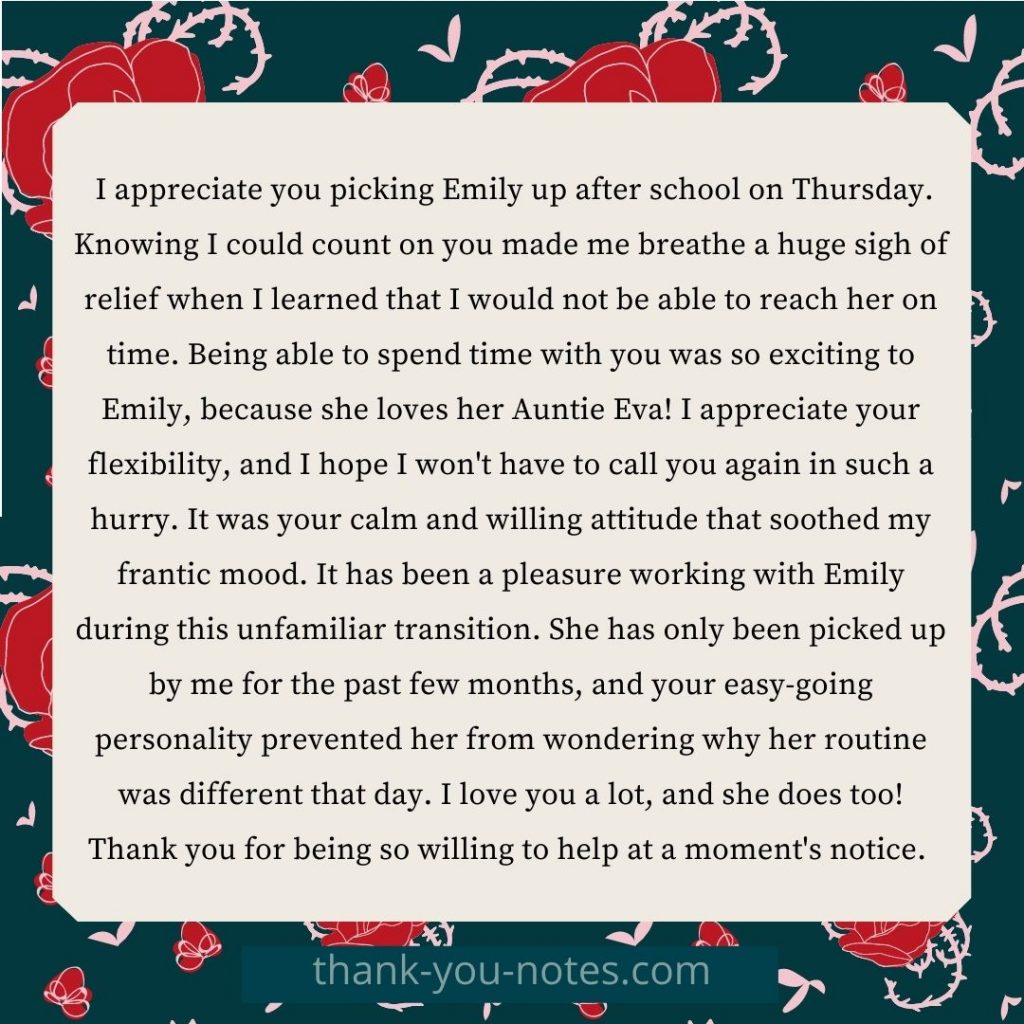 Eva,

  I appreciate you picking Emily up after school on Thursday. Knowing I could count on you made me breathe a huge sigh of relief when I learned that I would not be able to reach her on time.

 Being able to spend time with you was so exciting to Emily, because she loves her Auntie Eva!  I appreciate your flexibility, and I hope I won't have to call you again in such a hurry. It was your calm and willing attitude that soothed my frantic mood. 

  It has been a pleasure working with Emily during this unfamiliar transition. She has only been picked up by me for the past few months, and your easy-going personality prevented her from wondering why her routine was different that day.

 I love you a lot, and she does too! Thank you for being so willing to help at a moment's notice.  

Samantha
The explanation is crucial when it comes to seemingly small tasks, such as picking up your child from school. Samantha describes the unusual circumstances and how her sister's willingness to help on such short notice was greatly appreciated in her note.
She also made sure to highlight an extra benefit of the situation – Emily got to spend more time with her Aunt, whom she loves. Your written thank you note is complete when you include additional benefits of the recipient's actions.
Thanks For Helping Me Move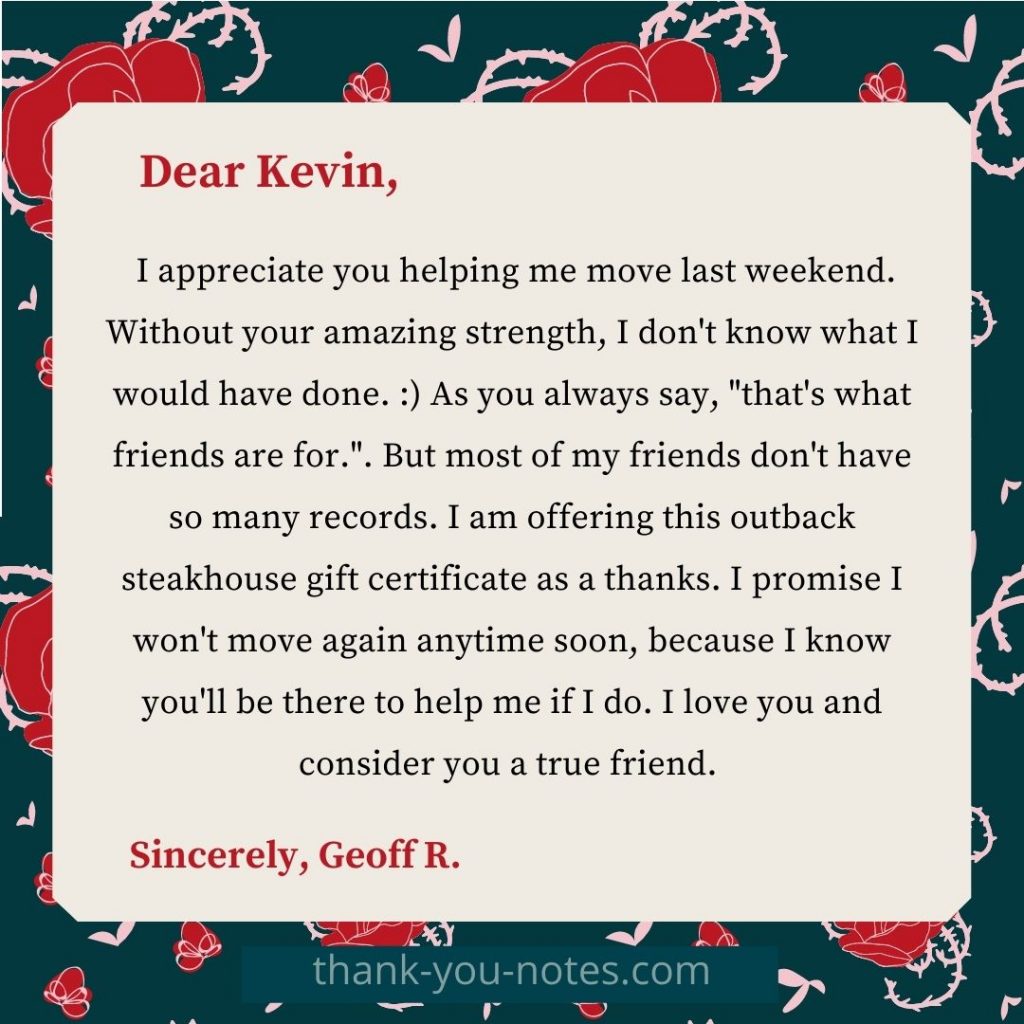 Dear Kevin,

  I appreciate you helping me move last weekend. Without your amazing strength, I don't know what I would have done. :) As you always say, "that's what friends are for.".

 But most of my friends don't have so many records. I am offering this outback steakhouse gift certificate as a thanks.  I promise I won't move again anytime soon, because I know you'll be there to help me if I do. 

I love you and consider you a true friend.  

Sincerely,
Geoff R.
Thanks For Helping Us Move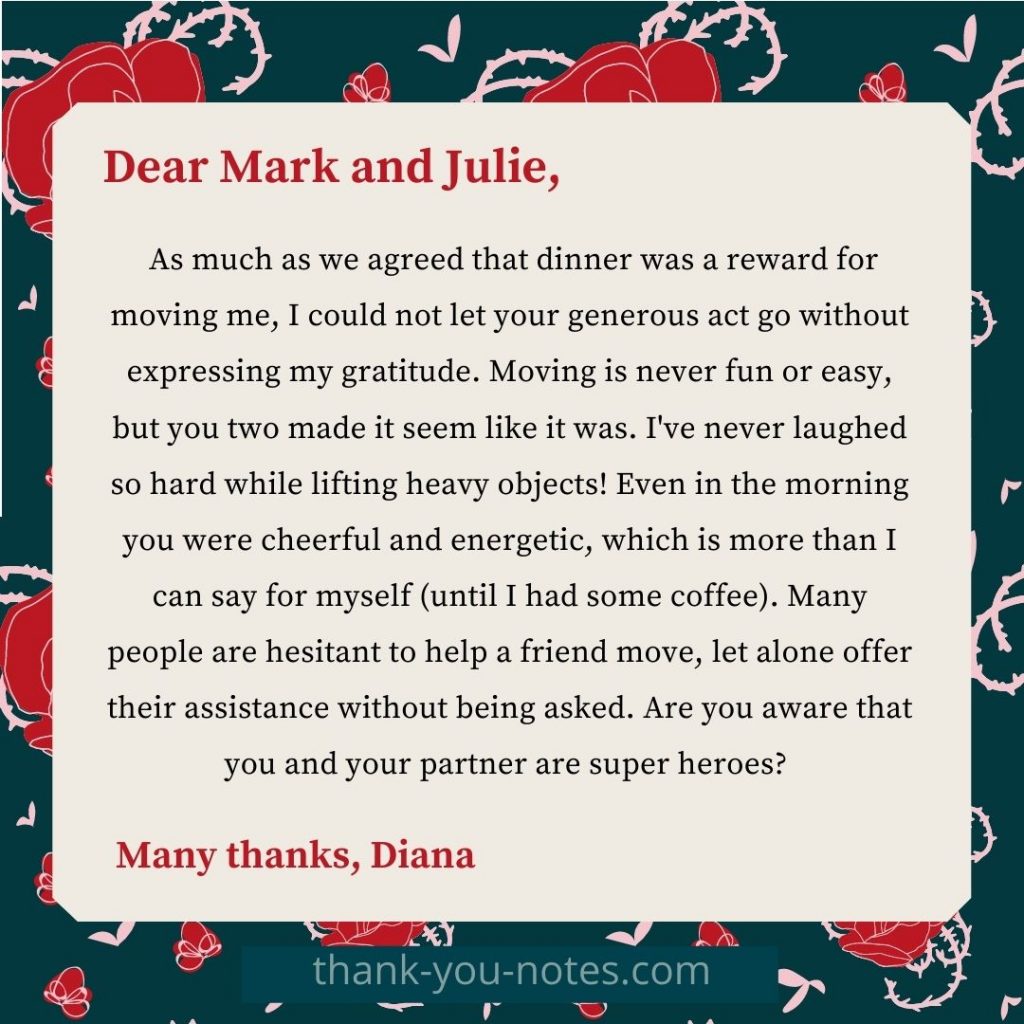 Dear Mark and Julie,

  As much as we agreed that dinner was a reward for moving me, I could not let your generous act go without expressing my gratitude.  Moving is never fun or easy, but you two made it seem like it was.

  I've never laughed so hard while lifting heavy objects! Even in the morning you were cheerful and energetic, which is more than I can say for myself (until I had some coffee). 

  Many people are hesitant to help a friend move, let alone offer their assistance without being asked. Are you aware that you and your partner are super heroes?  

Many thanks,
Diana
An excellent idea is to describe all the different ways someone has positively impacted your life.
Above, Diana thanks Julie and Mark for helping her move houses physically. She also pointed out that their positive attitudes and humor were just as important.
If you would like to thank someone, describe all the benefits of their good deed.
Thank You Notes to Family Members
Thanks are too often overlooked by family members.
We think that simply saying "thank you" is enough and that our love and appreciation are obvious. Our closest friends and family are the ones we should thank most often.
Thank your family whenever you can.
Thanks Mom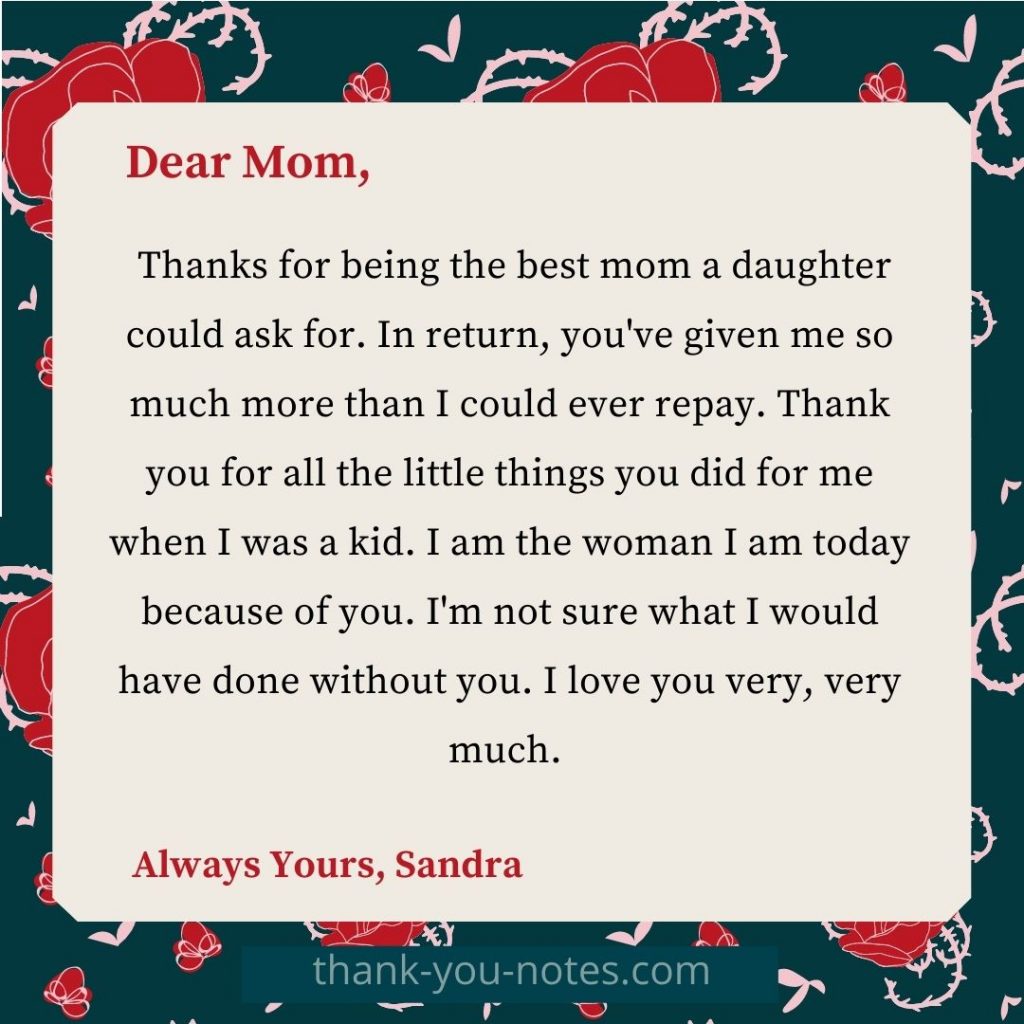 Dear Mom,

  Thanks for being the best mom a daughter could ask for. In return, you've given me so much more than I could ever repay. Thank you for all the little things you did for me when I was a kid.  

I am the woman I am today because of you. I'm not sure what I would have done without you.   

I love you very, very much.

Always Yours,
Sandra
More Thank You Ideas for Parents…
How to Thank Your Mother
How to Thank Your Father
Need Help Writing a Thank You Note?
If you need help writing a thank you note, we can help.
Simply describe in detail the situation in which you are trying to write a note.