Here are a few thank you letters for phone interviews. You can increase your chances of landing a face-to-face interview by sending a thank-you note after an interview over the phone.
Additional Resources
Read our tutorial on Writing an Effective Interview Thank You Letter.
Check out our full collection of Interview Thank You Letter Samples.
Additionally, you can submit your finished letters below, or have one of our writers edit your rough draft for free.
Let's learn how to write the perfect thank you letter to land you the job.
Writing Phone Interview Thank You Letters
In many cases, a phone interview is required before a face-to-face interview can take place. The purpose of the post-interview thank you letter is to increase the chances of getting a second interview.
Make sure to include any relevant information about you that you left out during our phone conversation, and emphasize your interest in the position.
Tip: You should address any concerns or reservations the hiring manager may have about hiring you. The job seeker mentions potential reservations and assures the employer that she is capable of the job.
Phone Interview Thank You Sample #1


Name
Phone
E-Mail
Address
City, State, Zip Code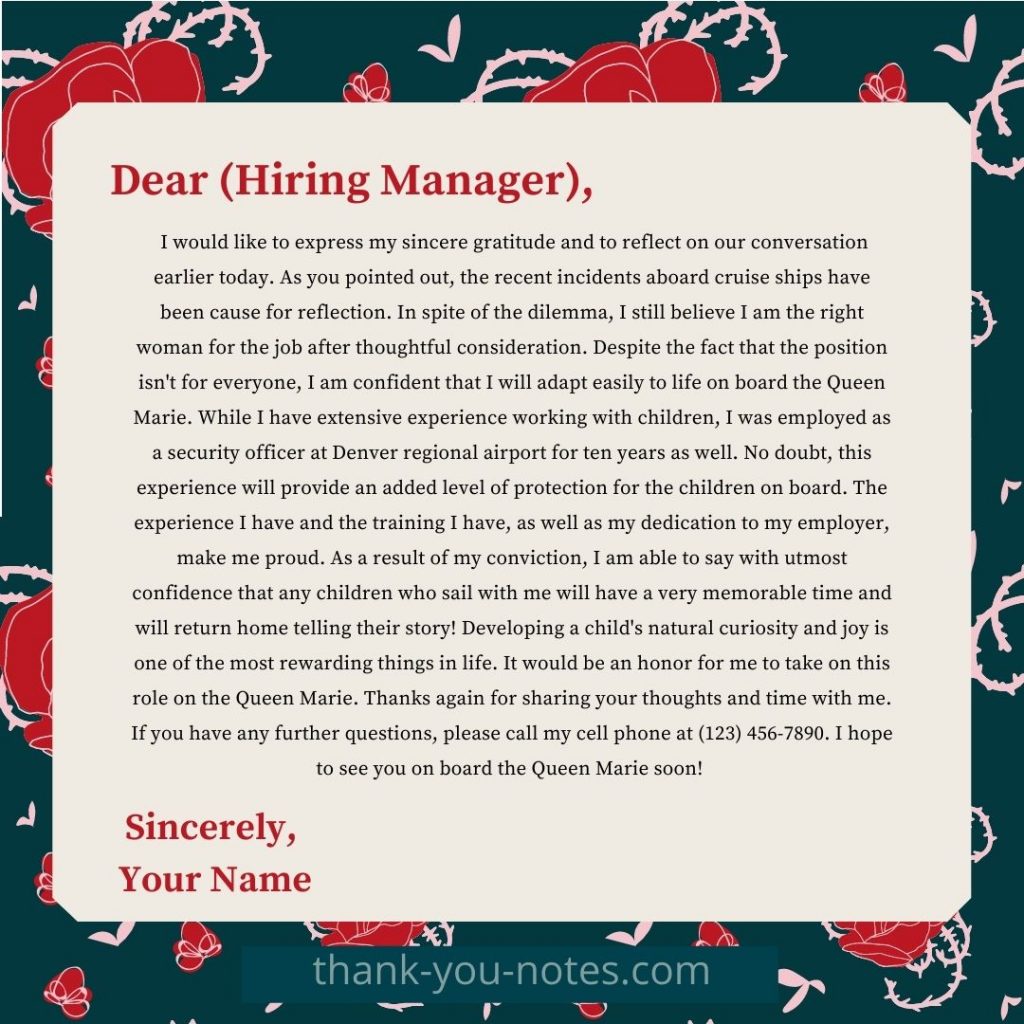 Dear (Hiring Manager),

  I would like to express my sincere gratitude and to reflect on our conversation earlier today.   
  As you pointed out, the recent incidents aboard cruise ships have been cause for reflection. In spite of the dilemma, I still believe I am the right woman for the job after thoughtful consideration. Despite the fact that the position isn't for everyone, I am confident that I will adapt easily to life on board the Queen Marie.   
  While I have extensive experience working with children, I was employed as a security officer at Denver regional airport for ten years as well. No doubt, this experience will provide an added level of protection for the children on board.   
  The experience I have and the training I have, as well as my dedication to my employer, make me proud. As a result of my conviction, I am able to say with utmost confidence that any children who sail with me will have a very memorable time and will return home telling their story! Developing a child's natural curiosity and joy is one of the most rewarding things in life. It would be an honor for me to take on this role on the Queen Marie.   
  Thanks again for sharing your thoughts and time with me. If you have any further questions, please call my cell phone at (123) 456-7890. I hope to see you on board the Queen Marie soon!   

Sincerely,
Your Name
Phone Interview Thank You Sample #2


Name
Phone
E-Mail
Address
City, State, Zip Code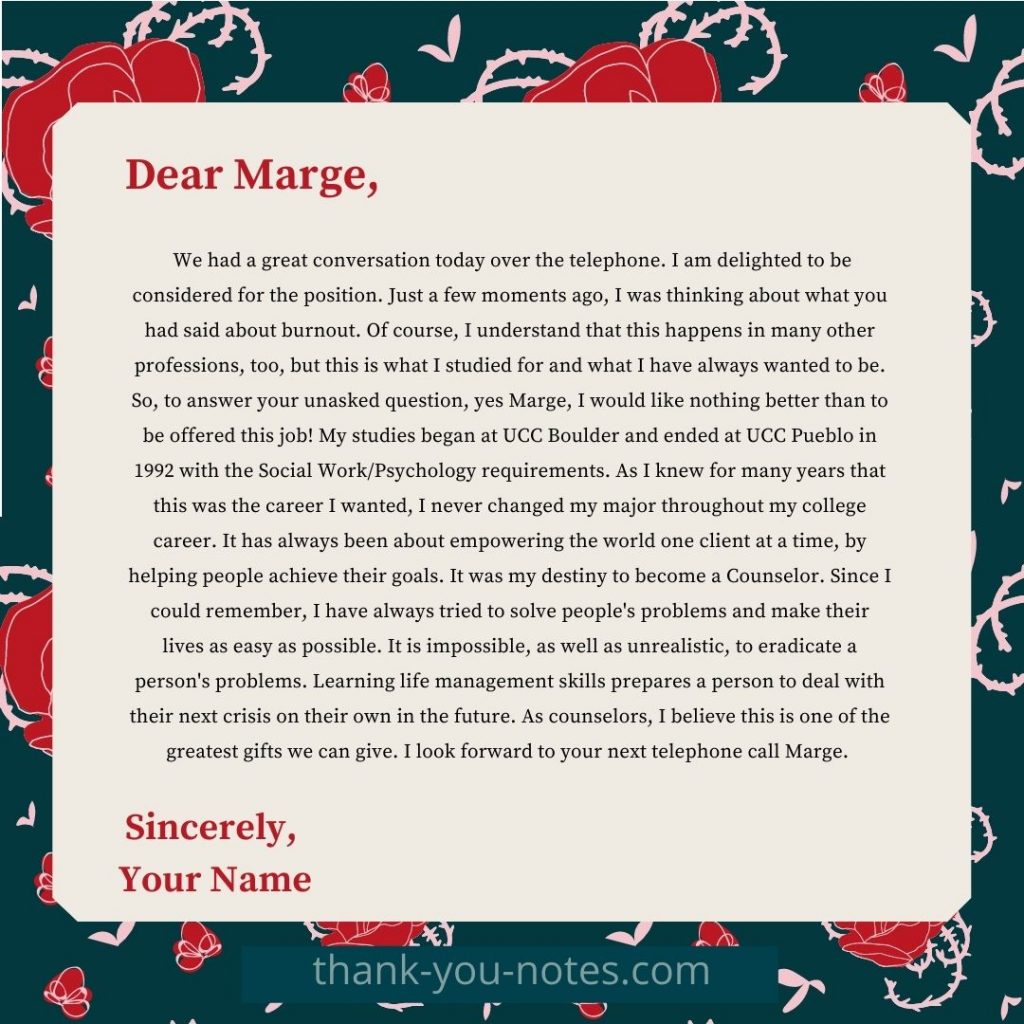 Dear Marge,

  We had a great conversation today over the telephone. I am delighted to be considered for the position. Just a few moments ago, I was thinking about what you had said about burnout. Of course, I understand that this happens in many other professions, too, but this is what I studied for and what I have always wanted to be.   
So, to answer your unasked question, yes Marge, I would like nothing better than to be offered this job!
  My studies began at UCC Boulder and ended at UCC Pueblo in 1992 with the Social Work/Psychology requirements. As I knew for many years that this was the career I wanted, I never changed my major throughout my college career.   
  It has always been about empowering the world one client at a time, by helping people achieve their goals. It was my destiny to become a Counselor. Since I could remember, I have always tried to solve people's problems and make their lives as easy as possible.   
  It is impossible, as well as unrealistic, to eradicate a person's problems. Learning life management skills prepares a person to deal with their next crisis on their own in the future. As counselors, I believe this is one of the greatest gifts we can give.   
I look forward to your next telephone call Marge.

Sincerely, Your Name
Phone Interview Thank You Sample #3


Name
Phone
E-Mail
Address
City, State, Zip Cod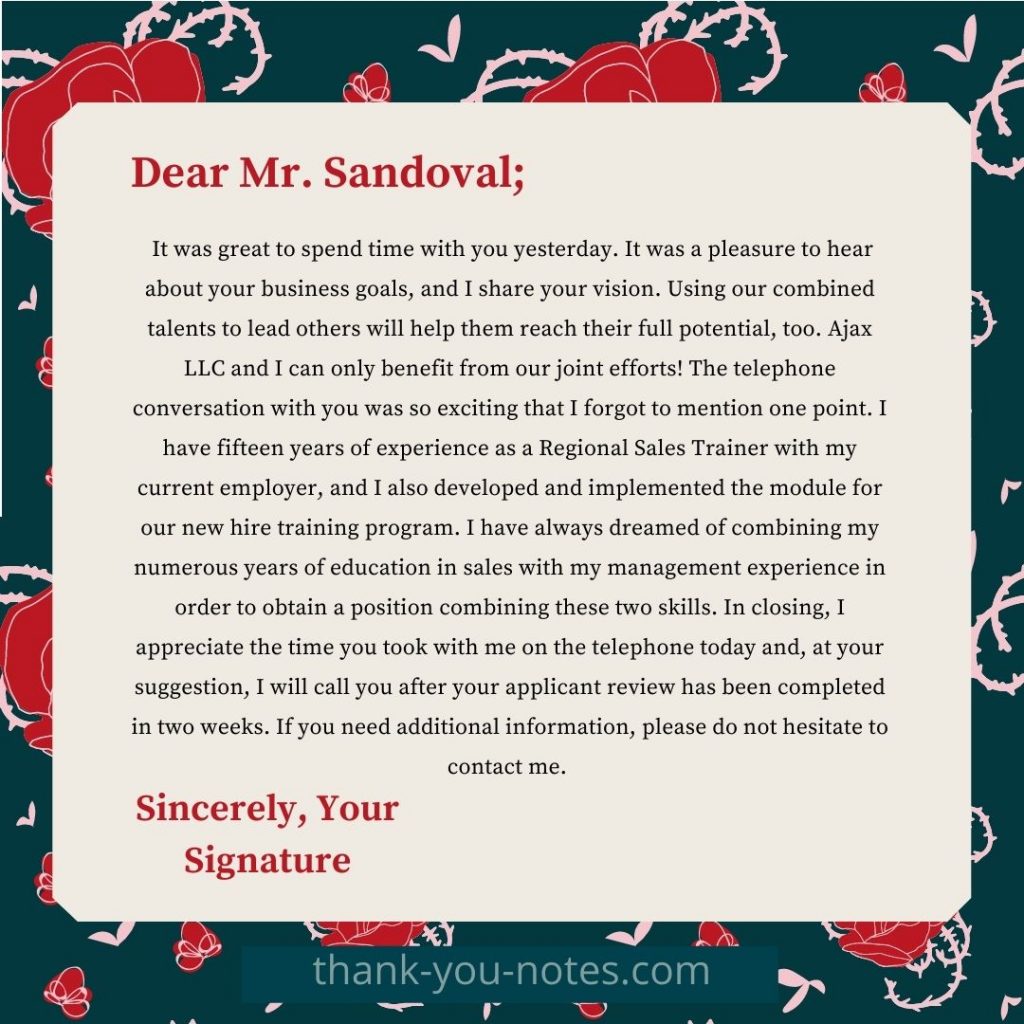 Dear Mr. Sandoval;

    It was great to spend time with you yesterday. It was a pleasure to hear about your business goals, and I share your vision. Using our combined talents to lead others will help them reach their full potential, too. Ajax LLC and I can only benefit from our joint efforts!      
  The telephone conversation with you was so exciting that I forgot to mention one point. I have fifteen years of experience as a Regional Sales Trainer with my current employer, and I also developed and implemented the module for our new hire training program.   
  I have always dreamed of combining my numerous years of education in sales with my management experience in order to obtain a position combining these two skills.   
  In closing, I appreciate the time you took with me on the telephone today and, at your suggestion, I will call you after your applicant review has been completed in two weeks. If you need additional information, please do not hesitate to contact me.   

Sincerely,
Your Signature