Here is some referral thank you letter samples you can utilize to help with your own wording.
When someone refers another person to your business or service, it is a testimonial to your value and an implicit recommendation. Returning this kindness with a thank you note will help solidify the relationship and encourage more referrals in the future.
Dos and Don'ts
| Do's | Dont's |
| --- | --- |
| Be gracious and kind | Explicitly ask for more referrals |
| Offer something of value if appropriate (discounts, re-referrals) | |
Asking for additional referrals in your thank you note is tacky. By simply expressing your gratitude, you are already encouraging future recommendations.
Sample Letters
Referral From a Customer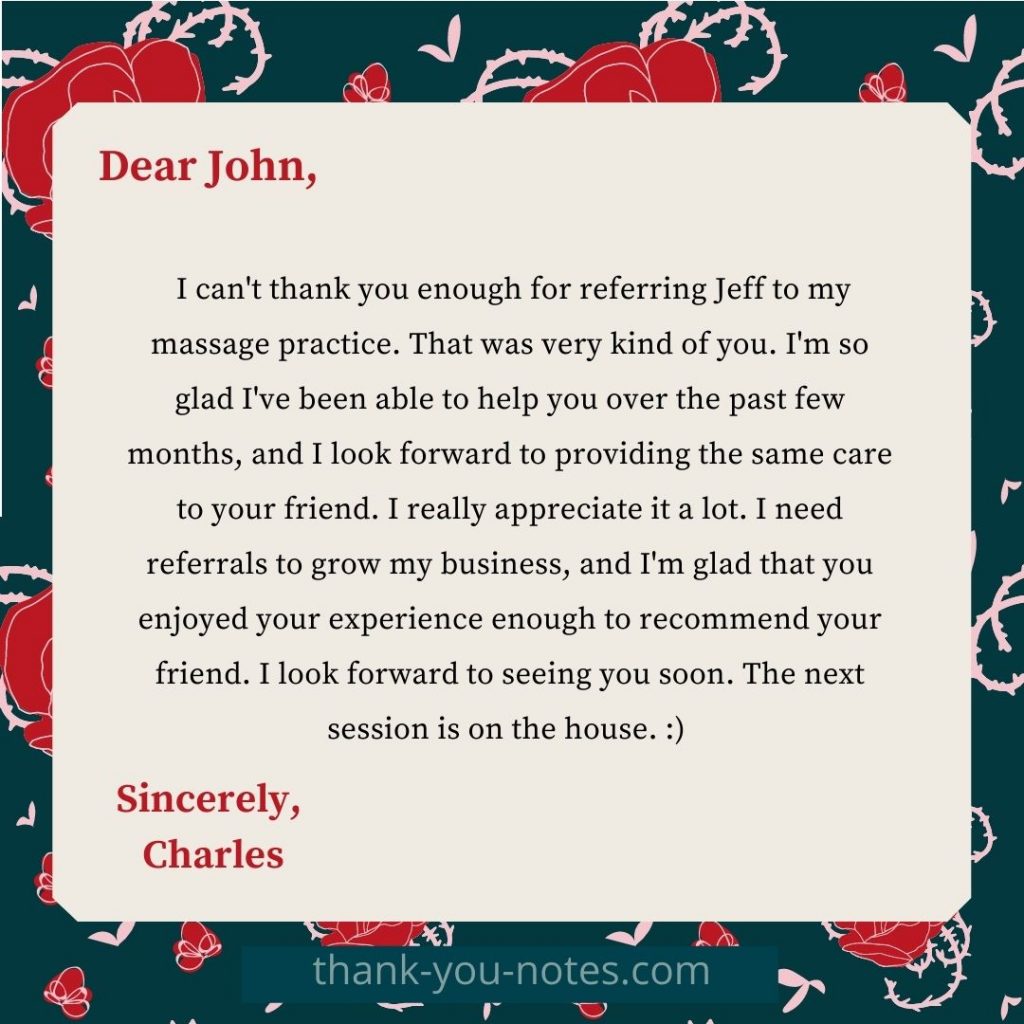 Dear John,

  I can't thank you enough for referring Jeff to my massage practice. That was very kind of you. I'm so glad I've been able to help you over the past few months, and I look forward to providing the same care to your friend.   

  I really appreciate it a lot. I need referrals to grow my business, and I'm glad that you enjoyed your experience enough to recommend your friend. I look forward to seeing you soon. The next session is on the house. :)   

Sincerely,
Charles
Referral From a Another Business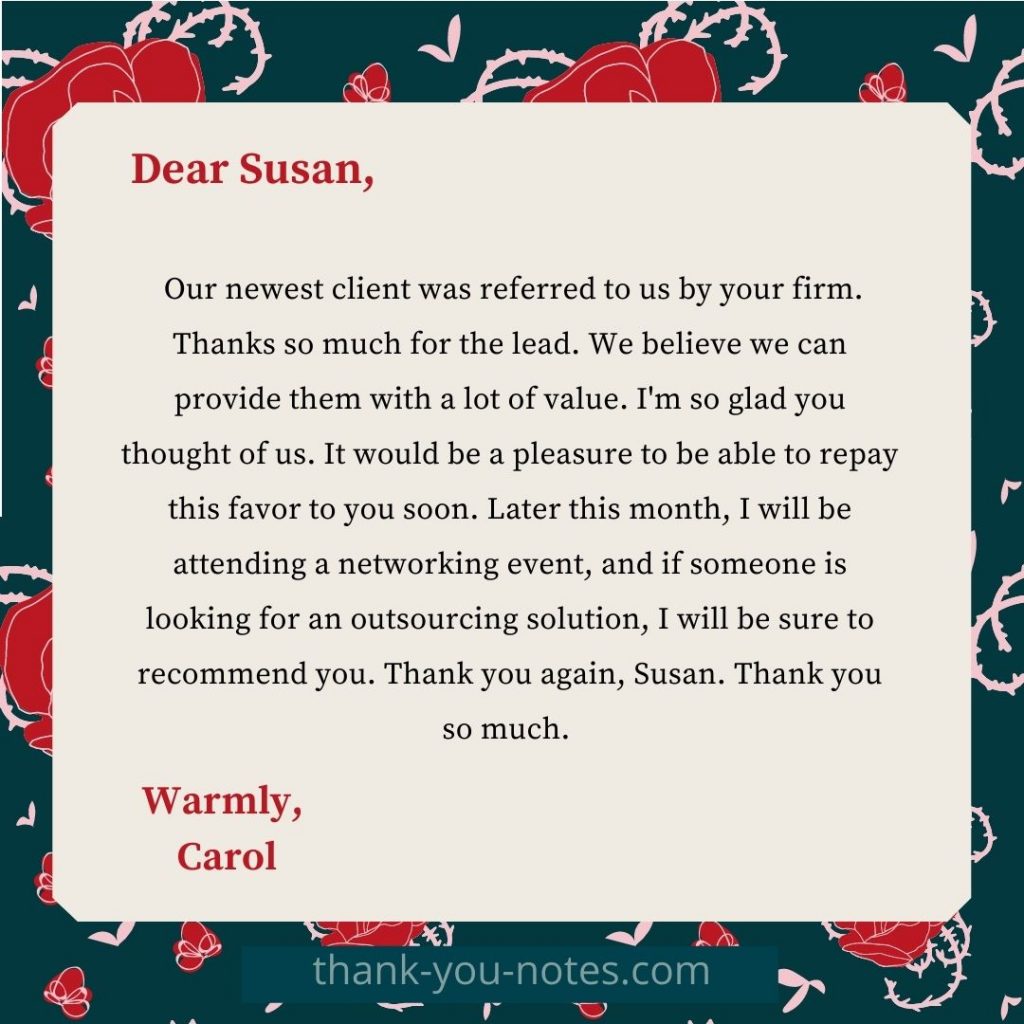 Dear Susan,

  Our newest client was referred to us by your firm. Thanks so much for the lead. We believe we can provide them with a lot of value. I'm so glad you thought of us.   

  It would be a pleasure to be able to repay this favor to you soon. Later this month, I will be attending a networking event, and if someone is looking for an outsourcing solution, I will be sure to recommend you. Thank you again, Susan. Thank you so much.   

Warmly,
Carol
Referral For Employment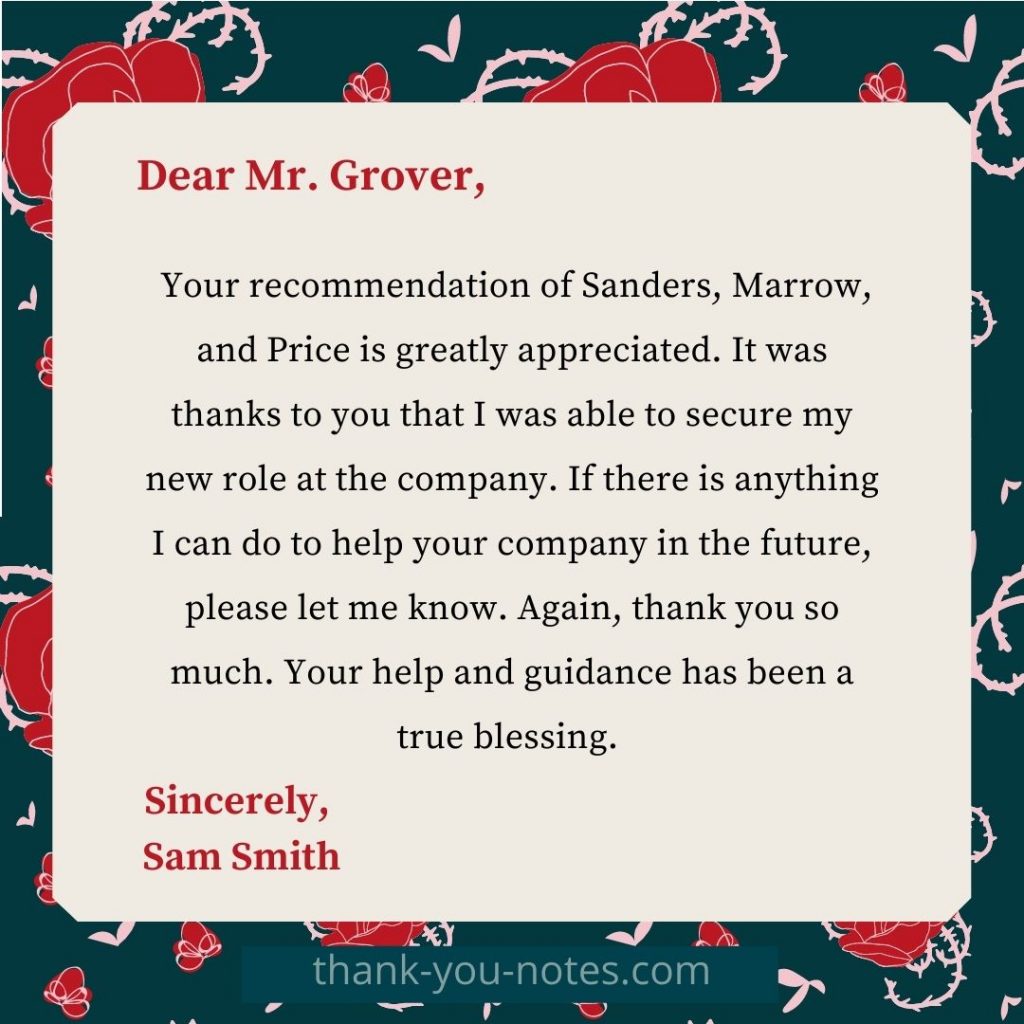 Dear Mr. Grover,

  Your recommendation of Sanders, Marrow, and Price is greatly appreciated. It was thanks to you that I was able to secure my new role at the company. If there is anything I can do to help your company in the future, please let me know.   

Again, thank you so much. Your help and guidance has been a true blessing.

Sincerely,
Sam Smith
Thanks for The Link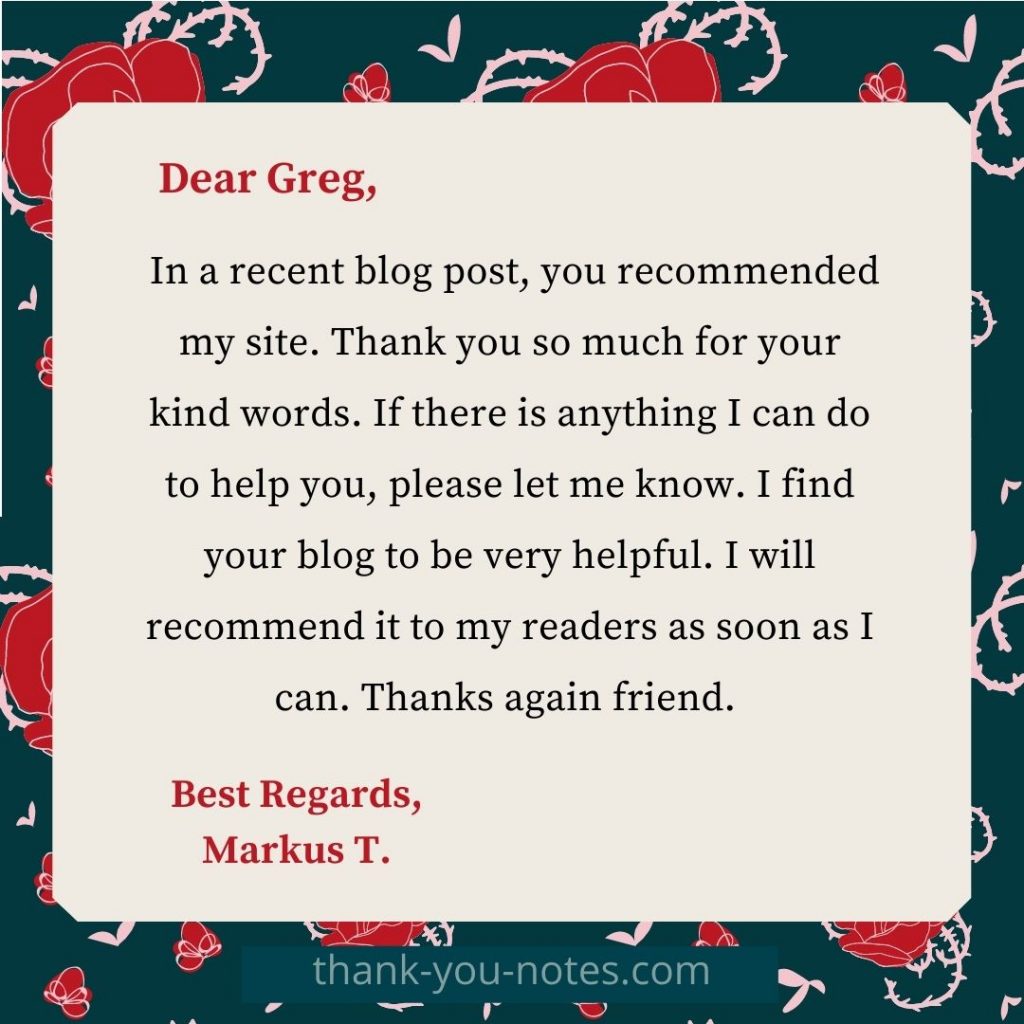 Dear Greg,

  In a recent blog post, you recommended my site. Thank you so much for your kind words. If there is anything I can do to help you, please let me know. I find your blog to be very helpful. I will recommend it to my readers as soon as I can.   

Thanks again friend.

Best Regards,
Markus T.
Related Sample Letters…
Recommendation Thank You Letters
Mentor Thank You Letters
Internship Thank You Letters
You can see that a referral thank you letter doesn't have to belong. If your business receives many referrals, consider creating a thank you letter template for future use.
Writing a thank you note will produce goodwill and lasting dividends for your business. Furthermore, it's the right thing to do.