Let's look at how to write a scholarship thank you letter.
Whenever someone or an organization gives you a large sum of money, it's always a good idea to thank them.
A few tips…
Write Concisely: A professional letter should get to the point quickly, and avoid unnecessary content.
Check Grammar and Spelling: Give your donor no reason to regret giving you a scholarship. Always spell-check, grammar-check, and punctuation-check.
Be Gracious: You should be gracious in your thank you letter. You have just received a large sum of money. Don't ever imply that you are entitled to it.
Be Reassuring: Donors of scholarships have to deal with the fact that they can't help everyone. If you have been awarded a scholarship, it means that someone else has been denied one.
Therefore, you should do everything in your power to reassure them that you were a good choice and that you will work hard and honor all of the scholarship conditions.
Scholarship Thank You Letter Sample
This sample scholarship thank-you letter will give you a sense of how the letter should be structured and how long it should be
Thank You for the Scholarship

MM/DD/YY
[Name]
[Title]
[Organization]
[Address]
[City, State, Zip Code]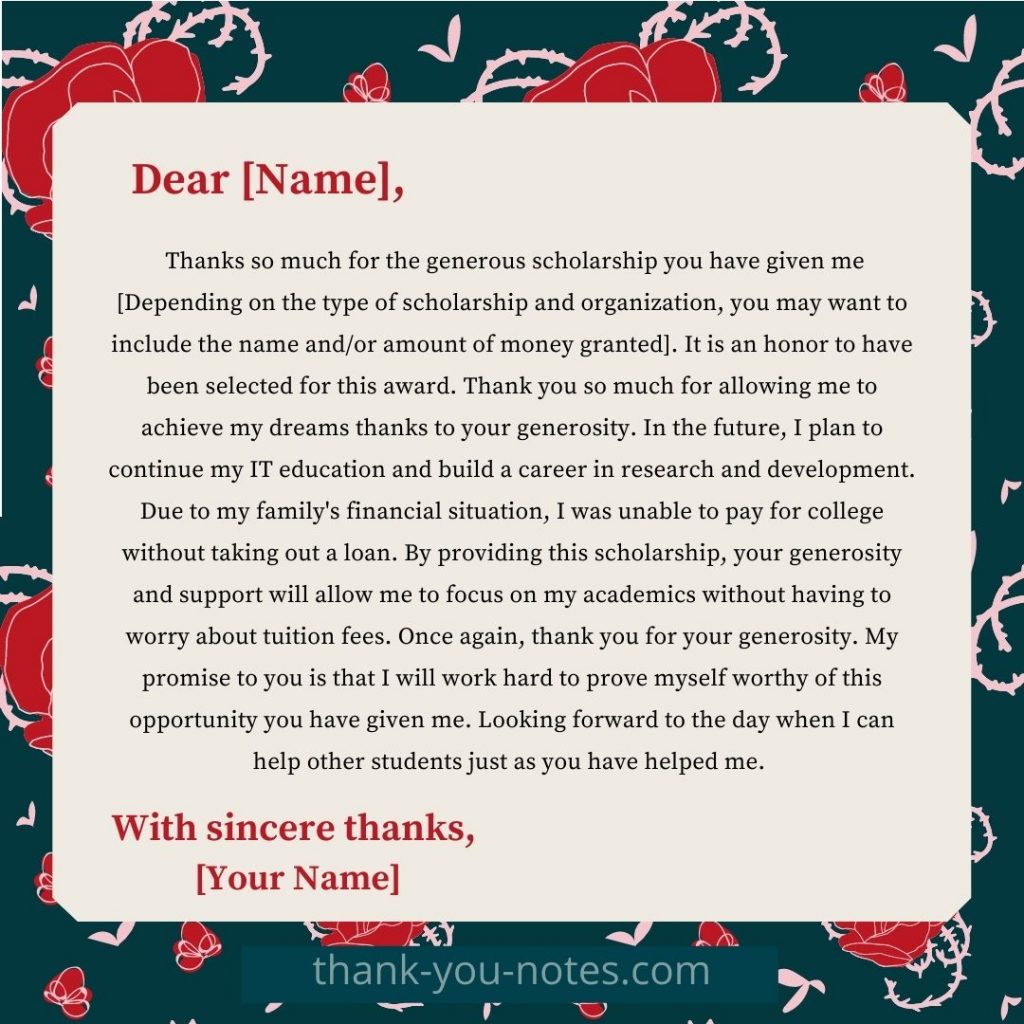 Dear [Name],

  Thanks so much for the generous scholarship you have given me [Depending on the type of scholarship and organization, you may want to include the name and/or amount of money granted]. It is an honor to have been selected for this award. Thank you so much for allowing me to achieve my dreams thanks to your generosity.   
  In the future, I plan to continue my IT education and build a career in research and development. Due to my family's financial situation, I was unable to pay for college without taking out a loan. By providing this scholarship, your generosity and support will allow me to focus on my academics without having to worry about tuition fees.   
  Once again, thank you for your generosity. My promise to you is that I will work hard to prove myself worthy of this opportunity you have given me. Looking forward to the day when I can help other students just as you have helped me.   

With sincere thanks,

[Your Name]
Add a thank you quote to your letter.