A teacher can change a student's life. It doesn't matter whether the changes are good or bad. Teachers have the ability to shape human lives either positively or negatively.
Teachers who shaped our lives remain in our memories long after we have left school. In most cases, these were the first people who believed in us. We are forever affected by the experience of having someone believe in our abilities.
We should give more thanks to teachers than we usually do. Take a look at this original thank you poems from teachers, and write your own.
What better way to express your gratitude to a teacher than with an original poem? Please submit a thank you poem below if you want to.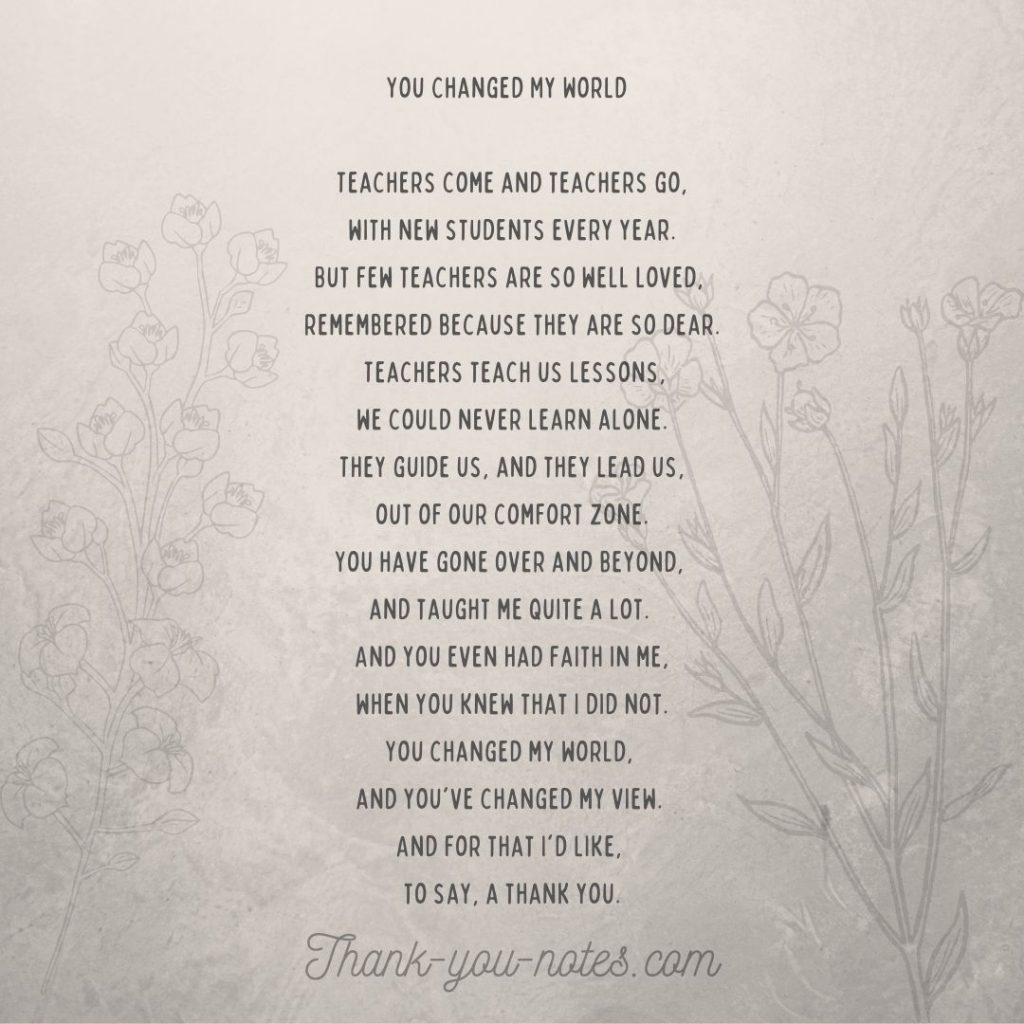 You Changed My World

Teachers come and teachers go,
with new students every year.
But few teachers are so well loved,
remembered because they are so dear.
Teachers teach us lessons,
we could never learn alone.
They guide us, and they lead us,
out of our comfort zone.
You have gone over and beyond,
and taught me quite a lot.
And you even had faith in me,
when you knew that I did not.
You changed my world,
and you've changed my view.
And for that I'd like,
to say, a thank you.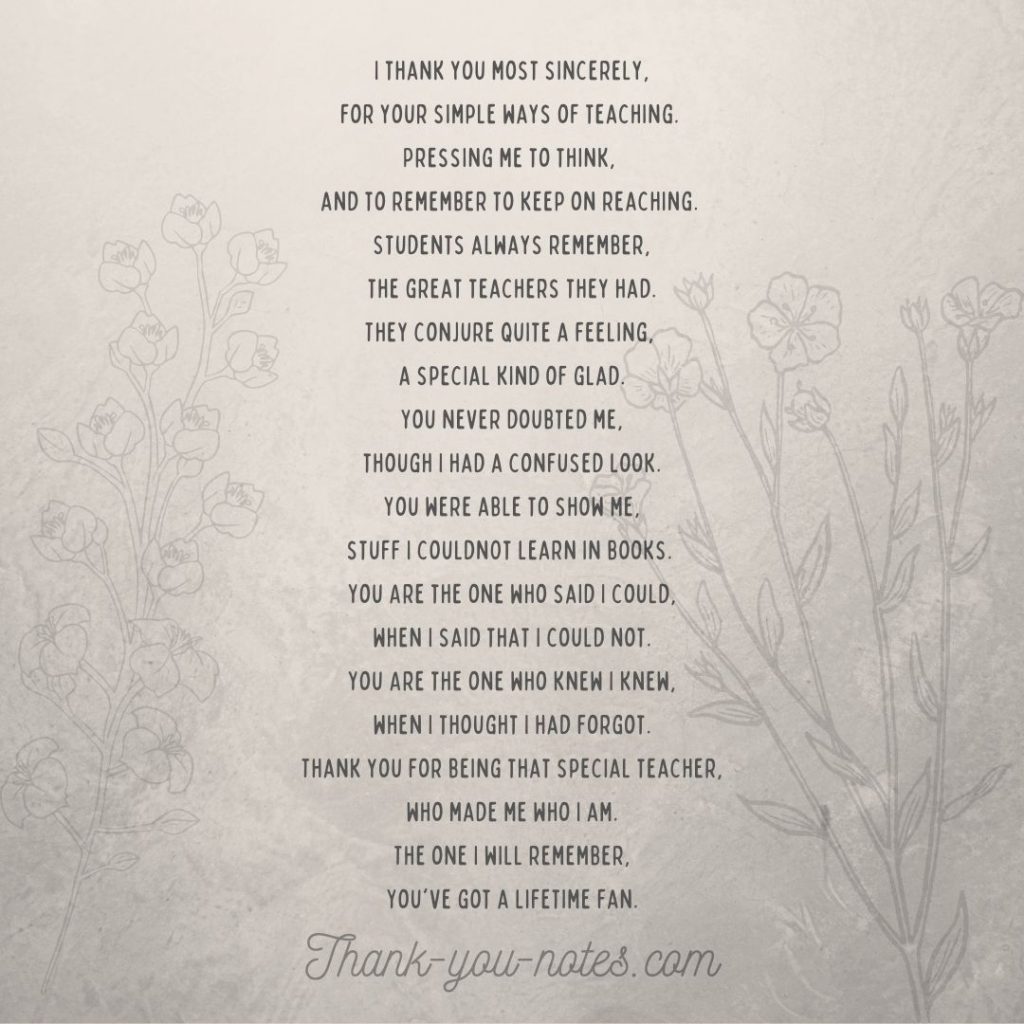 I Thank You Most Sincerely

I thank you most sincerely,
for your simple ways of teaching.
Pressing me to think,
and to remember to keep on reaching.
Students always remember,
the great teachers they had.
They conjure quite a feeling,
a special kind of glad.
You never doubted me,
though I had a confused look.
You were able to show me,
stuff I couldn't learn in books.
You're the one who said I could,
when I said that I could not.
You're the one who knew I knew,
when I thought I had forgot.
Thank you for being that special teacher,
who made me who I am.
The one I will remember,
You've got a lifetime fan.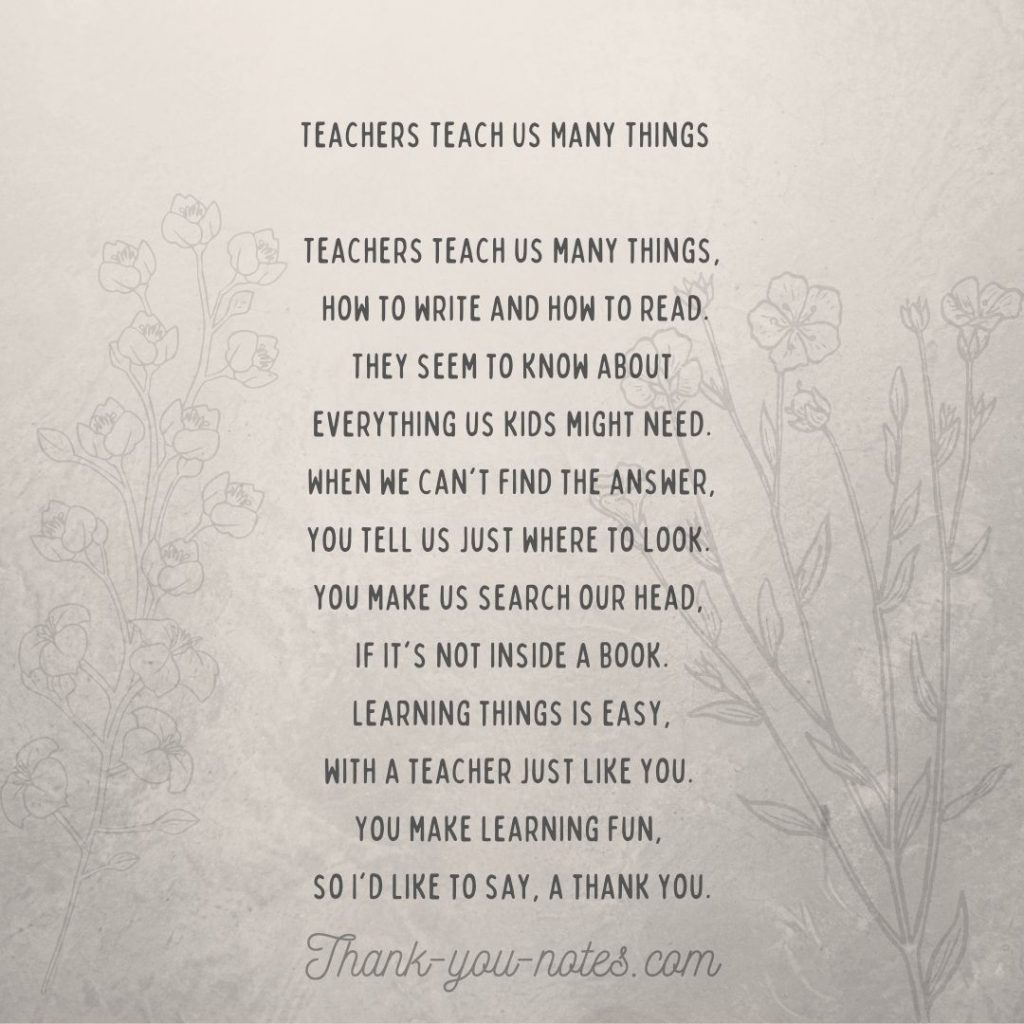 Teachers Teach Us Many Things

Teachers teach us many things,
how to write and how to read.
They seem to know about
everything us kids might need.
When we can't find the answer,
you tell us just where to look.
You make us search our head,
if it's not inside a book.
Learning things is easy,
with a teacher just like you.
You make learning fun,
so I'd like to say, a thank you.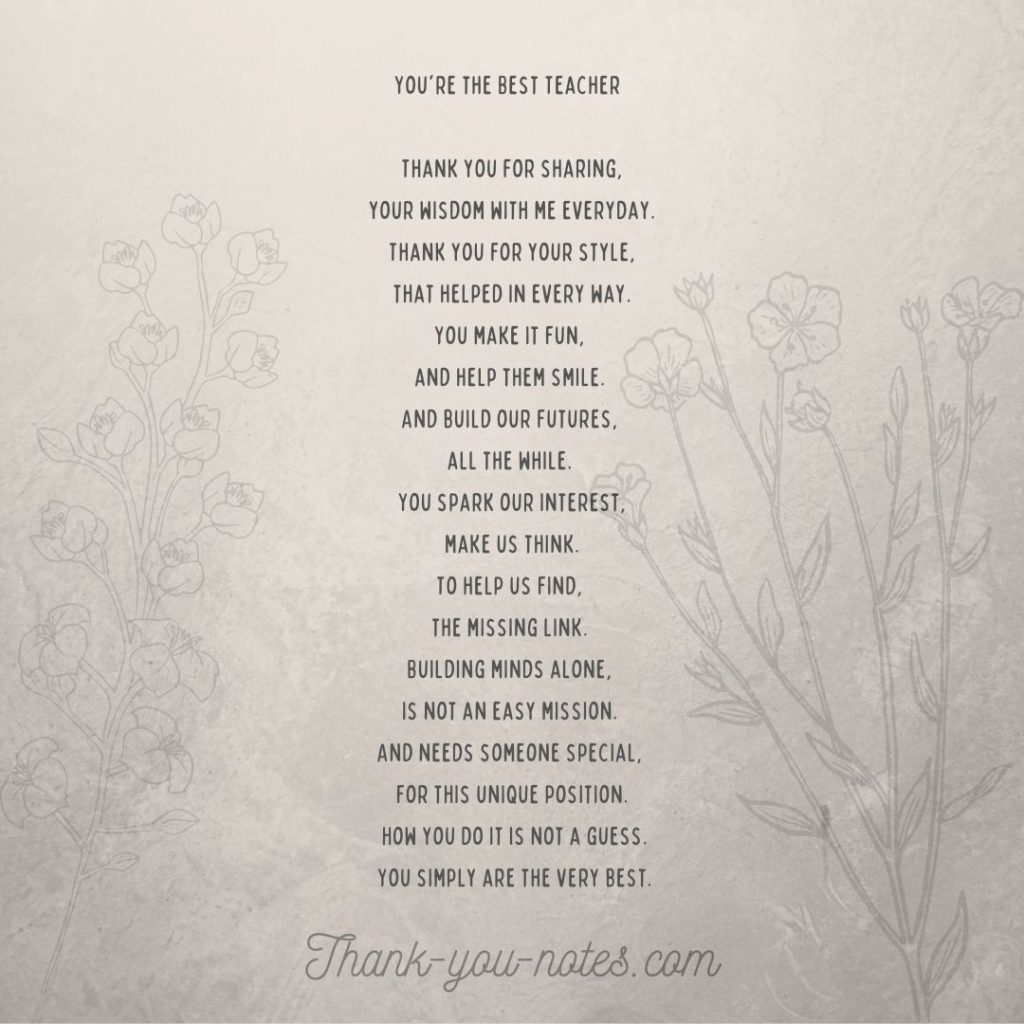 You're the Best Teacher

Thank you for sharing,
your wisdom with me everyday.
Thank you for your style,
that helped in every way.
You make it fun,
and help them smile.
And build our futures,
all the while.
You spark our interest,
make us think.
To help us find,
the missing link.
Building minds alone,
is not an easy mission.
And needs someone special,
for this unique position.
How you do it is not a guess.
You simply are the very best.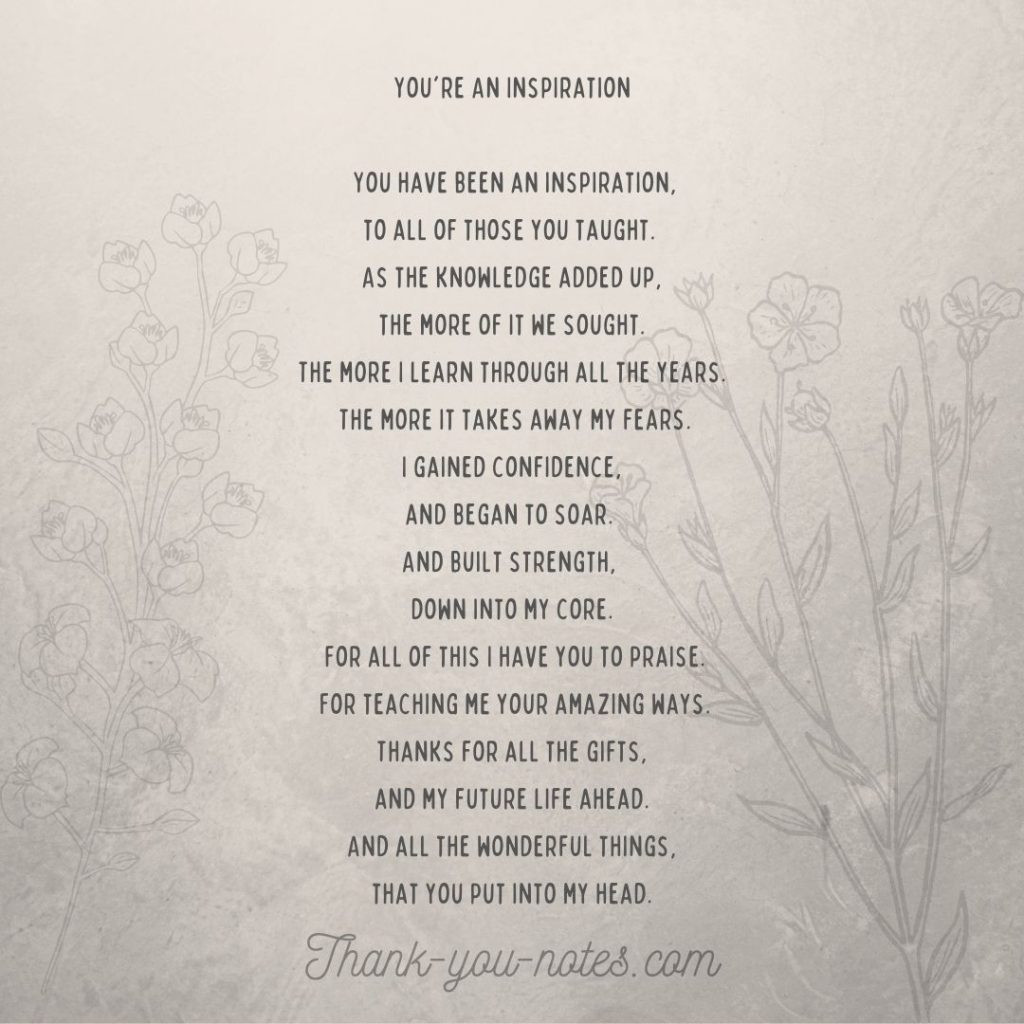 You're An Inspiration

You have been an inspiration,
to all of those you taught.
As the knowledge added up,
the more of it we sought.
The more I learn through all the years.
The more it takes away my fears.
I gained confidence,
and began to soar.
And built strength,
down into my core.
For all of this I have you to praise.
For teaching me your amazing ways.
Thanks for all the gifts,
and my future life ahead.
And all the wonderful things,
that you put into my head.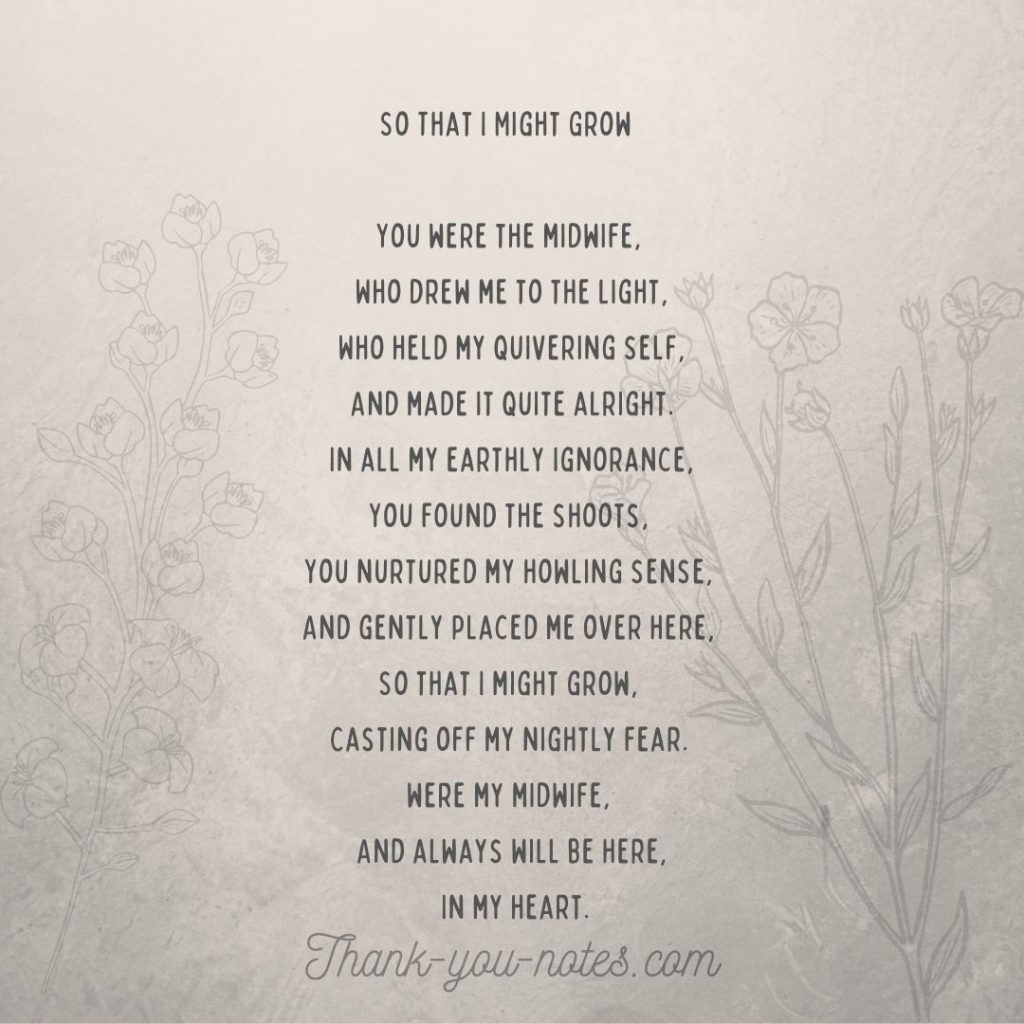 So That I Might Grow

You were the midwife,
Who drew me to the light,
Who held my quivering self,
And made it quite alright.
In all my earthly ignorance,
You found the shoots,
You nurtured my howling sense,
And gently placed me over here,
So that I might grow,
Casting off my nightly fear.
You were my midwife,
And always will be here,
In my heart.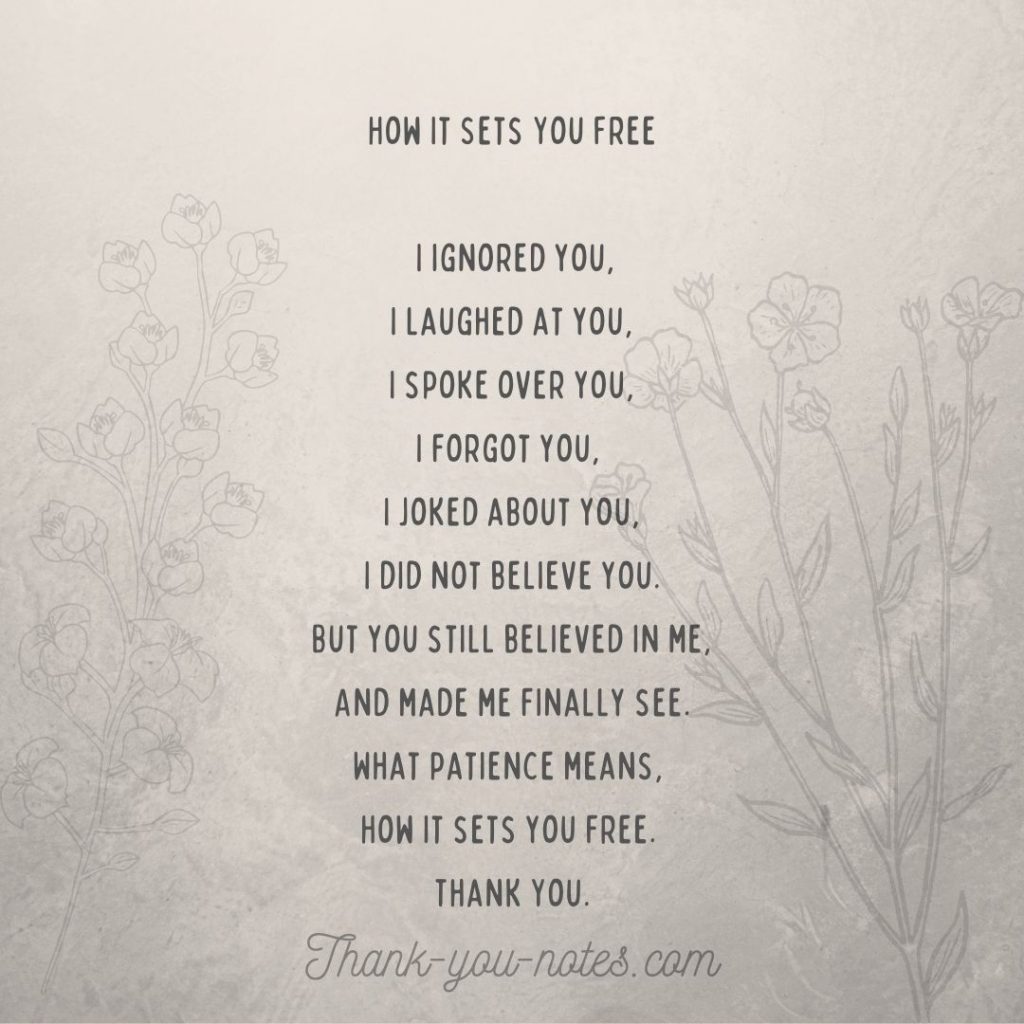 How It Sets You Free

I ignored you,
I laughed at you,
I spoke over you,
I forgot you,
I joked about you,
I did not believe you.
But you still believed in me,
And made me finally see.
What patience means,
How it sets you free.
Thank You.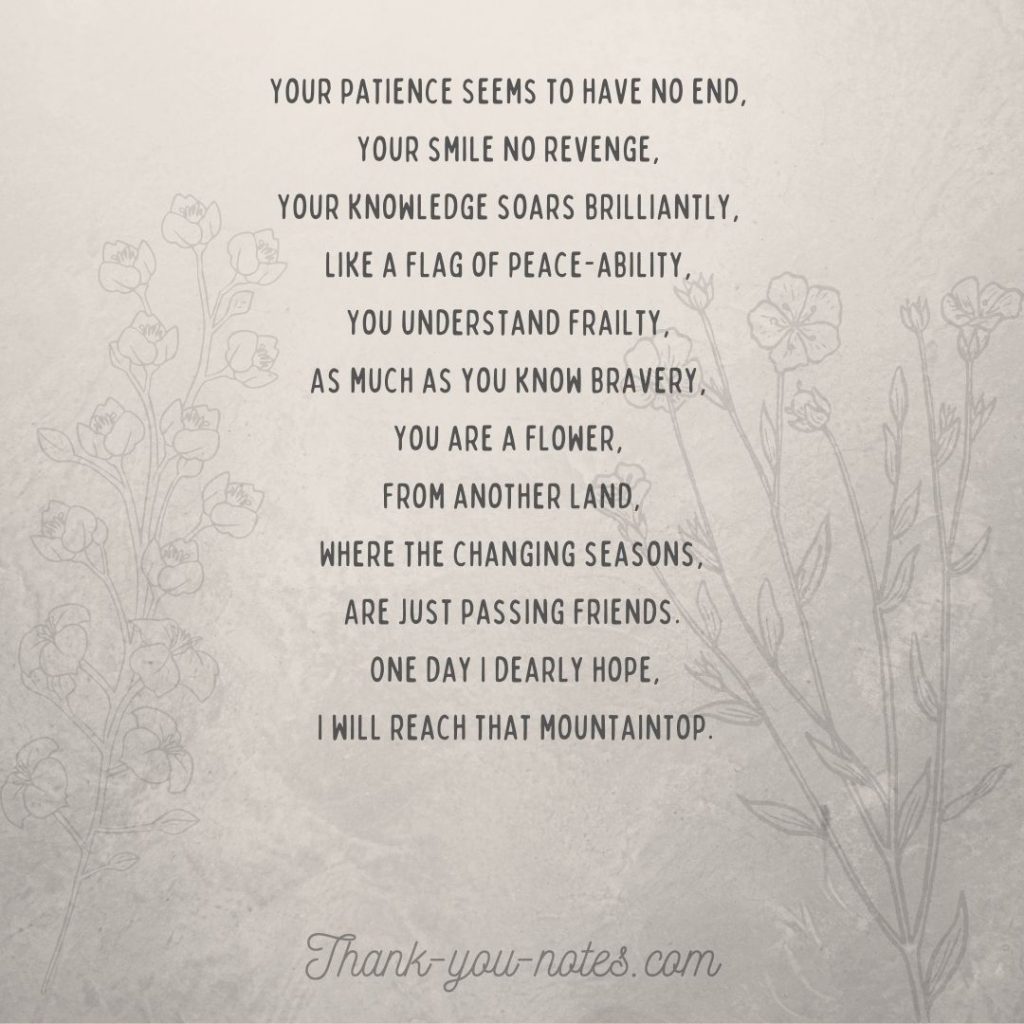 Your Patience Has no End

Your patience seems to have no end,
Your smile no revenge,
Your knowledge soars brilliantly,
Like a flag of peace-ability,
You understand frailty,
As much as you know bravery,
You are a flower,
From another land,
Where the changing seasons,
Are just passing friends.
One day I dearly hope,
I will reach that mountaintop.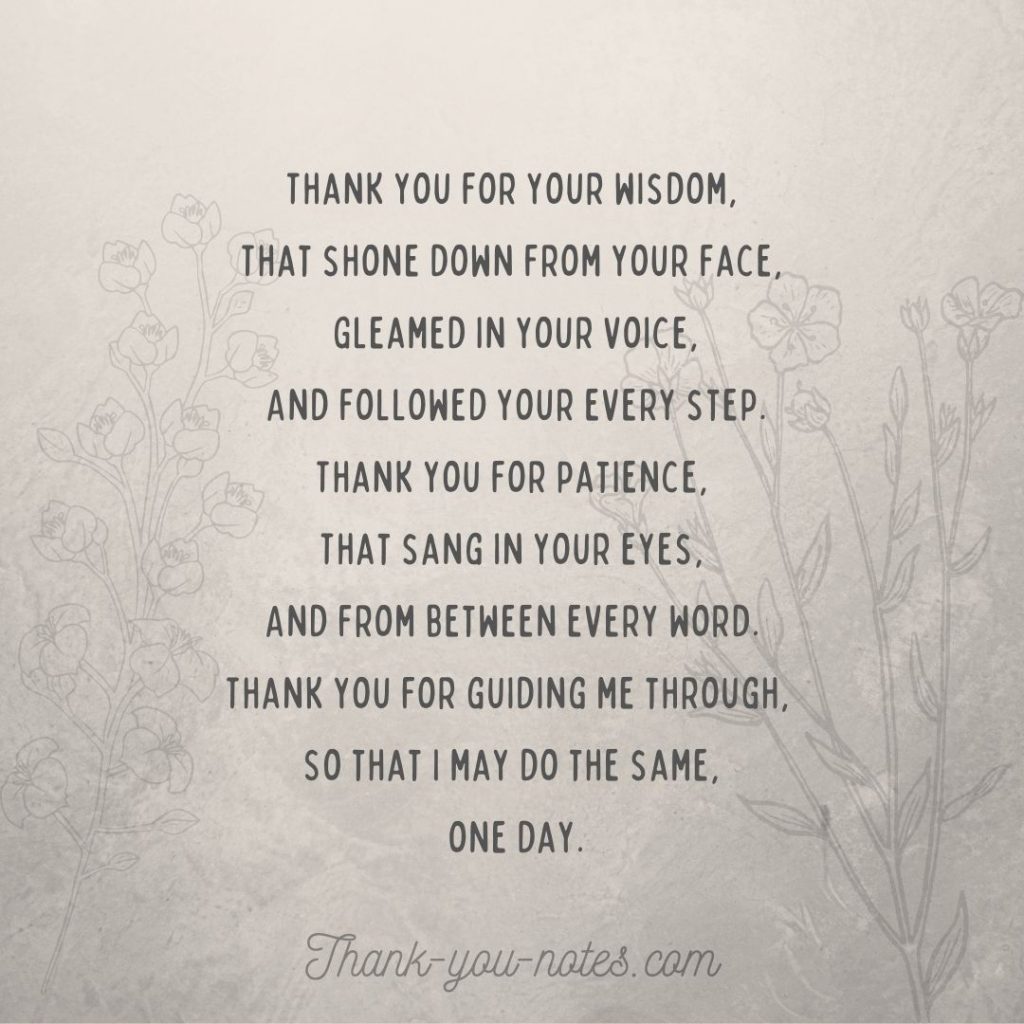 Thank You for Your Wisdom

Thank you for your wisdom,
That shone down from your face,
Gleamed in your voice,
And followed your every step.
Thank you for patience,
That sang in your eyes,
And from between every word.
Thank you for guiding me through,
So that I may do the same, one day.
More Thank You Poems for Different Occasions
Wedding Thank You Poems
Baby Shower Thank You Poems
Parent Thank You Poems