During the Christmas season, there is a lot of love and joy in the air. It is a tradition to give loved ones gifts during the Christmas season as a token of love and appreciation. Be sure to express gratitude for your Christmas gift.

This season, send heartfelt Christmas thank you messages to your friends and family. We've compiled a collection of thank you Christmas messages and quotes that you can use straight from the heart.
21 Examples of Christmas Thank You Notes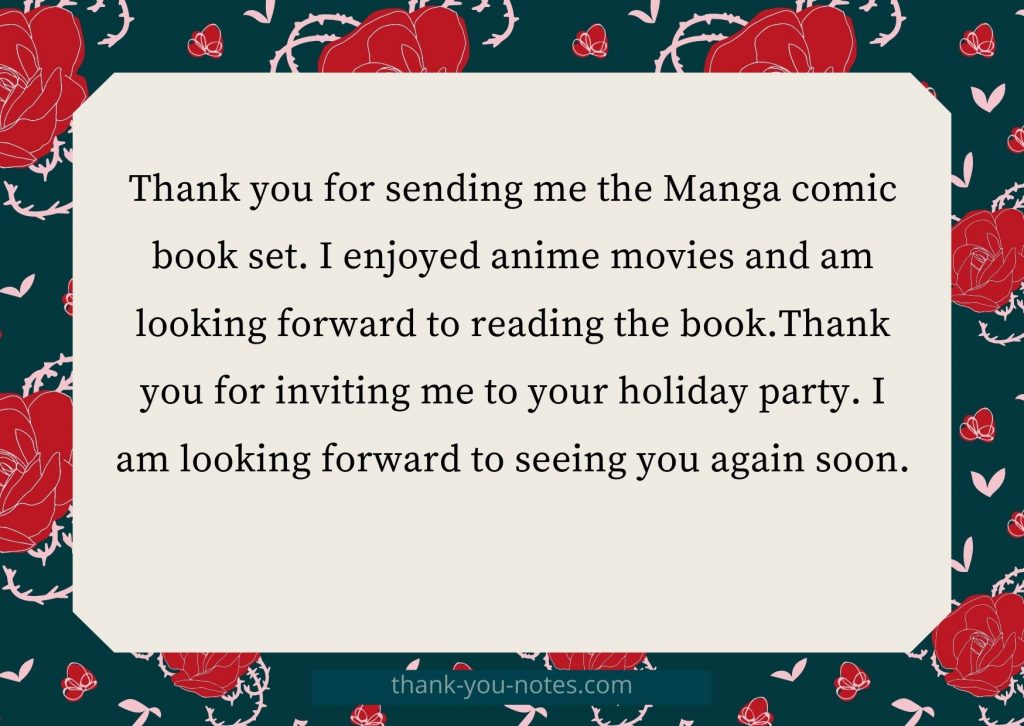 Thank you for sending me the Manga comic book set. I enjoyed anime movies and am looking forward to reading the book.Thank you for inviting me to your holiday party. I am looking forward to seeing you again soon.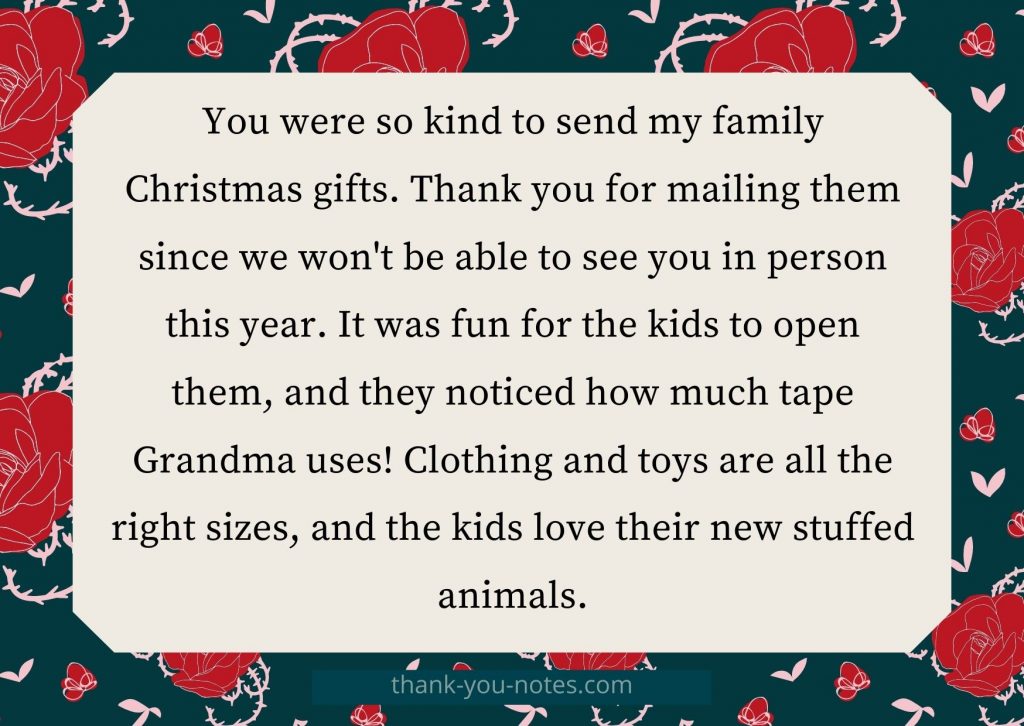 You were so kind to send my family Christmas gifts. Thank you for mailing them since we won't be able to see you in person this year. It was fun for the kids to open them, and they noticed how much tape Grandma uses! Clothing and toys are all the right sizes, and the kids love their new stuffed animals.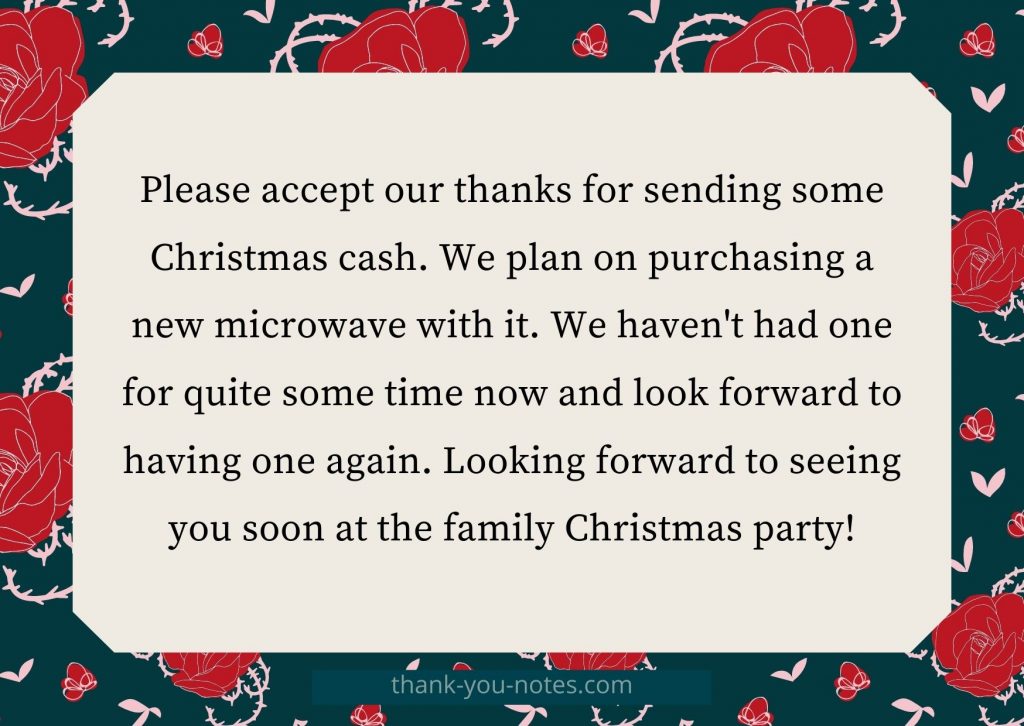 Please accept our thanks for sending some Christmas cash. We plan on purchasing a new microwave with it. We haven't had one for quite some time now and look forward to having one again. Looking forward to seeing you soon at the family Christmas party!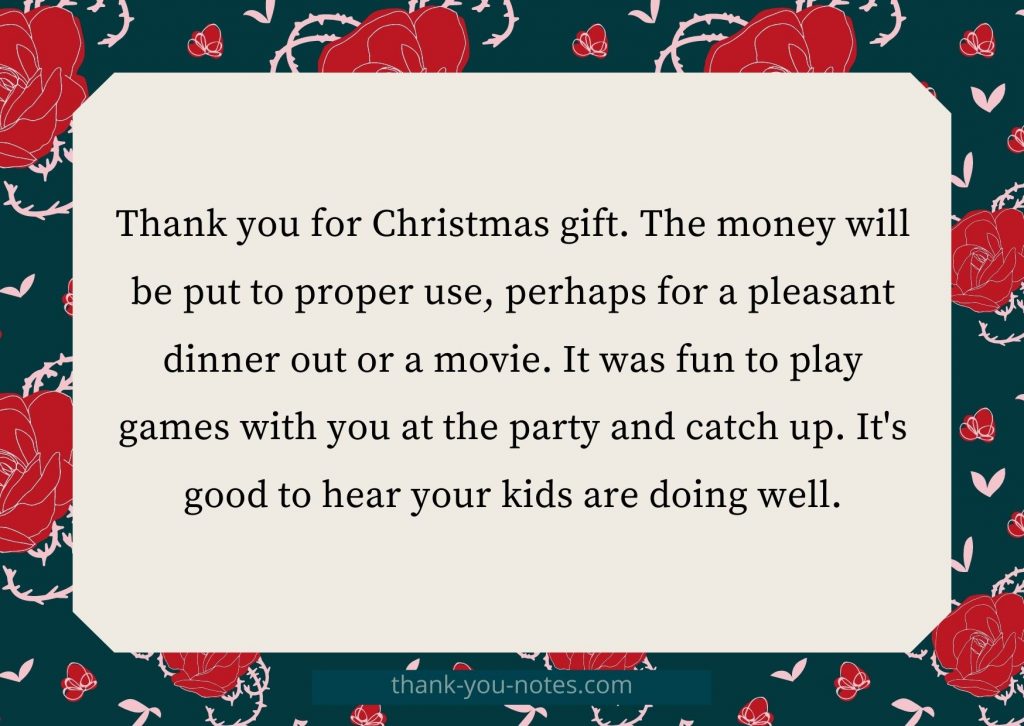 Thank you for Christmas gift. The money will be put to proper use, perhaps for a pleasant dinner out or a movie. It was fun to play games with you at the party and catch up. It's good to hear your kids are doing well.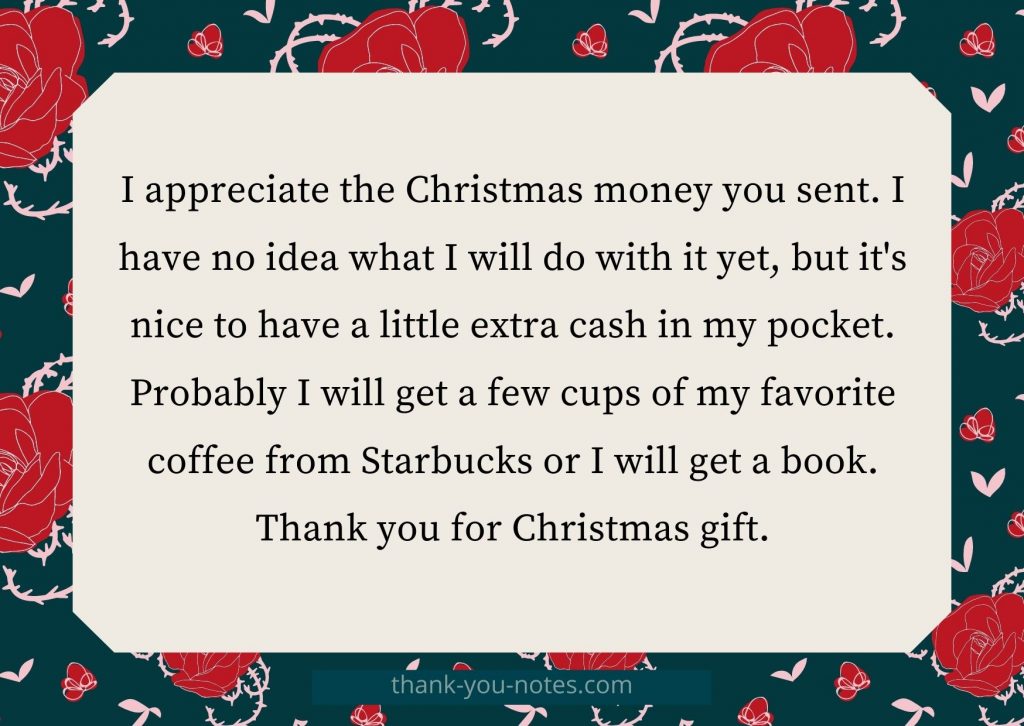 I appreciate the Christmas money you sent. I have no idea what I will do with it yet, but it's nice to have a little extra cash in my pocket. Probably I will get a few cups of my favorite coffee from Starbucks or I will get a book. Thank you for Christmas gift.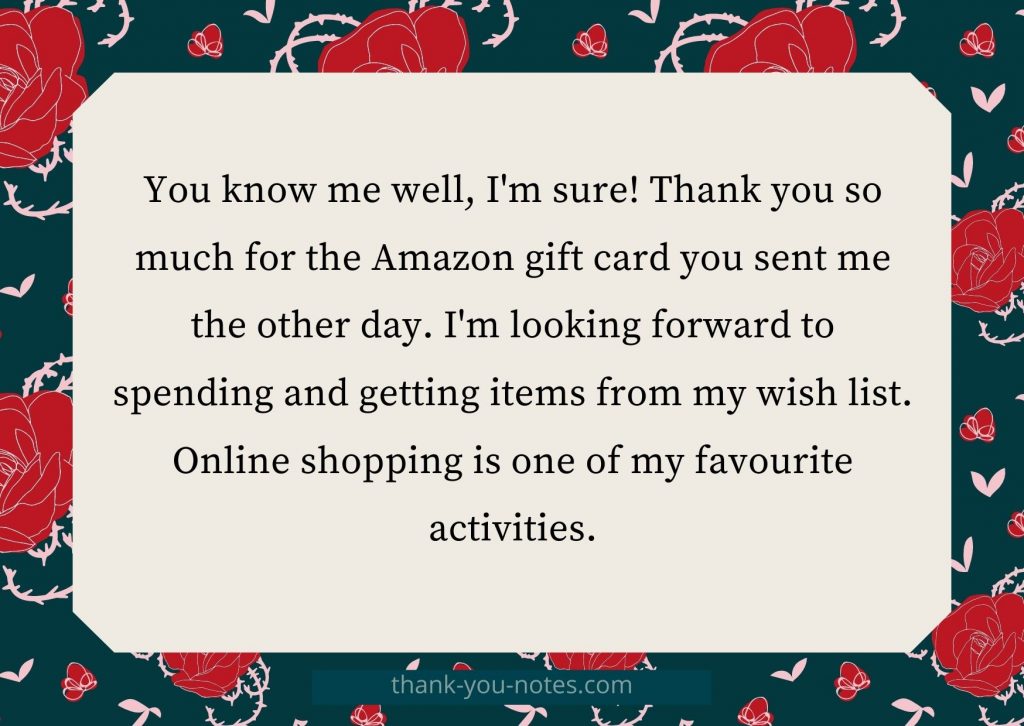 You know me well, I'm sure! Thank you so much for the Amazon gift card you sent me the other day. I'm looking forward to spending and getting items from my wish list. Online shopping is one of my favourite activities.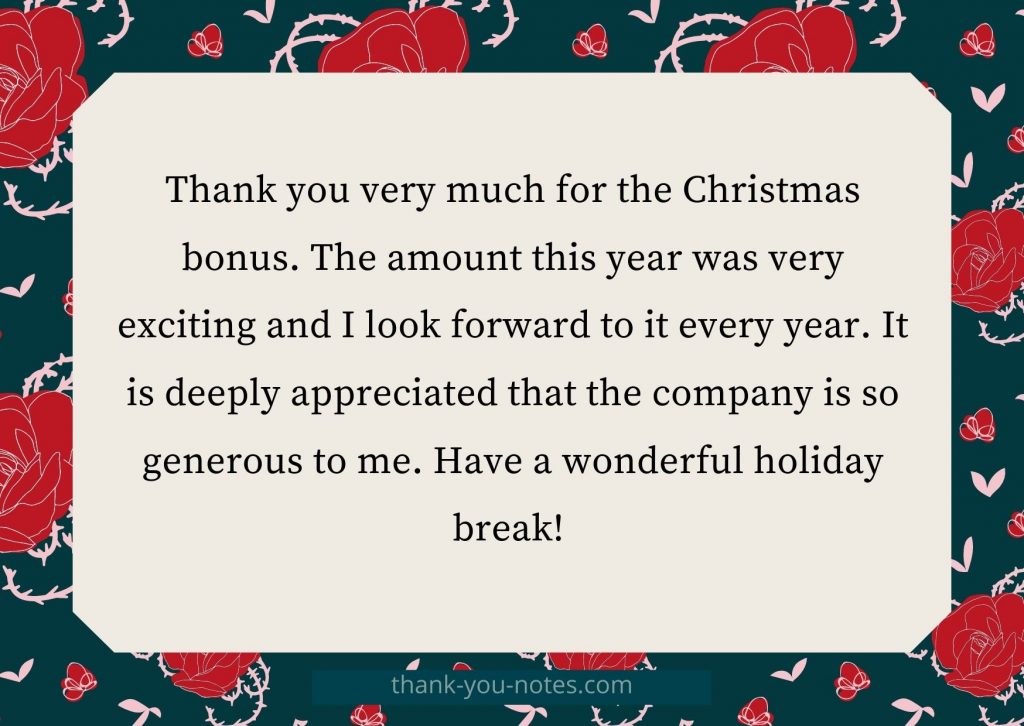 Thank you very much for the Christmas bonus. The amount this year was very exciting and I look forward to it every year. It is deeply appreciated that the company is so generous to me. Have a wonderful holiday break!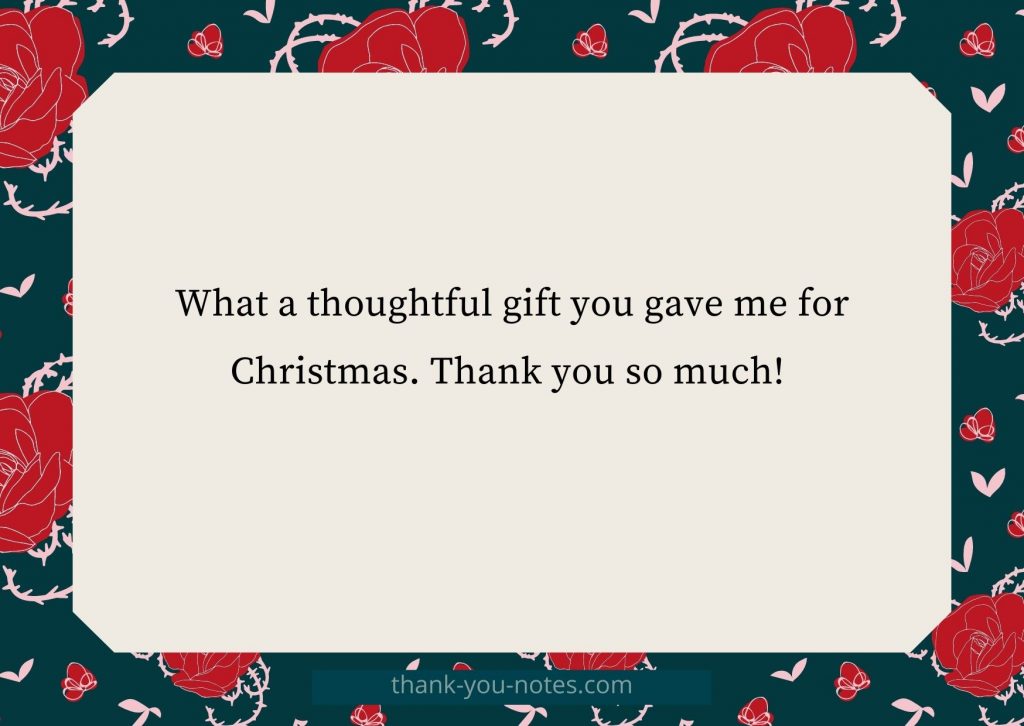 What a thoughtful gift you gave me for Christmas. Thank you so much!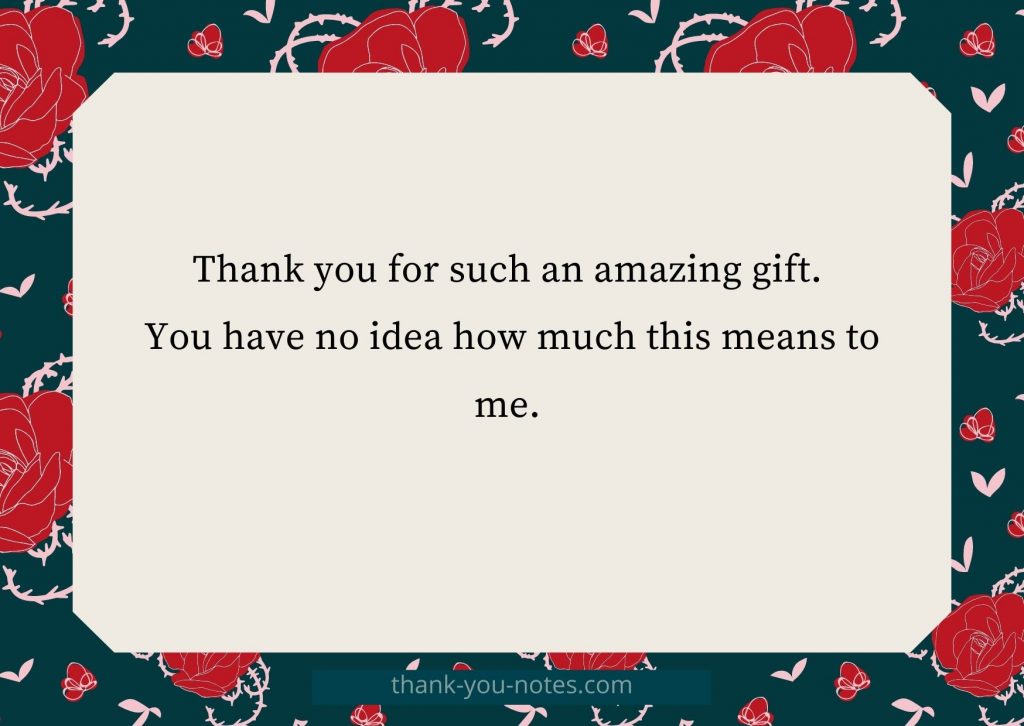 Thank you for such an amazing gift. You have no idea how much this means to me.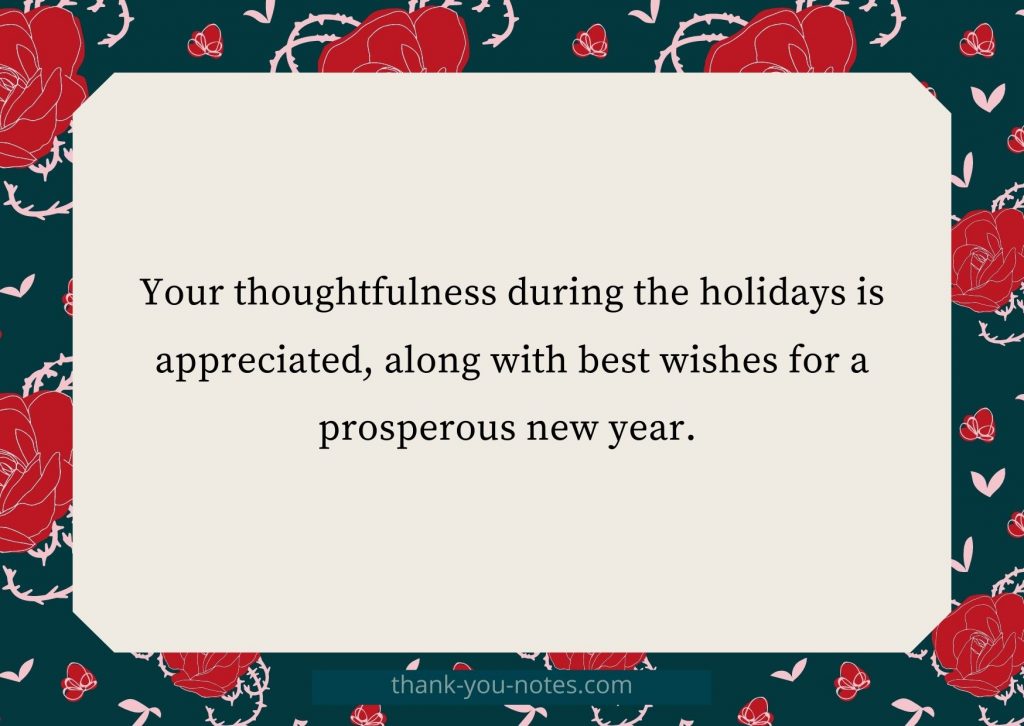 Your thoughtfulness during the holidays is appreciated, along with best wishes for a prosperous new year.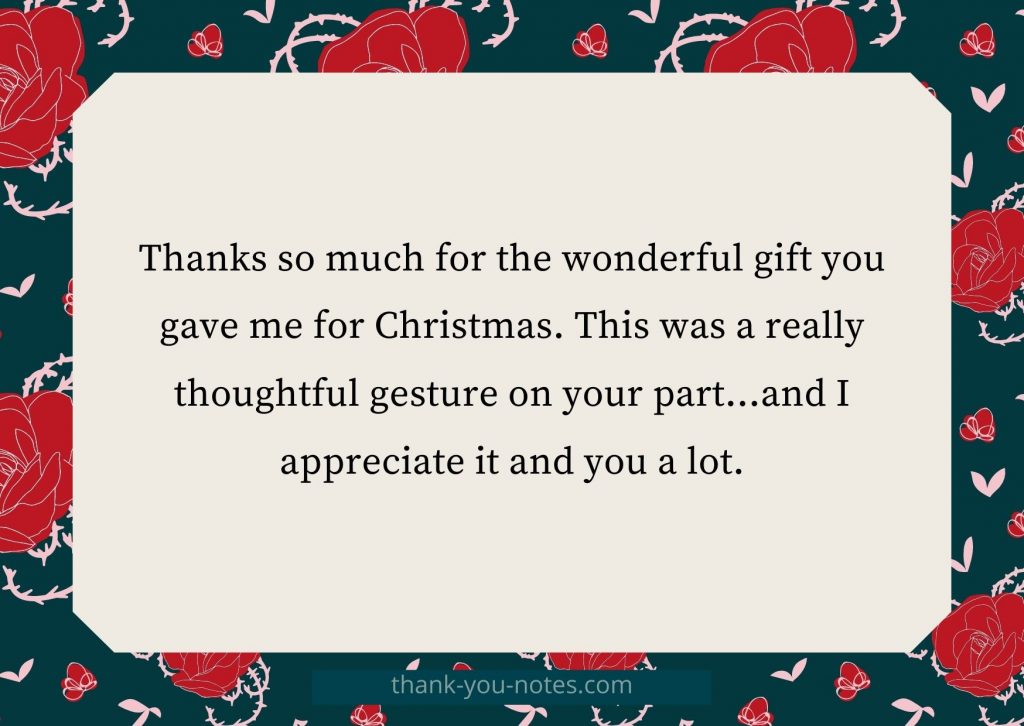 Thanks so much for the wonderful gift you gave me for Christmas. This was a really thoughtful gesture on your part...and I appreciate it and you a lot.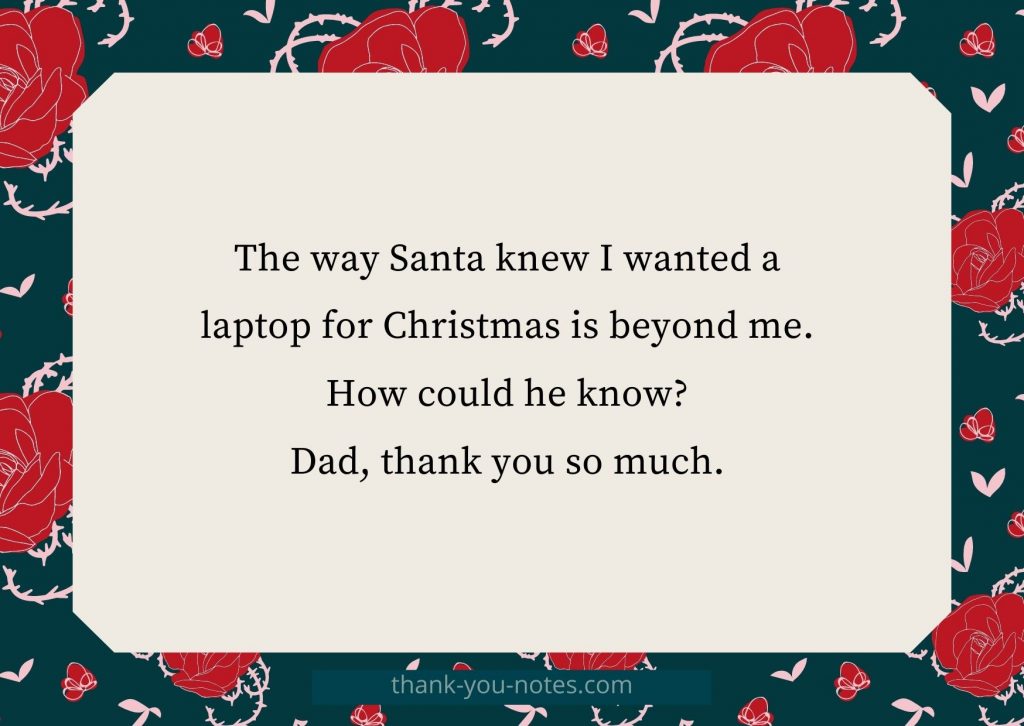 The way Santa knew I wanted a laptop for Christmas is beyond me. How could he know? Dad, thank you so much.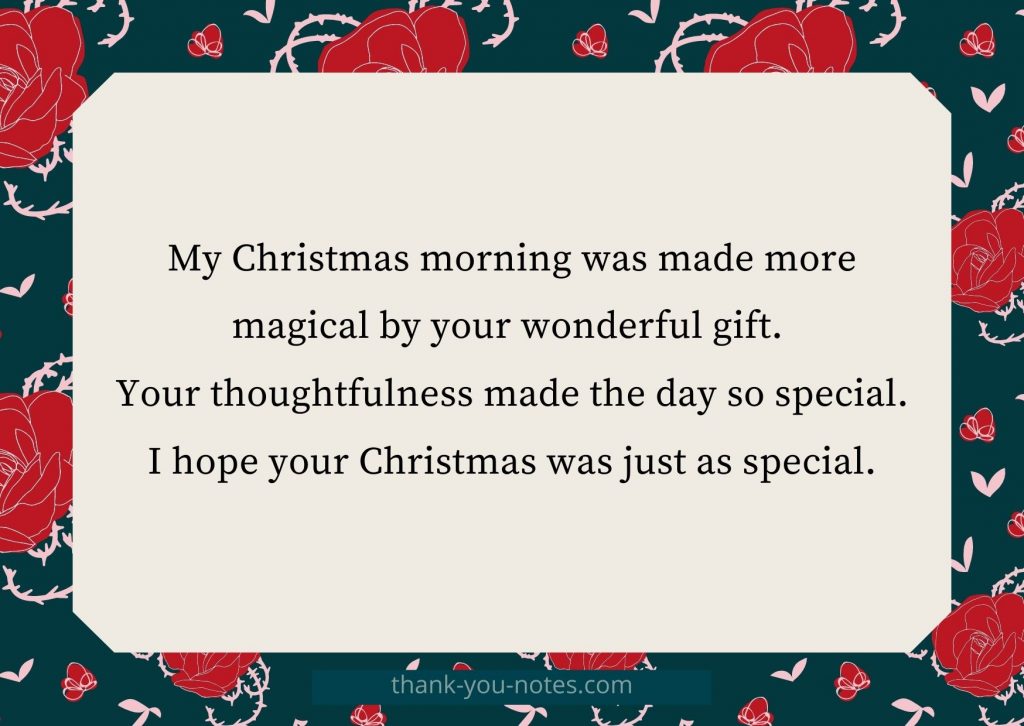 My Christmas morning was made more magical by your wonderful gift. Your thoughtfulness made the day so special. I hope your Christmas was just as special.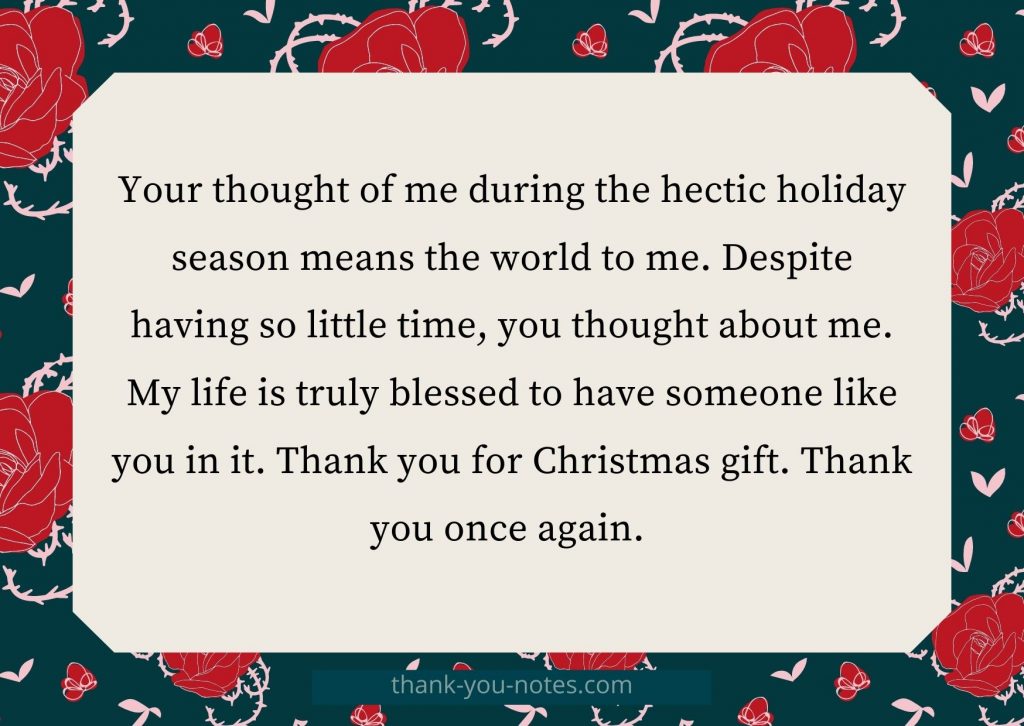 Your thought of me during the hectic holiday season means the world to me. Despite having so little time, you thought about me. My life is truly blessed to have someone like you in it. Thank you for Christmas gift. Thank you once again.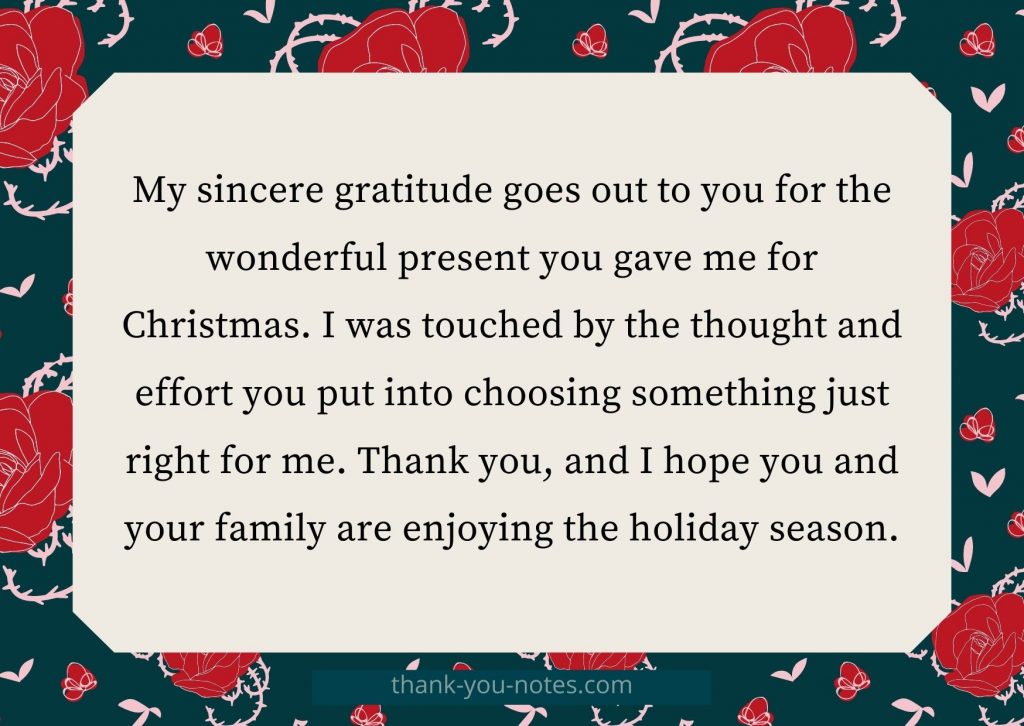 My sincere gratitude goes out to you for the wonderful present you gave me for Christmas. I was touched by the thought and effort you put into choosing something just right for me. Thank you, and I hope you and your family are enjoying the holiday season.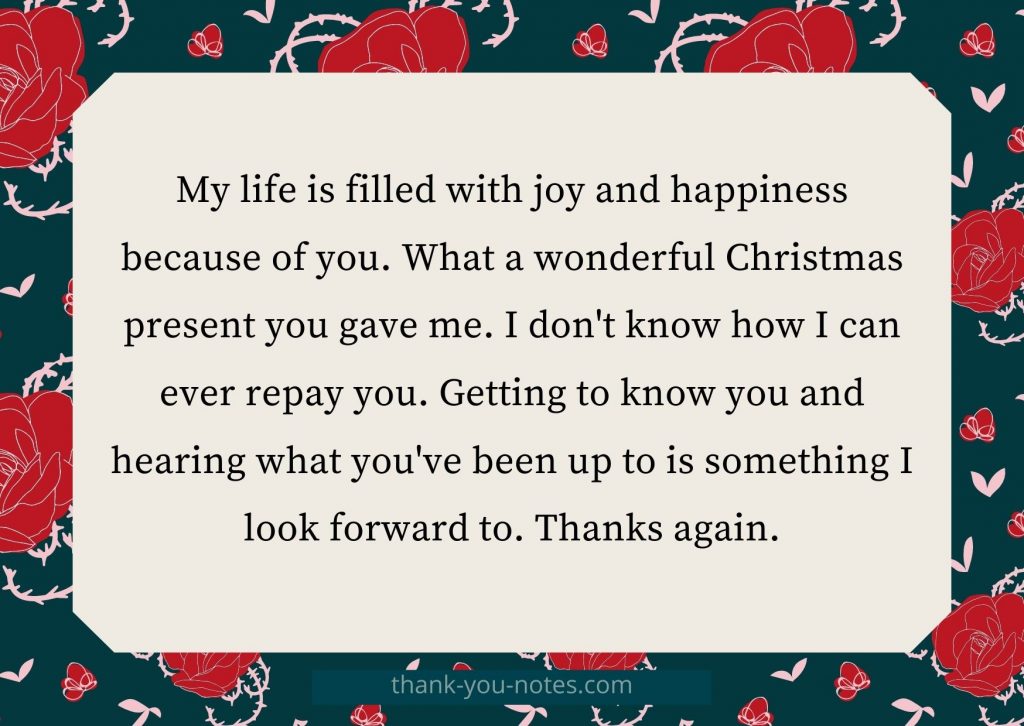 My life is filled with joy and happiness because of you. What a wonderful Christmas present you gave me. I don't know how I can ever repay you. Getting to know you and hearing what you've been up to is something I look forward to. Thanks again.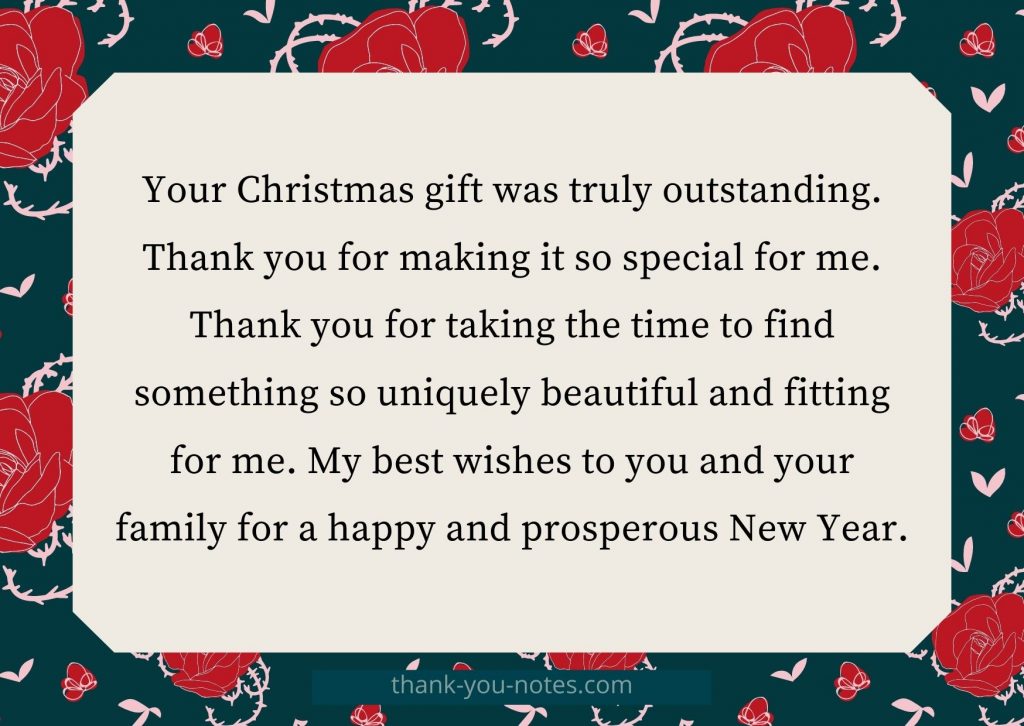 Wishing you and your family a peaceful and happy holiday season. You made my Christmas even more special with your thoughtful gift. I wish you all a happy, healthy, and prosperous new year.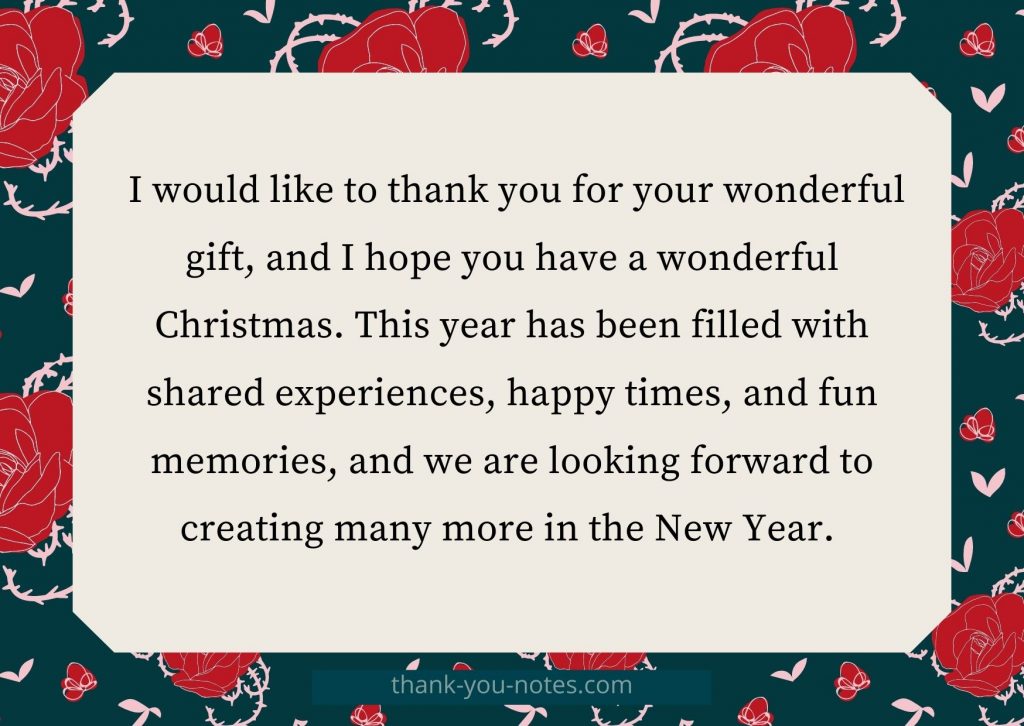 Your Christmas gift was truly outstanding. Thank you for making it so special for me. Thank you for taking the time to find something so uniquely beautiful and fitting for me. My best wishes to you and your family for a happy and prosperous New Year.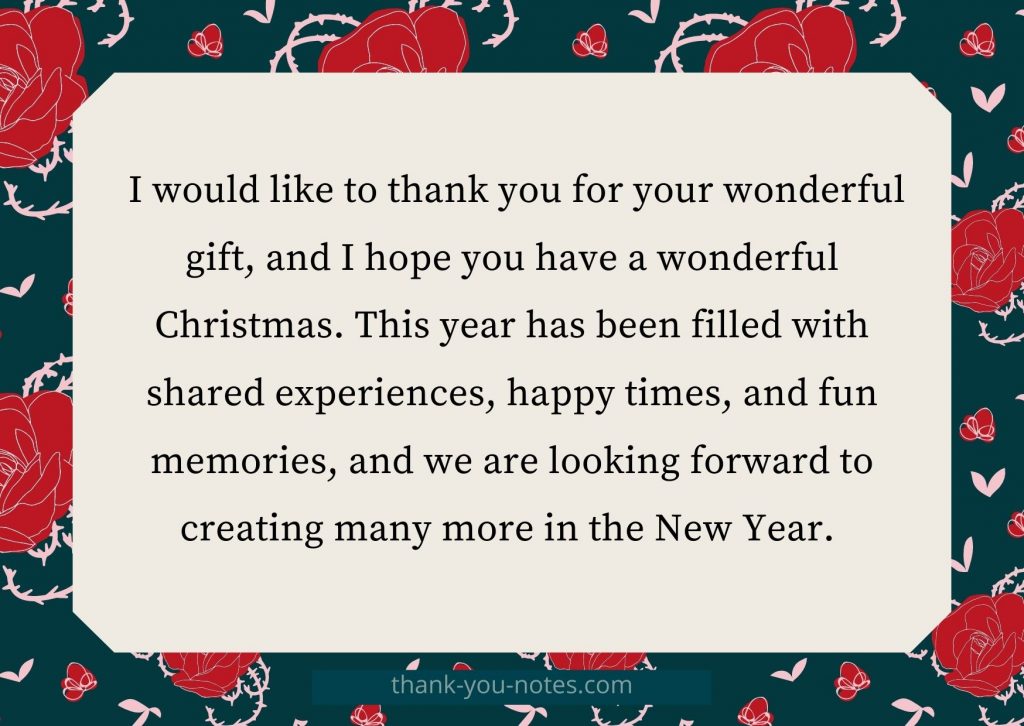 I would like to thank you for your wonderful gift, and I hope you have a wonderful Christmas. This year has been filled with shared experiences, happy times, and fun memories, and we are looking forward to creating many more in the New Year.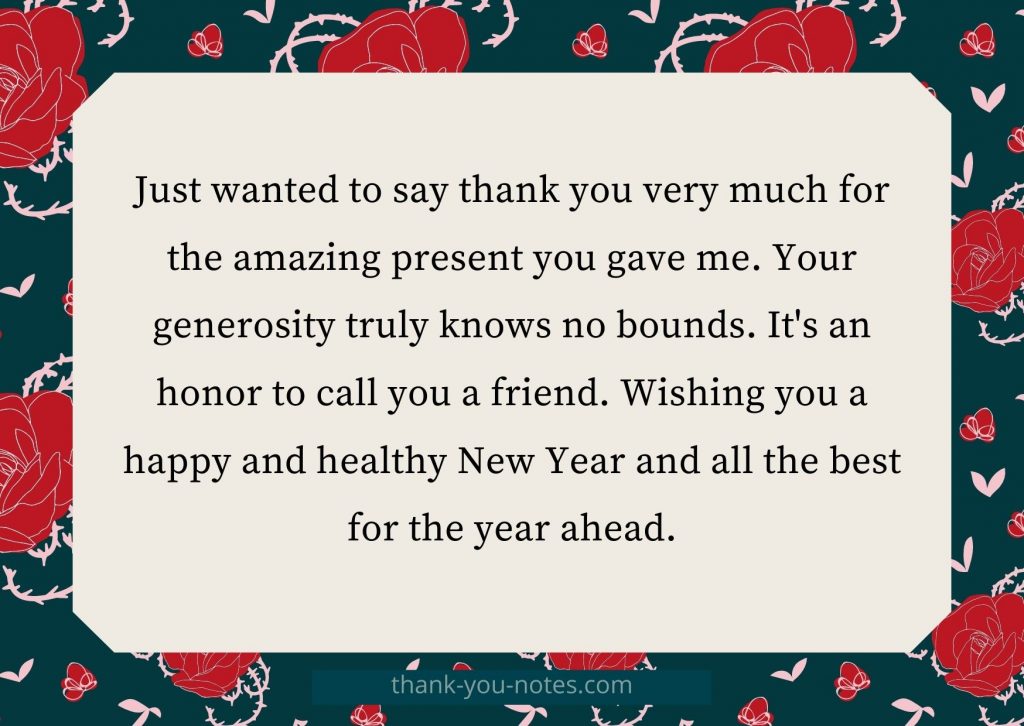 Just wanted to say thank you very much for the amazing present you gave me. Your generosity truly knows no bounds. It's an honor to call you a friend. Wishing you a happy and healthy New Year and all the best for the year ahead.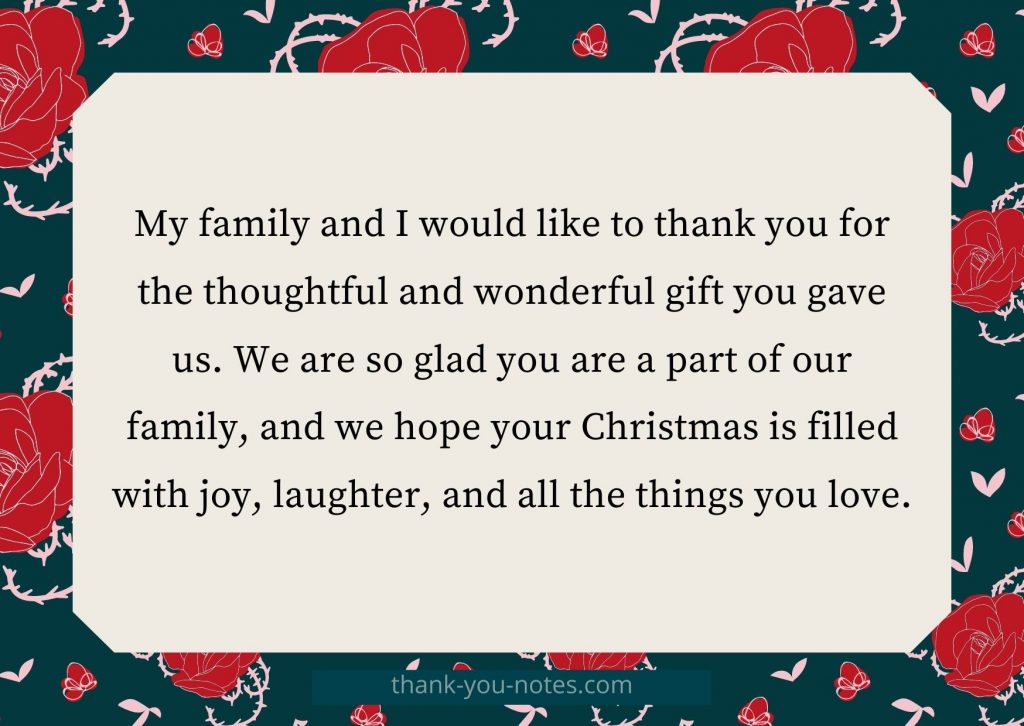 My family and I would like to thank you for the thoughtful and wonderful gift you gave us. We are so glad you are a part of our family, and we hope your Christmas is filled with joy, laughter, and all the things you love.
More Christmas thank you note help…
Thank You Notes for Money
Thank You Card Wording
Christian Thank You Quotes
The best Christmas gift thank you is one that comes from the heart and is written in a spirit of appreciation for both the gift and the giver. Grab a warm winter mug of coffee, tea or hot chocolate, your pen and thank you cards, and let's be grateful!
Thank you for reading this guide! Please share it with your friends! Have a wonderful holiday season.