The loss of a loved one is a difficult thing to deal with. Friends and loved ones will undoubtedly send their condolences and sympathies. It can be stressful and time-consuming to figure out how to respond to their condolence messages.
You only need to write a simple sentence or two in your sympathy thank you note. The important thing is that you acknowledge the thoughtfulness of others. As long as your words are heartfelt, they can be brief.
The following are great condolence thank you messages that will help you easily and effortlessly send heartfelt and sincerely grateful condolence replies.
10 Notes of Thank You For Condolences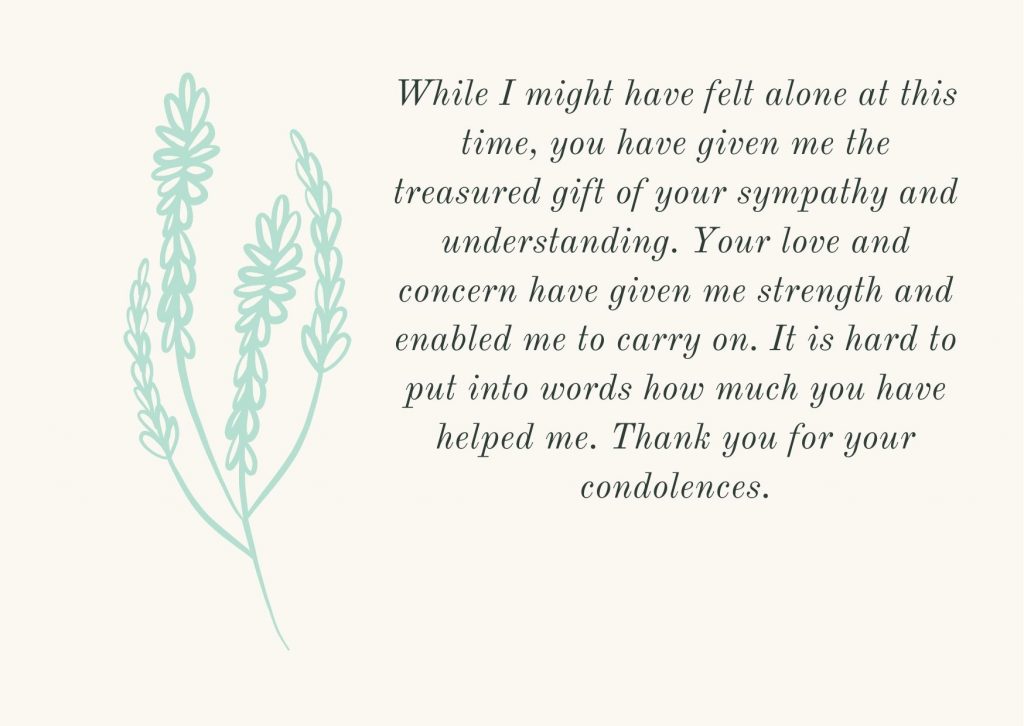 While I might have felt alone at this time, you have given me the treasured gift of your sympathy and understanding. Your love and concern have given me strength and enabled me to carry on. It is hard to put into words how much you have helped me. Thank you for your condolences.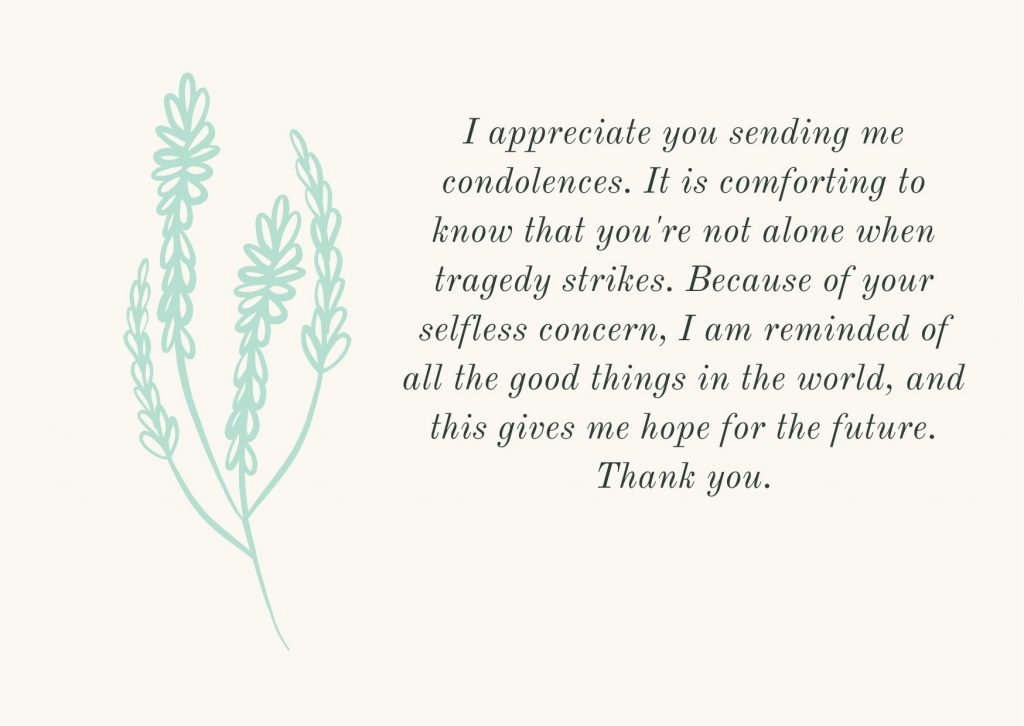 I appreciate you sending me condolences. It is comforting to know that you're not alone when tragedy strikes. Because of your selfless concern, I am reminded of all the good things in the world, and this gives me hope for the future. Thank you.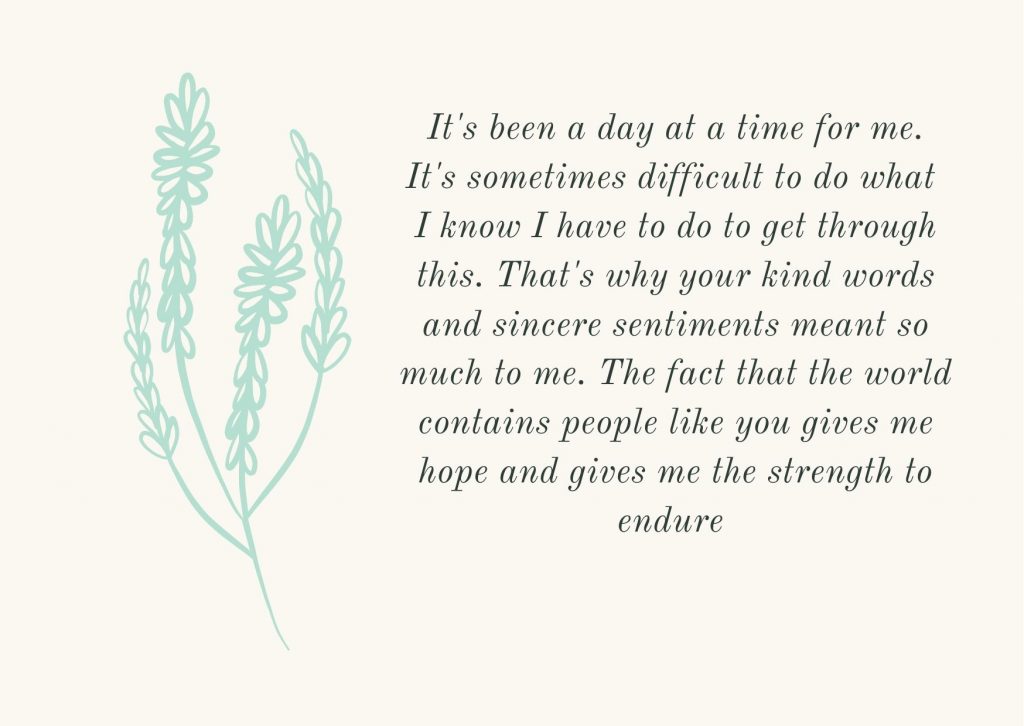 It's been a day at a time for me. It's sometimes difficult to do what I know I have to do to get through this. That's why your kind words and sincere sentiments meant so much to me. The fact that the world contains people like you gives me hope and gives me the strength to endure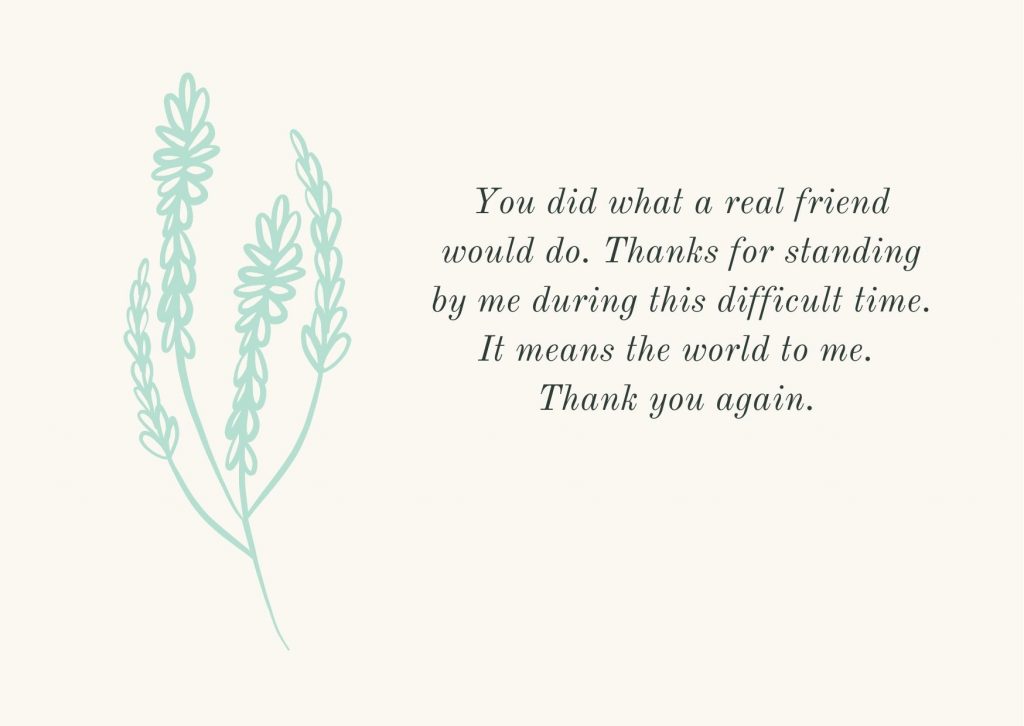 You did what a real friend would do. Thanks for standing by me during this difficult time. It means the world to me. Thank you again.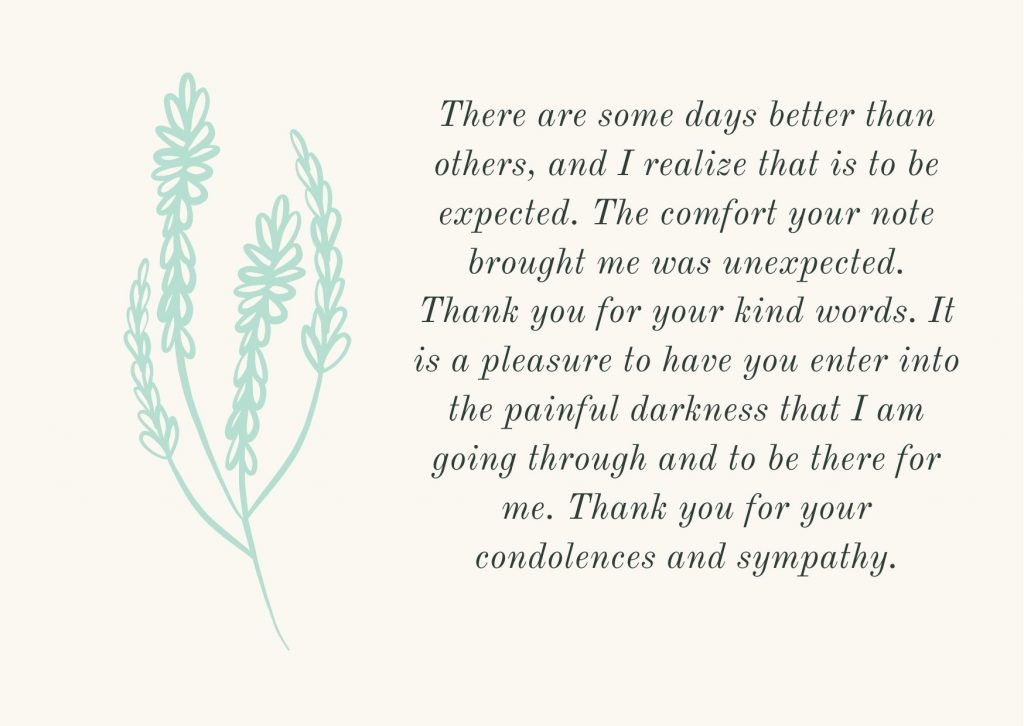 There are some days better than others, and I realize that is to be expected. The comfort your note brought me was unexpected. Thank you for your kind words. It is a pleasure to have you enter into the painful darkness that I am going through and to be there for me. Thank you for your condolences and sympathy.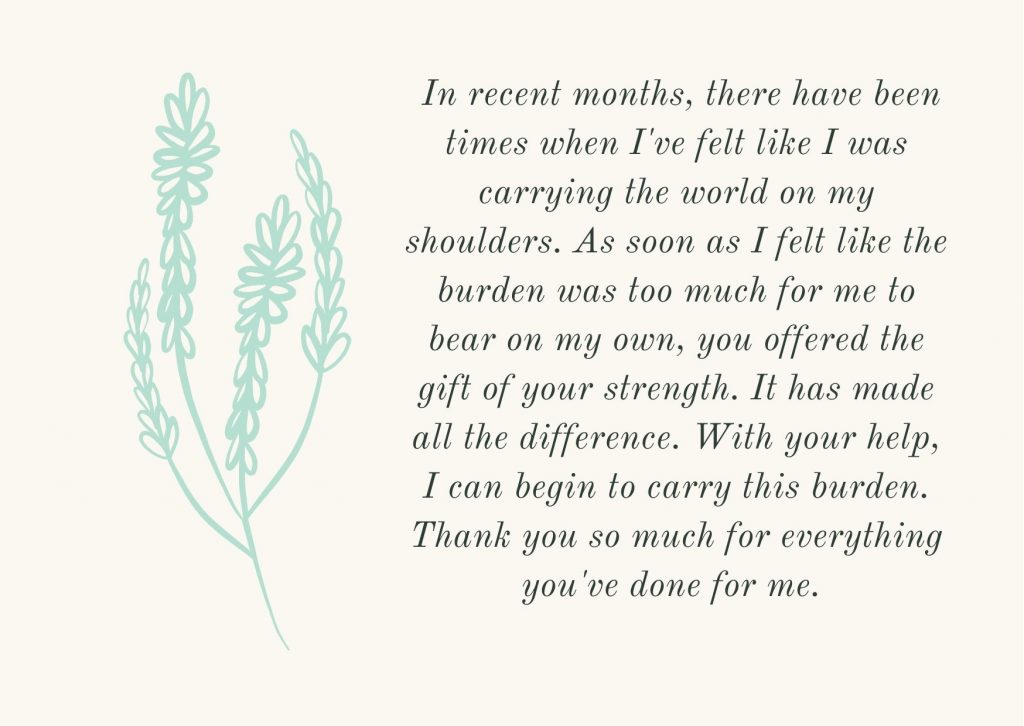 In recent months, there have been times when I've felt like I was carrying the world on my shoulders. As soon as I felt like the burden was too much for me to bear on my own, you offered the gift of your strength. It has made all the difference. With your help, I can begin to carry this burden. Thank you so much for everything you've done for me.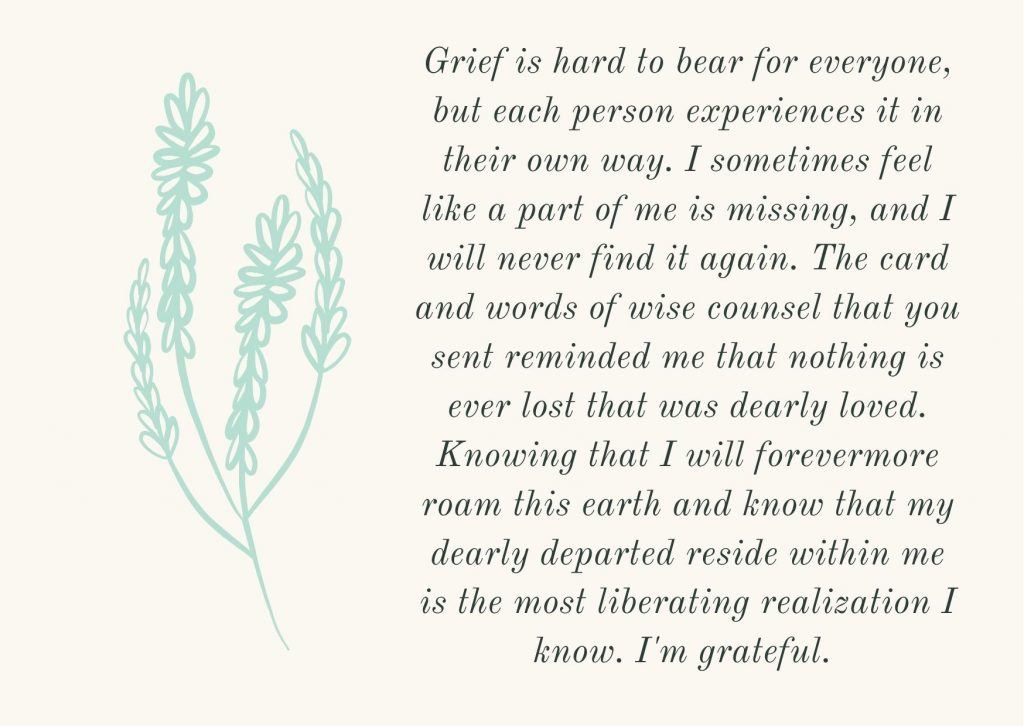 Grief is hard to bear for everyone, but each person experiences it in their own way. I sometimes feel like a part of me is missing, and I will never find it again. The card and words of wise counsel that you sent reminded me that nothing is ever lost that was dearly loved. Knowing that I will forevermore roam this earth and know that my dearly departed reside within me is the most liberating realization I know. I'm grateful.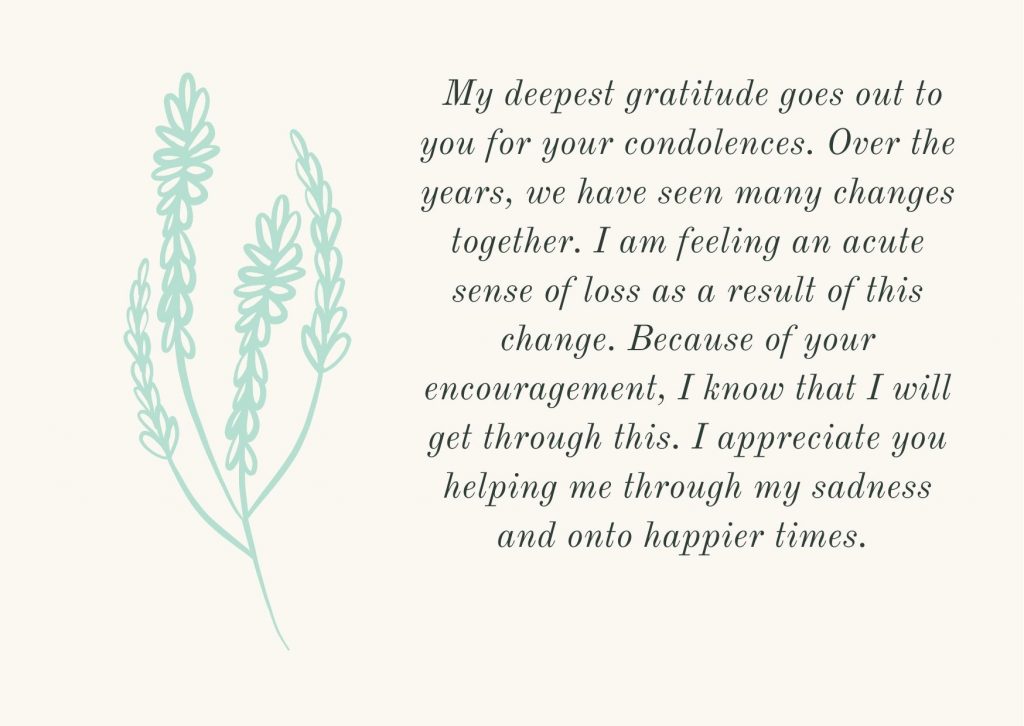 My deepest gratitude goes out to you for your condolences. Over the years, we have seen many changes together. I am feeling an acute sense of loss as a result of this change. Because of your encouragement, I know that I will get through this. I appreciate you helping me through my sadness and onto happier times.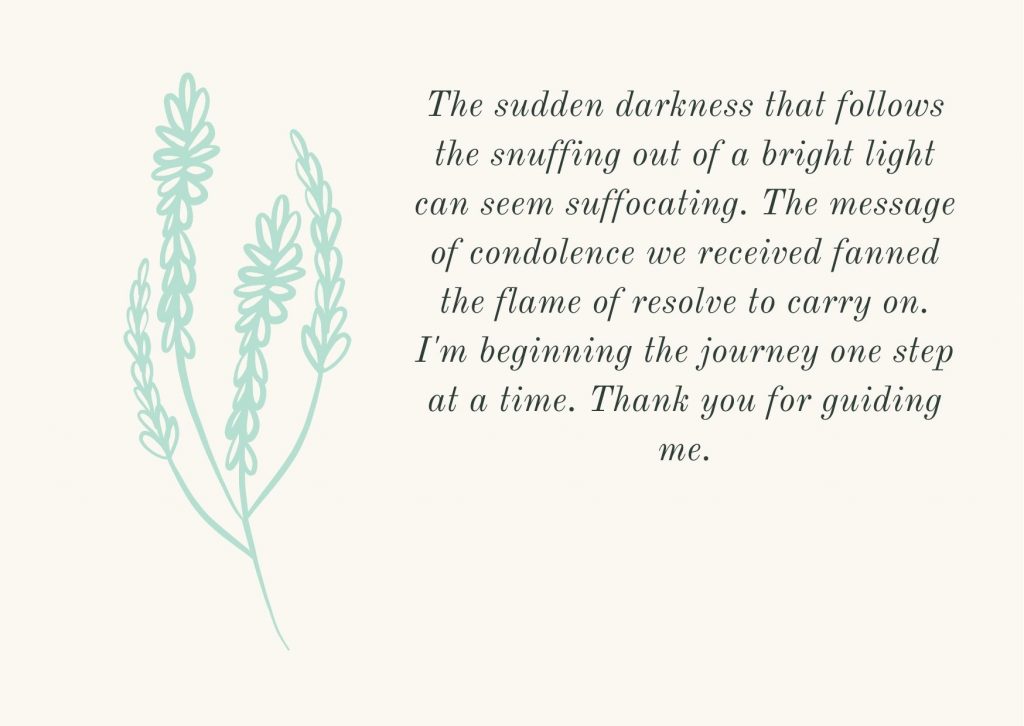 The sudden darkness that follows the snuffing out of a bright light can seem suffocating. The message of condolence we received fanned the flame of resolve to carry on. I'm beginning the journey one step at a time. Thank you for guiding me.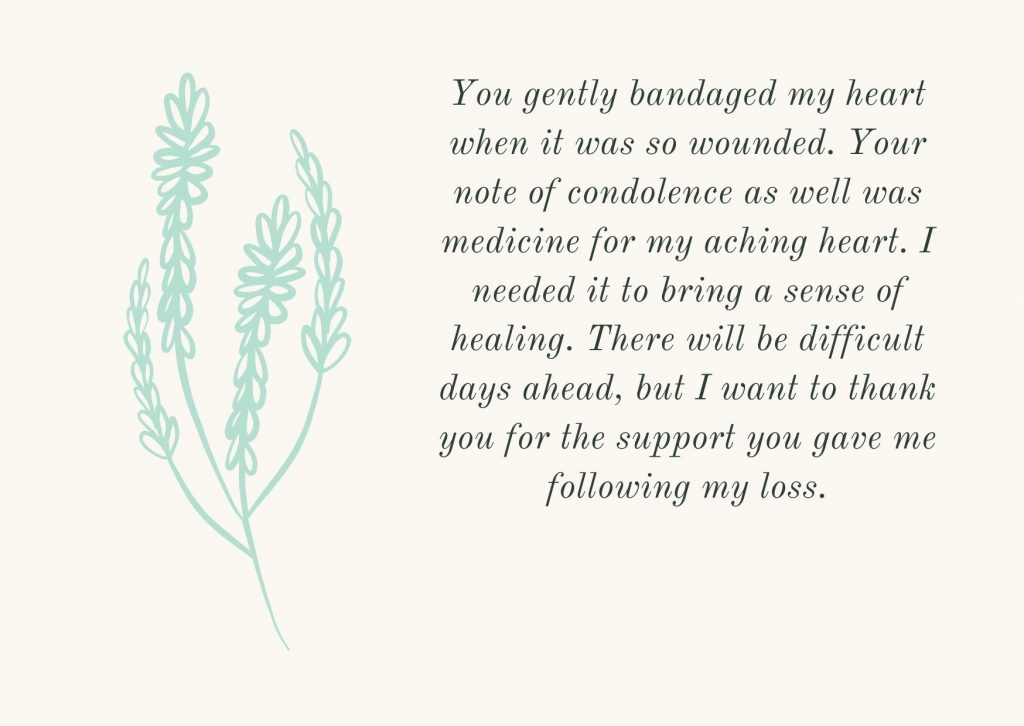 You gently bandaged my heart when it was so wounded. Your note of condolence as well was medicine for my aching heart. I needed it to bring a sense of healing. There will be difficult days ahead, but I want to thank you for the support you gave me following my loss.
You can use these examples to express your gratitude to others who have offered condolences. When you struggle with your emotions, it can be difficult to put your thoughts into words.
The perfect response doesn't have to be scripted. People will understand you're struggling most of the time. They should be compassionate toward your grief instead of judging your word choice.