In a world where the future seems unpredictable and uncertain, a person may lose sight of themselves. However, it is important to remember that during these chaotic times, the people who care about you have always been there to guide and support you. Through this detailed blog, we present to you 50 beautiful thank you for your support and guidance quotes.
Whether you had a tough day at work, secured a great score in a competitive exam, or needed a space in which you could talk about your difficulties, these were the people who were next to you. Whether it is your friend, a family member, or a work colleague, expressing your thanks helps create a stronger connection and fosters a harmonious relationship.
Through this blog, we will delve deep into the realm of extending our heartfelt gratitude to the people who have supported and guided us. Thanking someone for their support and guidance makes them feel acknowledged and appreciated.
Why is it important to express gratitude to someone for their support and guidance?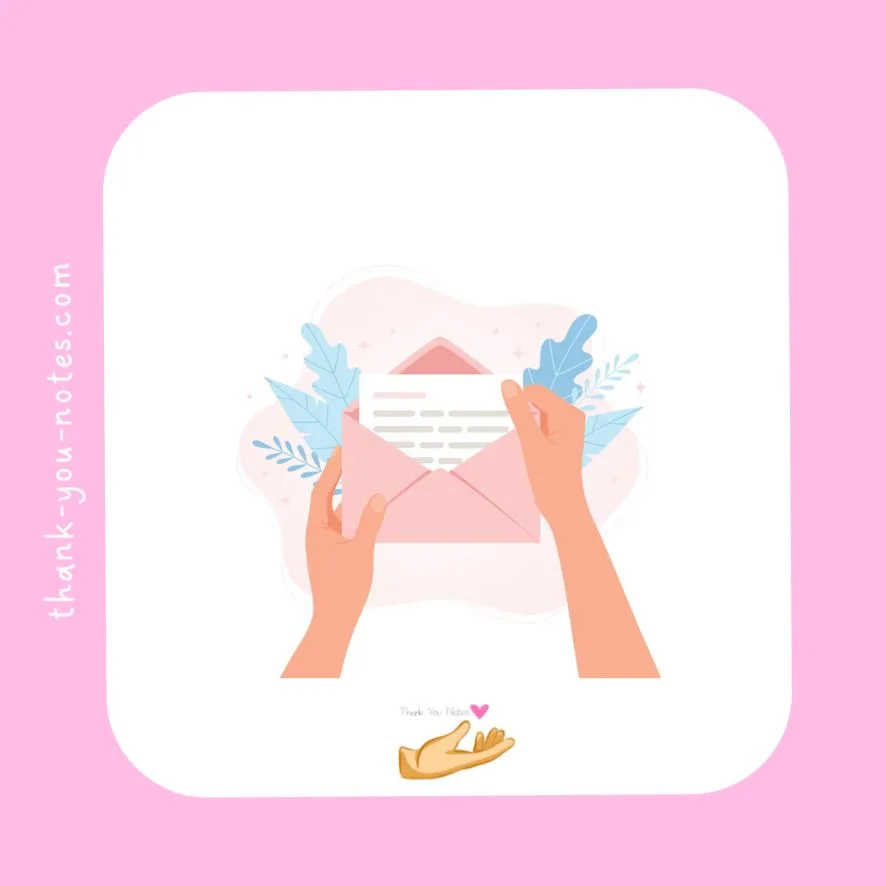 Thanking someone for their support and guidance is more than just being polite. It has the power to create a deep-seated connection, cultivate a positive relationship, and contribute to one's personal growth and development. Expressing gratitude to someone for their constant support is crucial.
1. Strengthens relationships– Expressing gratitude helps one become more mindful of their surroundings. It creates a positive and optimistic tone of interaction. Gratitude symbolizes appreciation and acknowledgment. This ensures the concerned person that you value them in your life which results in improved quality of relationships and strengthening of bonds.
2. Boosts empathy– Expressing gratitude shows signs of greater compassion and kindness. Having a magnanimous personality helps in creating a domino effect, allowing you to understand how important expressing gratitude is and reciprocating it more often.
3. Promoting a positive mindset and better well-being– Expressing gratitude helps in facilitating more positive thinking. You start appreciating the small things in life more and stop overthinking about things that are not within your control. Expressing gratitude helps reduce anxiety and stress-inducing situations as well.
4. Develops personality– Expressing gratitude makes you a better version of yourself every day. As humans, we crave interpersonal bonds. Expressing gratitude helps you reflect more on yourself and increases self-humility. You also grow into a more generous version of yourself.
Thank you for your support and guidance quotes: Family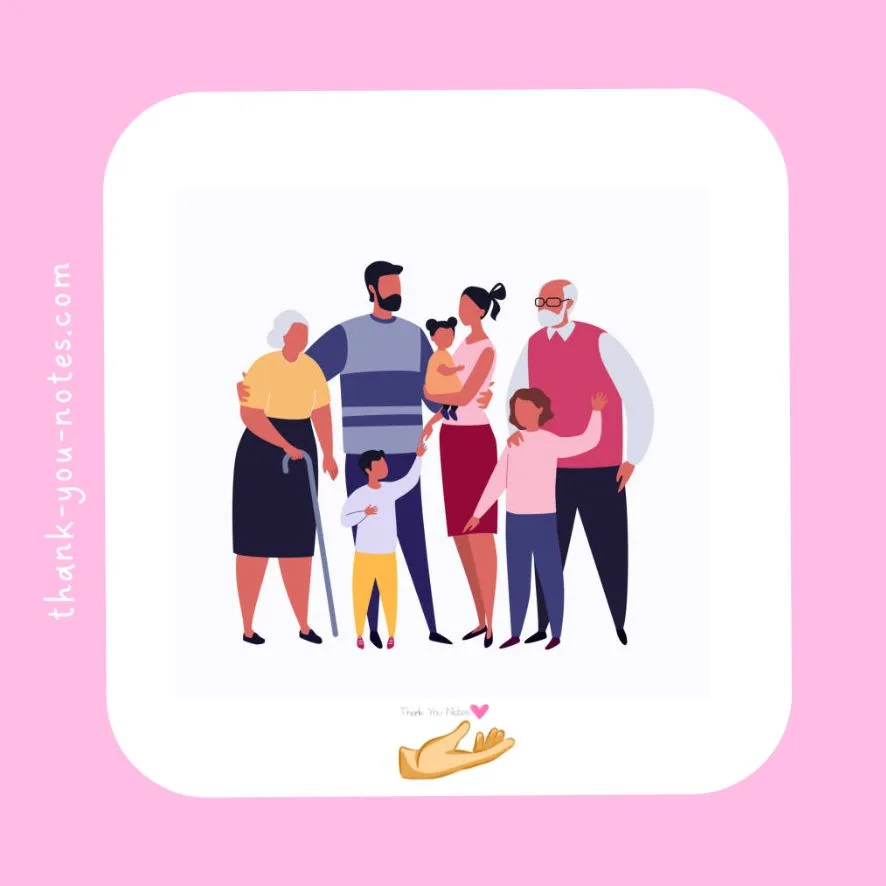 Thanking your family is a thoughtful way of showing how much you care for them. They are always there for you: be it during tough or happy times. Offering your heartfelt gratitude to them is a powerful way of showing them that they are acknowledged. Here are some quotes to thank them for their unconditional love, support, and guidance.
1. Thank you for your unconditional support and guidance. To have such a strong support system like you means I am very blessed. These few days have been rough on my well-being but your guidance has made it better. I am eternally grateful to have such a pillar of strength and support in my life.
2. You have always been a compassionate parent. You listen to my troubles and provide me with advice and comfort. Words cannot express how I am so grateful to have someone like you who has supported and guided me throughout my journey.
3. Thank you for your support and guidance. I know that I can rely on you for anything. You have been my safe space ever since I was a kid and I would not be where I am today without your support and guidance. You are the best mentor and educator. Thank you for instilling great values in me.
4. I wanted to let you know how much I care for you. I am not great with my words but I believe that thanking you for your support and guidance is required. You have always done so much for me without complaining even though I must have been a difficult person. Thank you for sticking with me patiently. I care deeply for you.
5. Your presence is a source of comfort and strength for me. You are an inspiration, a role model who I look up to. Thank you for cheering me on. I have found peace and shelter under your support.
6. As a family, we might not be as intimate in expressing our emotions to each other. However, I want to let you know that you are a gem of a person. You have taken care of me so well that I have emerged into such a great person today. Thank you for never giving up on me.
7. I am glad to be your child. You have respected all my decisions and never doubted my potential. We have an unbreakable bond.
8. Things have not always looked good. When things felt impossible for me to look forward to, you were always there for me. You embraced me with wide arms and made me feel validated. I am so lucky to have such a blessed family.
9. Your love, support, care, and wisdom are not to be taken for granted. You have helped me in my personal growth and development. When I reflect on myself, I always think of how your good conduct and values have shaped me. Thank you for being the most amazing family.
10. Thank you for being the compass that has guided me. You are everything I could dream of. I know that even if everyone else abandons me, you will be there for me always. Home is where you are. Thank you for the support and guidance.
Thank you for your support and guidance quotes: Friends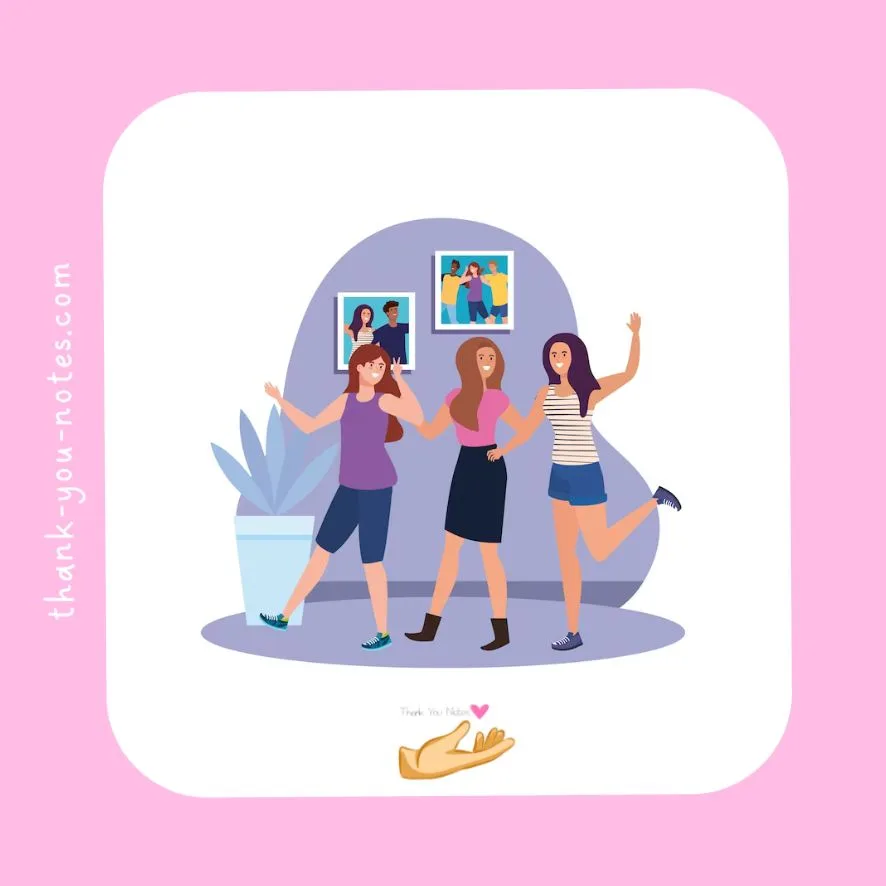 Friendships are the most valuable bonds one can make throughout their journey in life. They are a true support system. They will listen to you without any judgments and offer a safe space. Here are a few thoughtful messages that you can convey to your close friends for being there for you.
1. We were never born prepared and neither has anyone taught us how to navigate through the world. However, I am proud of the both of us for being each other's support system. Your companionship and support have helped me overcome difficulties and I hope I have done the same for you. Thank you for your support and guidance.
2. From nursery rhymes to graduating together, we have come a long way. Thank you for always sticking with me. Now that we will be in different places, I hope that our bond never weakens. Thank you for always supporting me in my endeavors. I could have not asked for a better friend than you.
3. I could not have made it in life without your presence and support. Thank you for hyping me up in whatever I do. Your unwavering support speaks volumes. I know you will never forget me.
4. I am blessed to have such great friends beside me. I admire you all for your loyalty and sincerity. You have been so kind to me over the past few years. Thank you for listening to my rants and pent-up frustration. I might have been too much to handle but thanks for devoting the patience. You guys are the best.
5. You are a true friend. That is evident from the fact that you have never left my side; be it laughing together over silly moments or crying because our university applications got rejected. You are irreplaceable to me. Thanks for being an inspiration in my life.
6. Thank you for always standing up for me. I am not as courageous as you but I wish to emulate some aspects of your personality. I am grateful for all the kind words and support you have given me. School would have been dull without your company.
7. I am so grateful for the journey we have been on. We might have different goals in life but the fact remains that our friendship will never cease. Thank you for spreading kindness everywhere. I hope to reciprocate it someday.
8. When days seemed painful and it was hard to get out of bed, the first person who ever messaged me or called me was you. I was a difficult person but thank you for never giving up on me. When everyone gave up on me, you remained by my side. This made me realize that I don't want to lose our friendship. Thank you for supporting and guiding me. I could not have asked for a better friend than you.
9. Thank you for inspiring me. Your words of affirmation and support gave me the strength to do something unconventional. My family did not like the idea of it but you saw my potential. Thank you, my dear friend, for making me understand my objectives in life and being a strong support system.
10. My heart is overwhelmed with gratitude. You have supported me through unforeseen circumstances. Your valuable input and advice have been soothing to my anxious mind. Thank you for supporting and guiding me.
Thank you for your support and guidance quotes: Teacher/ Professors/ Educators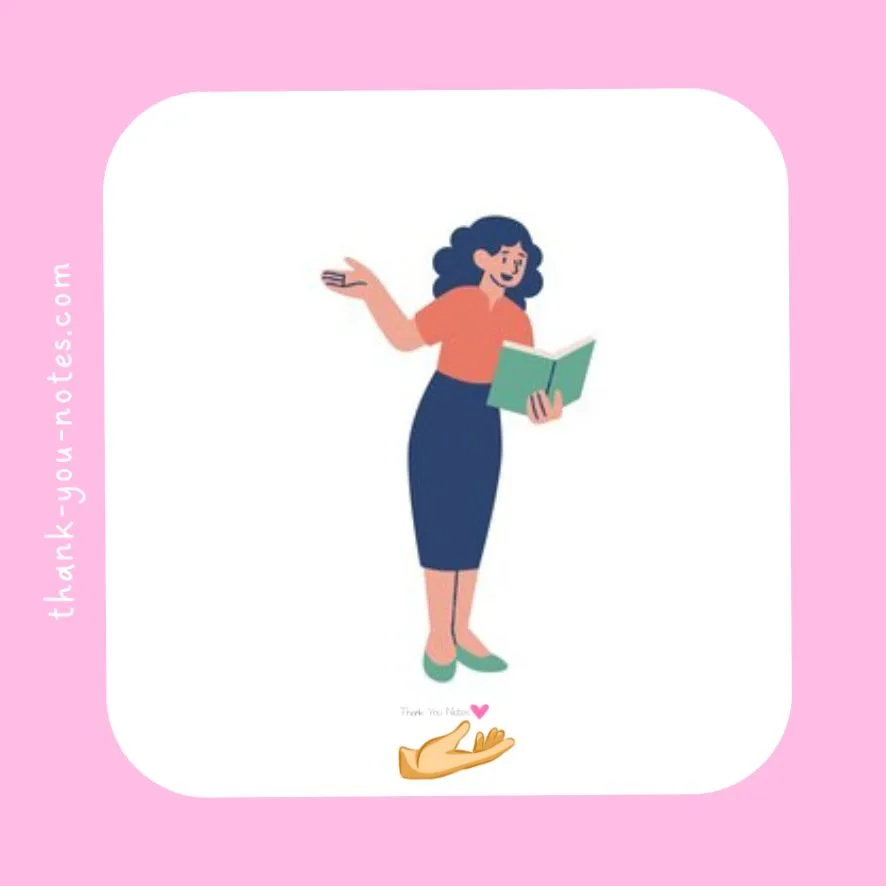 Teachers are the building blocks on whom our socialization depends. They are the primary knowledge givers but they are also more than that. They help us in our journey of self-discovery and guide us through life. This section of the blog is for the unsung heroes of our lives who strive to make an impact every day.
1. Thank you for being an inspiration. You are a role model and I am blessed to be in your classroom. You have made learning so much more fun! Thank you for being so patient with your students, listening to everyone's problems, and helping us out.
2. I want to express my deepest gratitude for the impact you have had on my life. Now that I bid you and my school farewell to achieve my future goals, I will always remember the advice and life lessons you have imparted to me. When things look difficult, I know that I can text you and you will be there to provide me with guidance and support. Thank you for everything, you are the best teacher.
3. I cannot believe that the school year is over already. I know that our class has been one of the most mischievous, but thank you for never giving up on us. You saw the true potential in everyone and helped nurture us into the amazing human beings we are now. We are so blessed to have a role model like you to support us.
4. We are lucky to have you as our teacher. You have devoted all your time to seeing our growth. We are indebted to you for positively impacting us. Your infectious smile and life-long lessons will aid us in the future. Thank you for the support and guidance, Ma'am/ Sir.
5. You deserve every ounce of recognition for what you do. We feel your magnanimous aura every single day in class. Thank you for being such a sincere educator. You have always been there to provide assistance to us. Through your teachings, we will make the society a better place. Thank you for your unconditional support.
6. Thank you for making learning so inclusive and accessible. Some of us do not come from very privileged backgrounds. We dream of achieving ambitious goals but do not have the means to do so. Thank you for paving the path to help us reach our fullest potential. Your unwavering support and guidance will be forever remembered.
7. Thank you for embracing us as your students. Thanks to you catering to our needs, we were able to unleash our true potential. Thank you for putting so much effort into an introverted kid like me. I felt so comfortable in your classroom to speak up. Thanks to your support, I was able to realize my artistic creativity and potential. I hope to do something out of this in the future. Please keep rooting for me.
8. Your passion for teaching has ignited something inside of me. I wish to become a teacher because of your inspirational work. Thank you for the lessons. You have instilled important values of honesty within me.
9. You genuinely care for your students, Ma'am/ Sir. You have spent countless hours with us so that we can grow personally and academically. You are calm and composed and never lose your cool. Thank you for being the most understanding person and mentor.
10. I want to take a moment of your busy schedule to extend my heartfelt gratitude towards you. You, [Teacher's Name] have made learning a beautiful and enchanting experience for us. You are kind, caring, and understanding of each of our needs. We are so blessed to have a supportive pillar like you in our lives. Thank you so much for the support and guidance.
Thank you for your support and guidance quotes: Partner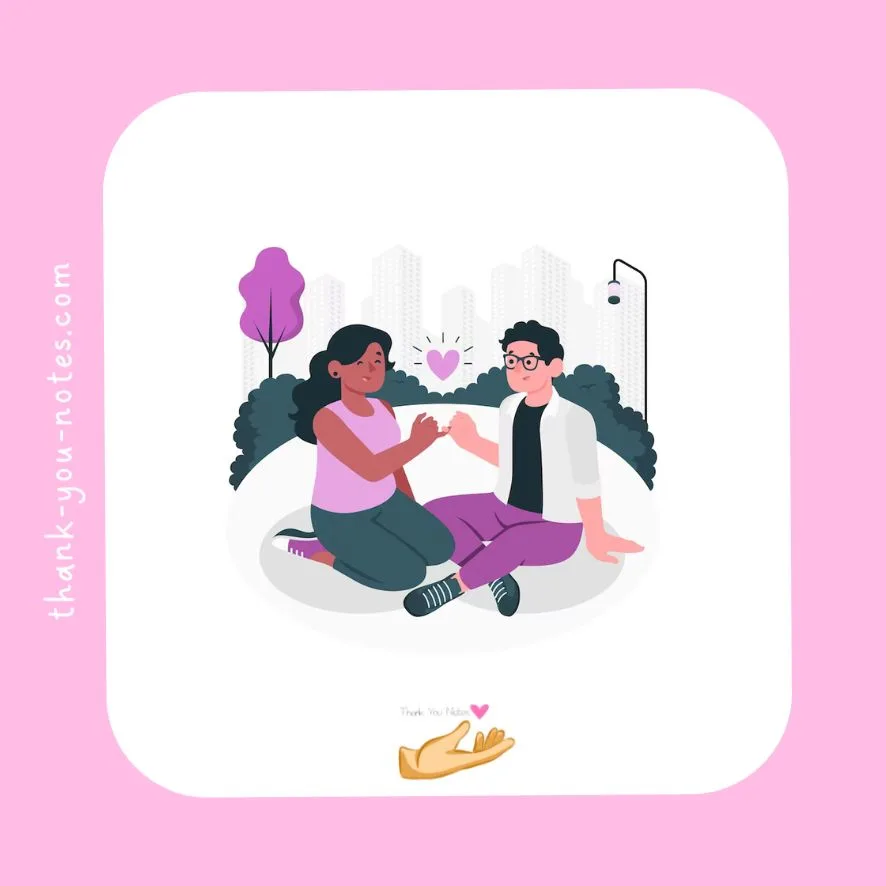 Showing gratitude to your significant other makes your relationship more intimate and narrows the distance. Here are a few ways you can appreciate your partner for supporting you.
1. Thank you for making me feel happy every day. You are my safe space and support system. You have tolerated all my shenanigans, yet you still love me dearly. I could not have felt more blessed.
2. Thanking you for everything you have done is an impossible task. But I still want to put in the effort for the both of us. You have seen my scars and vulnerabilities. I genuinely feel comfortable and safe around you. You are caring, affectionate, and the most loving partner anyone could have asked for.
3. Words can't express how delightful I feel when you are next to me. You lighten up my day and make me feel special each day. I am proud of how far we have come together. Life is not easy but with you being there to support me, it makes it more tolerable and satisfying.
4. I appreciate all the effort you have put in for me. Your kindness and empathy will forever resonate with me.
5. Your love and support is my constant inspiration. Thanks for being my best friend, my lover, and my world. You have constantly stood next to me and never questioned my potential. Thank you for being proud of me. I would not have been able to do it without your unwavering faith in me.
6. Through every twist and turn, you have remained next to me. Whenever I have felt sad, you have cooked warm meals for me and got me flowers. It is the small things that you do for me that make me feel so blessed to have you in my life. May our spark never die. I hope I can reciprocate the love, support, and guidance you have given me.
7. Even when we fight, you make sure that you listen to what triggers me. You go out of your way to make sure you do not repeat those mistakes. I am glad that you put in so much effort for me. I am eternally thankful to you for understanding my perspectives, respecting my decisions, and supporting me throughout.
8. You calm me down. Your presence reduces my anxiety and stress levels drastically. Life is so much easier when you are around. I am deeply touched by how loyal, sincere, and understanding you are of my troubles. Thank you, my love, for being the best partner.
9. After everything we have been through, our intimate bond keeps growing stronger. I know that you are always going to be there for me and I want you to know that I will always be there for you as well. Thank you for not judging me for my mistakes. I hope our passion for each other keeps growing stronger.
10. You are an irreplaceable part of my life. Your patience is unmatched. Whether I feel sad or happy, you are always there to embrace me. You laugh with me when I do goofy things and you stay with me when things feel overwhelming. Thank you for having such a beautiful soul. Your unwavering support for me makes me feel truly grateful.
Thank you for your support and guidance quotes: At Work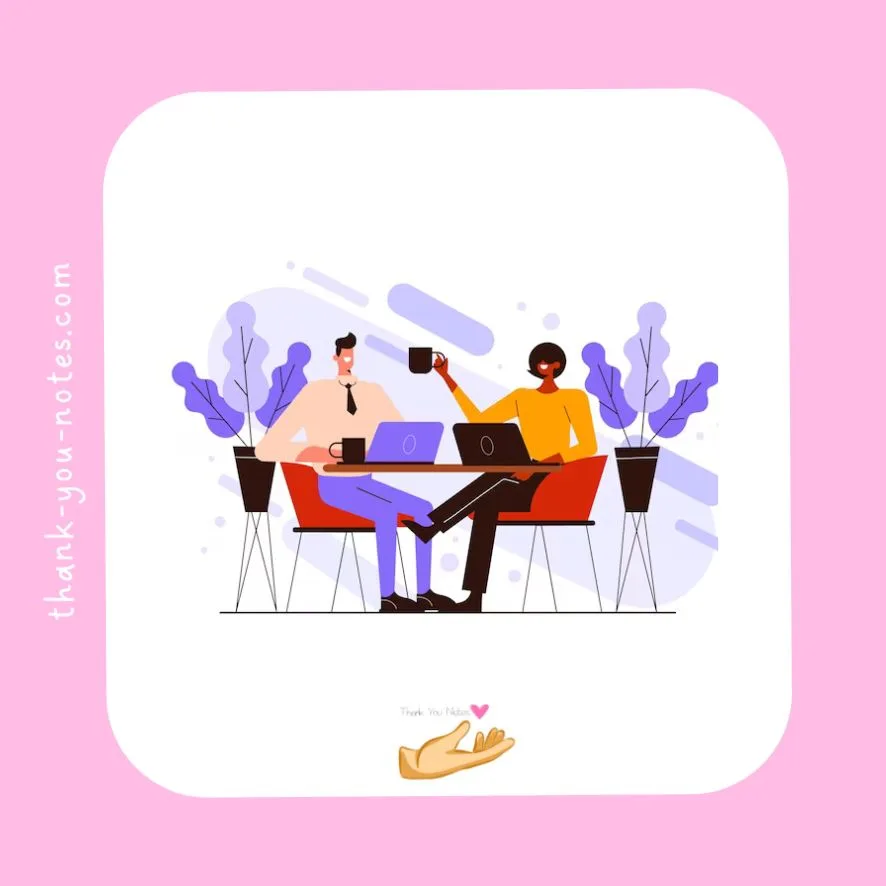 It is always important to extend your heartfelt gratitude to your coworkers, teammates, and boss when they support you and help you out. Thanking them creates a cordial atmosphere where workplace relationships are strengthened.
1. Even when the workload gets unbearable, you are always there to cheer for me and support me. Thank you for being the best peer I could have asked for.
2. Every morning, I wait for that one cup of cappuccino you get for me from our favorite store. It means a lot to me and I hope it means a lot to you too. These small details make work life so much more fun. I hope we keep supporting each other in the times to come.
3. I do not know how to express thanks to you for helping me out with my last project. Working with you in a team feels smooth and amazing. Your ideas and insights influenced my project for the better and I was able to get better results thanks to your guidance!
4. You are one the best people I have ever worked with. Your flawless execution of the task coupled with your dedication and eagerness to learn is amazing. We appreciate your contribution and support in making this initiative a success.
5. Your presence has impacted me not only in my work life but my personal as well. You are more than just a workplace colleague to me. You are a true friend, an understanding person, and a good listener. Thank you for all the encouragement and confidence you have given me.
6. Working with you feels like a refreshing experience. Through your support and guidance, I have learned so much! You have had a monumental impact on my life and I am grateful for that. Thank you for being so sincere and supportive, you are the best!
7. I appreciate that you covered for me for the last two days when I called in sick. Thanks to you my workload has reduced but I am eternally grateful for the help. I would like to reciprocate the favor for you. Please let me know if there is anything I can do for you.
8. I am so lucky to have you as my boss. You have been a promising mentor and an amazing friend. Your input has helped me drastically in maintaining a positive work-life. Thank you for the unwavering support you have for me and my team. We appreciate it.
9. You are one of the most motivating persons I have ever worked with. You are dedicated, ambitious, and understanding of others. Thanks to your empathy, compassion, and unique skill sets, working at the company has become a roller-coaster of an experience.
10. Thank you for being an exceptional peer. I know we may not see each other again because you are going to impact the world in a different place now but I hope we do not lose connection. Thank you for making work so much more memorable. I wish to emulate your skills in my work to become a better teammate and person.
How to express gratitude to someone for their support and guidance?
Expressing gratitude and being thankful to someone for their support helps in building strong, meaningful relationships. Here's how you can be there for someone who made your day through their guidance and support.
1. Thank them– It might sound like it is not much but simply saying 'thank you for the support and guidance' can mean the world to the other person. You should appreciate them for their supportive actions and guidance.
2. Send an email– Emails are a great way to foster positive relationships. If you are someone who struggles with face-to-face conversations, a thoughtful and generous email stating your heartfelt thanks is a good approach. A concise note stating how invaluable the person has been in your life and how thankful you are that they helped you out is meaningful and compassionate.
3. Write hand-written thank you notes– In a rapidly digitized world, hand-written thank you notes add a sentimental touch when expressing gratitude. You can unleash your creativity while being thankful to the person for being there for you. Hand-written notes are a great way to show your appreciation towards the person. It means you treasure them and want them to be there in your life more.
4. Gift them something– If you wish to make a grand gesture when thanking someone for supporting you, a well-thought-out gift is a good option. You can make a customized gift for them or get them something that conveys a message of love and appreciation.
Also, check out: 20+ Excellent 'Thank You For Your Understanding' Notes
Conclusion
Expressing your warmest and heartfelt gratitude is important to create a harmonious balance in your life. It fosters positive relationships and boosts morale greatly. It also creates a deep impact on the lives of other people because everyone deserves to be thanked for their support and guidance. It also shows that a person has good manners and is compassionate and empathetic towards their surroundings.