It's always a great idea to send thank you messages to colleagues who have supported you in your toughest times.
The best way to leave a lasting impression on your colleague is to express gratitude for something they do.
You may find yourself in a situation where you want to thank your coworkers, but do not know what to say.
To help you with this, we have curated a list of twenty wonderful thank you messages.
The Best Ways To Thank Your Colleagues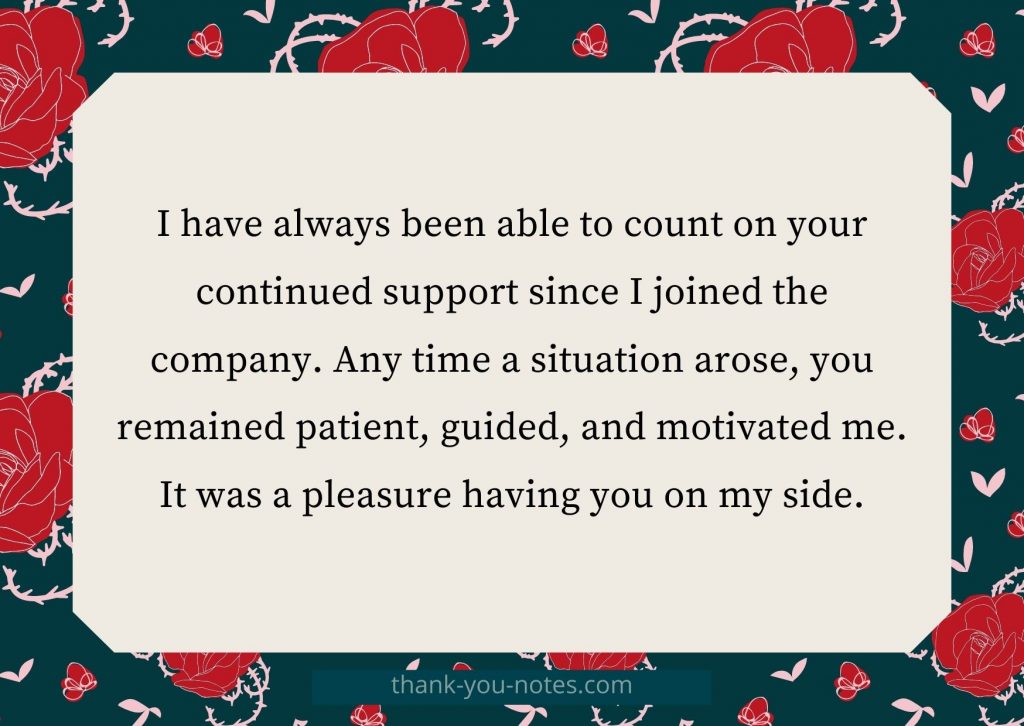 I have always been able to count on your continued support since I joined the company. Any time a situation arose, you remained patient, guided, and motivated me. It was a pleasure having you on my side.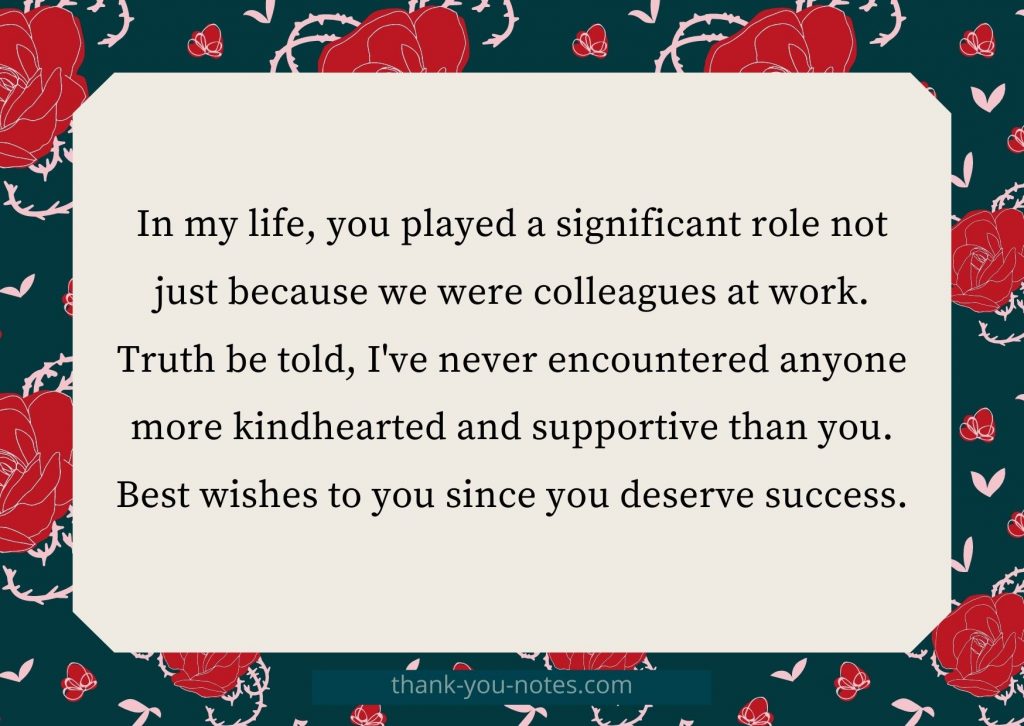 In my life, you played a significant role not just because we were colleagues at work. Truth be told, I've never encountered anyone more kindhearted and supportive than you. Best wishes to you since you deserve success.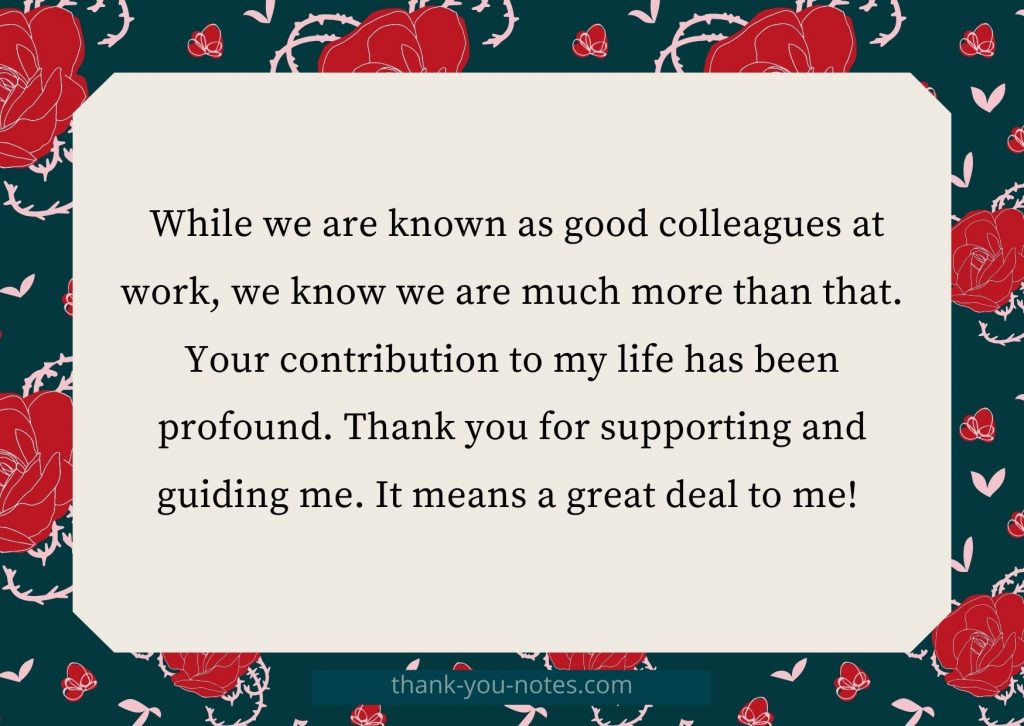 While we are known as good colleagues at work, we know we are much more than that. Your contribution to my life has been profound. Thank you for supporting and guiding me. It means a great deal to me!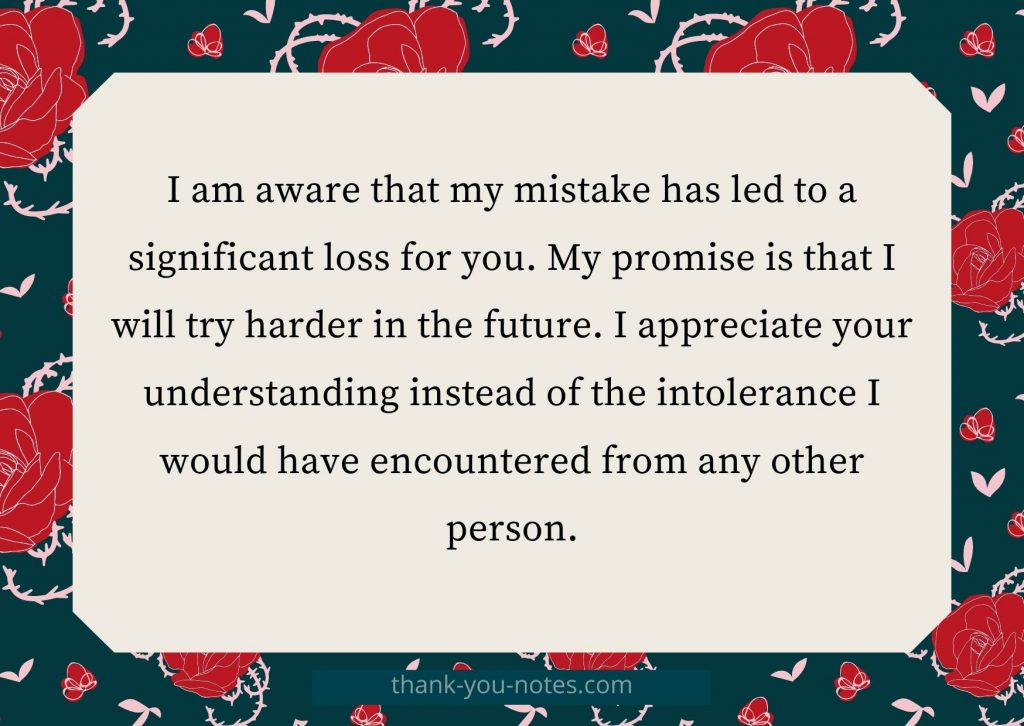 I am aware that my mistake has led to a significant loss for you. My promise is that I will try harder in the future. I appreciate your understanding instead of the intolerance I would have encountered from any other person.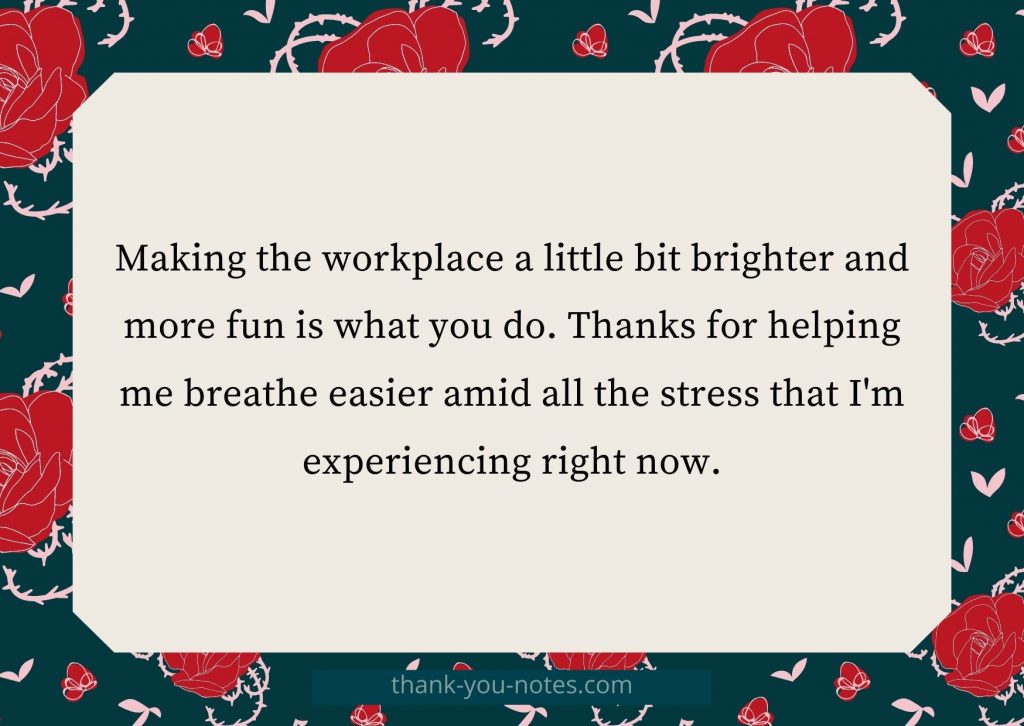 Making the workplace a little bit brighter and more fun is what you do. Thanks for helping me breathe easier amid all the stress that I'm experiencing right now.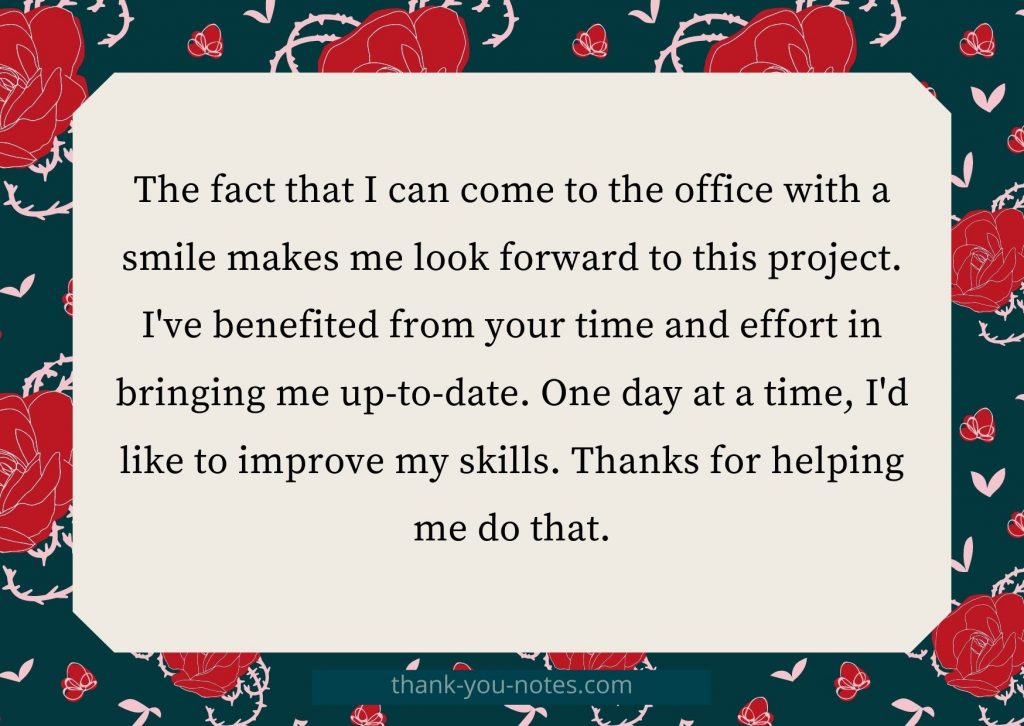 The fact that I can come to the office with a smile makes me look forward to this project. I've benefited from your time and effort in bringing me up-to-date. One day at a time, I'd like to improve my skills. Thanks for helping me do that.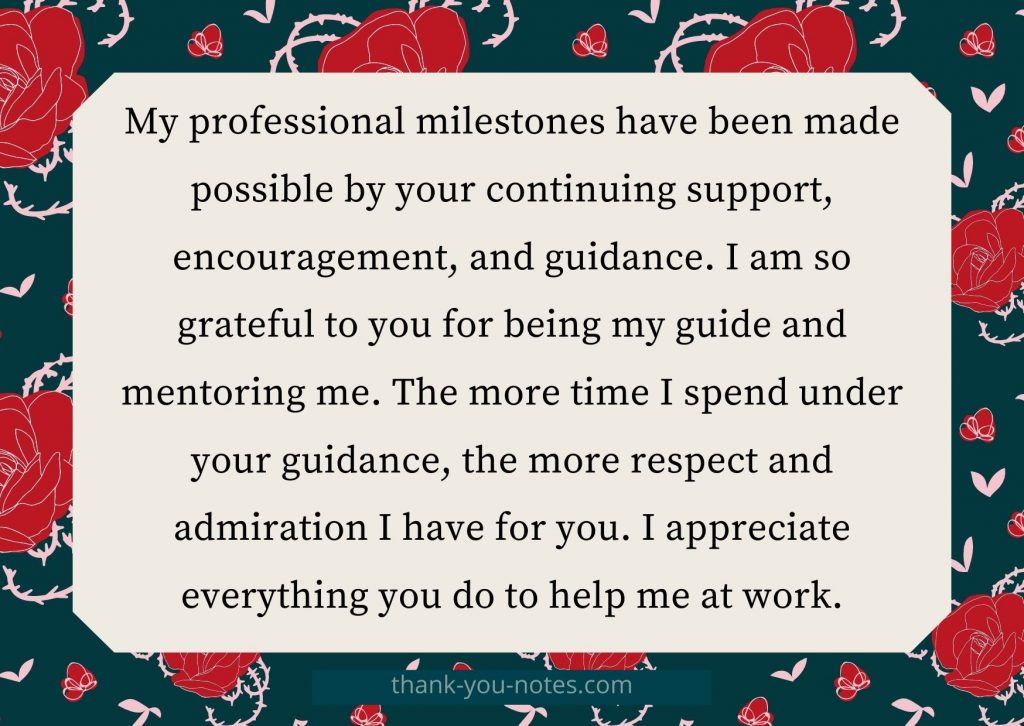 My professional milestones have been made possible by your continuing support, encouragement, and guidance. I am so grateful to you for being my guide and mentoring me. The more time I spend under your guidance, the more respect and admiration I have for you. I appreciate everything you do to help me at work.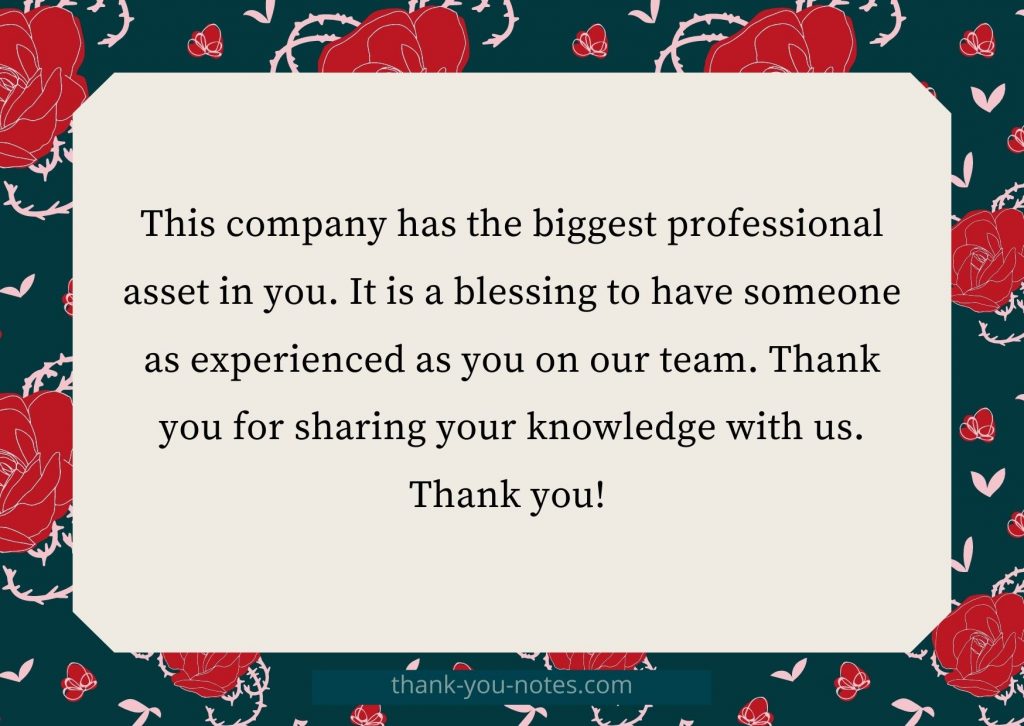 This company has the biggest professional asset in you. It is a blessing to have someone as experienced as you on our team. Thank you for sharing your knowledge with us. Thank you!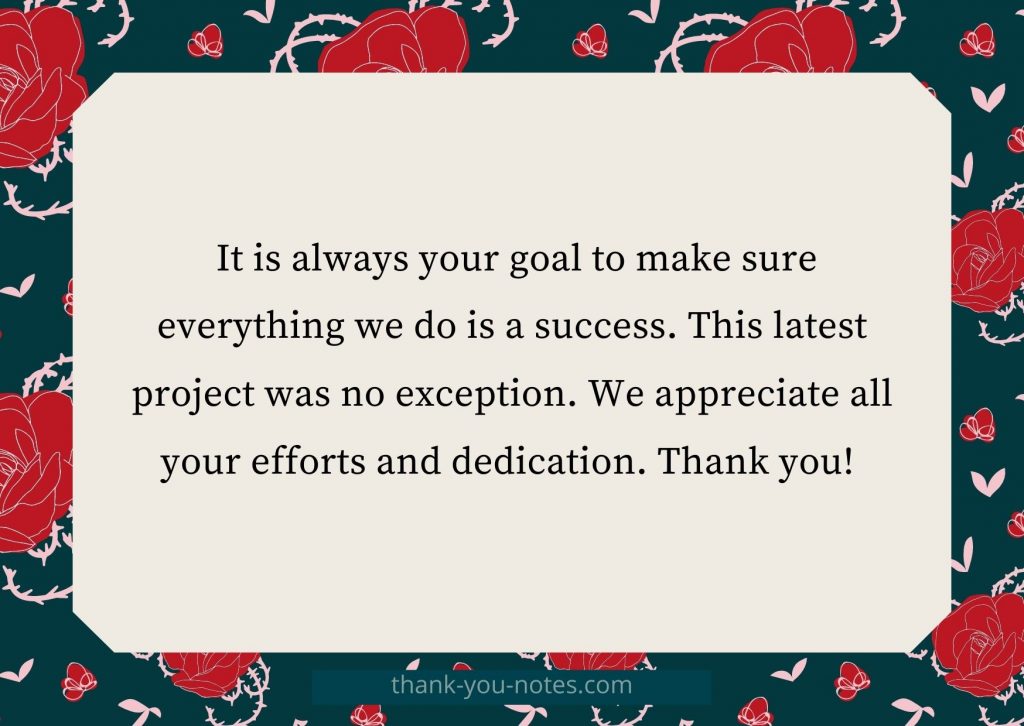 It is always your goal to make sure everything we do is a success. This latest project was no exception. We appreciate all your efforts and dedication. Thank you!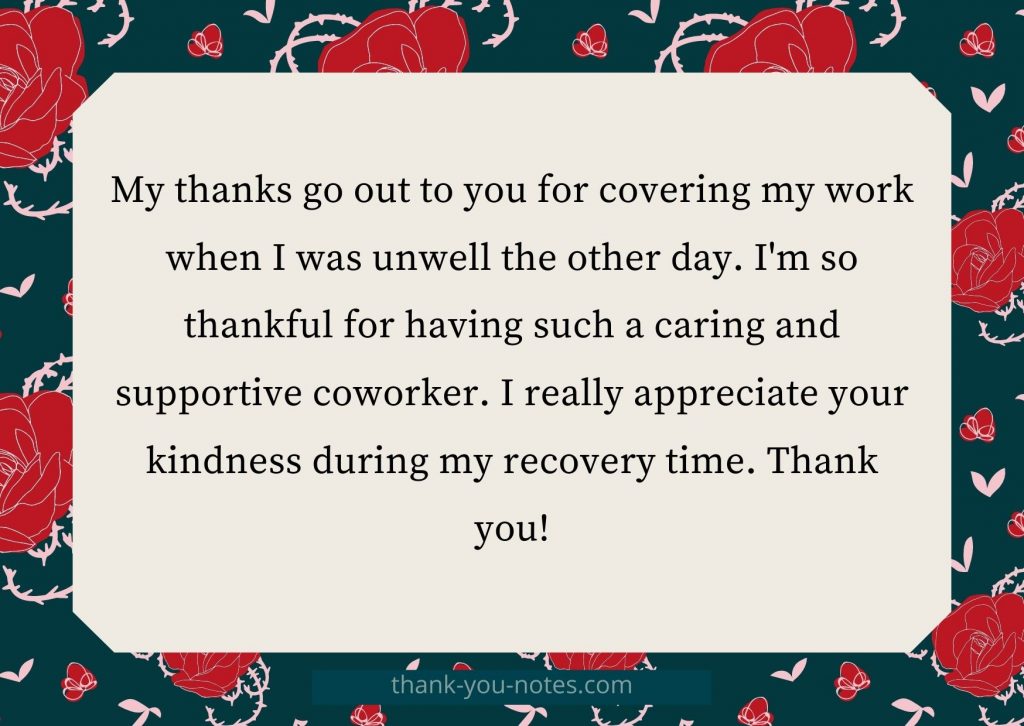 My thanks go out to you for covering my work when I was unwell the other day. I'm so thankful for having such a caring and supportive coworker. I really appreciate your kindness during my recovery time. Thank you!
The Best Ways To Say Thank You To Colleagues When Leaving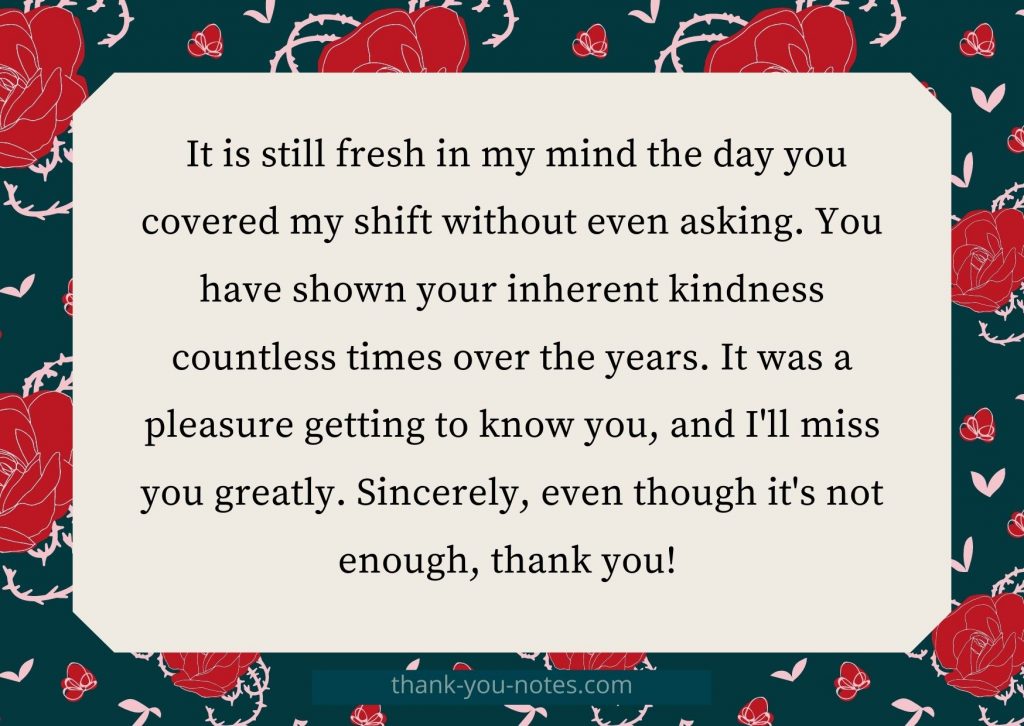 It is still fresh in my mind the day you covered my shift without even asking. You have shown your inherent kindness countless times over the years. It was a pleasure getting to know you, and I'll miss you greatly. Sincerely, even though it's not enough, thank you!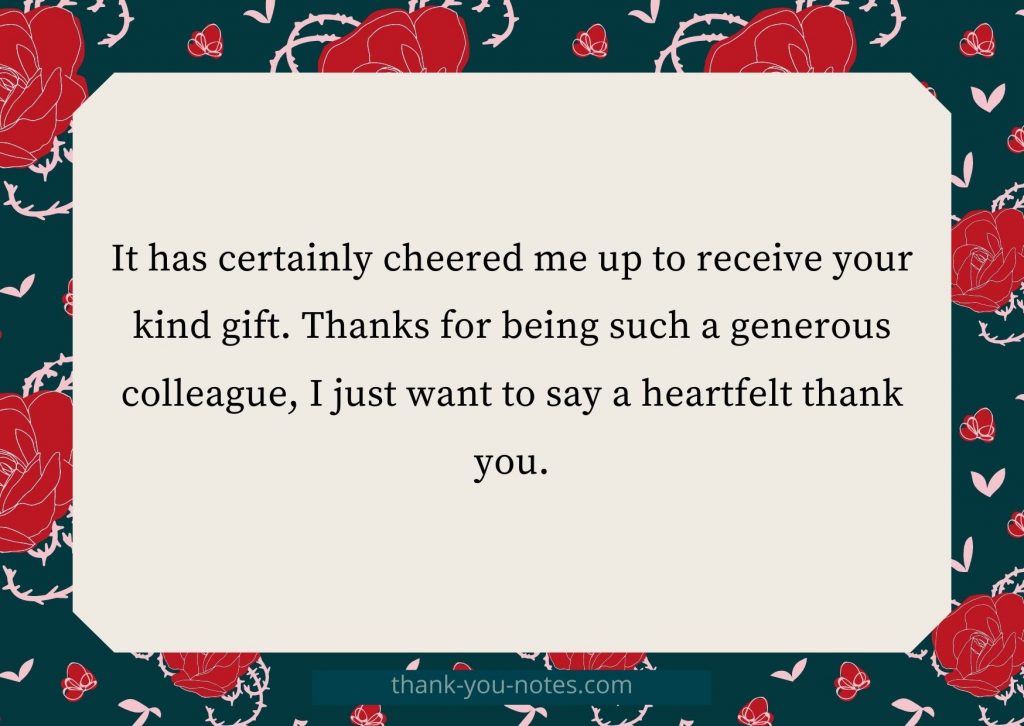 It has certainly cheered me up to receive your kind gift. Thanks for being such a generous colleague, I just want to say a heartfelt thank you.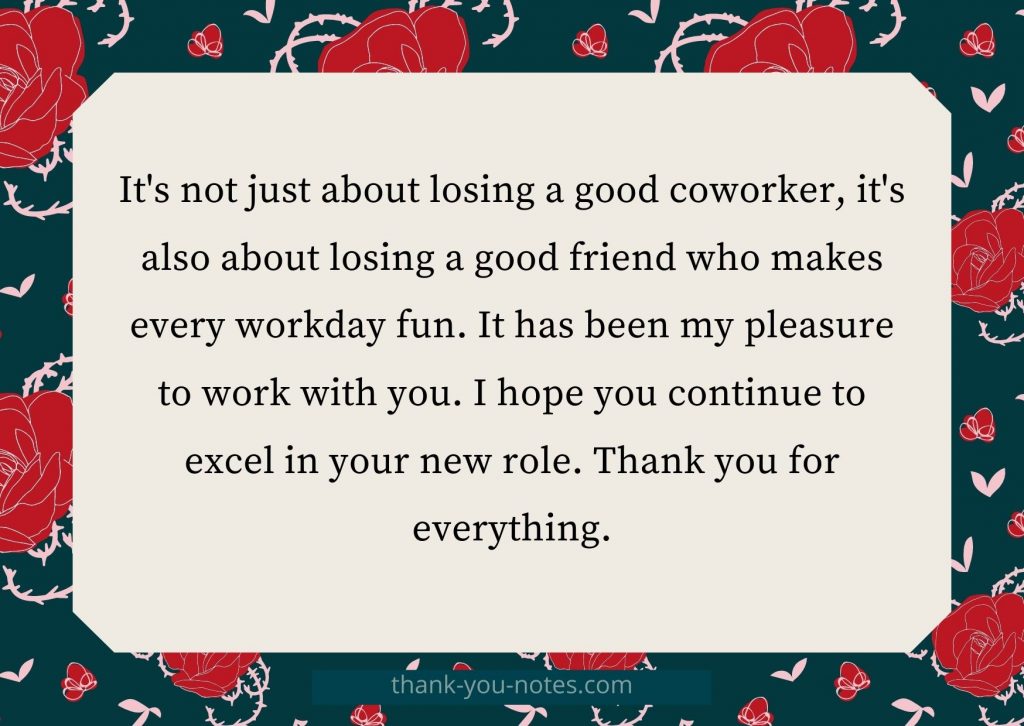 It's not just about losing a good coworker, it's also about losing a good friend who makes every workday fun. It has been my pleasure to work with you. I hope you continue to excel in your new role. Thank you for everything.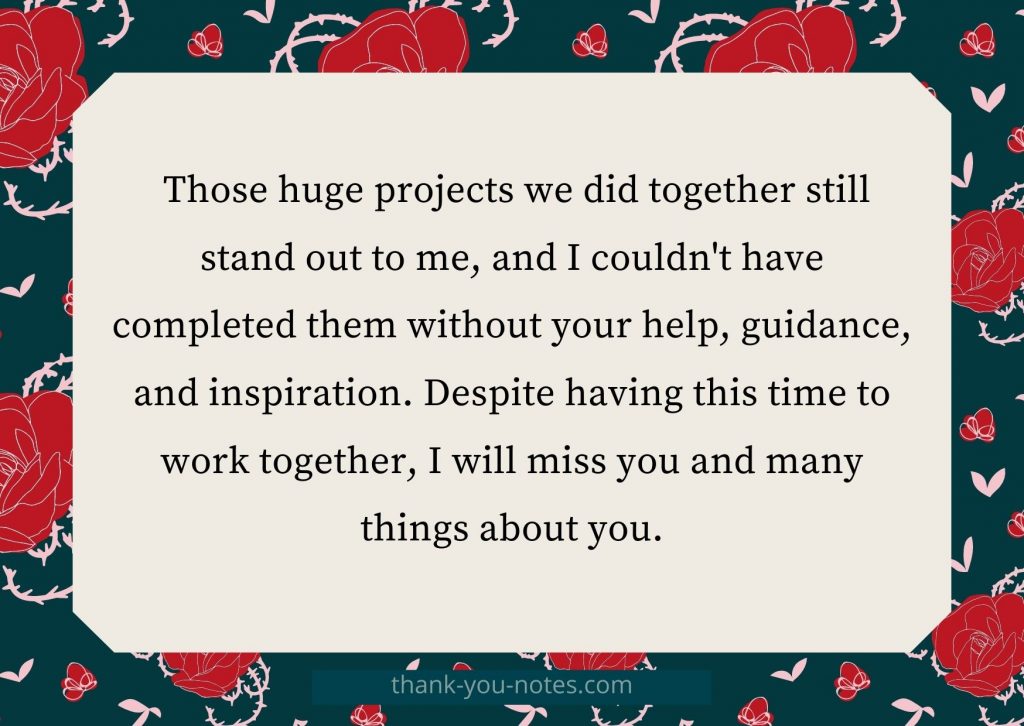 Those huge projects we did together still stand out to me, and I couldn't have completed them without your help, guidance, and inspiration. Despite having this time to work together, I will miss you and many things about you.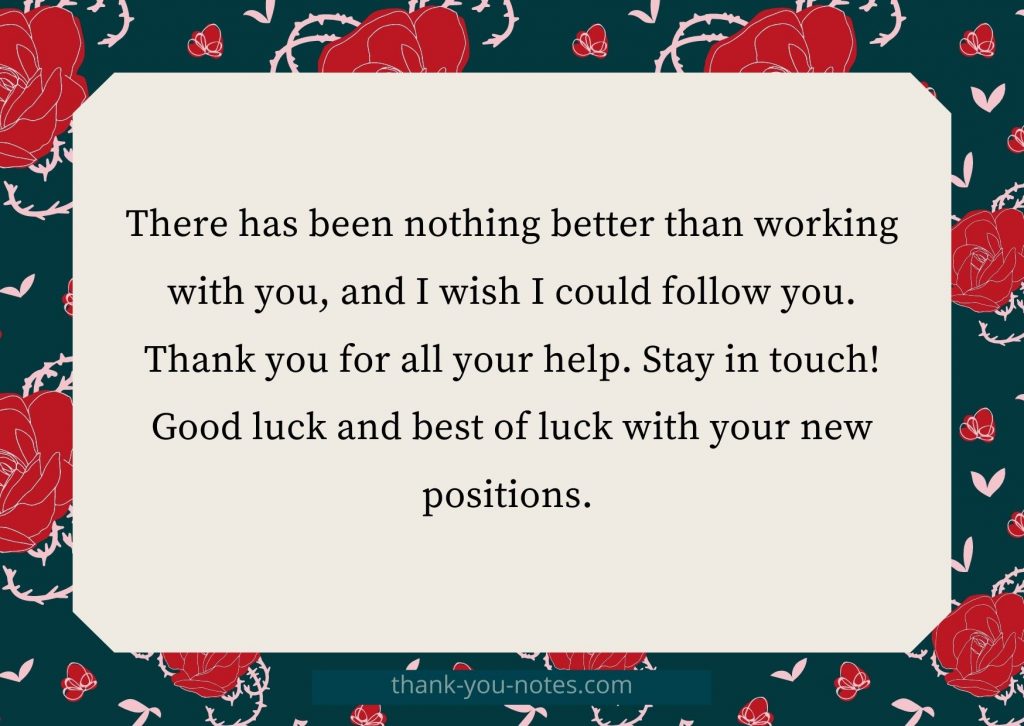 There has been nothing better than working with you, and I wish I could follow you. Thank you for all your help. Stay in touch! Good luck and best of luck with your new positions.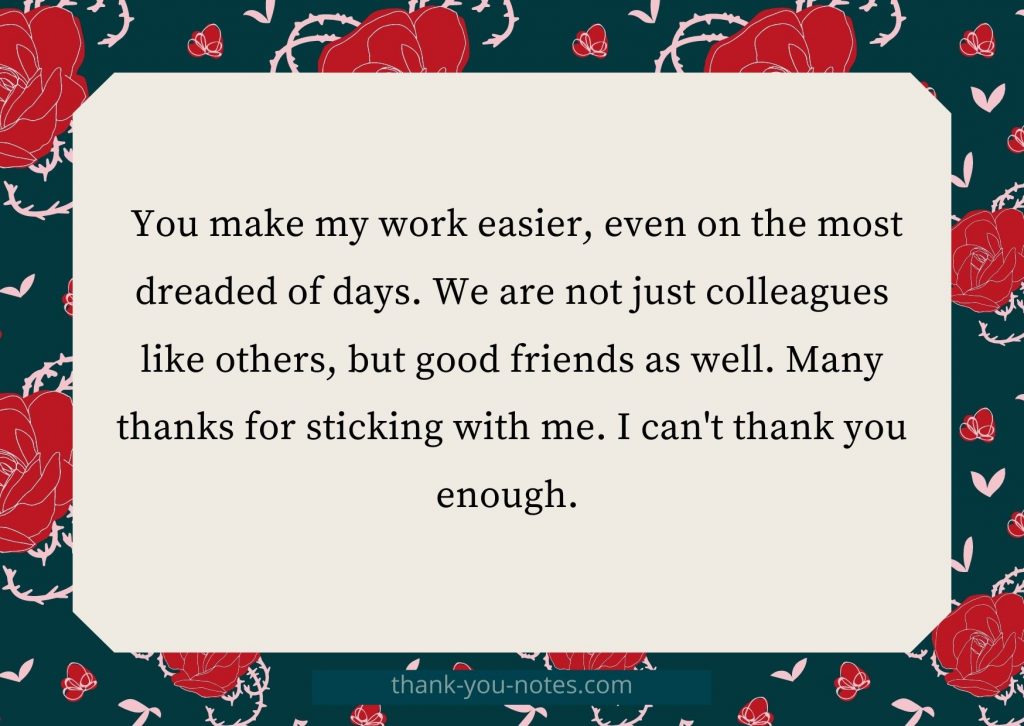 You make my work easier, even on the most dreaded of days. We are not just colleagues like others, but good friends as well. Many thanks for sticking with me. I can't thank you enough.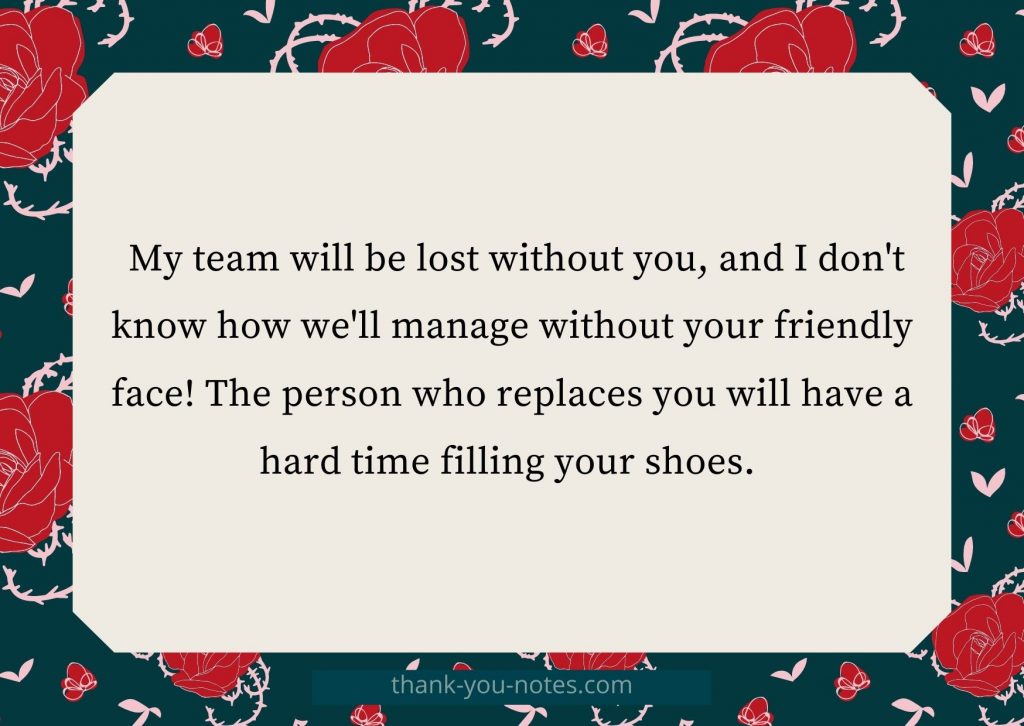 My team will be lost without you, and I don't know how we'll manage without your friendly face! The person who replaces you will have a hard time filling your shoes.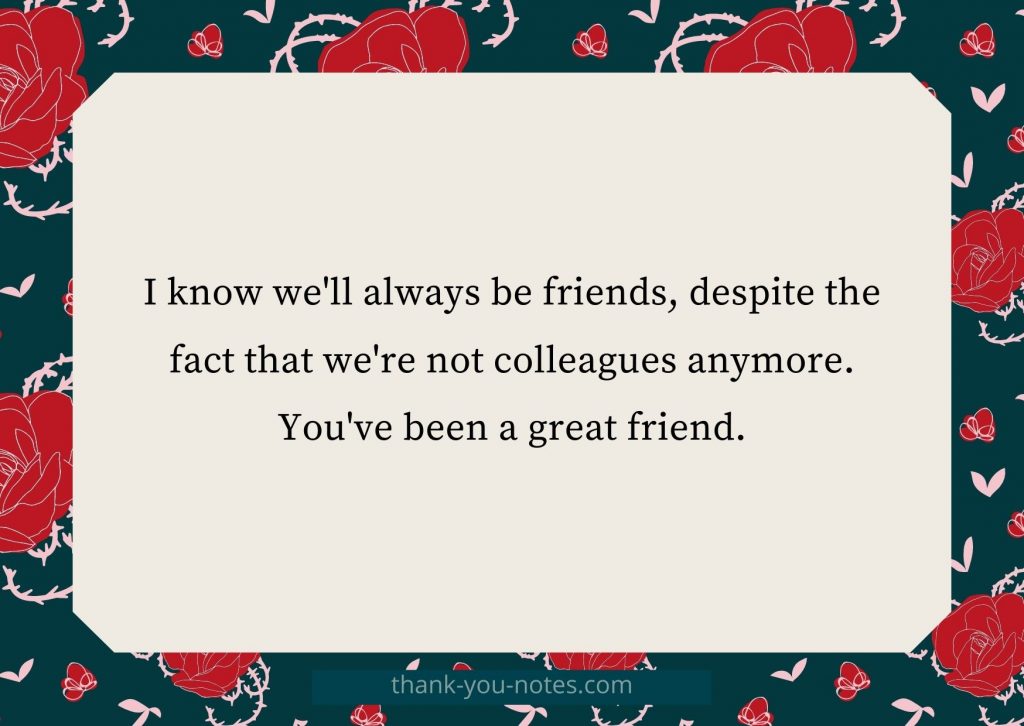 I know we'll always be friends, despite the fact that we're not colleagues anymore. You've been a great friend.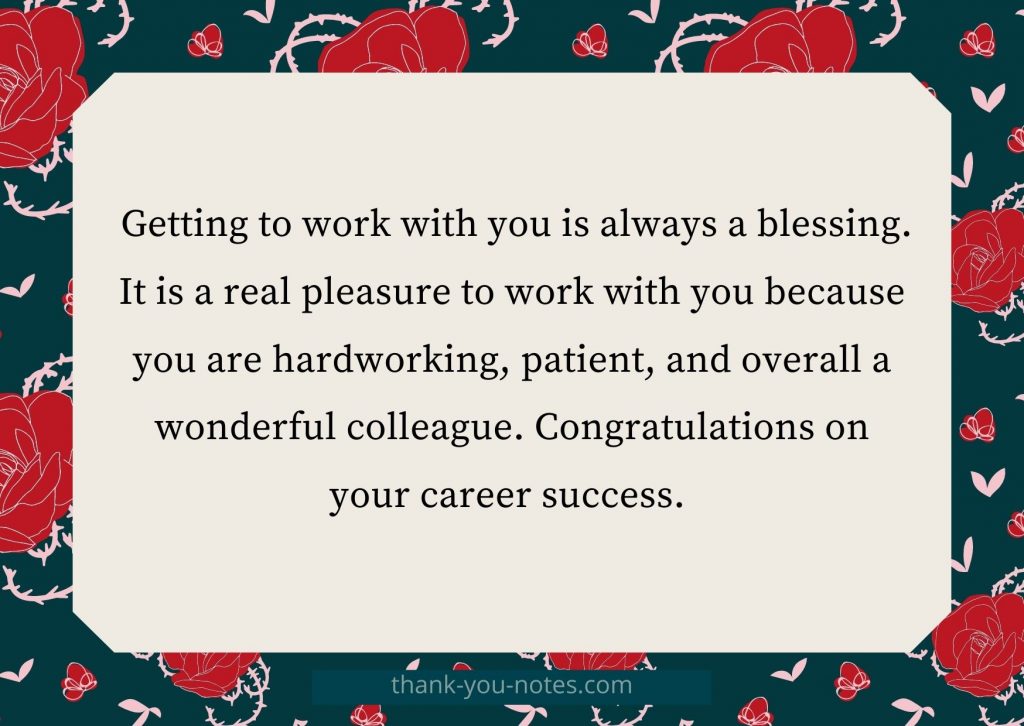 Getting to work with you is always a blessing. It is a real pleasure to work with you because you are hardworking, patient, and overall a wonderful colleague. Congratulations on your career success.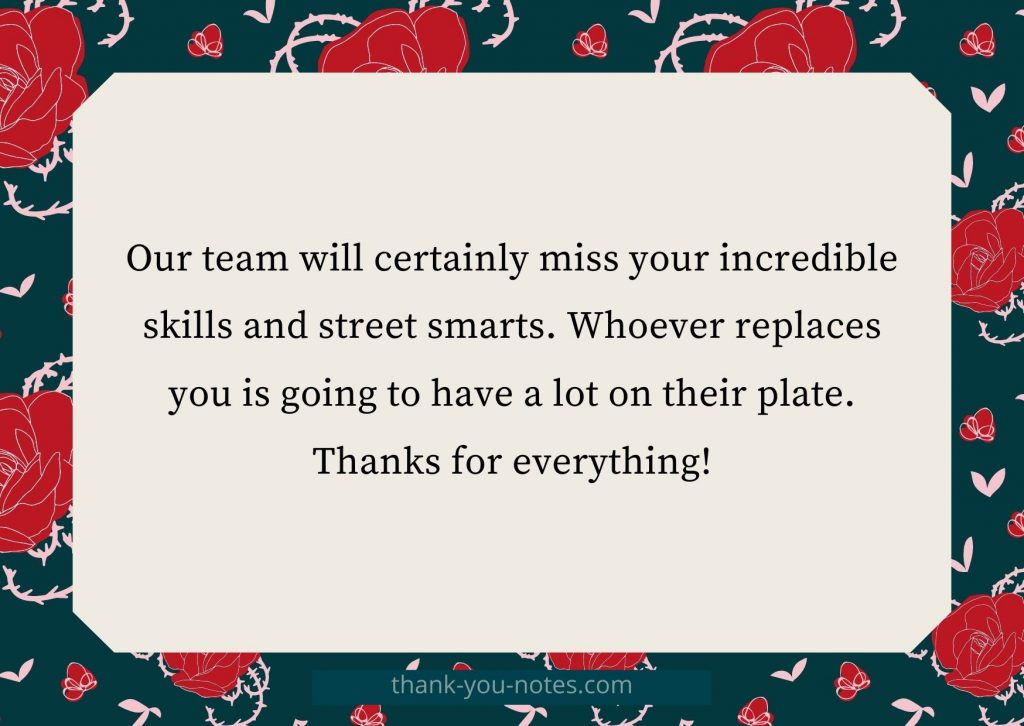 Our team will certainly miss your incredible skills and street smarts. Whoever replaces you is going to have a lot on their plate. Thanks for everything!