You may not feel like thanking people for funeral flowers when you have just lost a loved one. Voicing your gratitude with heartfelt words can be made easier with a little practical advice. My sincere condolences on your loss, and I truly hope my sample notes will be of help to you during this difficult time.
Remember that acknowledging those who have shown kindness and support to you and your family will mean a great deal to those receiving it. During this time, no one expects a lot from you, but a simple note of appreciation will be greatly appreciated.
Thank You Notes For Funeral Flowers
How you word your thank you note will depend on your relationship with the person.
Thanks For Flowers: Formal Thank You Notes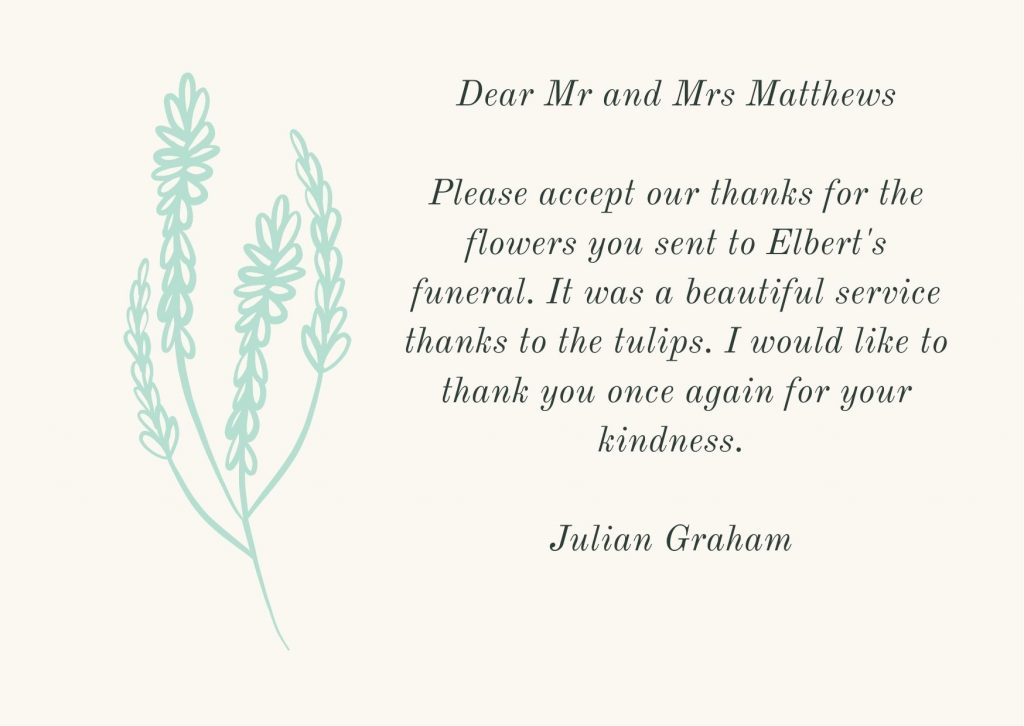 Dear Mr and Mrs Matthews

Please accept our thanks for the flowers you sent to Elbert's funeral. It was a beautiful service thanks to the tulips.

I would like to thank you once again for your kindness.

Julian Graham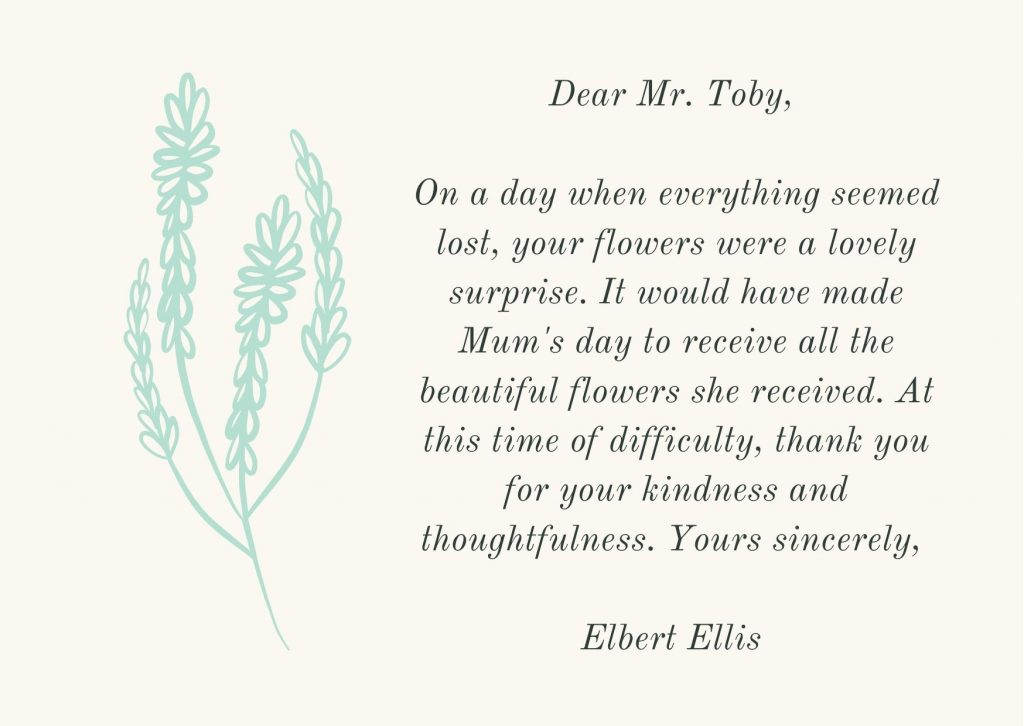 Dear Mr. Toby,

On a day when everything seemed lost, your flowers were a lovely surprise. It would have made Mum's day to receive all the beautiful flowers she received. At this time of difficulty, thank you for your kindness and thoughtfulness.

Yours sincerely,

Elbert Ellis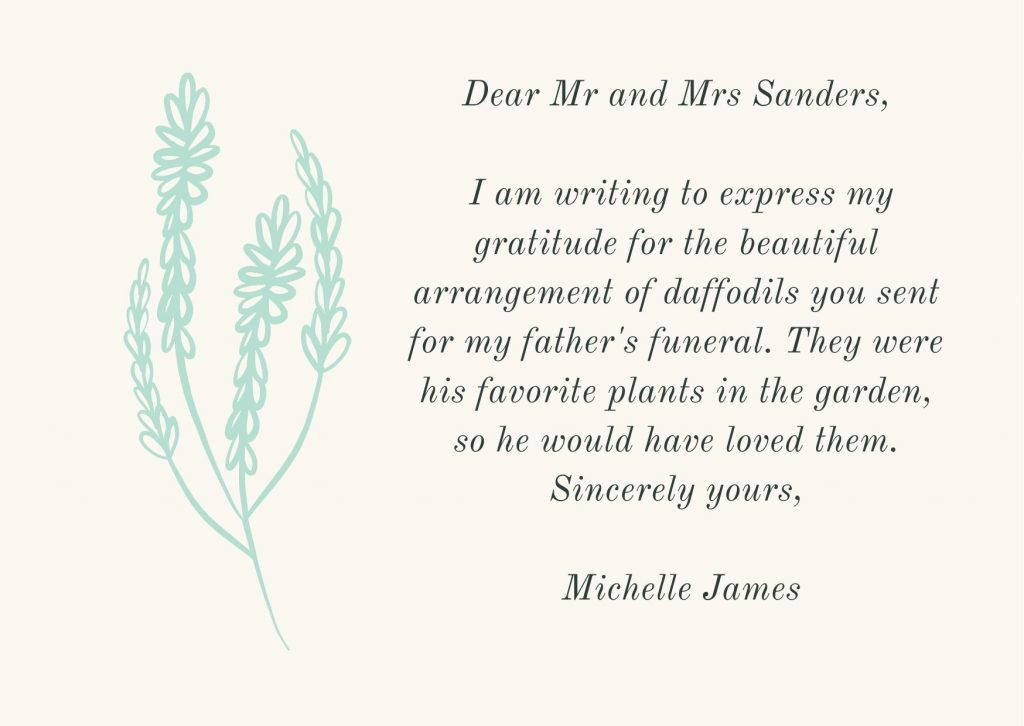 Dear Mr and Mrs  Sanders,

I am writing to express my gratitude for the beautiful arrangement of daffodils you sent for my father's funeral. They were his favorite plants in the garden, so he would have loved them.

Sincerely yours,

Michelle James
Thanks for Flowers: Informal Thank Notes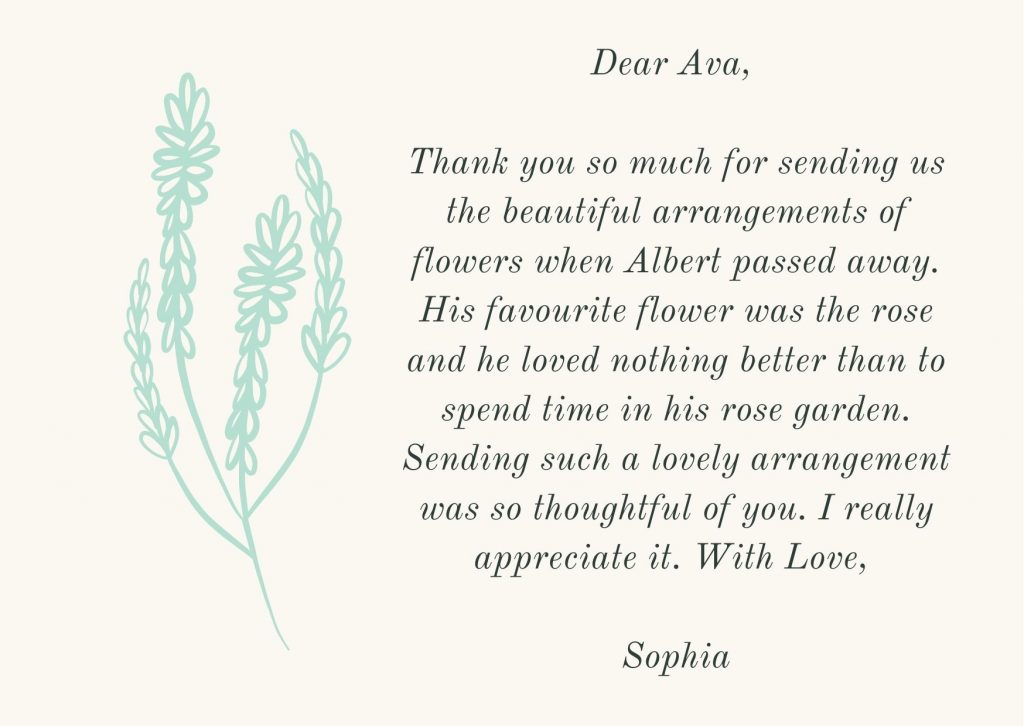 Dear Ava,

Thank you so much for sending us the beautiful arrangements of flowers when Albert passed away. His favourite flower was the rose and he loved nothing better than to spend time in his rose garden.

Sending such a lovely arrangement was so thoughtful of you. I really appreciate it.

With Love,
Sophia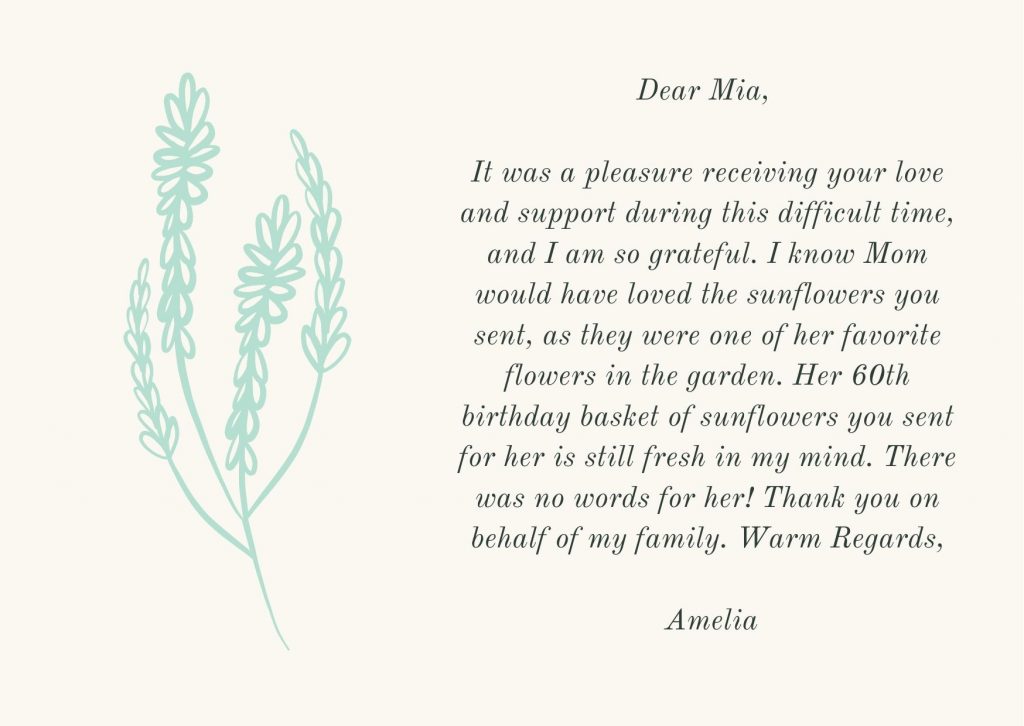 Dear Mia,

It was a pleasure receiving your love and support during this difficult time, and I am so grateful. I know Mom would have loved the sunflowers you sent, as they were one of her favorite flowers in the garden.

Her 60th birthday basket of sunflowers you sent for her is still fresh in my mind. There was no words for her!

Thank you on behalf of my family.


Warm Regards,
Amelia
Hopefully, our advice will provide you with a little assistance in simplifying this process. We offer our condolences for your loss and wish you all the best in your letter-writing endeavors.
Click here to post on your own page.