The work of a pastor never ends.
The pastor might believe there is nothing busier than Sunday, but people don't realize how busy the pastor really is with late-night phone calls, hospital visits, and congregation members who have a seemingly endless list of needs.
Being able to thank your pastor frequently is so important. The appreciation will not only be appreciated, but it may even re-energize your pastor so that he can continue to do his important work.
Gratitude Tips for Pastors
If you sent your pastor a thank you note every time he deserved it, you would probably be doing a lot of writing. Here are some tips on how to thank your pastor.
You might find that your pastor goes above and beyond in order to assist you. A thank you note is certainly due at times like that. As well as thanking him for his daily service to the church, you should write him a note from time to time.
Include something that your pastor said in a recent sermon if you really want to touch his heart. The fact that his words have stuck with you will be significant to him.
Ideally, your thank you note should be long enough for him to see your appreciation, but not too long.
Two samples thank you notes are available below, along with quotes that you can include when thanking your pastor.
Pastor Thank You Quotes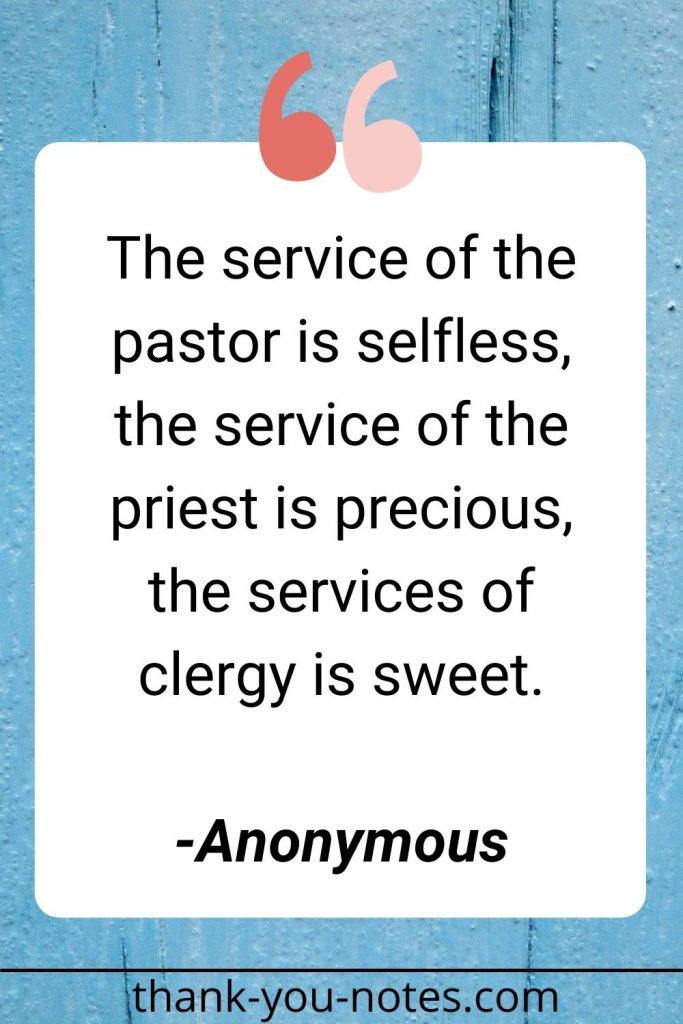 The service of the pastor is selfless, the service of the priest is precious, the services of clergy is sweet.
-Anonymous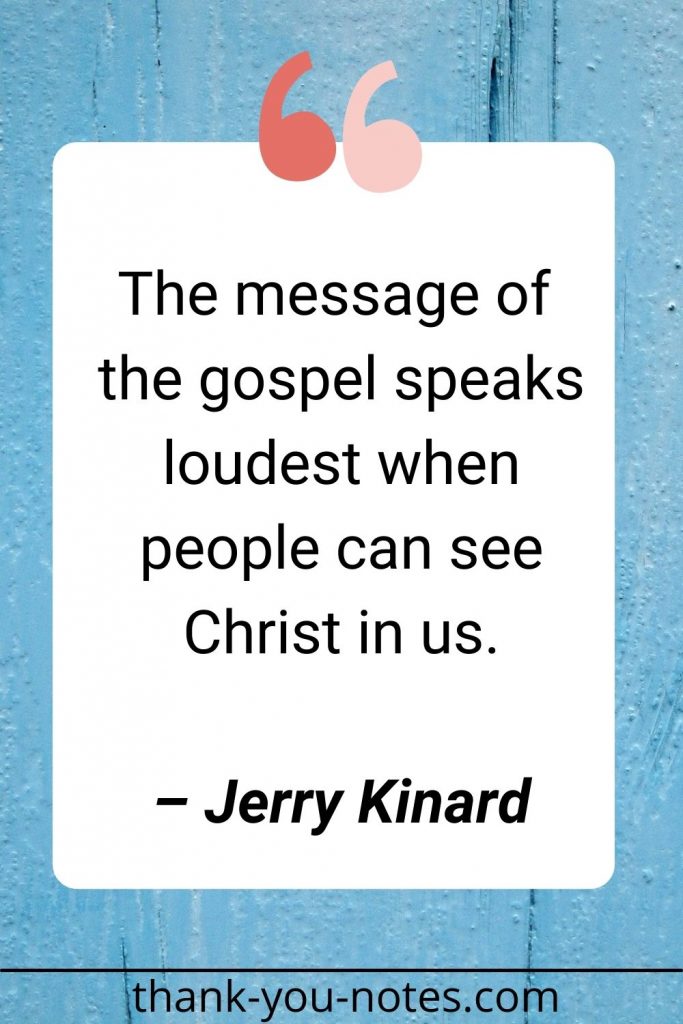 The message of the gospel speaks loudest when people can see Christ in us.
– Jerry Kinard
When God wants to speak and deal with us, he does not avail himself of an angel but of parents, or the pastor, or of our neighbor.
-Anonymous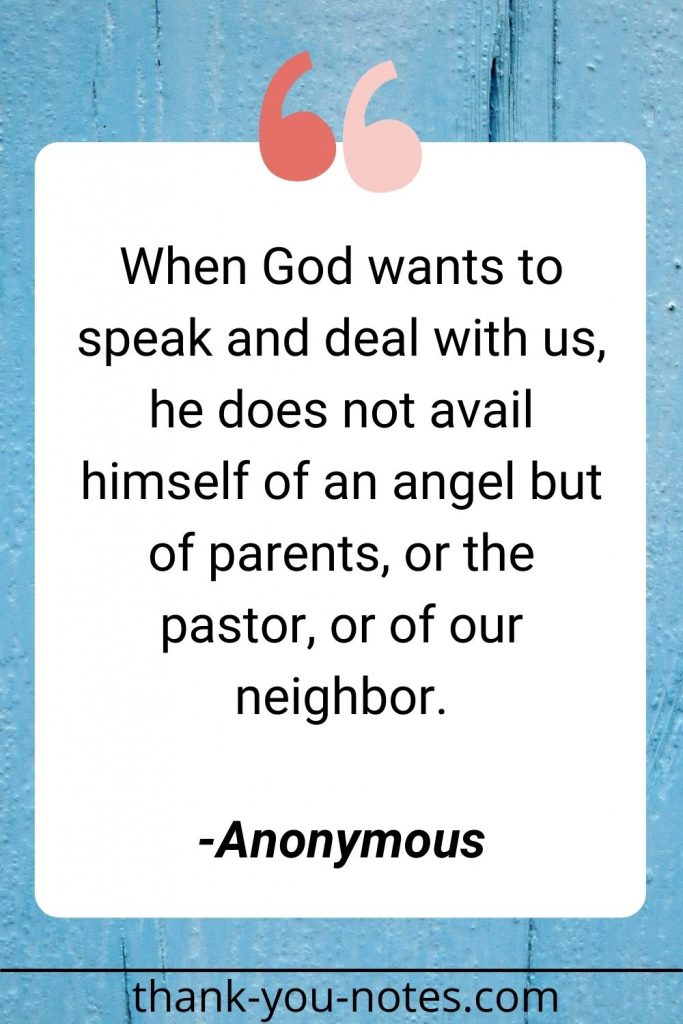 And I will give you shepherds after my own heart, who will feed you with knowledge and understanding.
– Jeremiah 3:15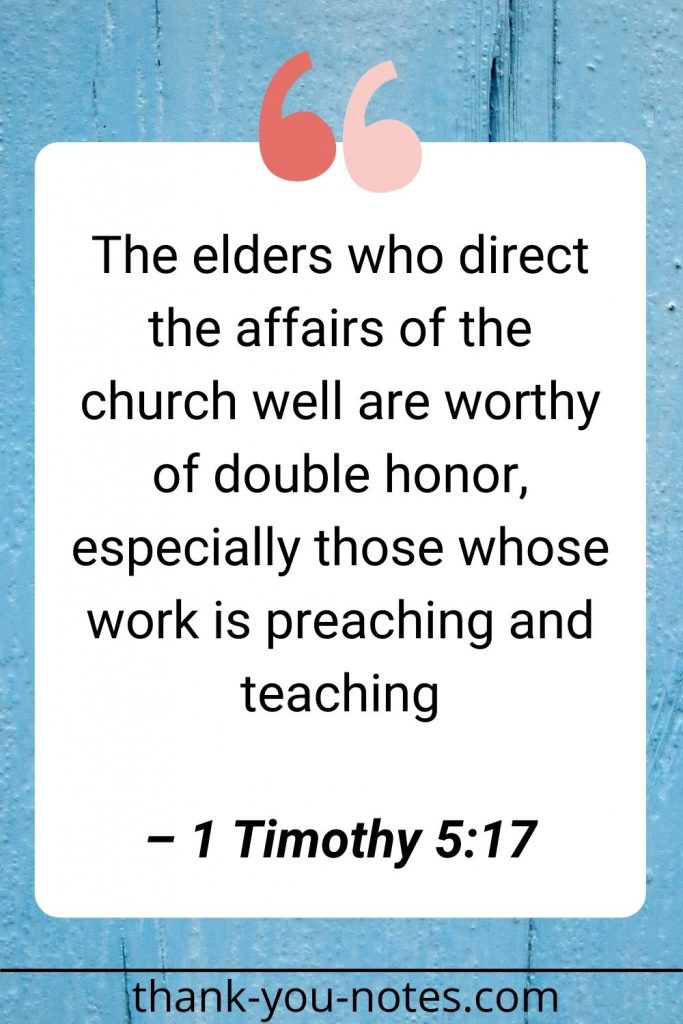 The elders who direct the affairs of the church well are worthy of double honor, especially those whose work is preaching and teaching
– 1 Timothy 5:17
Check out our Full Collection of Thank You Quotes.
Examples of Thank You Notes for Pastors
Example #1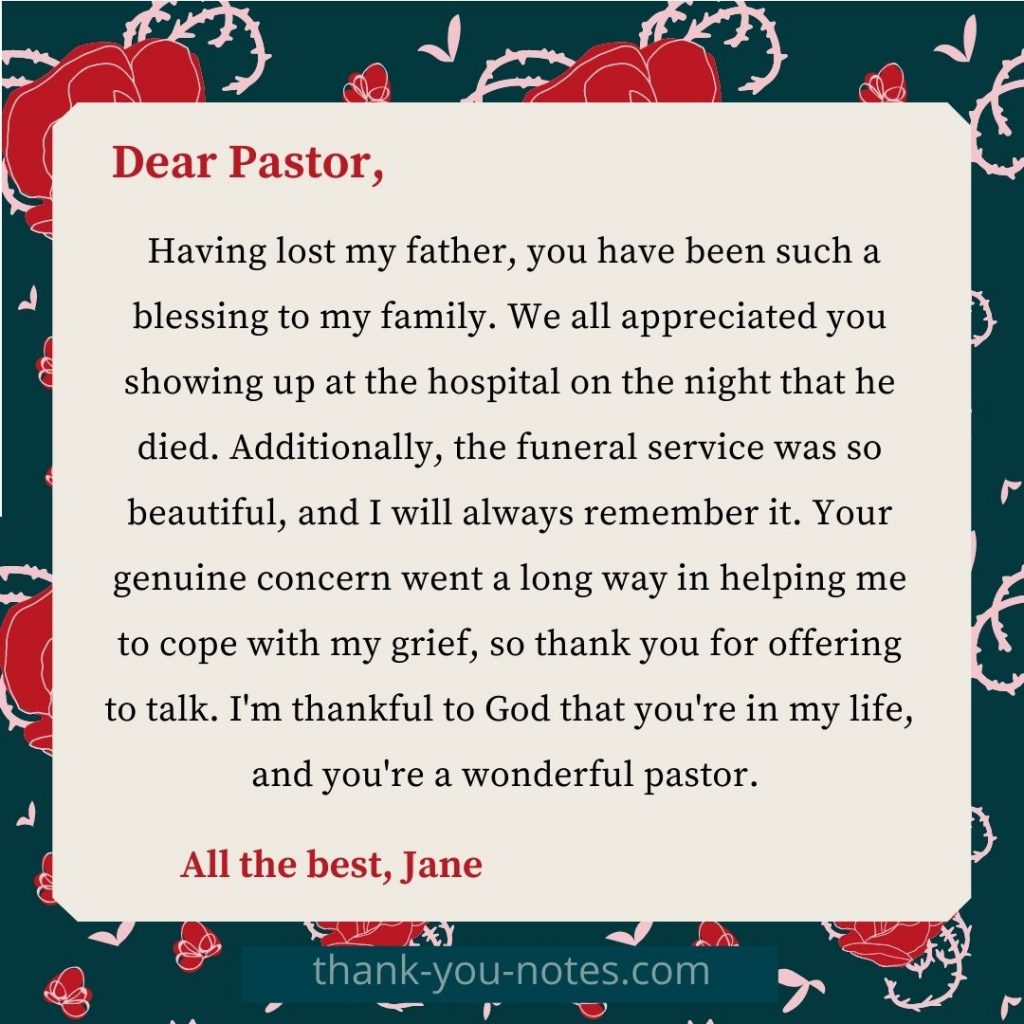 Dear Pastor,

  Having lost my father, you have been such a blessing to my family. We all appreciated you showing up at the hospital on the night that he died. Additionally, the funeral service was so beautiful, and I will always remember it.  

Your genuine concern went a long way in helping me to cope with my grief, so thank you for offering to talk. I'm thankful to God that you're in my life, and you're a wonderful pastor.  

All the best,
Jane
Example #2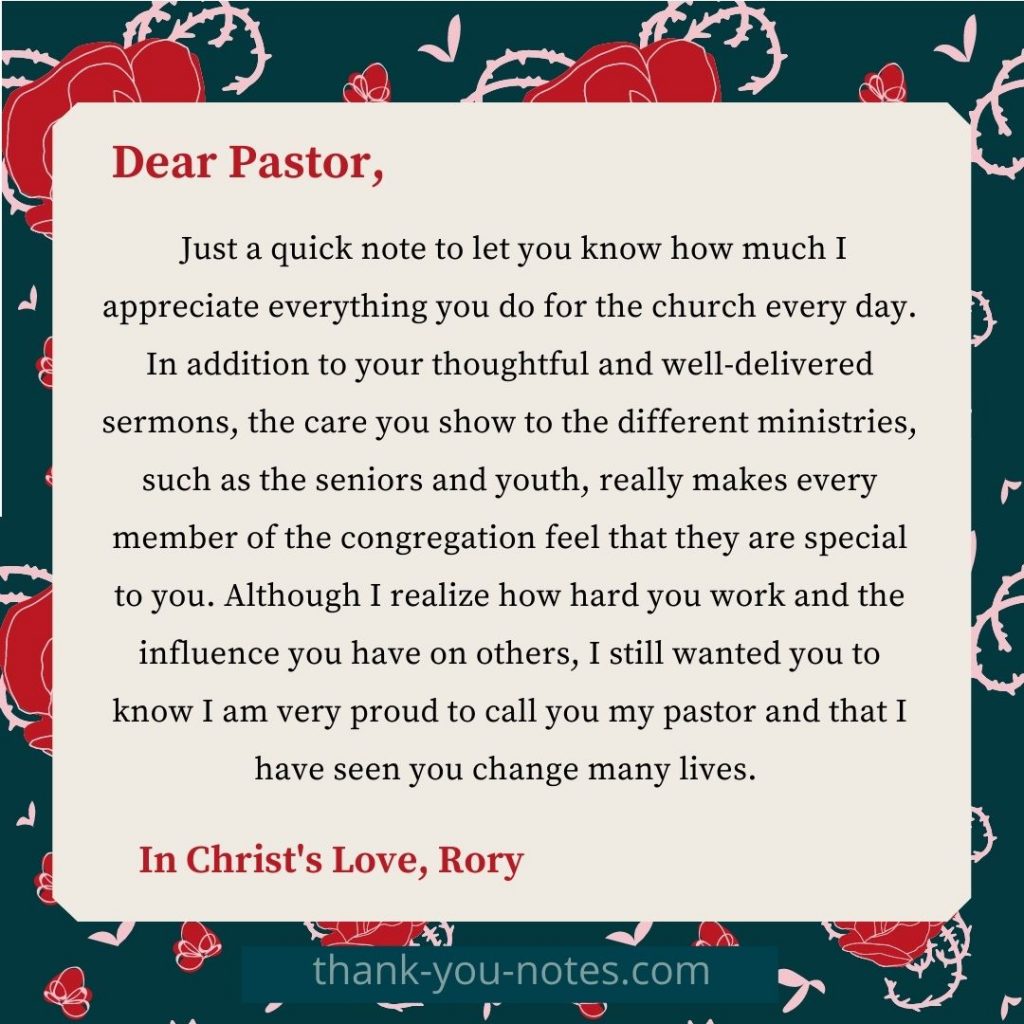 Dear Pastor,

  Just a quick note to let you know how much I appreciate everything you do for the church every day. In addition to your thoughtful and well-delivered sermons, the care you show to the different ministries, such as the seniors and youth, really makes every member of the congregation feel that they are special to you.

  Although I realize how hard you work and the influence you have on others, I still wanted you to know I am very proud to call you my pastor and that I have seen you change many lives.  

In Christ's Love,
Rory
How Do You Thank Your Pastor?
We'd love to see what you think of the best ways to thank your pastor. Share your ideas on this page and we'll publish them!

Possible Ideas
Thank you poems for your pastor
More great thank you quotes
Creative thank you gift ideas
A thank you card you've designed
Thank you prayers…etc
…and thanks!