We have put together an extensive collection of wedding thank you note samples to help you come up with the perfect wording for your thank you cards.
You'll want to keep a few things in mind when writing a wedding thank you note.
Tips and Etiquette
Write your notes by hand
Thank your guest for attending
Mention the gift you received
Use black or blue ink
Try to send out all your notes within 6 weeks of the ceremony
More wedding thank you note help…
Wedding Thank You Note Etiquette
Wedding Thank You Quotes
Thank You Poems
Now, let's go over some sample thank you note wording.
Wedding Thank You Note Wording Samples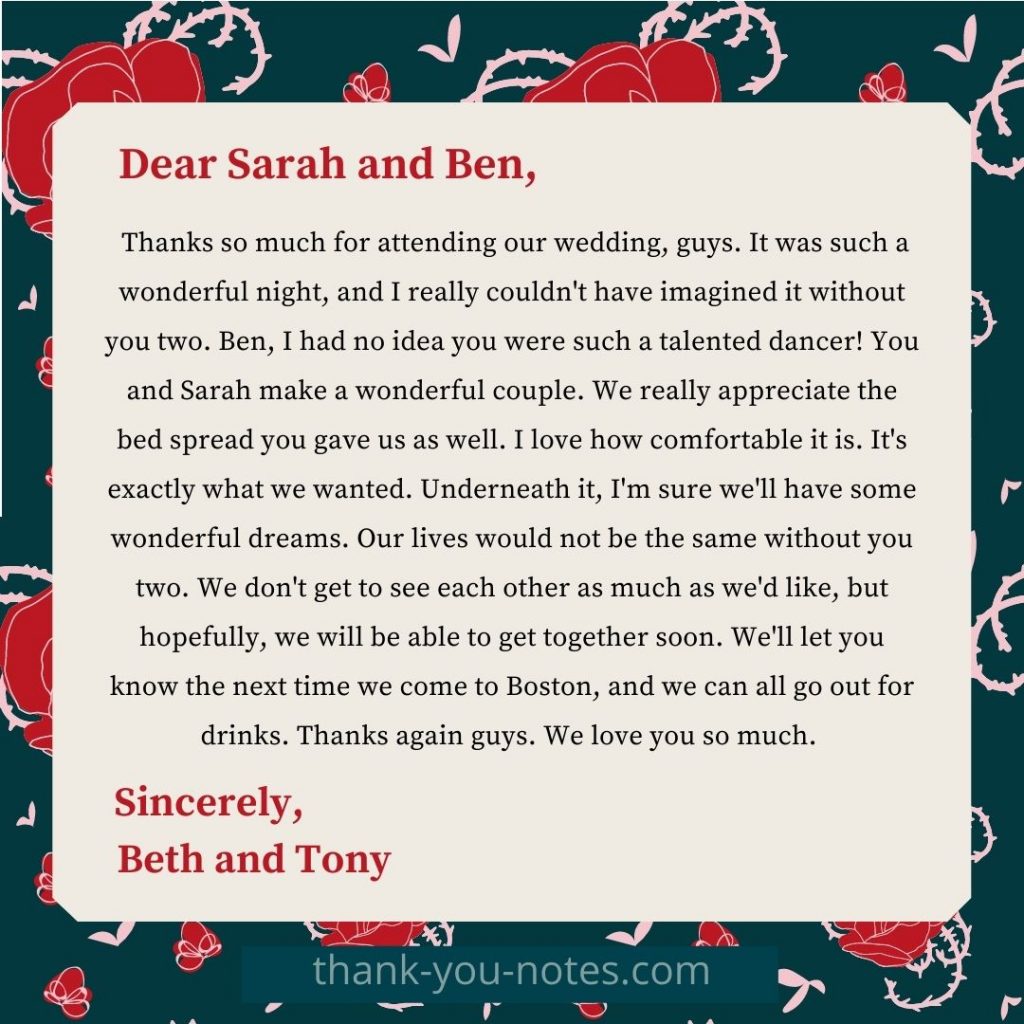 Dear Sarah and Ben,

  Thanks so much for attending our wedding, guys. It was such a wonderful night, and I really couldn't have imagined it without you two. Ben, I had no idea you were such a talented dancer! You and Sarah make a wonderful couple.   

  We really appreciate the bed spread you gave us as well. I love how comfortable it is. It's exactly what we wanted. Underneath it, I'm sure we'll have some wonderful dreams.   

  Our lives would not be the same without you two. We don't get to see each other as much as we'd like, but hopefully, we will be able to get together soon. We'll let you know the next time we come to Boston, and we can all go out for drinks.   

Thanks again guys. We love you so much.

Sincerely,
Beth and Tony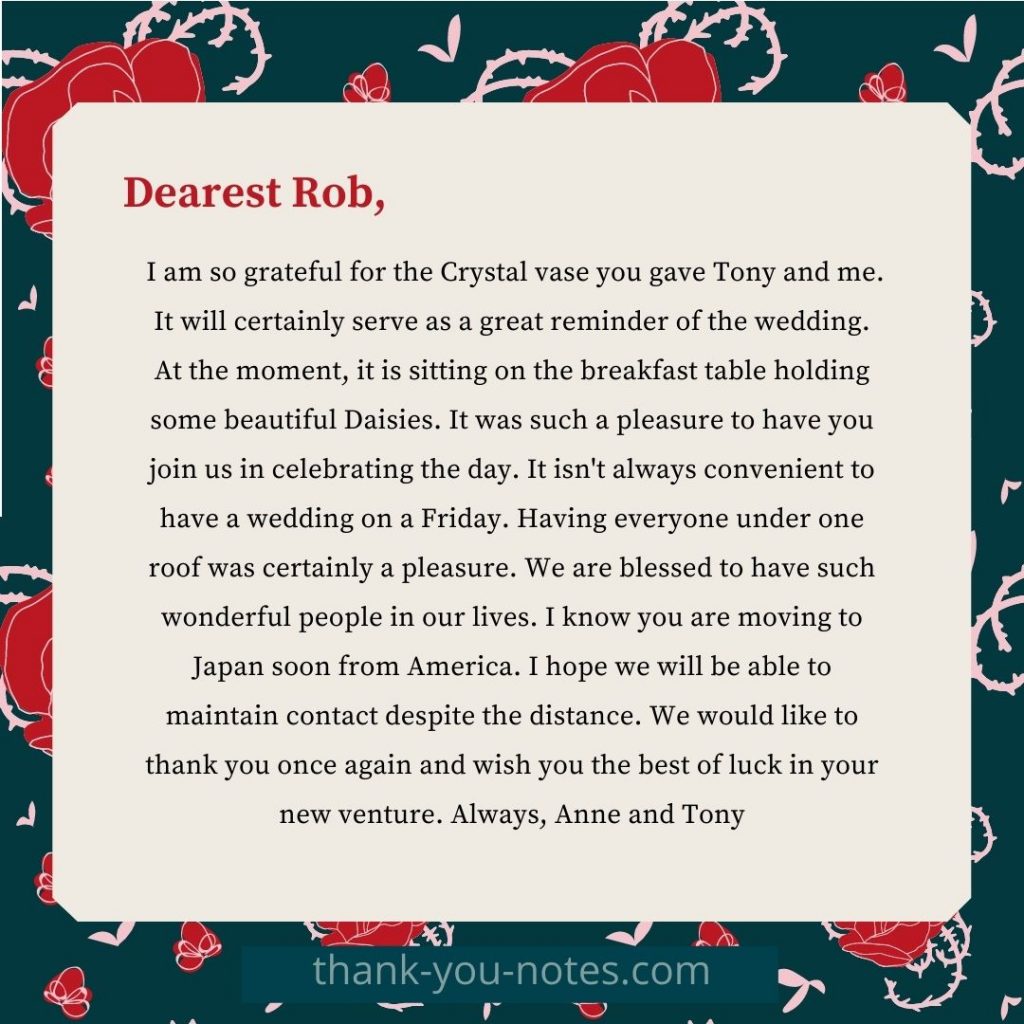 Dearest Rob,

  I am so grateful for the Crystal vase you gave Tony and me. It will certainly serve as a great reminder of the wedding. At the moment, it is sitting on the breakfast table holding some beautiful Daisies.   
  It was such a pleasure to have you join us in celebrating the day. It isn't always convenient to have a wedding on a Friday.   
  Having everyone under one roof was certainly a pleasure. We are blessed to have such wonderful people in our lives. I know you are moving to Japan soon from America. I hope we will be able to maintain contact despite the distance. We would like to thank you once again and wish you the best of luck in your new venture.   
Always, Anne and Tony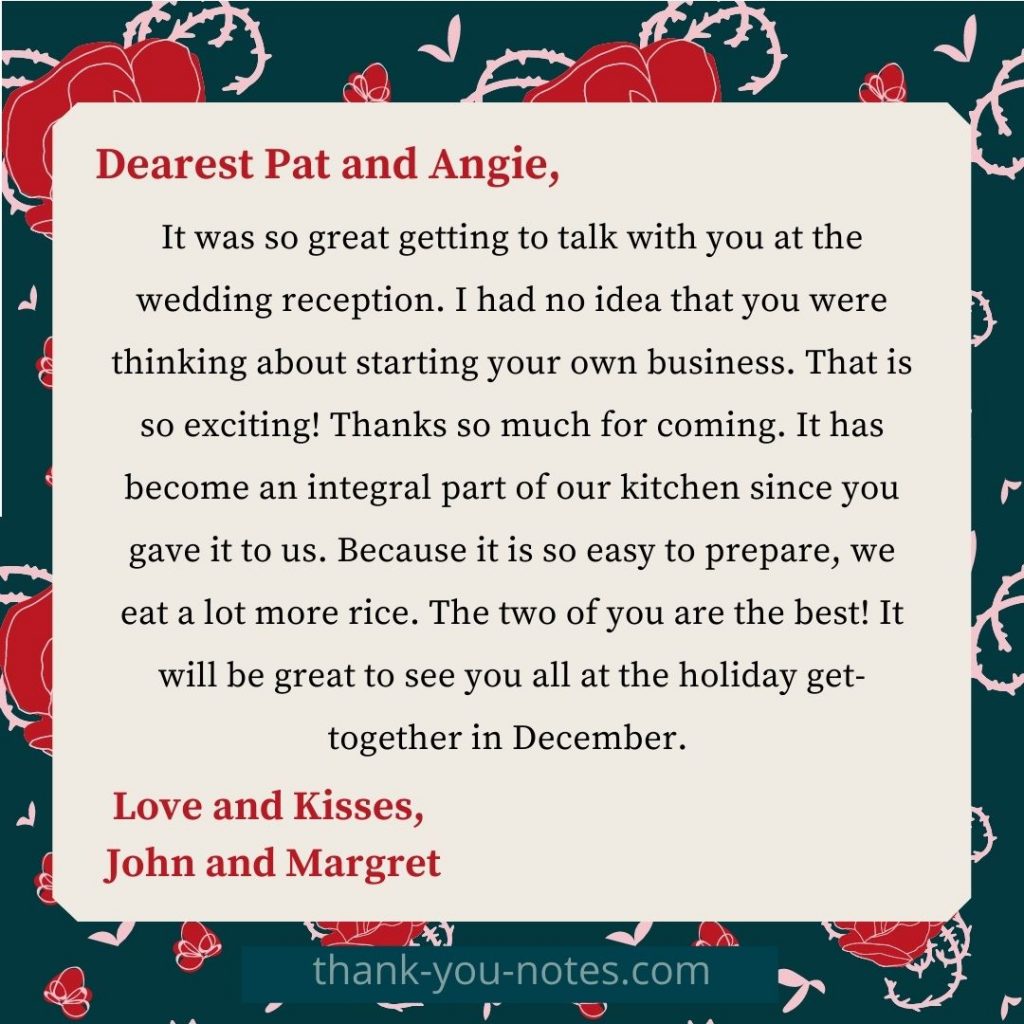 Dearest Pat and Angie,

It was so great getting to talk with you at the wedding reception. I had no idea that you were thinking about starting your own business. That is so exciting!
Thanks so much for coming. It has become an integral part of our kitchen since you gave it to us. Because it is so easy to prepare, we eat a lot more rice. The two of you are the best! It will be great to see you all at the holiday get-together in December.

Love and Kisses,

John and Margret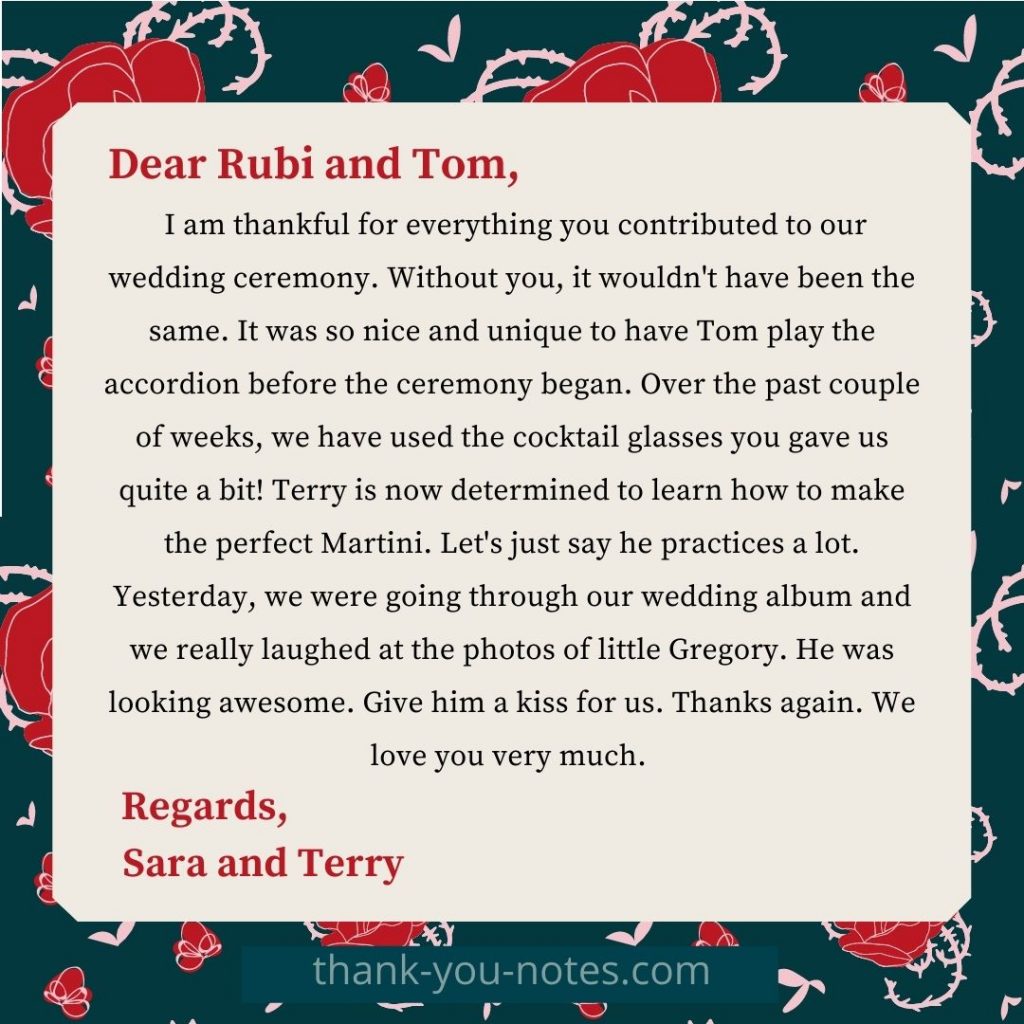 Dear Rubi and Tom,

  I am thankful for everything you contributed to our wedding ceremony. Without you, it wouldn't have been the same. It was so nice and unique to have Tom play the accordion before the ceremony began.   
  Over the past couple of weeks, we have used the cocktail glasses you gave us quite a bit! Terry is now determined to learn how to make the perfect Martini. Let's just say he practices a lot.   
Yesterday, we were going through our wedding album and we really laughed at the photos of little Gregory. He was looking awesome. Give him a kiss for us.

Thanks again. We love you very much.

Regards,
Sara and Terry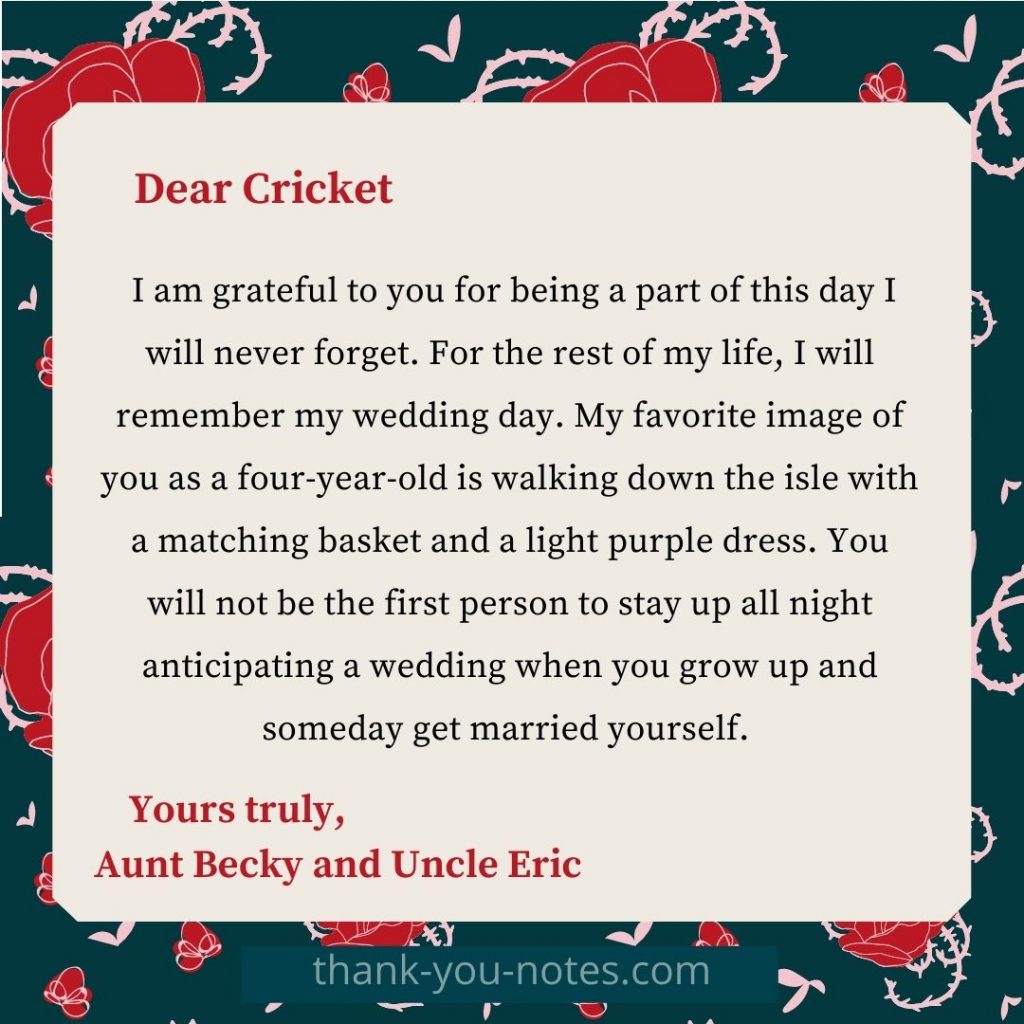 Dear Cricket (my favorite flower girl),

  I am grateful to you for being a part of this day I will never forget. For the rest of my life, I will remember my wedding day. My favorite image of you as a four-year-old is walking down the isle with a matching basket and a light purple dress.   
  You will not be the first person to stay up all night anticipating a wedding when you grow up and someday get married yourself.   

Yours truly,
Aunt Becky and Uncle Eric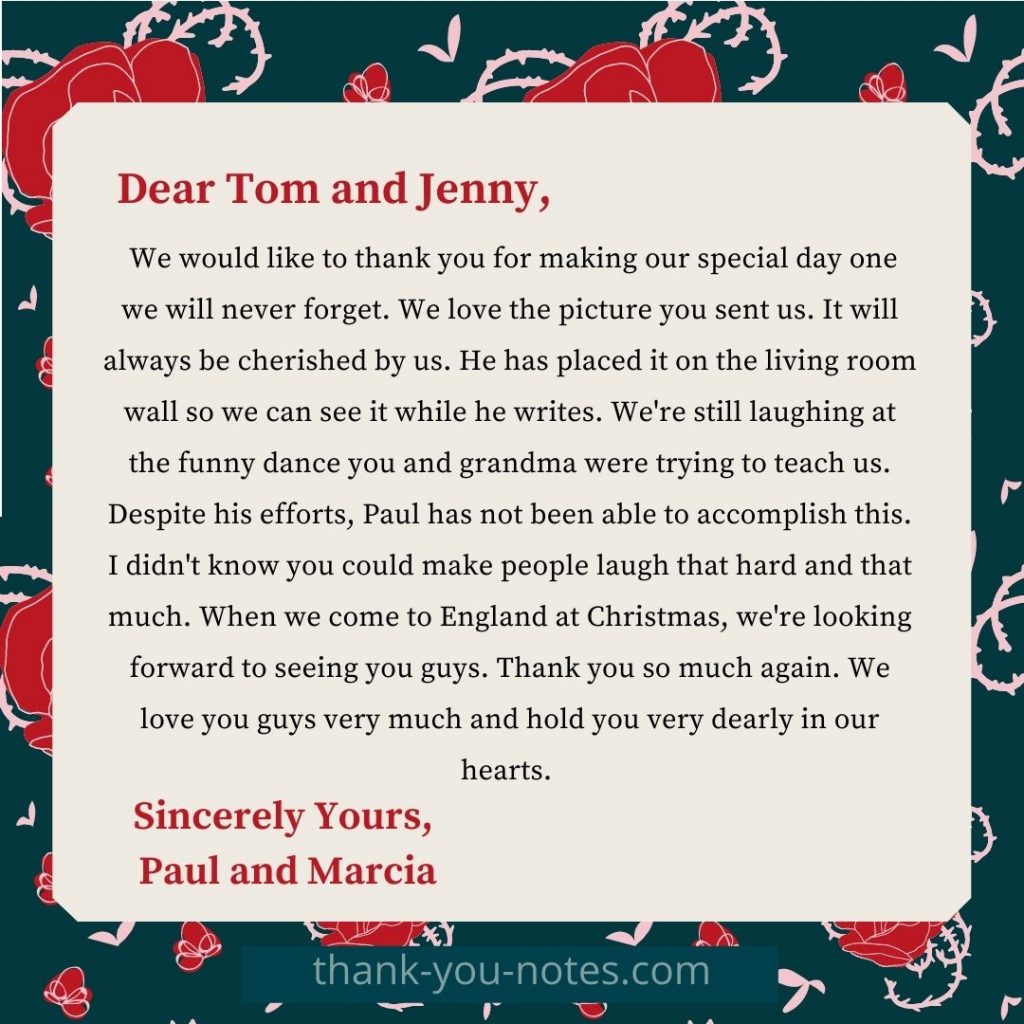 Dear Tom and Jenny,

  We would like to thank you for making our special day one we will never forget. We love the picture you sent us. It will always be cherished by us. He has placed it on the living room wall so we can see it while he writes.   
  We're still laughing at the funny dance you and grandma were trying to teach us. Despite his efforts, Paul has not been able to accomplish this. I didn't know you could make people laugh that hard and that much. When we come to England at Christmas, we're looking forward to seeing you guys. Thank you so much again. We love you guys very much and hold you very dearly in our hearts.   

Sincerely Yours,
Paul and Marcia
  Allen, it was a pleasure to have you at the wedding. Jane and I consider you one of our closest friends, as you may or may not know. Your presence really made the event the best it could be.   

  We are grateful for both your thoughtfulness and generosity. In the spring we'll take a cruise with this money. Our hopes are that your support and love will last for the rest of our lives.   

Sincerely,
Joe and Jane

Your wedding thank you notes should be as personalized as possible, as you can see. Not only will the notes appear more genuine, but they will also be easier to write.
You should mention the gift, but the key to writing a great thank-you note is to make the recipient feel like they were the most important person at your wedding. Get it done!
More wedding thank you note help…
Wedding Thank You Note Etiquette
Wedding Thank You Quotes
Thank You Poems