Retirement Thank You Notes:
Retirement might just be the beginning of endless possibilities. It is a special day in everyone's life when they retire. This day has to be celebrated uniquely to cherish the memories of this day forever. If you're retiring, it's a good idea to express gratitude to your coworkers, supervisor, and family members for the retirement wish you've received. Retirement signifies the start of a new chapter in one's life. It has to be honoured in a big way. This opportunity does not come to every single employee.
So, if you're fortunate enough to have your retirement recognized, you'll need an excellent thank you note for everyone who gave you warm retirement wishes. We've compiled a list of retirement thank you notes in this article.
"Retirement may be an ending, a closing, but it is also a new beginning."

– Catherine Pulsifer
We've included a wide list of 'Retirement Thank You Notes'. We hope this will help you.
Also Read: Writing a Retirement Thank You Letter
General Retirement Thank You Notes
#1 I had no idea I was surrounded by so much love. It wasn't until you gave me a fantastic retirement party that I realized it. My previous coworkers have never shown me such affection. This was enough to persuade me that my work at the company was worthwhile. I got taken back to my younger years when I was an outstanding dancer. Thank you so much for everything. I wish you all a lot of luck in the future.
#2 I can't believe you guys threw me such a fantastic and enjoyable celebration in such a lovely backyard. I'm sure it cost you all a lot of money, which was all for my benefit. Incredibly, you went to such lengths to prepare it. You all helped to make my farewell one remember. I am grateful that you made me feel significant and that my efforts have resulted in some recognition in my industry over the years. May you get the most out of your time with the firm.
#3 I appreciate your efforts in planning my office's big retirement party last week. Everyone present made me feel appreciated. Their encouragement to persuade me to dance to my favorite song was incredible. Thank you so much for the delicious cake; the fact that you baked it yourself humbles me. Your thoughtful gestures will stay with me. I wish you all the best in your personal and professional lives.
#4 Your thoughtful gestures will stay with me. I wish you all the best in your personal and professional lives. How did you know I had a thing for neon at my parties? As shocked as I was by that, nothing surpassed your thoughtful gesture of throwing me a party at this five-star hotel. Thanks to you, I had a fantastic experience. I wish I could go back in time and retire all over again so that we could relive this moment.
#5 I especially appreciated the thoughtful present of a customized fishing pole, which is ideal for my hobby. Thank you for considering my interest in fishing and providing me with such a wonderful retirement gift. The instruments are ideal for my needs. I am grateful for the present and am pleased to inform you that my abilities are rapidly developing. When it comes to the fish I capture, the numbers are increasing. You are welcome to walk by and take a few of them.
#6 I knew it had to be from you when I opened the gift, even before I checked who it was from. I'm completely smitten with the chalkboard clock you gave me. I'm thrilled that you took into account my fondness for constructing timetables. I want to let you know that it has greatly benefited me in my new life. Once again, thank you.
#7 I appreciate your thoughtfulness in selecting a gift for my retirement. Thank you very much!
Retirement Party Thank You Notes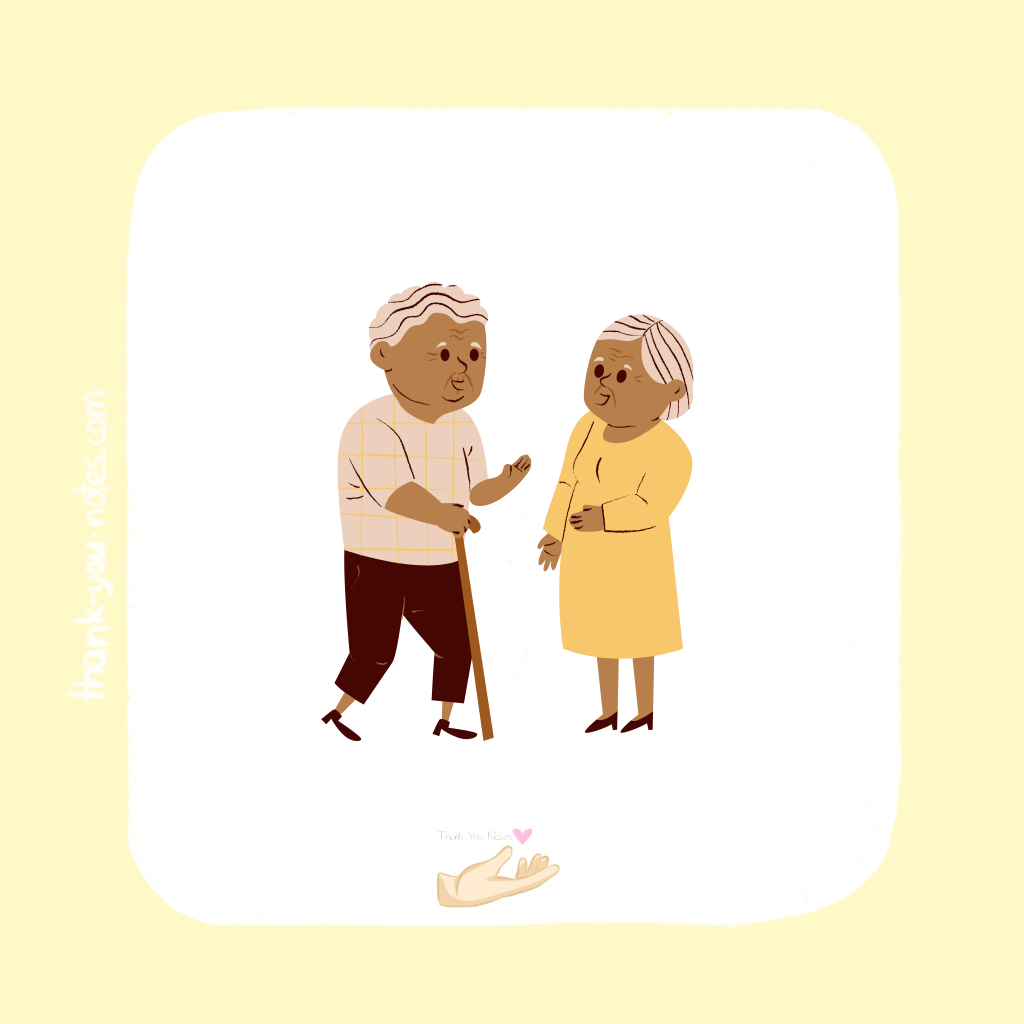 #1 Thank you for coming to my retirement party and for your warm congratulations. Your present was the one I enjoyed the most.
#2 Thank you for taking time out of your hectic schedules to attend my retirement party. I am truly grateful. At my retirement party, your presents made me feel exceptional.
#3 Thank you for coming to my retirement celebration. Without you, it wouldn't have been complete. Every working person's life is enriched by retirement. However, by attending, you added to the significance of my retirement. Thank you very much!
#4 I can't believe I'm getting ready to retire because I still look so young! Thank you all for attending my retirement party and making it so unique. I hope these memories will last a lifetime!
#5 We don't know how to thank you enough for giving me your heartfelt congratulations on your retirement. Thank you very much for coming to the celebration, and thanks for your inspirational thoughts.
#6 Thank you for constantly encouraging and motivating our staff with your consistent positivity. I'm going to miss you!
#7 You were a good boss because you gave us more than just orders; you also gave us direction and inspiration.
#8 You were literally one of my best colleagues ever. I'm incredibly grateful that you decided to show up at my retirement party. This truly means a lot. Goodbyes are always bittersweet, but i surely know we will keep in touch!
How To Write Compelling Retirement Thank You Notes
Retirement thank you notes for money can often come off as pretentious or might fail to communicate one's true feelings. Here are some valuable tips for writing better retirement thank you notes.
1. Be compassionate
Suppose a person chooses to be with you during such crucial times. In that case, you must identify their efforts and provide a compassionate thank you.
Even if someone just turns up and shows support while you're going through tough times. Click here for 50 Best Ways to Say Thank You For Coming.
2. Write in a neutral tone
Writing with a neutral tone will help keep your emotions in check and formulate a better message.
Learn here: how to write a message with a neutral tone
4. Be precise
Don't beat around the bush too much. Give a heartfelt to-the-point note.
5. Avoid puzzling vocabulary
Don't use too much of puzzling vocabularies.
Retirement Thank You Letters:
1)
Dear --------------


Fortunately, you have been a part of my life for the past 40 years, and I will miss you. I'm closing the door behind me and beginning a new chapter with considerable trepidation. It's both thrilling and terrifying.



Please join me for a farewell drink ———at———



Warm regards,

 --------------



2)
Dear,



It's time for me to leave J.K. Jones & Company Limited. After 28 years of service, I will be retiring from the company at the end of August.



I want to express my gratitude to you all for our excellent working relationship, and I wish you all the best for the future.



Thank you very much for the retirement celebration and gifts, and I will remember you all whenever I play sports!

Please keep in touch.



Warm regards,
Peter
3)
Hello, ———


I'm writing to express my gratitude to you and every one of the Henry Watson & Co. employees for the party you hosted in my honor last week, as well as the lovely watch you gave me as a retiring gift.

As I mentioned in my speech, I've had a great time working for the company for the past 15 years. It was a terrific place to work, and I loved being a part of such a hardworking group. I won't miss getting up at such an early hour, but I will miss being a part of the team.

I hope to see you all again soon, possibly for a round of golf or a quick drink.

Thank you once again for a beautiful evening.

Sincerely yours,

--------------



4)
Dear --------------



It's finally time for me to retire! You have been my boss for the past few years, and I am forever thankful. It's been a joy working for you. I am fortunate to have been assigned to your team because our work ethic and objectives are comparable. It made planning for my retirement feel easier.

I'm also grateful for my flexibility when I needed to take time off to care for sick children or when my family came first.



The retirement party you arranged for me was a pleasant surprise! Thank you so much for allowing me to say my goodbyes to the team in such a delightful way.



Please stay in contact! ###-###-#### is my phone number.



Sincerely,

 --------------

5)
Dear --------------


Thank you for being such a wonderful boss. You've always been a great listener whenever a situation occurs. Your ability to handle problems and keep the team together is incredible.

I wanted to let you know how much I appreciate you as my retirement date approaches. I understand that being in control isn't always easy!



Also, thank you for the [whatever the present was] retirement. [Insert a phrase describing the gift].



For me, the retirement party was exceptional. The number of people that came from previous projects and teams surprised me. It was ideal to end my work with [business name] because I interacted with everyone and wished them all the best.


Sincerely,

-------------


PRINTABLE RETIREMENT THANK YOU NOTES:
We have included some printableRetirement Thank You Notes in this article. You can also personalize it a little more by providing a hand-written retirement thank you note using the blank template given below.
Retirement Thank You Notes(for the one retiring):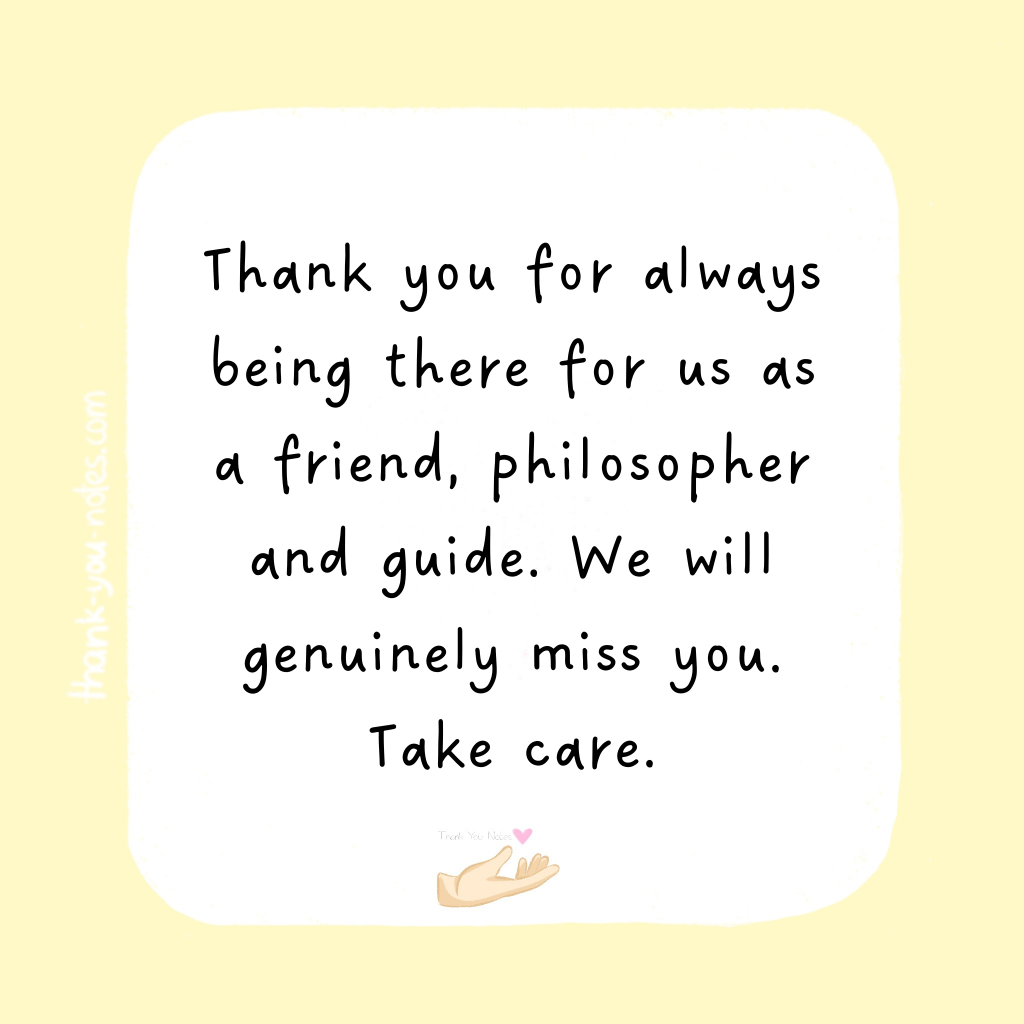 Retirement Thank You Notes(from the one retiring):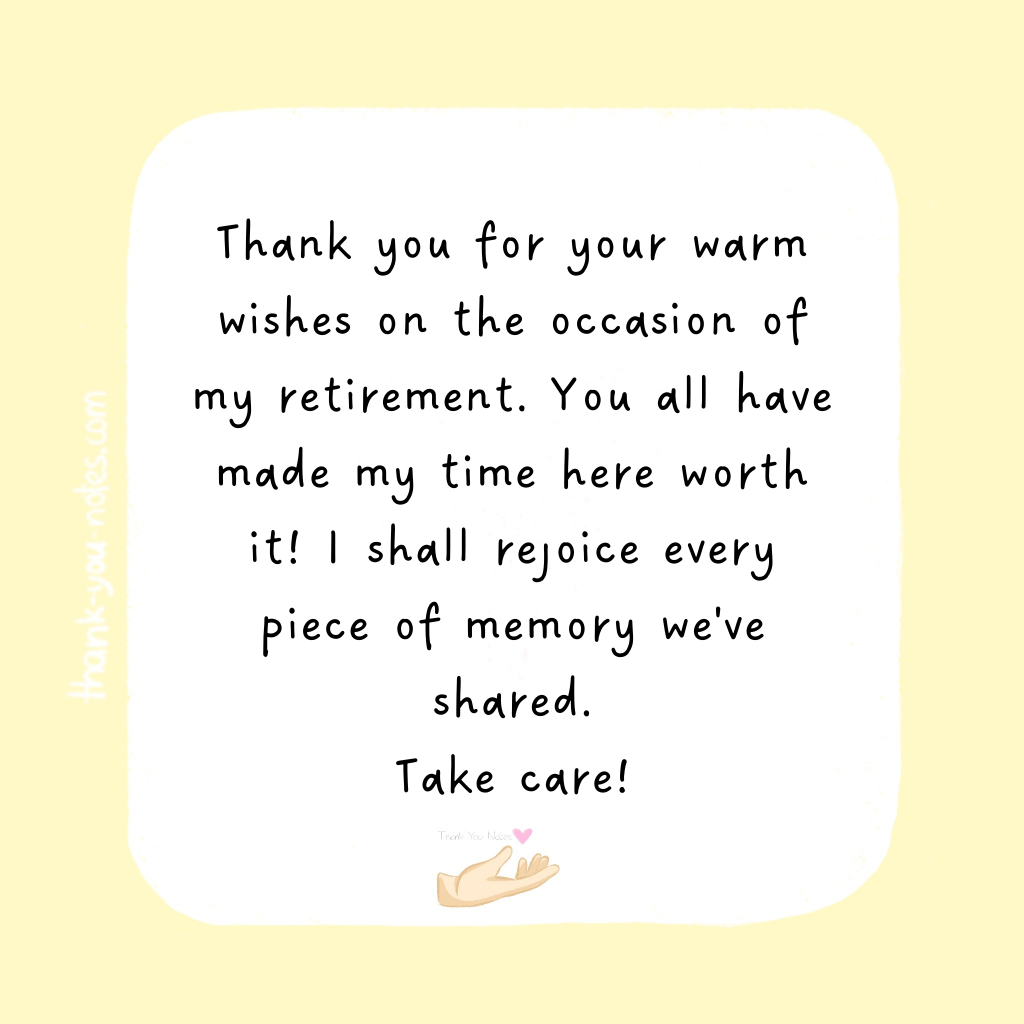 Retirement Thank You Notes: Blank Template for Hand-Written Notes