Volunteering is an act of kindness or community service that can emphasise improving the lives of others. Hence, making volunteers feel appreciated is the least we can do for them, and Thank You volunteer quotes will undoubtedly aid you in doing so.
Volunteers are the absolute backbone of every organization's success, so these volunteer quotes are worth sharing and thanking the volunteers for their enthusiasm, time is given to a purpose, and hard work.
Make volunteers feel appreciated by thanking them for making the world a better place to live. These selfless volunteers can inspire others via their volunteer effort and hard work even though it is not making an impact on their career.
Even the most dedicated volunteers require some encouragement and motivation to keep their spirits up. So, if you're looking for ways to show your volunteers that you care, here are some motivational quotes and thoughts to live by for those who never stop trying to make the world a better place.
Thank You Volunteer Quotes:
If you're searching for some inspirational quotes to show your gratitude, here are some of the greatest to brighten the lives of those who never fail to spread compassion and help others. Thank the volunteers for their dedication and service and give us reason to hope.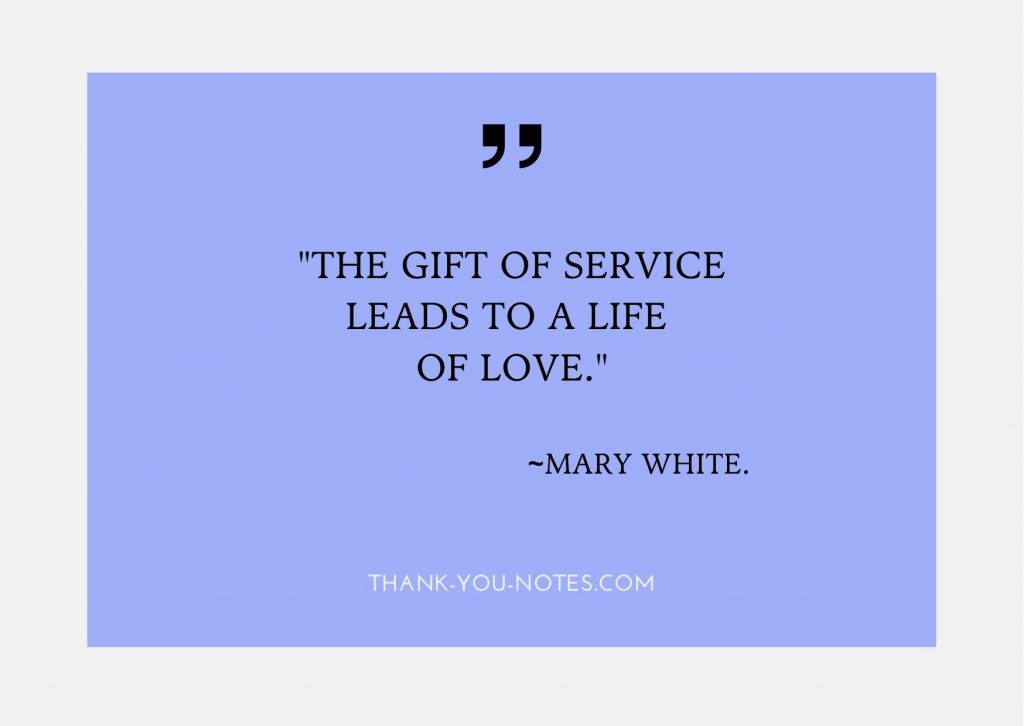 "The gift of service leads to a life of love."

~Mary White.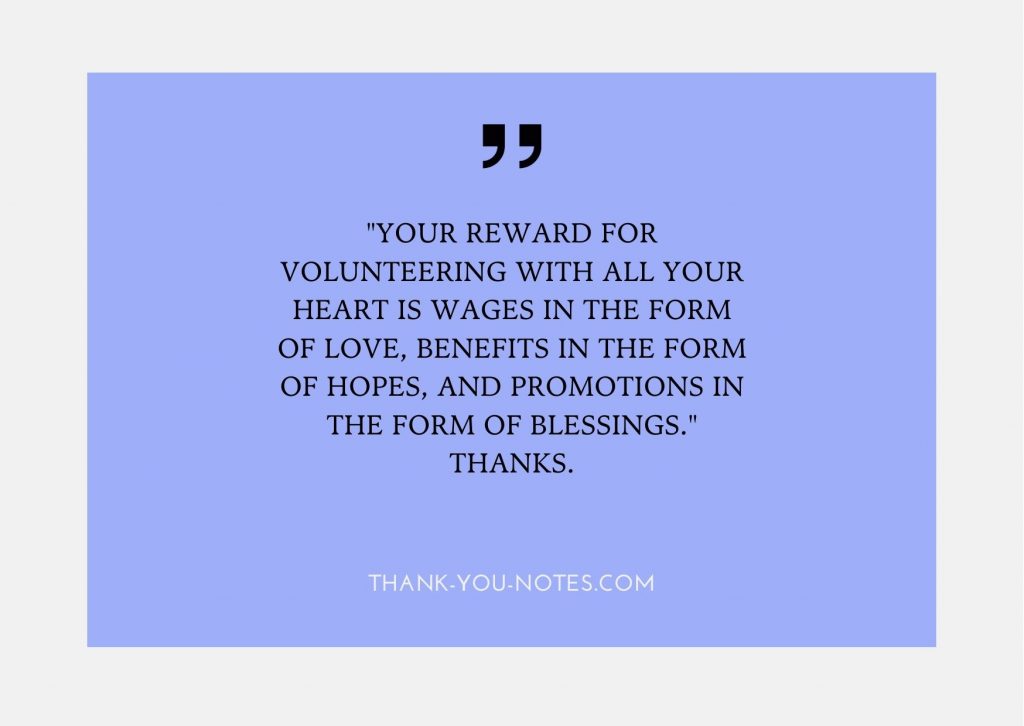 "Your reward for volunteering with all your heart is wages in the form of love, benefits in the form of hopes, and promotions in the form of blessings." Thanks.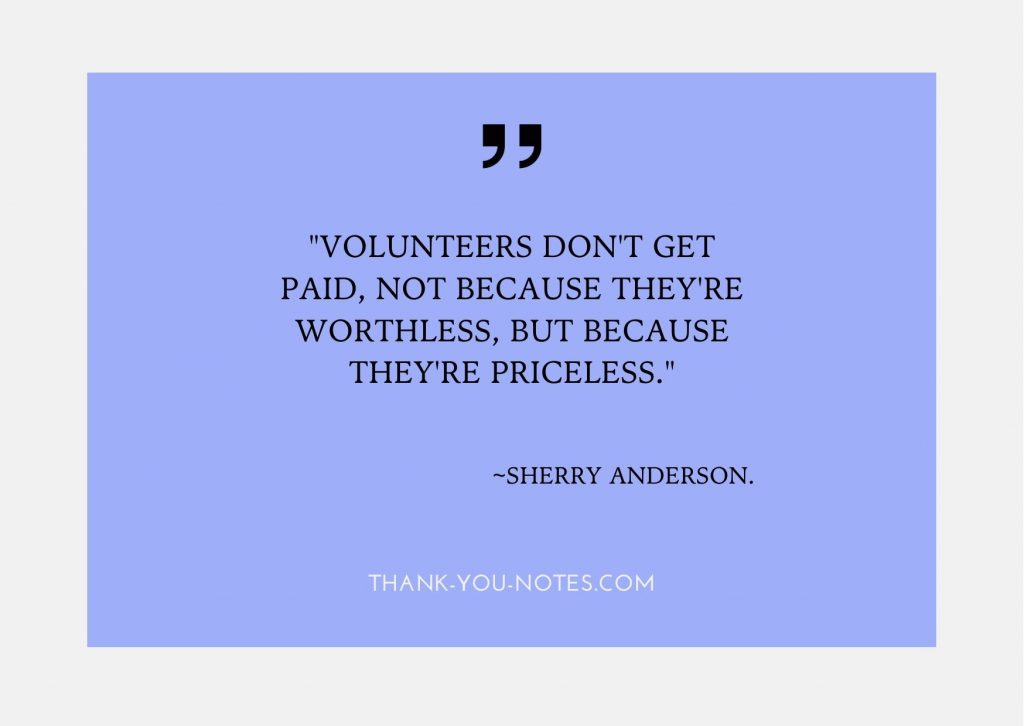 "Volunteers don't get paid, not because they're worthless, but because they're priceless."

~Sherry Anderson.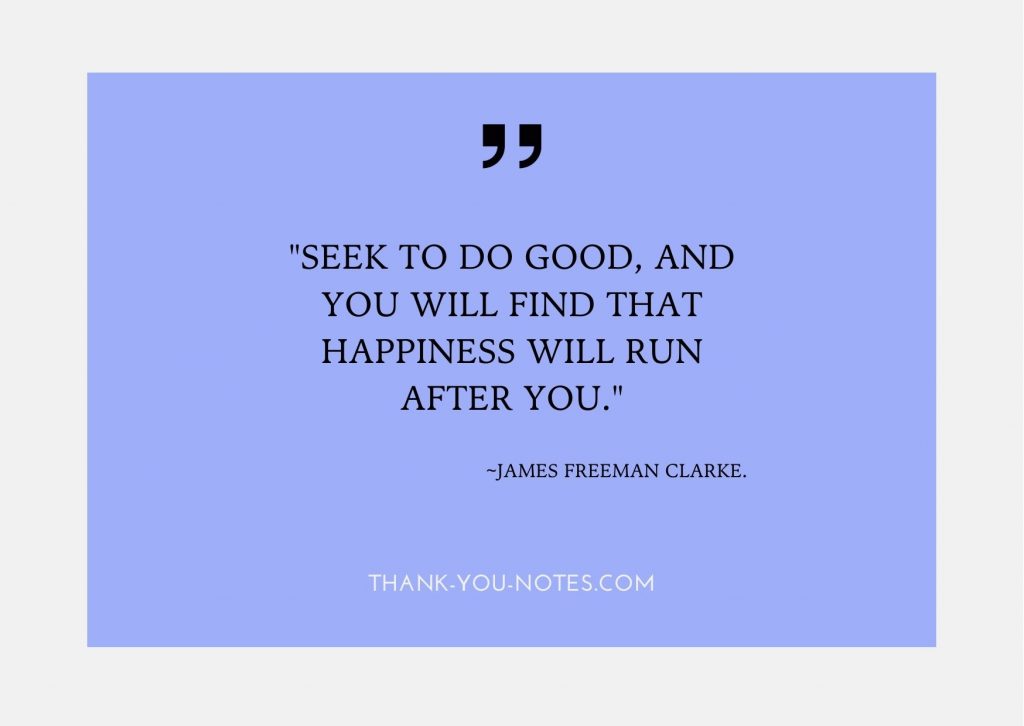 "Seek to do good, and you will find that happiness will run after you."

~James Freeman Clarke.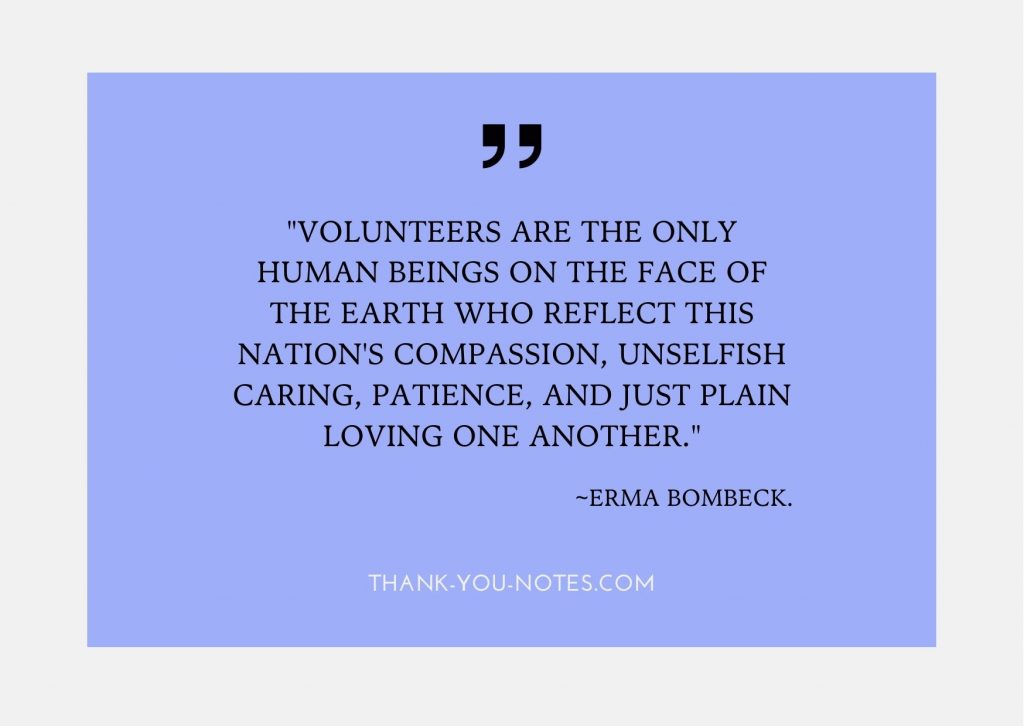 "Volunteers are the only human beings on the face of the earth who reflect this nation's compassion, unselfish caring, patience, and just plain loving one another."

~Erma Bombeck.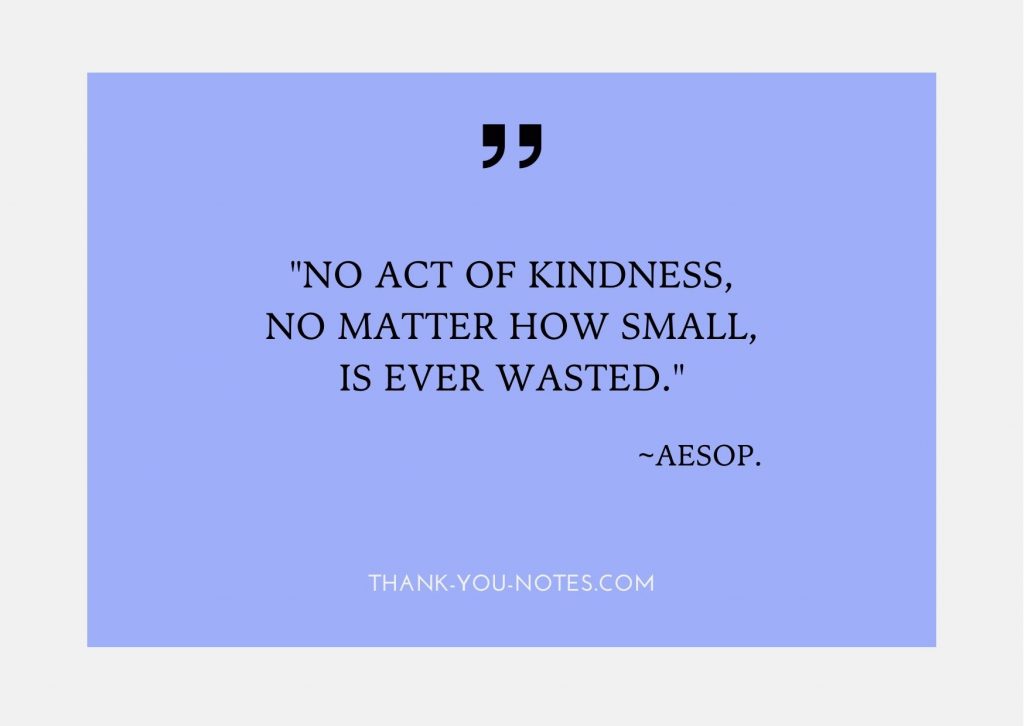 "No act of kindness, no matter how small, is ever wasted."

~Aesop.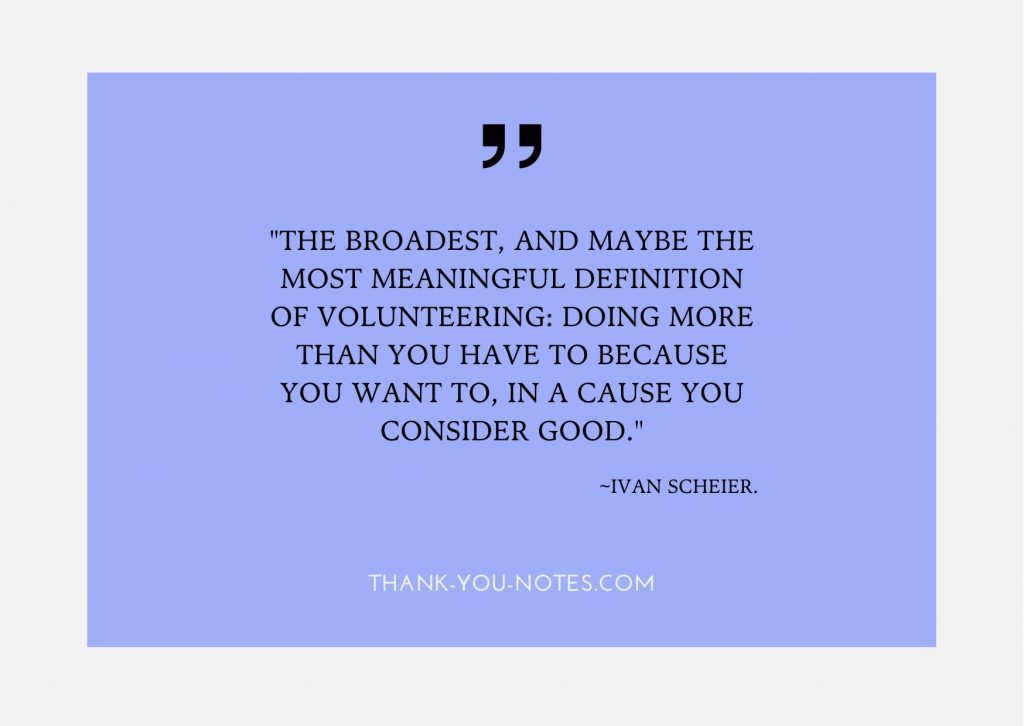 "The broadest, and maybe the most meaningful definition of volunteering: Doing more than you have to because you want to, in a cause you consider good."

~Ivan Scheier.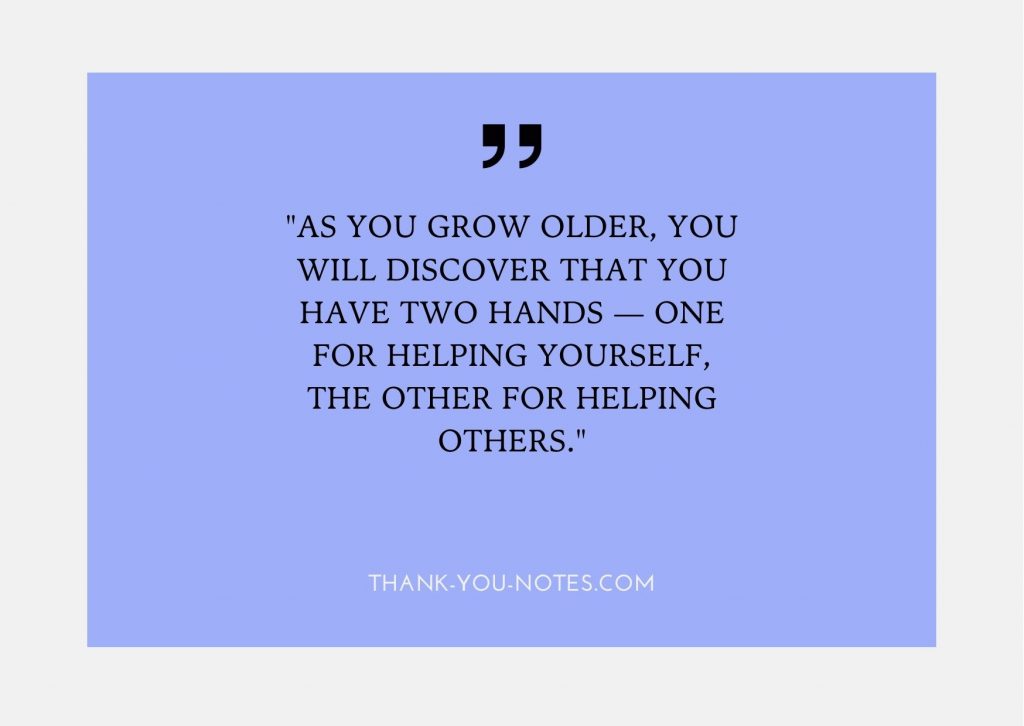 "As you grow older, you will discover that you have two hands — one for helping yourself, the other for helping others."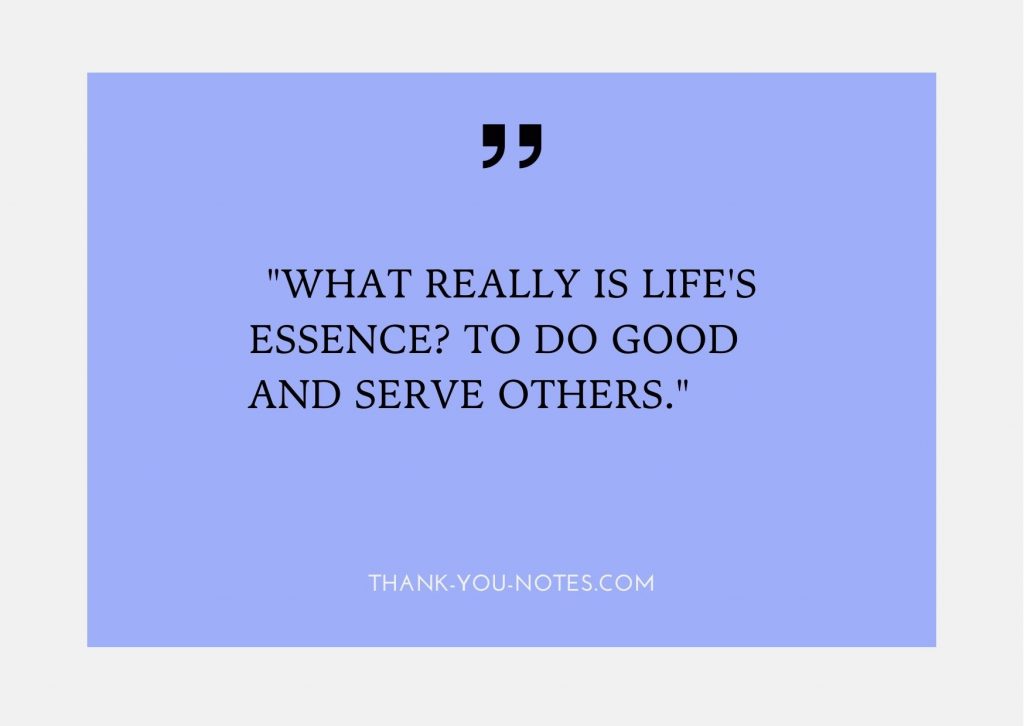 "What really is life's essence? To do good and serve others."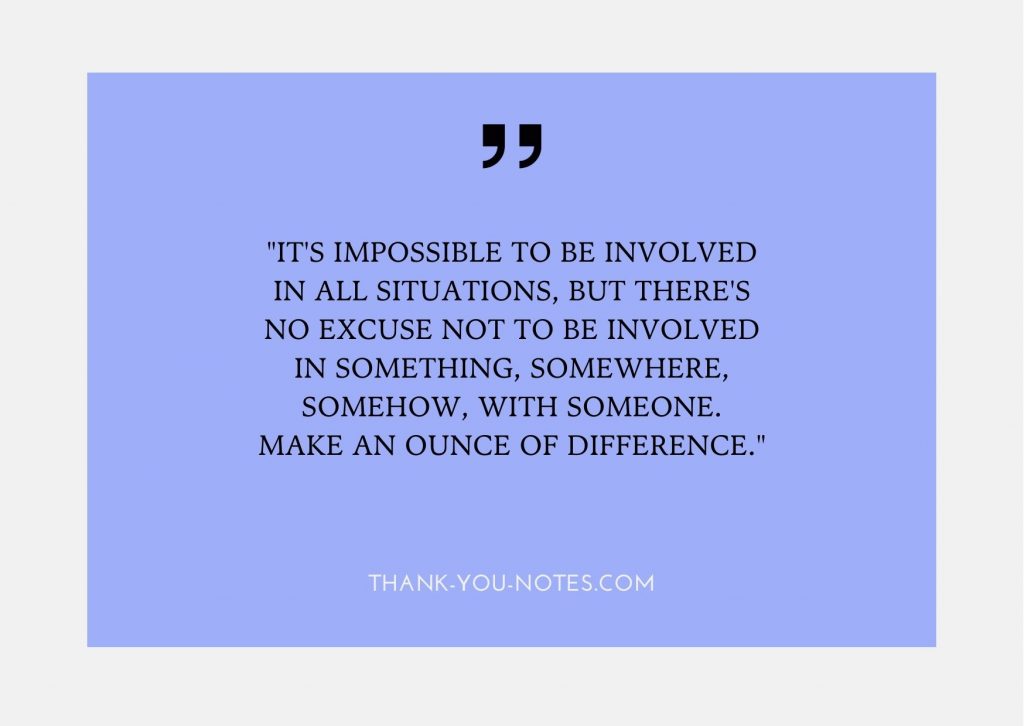 "It's impossible to be involved in all situations, but there's no excuse not to be involved in something, somewhere, somehow, with someone. Make an ounce of difference."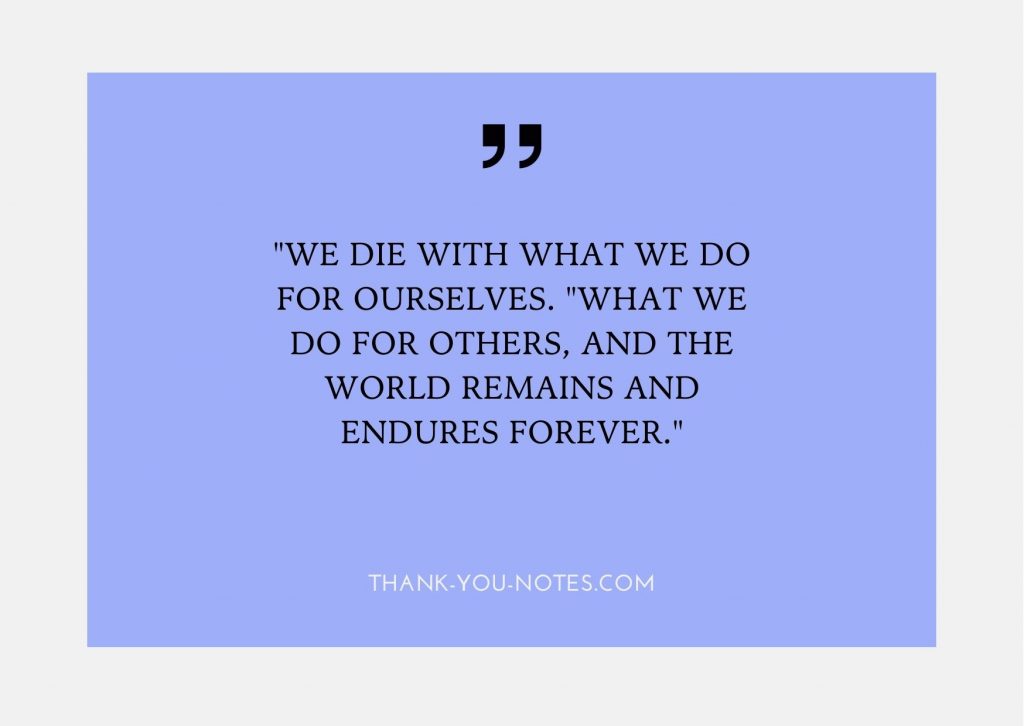 "We die with what we do for ourselves. "What we do for others, and the world remains and endures forever."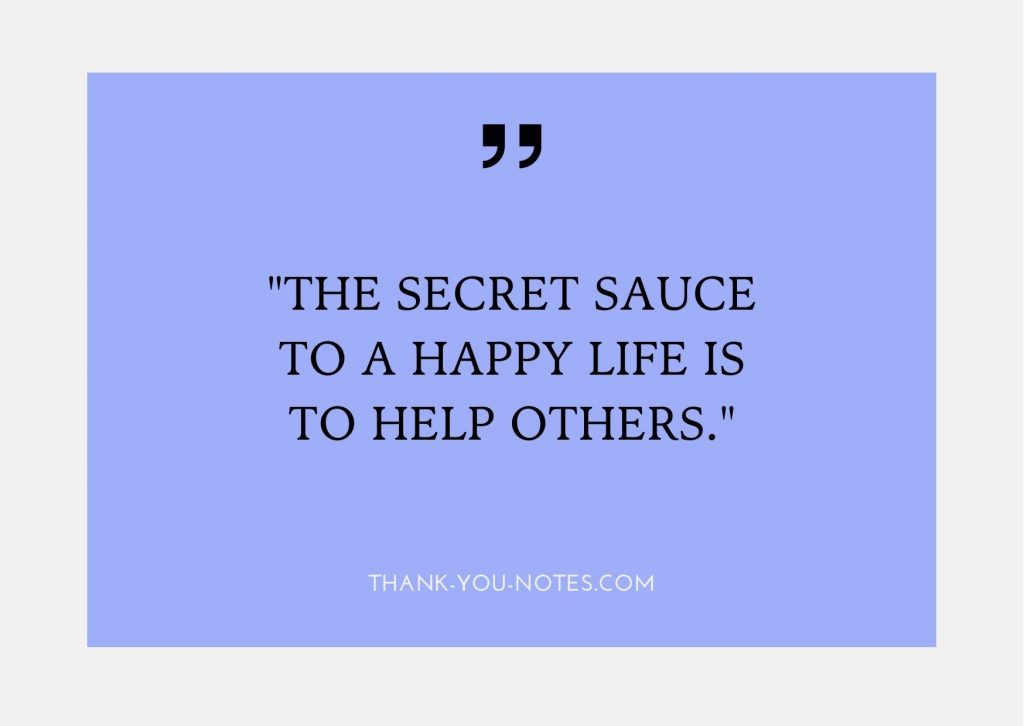 "The secret sauce to a happy life is to help others."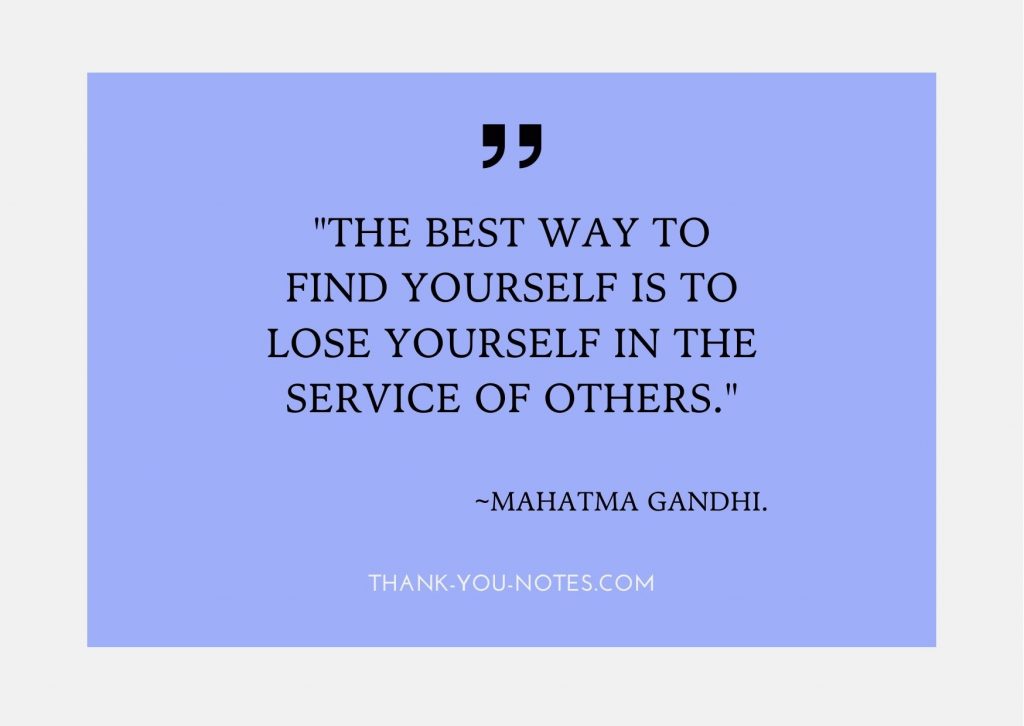 "The best way to find yourself is to lose yourself in the service of others."

~Mahatma Gandhi.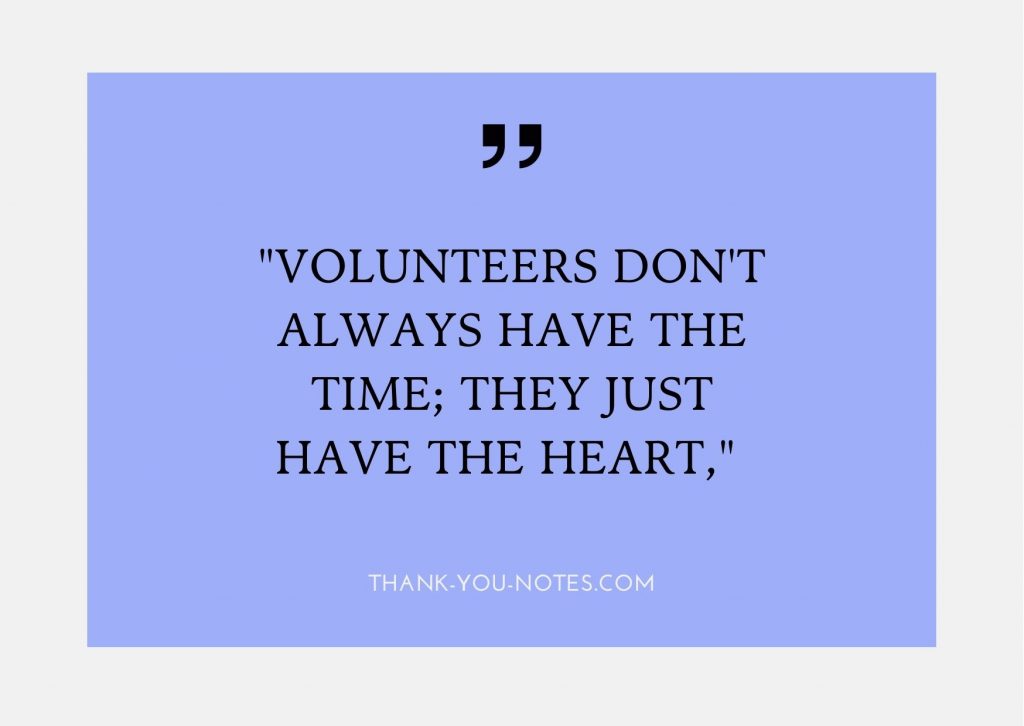 "Volunteers don't always have the time; they just have the heart,"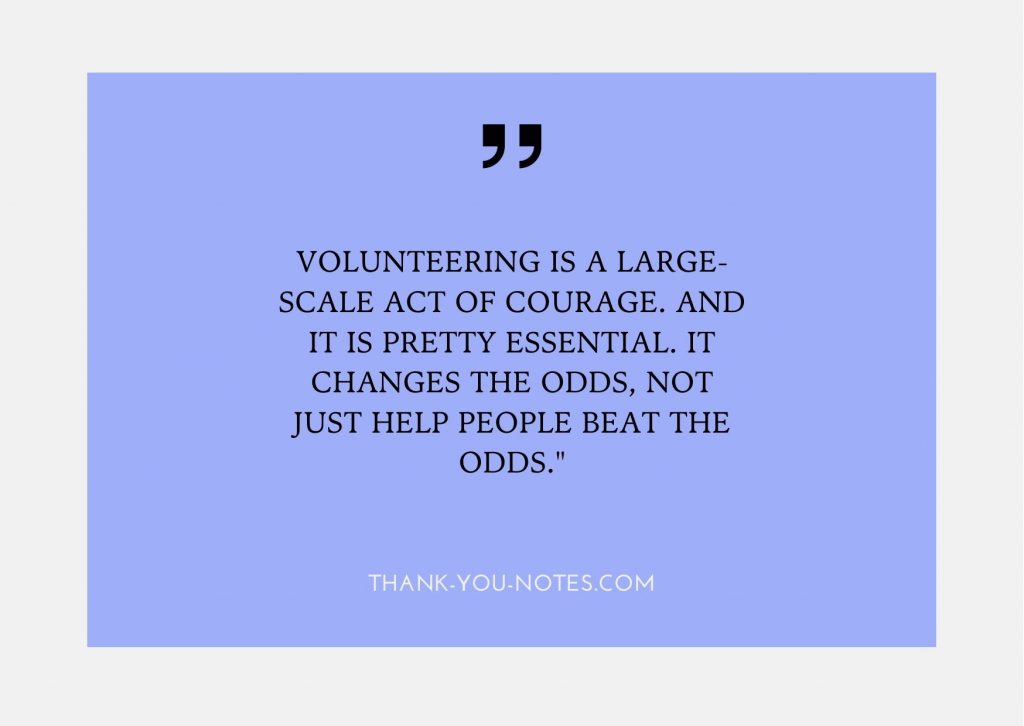 Volunteering is a large-scale act of courage. And it is pretty essential. It changes the odds, not just help people beat the odds."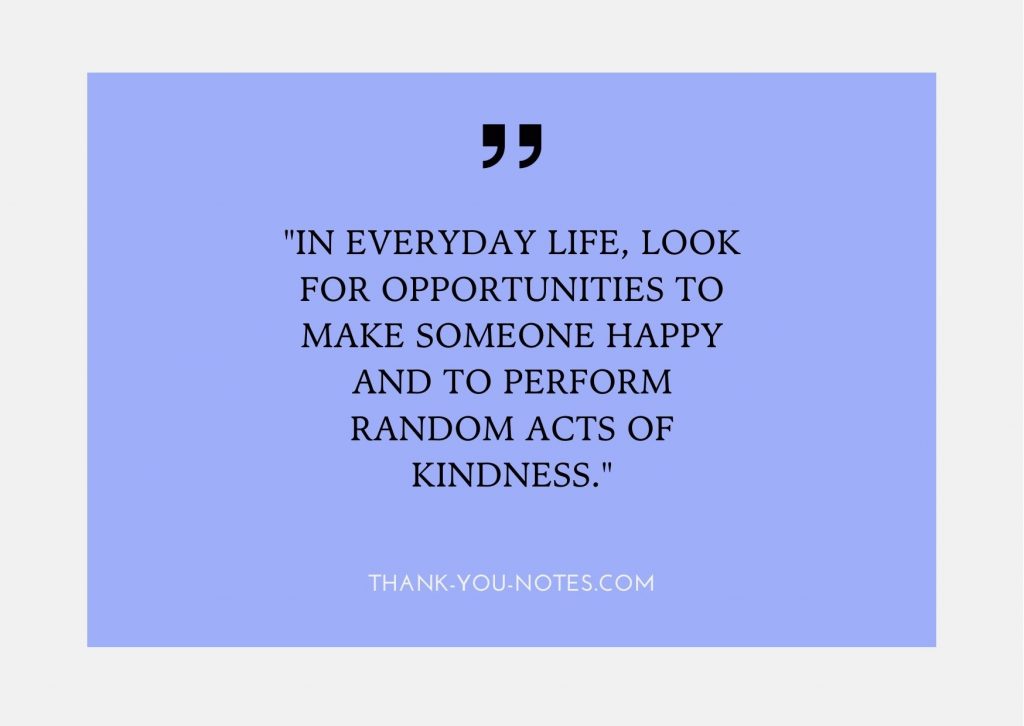 "In everyday life, look for opportunities to make someone happy and to perform random acts of kindness."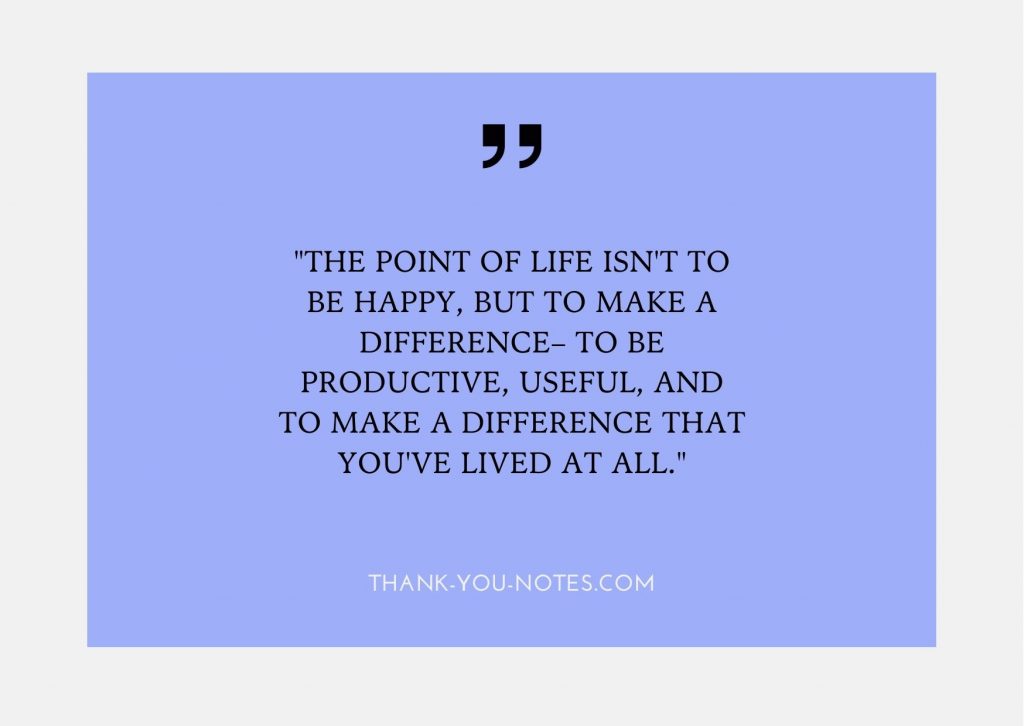 "The point of life isn't to be happy, but to make a difference– to be productive, useful, and to make a difference that you've lived at all."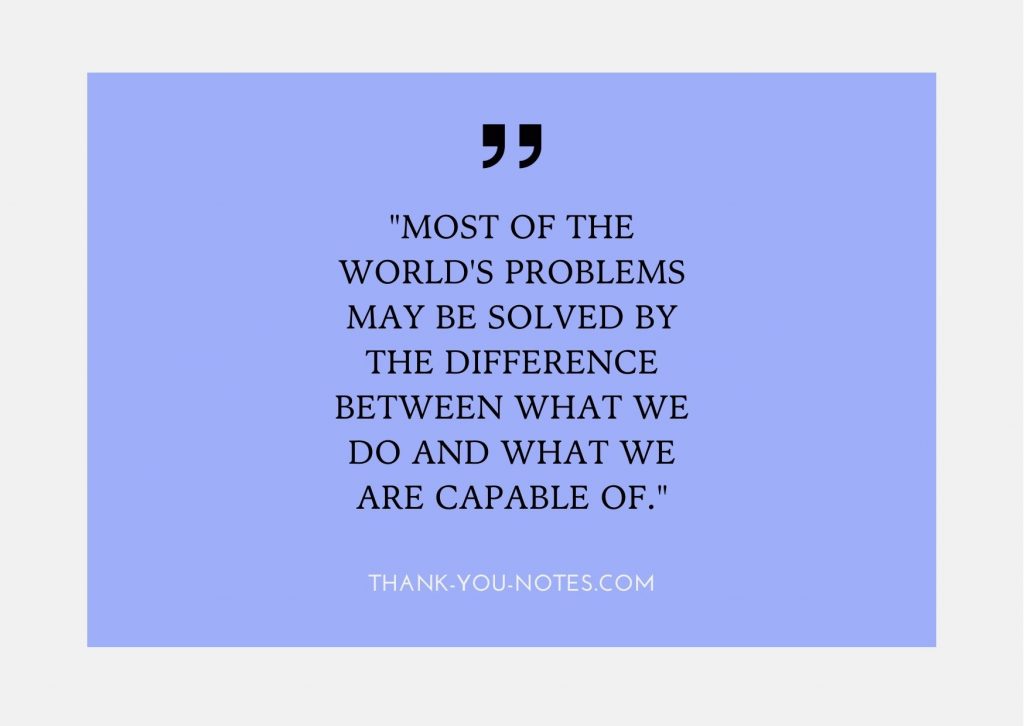 "Most of the world's problems may be solved by the difference between what we do and what we are capable of."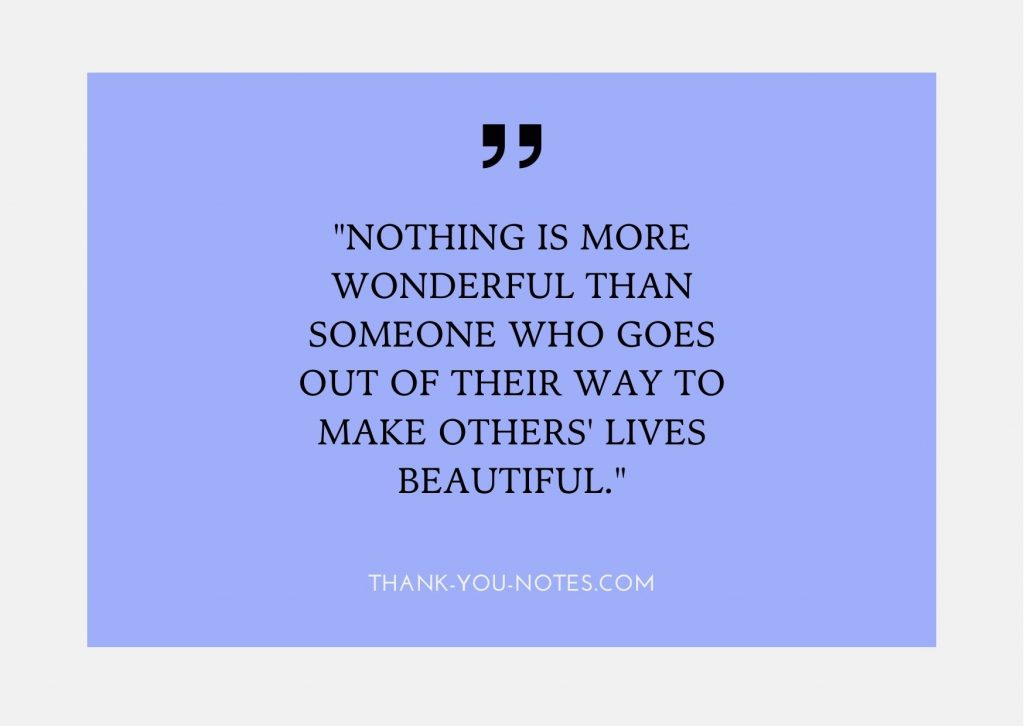 "Nothing is more wonderful than someone who goes out of their way to make others' lives beautiful."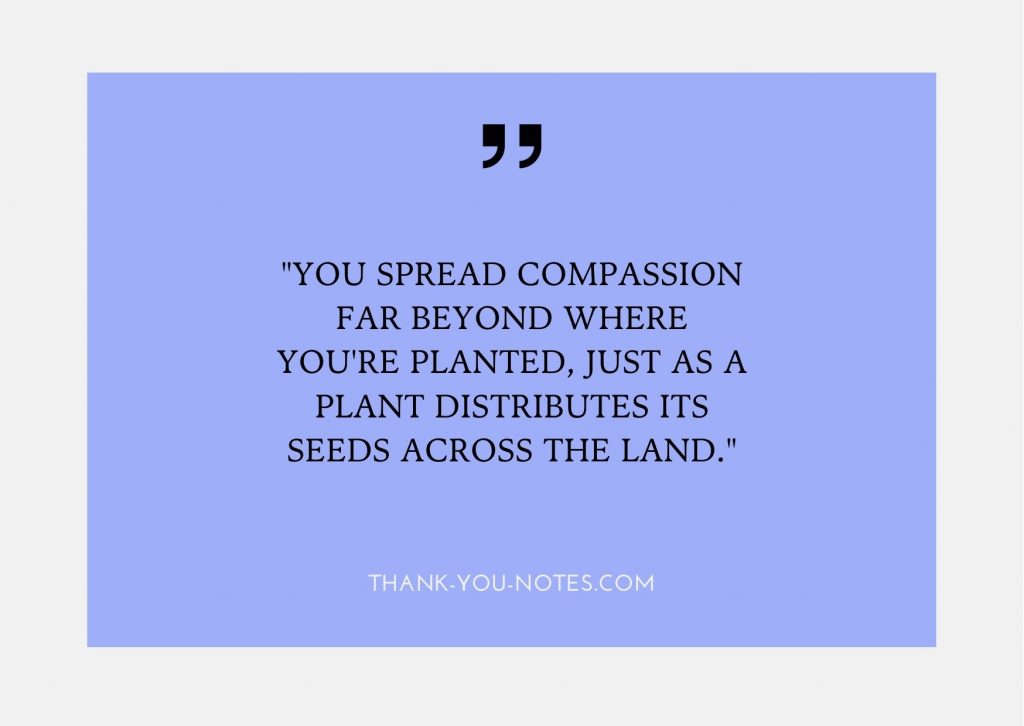 "You spread compassion far beyond where you're planted, just as a plant distributes its seeds across the land."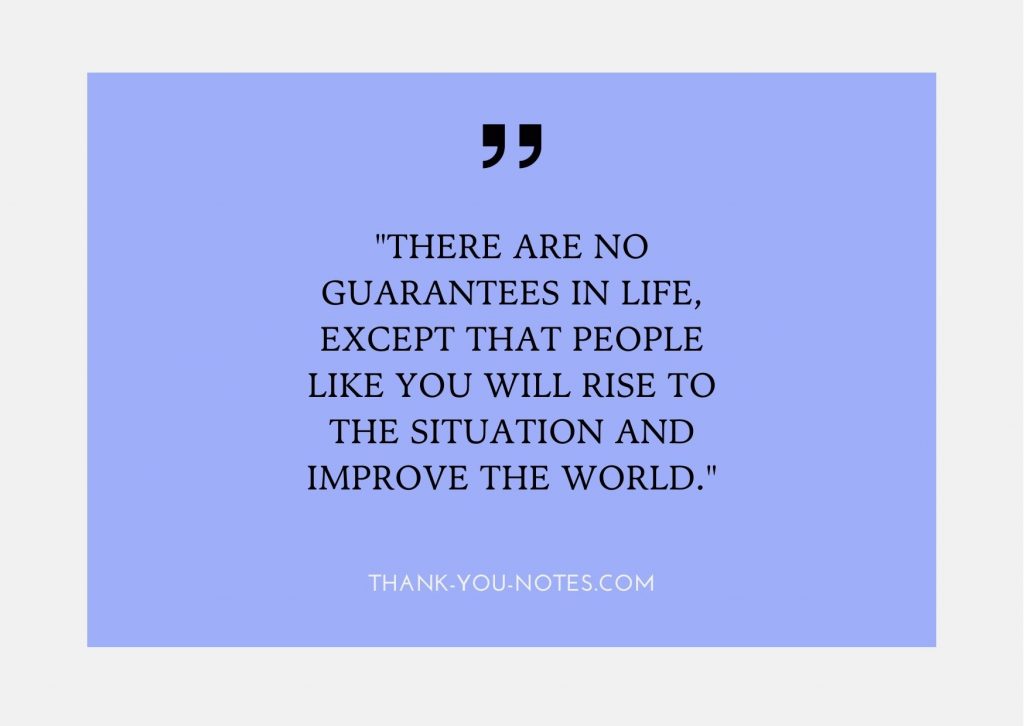 "There are no guarantees in life, except that people like you will rise to the situation and improve the world."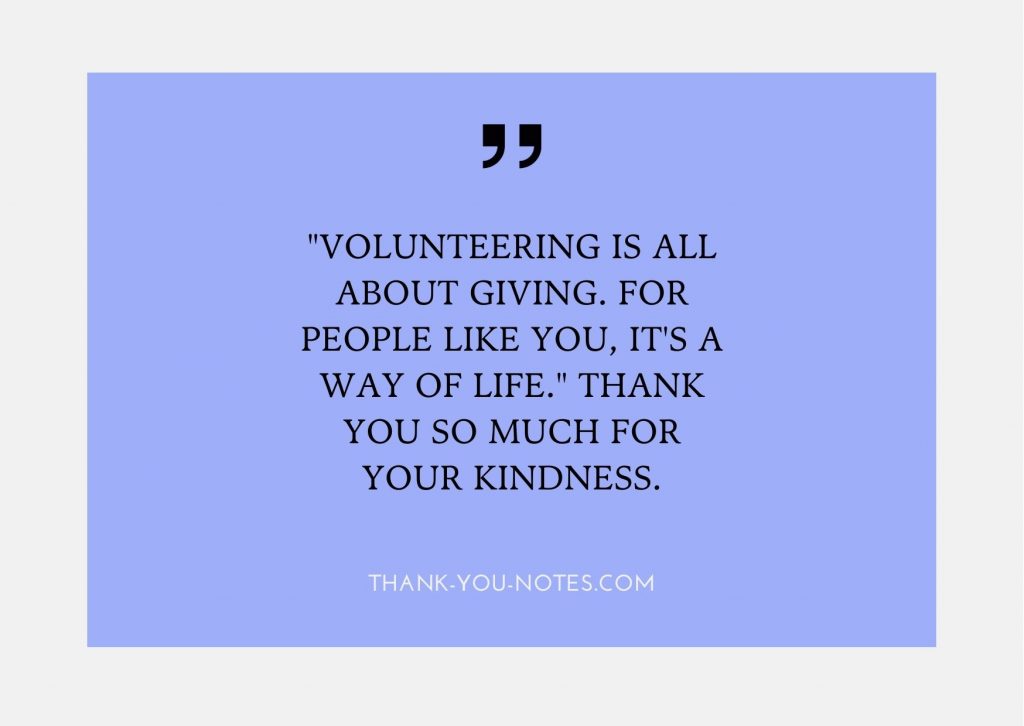 "Volunteering is all about giving. For people like you, it's a way of life." Thank you so much for kindness.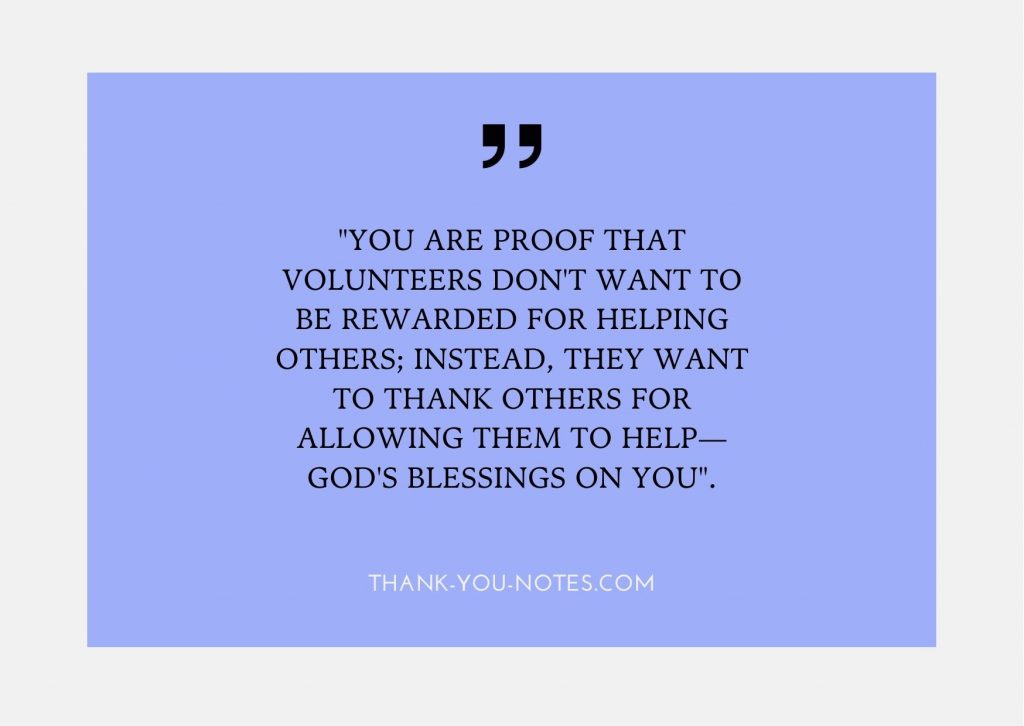 "You are proof that volunteers don't want to be rewarded for helping others; instead, they want to thank others for allowing them to help—God's blessings on you".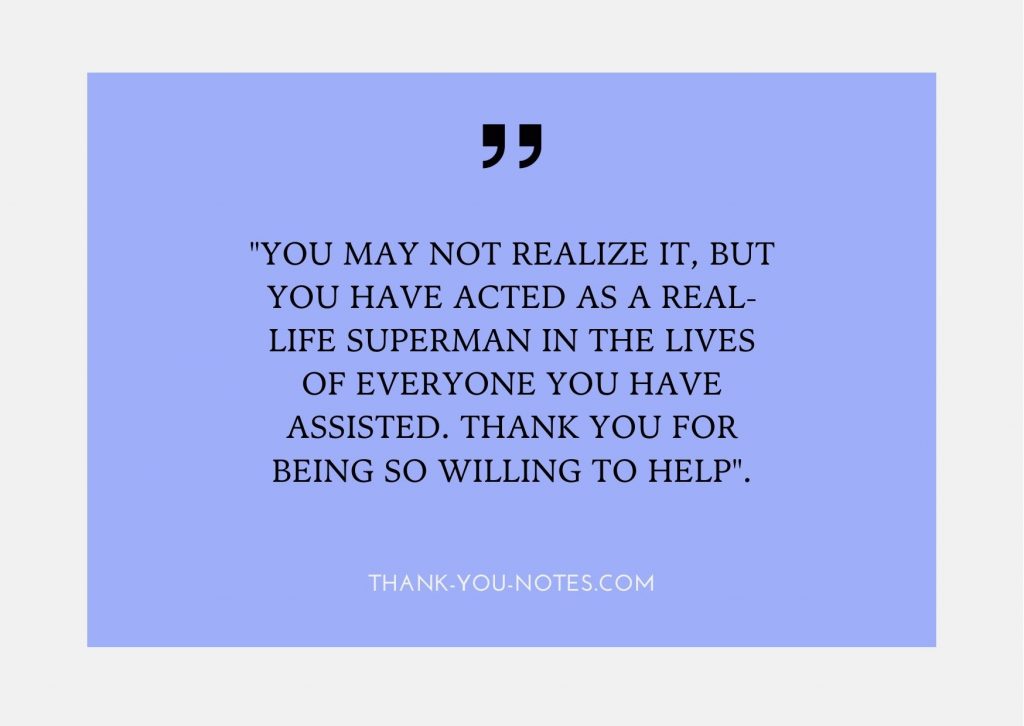 "You may not realize it, but you have acted as a real-life Superman in the lives of everyone you have assisted. Thank you for being so willing to help".