Who doesn't enjoy receiving gifts? Gifts, whether small or large, have the power to brighten someone's day instantly! Gifts bear the giver's kindness, care, thoughtfulness, and love, so they must be received with genuine words of gratitude. If you received a gift from a loved one on a special occasion such as a birthday, a wedding, a baby shower, or Christmas, be sure to send a thank-you note to show your appreciation! Express your gratitude for making you feel special and happy!
One of the most genuine and meaningful ways to express gratitude is with a handmade card or note. You may not be prepared to repay the gift for the kindness shown, but you can show your appreciation by taking the time to write and send a warm, gracious thank-you card or note.
It's okay if you need some help getting beyond, "Thank you so much." You've come to the right place. A guide full of thank-you-writing inspiration and messages, "What to Write in a Thank-You Note, and Quotes", will help you express your gratitude. We hope our guide helps you put your thanks in writing, regardless of whether you read the whole guide or skip to your specific thank-you situation.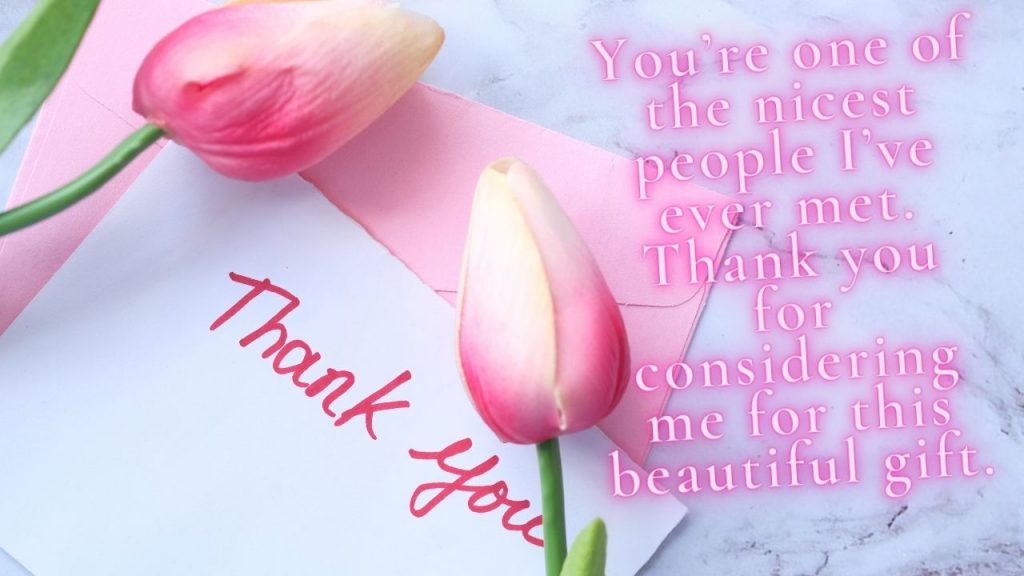 HERE ARE 20 THANK YOU NOTES FOR GIFTS THAT COULD WORK FOR ANY OCCASION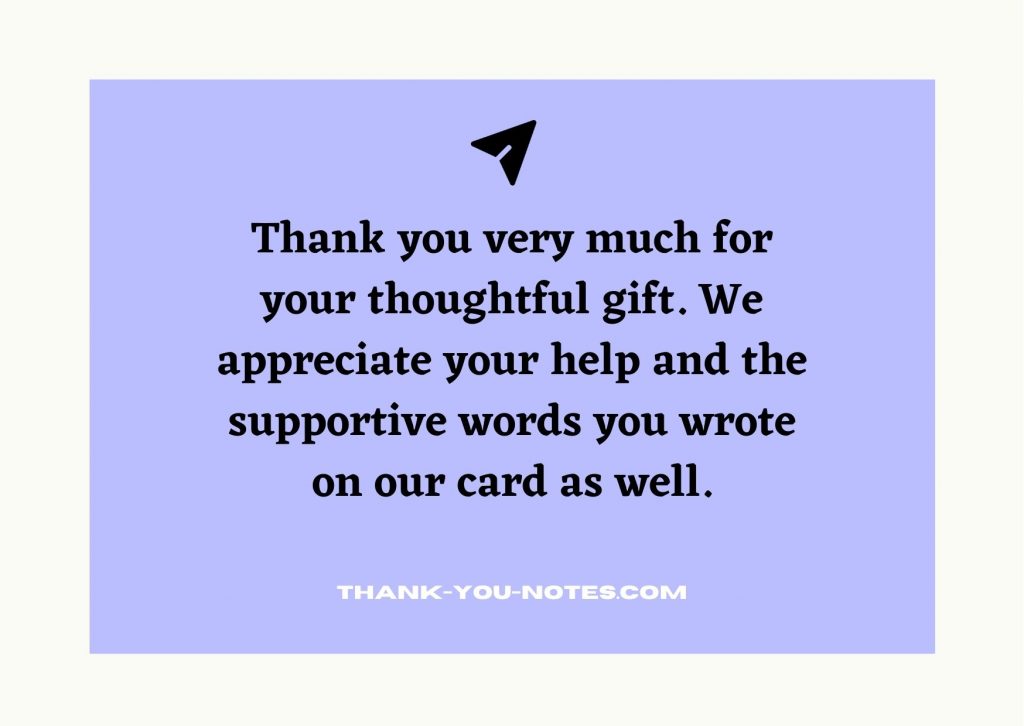 Thank you very much for your thoughtful gift. We appreciate your help and the supportive words you wrote on our card as well.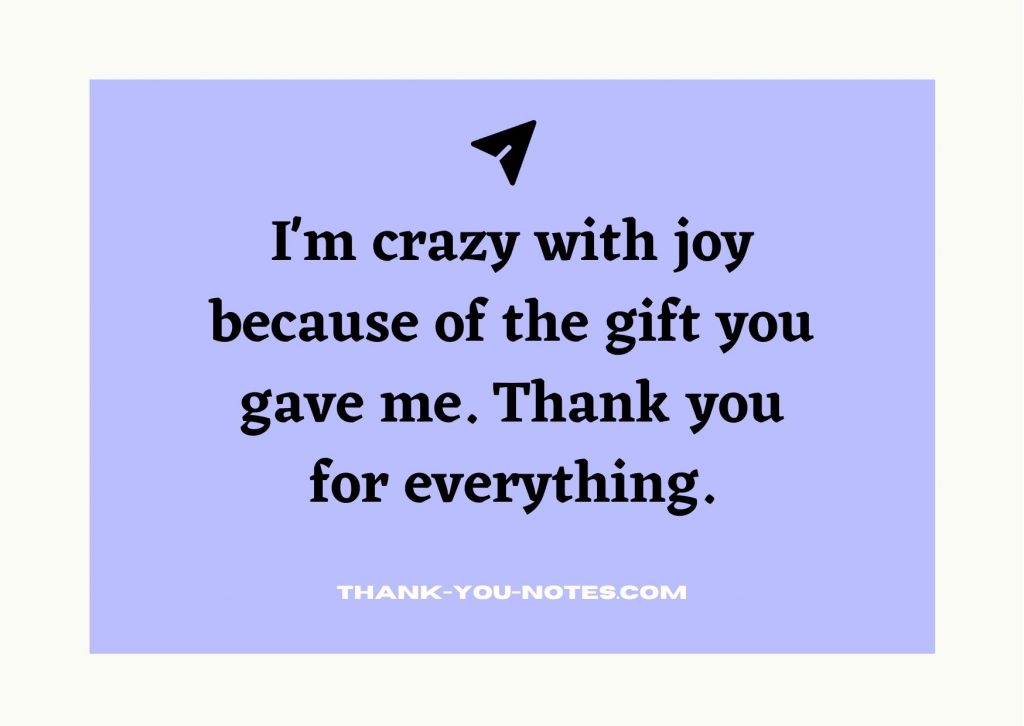 I'm crazy with joy because of the gift you gave me. Thank you for everything.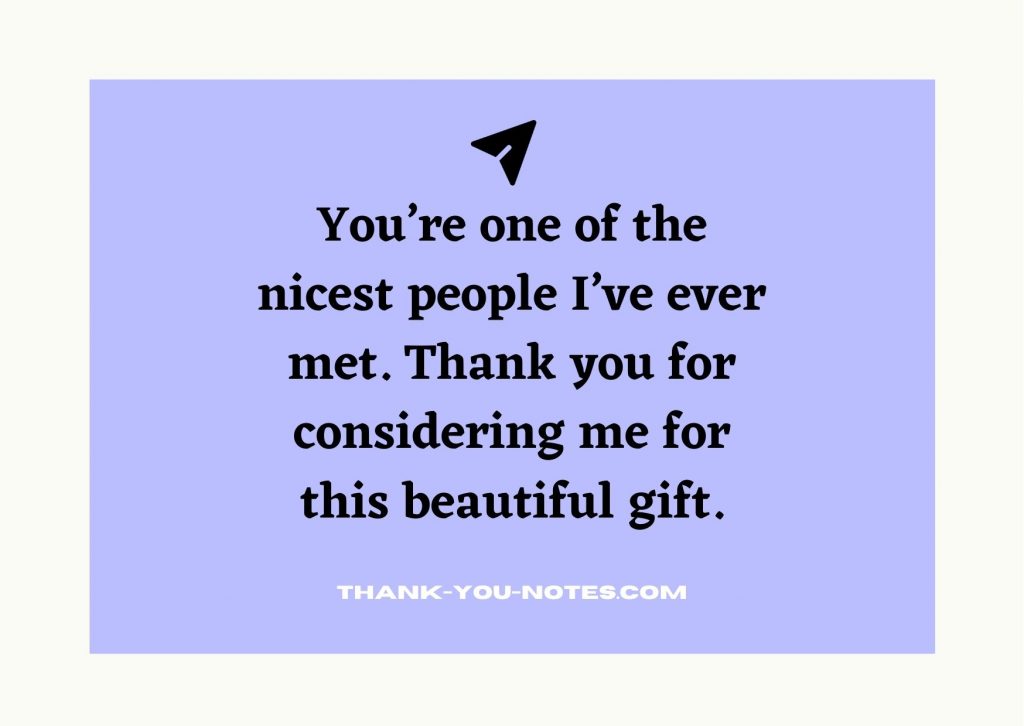 You're one of the nicest people I've ever met. Thank you for considering me for this beautiful gift.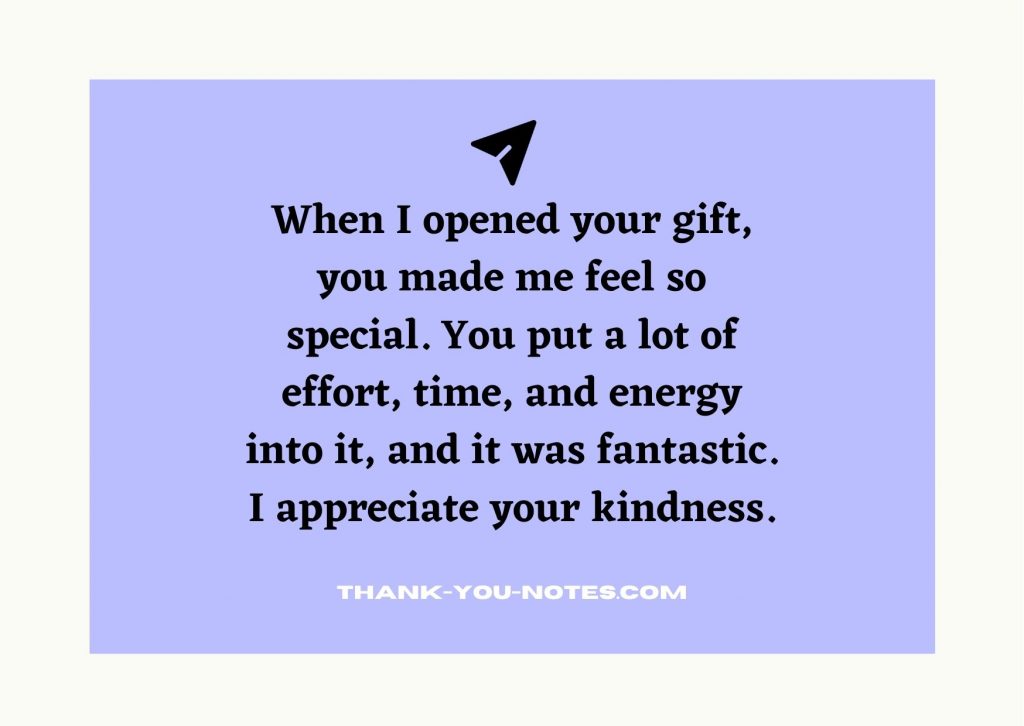 When I opened your gift, you made me feel so special. You put a lot of effort, time, and energy into it, and it was fantastic. I appreciate your kindness.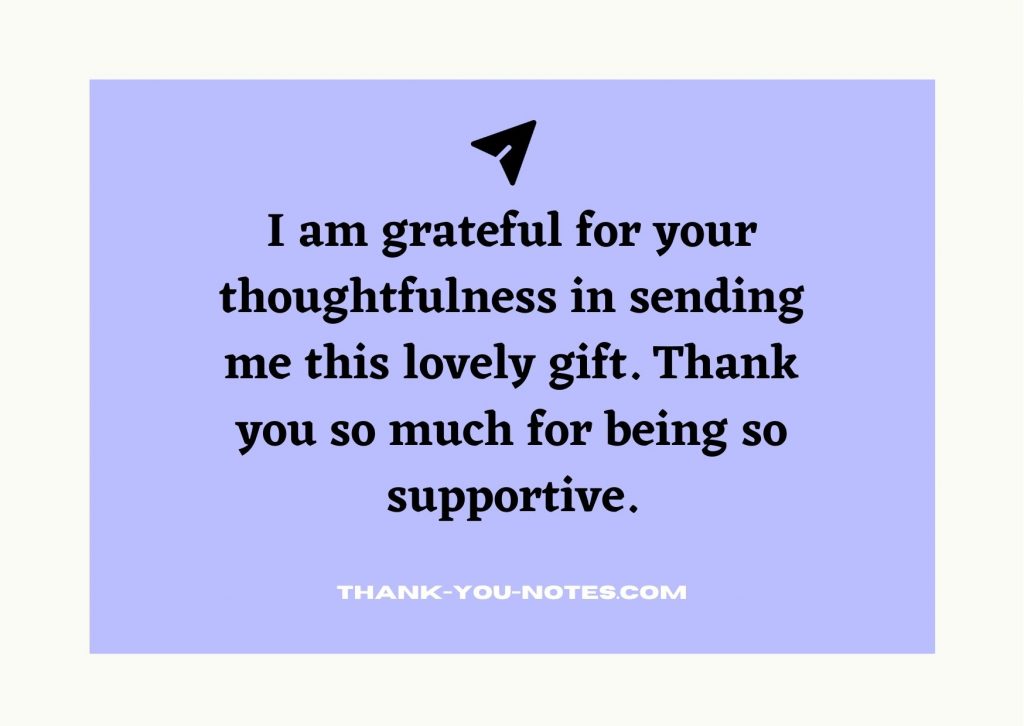 I am grateful for your thoughtfulness in sending me this lovely gift. Thank you so much for being so supportive.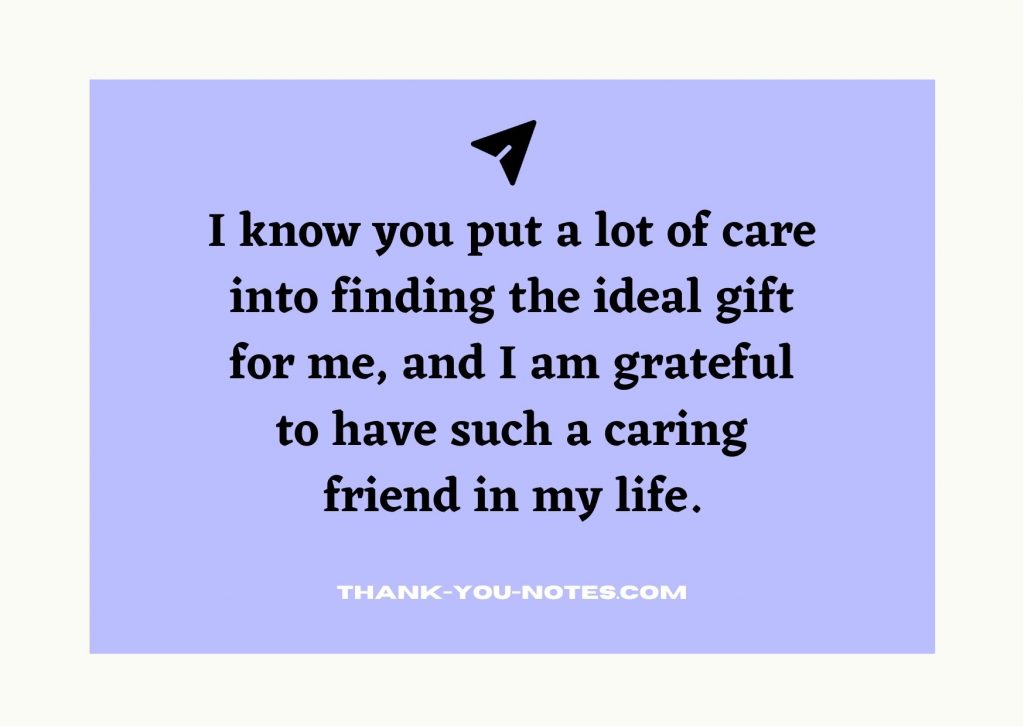 I know you put a lot of care into finding the ideal gift for me, and I am grateful to have such a caring friend in my life.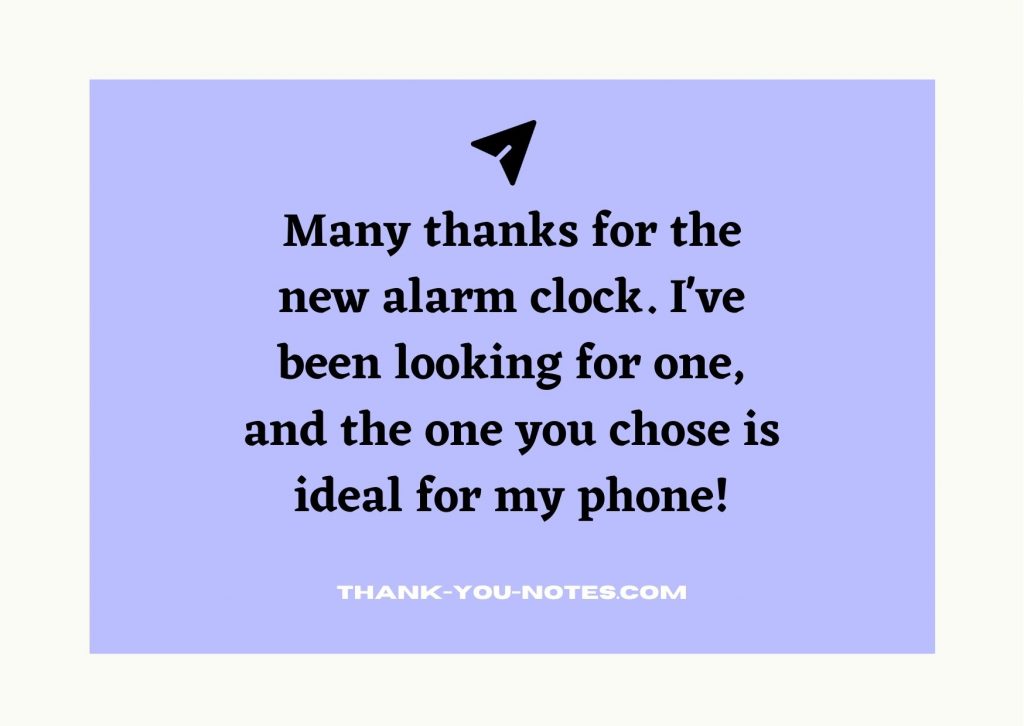 Many thanks for the new alarm clock. I've been looking for one, and the one you chose is ideal for my phone!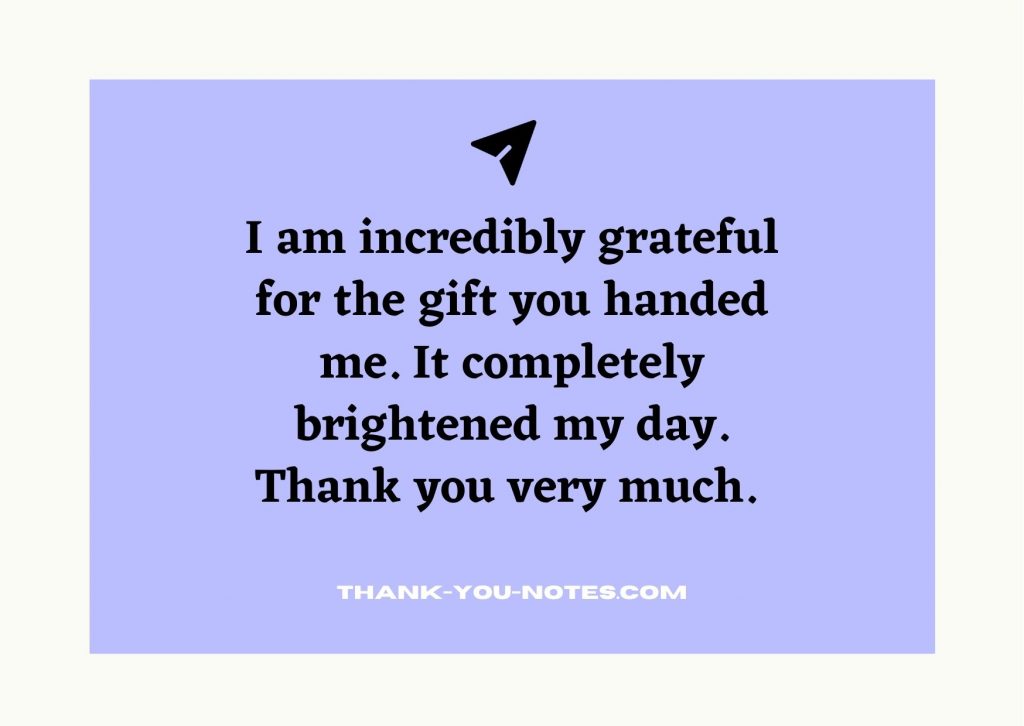 I am incredibly grateful for the gift you handed me. It completely brightened my day. Thank you very much.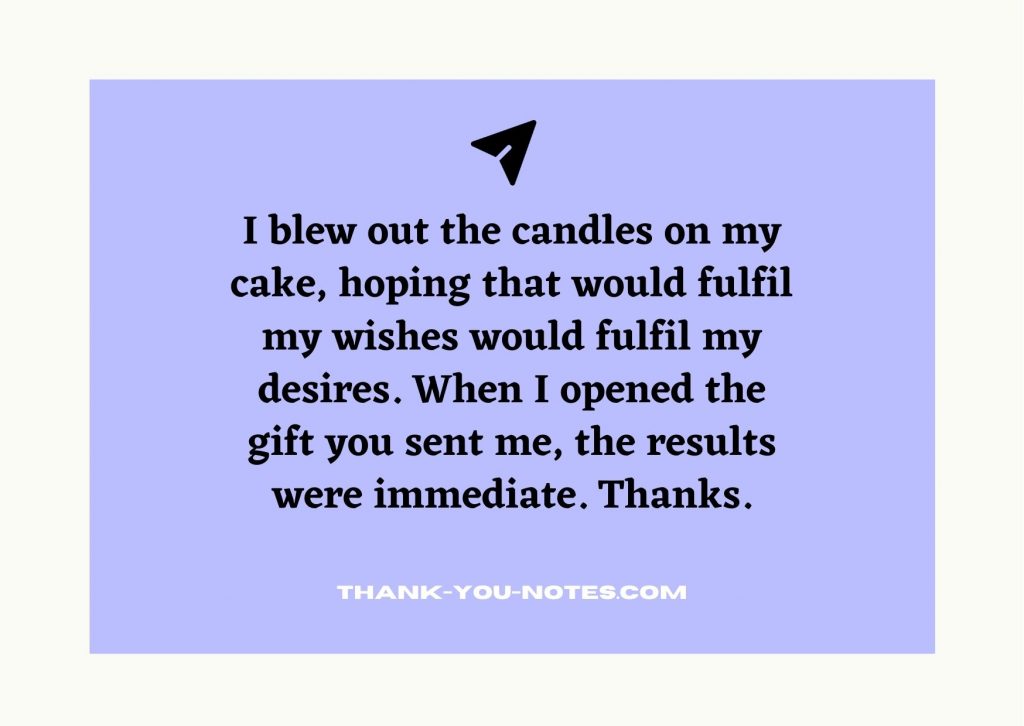 I blew out the candles on my cake, hoping that would fulfil my wishes would fulfil my desires. When I opened the gift you sent me, the results were immediate. Thanks.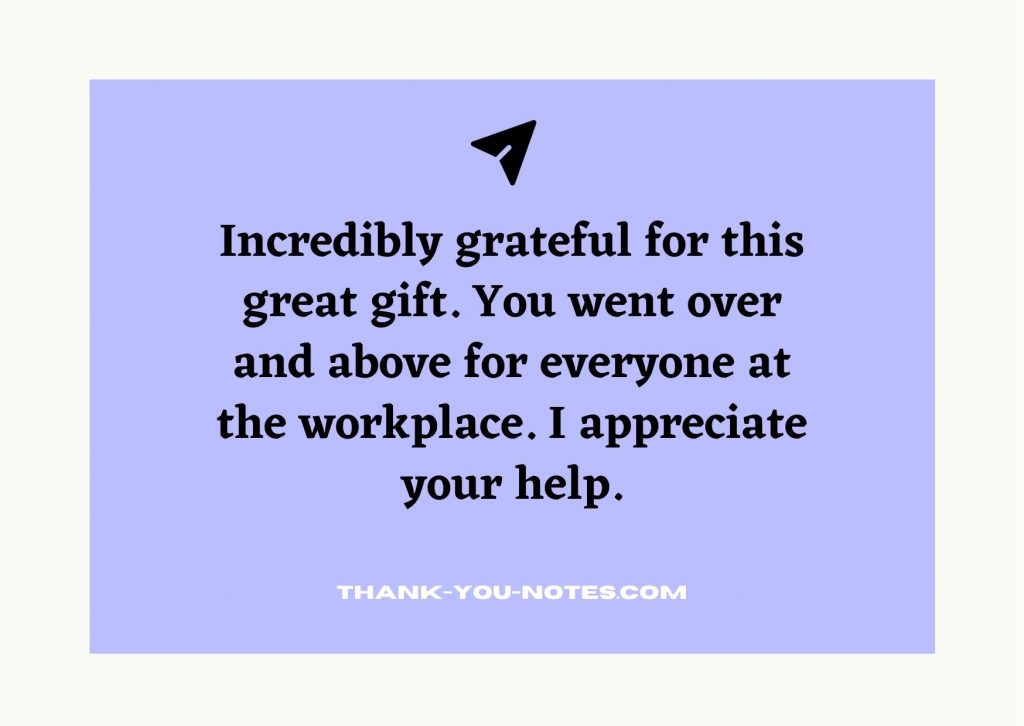 Incredibly grateful for this great gift. You went over and above for everyone at the workplace. I appreciate your help.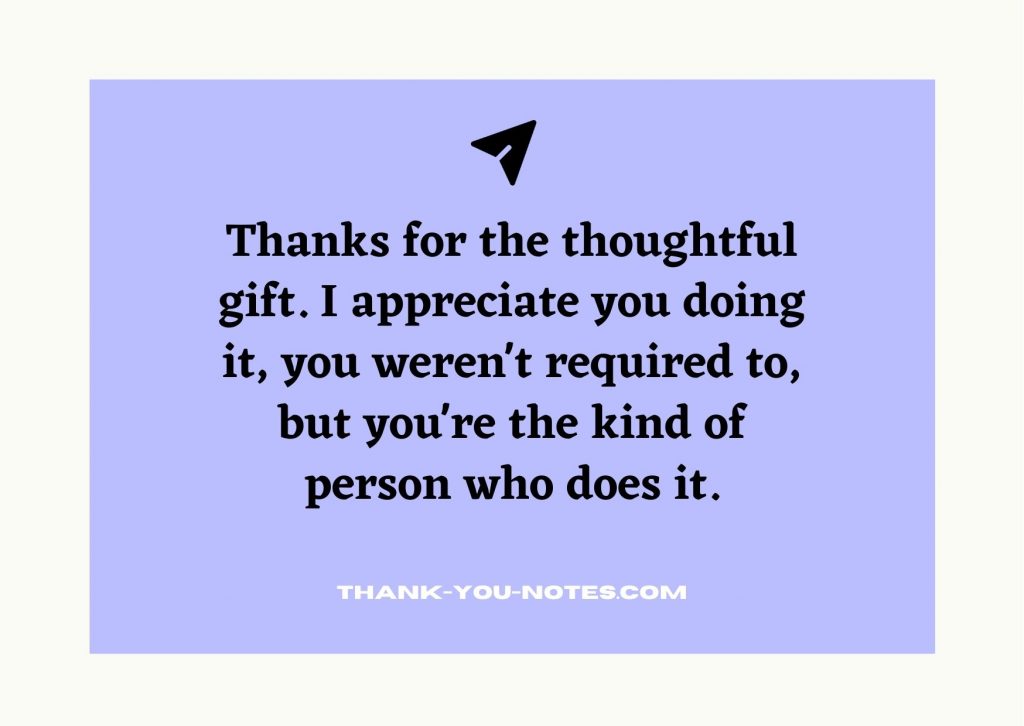 Thanks for the thoughtful gift. I appreciate you doing it, you weren't required to, but you're the kind of person who does it.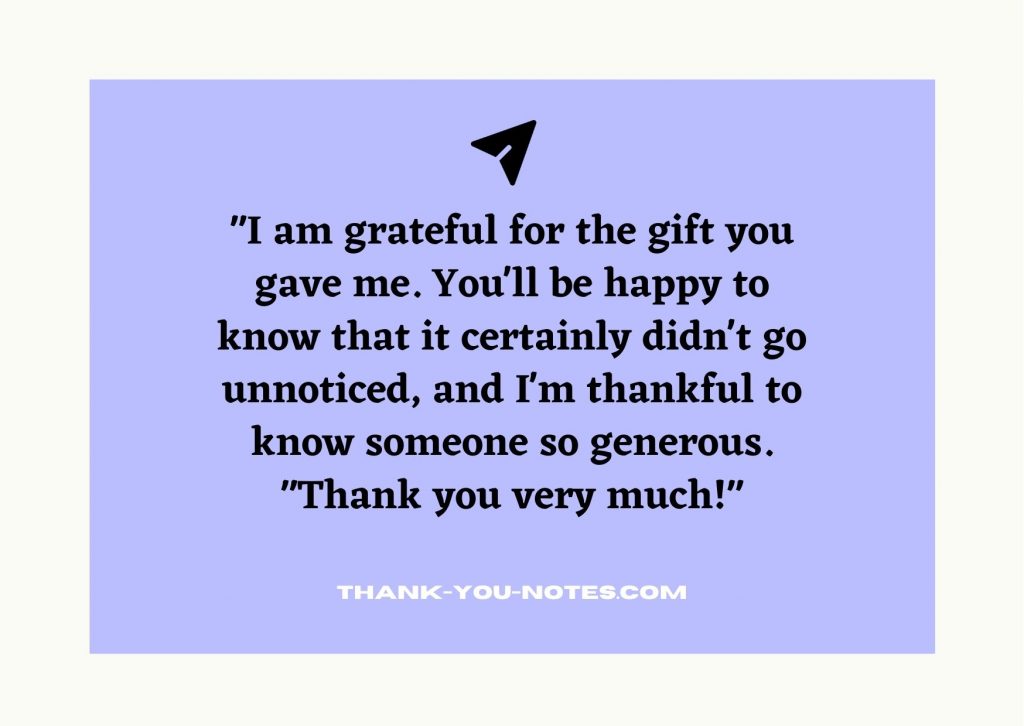 "I am grateful for the gift you gave me. You'll be happy to know that it certainly didn't go unnoticed, and I'm thankful to know someone so generous. "Thank you very much!"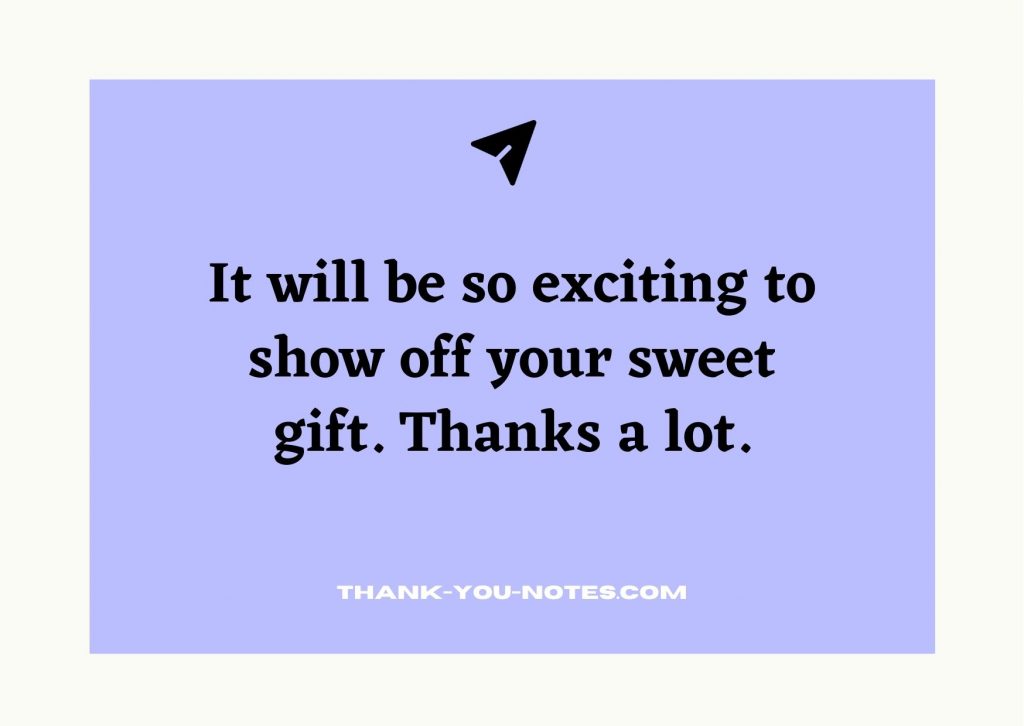 It will be so exciting to show
 off your sweet gift. Thanks
 a lot. The unique gift 
you gave me made my day.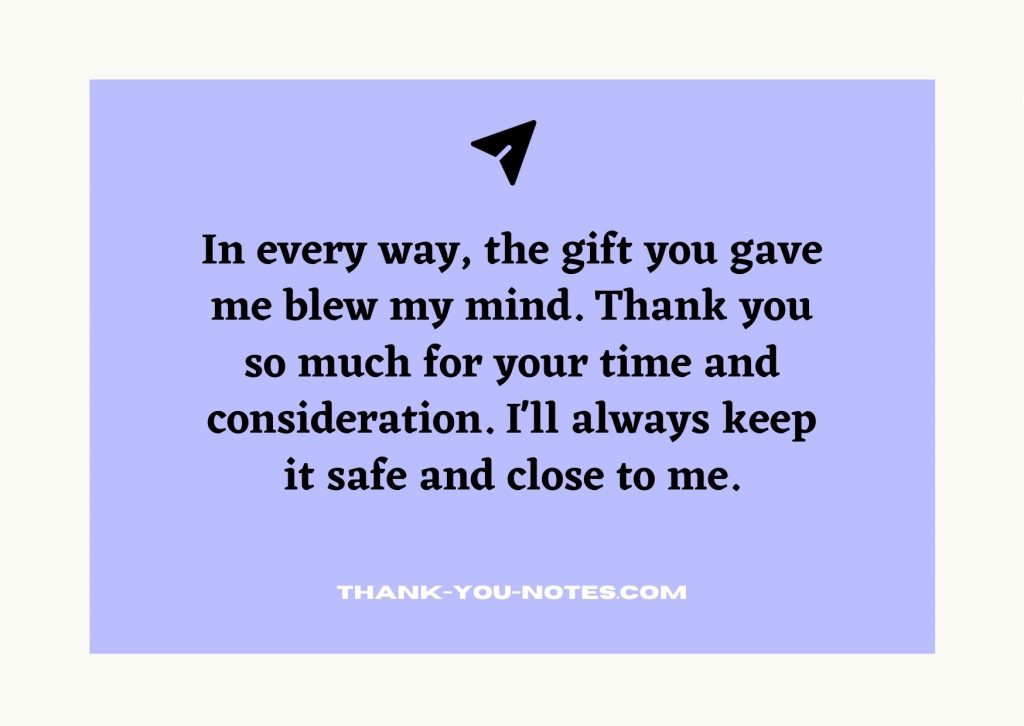 In every way, the gift you gave me blew my mind. Thank you so much for your time and consideration. I'll always keep it safe and close to me.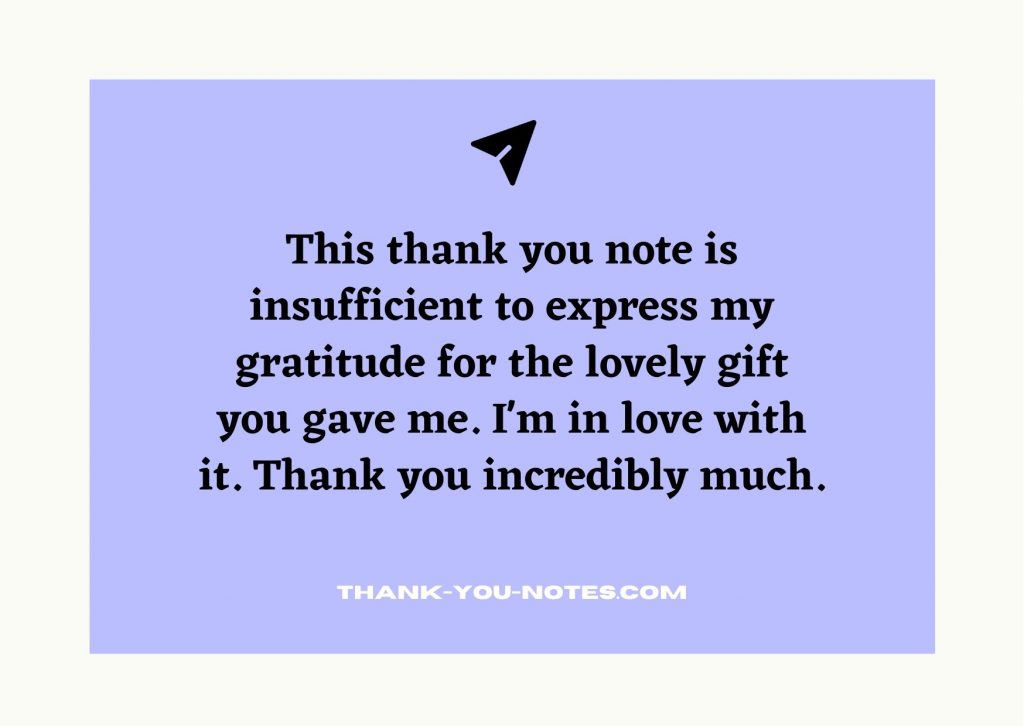 This thank you note is insufficient to express my gratitude for the lovely gift you gave me. I'm in love with it. Thank you incredibly much.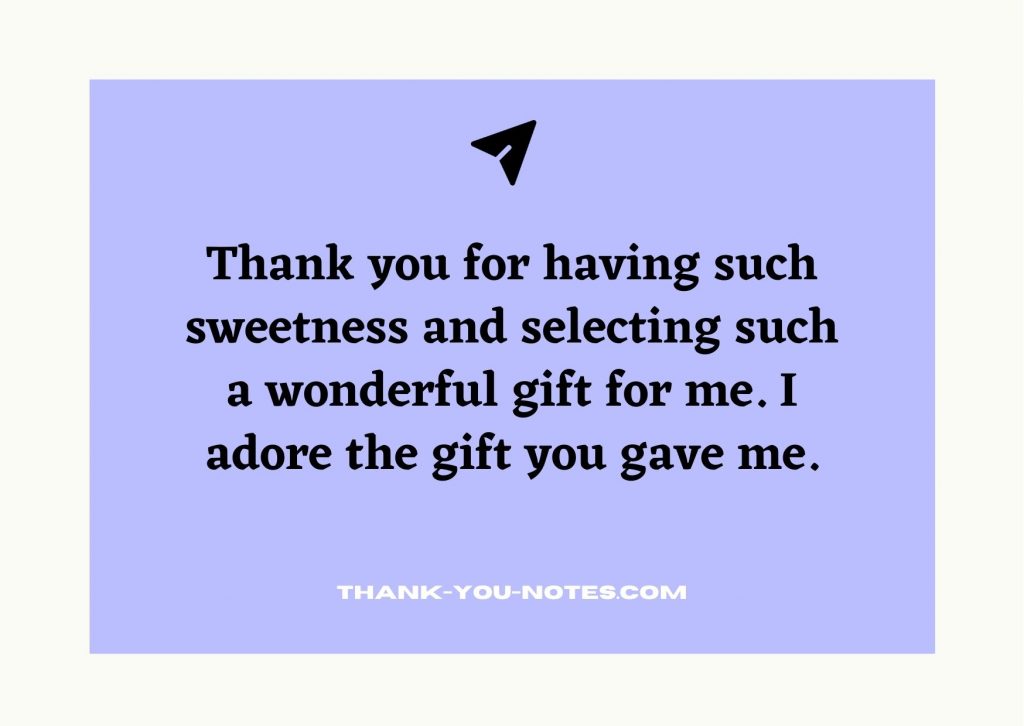 Thank you for having such sweetness and selecting such a wonderful gift for me. I adore the gift you gave me.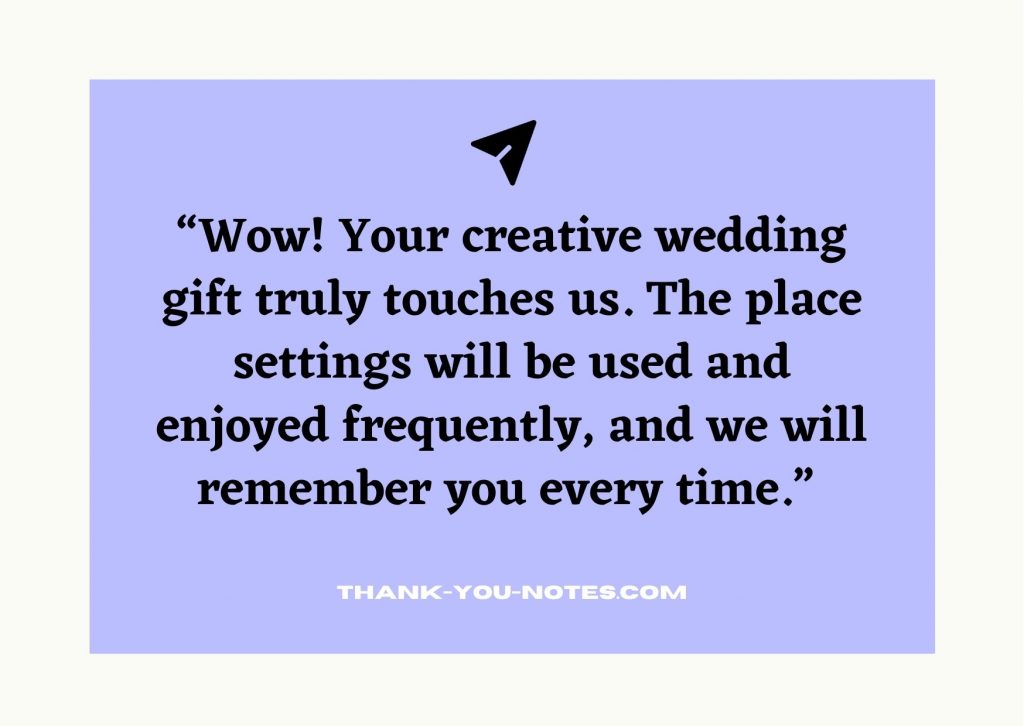 "Wow! Your creative wedding gift truly touches us. The place settings will be used and enjoyed frequently, and we will remember you every time."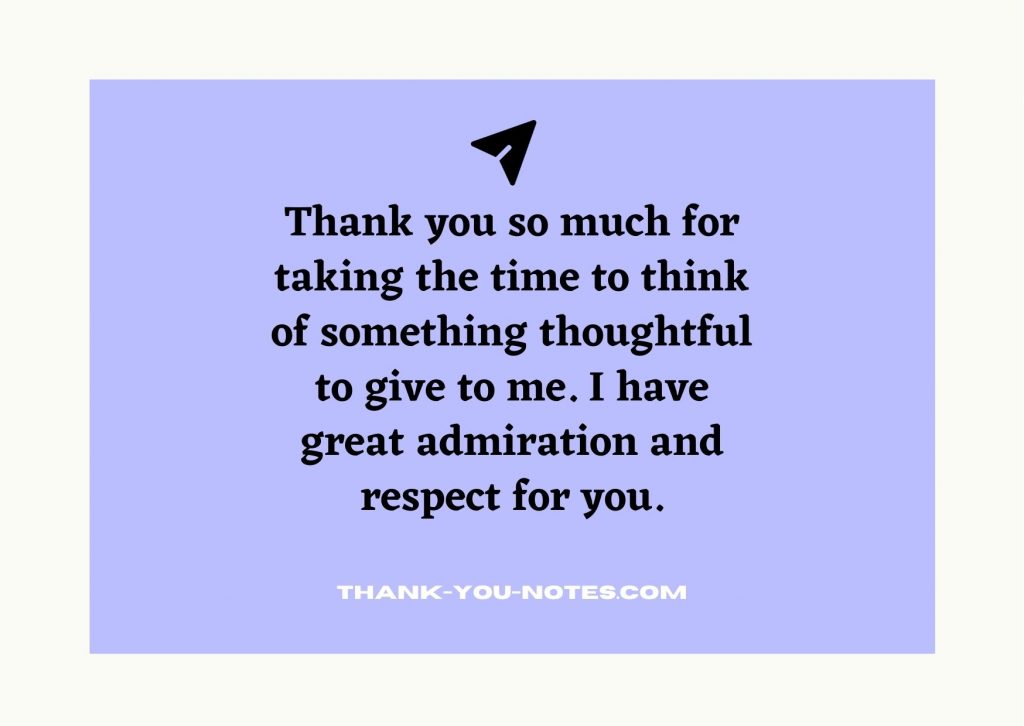 Thank you so much for taking the time to think of something thoughtful to give to me. I have great admiration and respect for you.
Tips for writing about gifts: Fabulous, perfect, touching, beautiful, unique, appreciated, excellent, and much-needed are just a few words to describe them. Generous, thoughtful, creative, sweet, considerate, and caring are words to describe gift-givers.
HERE ARE 20 THANK YOU QUOTES FOR GIFTS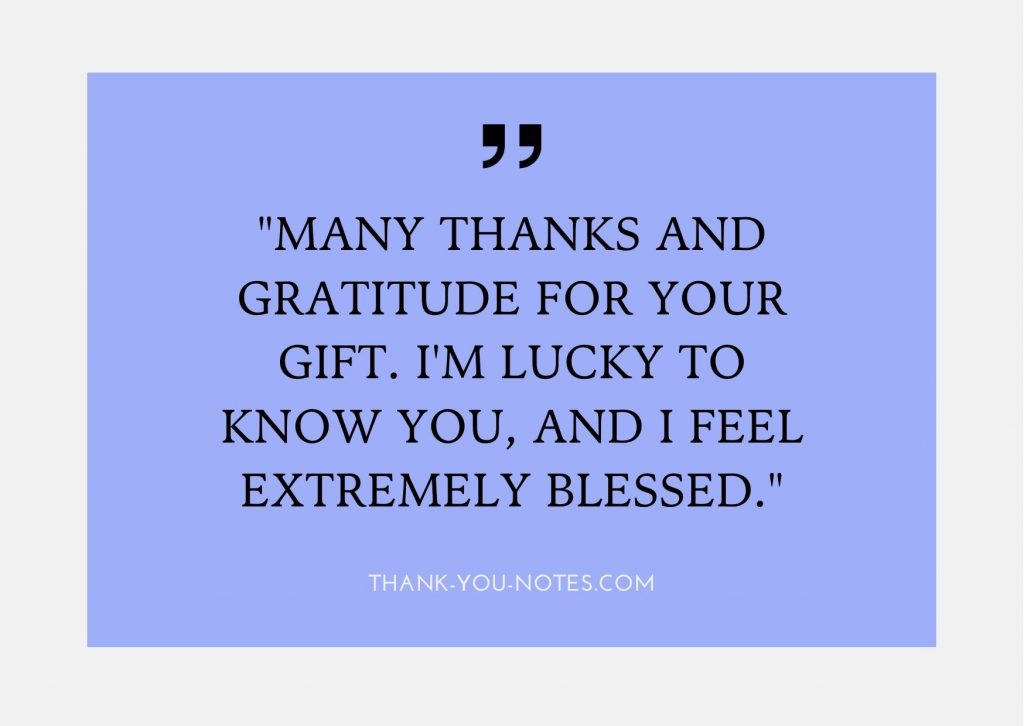 "Many thanks and gratitude for your gift. I'm lucky to know you, and I feel extremely blessed."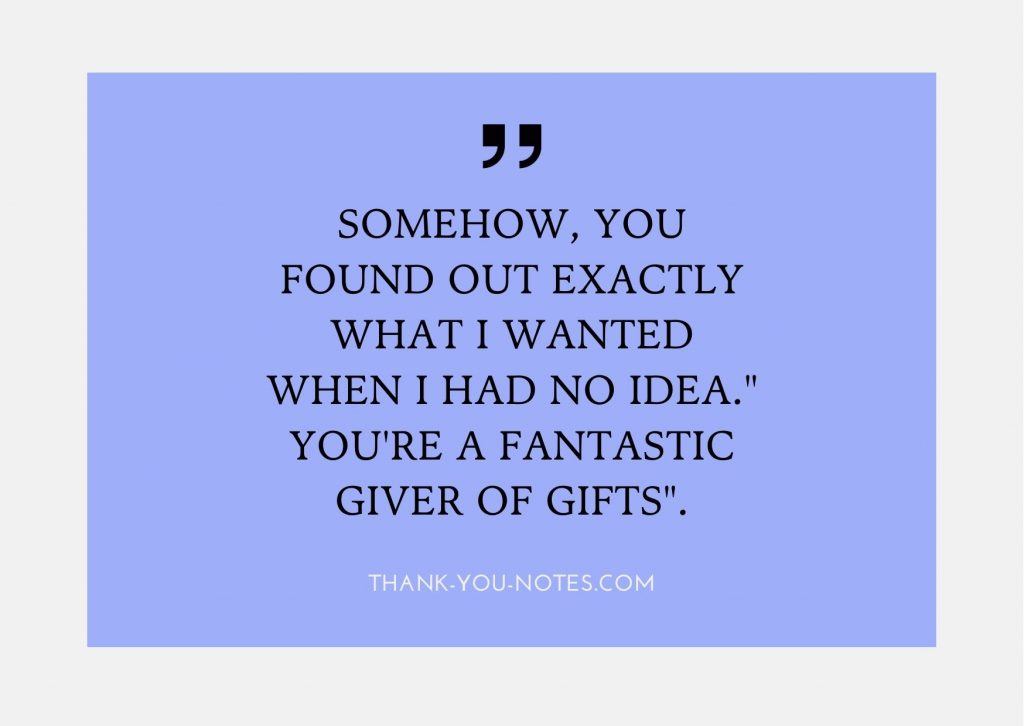 Somehow, you found out exactly what I wanted when I had no idea." You're a fantastic giver of gifts".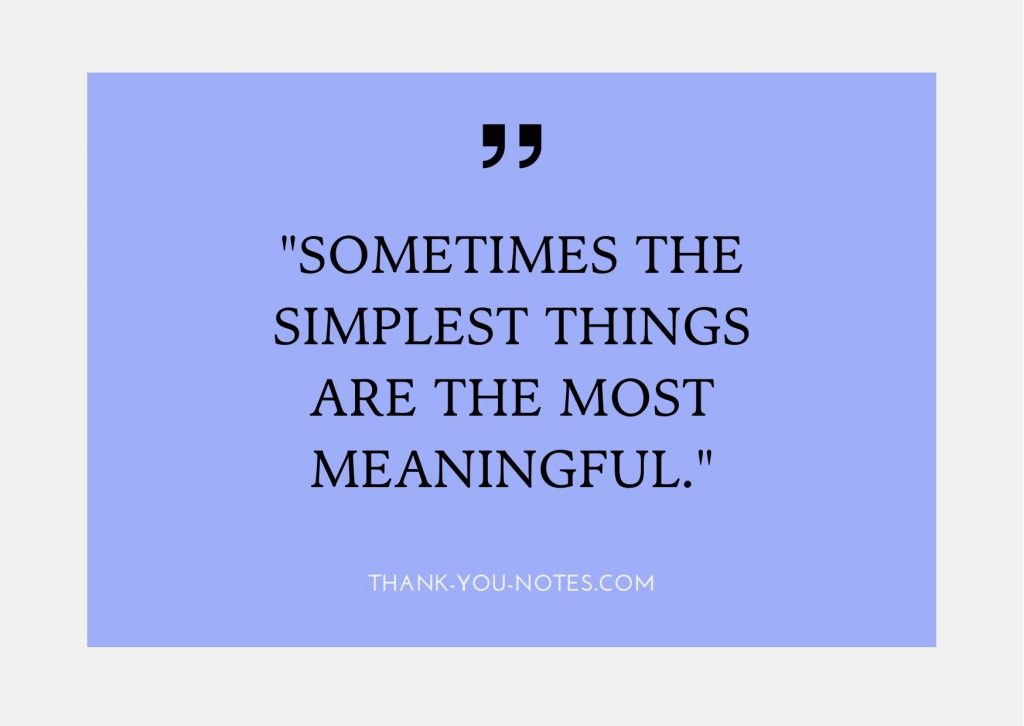 "Sometimes the simplest things are the most meaningful."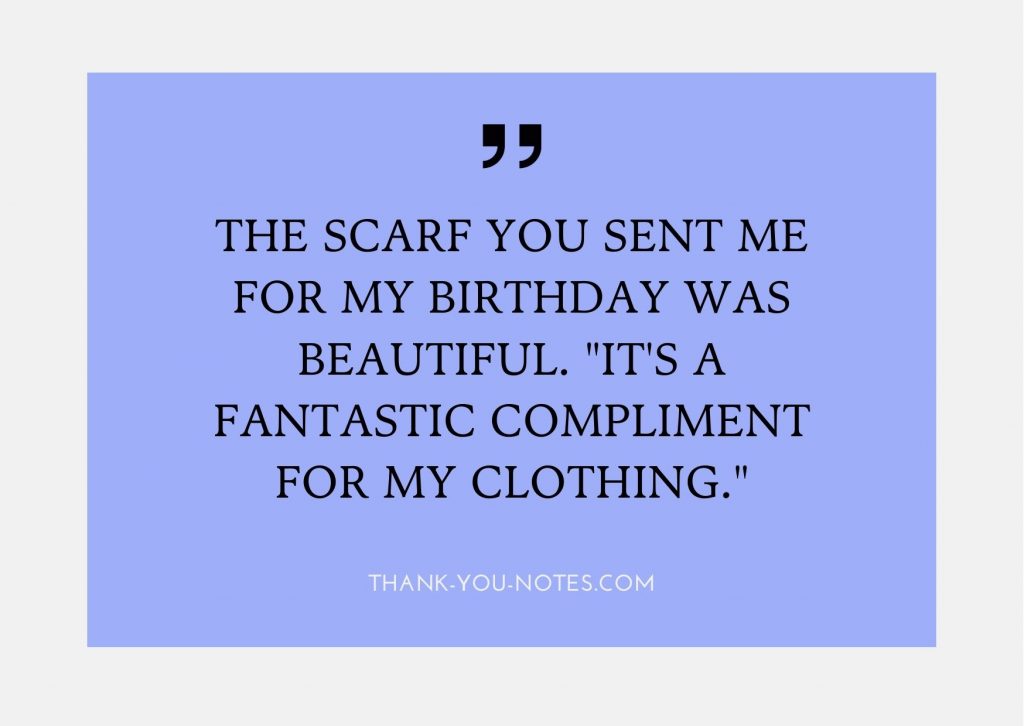 The scarf you sent me for my birthday was beautiful. "It's a fantastic compliment for my clothing."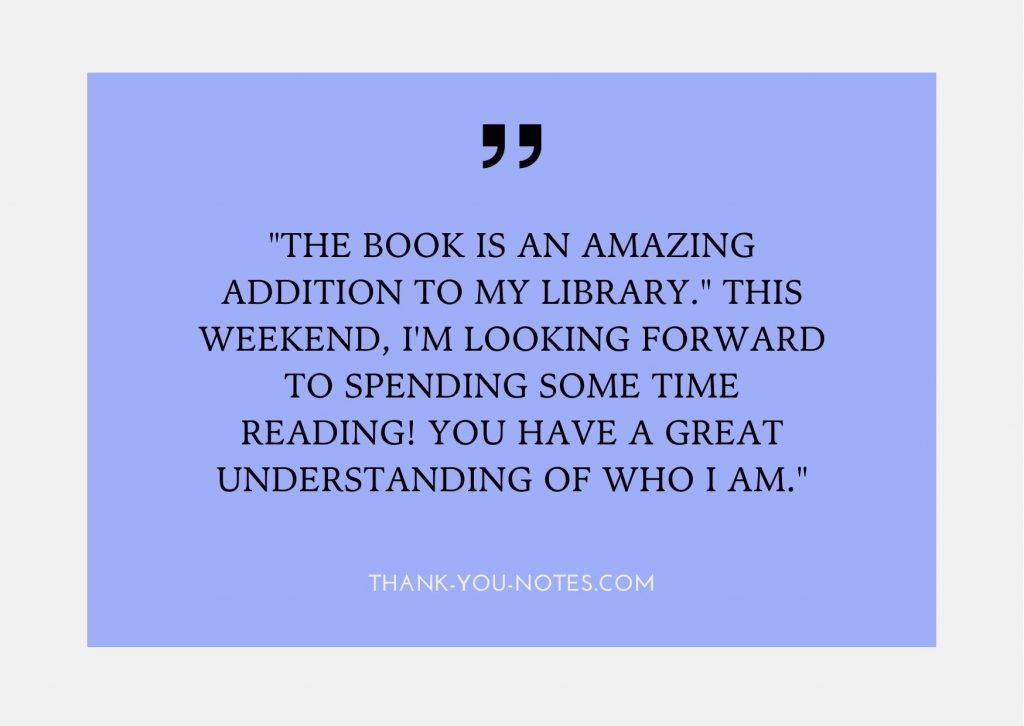 "The book is an amazing addition to my library." This weekend, I'm looking forward to spending some time reading! You have a great understanding of who I am."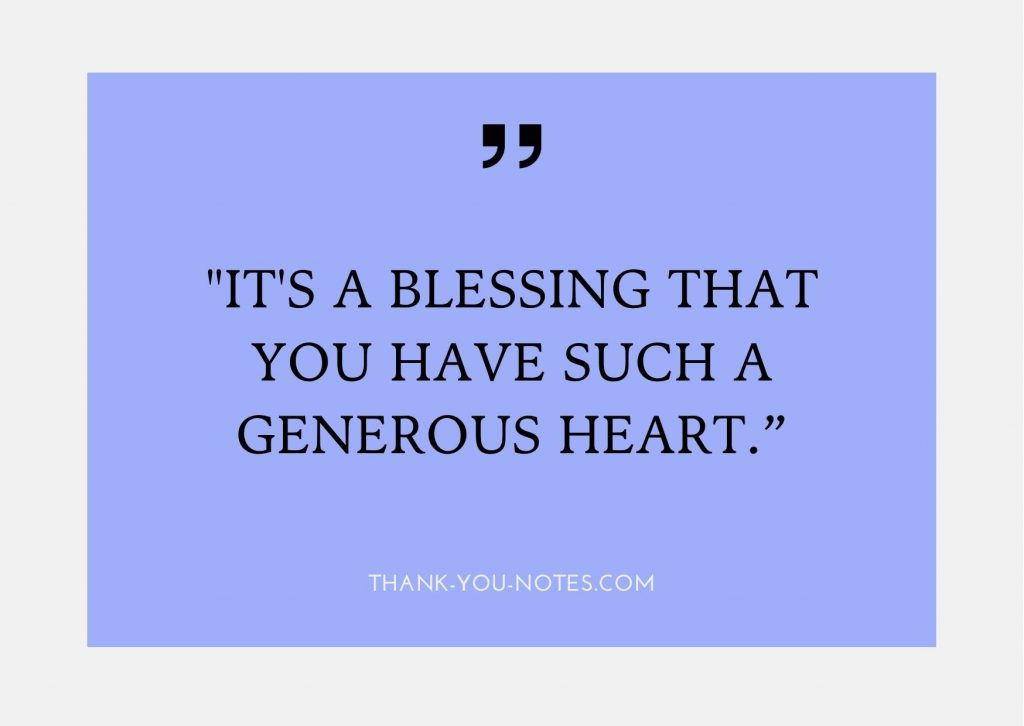 "It's a blessing that you have such a generous heart."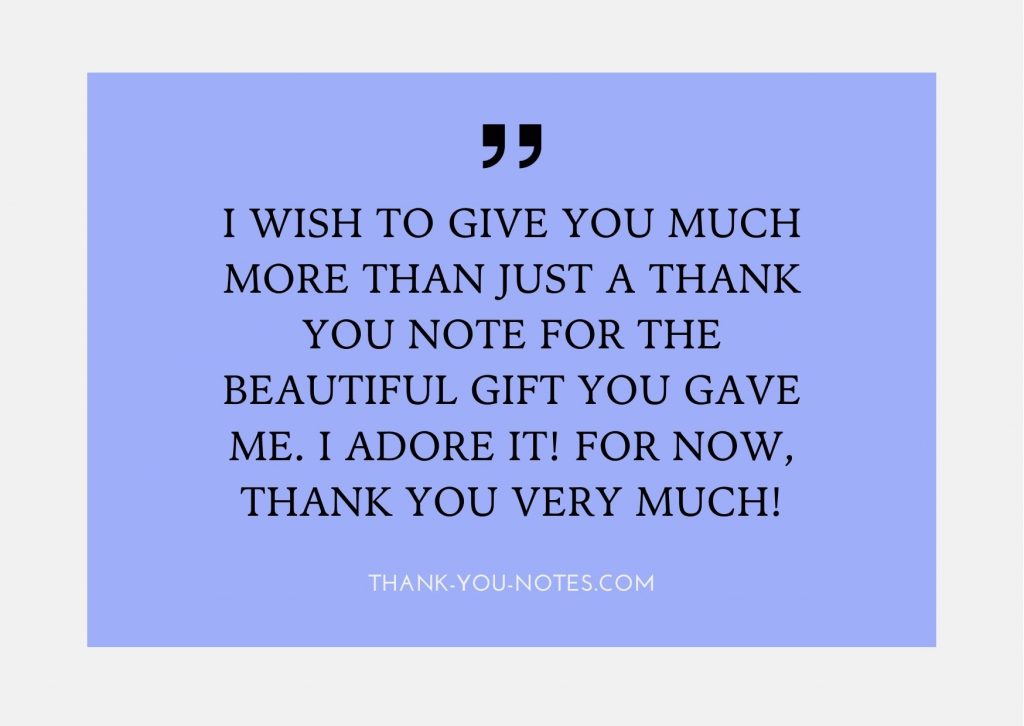 I wish to give you much more than just a thank you note for the beautiful gift you gave me. I adore it! For now, thank you very much!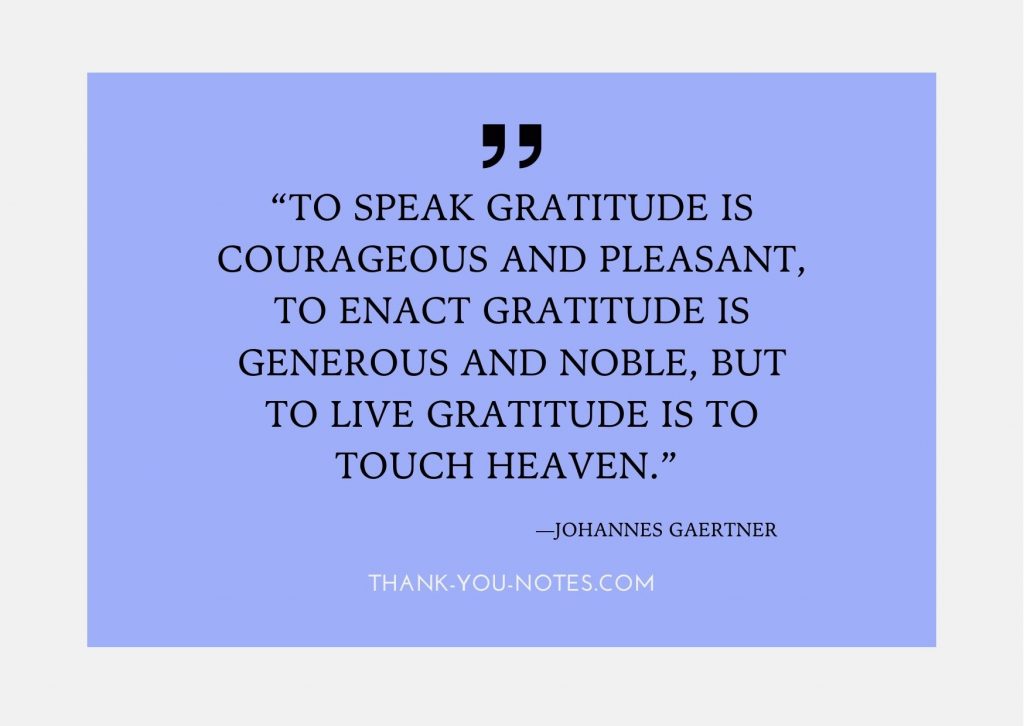 "To speak gratitude is courageous and pleasant, to enact gratitude is generous and noble, but to live gratitude is to touch heaven."

—Johannes Gaertner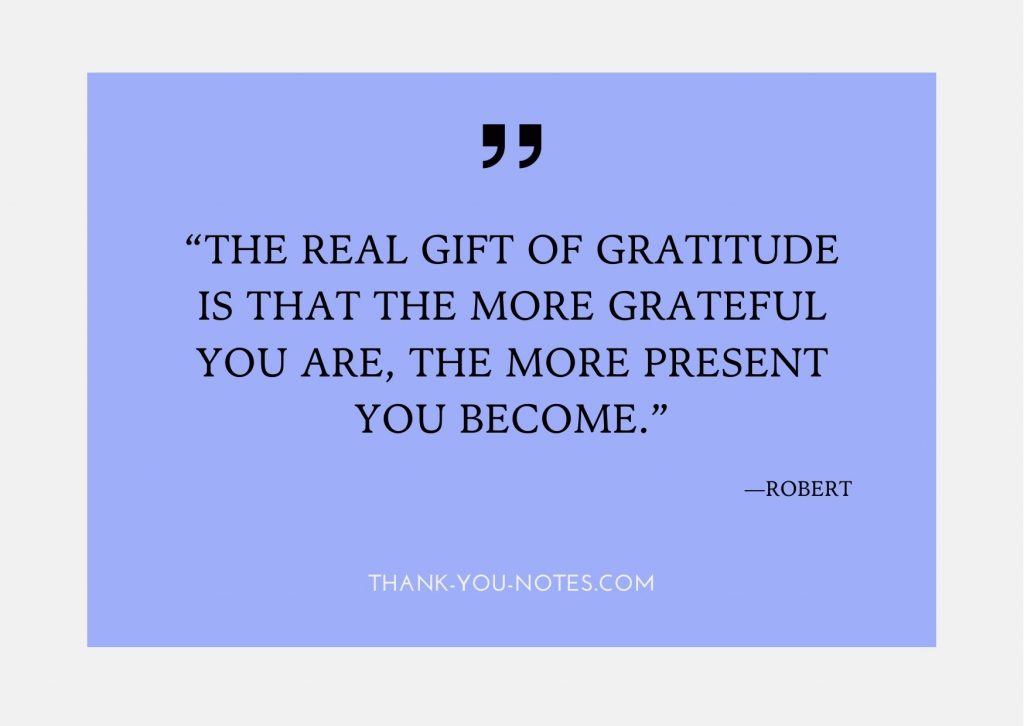 "The real gift of gratitude is that the more grateful you are, the more present you become."

—Robert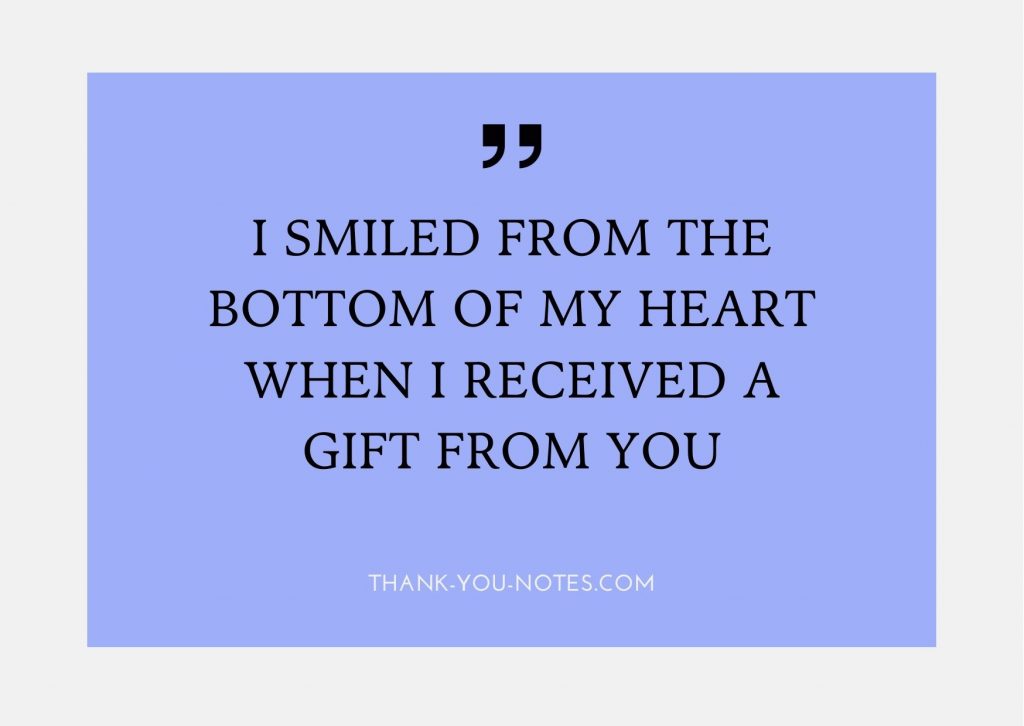 I smiled from the bottom of my heart when I received a gift from you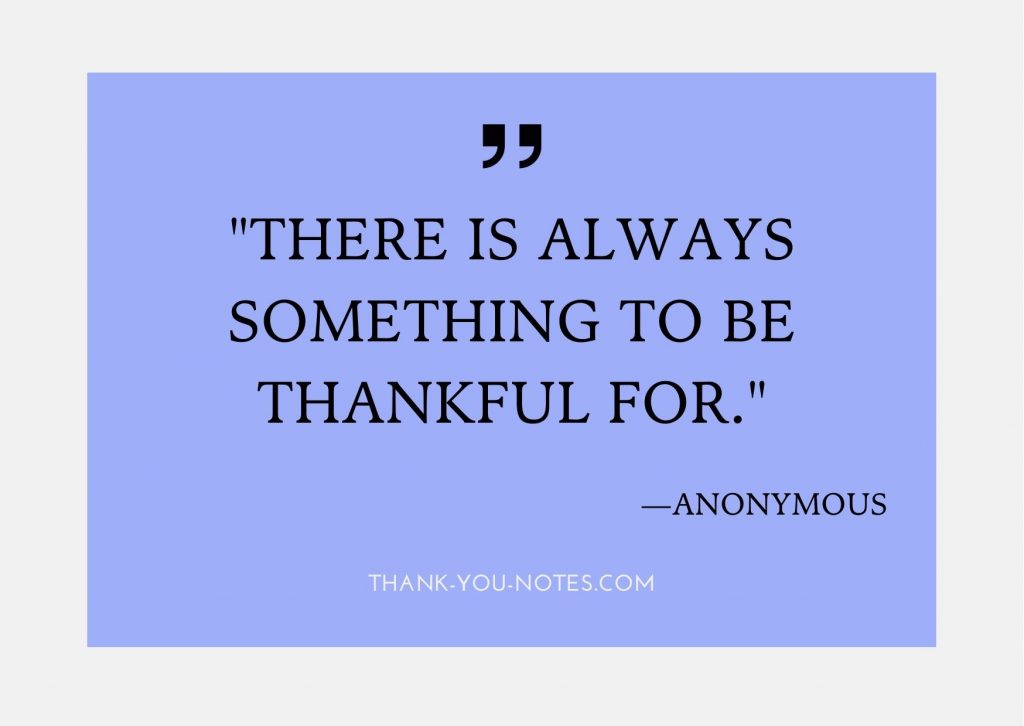 "There is always something to be thankful for."

—Anonymous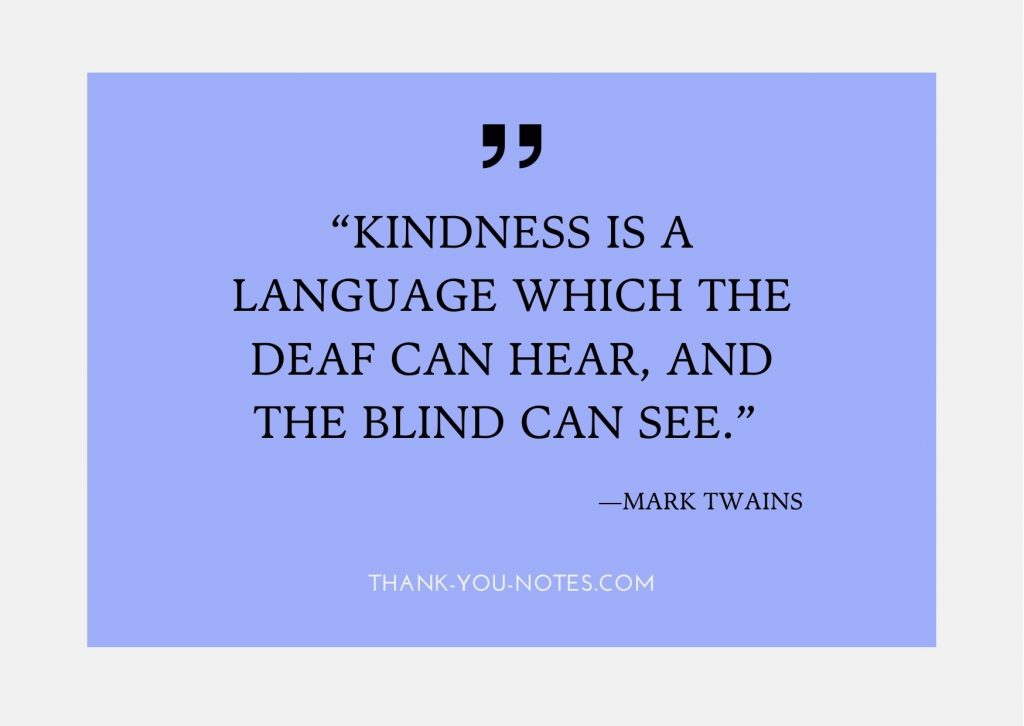 "Kindness is a language which the deaf can hear, and the blind can see."

—Mark Twain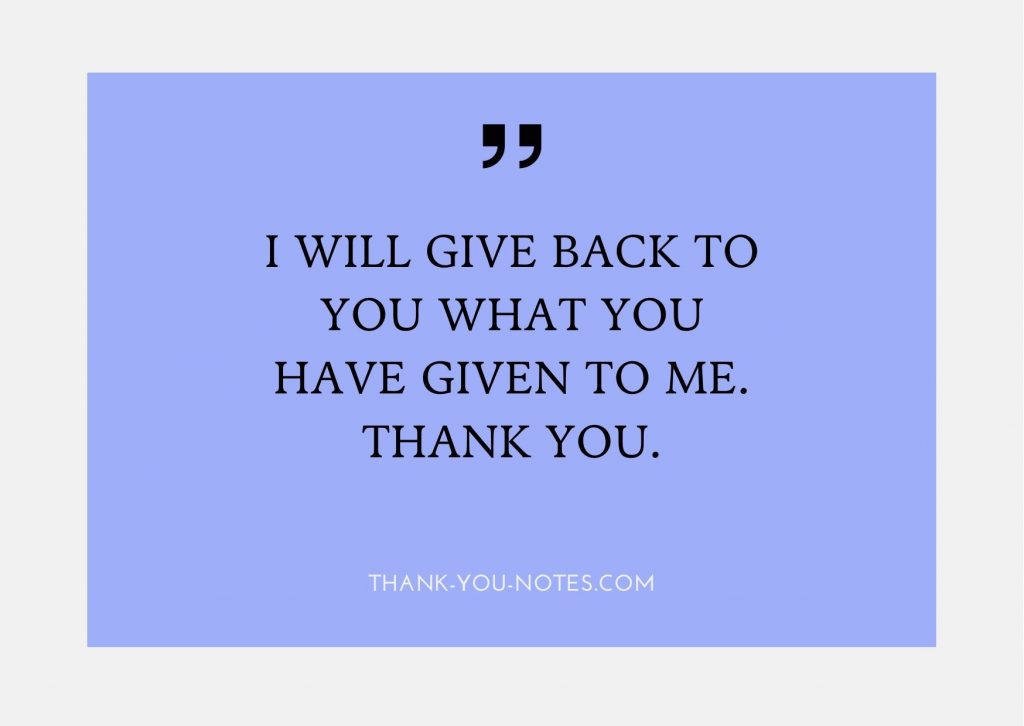 I will give back to you what you have given to me. Thank You.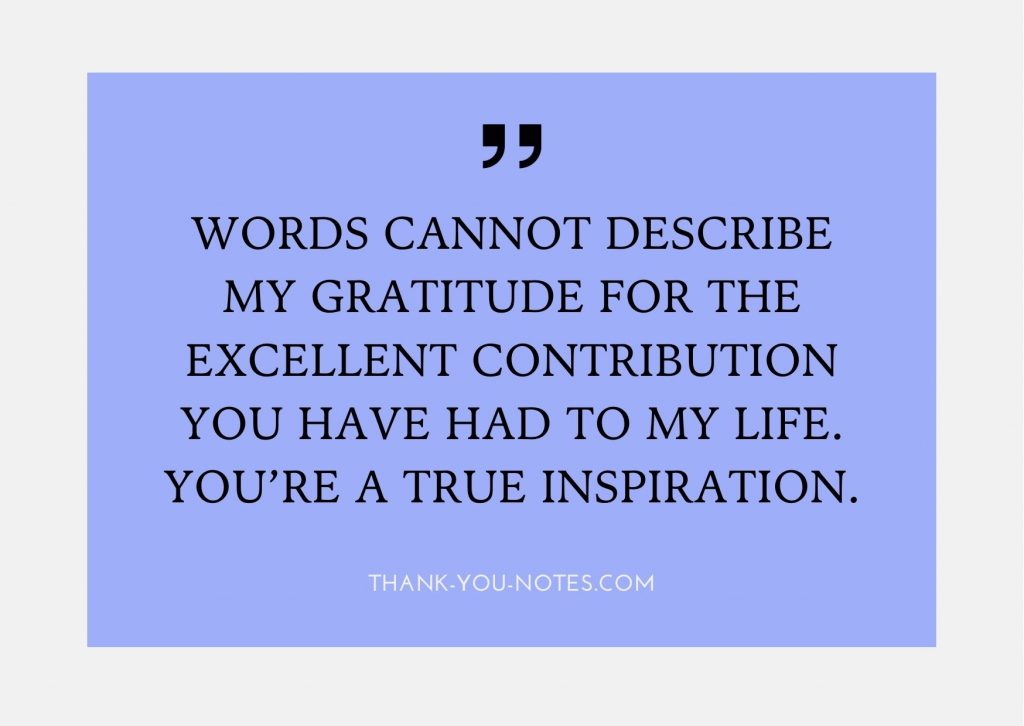 Words cannot describe my gratitude for the excellent contribution you have had to my life. You're a true inspiration.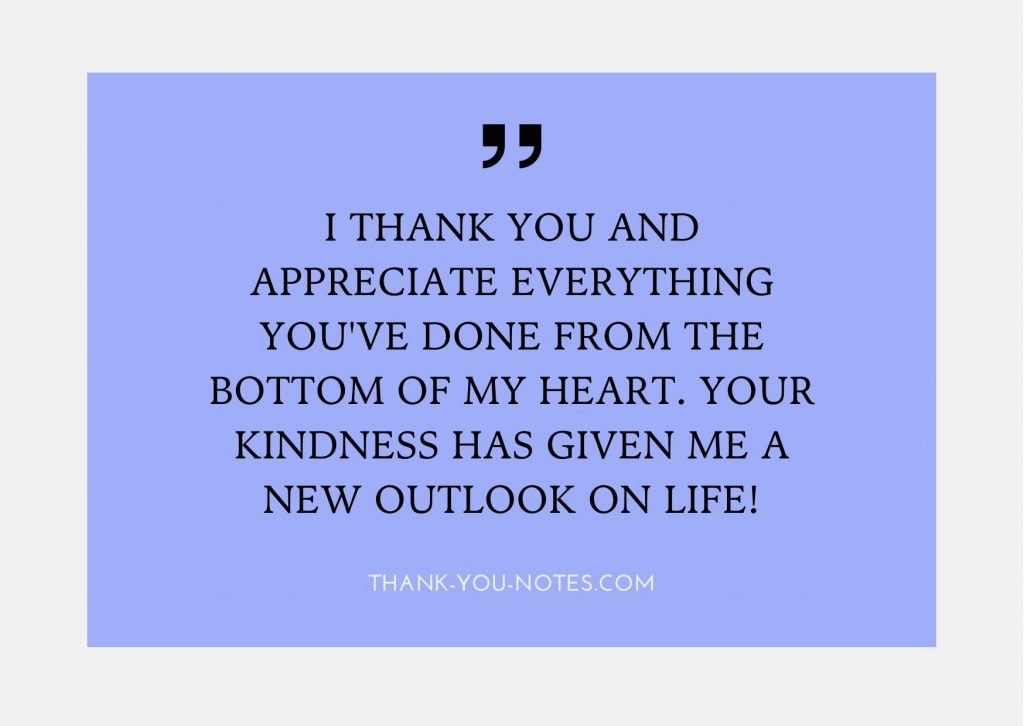 I thank you and appreciate everything you've done from the bottom of my heart. Your kindness has given me a new outlook on life!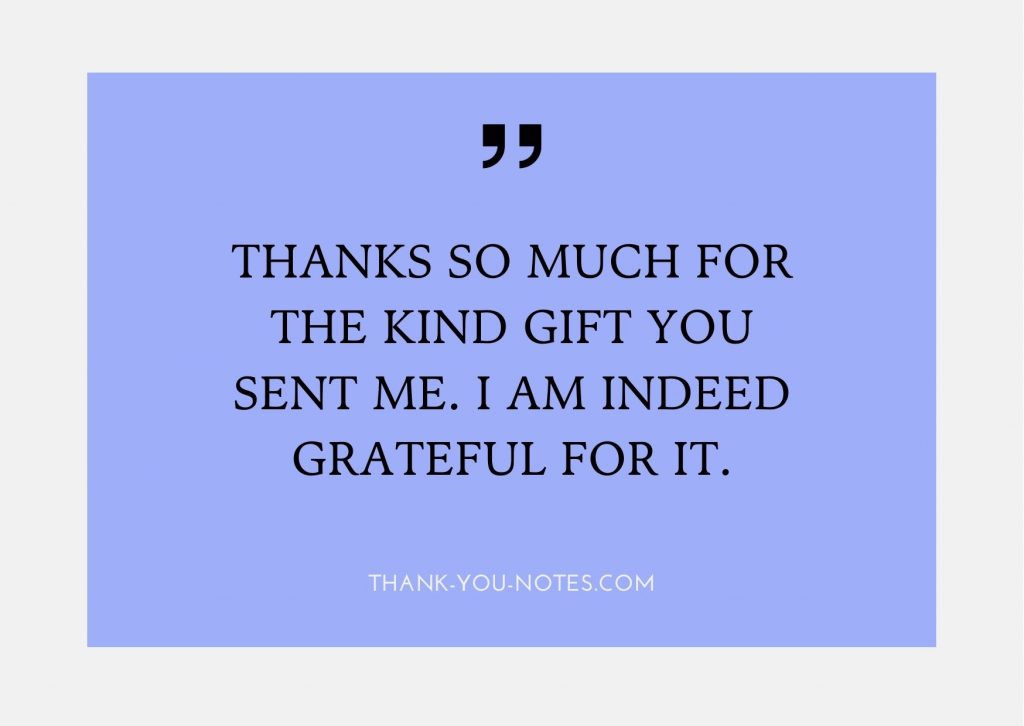 Thanks so much for the kind gift you sent me. I am indeed grateful for it.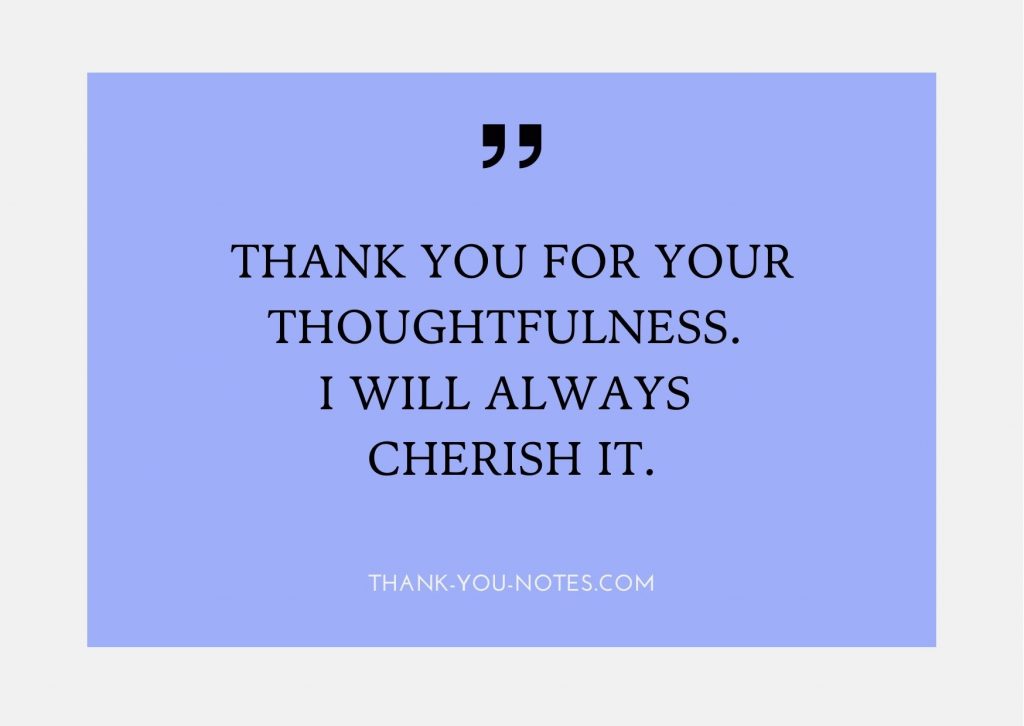 Thank you for your thoughtfulness. I will always cherish it.
When you wonder if you should write a thank you note, the answer resounds yes!
Gotsman said: "When you receive a gift or someone extends a gesture that is above and beyond the call of duty, a thank you for their thoughtfulness is always an appropriate effort".