Thank You For Your Patience Notes
We hear the word 'patience' being thrown around often, but we rarely grasp its meaning. Patience is exceptional quality and, often, one of the best personality traits. Those that instil patience within themselves do deserve a bit of gratitude.
Not all of us are bestowed the gift of gab, and we can certainly find it challenging at times to try and express our emotions in words. We often sound ingenuine because we use blatant phrases that mostly fail to encapsulate our true feelings.
Here you will find some pre-written 'Thank you for your patience' notes:
Thank you for your patience notes
Teacher/Trainer/Mentor: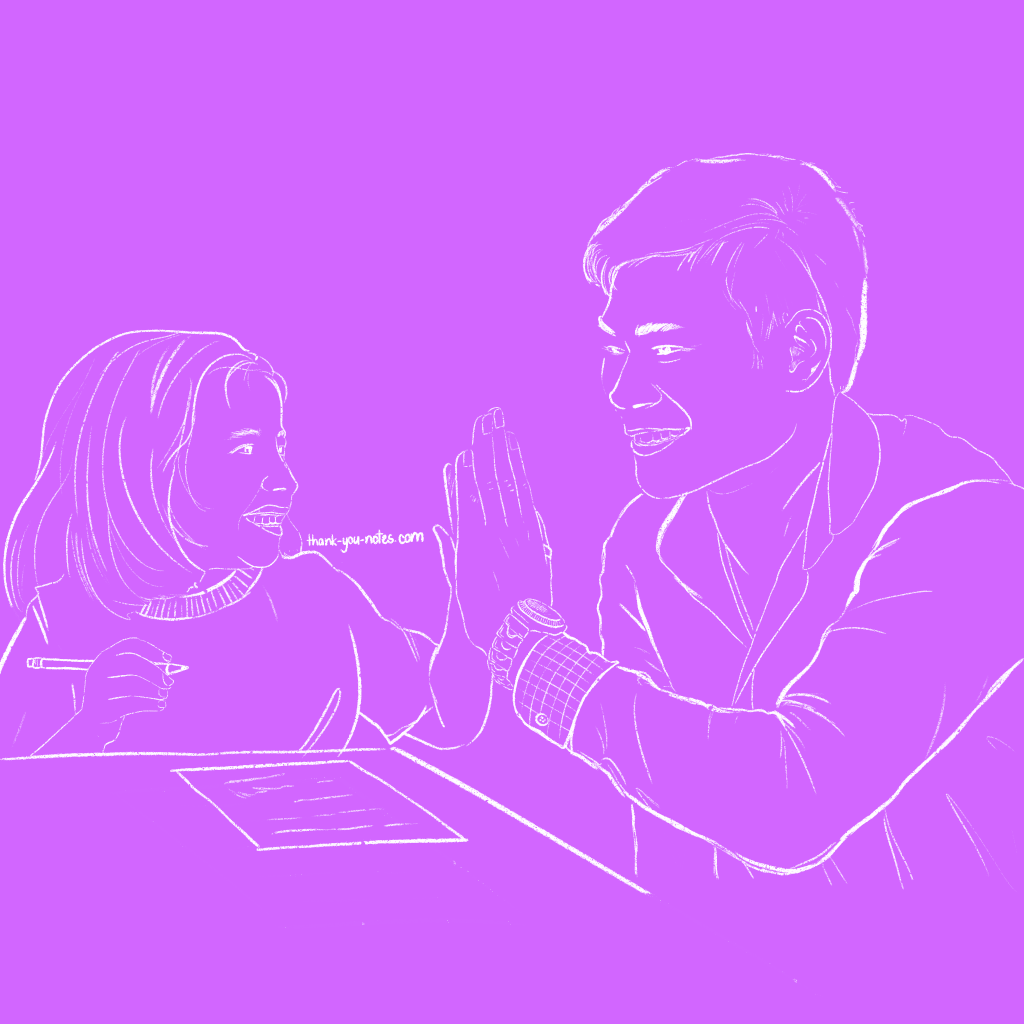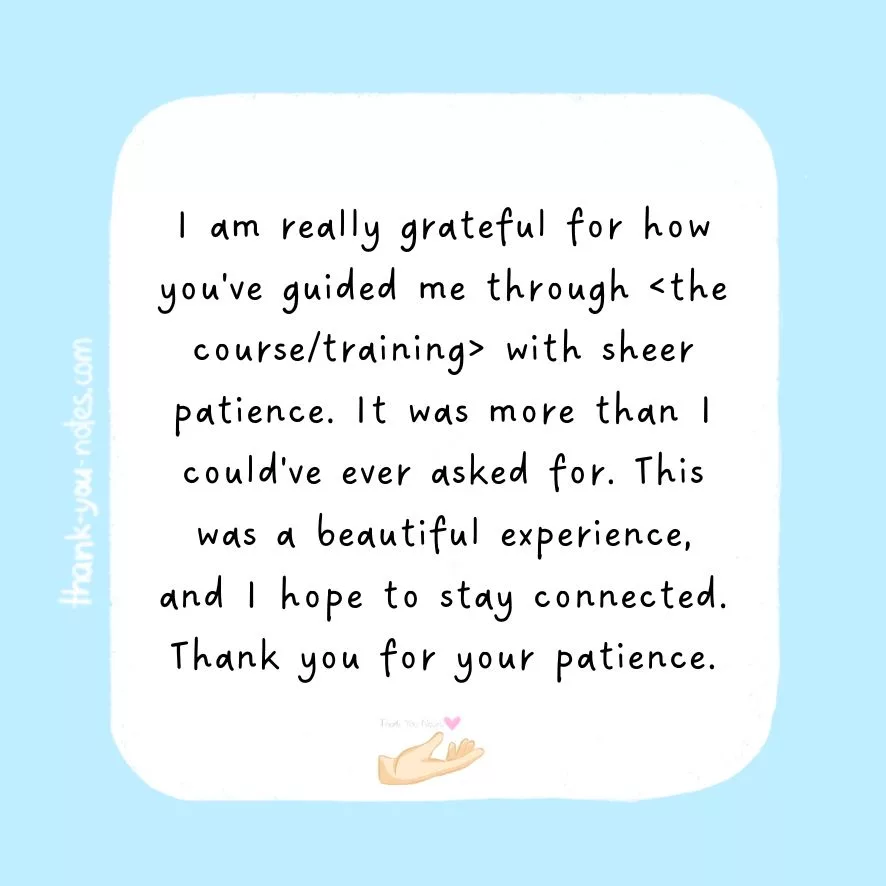 I am really grateful for how you've guided me through <the course/training> with sheer patience. It was more than I could've ever asked for. This was a beautiful experience, and I hope to stay connected. Thank you for your patience.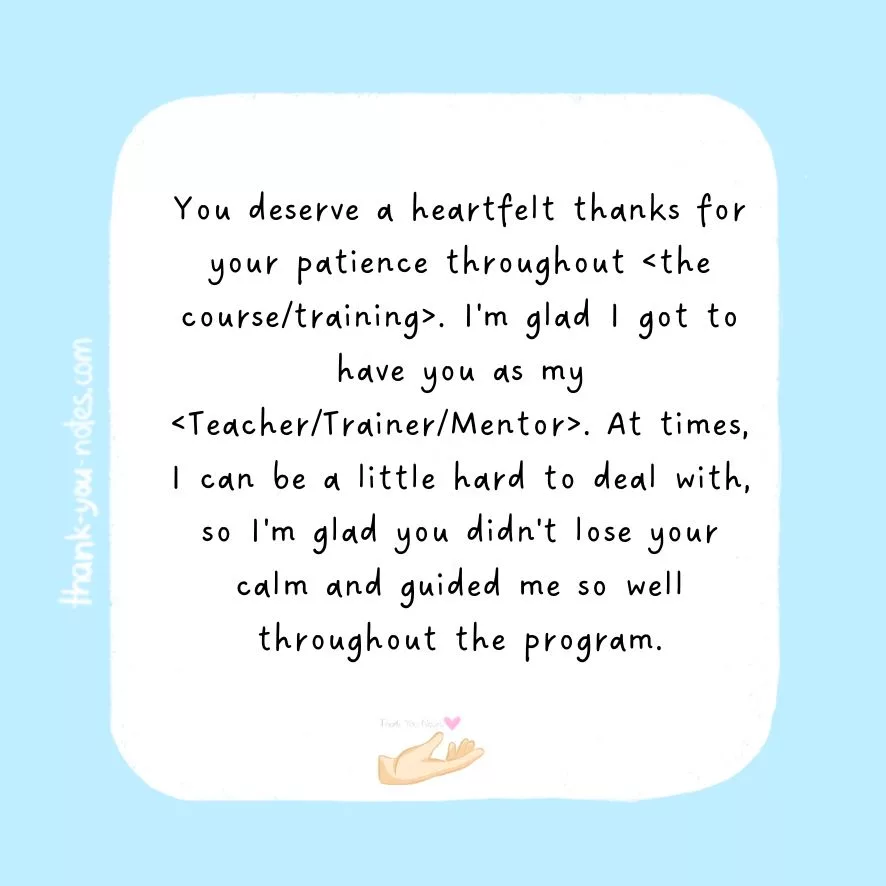 You deserve a heartfelt thanks for your patience throughout <the course/training>. I'm glad I got to have you as my <Teacher/Trainer/Mentor>. At times, I can be a little hard to deal with, so I'm glad you didn't lose your calm and guided me so well throughout the program.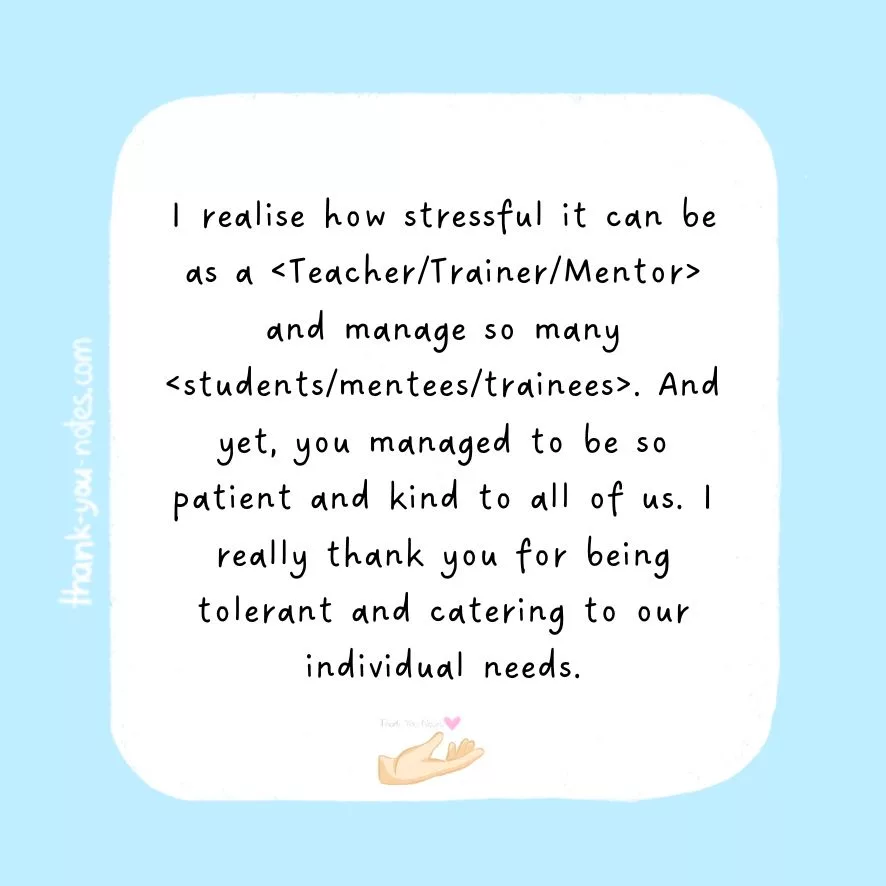 I realise how stressful it can be as a <Teacher/Trainer/Mentor> and manage so many <students/mentees/trainees>. And yet, you managed to be so patient and kind to all of us. I really thank you for being tolerant and catering to our individual needs.
Workplace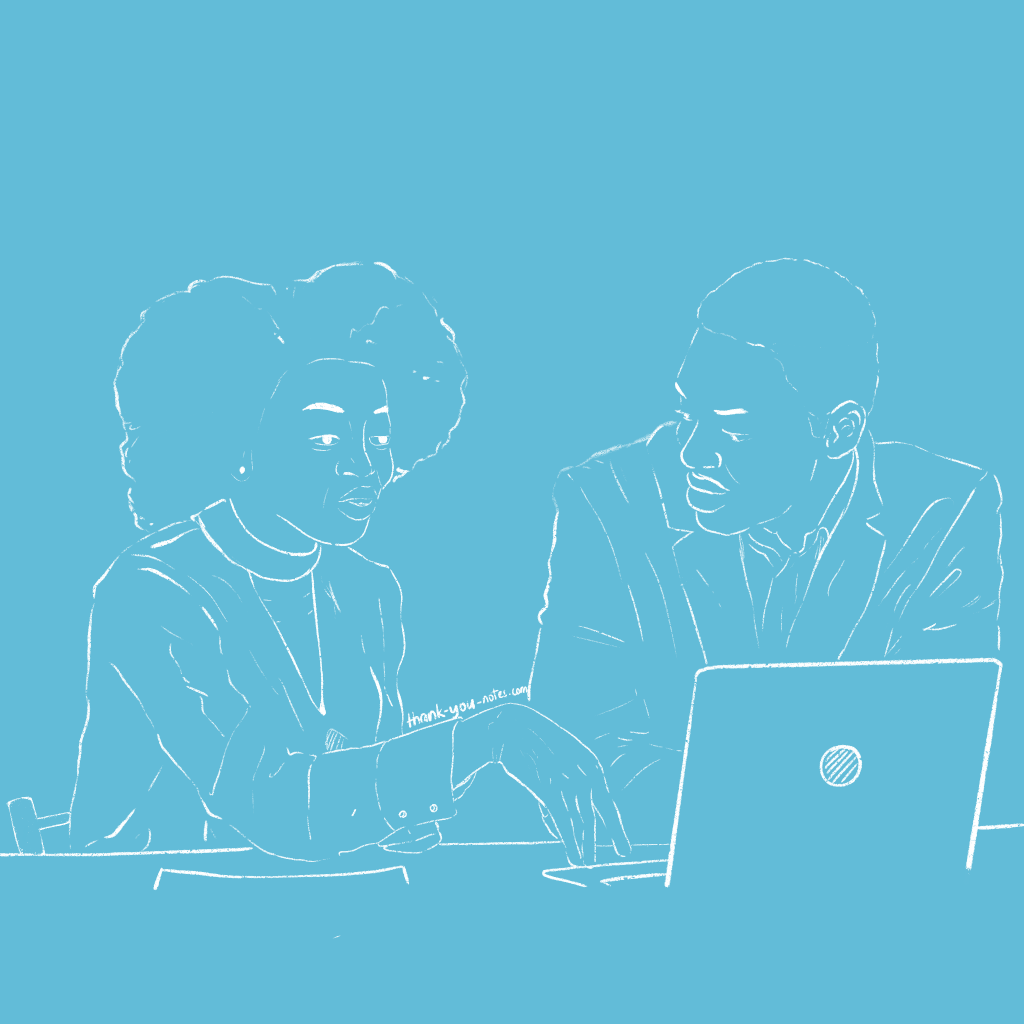 Co-workers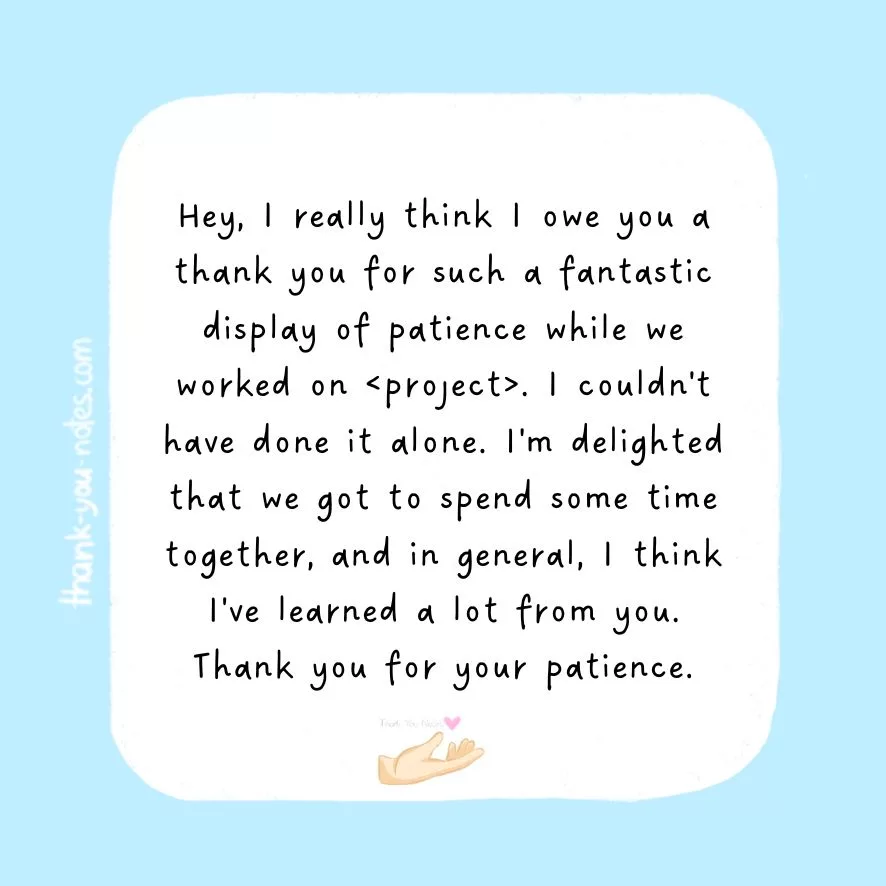 1. Hey, I really think I owe you a thank you for such a fantastic display of patience while we worked on <project>. I couldn't have done it alone. I'm delighted that we got to spend some time together, and in general, I think I've learned a lot from you. Thank you for your patience.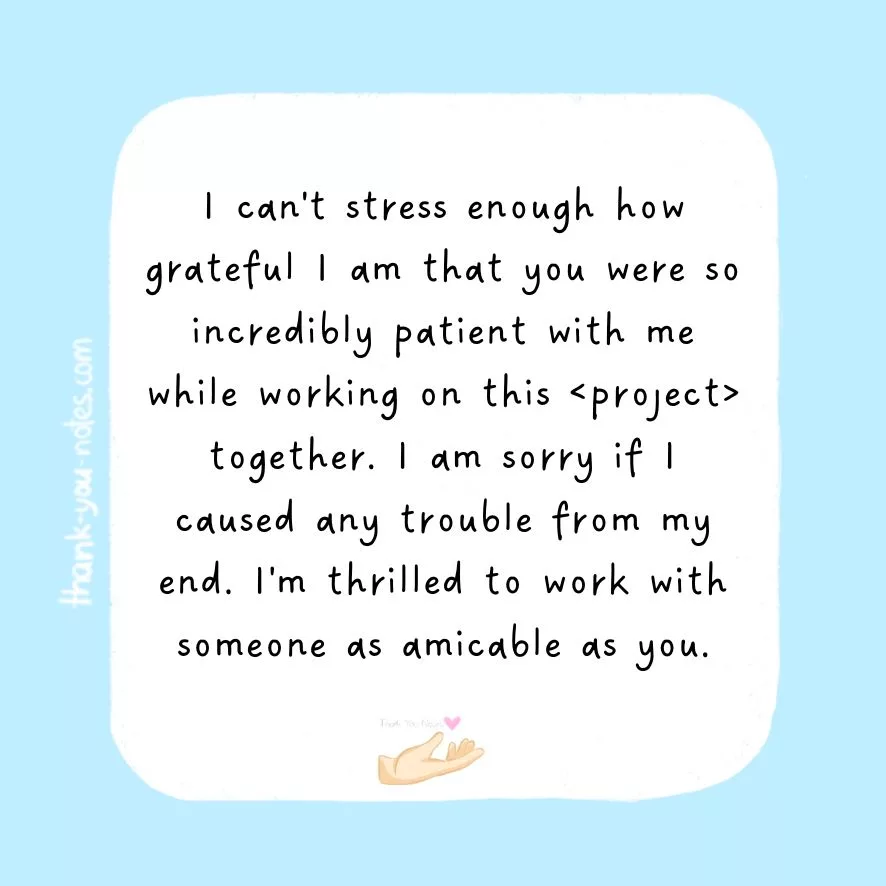 2. I can't stress enough how grateful I am that you were so incredibly patient with me while working on this <project> together. I am sorry if I caused any trouble from my end. I'm thrilled to work with someone as amicable as you.
Subordinates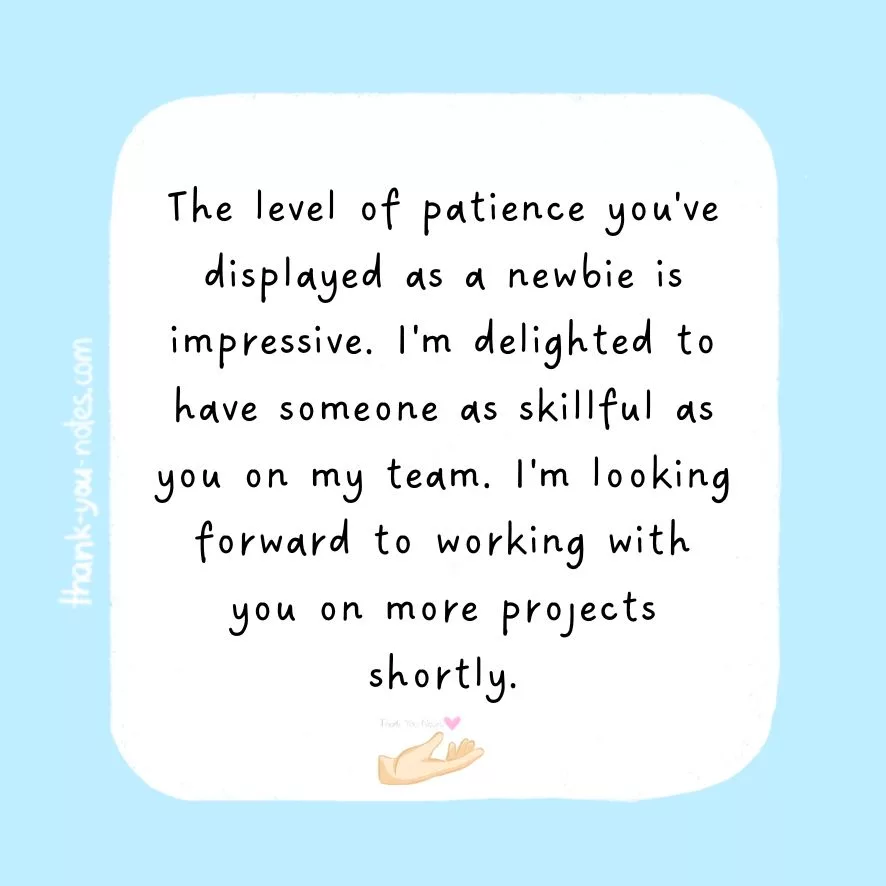 1. The level of patience you've displayed as a newbie is impressive. I'm delighted to have someone as skillful as you on my team. I'm looking forward to working with you on more projects shortly.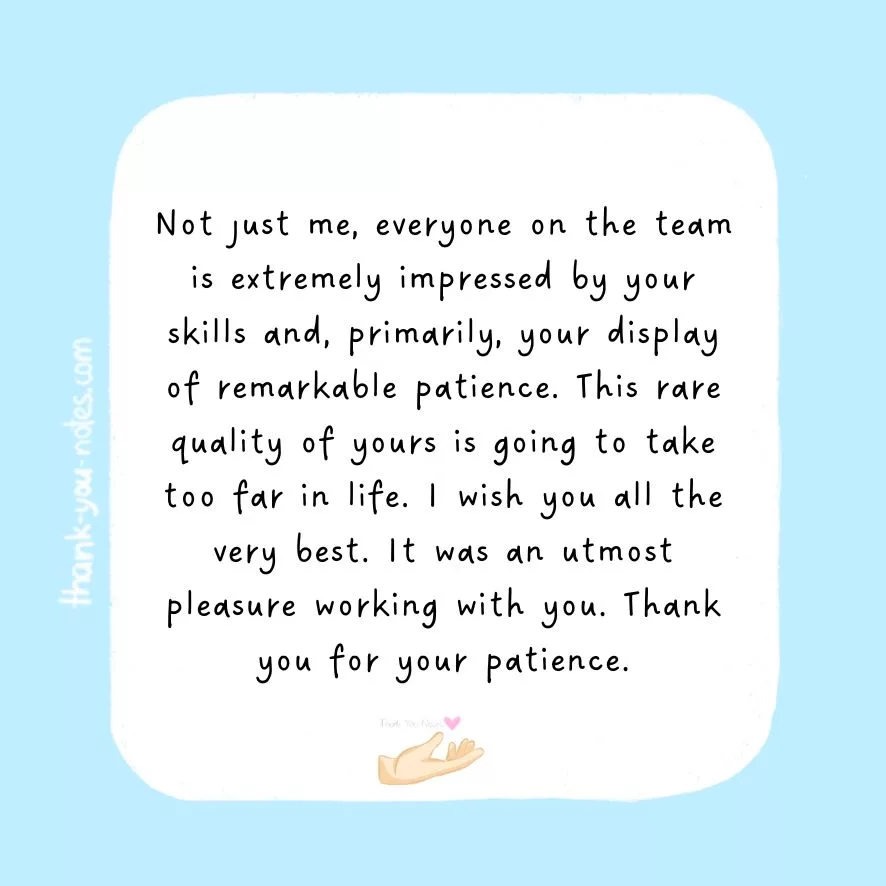 2. Not just me, everyone on the team is extremely impressed by your skills and, primarily, your display of remarkable patience. This rare quality of yours is going to take too far in life. I wish you all the very best. It was an utmost pleasure working with you. Thank you for your patience.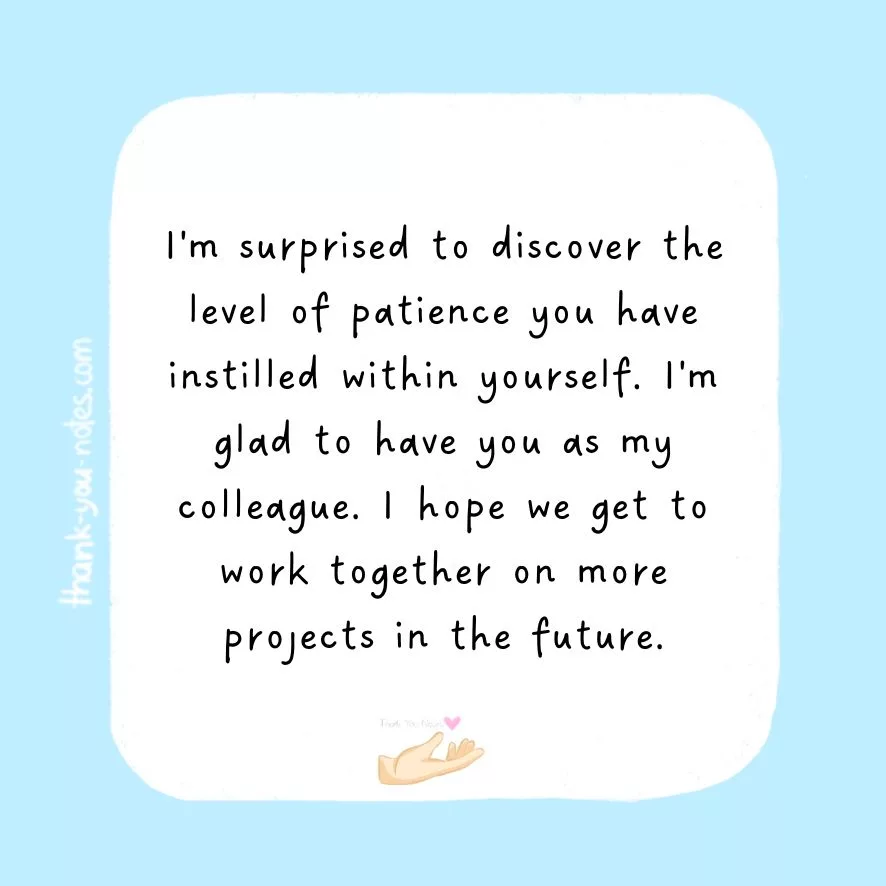 3. I'm surprised to discover the level of patience you have instilled within yourself. I'm glad to have you as my colleague. I hope we get to work together on more projects in the future.
Seniors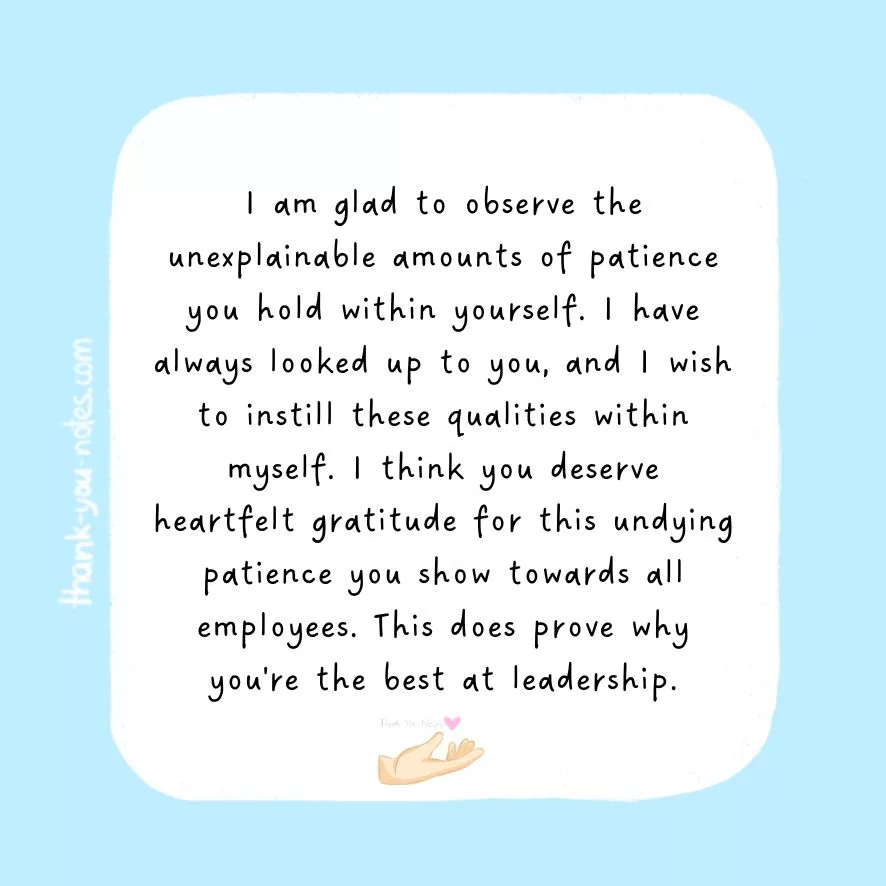 1. I am glad to observe the unexplainable amounts of patience you hold within yourself. I have always looked up to you, and I wish to instill these qualities within myself. I think you deserve heartfelt gratitude for this undying patience you show towards all employees. This does prove why you're the best at leadership.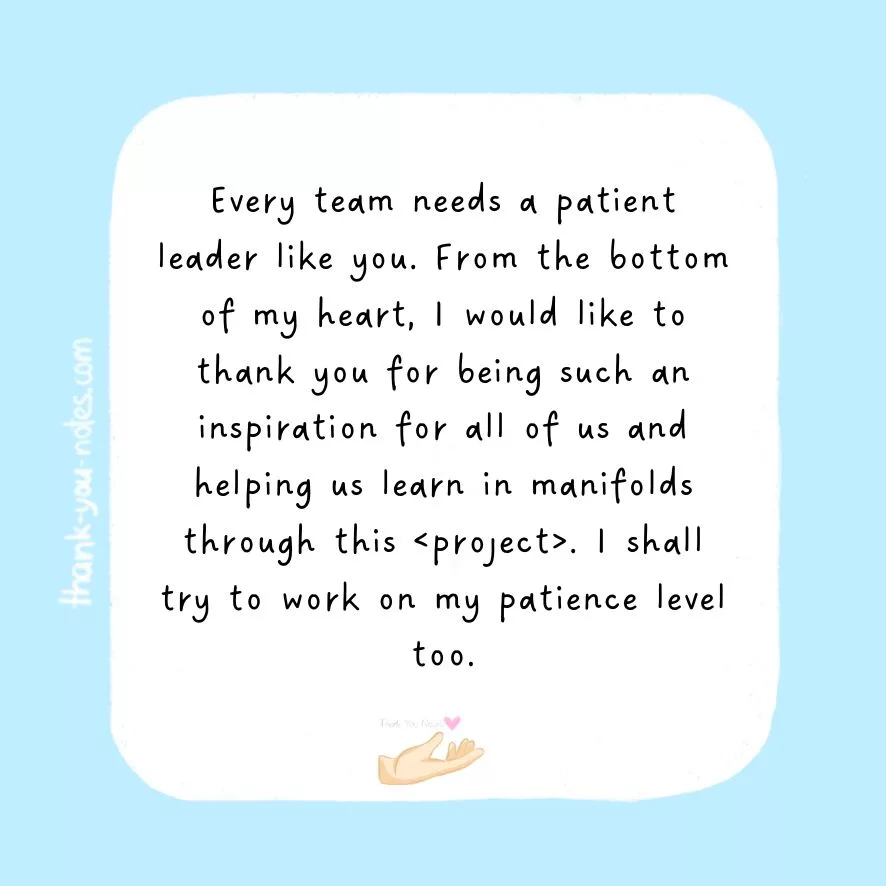 2. Every team needs a patient leader like you. From the bottom of my heart, I would like to thank you for being such an inspiration for all of us and helping us learn in manifolds through this <project>. I shall try to work on my patience level too.
Personal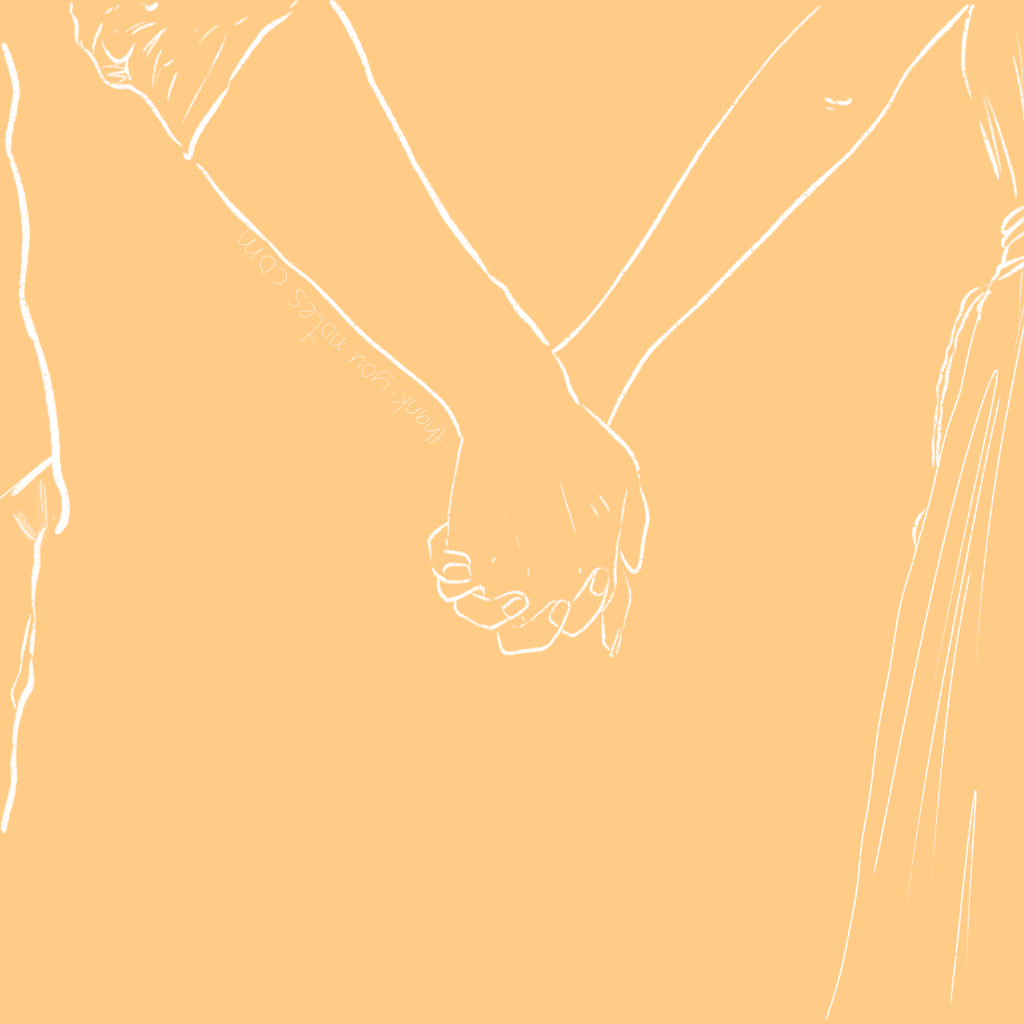 Friends/Partners/Parents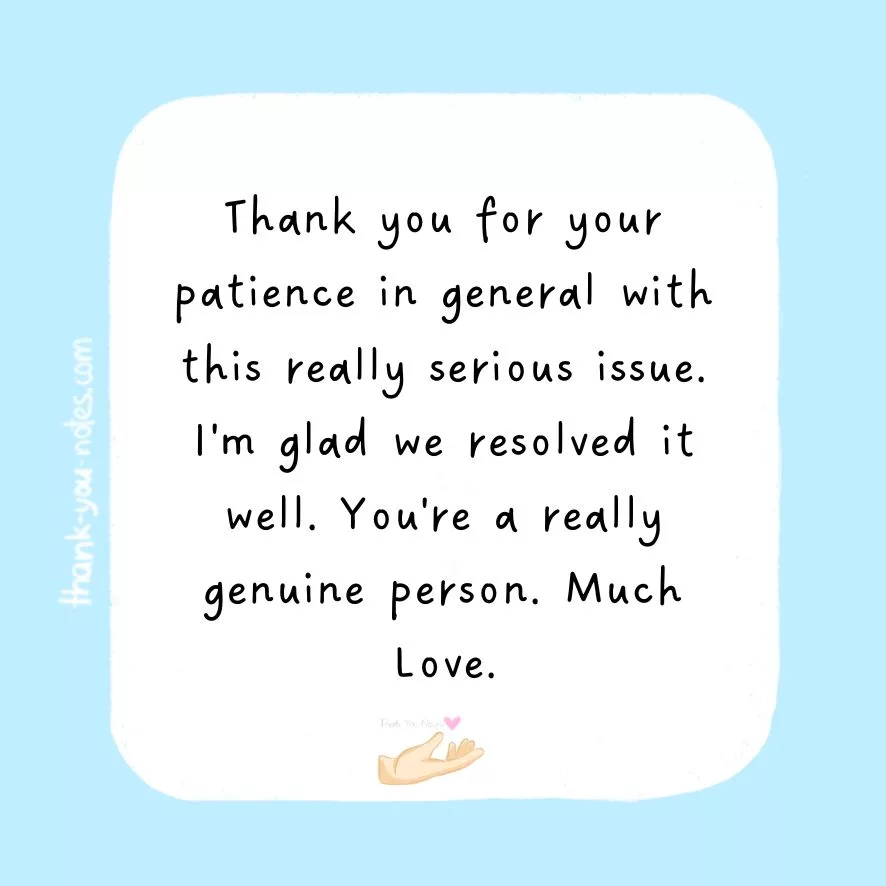 1. Thank you for your patience in general with this really serious issue. I'm glad we resolved it well. You're a really genuine person. Much Love.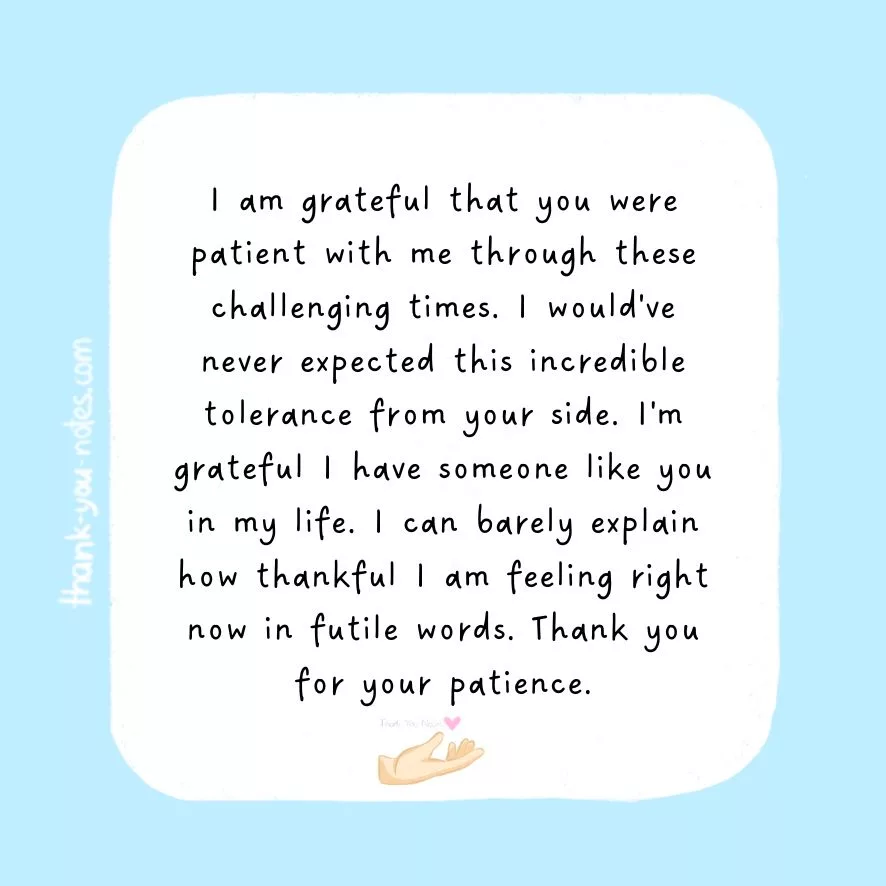 2. I am grateful that you were patient with me through these challenging times. I would've never expected this incredible tolerance from your side. I'm grateful I have someone like you in my life. I can barely explain how thankful I am feeling right now in futile words. Thank you for your patience.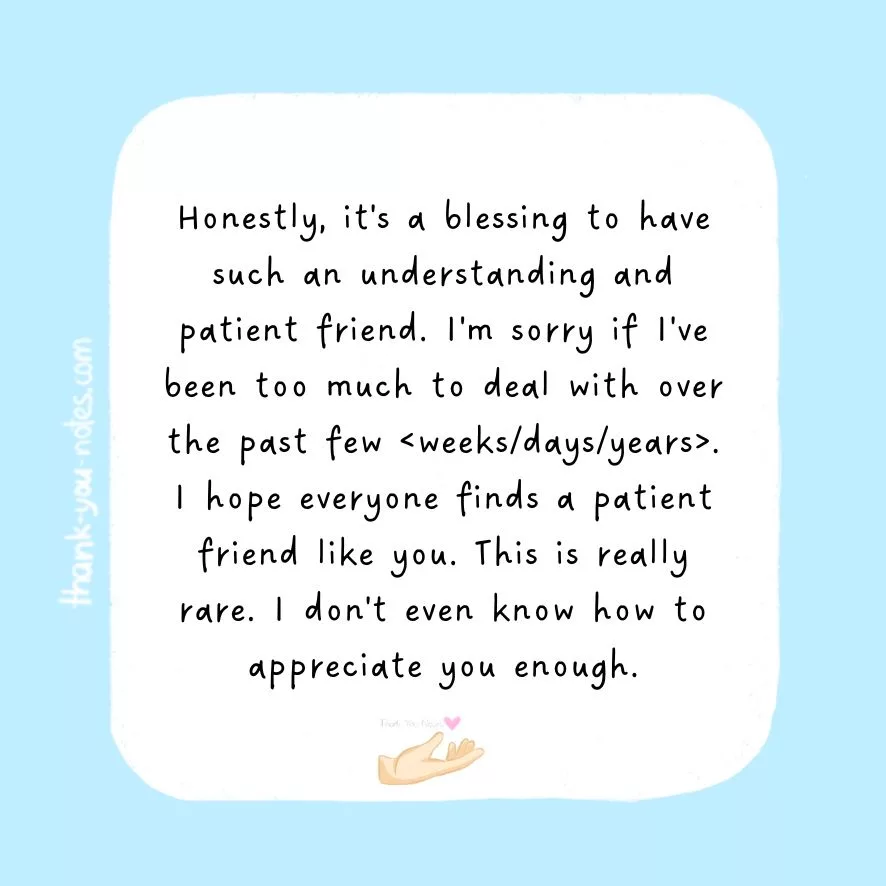 3. Honestly, it's a blessing to have such an understanding and patient friend. I'm sorry if I've been too much to deal with over the past few <weeks/days/years>. I hope everyone finds a patient friend like you. This is really rare. I don't even know how to appreciate you enough.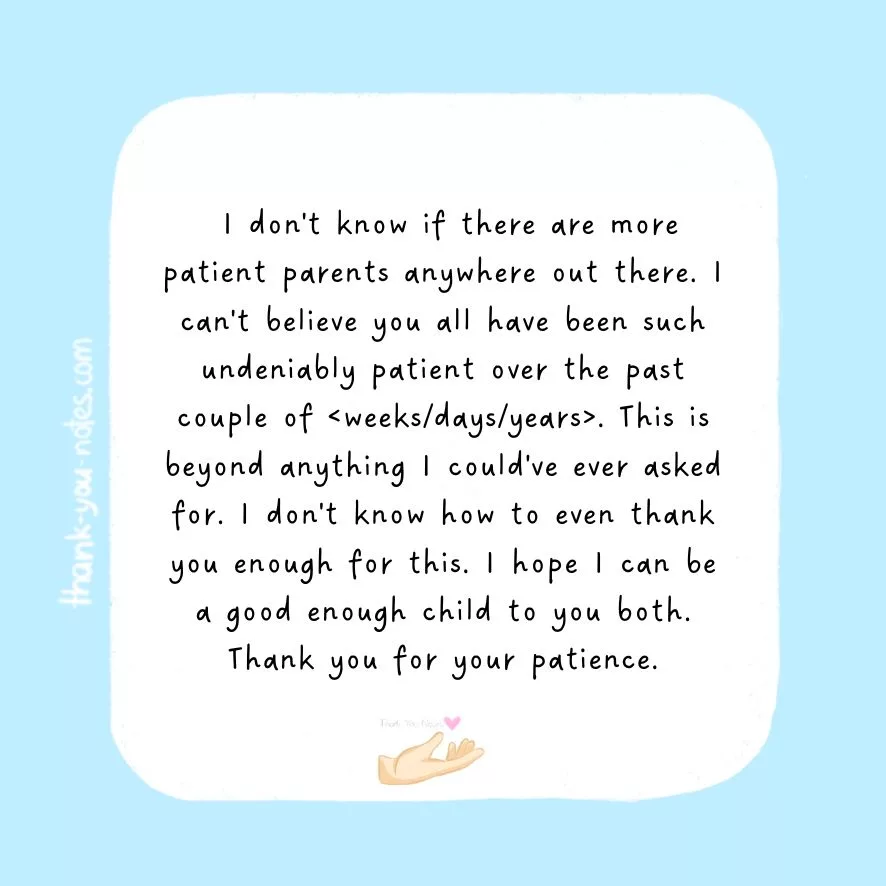 4. I don't know if there are more patient parents anywhere out there. I can't believe you all have been such undeniably patient over the past couple of <weeks/days/years>. This is beyond anything I could've ever asked for. I don't know how to even thank you enough for this. I hope I can be a good enough child to you both. Thank you for your patience.
Read more: How to thank your loved ones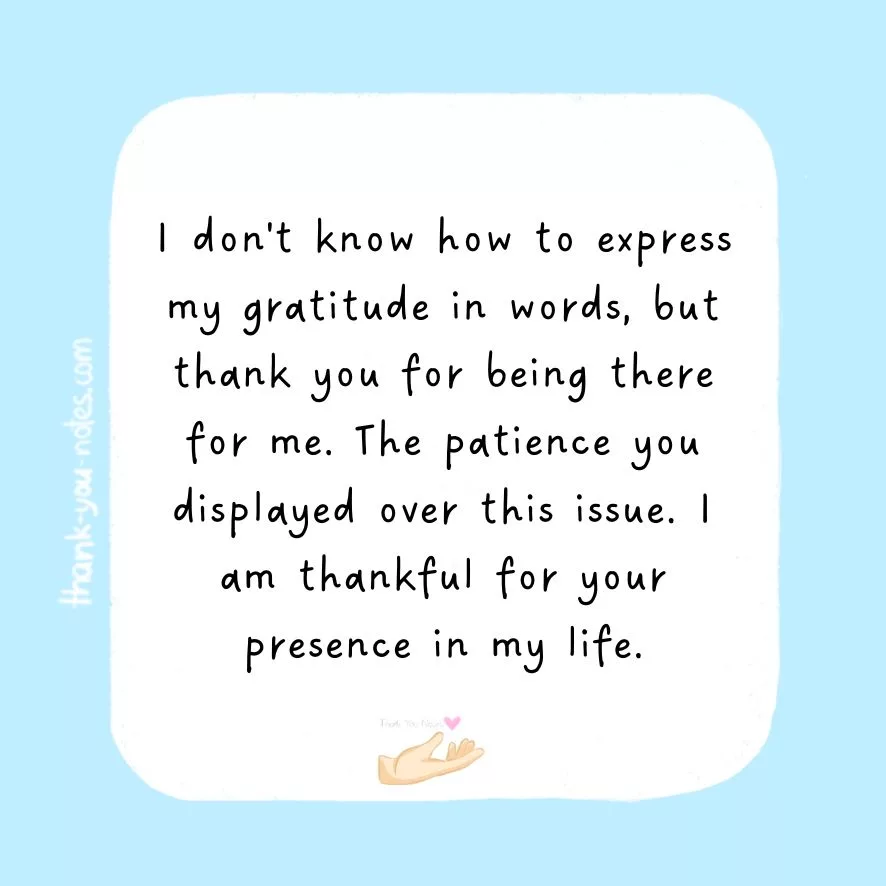 5. I don't know how to express my gratitude in words, but thank you for being there for me. The patience you displayed over this issue. I am thankful for your presence in my life.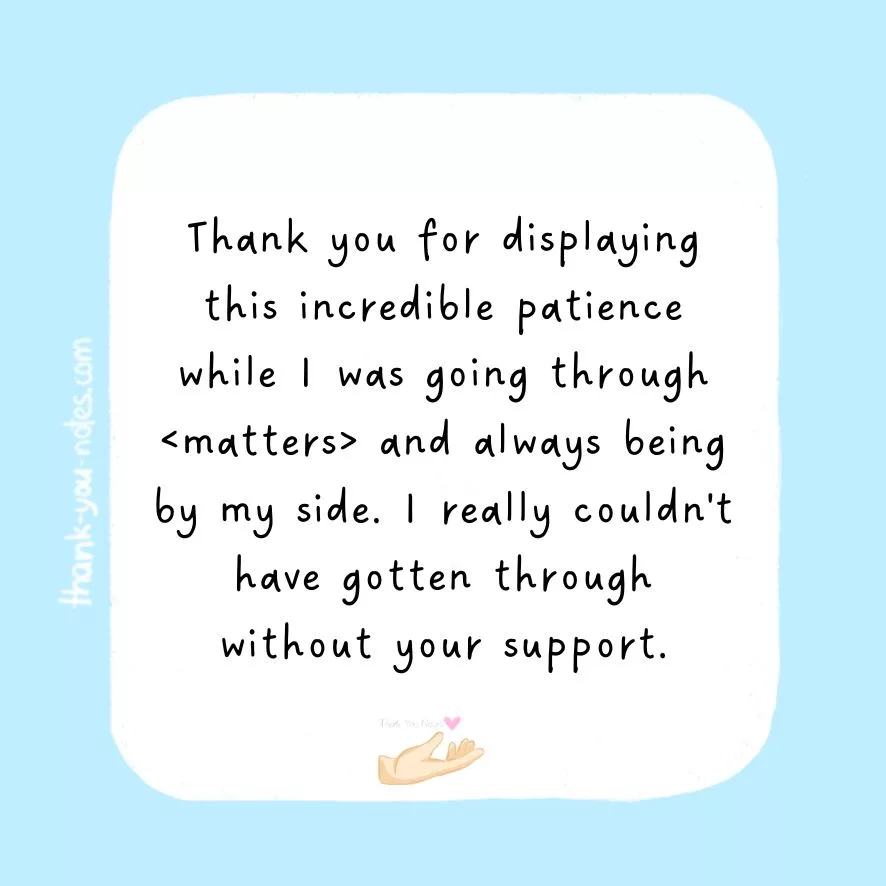 6. Thank you for displaying this incredible patience while I was going through <matters> and always being by my side. I really couldn't have gotten through without your support.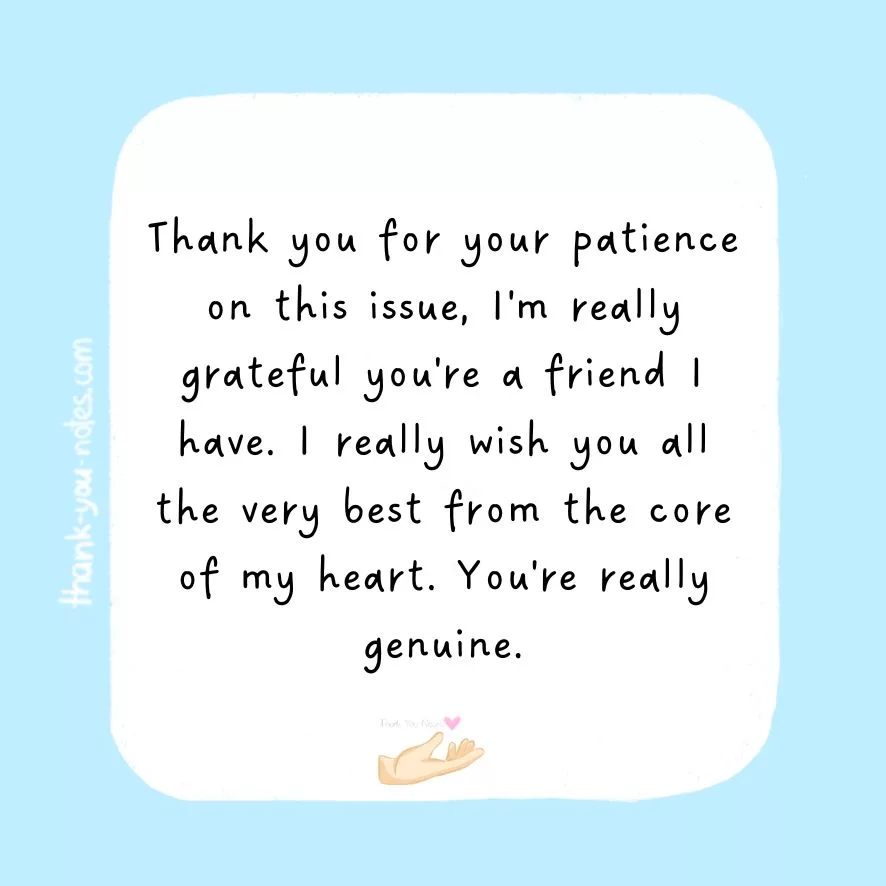 7. Thank you for your patience on this issue, I'm really grateful you're a friend I have. I really wish you all the very best from the core of my heart. You're really genuine.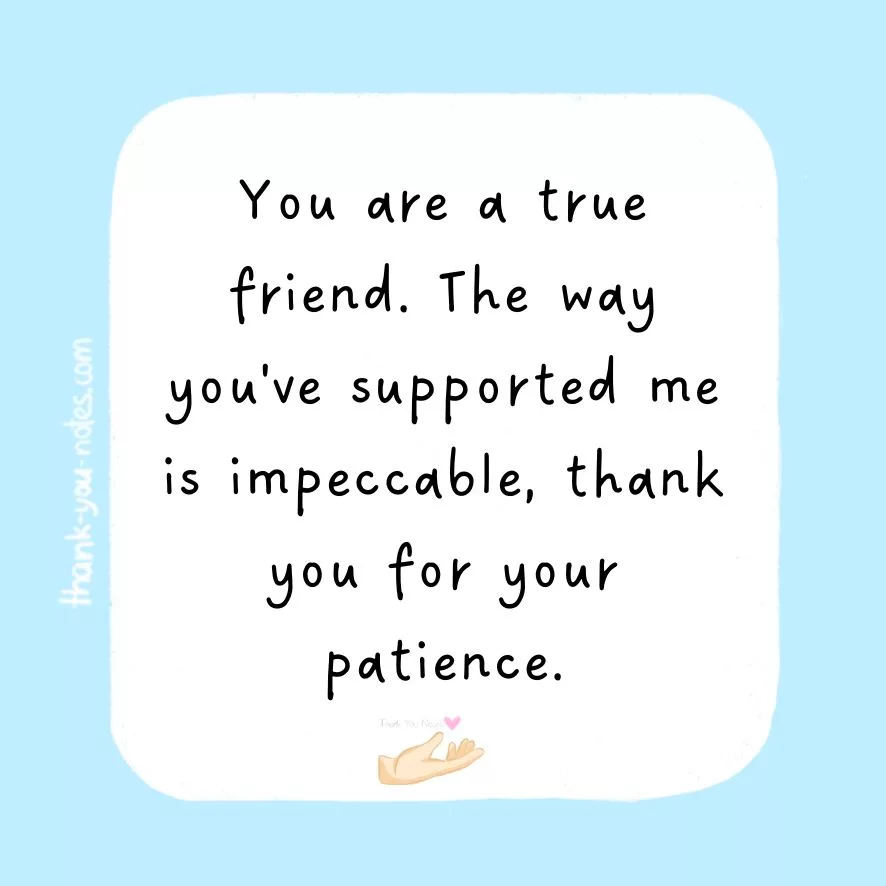 8. You are a true friend. The way you've supported me is impeccable, thank you for your patience.
Tips To Write Better 'Thank You For Your Patience' notes:
Decide the purpose of the message.
If you really want to thank someone and sound genuine while doing so, the best option is to think it out first. Think about your intent with the message: Do you want to sound formal, or is it a heartfelt gratitude paragraph for your dearest friend?
Deciding the purpose of your text first shall help you express your feelings better and sound the way you want to. Just writing a simple 'Thank you for your patience' might not always get your emotions across.
Keep it short and simple.
We can get a bit carried away when we're huddled with emotions, but we need to keep them in check. Instead of flooding large and fancy words, we must focus on whether our texts are comprehensive. Our primary goal should have clear communication. Long and exhaustive text messages can often fail to miss the point we're trying to make.
Make it personal.
It doesn't matter if it's a formal email or a message of gratitude to your mom, it's always great to have a personal touch to your text messages. Although we've provided an extensive list of messages you can copy and paste onto your chats, there's no harm in customizing them a little to suit your purpose and personality better. We all have a very distinct manner in which we converse and that should always reflect in our messages like 'Thank you for your patience'.
Don't be repetitive.
Often, we tend to repeat the same phrases repeatedly in a single text. Avoiding that will open up more room to add more meaningful content and let you be more comprehensive. Using redundant sentences and phrases just makes your message lengthy and less legible. Keep it brief, and you're good to go.
Do
n't be under too much pressure.
Honestly, don't put too much pressure on yourself. Just think of it as a simple text message and a heartfelt way to thank someone for something genuine. They're sure to understand how pure your intentions are if you've followed the aforementioned tips.