Thanks to our queen, who devoted herself selflessly to making ends meet, meeting our needs, and standing as our pillar and foundation in forming who we are today. She is the best supermom we have ever known. Today is the day when we honor her. With these "thank you mom" phrases we've prepared, it's now our turn to convey how much she means to us in our unique ways.
Perhaps we take her for granted sometimes, forgetting to express our gratitude and tell her we love her. Even though we want to, we are hesitant to tell her because we believe it is too sweet and loving.
Mothers are ought to leave a mark on our lives that impact our overall lifestyle. Every day we get a chance to express our heartfelt thanks, compassion, and love for her. We sometimes have to go above and beyond to show our incredible supermoms all of these things. A simple but personalized and emotional Mother's Day Card expressing your gratitude for her love, work, and sacrifices for you and your entire family would go a long way.
For sure, it's a way to bring joy to our moms.
Example: Thank You Mom Messages From a Daughter or Son
This collection of messages will help you come up with your heartfelt messages. You can end your message with the phrase, "Thank You Mom."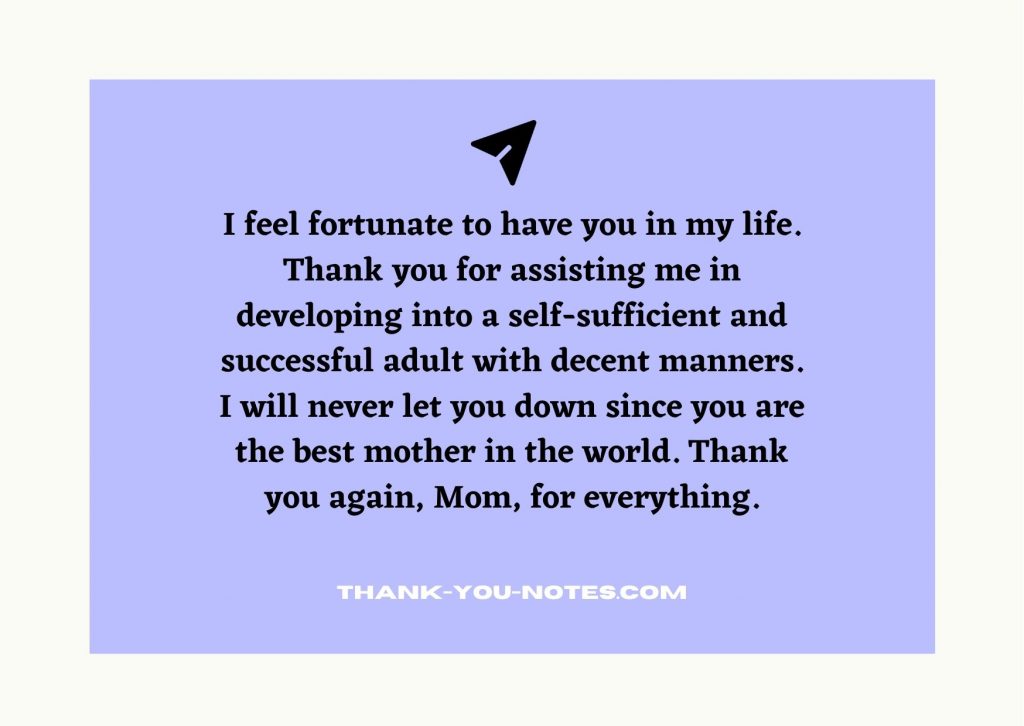 I feel fortunate to have you in my life. Thank you for assisting me in developing into a self-sufficient and successful adult with decent manners. I will never let you down since you are the best mother in the world. Thank you again, Mom, for everything.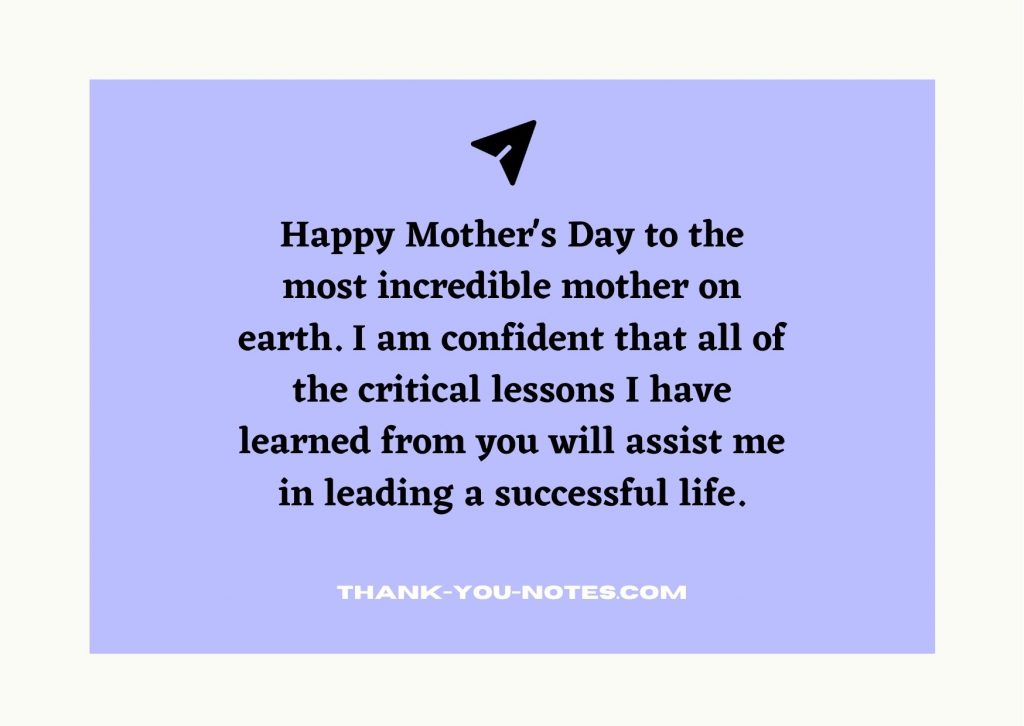 Happy Mother's Day to the most incredible mother on earth. I am confident that all of the critical lessons I have learned from you will assist me in leading a successful life.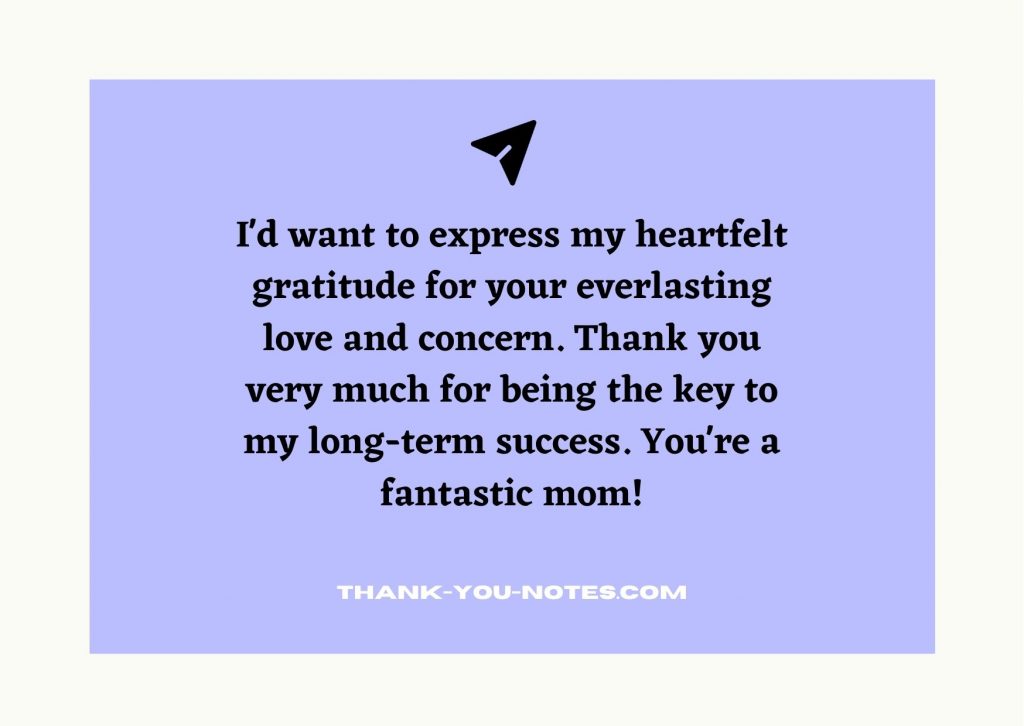 I'd want to express my heartfelt gratitude for your everlasting love and concern. Thank you very much for being the key to my long-term success. You're a fantastic mom!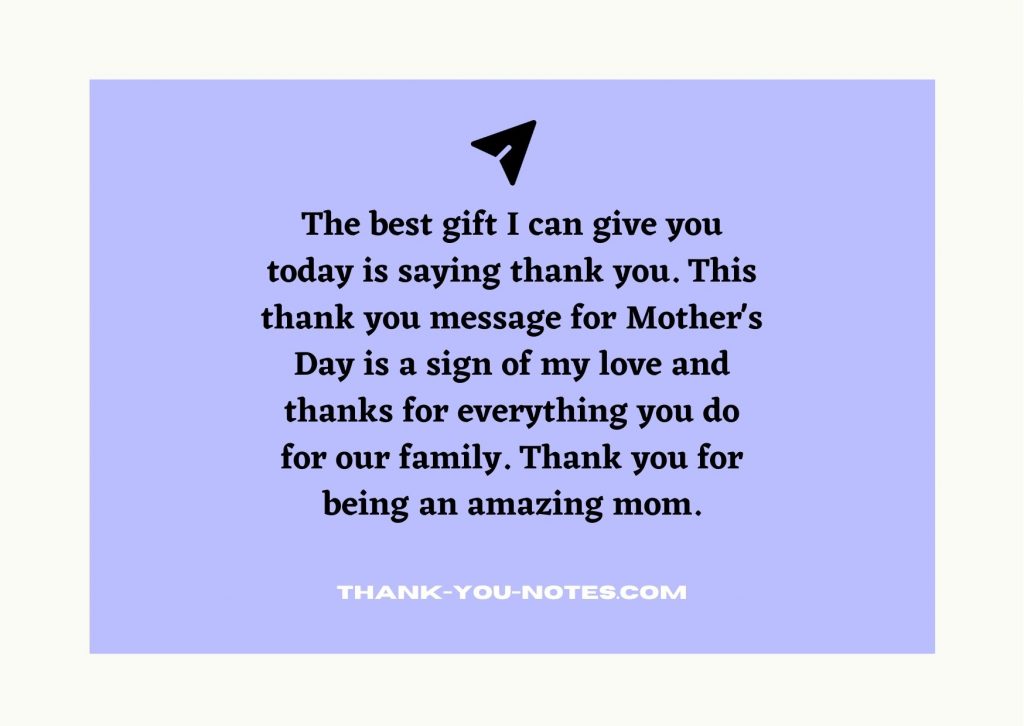 The best gift I can give you today is saying thank you. This thank you message for Mother's Day is a sign of my love and thanks for everything you do for our family. Thank you for being an amazing mom.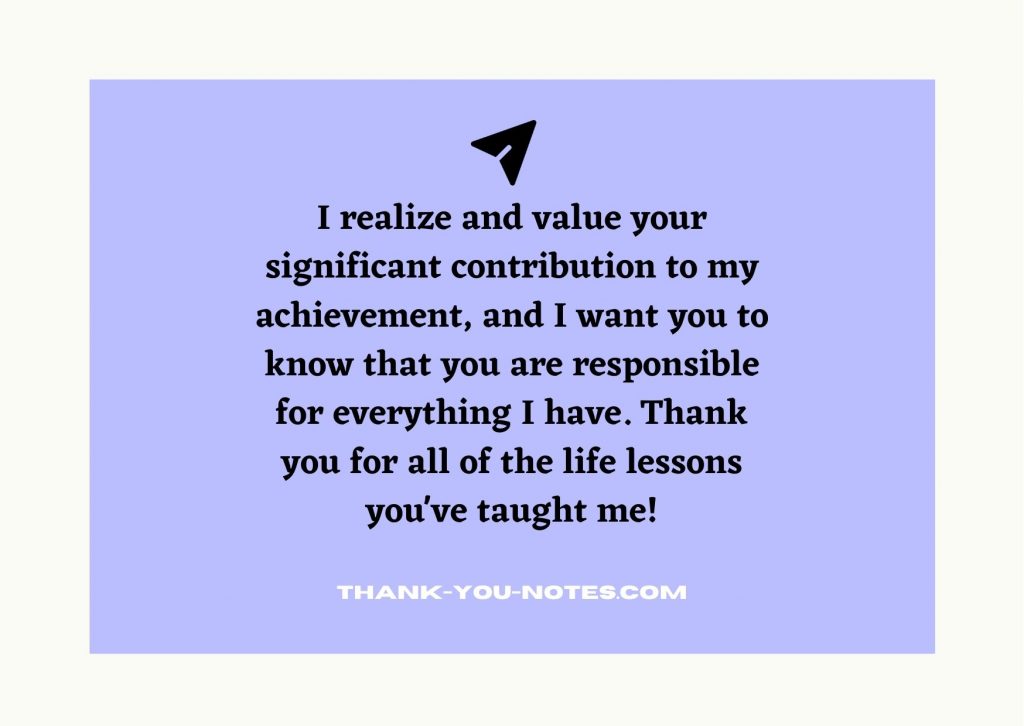 I realize and value your significant contribution to my achievement, and I want you to know that you are responsible for everything I have. Thank you for all of the life lessons you've taught me!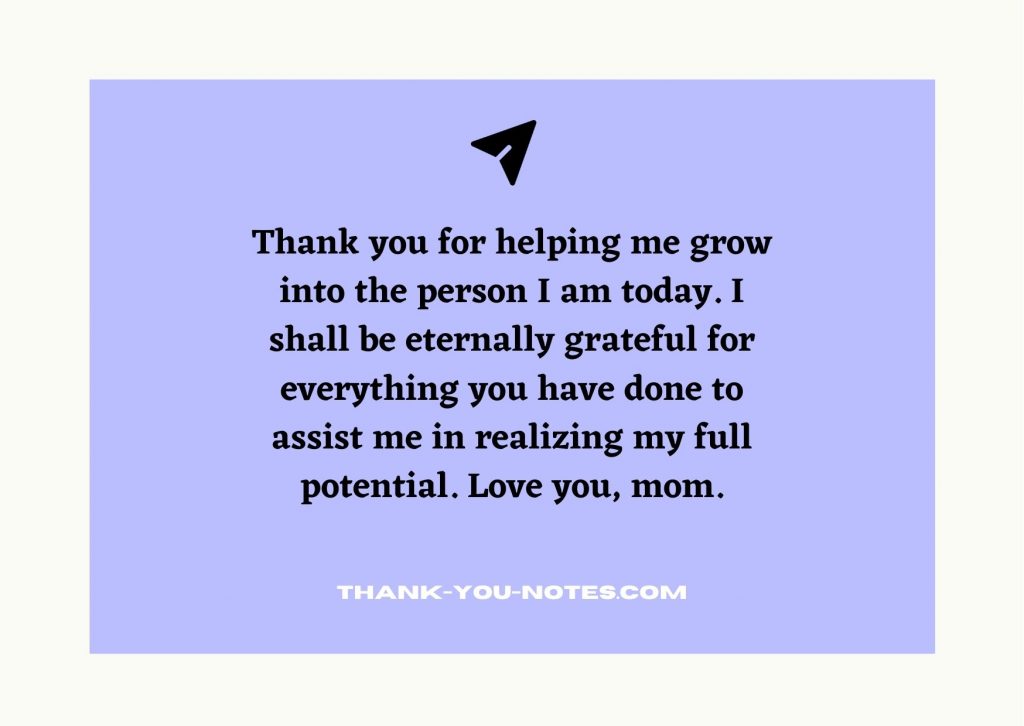 Thank you for helping me grow into the person I am today. I shall be eternally grateful for everything you have done to assist me in realizing my full potential. Love you, mom.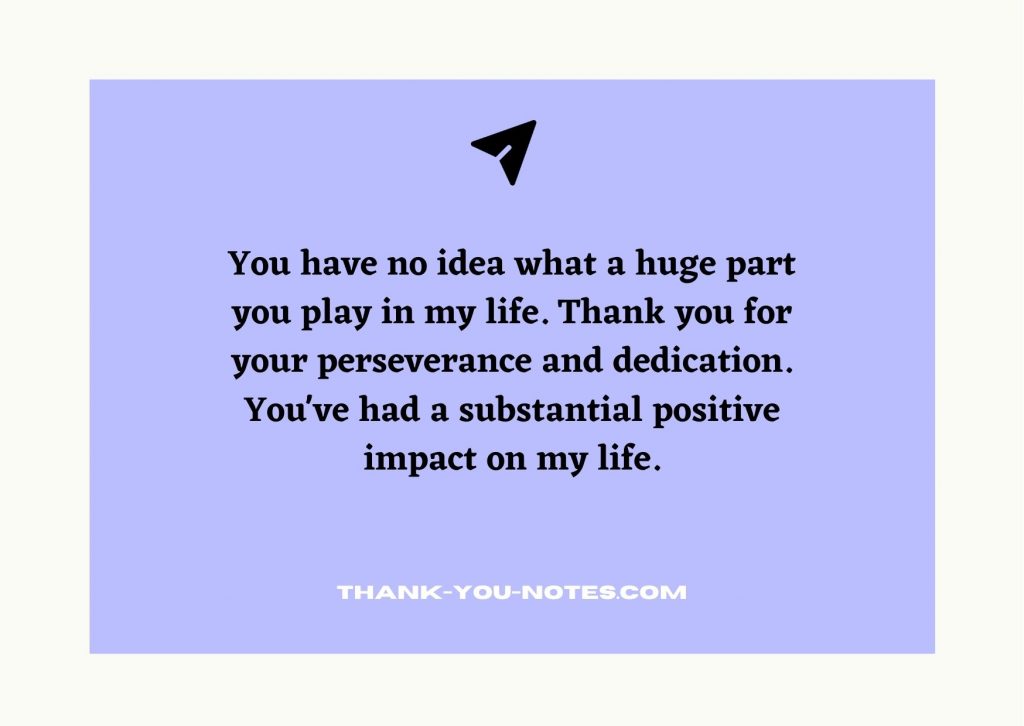 You have no idea what a huge part you play in my life. Thank you for your perseverance and dedication. You've had a substantial positive impact on my life.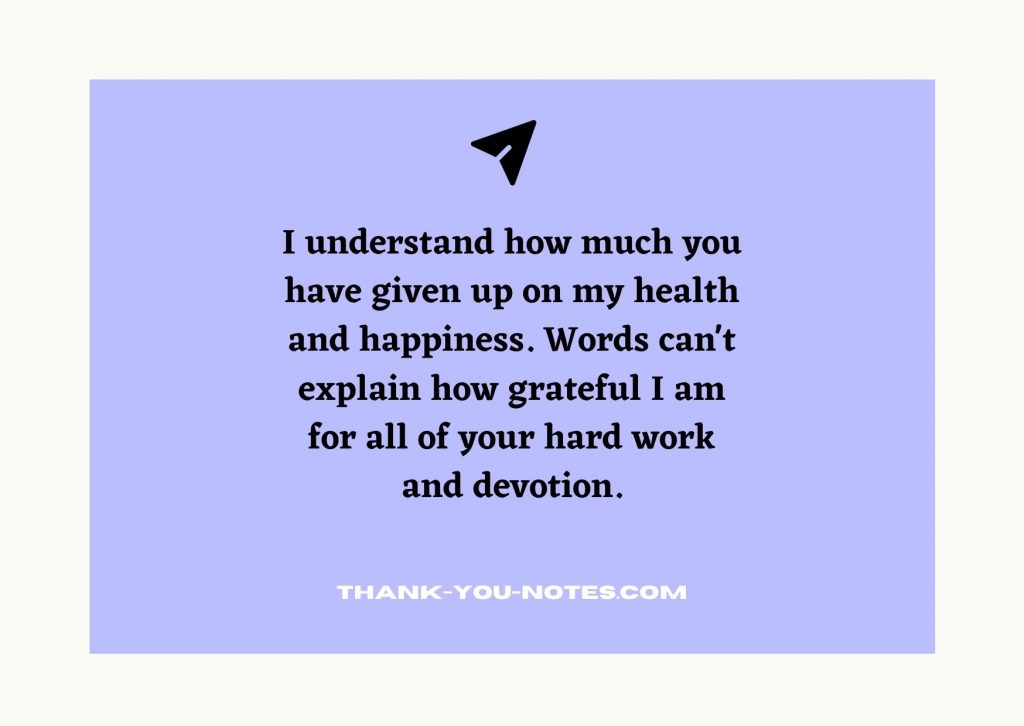 I understand how much you have given up on my health and happiness. Words can't explain how grateful I am for all of your hard work and devotion.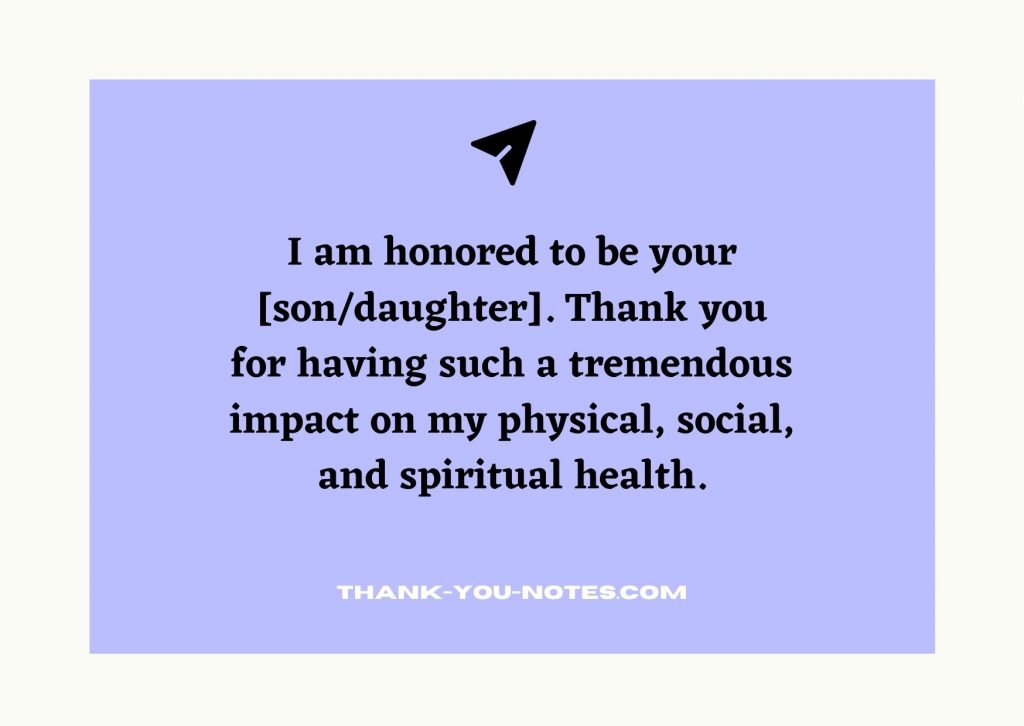 I am honored to be your [son/daughter]. Thank you for having such a tremendous impact on my physical, social, and spiritual health.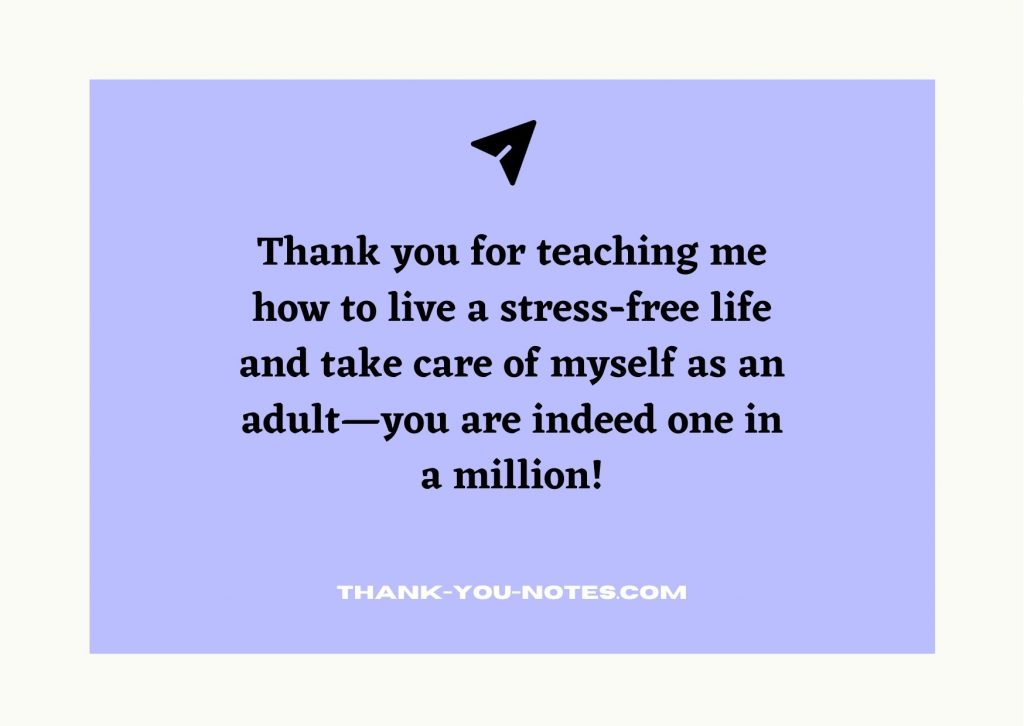 Thank you for teaching me how to live a stress-free life and take care of myself as an adult—you are indeed one in a million!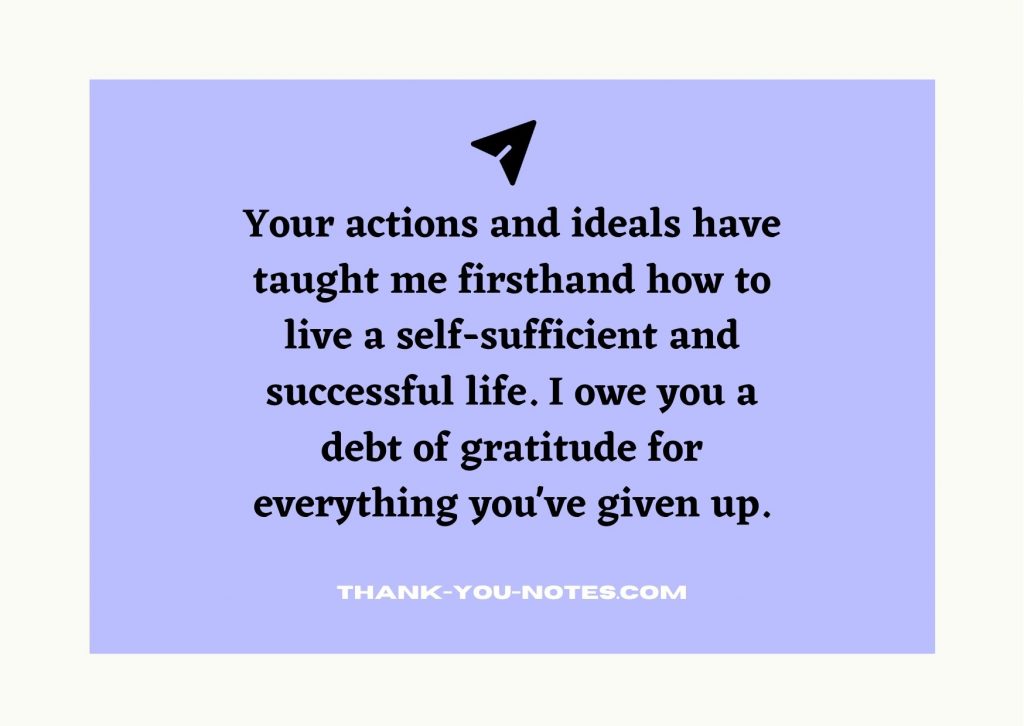 Your actions and ideals have taught me firsthand how to live a self-sufficient and successful life. I owe you a debt of gratitude for everything you've given up.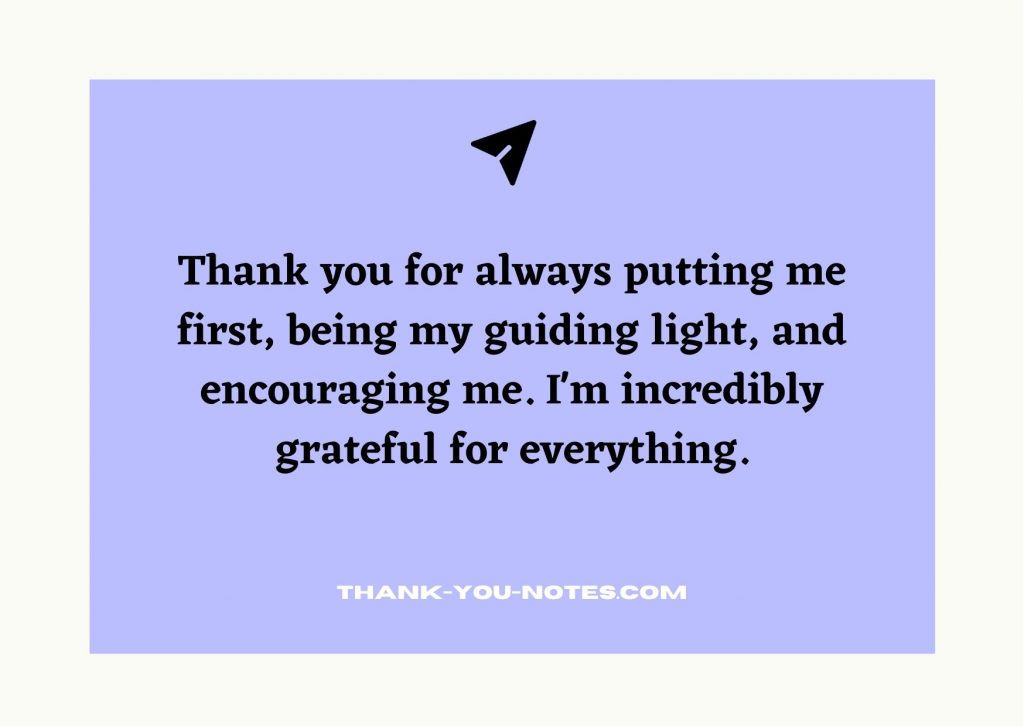 Thank you for always putting me first, being my guiding light, and encouraging me. I'm incredibly grateful for everything.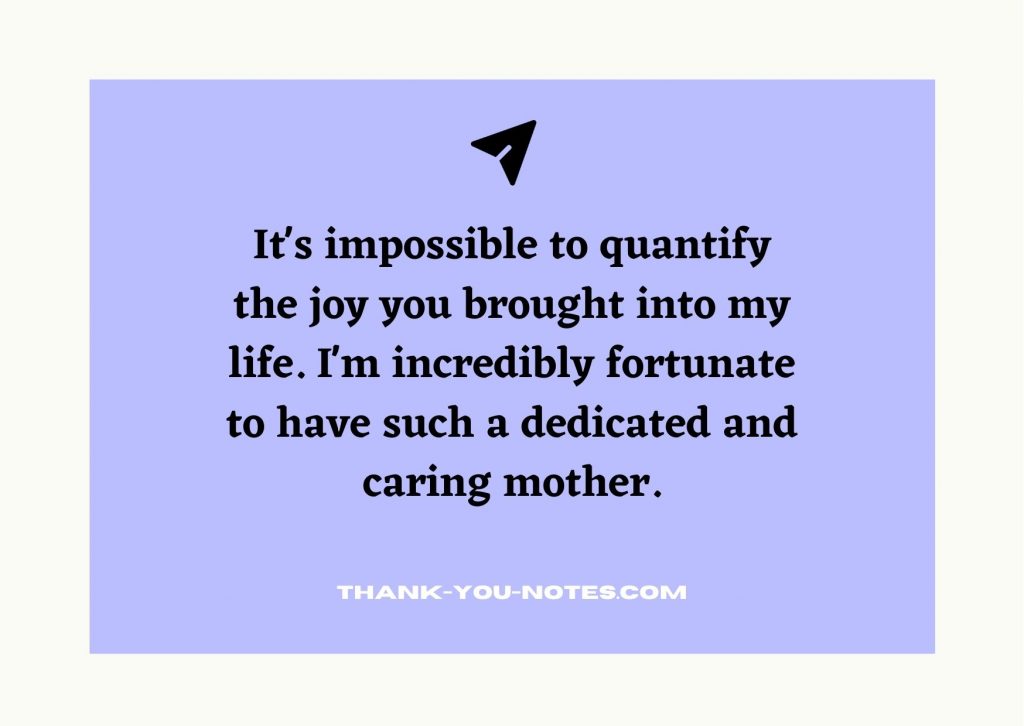 It's impossible to quantify the joy you brought into my life. I'm incredibly fortunate to have such a dedicated and caring mother.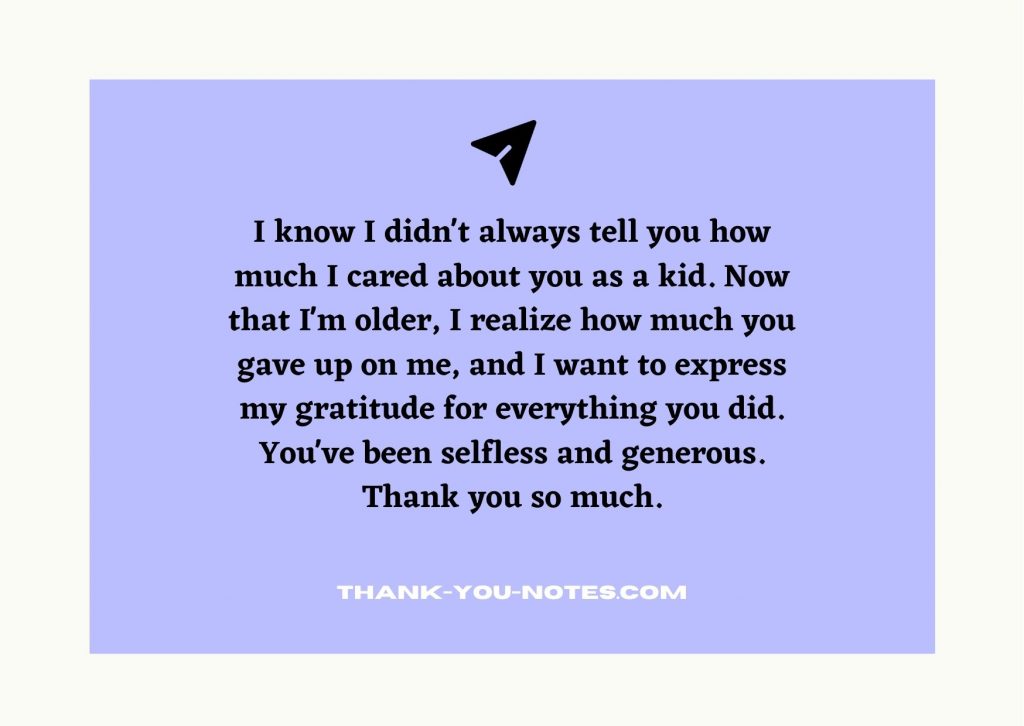 I know I didn't always tell you how much I cared about you as a kid. Now that I'm older, I realize how much you gave up on me, and I want to express my gratitude for everything you did. You've been selfless and generous. Thank you so much.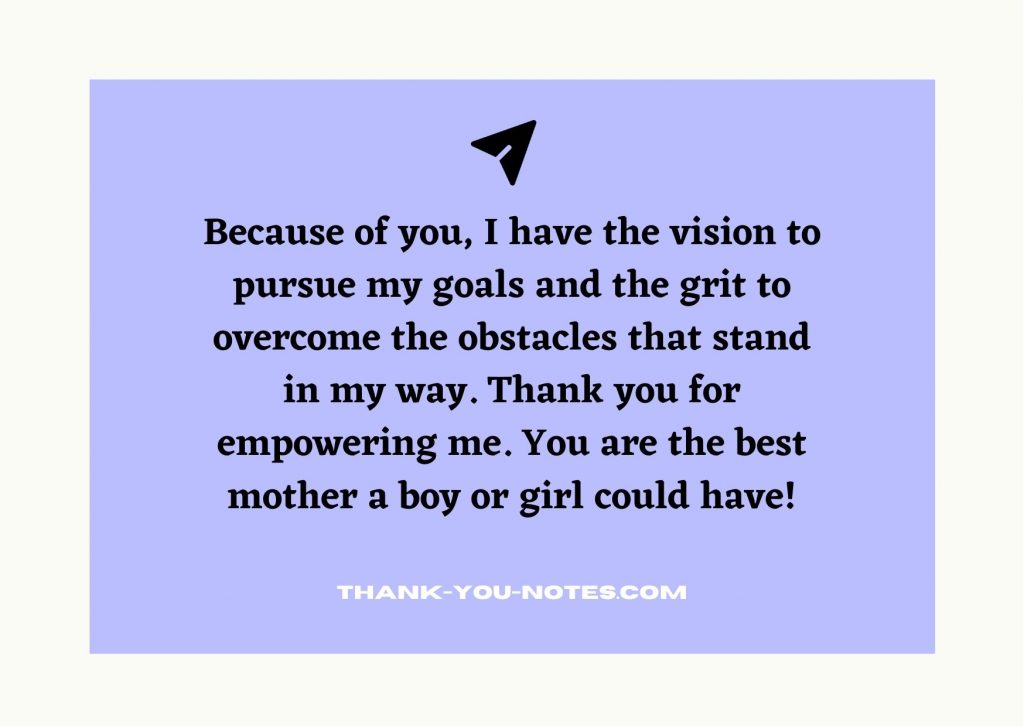 Because of you, I have the vision to pursue my goals and the grit to overcome the obstacles that stand in my way. Thank you for empowering me. You are the best mother a boy or girl could have!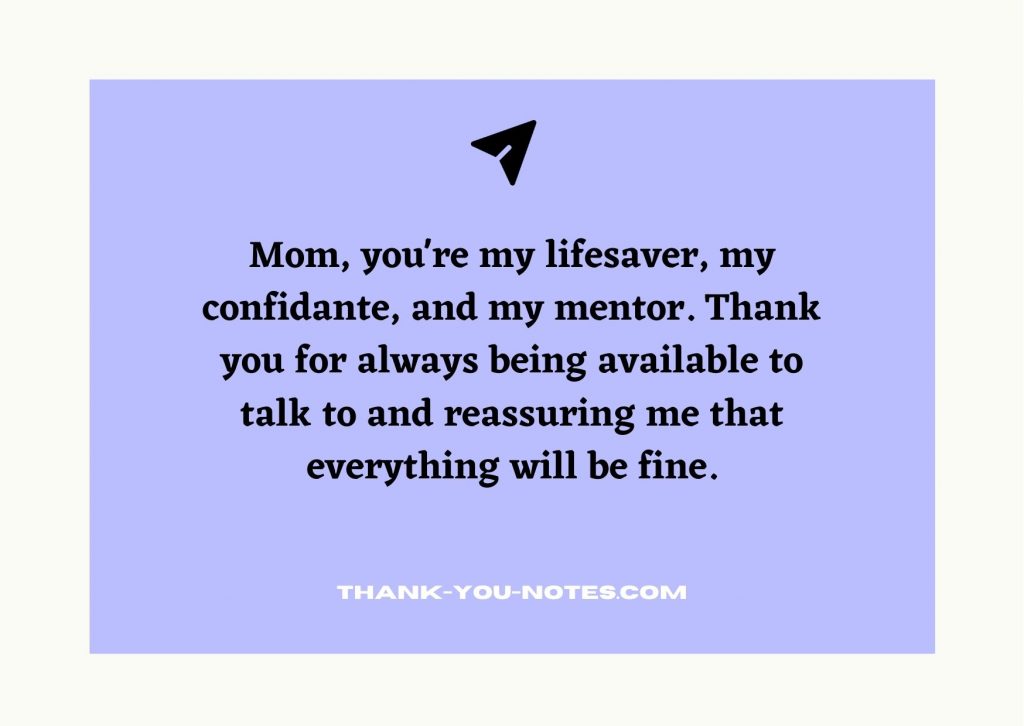 Mom, you're my lifesaver, my confidante, and my mentor. Thank you for always being available to talk to and reassuring me that everything will be fine.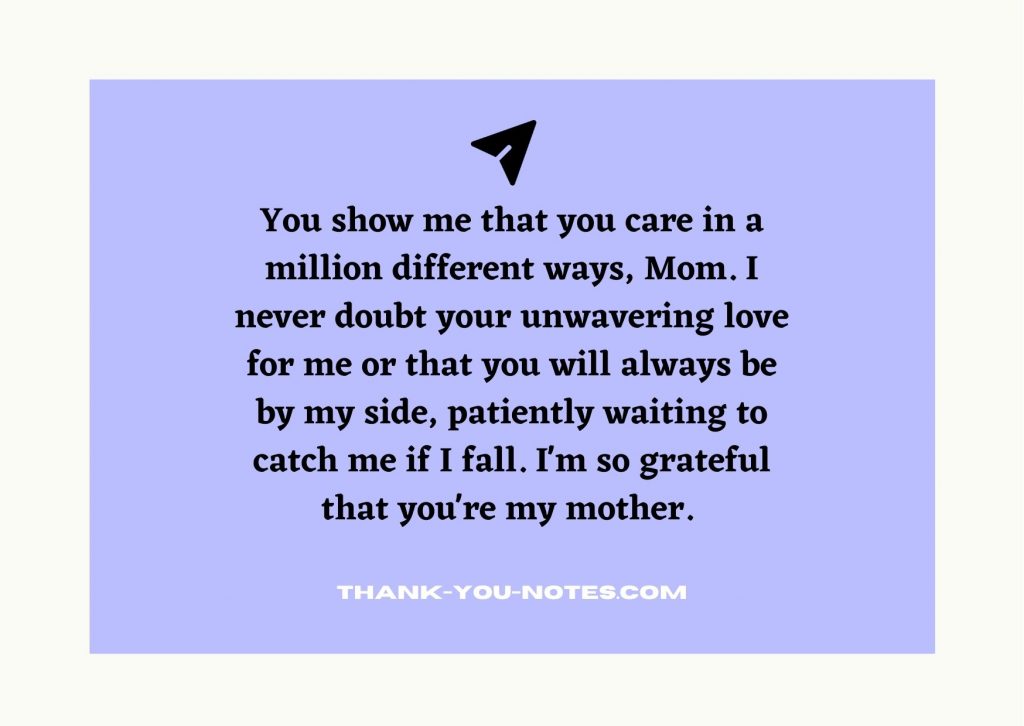 You show me that you care in a million different ways, Mom. I never doubt your unwavering love for me or that you will always be by my side, patiently waiting to catch me if I fall. I'm so grateful that you're my mother.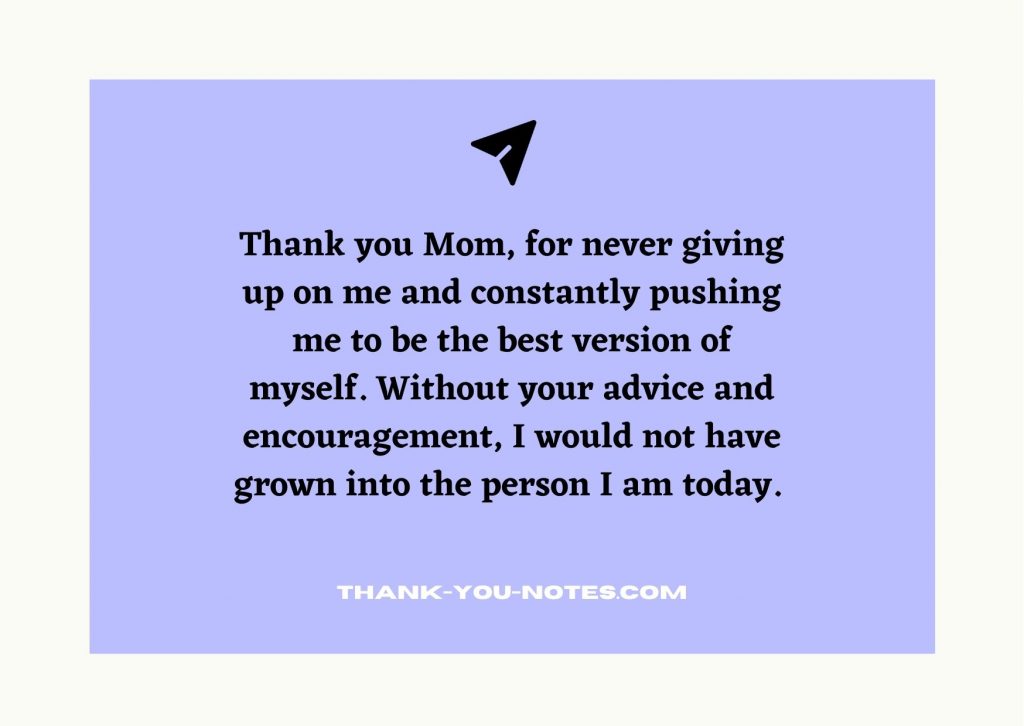 Thank you Mom, for never giving up on me and constantly pushing me to be the best version of myself. Without your advice and encouragement, I would not have grown into the person I am today.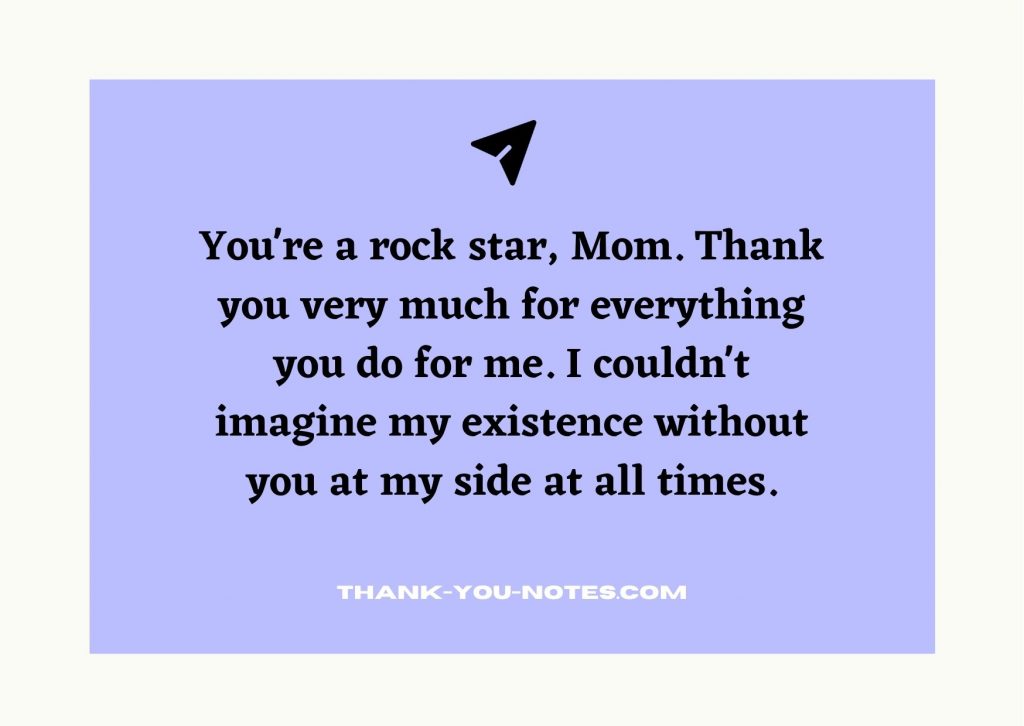 You're a rock star, Mom. Thank you very much for everything you do for me. I couldn't imagine my existence without you at my side at all times.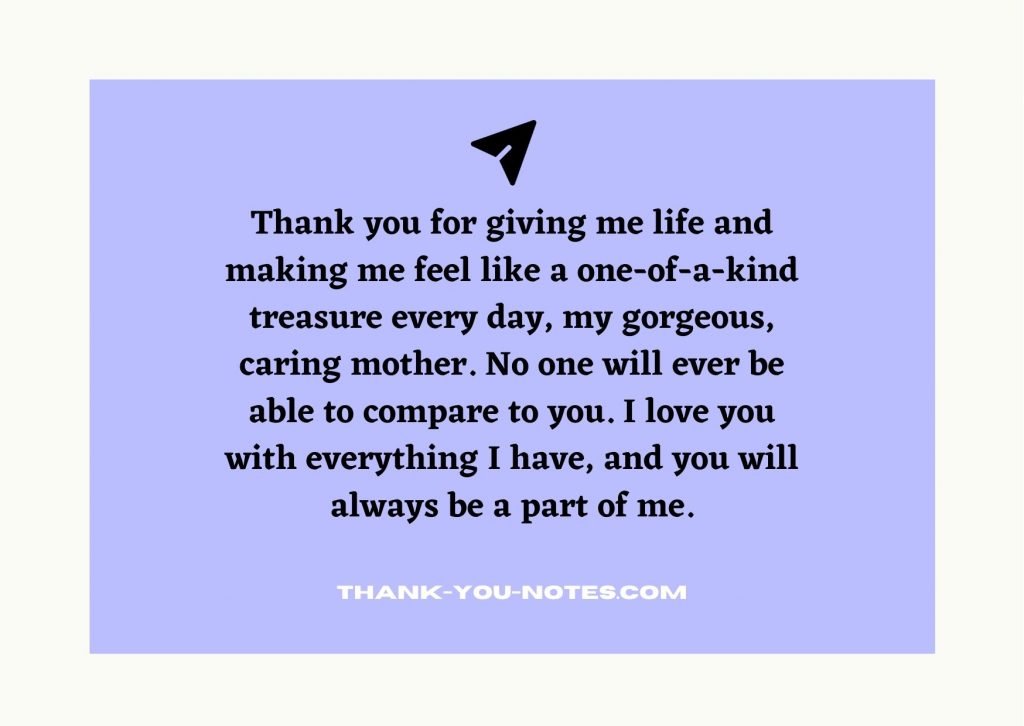 Thank you for giving me life and making me feel like a one-of-a-kind treasure every day, my gorgeous, caring mother. No one will ever be able to compare to you. I love you with everything I have, and you will always be a part of me.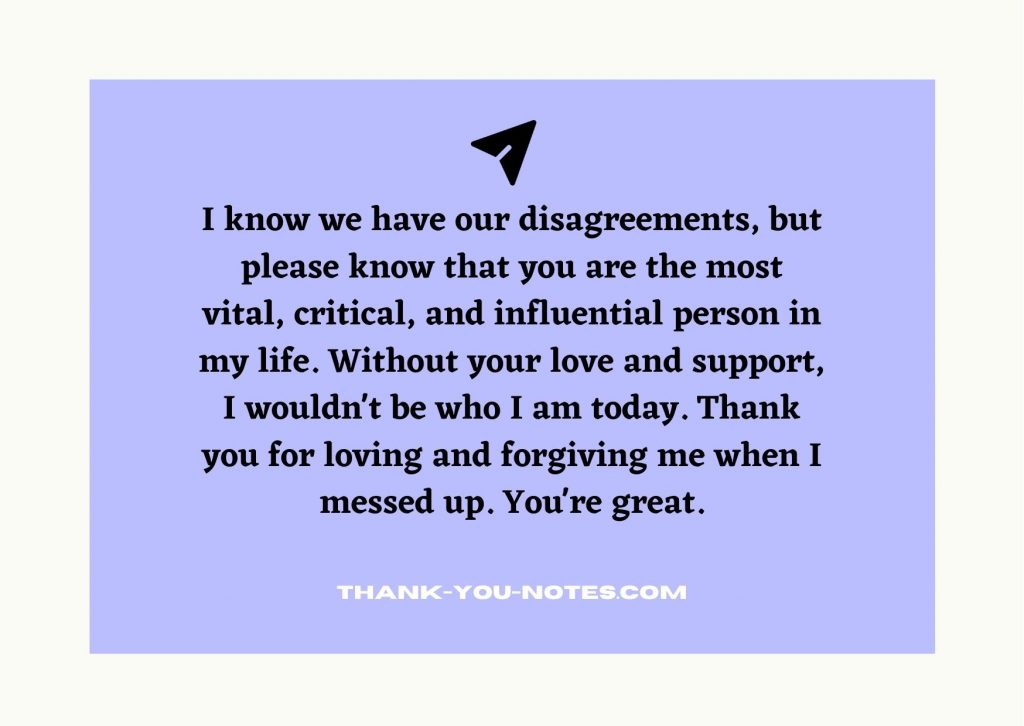 I know we have our disagreements, but please know that you are the most vital, critical, and influential person in my life. Without your love and support, I wouldn't be who I am today. Thank you for loving and forgiving me when I messed up. You're great.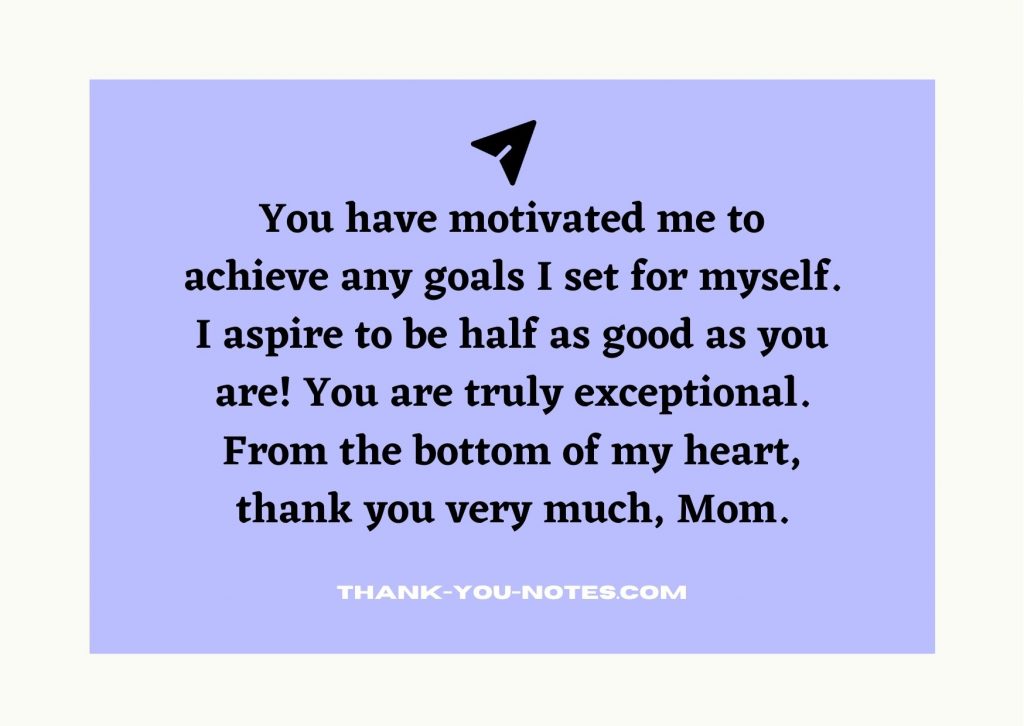 You have motivated me to achieve any goals I set for myself. I aspire to be half as good as you are! You are truly exceptional. From the bottom of my heart, thank you very much, Mom.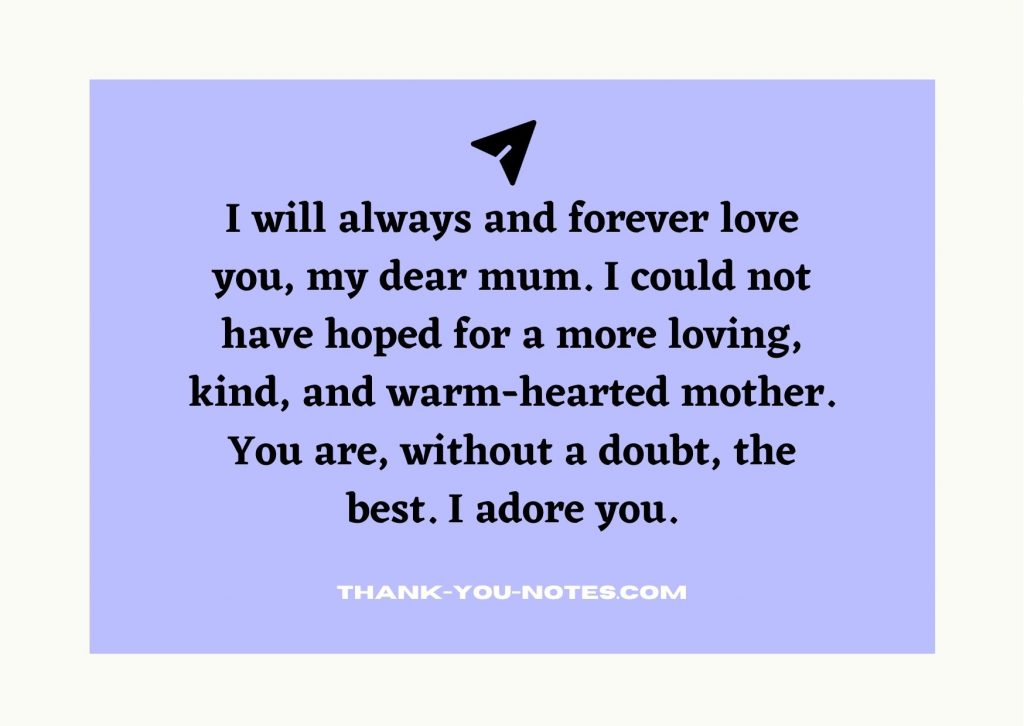 I will always and forever love you, my dear mum. I could not have hoped for a more loving, kind, and warm-hearted mother. You are, without a doubt, the best. I adore you.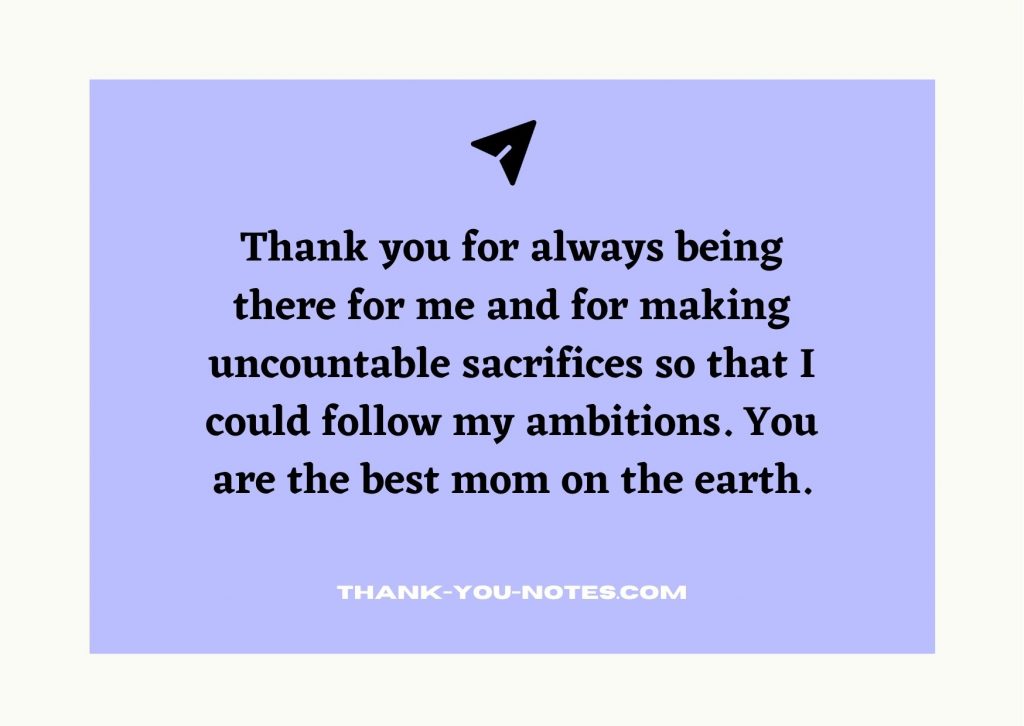 Thank you for always being there for me and for making uncountable sacrifices so that I could follow my ambitions. You are the best mom on the earth.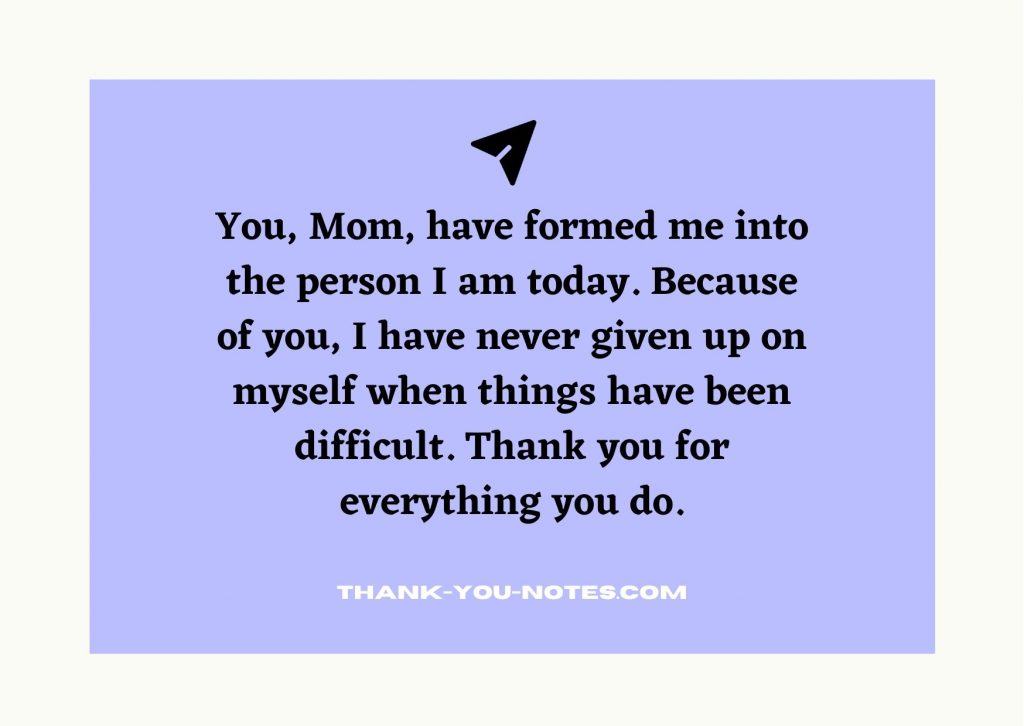 You, Mom, have formed me into the person I am today. Because of you, I have never given up on myself when things have been difficult. Thank you for everything you do.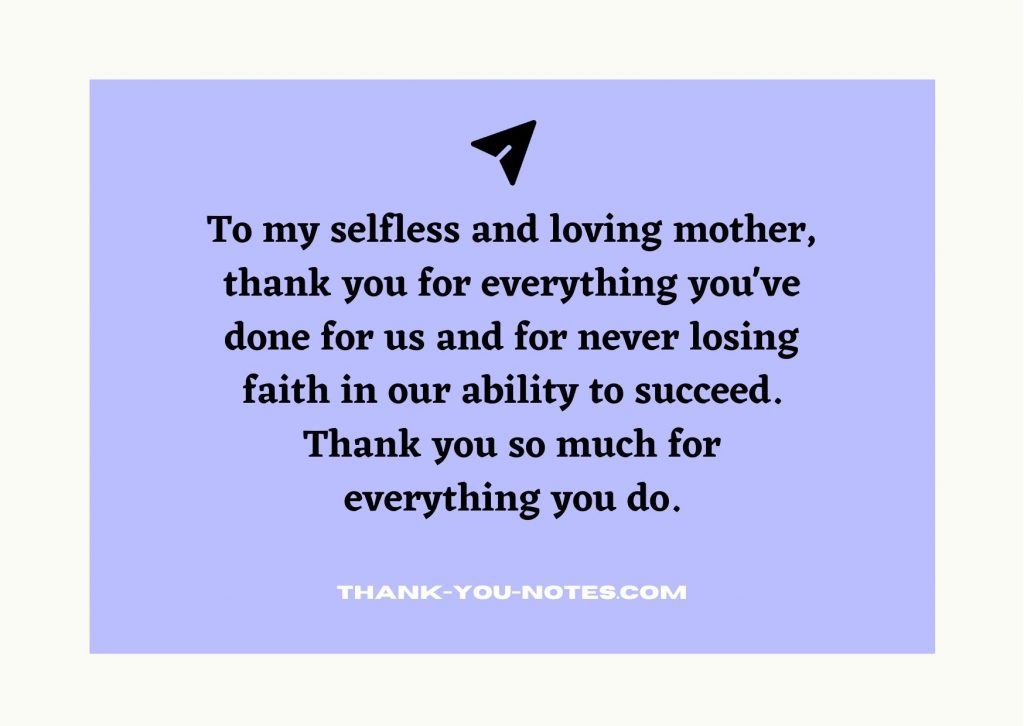 To my selfless and loving mother, thank you for everything you've done for us and for never losing faith in our ability to succeed. Thank you so much for everything you do.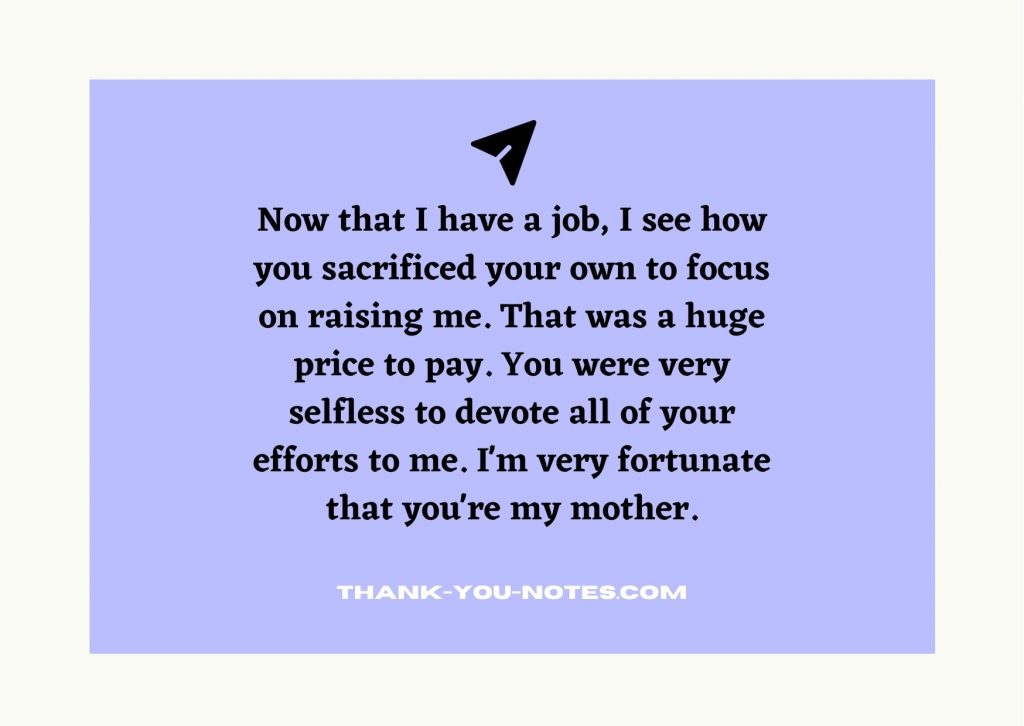 Now that I have a job, I see how you sacrificed your own to focus on raising me. That was a huge price to pay. You were very selfless to devote all of your efforts to me. I'm very fortunate that you're my mother.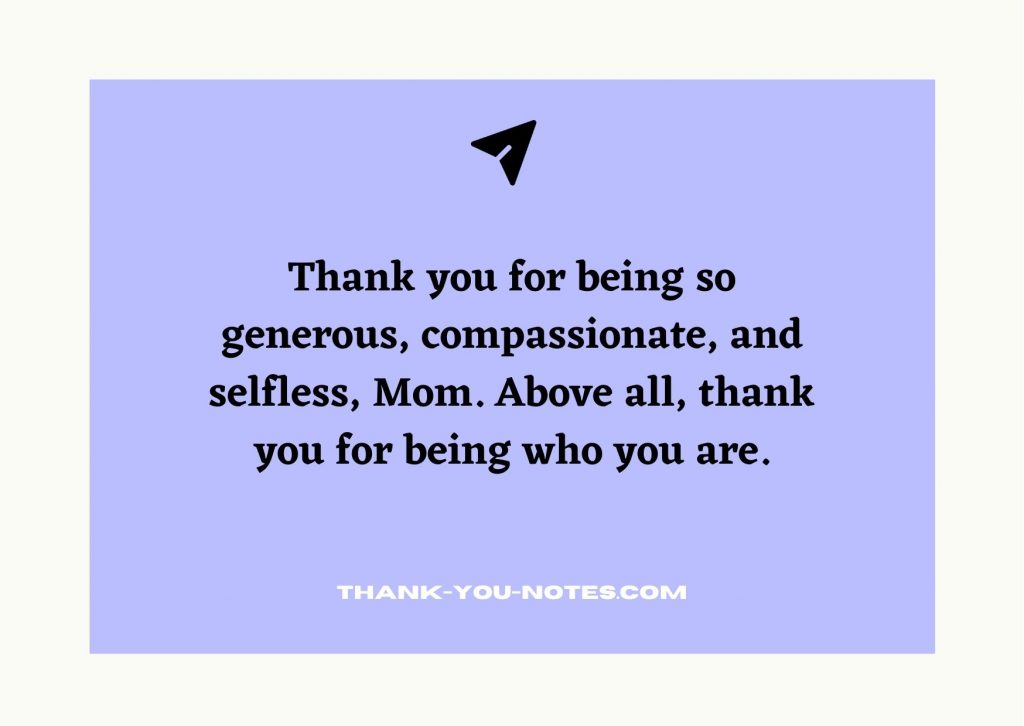 Thank you for being so generous, compassionate, and selfless, Mom. Above all, thank you for being who you are.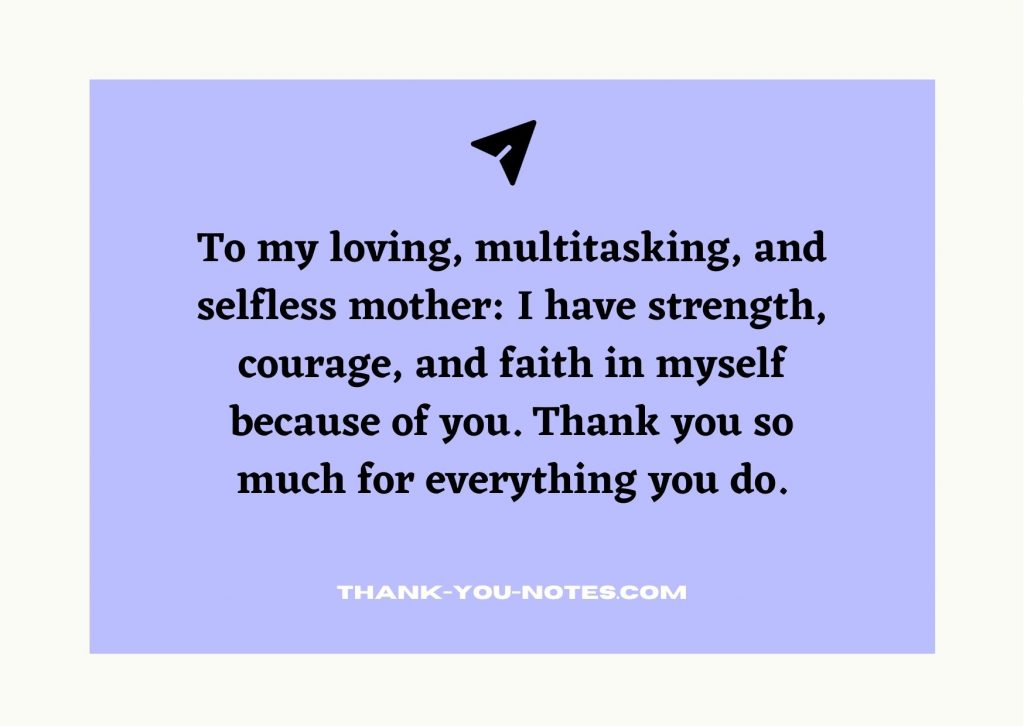 To my loving, multitasking, and selfless mother: I have strength, courage, and faith in myself because of you. Thank you so much for everything you do.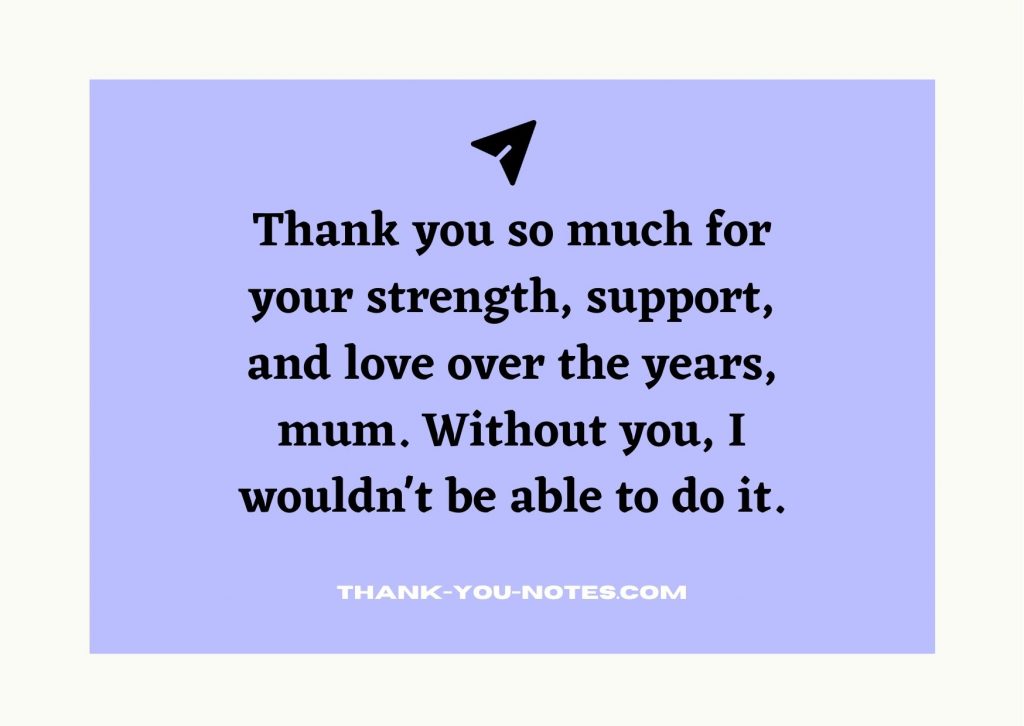 Thank you so much for your strength, support, and love over the years, mum. Without you, I wouldn't be able to do it.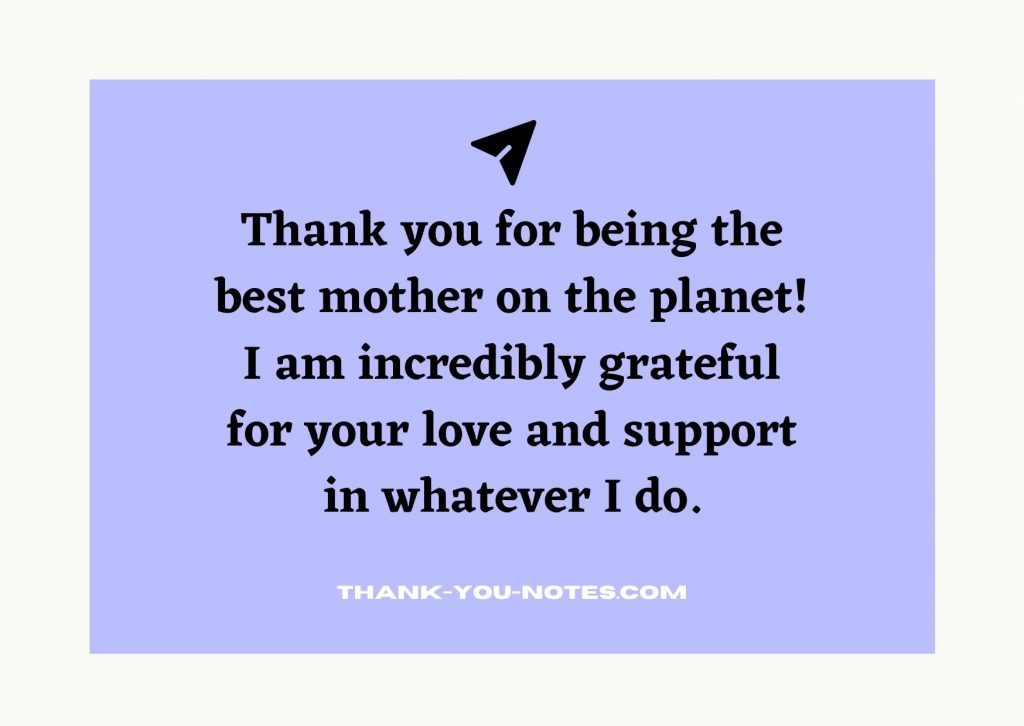 Thank you for being the best mother on the planet! I am incredibly grateful for your love and support in whatever I do.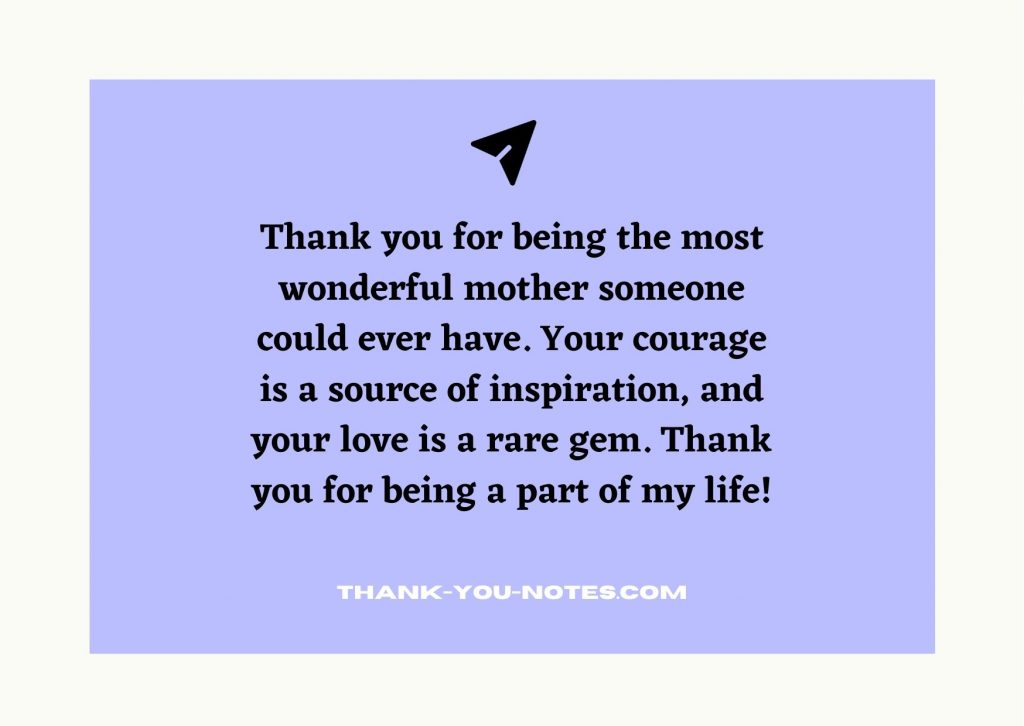 Thank you for being the most wonderful mother someone could ever have. Your courage is a source of inspiration, and your love is a rare gem. Thank you for being a part of my life!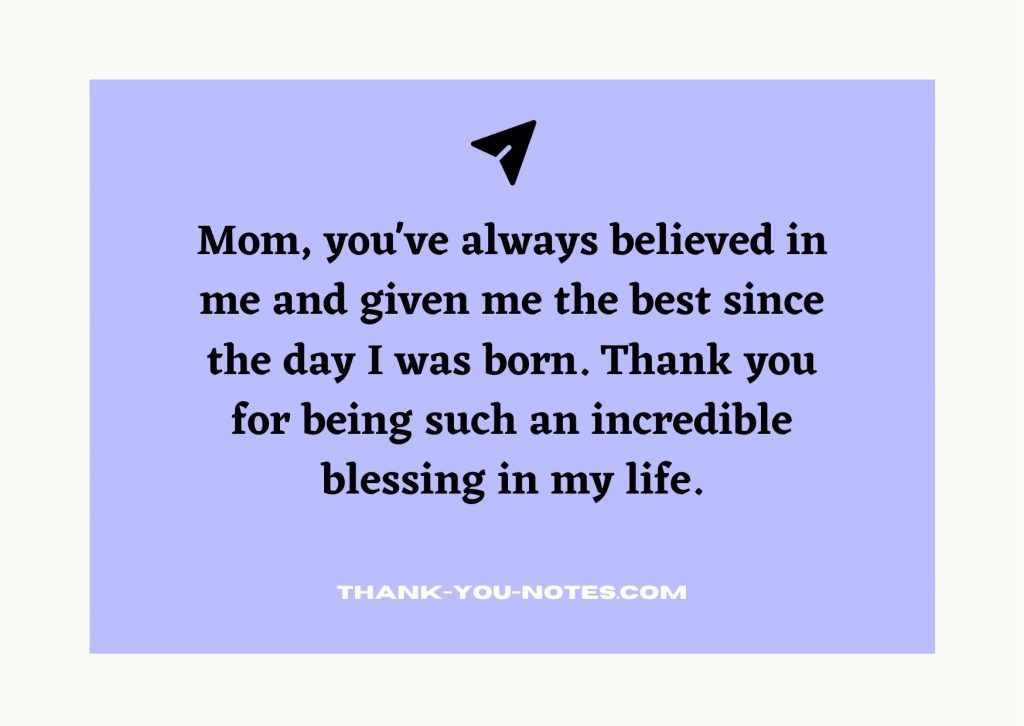 Mom, you've always believed in me and given me the best since the day I was born. Thank you for being such an incredible blessing in my life.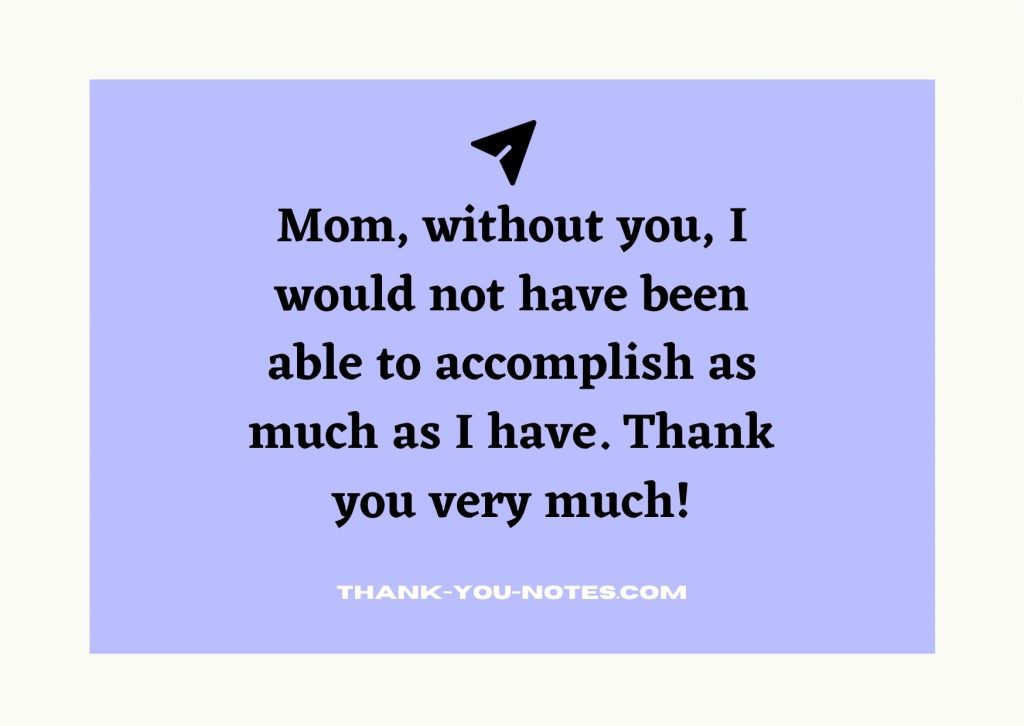 Mom, without you, I would not have been able to accomplish as much as I have. Thank you very much!

Thank You Mom Quotes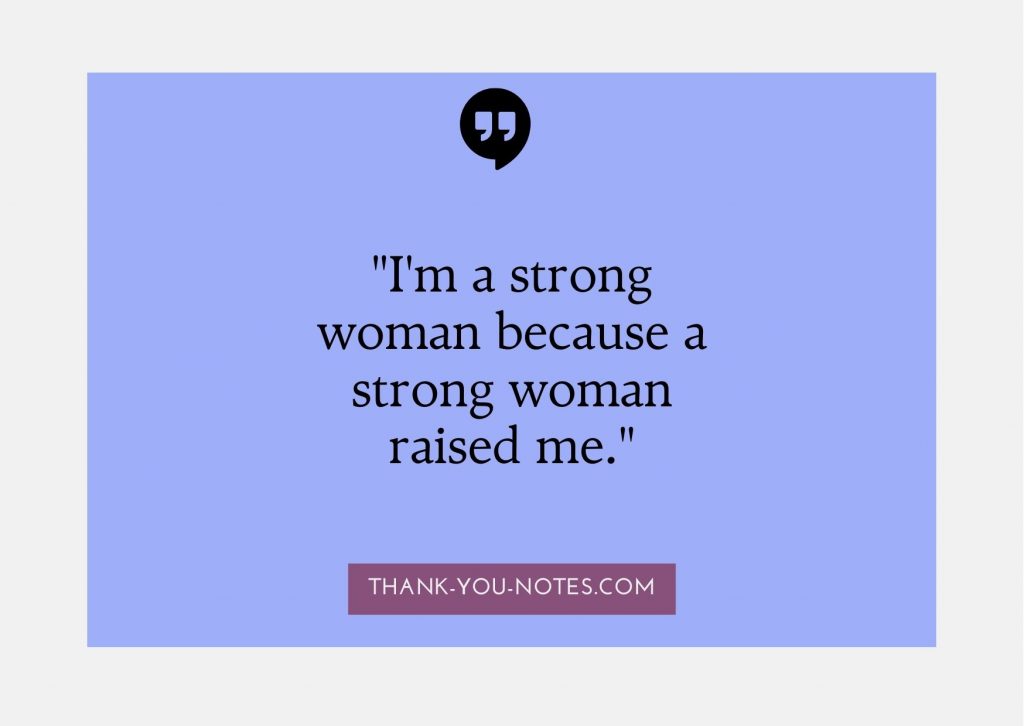 "I'm a strong woman because a strong woman raised me."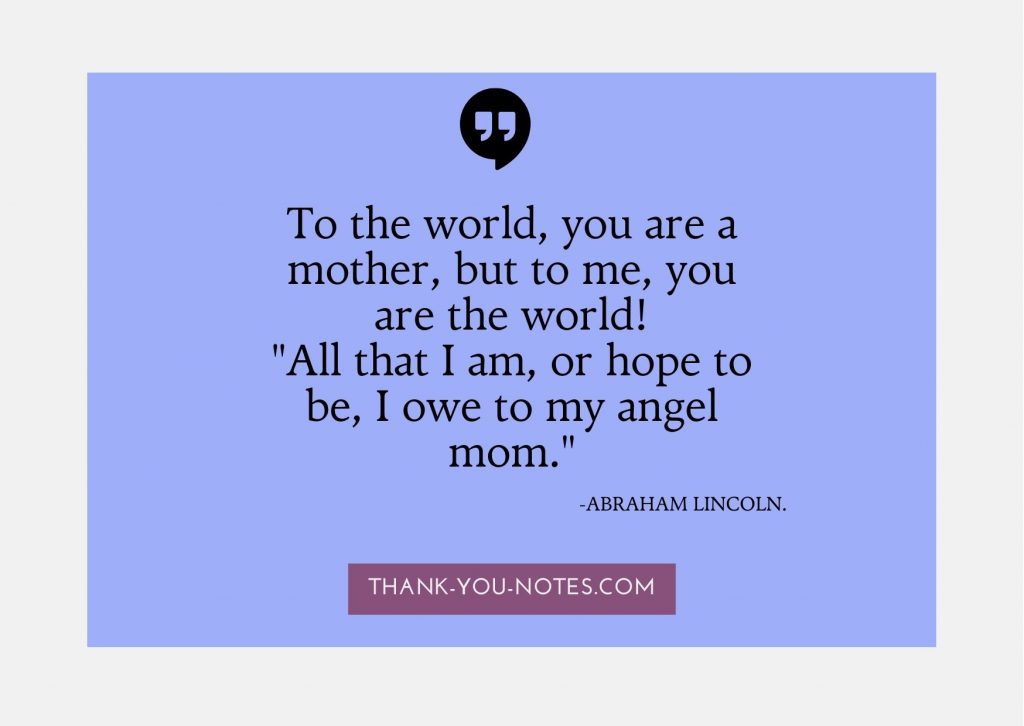 To the world, you are a mother, but to me, you are the world!
"All that I am, or hope to be, I owe to my angel mom."

ABRAHAM LINCOLN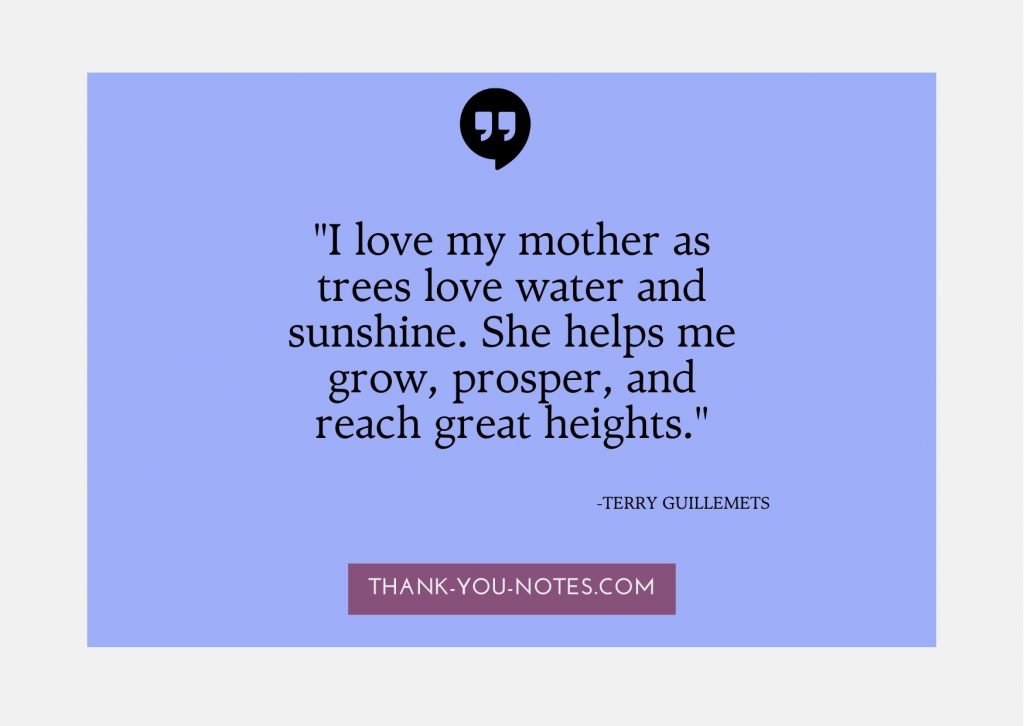 "I love my mother as trees love water and sunshine. She helps me grow, prosper, and reach great heights."

TERRY GUILLEMETS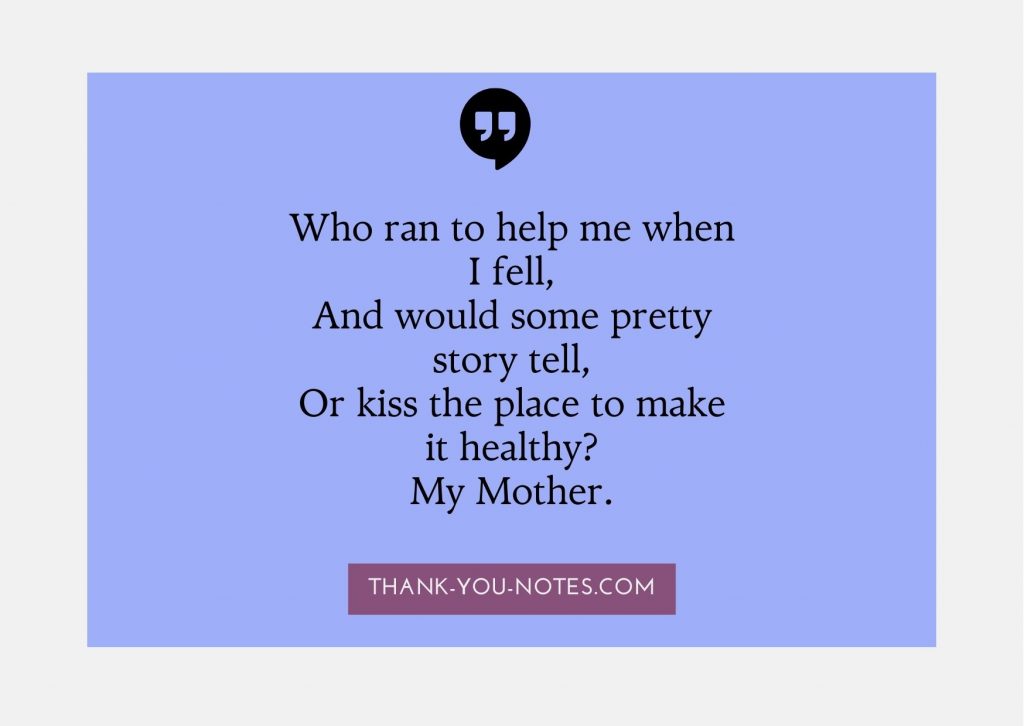 Who ran to help me when I fell,
And would some pretty story tell,
Or kiss the place to make it healthy?
My Mother.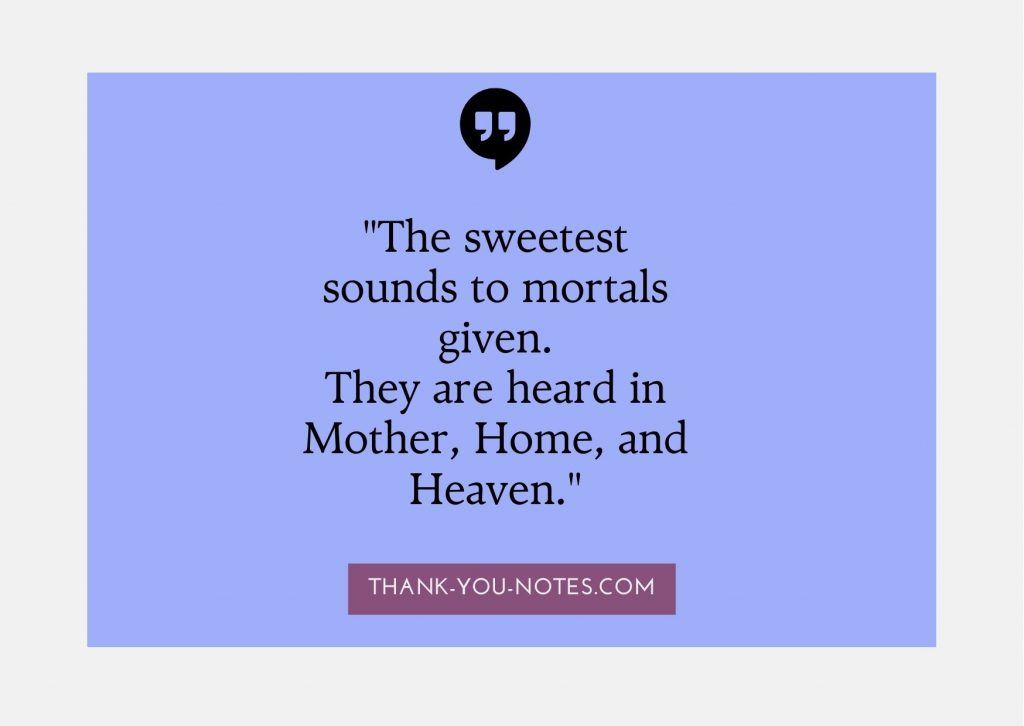 "The sweetest sounds to mortals given.
They are heard in Mother, Home, and Heaven."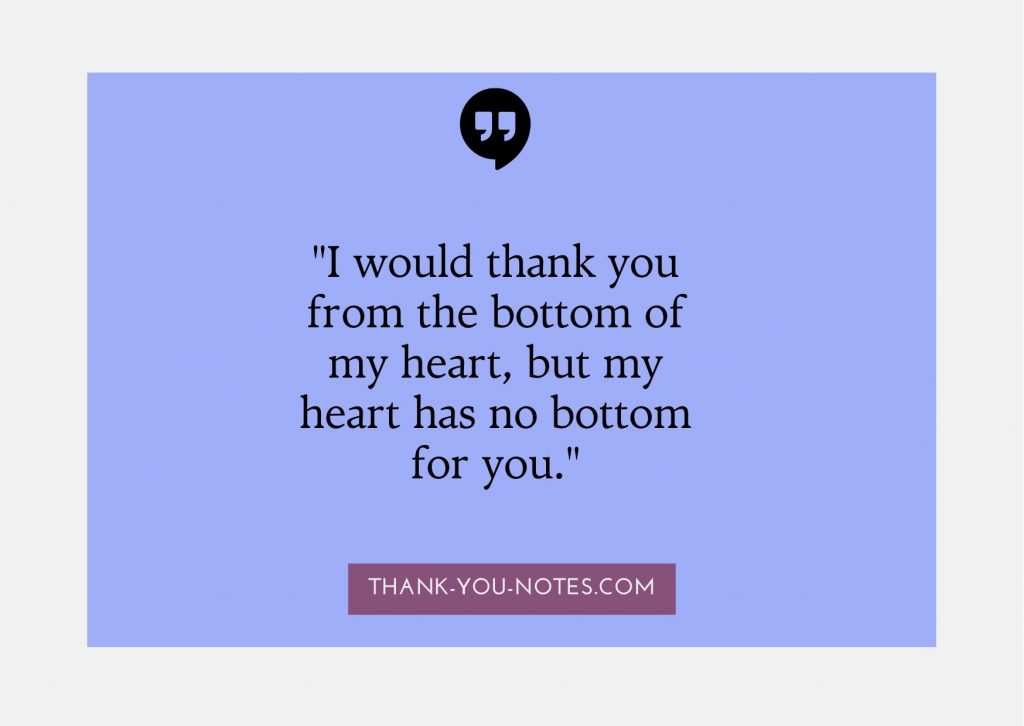 "I would thank you from the bottom of my heart, but my heart has no bottom for you."